Microwave Candied Pecans You Can Make in 10 Minutes
Sneak Preview: Make these Microwave Candied Pecans with two ingredients and 10 minutes of your time. These crunchy caramelized nuts are unbelievably addicting.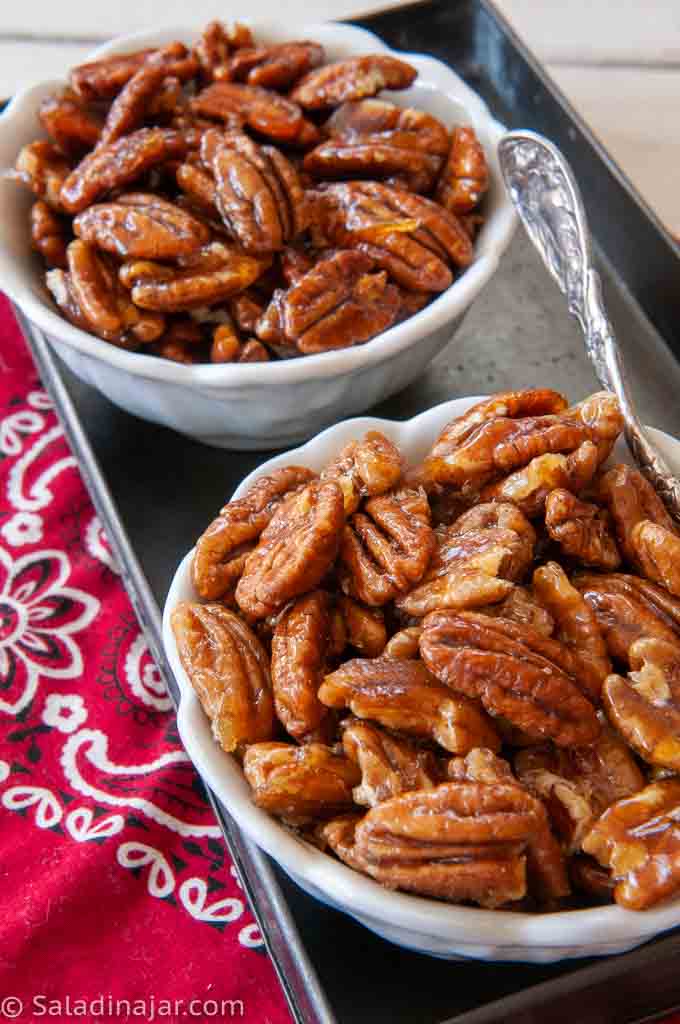 As an Amazon Associate, I earn from qualifying purchases.
Are you frantically looking for a quick snack to take to a party? Or maybe you need a last-minute Christmas or Valentine's gift with a handmade touch. How about a few caramelized pecans to sprinkle on top of a pie, decorate some cookies or a cake, or… (gasp) add some extra flavor to your salad.
HEADS UP: Please, please use a microwave-safe Pyrex glass container to make this recipe. The temperature of the sugar gets super hot and will shatter delicate, antique, or cheap glass from the dollar store. I hope I don't need to warn anybody not to use plastic anything.
Thanks to Dorie Greenspan for giving me the idea in her recipe, Rosy Pear and Pistachio Tart from Baking. She made caramelized pistachios on top of the stove to use as a garnish.  I prefer to make them in a microwave, then eat them as a snack.
In case you're thinking it's too tricky to caramelize sugar in the microwave, don't be afraid.
I bet you've heard of people making caramel popcorn in the microwave. This isn't that much different once you learn to recognize when the sugar is the right color. I'll hold your hand (and be sure to watch the video).

Practice helps:
If you have never made this recipe before, I highly recommend a practice run or two. Every microwave cooks a little differently depending on the size, power, and age of the microwave. (The temperature of the pecans will also make a difference.) The times given in the recipe are only a suggestion. You will need to figure out the exact time for your microwave
How long does it take to make these?
How long does it take you to measure 1 cup of sugar, 1/4 cup of water, and 1-3/4 to 2 cups of nuts? 2 minutes?
Put the sugar and water in the microwave. After 6-7 minutes (depending on your particular microwave it could be more or less), add the nuts and cook one more minute, stirring after 30 seconds.
Quickly pour the nuts onto a cookie sheet. At this point, the only thing between the caramelized nuts and your mouth is about 5 minutes of cooling so you don't burn your tongue.
Can you make caramelized nuts without butter or eggs?
Yes. This recipe requires only two ingredients if you don't count water! Sugar and pecans (or your nut of choice). That's it! Could it be any easier?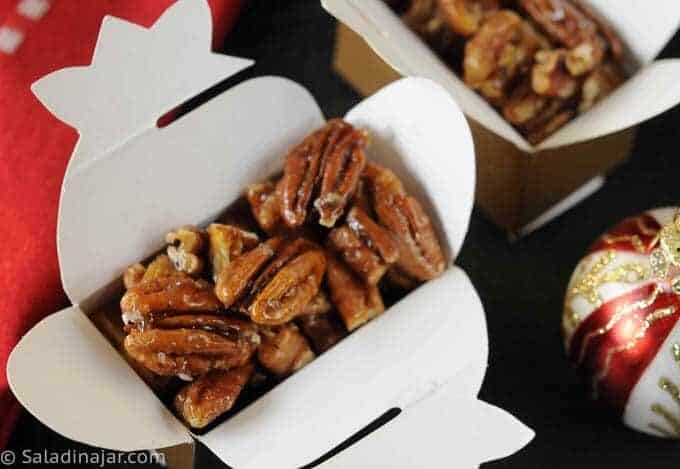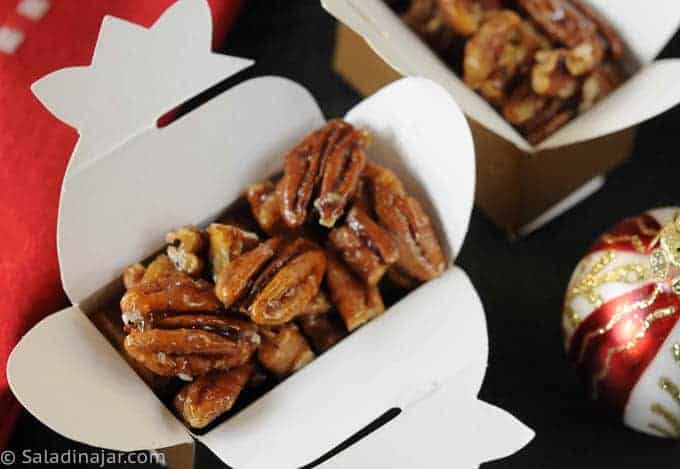 FAQ about candied pecans:
1. Why are my candied nuts sticky?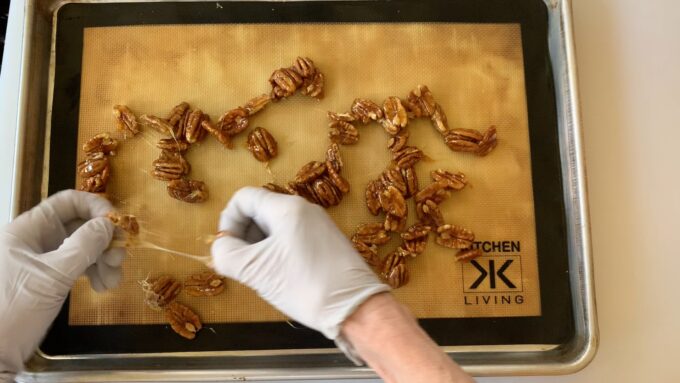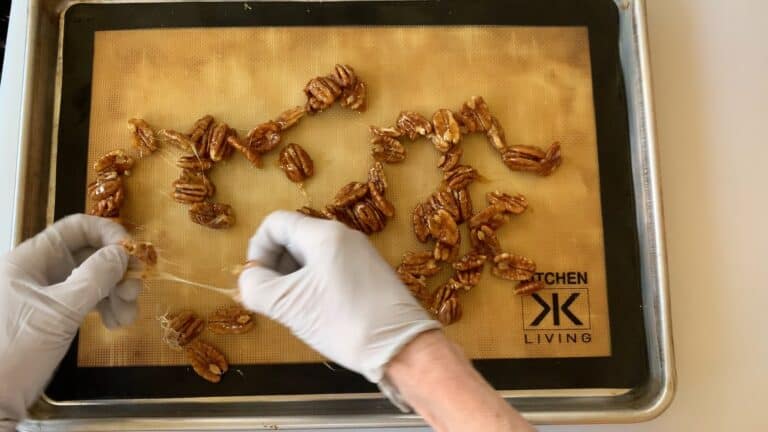 The nuts haven't cooled long enough. THIS IS THE MOST COMMON REASON.

You should be able to pull the nuts apart with your bare hands. I had to put gloves on to make this picture so you can see what happens when you try to separate candied nuts that are still hot. You will get long thin strands of sugary threads. Doesn't change the taste but they don't look as attractive.
2. Why did my sugar mixture turn sugary and white (crystallize) when I added the pecans?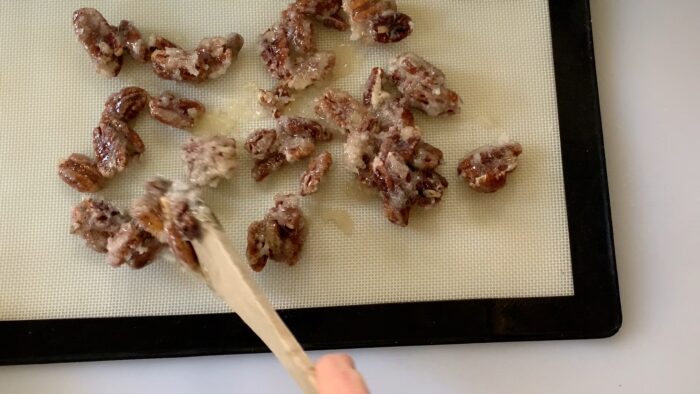 Most likely, the sugar mixture was not cooked long enough. It must reach 365-375˚F to be completely caramelized. The mixture will be amber-colored when it is ready.
With a little experience, you will recognize when the sugar has browned sufficiently without burning. If this is your first time or you want to make sure, use a quick-read thermometer to check.
Since pecans are expensive, here's an idea to "save" these pecans. Put them in a blender or food processor. Process until all chunks are pulverized. Voilá. You have praline sugar. It's delicious sprinkled over whipped cream on top of many desserts. I like it on homemade yogurt.
3. How long can you store candied pecans?
Store these in a tightly-sealed container so they won't absorb moisture. I store these nuts in a glass Mason jar sealed with a vacuum-pack machine, in the same way I store chopped lettuce.
If the nuts do get soft, I've read you can put them in a dehydrator or slow oven and dry them out. I've never had the opportunity to try it because people eat these before I get the chance.
Variations
Add cinnamon or ground cardamom if you like. Think cinnamon rolls sans flour and butter. The pecans toward the back of the picture below have added cinnamon which gives them a slightly darker color.
Use pistachios, cashews, or almonds instead of pecans. I think walnuts would be good, too but I haven't tried that since I'm not a walnut-fan.
Add 1/4 to 1/2 teaspoon cayenne pepper to the sugar for a sweet and spicy delight.
How to use your microwave to make Candied (Caramelized) Nuts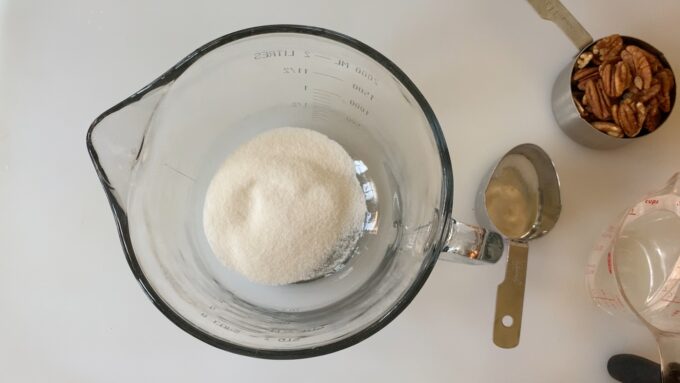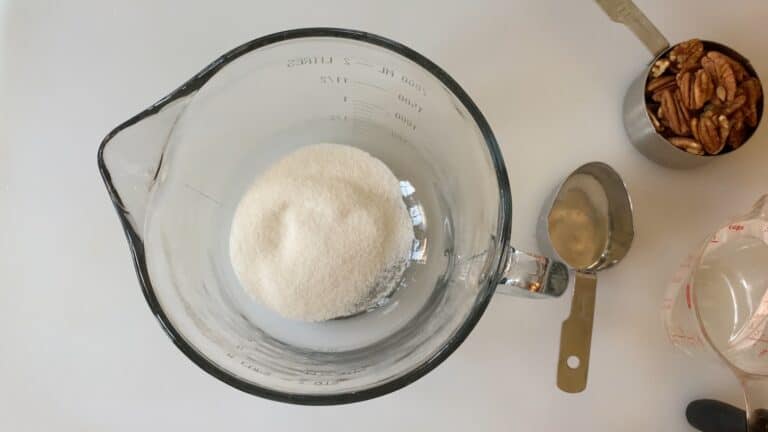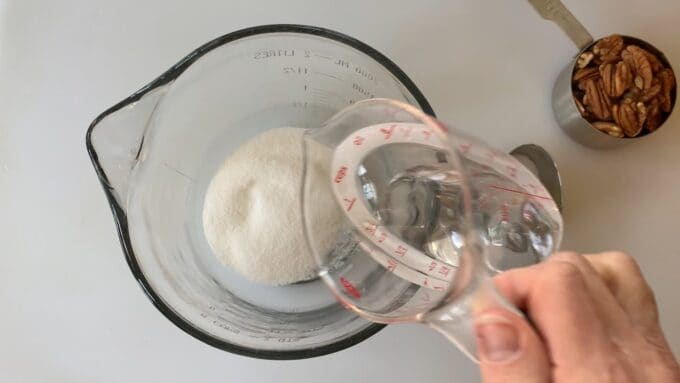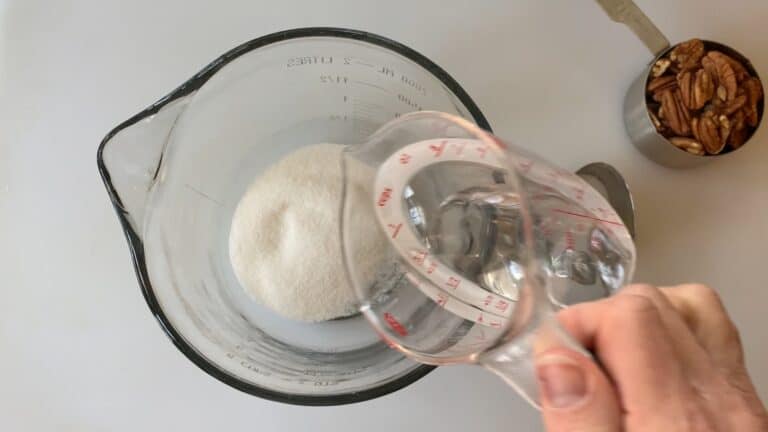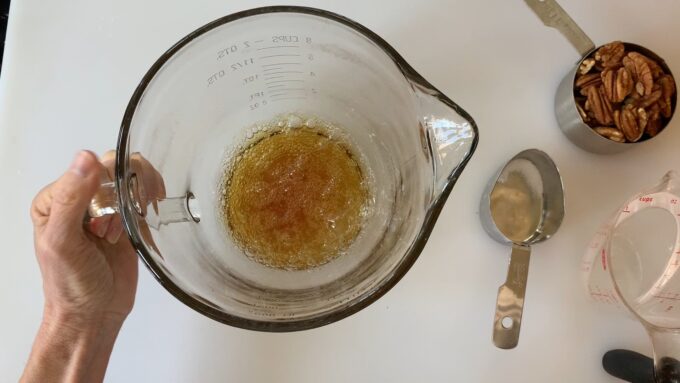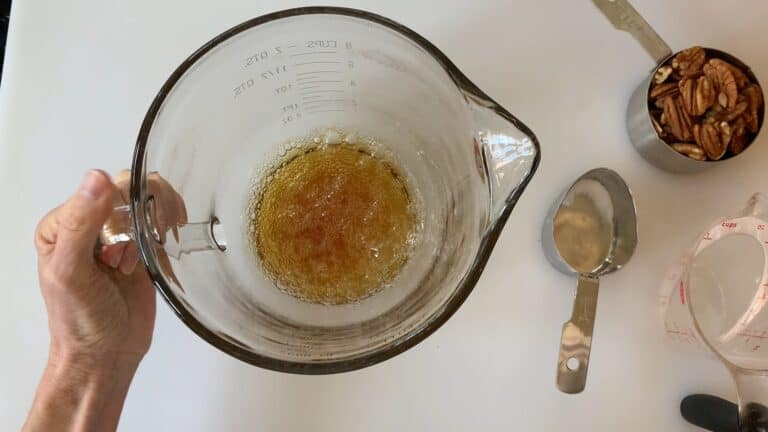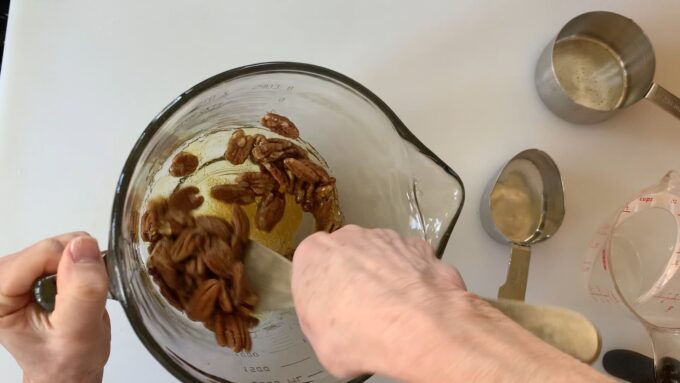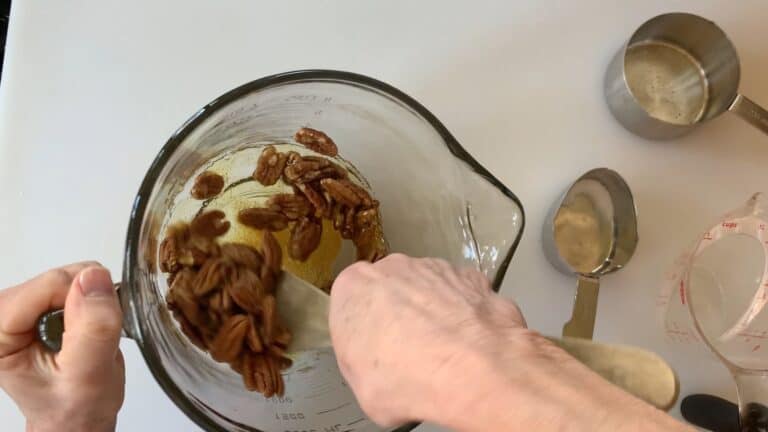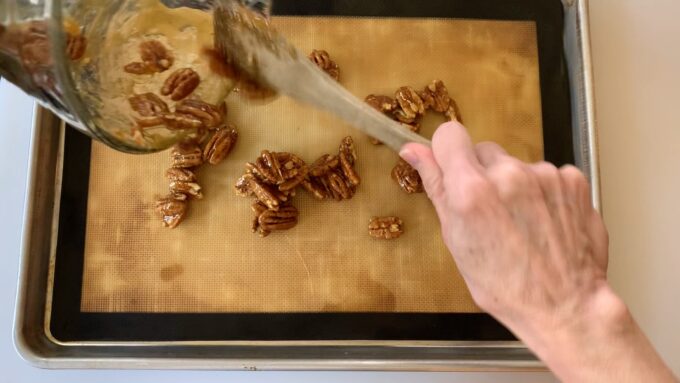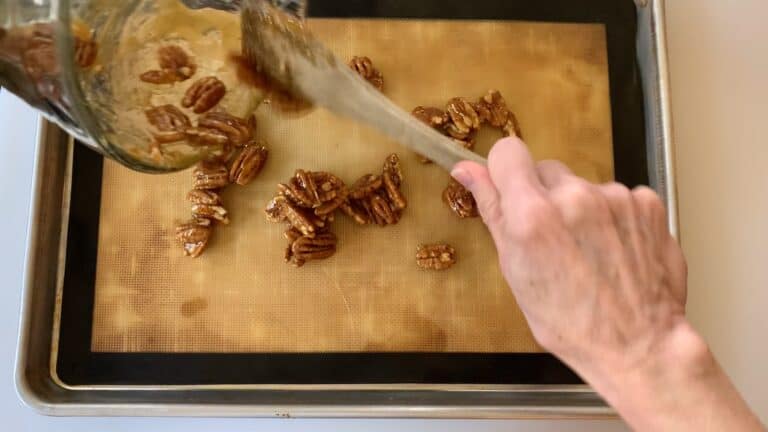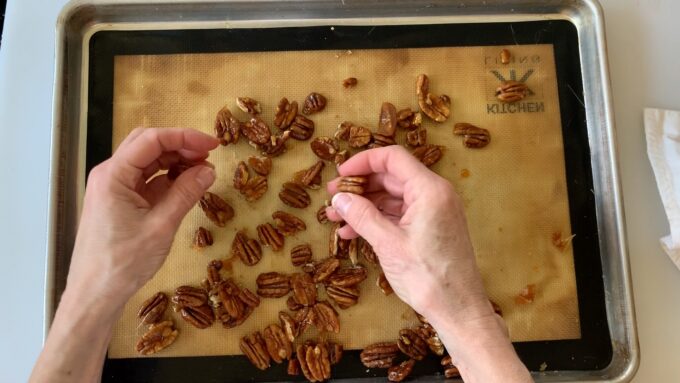 ---
More amazing things you can do in the microwave:
---
If you have questions or suggestions, email me privately to Paula at saladinajar.com. Hope to see you again soon! Paula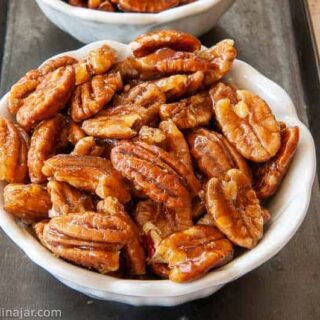 Microwave Candied Pecans Recipe
Use a microwave to caramelize whole pecans. They will be shiny, sweet, crunchy, and irresistible.
Ingredients
1

cup

granulated sugar

¼

cup

water

1-3/4 to 2

cups

whole

-

shelled pecans, pistachios, cashews, or walnuts (room temperature)

1

teaspoon

Kosher salt

-

if desired
Instructions 
Pour sugar into a 2-quart microwave-safe Pyrex glass batter bowl. Pour water over the sugar. DO NOT STIR. (I highly recommend you buy an inexpensive glass 2-quart batter bowl if you cook in a microwave very often.)

Microwave on High for 5-7 minutes or until sugar mixture starts turning golden brown like a piece of butterscotch candy. DO NOT STIR. (Times vary with different MW ovens so watch carefully the first time or two until you figure out the exact time needed in your oven. It's easy to burn.) Use an instant-read thermometer to check the temperature if necessary. It should read 365-375˚F when ready. Tip the bowl to make the hot sugar mixture deep enough for the thermometer to read correctly.

Add nuts but DO NOT STIR and MW on High for 30 seconds. NOW, Give the nuts a quick stir and finish with another 30 seconds on High.

Quickly (and I do mean quickly) pour onto parchment paper, a silicone baking mat, or a well-greased cookie sheet. Use two forks to separate the hot nuts. Allow them to cool until you can touch them without burning your fingers.

Use your fingers to break up the nuts. If caramel pulls in to thin thread-like strands when you try to break up the nuts, let it cool longer.
Notes
Variation:
Spiced Caramelized Nuts: Stir 1 teaspoon of cinnamon or ground cardamom into the nuts before adding them to the caramelized sugar. Continue with step three.
Nutrition
Nutrition Facts
Microwave Candied Pecans Recipe
Amount per Serving
% Daily Value*
* Percent Daily Values are based on a 2000 calorie diet.
Like this recipe? Thanks for leaving a 5-star rating inside the recipe at the top! 🤩