Crunchy Caramelized Nuts are a snack of caramel-coated nuts you can make in your microwave. It's hard to resist these crunchy little jewels.

Need a quick snack to take to a party? Or a quick Christmas gift with a handmade touch?   I've got just the ticket.  These fancy nuts are dressed up sleek and shiny, ready to step out on the town.
Add cinnamon if you like. Think cinnamon rolls sans flour and butter.
The best part? 10-15 minutes from start to finish.
The second best part? Only three ingredients!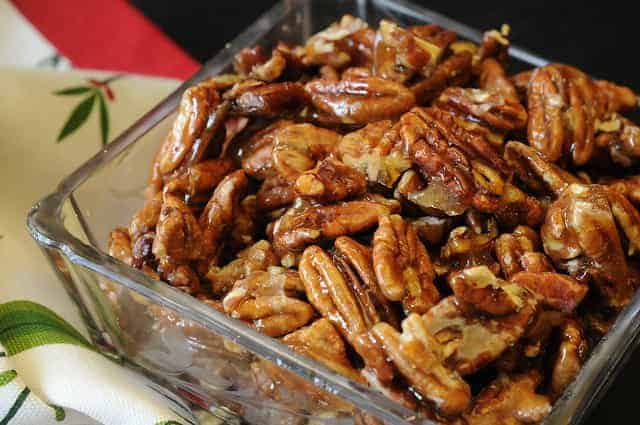 Thanks to Dorie Greenspan for giving me the idea in her recipe, Rosy Pear and Pistachio Tart from Baking. She used caramelized pistachios–made more traditionally on top of the stove and used them to garnish. But I prefer to make them in a microwave and eat them as a snack
Skinny Secret:
Nuts may be addictive.  They are best taken to parties where you have help eating them.
How to use your microwave to make Crunchy Caramelized Nuts:
#1
#2
 Check out more amazing things you can do with your microwave: