These caramelized pecans are crunchy candied nuts you can make quickly in your microwave with only sugar and water. It's hard to resist these sweet and shiny little jewels.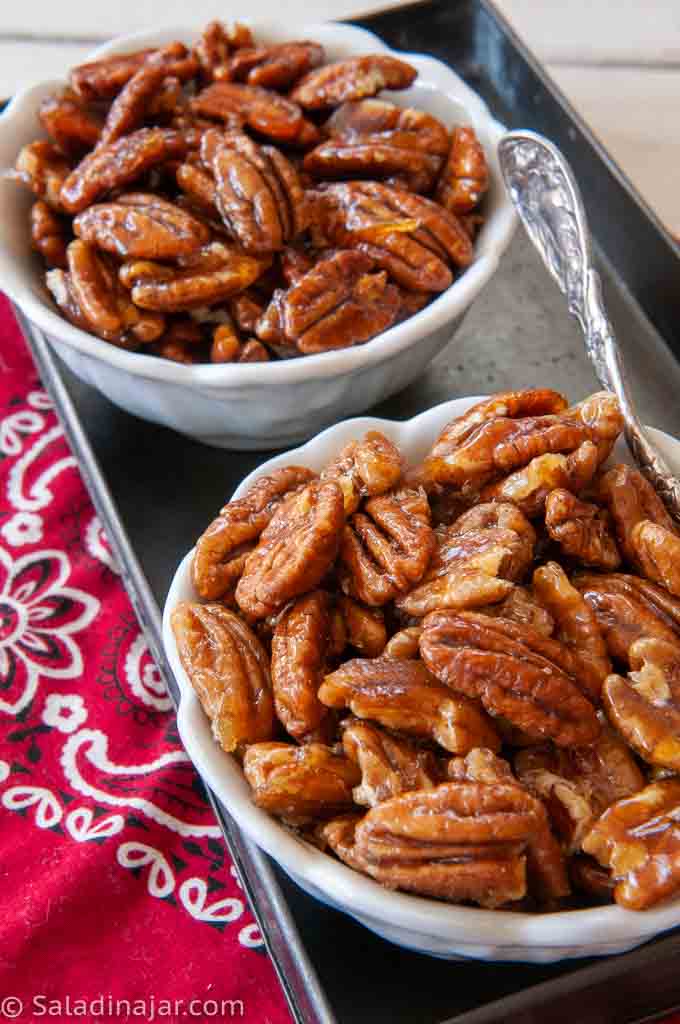 Need a quick snack to take to a party? Or a last-minute Christmas or Valentine's gift with a handmade touch? Try these microwaved candied pecans. The caramelized coating makes them sleek and shiny, ready to step out on the town.
Recipe Inspiration
Thanks to Dorie Greenspan for giving me the idea in her recipe, Rosy Pear and Pistachio Tart from Baking. She made caramelized pistachios on top of the stove to use as a garnish. I prefer to make them in a microwave, then eat them as a snack

How long does it really take to make these?
How long does it take you to measure 1/2 cup of sugar, 1/4 cup of water, and 1-1/4 cups of nuts? 2 minutes?!
Put the sugar and water in the microwave. After 4-7 minutes (depending on your particular microwave), add the nuts and cook one more minute, stirring after 30 seconds. Quickly pour the nuts onto a cookie sheet. At this point, the only thing between the caramelized nuts and your mouth is about 5 minutes of cooling so you don't burn your tongue.
Can you make caramelized nuts without butter or eggs?
Yes. This recipe requires only two ingredients if you don't count water! Sugar and pecans (or your nut of choice). That's it! Could it be any easier?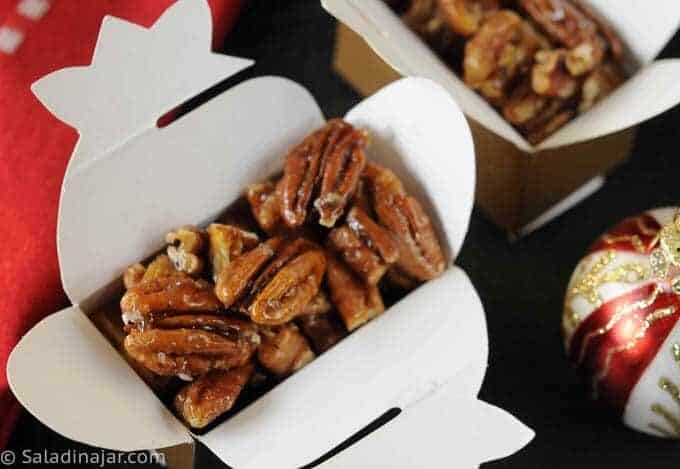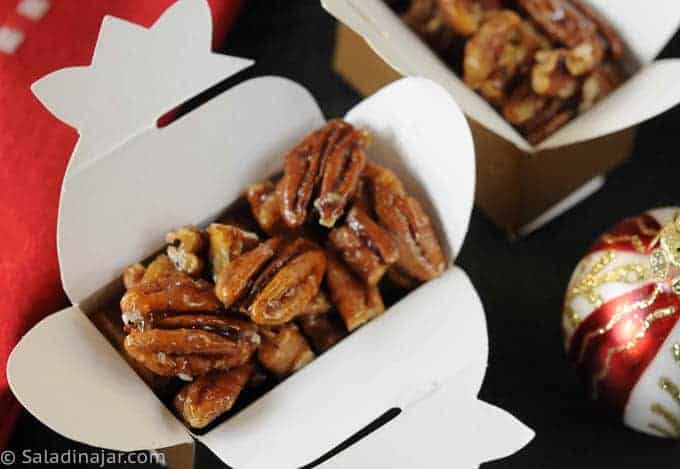 Why are my candied nuts sticky?
Two possibilities:
The sugar wasn't cooked long enough. After making this recipe a time or two, you will know by looking when the color is perfectly golden brown.
The nuts haven't cooled long enough. THIS IS THE MOST COMMON REASON in regards to this recipe. You should be able to pull the nuts apart with your bare hands. I had to put gloves on to make this picture so you can see what happens when you try to separate candied nuts that are still hot.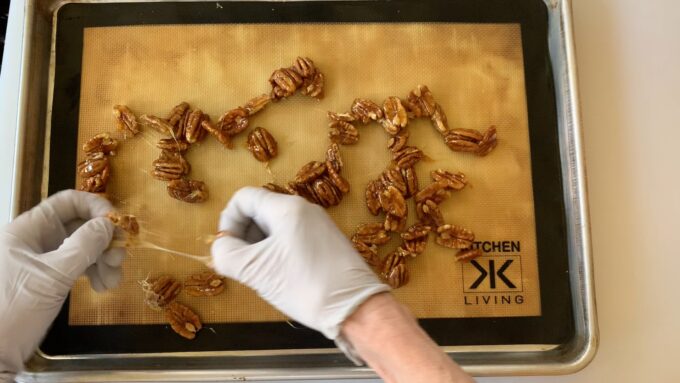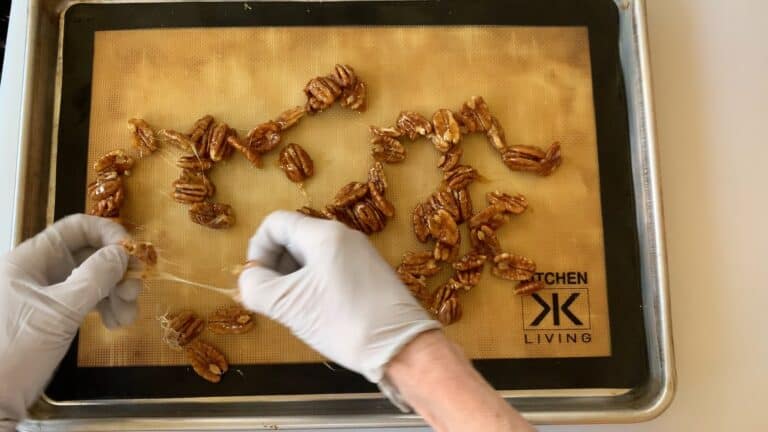 How long can you store candied nuts?
Store these in a tightly-sealed container so they won't absorb moisture. One idea is to store nuts in a glass Mason jar sealed with a vacuum-pack machine, in the same way I store chopped lettuce. They will keep for 4-7 days if you keep the moisture out.
If the nuts do get soft, I've read you can but them in a dehydrator or slow oven and dry them out. I can't say I've ever had the opportunity to try it because people eat these before I get the chance.
Variations
Add cinnamon or ground cardamom if you like. Think cinnamon rolls sans flour and butter. The pecans toward the back of the picture below have added cinnamon which gives them a slightly darker color.
Use pistachios, cashews, or almonds instead of pecans. I think walnuts would be good, too but I haven't tried that since I'm not a walnut-fan.
Add 1/4 to 1/2 teaspoon cayenne pepper to the sugar for a sweet and spicy delight.
How to use your microwave to make Candied (or Caramelized) Nuts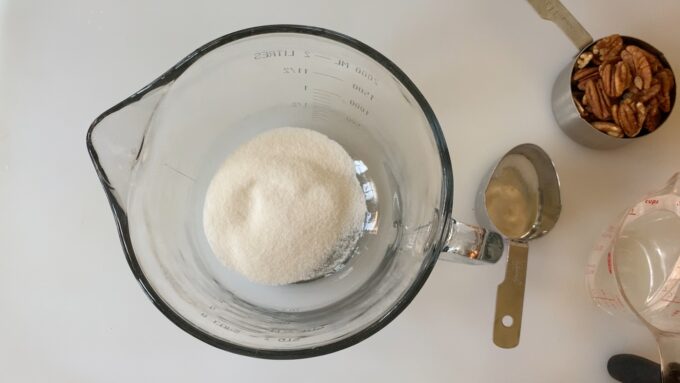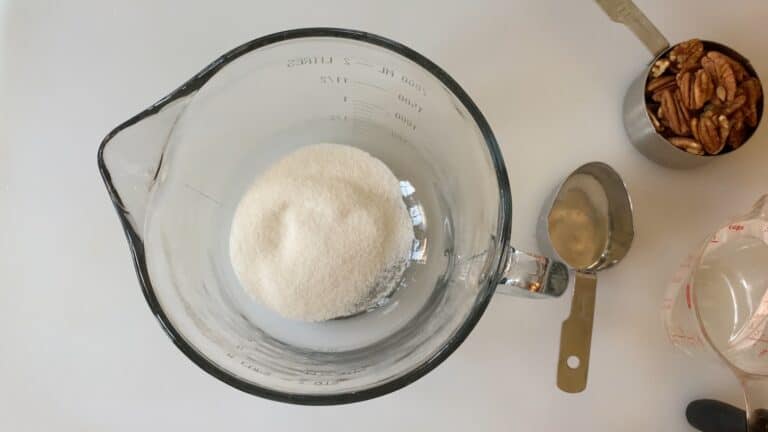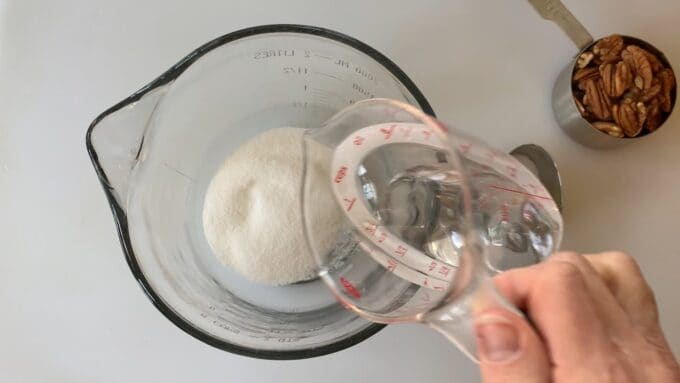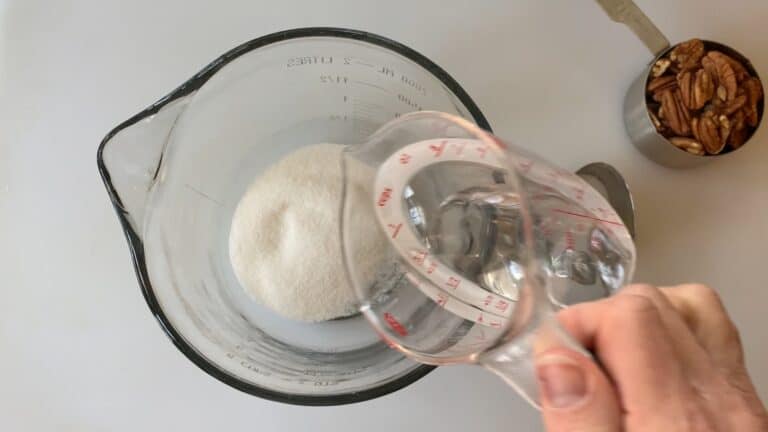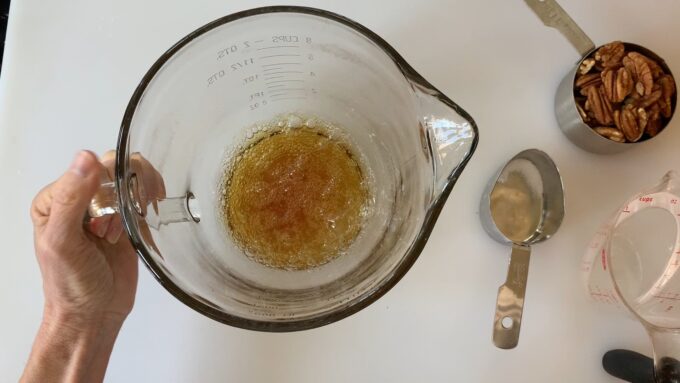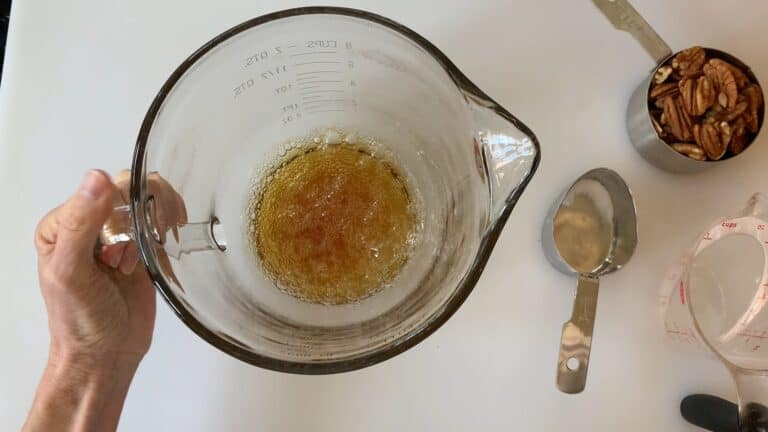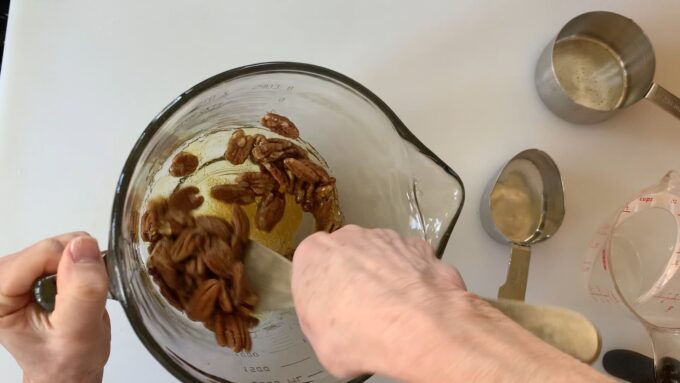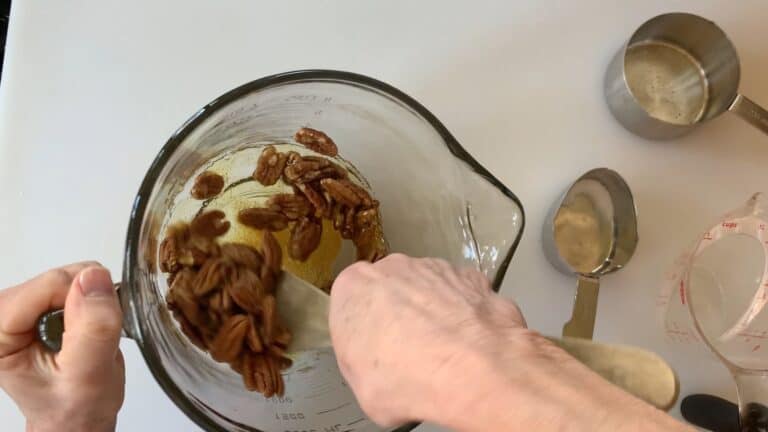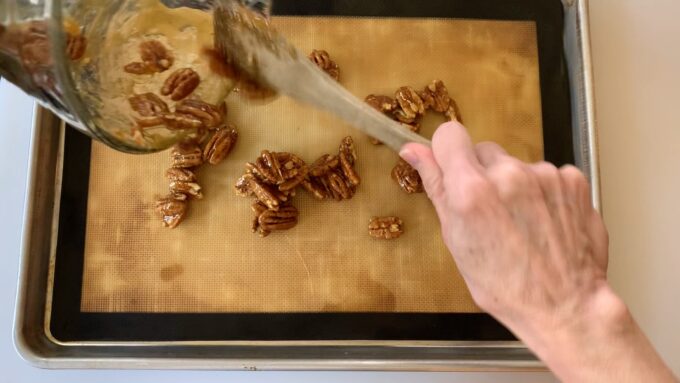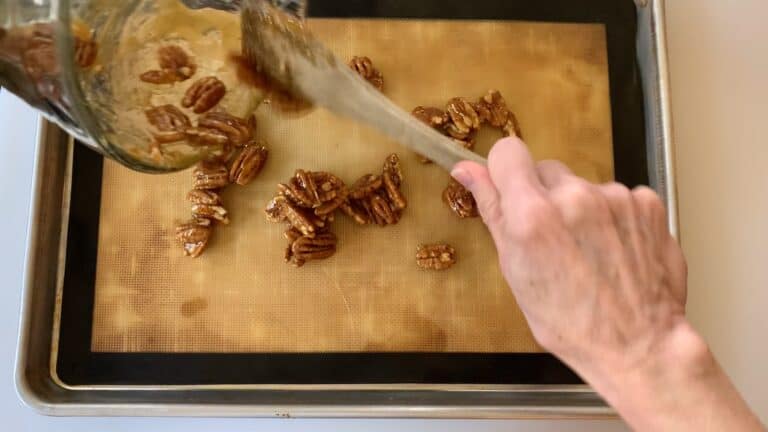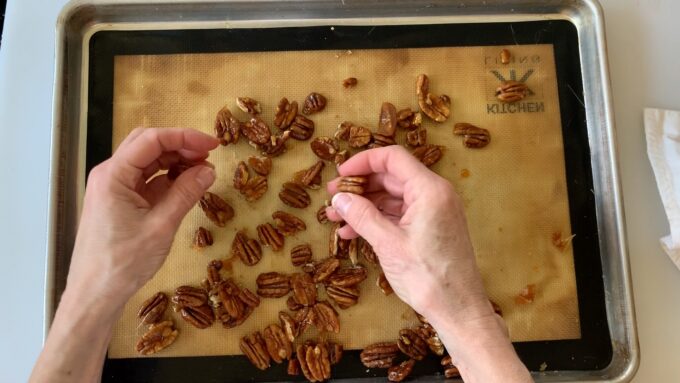 ---
More amazing things you can do in the microwave
---
Pin to save for later: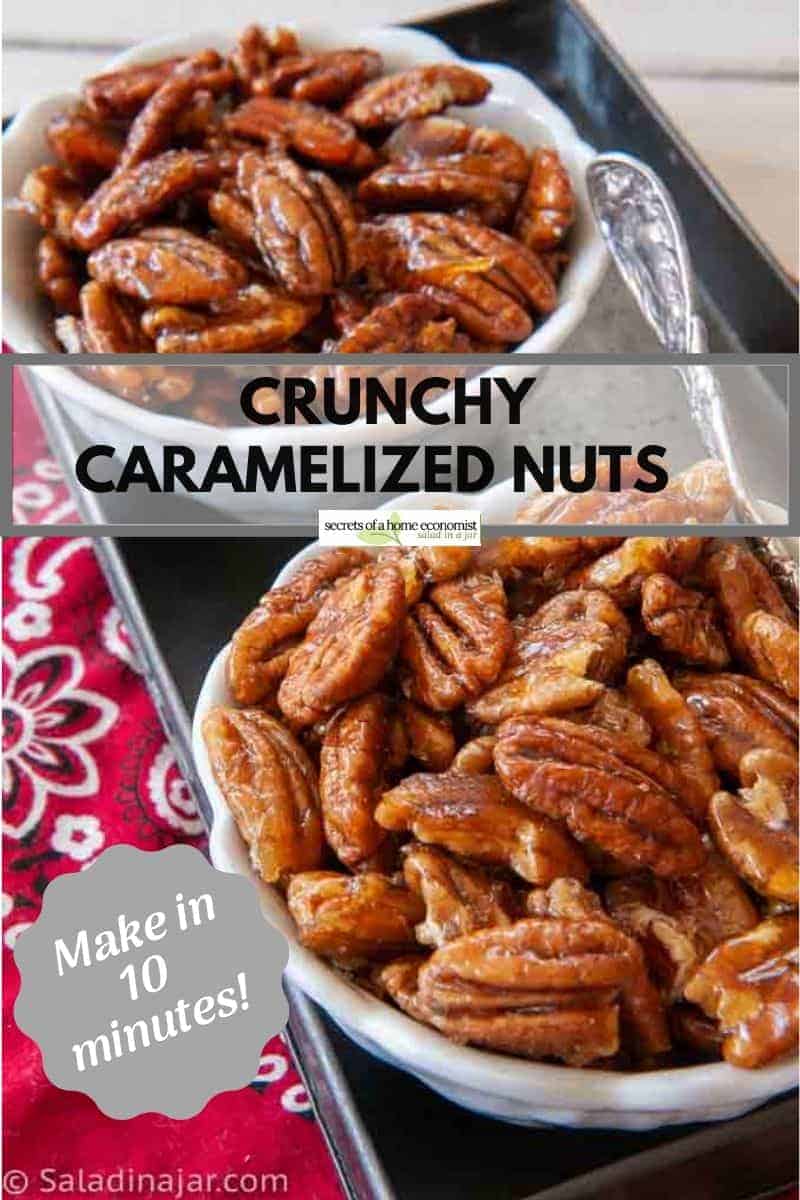 ---
---
---
Did you try this recipe and enjoy it? Consider helping other readers (and me) by returning to this post. Leave a rating on the recipe card itself underneath the picture. Although always appreciated, comments aren't required.
If you have a question or tip to share, please leave it in the regular comments after the recipe so I can answer back. Or, email me privately: paula at saladinajar.com.

Thank you for visiting!
Paula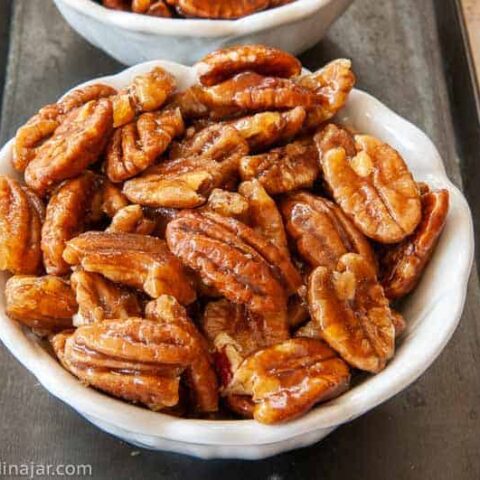 Microwave Candied Pecans
Use a microwave to caramelize whole pecans. They will be shiny, sweet, crunchy, and irresistible.
Ingredients
1/2 cup sugar
1/4 cup water
1 -1/4 cup whole, shelled pecans, pistachios, cashews or walnuts
Instructions
Add water to sugar in a 2-quart microwave-safe glass batter bowl. Do not stir. (I highly recommend you buy an inexpensive glass 2-quart batter bowl if you cook in a microwave very often.)
Microwave on High for 4-7 minutes or until sugar mixture starts turning golden like a piece of butterscotch candy. DO NOT STIR. (Times vary with different MW ovens so watch carefully the first time or two until you figure out the exact time needed in your oven. It's easy to burn.)
Add nuts and MW on High for 30 seconds. Give a quick stir and finish with another 30 seconds on High.
Quickly (and I do mean quickly) pour onto parchment paper, a silicone baking mat or well-greased cookie sheet. Allow nuts to cool until you can touch them without burning your fingers.
Break up with your fingers. If caramel pulls in to thin thread-like strands when you try to break up the nuts, let it cool longer. If that doesn't work, you probably didn't cook it long enough.
Notes
Variation:
Spiced Caramelized Nuts: Stir 1 teaspoon of cinnamon or ground cardamom into the nuts before adding them to the caramelized sugar. Continue with step three.
Recommended Products
As an Amazon Associate, I earn from qualifying purchases. But don't worry. This doesn't change the price you pay.
Nutrition Information:
Yield:

10
Serving Size:

1 serving
Amount Per Serving:
Calories:

42
Total Fat:

0g
Saturated Fat:

0g
Trans Fat:

0g
Unsaturated Fat:

0g
Cholesterol:

0mg
Sodium:

2mg
Carbohydrates:

10g
Fiber:

0g
Sugar:

10g
Protein:

0g