Amaretto and Peach Frozen Yogurt: Fresh Peaches at Their Best
Sneak Preview: Amaretto and Peach Frozen Yogurt transforms fresh peaches into a fabulous frozen treat with the help of your small-batch ice cream maker or a Creami machine.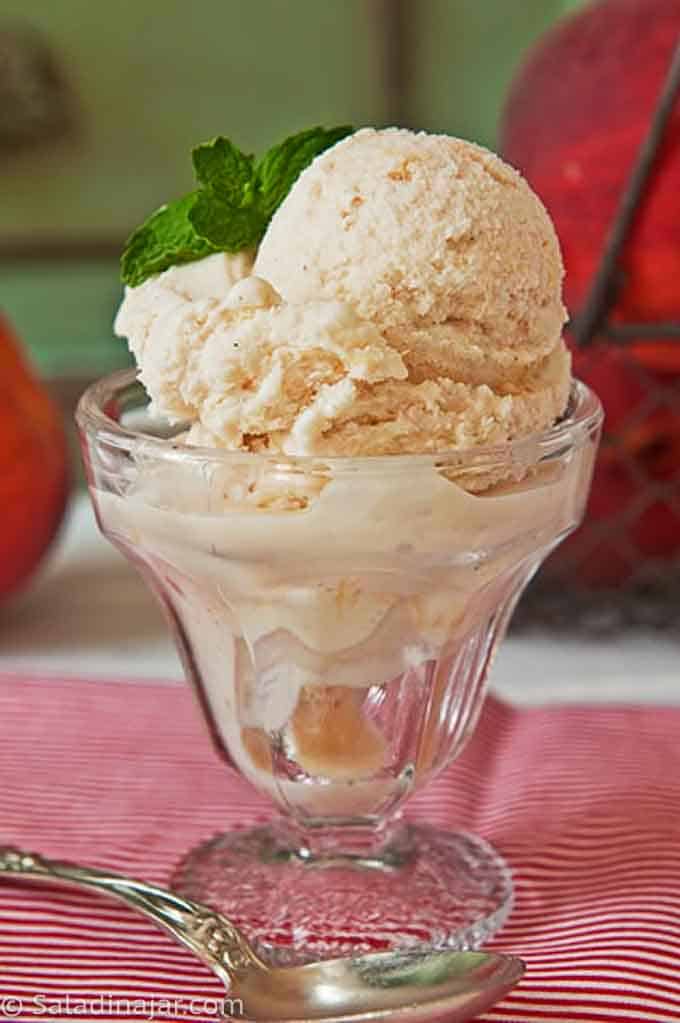 If you have some peaches in your kitchen slightly past their prime, try this Amaretto and Peach Frozen Yogurt. If you don't have any Amaretto in the house, no worries. It will still be completely delicious if you substitute almond extract!
Have you ever tried making frozen yogurt?
It tastes so good at the frozen yogurt shop. How do they make it taste so good? I'm suspicious.
Since I started making Greek yogurt at home, I've been hunting for a good yogurt ice cream recipe. Until now, most of them were a disappointment–as in a weird texture. After several experiments, I've found a combination I like, and I think you will, too.
---
Why you should try Homemade Peach Frozen Yogurt with Amaretto:
#1
The peaches are fresh–never cooked.
While cooked-down peaches may have a more intense flavor, freshness is more important in ice cream. At least, that's the way I see taste it.
#2
You can also strain regular yogurt until you have thicker Greek yogurt.
#3
Amaretto prevents rock-hard ice cream
If you want to know more about this, David Lebovitz writes a good article entitled Tips For Making Homemade Ice Cream Softer.
If your frozen yogurt is too hard to dip the next day, a few seconds in the microwave or a few minutes on the counter will remedy the problem.
---
Ingredients and substitutions:
Peaches: Try to find perfectly ripe, sweet peaches. I know it can be a wild guess when you stand in front of the fruit bin at the supermarket. Discreetly sniff the stem end. Let somebody else have them if they don't smell like a peach. In case you are wondering, I always peel my peaches.

Sugar: Granulated sugar makes the peaches more flavorful and improves the texture of the ice cream.

Lemon Juice: Lemon juice (or orange juice) lends brightness to the flavors of the finished ice cream. It also discourages the peaches from browning.

Greek yogurt: I like to make Greek yogurt. It is higher in protein and creamier than regular yogurt, so that's my first choice.

Milk: Whole milk makes the creamiest ice cream with the best texture. You can substitute non-dairy, low-fat dairy milk, or nonfat milk if you have other priorities.

Whipping cream: You can't get sweet and tasty fresh peaches all year, so it's worth a splurge when you find some.

Vanilla and almond extracts: Don't leave these out. They make the flavors pop.

Amaretto: A little alcohol will help keep this ice cream dippable. It tastes good, too.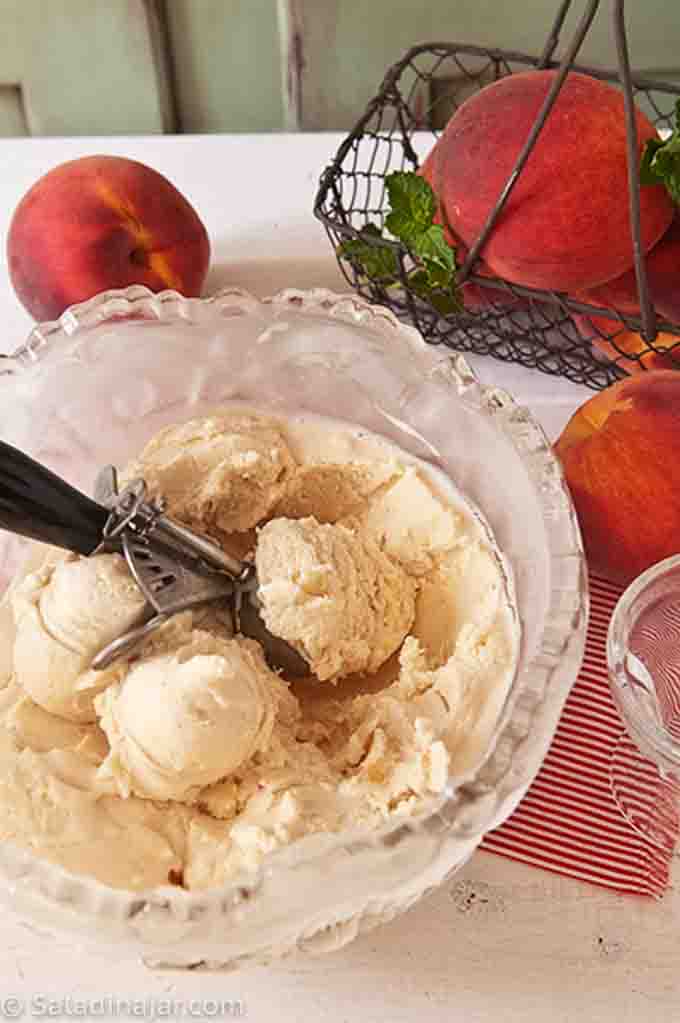 ---
Do I need an ice cream freezer?
My favorite ice cream freezer is a Donvier hand-crank freezer. It's easy, doesn't take up much freezer space, and is portable (non-electric). It is small but perfect for a smaller family without too many leftovers.
Another option is a Ninja Creami(paid link). This recipe will fill two containers. Freeze the containers for 24 hours and spin on the Ice Milk setting.
This recipe will work in any 2-quart ice cream freezer. If you need more recipes, try my Coffee Ice Cream, Fresh Blackberry Ice Cream with Chocolate Shards, or Creme Fraiche Ice Cream Recipe with Nutella Chunks.
FAQs for frozen yogurt:
Can I freeze yogurt and eat it like ice cream?
Yes, you can freeze it, but the texture will change as it thaws, and the flavor won't be the same.
Can I use frozen or canned peaches instead of fresh peaches?
Yes. Canned peaches won't be as flavorful, so you may want to add more extracts or Amazretto. Frozen peaches can also be used but won't taste like fresh and juicy peaches.
How do you keep peaches from turning brown when frozen?
Dip them into lemon juice. That is why you add lemon juice to sliced peaches in the recipe immediately upon peeling and slicing them.
---
Parting Thoughts: Do you have a Creami made by Ninja? It's one more appliance to decorate your counter–but I love mine!!! If you plan to use a Creami (paid link) to spin this, I recommend you use half and half instead of heavy cream.
---
Help at Your Fingertips: For questions or suggestions, email Paula at saladinajar.com. If you need help, I'm happy to troubleshoot via email (faster than leaving a comment). Attach pictures and as many details as possible for the best advice.
---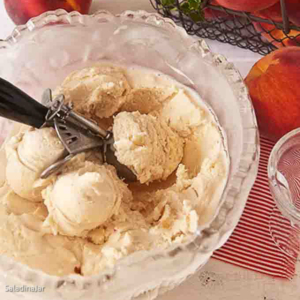 Homemade Peach Frozen Yogurt Recipe with Amaretto
Fresh peaches and Greek yogurt dance together in an ice cream freezer to create this delicious summer treat.
Share recipe love here. ⬇
Ingredients
1½

cup

(

77

g

)

fresh peaches, peeled and mashed

2

tablespoons

granulated sugar

1

teaspoon

lemon juice

1½

cup

(

340

g

)

plain Greek yogurt

½

cup

(

114

g

)

milk

1

cup

(

227

g

)

whipping cream

⅔

cup

(

133

g

)

sugar

1

teaspoon

vanilla bean paste or vanilla extract

¼

teaspoon

almond extract

1

tablespoon

Amaretto
Instructions
After mashing

1½ cup

(

77

g

) fresh peaches, peeled and mashed, stir in

2 tablespoons

granulated sugar and

1 teaspoon

lemon juice. Set aside.

Combine

1½ cup

(

340

g

) plain Greek yogurt,

½ cup

(

114

g

) milk,

1 cup

(

227

g

) whipping cream, and

⅔ cup

(

133

g

) sugar, stirring until sugar dissolves.

Add

1 teaspoon

vanilla bean paste or vanilla extract,

¼ teaspoon

almond extract,

1 tablespoon

Amaretto, and the peach mixture. Chill.

Freeze in a quart-size ice cream freezer according to manufacturer directions.
Nutrition
Serving:
1
1/2 cup
|
Calories:
207
kcal
|
Carbohydrates:
23
g
|
Protein:
3
g
|
Fat:
12
g
|
Saturated Fat:
7
g
|
Polyunsaturated Fat:
1
g
|
Monounsaturated Fat:
3
g
|
Trans Fat:
1
g
|
Cholesterol:
43
mg
|
Sodium:
24
mg
|
Potassium:
63
mg
|
Fiber:
1
g
|
Sugar:
22
g
|
Vitamin A:
492
IU
|
Vitamin C:
1
mg
|
Calcium:
54
mg
|
Iron:
1
mg
HELP OTHERS find this recipe. Leave a 5 🌟🌟🌟🌟🌟 rating at the top of the recipe card if you enjoyed it. No comment is required.