If you have some peaches in your kitchen slightly past their prime, try this Amazing Amaretto and Fresh Peach Frozen Greek Yogurt. If you don't have any Amaretto in the house, no worries. It will still be completely delicious if you substitute almond extract!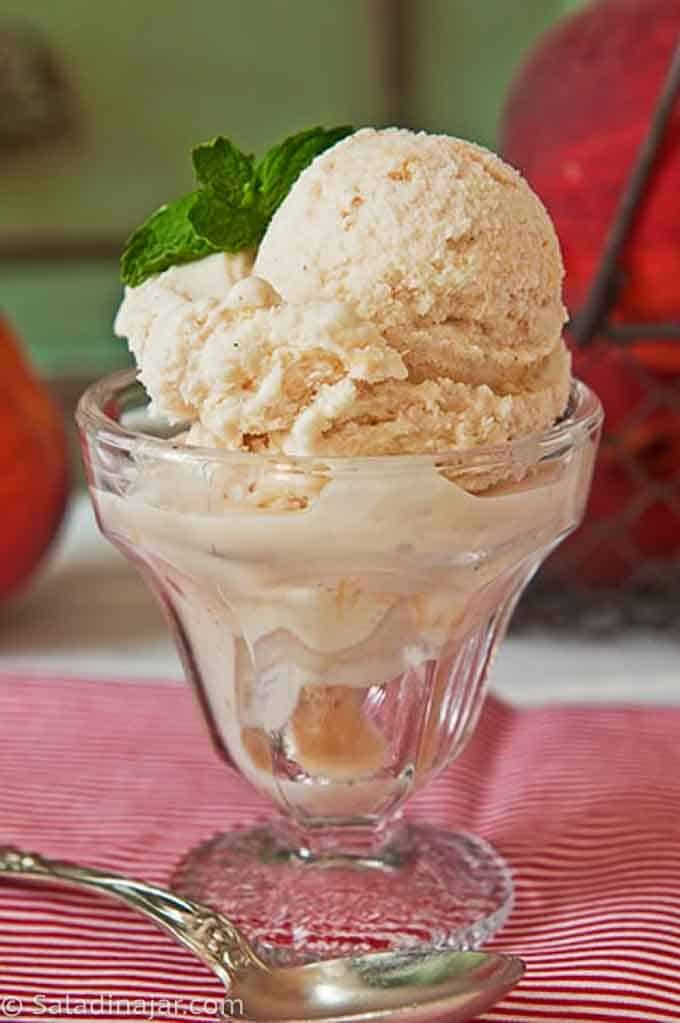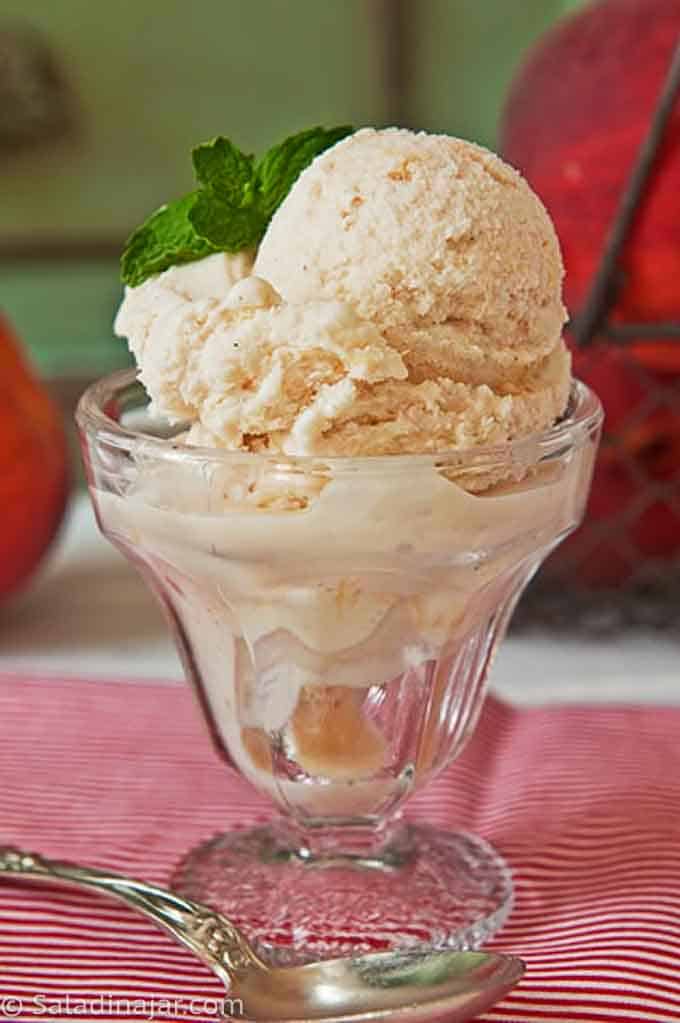 Have you ever tried making your own frozen yogurt?
It tastes so good at the frozen yogurt shop. How do they make it taste so good? I'm suspicious.
Ever since I've been making Greek yogurt at home, I've been on the hunt for a good yogurt ice cream recipe. Up to now, most of them were a disappointment–as in a weird texture. After several experiments, I've found a combination I like.
Why Amaretto and Fresh Peach Frozen Greek Yogurt is Amazing:
#1
The peaches are fresh–never cooked.
While cooked-down peaches may have a more intense flavor, freshness is more important in ice cream. At least that's the way I see taste it.
#2
Make homemade yogurt or buy it.
You can also strain regular yogurt until you have Greek yogurt which is thicker.
#3
Amaretto prevents rock-hard ice cream
If you want to know more about this, David Lebovitz writes a good article entitled Tips For Making Homemade Ice Cream Softer.
If your frozen yogurt is too hard to dip the next day, a few seconds in the microwave or a few minutes on the counter will remedy the problem.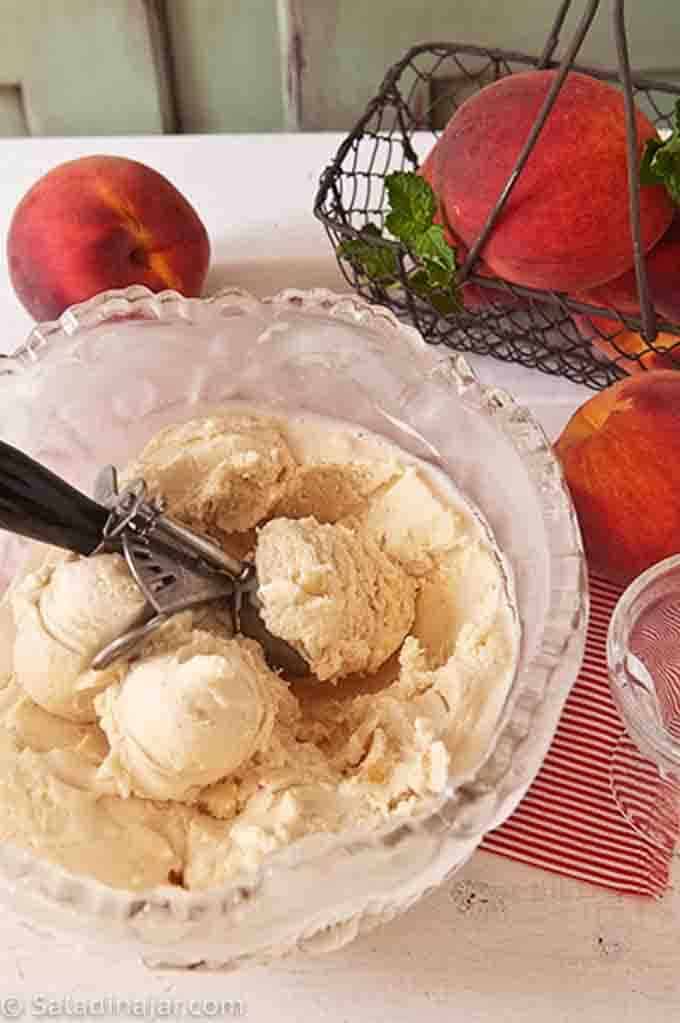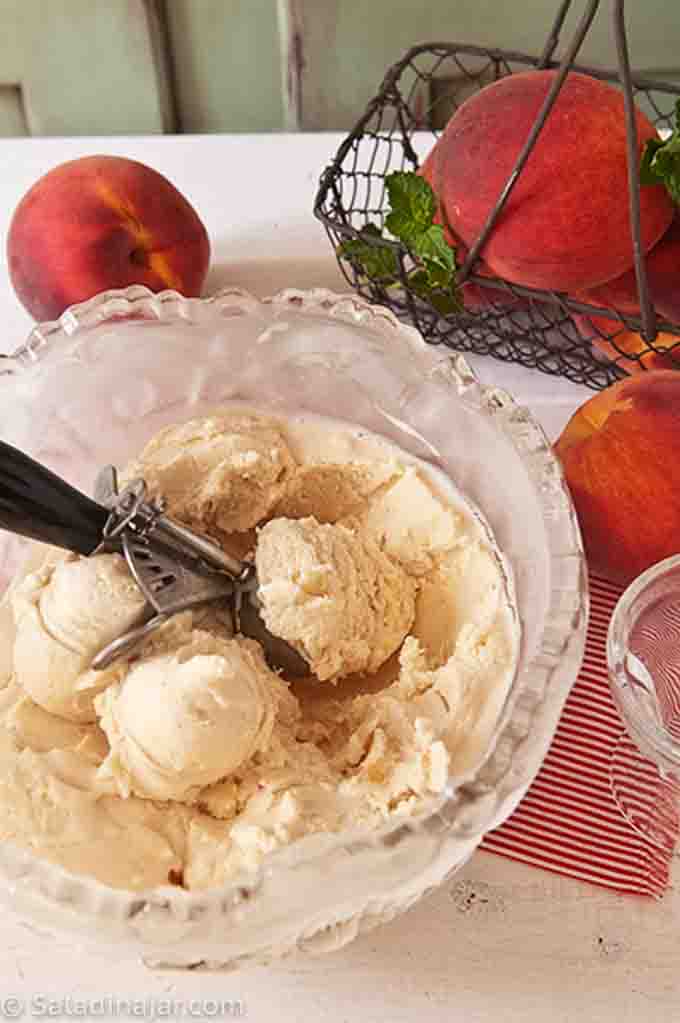 Do I need an ice cream freezer?
My favorite ice cream freezer is a Donvier hand-crank freezer. It's easy, doesn't take up much freezer space, and is portable (non-electric). It is small-ish, but perfect for a smaller family without too many leftovers.
Nevertheless, this recipe will work in any 2-quart ice cream freezer. If you need more recipes, be sure to try Coffee Ice Cream and Fresh Blackberry Ice Cream with Chocolate Shards
---
Pin the picture below to save for later.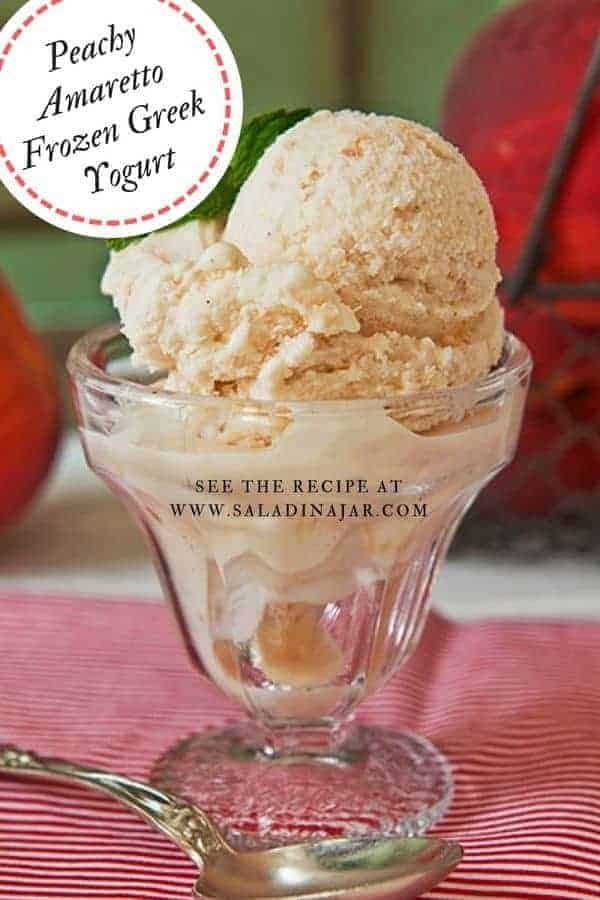 Did you enjoy this recipe? If so, you can help others and myself by leaving a 5-star 🤩 rating in the recipe below. No comments required.
Hope to see you again soon!
Paula
p.s. If you have any questions or suggestions, you can email me privately: paula at saladinajar.com.