Preview: Make this decadent Creme Fraiche Ice Cream recipe with Nutella chunks in your small-batch ice cream freezer.
Are you familiar with creme fraiche? You can buy it or make it. Last year I published a recipe for homemade creme fraiche. Make it with heavy cream and yogurt, buttermilk, or yogurt whey. Now you have even more motivation to make some for this delicious ice cream recipe.
First, combine the tartness of creme fraiche with a sweet cream base. This creates the perfect backdrop for frozen chunks of Nutella chocolate hazelnut spread.
Last year, I published a recipe for creme fraiche made with whey or yogurt for all my yogurt-making friends. If you have never tried creme fraiche, see that post for more information about the origins and characteristics of this magical cream.
True Confessions…
This ice cream was a "pandemic addiction" for me. Would you please tell me I'm not the only one who acquired a few bad habits last year? I used to eat this ice cream almost every day after finishing my mega salad.
Here's how I did it: Fill small 2-ounce salad dressing cups with the ice cream. Do it while the ice cream is still a soft-serve consistency. Pop on a lid and freeze. You don't need much because this stuff satisfies!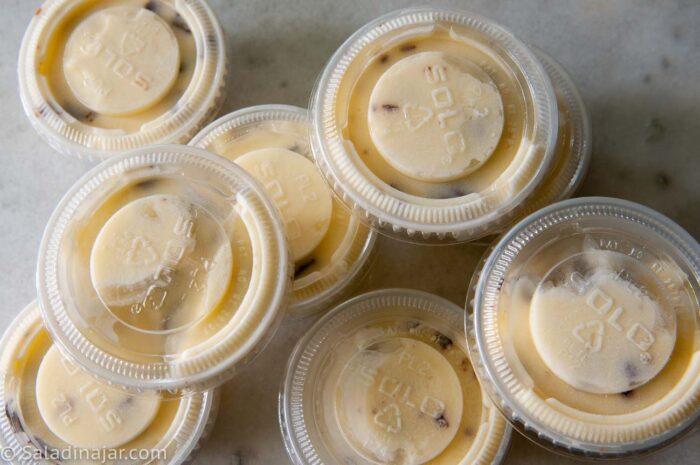 ---
Recipe inspiration:
Thanks to the owner of the crispy waffle website where I was first inspired to create this recipe.
My recipe starts with the vanilla-flavored cream base from Ben and Jerry's Ice Cream Cookbook. Their recipes are simple and fresh-tasting. I use this same base for my coffee ice cream and blackberry ice cream with chocolate shards.
From there, I added the creme fraiche and the frozen Nutella chunks.
Here's the deal with creme fraiche:
If you add it to the ice cream mixture initially, creme fraiche tends to turn the whole sweet cream base into creme fraiche. Therefore, wait until immediately before freezing your ice cream to add creme fraiche to the chilled milk, eggs, and sugar.
What are Nutella chunks?
You can't buy them that I know of, but you can easily make them yourself.
It turns out the best method is to make Nutella "chunks" or bits. First, spread Nutella into a thin layer on a plastic-wrap-covered paper plate. Place into the freezer.
When frozen, chop the Nutella into pieces and return it to the freezer immediately. It thaws fast. Stir the chunks into your ice cream before transferring it into a small container to put into the freezer.
Why not stir Nutella into the cream base straight out of the jar?
Most Nutella ice cream recipes online call for adding the Nutella simultaneously as the milk, sugar, and eggs. So it ends up looking and tasting similar to chocolate ice cream.
I prefer to taste and see the Nutella. At first, I tried to stir the soft Nutella into the ice cream when the ice cream was a soft-serve consistency. Y'know–looking for a swirly effect.
Unfortunately, the Nutella froze so fast; I ended up with big clumps of chocolate. They were too big to eat and too hard to cut with a spoon. Although making small chunks is an extra step, I enjoy the Nutella more this way.
ADDENDUM 9/6/21: Thanks to Dorie Greenspan, I've found a new way to add Nutella to my ice cream without turning it into chocolate ice cream.
Add 1 tablespoon of coconut oil to 4 ounces of Nutella. Warm gently in the microwave for 30 seconds and stir together. Add this mixture to your ice cream at the end of the cycle when it is frozen firm. As you stir it in, the Nutella mixture will turn into flakes. The effect is not quite the same as Nutella chunks, but it's a lot easier and very delicious.
---
Ingredients and substitutions:
EGGS: This recipe is written for large-sized eggs. Many ice cream recipes call for eggs to be cooked into a custard-type mixture which requires more time… and dirty dishes.

My family prefers the fresher taste of uncooked eggs, so I pasteurize them myself when that is a concern. (More about that below.)

SUGAR: Use only granulated sugar for the best texture. Using a sugar substitute may have unpredictable results.

WHOLE MILK: Whole-fat milk is recommended. I have used 2% milk in the past to avoid a trip to the grocery store. It doesn't store as well or have the best texture, but it will still satisfy an ice cream craving.

HEAVY CREAM: You could use half-and-half or whole milk, but your ice cream will freeze harder and the texture won't be as creamy.

VANILLA EXTRACT: Use a good vanilla extract. Vanilla beans or a vanilla bean paste would be even better if you are lucky enough to have some.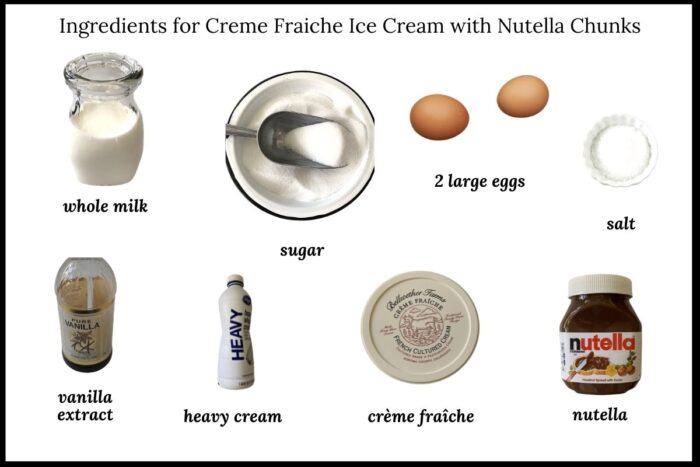 CREME FRAICHE: Buy this or make it yourself with heavy cream and yogurt or yogurt whey. You could use heavy cream instead. Then you will have regular vanilla ice cream with Nutella chunks. Substitute 1 cup of heavy cream for the creme fraiche so that you still use a total of 2 cups of heavy cream.

Another variation: If you prefer, use 2 cups of creme fraiche and no heavy cream. I LOVE it that way.

NUTELLA CHUNKS: This is what I make using a jar of Nutella (see recipe and pictures below). You could also do this with peanut butter. Or substitute your favorite chocolate bar chopped into shards.
---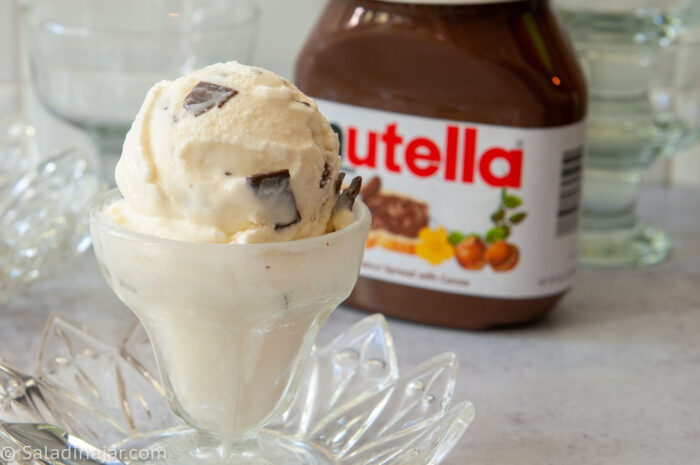 ---
FAQ
Is it safe to use raw eggs in this recipe?
Whenever you use raw eggs in an uncooked recipe, you run the risk of food-borne illness. This is particularly concerning for the very young, old, or someone with a compromised immune system.

If this is a concern for you, buy pasteurized eggs at the grocery store or pasteurize them yourself. According to the International Egg Pasteurization Manual, this involves holding the eggs at 140˚F for 3.5 minutes. If you want a video showing specifics about pasteurizing eggs at home, check YouTube.

A Sous Vide (paid link) makes it simple to bring the eggs to the exact temperature needed and hold it without babysitting. It might be a good excuse to put one on your Christmas list.

Pasteurized eggs are also handy for homemade mayonnaise and French Silk Pie.

Making Creme Fraiche Ice Cream with Nutella Chunks: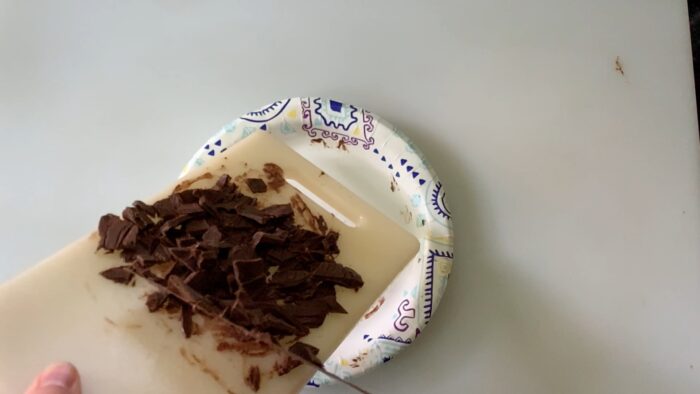 ---
Would you like to see more ice cream recipes?
---
If you enjoyed this recipe, it would help others and me if you gave it a five-star rating inside the recipe card below. 🤩 No comment required. Thank you.

Hope to see you again soon!
Paula
p.s. Questions or suggestions? Please email me: Paula at saladinajar.com.
---