Preview: These easy chocolate toffee bars have a shortbread base covered with melted chocolate chips and chopped pecans. Impressive but quick to make when time is short!
What recipe do you pull out when you need a quick dessert? That recipe will surely be easy and contain ingredients you already have on hand. 3 dozen drop cookies are not the first thing that comes to mind.
I would prefer to skip the brownie mix and go for these chocolate toffee bars. The shortbread base is simple to put together and only requires flour, butter, and sugar. When the base is cooked, spread chocolate chips (or another flavor of your choice), let them melt, then spread evenly with a spatula.
Bonus: The base is thinner than the average toffee bar recipe so you can eat these without quite so much guilt.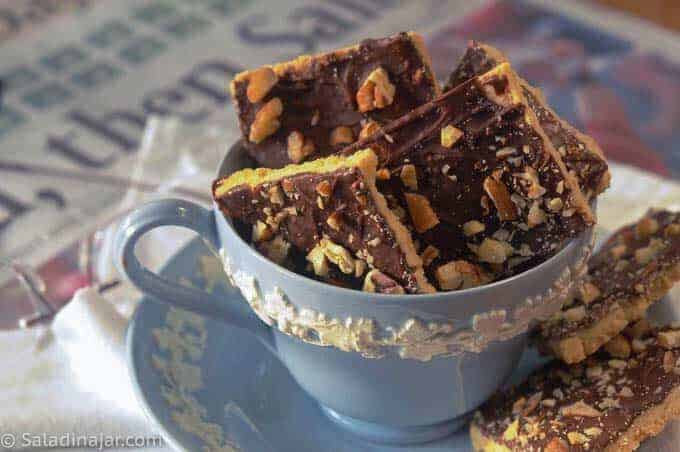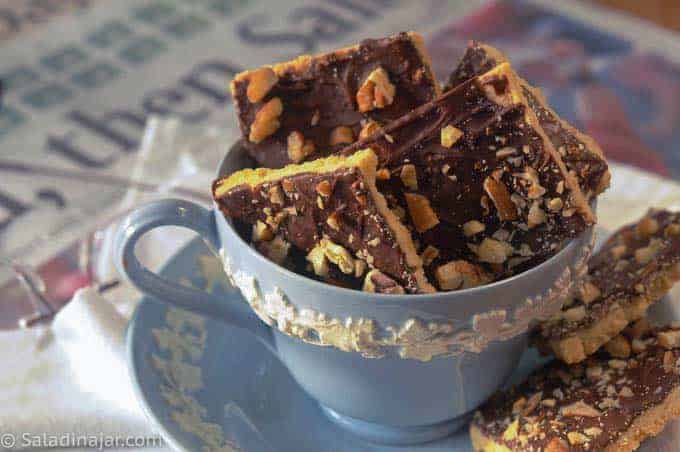 ---
How to easily memorize this toffee bar recipe:
When pressed for time, would you rather make a recipe you know by heart or one hiding in a cookbook or messy recipe file?
Yep! That's what I thought. Like you, I go with what I know to save time.
Given the above, I have good news…
You won't need a written recipe for long with these easy cookies. Here's a trick I use so I don't have to look up the recipe.
Remember 1/4.
The "1" stands for 1 cup of flour. The "4" stands for the 4 ingredients in the shortbread base. Put them together and you have 1/4 which indicates the amount needed for three of the ingredients:
1 cup flour + 1/4 cup powdered sugar + 1/4 cup butter + 1/4 teaspoon salt
I'm not sure if this explanation makes sense, but it works for me.
Conveniently, I just eyeball the chocolate chips. No need to memorize that measurement.
Variations:
The possibilities for topping these bars are numerous. The cookies you see in the top photo are covered with semi-sweet chocolate chips and pecans. My oldest son goes crazy for them.
My husband likes the bars pictured below featuring half chocolate chips and half white chocolate chips.
Next, I may try peanut butter chips marbled with chocolate chips. And how about melted chocolate chips topped with toasted almonds? Yum!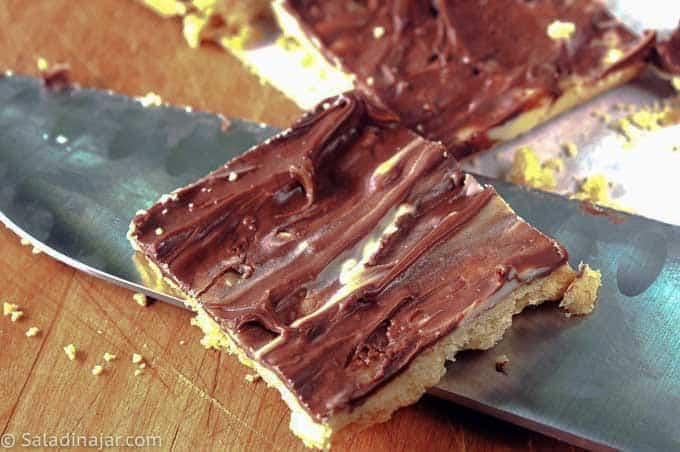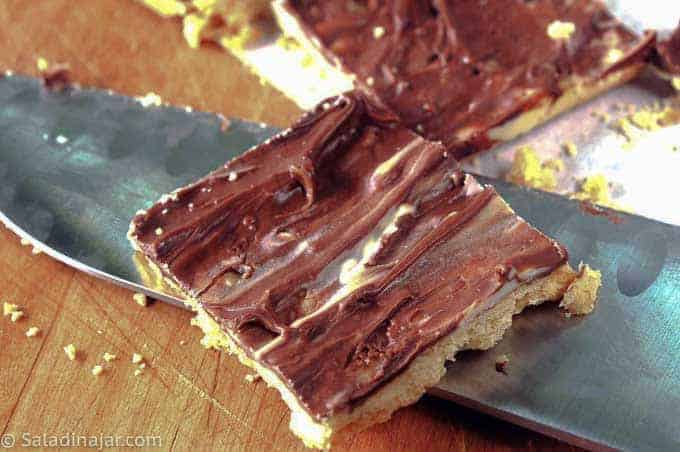 How to line a pan for clean and easy removal of chocolate toffee bars:
A parchment paper or foil sling is HIGHLY RECOMMENDED to enable you to remove these cookies from the pan without crumbling. With that in mind, see the directions in the picture tutorial below.



---
Pin the picture below to save for later.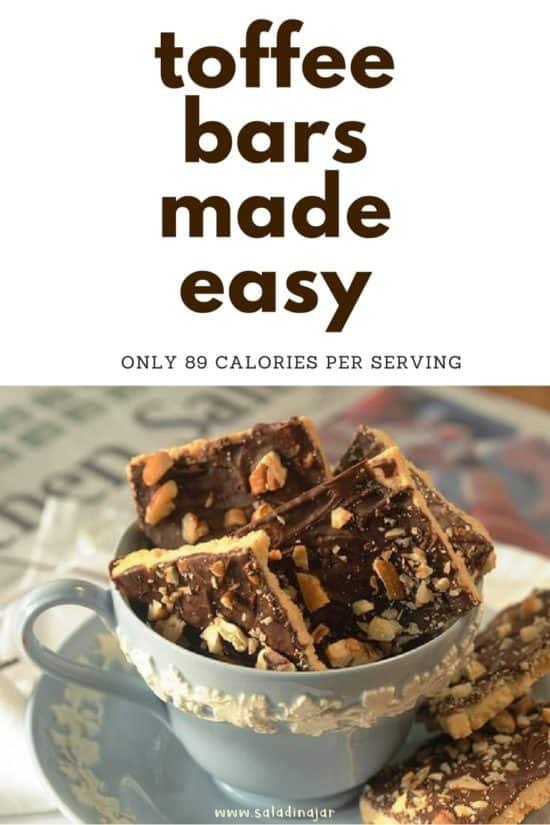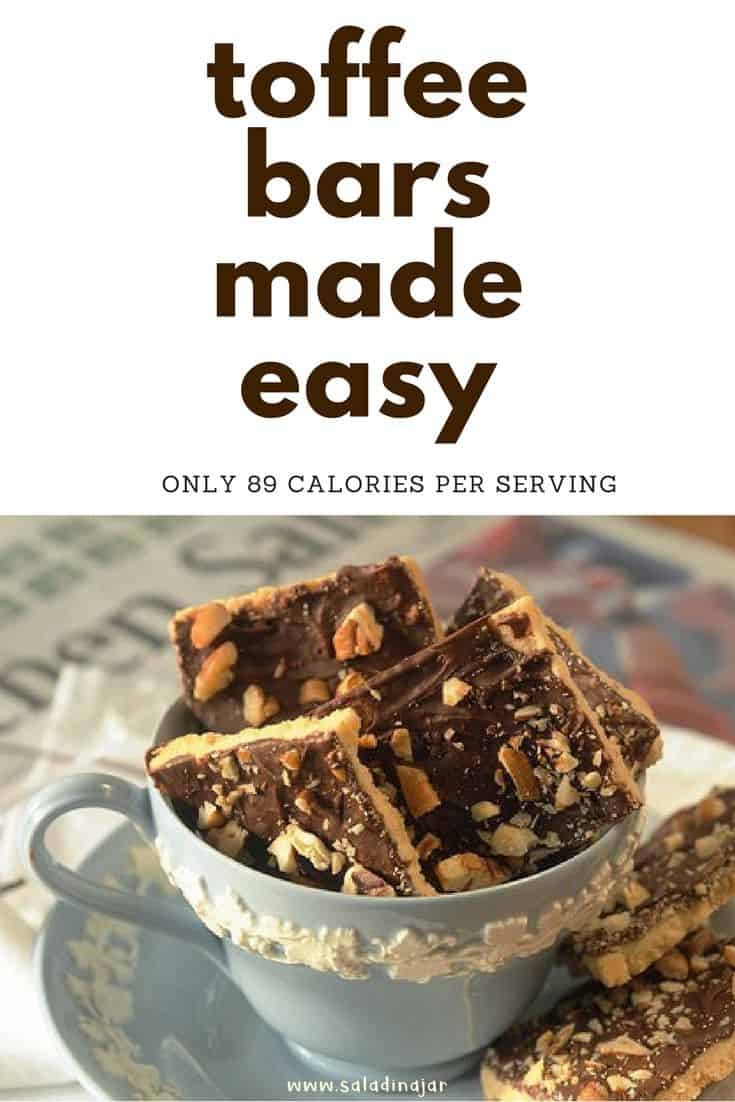 ---
---
Did you enjoy this recipe? If so, you can help others and me by leaving a 5-star 🤩 rating inside the recipe below. No comments are required.
Hope to see you again soon!
Paula
p.s. If you have any questions or suggestions, you can email me privately: Paula at saladinajar.com.
---