Yellow Squash Souffle Recipe for When You Need "Easy"
Sneak Peek: This Squash Souffle Recipe is a lightened-up version of a simple but delicious side dish served at one of my favorite restaurants. Combine fresh yellow or other summer squash with various colors of bell peppers, onions, eggs, seasoning, and bread crumbs.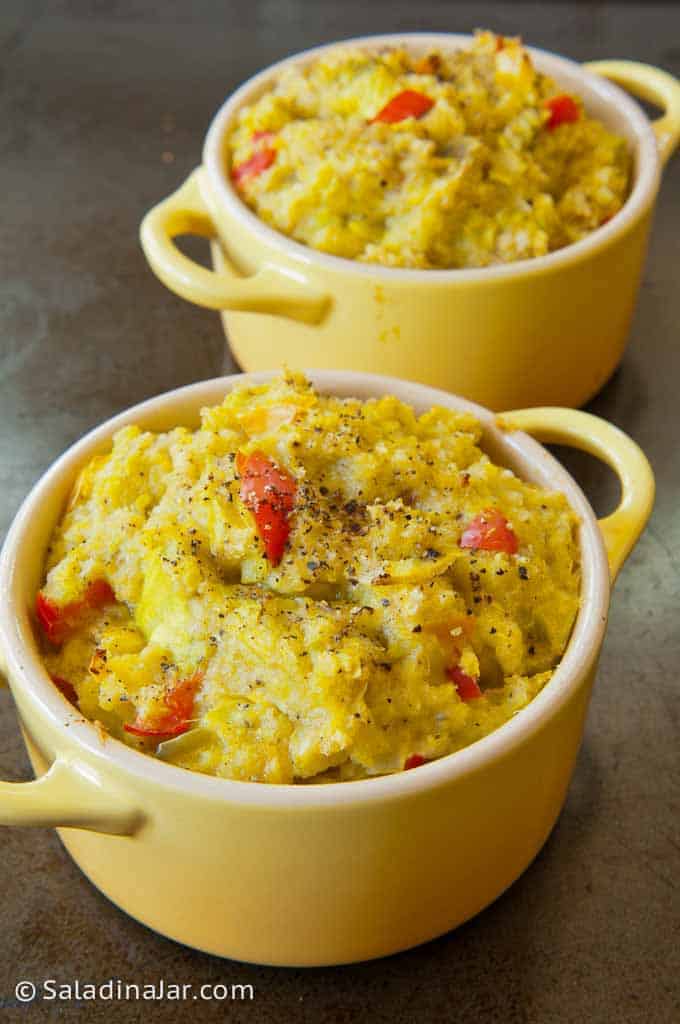 As an Amazon Associate, I earn from qualifying purchases.
A few years ago, I watched my mother-in-law cook fresh yellow squash. She boiled, mashed, and drained, then added salt and pepper.
What I saw next was an "aha moment." She added a pinch of sugar. Not much–just enough to bring out the naturally sweet flavor inherent in summer squash.
My mother-in-law was on to something.
Yes. I've seen it before.
The "pinch-of-sugar-to-bring-out-the-flavor" trick, that is. My sister does it with salad greens. Grandma used to do it with green beans. Some do it with pie crust. Even gravy! No wonder many of us are addicted to sugar. Good grief!
One of my favorite squash recipes comes from Helen Corbitt's Cookbook(paid link). I've updated this souffle a bit–and, like my mother-in-law, added a pinch of sugar.
To my readers in the North Texas area: This dish reminds me of the yellow squash casserole served at the Black-Eyed Pea restaurant.
---
Ingredients and common substitutions:
Onion: White or yellow onions with a mild flavor work best. If you don't like to chop fresh onions, use frozen onions.

Bell Peppers: I love to use red and orange bell peppers. Green bell peppers are fine if you like the slightly bitter flavor. Yellow peppers don't appear well next to yellow squash, which is OK, but more color makes a more appetizing dish.

Butter: Any butter or margarine will suffice. I haven't tried vegetable oil instead of butter, but I suspect it would also work.

Yellow Squash: Look for small to medium-sized squash. When they get too large, squash is not as tender or flavorful. I've tried this recipe with a combination of zucchini, yellow squash, and red peppers. It's gorgeous and tasty. Crookneck squash and pattypans are also good substitutes for yellow squash. 8-ball squash is another summer squash you could substitute for yellow squash.

Eggs: The recipe is designed for large eggs.

Bread Crumbs: Use Panko or dried bread crumbs. I prefer to make my bread crumbs to be as fresh as possible. Bread crumbs replace flour like you would use when making a traditional souffle.

Salt: Any kind of salt is acceptable.

Sugar: Granulated sugar is my secret trick with this recipe. Optional!

Pepper: Use freshly ground pepper, if possible. This souffle recipe is mild in general, so the pepper brings it to life.

---
📌Kitchen secrets📌:
Although you can make this without a food processor, blender, or immersion blender, it saves time and your arm if you don't have to do it by hand. Even so, a potato masher works sufficiently well.
Drain cooked squash completely. Otherwise, the casserole must be baked longer than expected so it won't be mushy.
Although this is not a traditional souffle with a cream sauce and whipped egg whites, the eggs in this recipe will cause this casserole to rise up like a standard souffle when it's cooked through…and fall like one, too. Expect it as the casserole cools.
---
How to assemble Yellow Squash Souffle: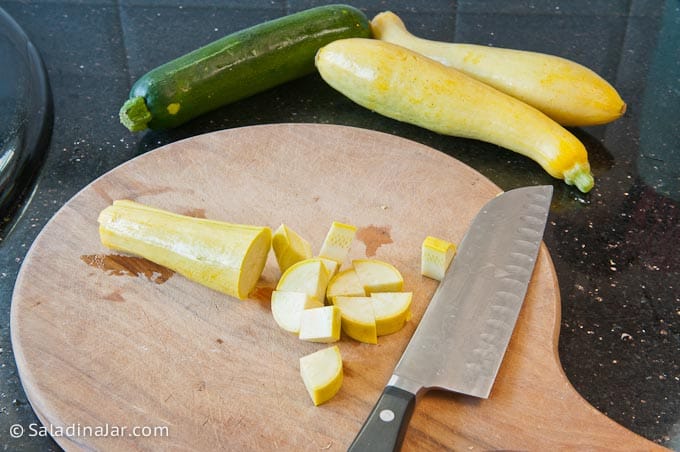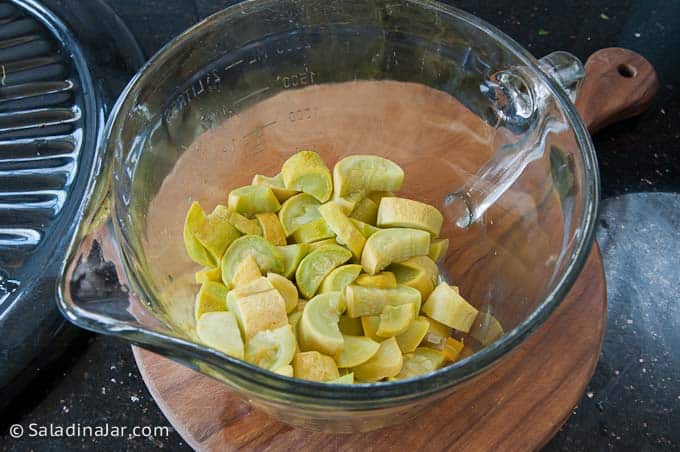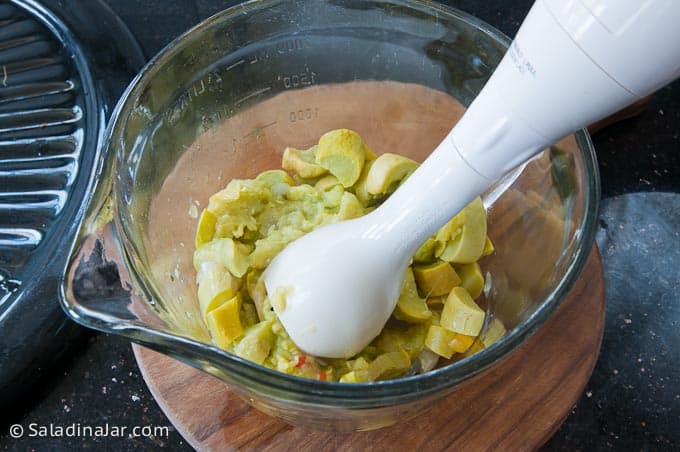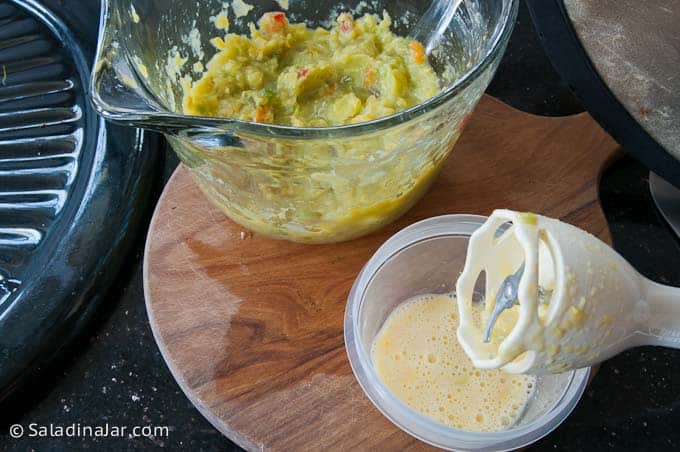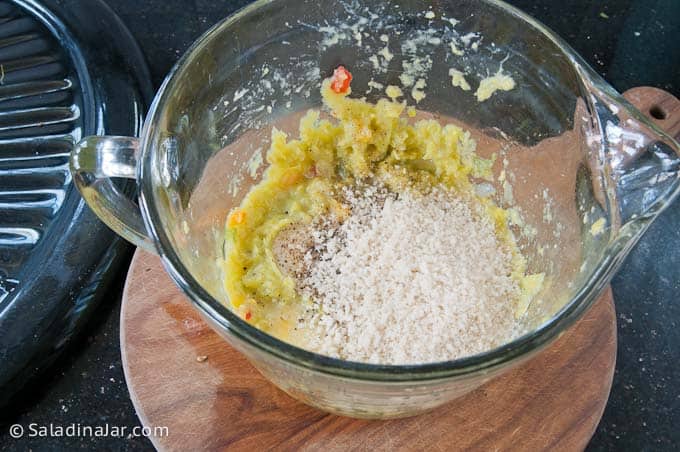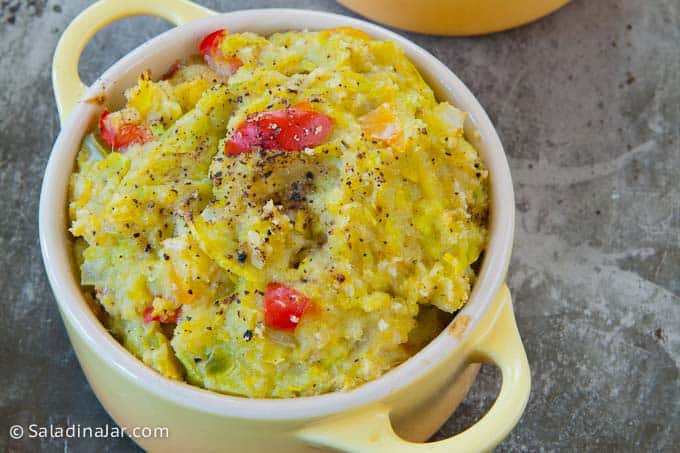 ---
FAQ about Squash Souffle:
Why is my squash casserole watery?
First, make sure the squash is completely cooked so it will release as much moisture as possible. Second, make sure you drain it well. Mash it to squeeze out as much water as possible, as you might do with spinach.
Do you peel yellow squash?
Yellow squash has thin and tender skin. There is no need to peel it unless your squash has sustained an injury you want to remove.
How do I know when this souffle is done?
Testing a souffle should be done carefully with a small paring knife. After you push the knife into the middle, it should come out clean.
What's the difference between summer squash and yellow squash?
According to Kitchn.com, "The term summer squash encompasses many varieties of fresh squash harvested mostly in the summer months. These summer squash varieties include zucchini, many types of yellow summer squash, and pattypans."

Parting thoughts: Yellow squash is my favorite of all the different types of summer squash, so I have a collection of recipes for it. These Simple Squash Patties are so fun to eat and dip. Check out this Roasted Yellow Squash with Parmesan if you prefer roasted veggies. Those crispy slices are hard to quit eating!
Over to you: What food (that is not dessert) do you add a pinch of sugar to bring out the natural flavors?
---
Help at Your Fingertips: For questions or suggestions, email Paula at saladinajar.com. If you need help, I'm happy to troubleshoot via email (faster than leaving a comment). Attach pictures and as many details as possible for the best advice.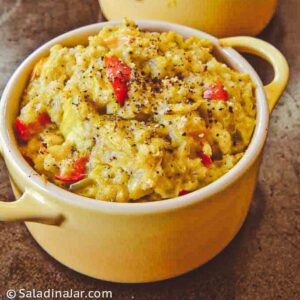 Baked Yellow Squash Soufflé
Fresh yellow squash makes a delicious but simple casserole similar to that served at Black-Eyed Pea restaurants in the South.
Share recipe love here. ⬇
Ingredients
½

cup

(

50

g

)

frozen chopped onions

⅓

cup

(

49

g

)

frozen chopped red bell peppers

–

I buy fresh peppers, chop, and freeze

2

tablespoons

(

28

g

)

butter

2

pounds

(

906

g

)

yellow squash (cut in large chunks)

–

4 medium squash

2

(

100

g

)

large eggs

¾

cup

(

45

g

)

panko or dried fresh bread crumbs

½

teaspoon

table or sea salt

2

teaspoons

granulated sugar

freshly ground pepper to taste
Instructions
Preheat oven to 350˚ F (180˚C).
Place

1/2 cup

(

50

g

) frozen chopped onions,

1/3 cup

(

49

g

) frozen chopped red bell peppers, and

2 tablespoons

(

28

g

) butter in the bottom of a 2-quart glass batter bowl or a similar-sized microwave-safe dish. Microwave on HIGH for 2-1/2 to 3 minutes until veggies are softened

Layer

2 pounds

(

906

g

) yellow squash (cut in large chunks) on top of the onion and red bell peppers. Cover and cook on HIGH in a microwave for 10 minutes or until veggies are completely cooked.

Drain off as much liquid as possible. Mash and press on the cooked vegetables to extract more water, then drain again.

Pour cooked vegetables into a food processor, or use a potato masher or an immersion blender. Pulse about 5 times, rearranging squash with a spoon if necessary to get an even chop. The mixture should not be smooth–just slightly chunky.

Thoroughly mix

2

(

100

g

) large eggs with a fork, whisk, or immersion blender. Add to the squash along with

3/4 cup

(

45

g

) panko or dried fresh bread crumbs,

1/2 teaspoon

(

½

teaspoon

) table or sea salt,

2 teaspoons

granulated sugar, and

freshly ground pepper to taste

. Fold ingredients together and pour into a well-greased 1-quart oven-safe dish or individual dishes as pictured.

Bake at 350˚ F (180˚C) for 30 minutes.
Nutrition
Serving:
1
6
|
Calories:
121
kcal
|
Carbohydrates:
14
g
|
Protein:
5
g
|
Fat:
6
g
|
Saturated Fat:
3
g
|
Polyunsaturated Fat:
1
g
|
Monounsaturated Fat:
2
g
|
Trans Fat:
0.2
g
|
Cholesterol:
65
mg
|
Sodium:
303
mg
|
Potassium:
469
mg
|
Fiber:
2
g
|
Sugar:
6
g
|
Vitamin A:
758
IU
|
Vitamin C:
37
mg
|
Calcium:
50
mg
|
Iron:
1
mg
HELP OTHERS find this recipe. Leave a 5 🌟🌟🌟🌟🌟 rating at the top of the recipe card if you enjoyed it. No comment is required.