Preview: Baked Yellow Parmesan Squash consists of thinly sliced squash topped with fresh Parmesan, then roasted. The crispy cheese bits are the best!
Do you ever try the recipes printed on the back of boxes or packages of food you buy at the store? I first saw a version of this particular recipe for Roasted Yellow Parmesan Squash on the back of the zippered plastic bag containing yellow squash.
Despite ignoring it for months, I decided to try it in a fit of boredom one night at 6 PM. It blew me away.
Although it is not particularly photogenic, when the Parmesan cheese turns brown and crispy, it is irresistible.

This yellow squash side dish consists of thinly sliced squash coated in olive oil and seasoned with Parmesan cheese, salt, and pepper. Bake until the cheese is crispy, crunchy, and brown.
This recipe fits well with a Keto or Low-Carb diet.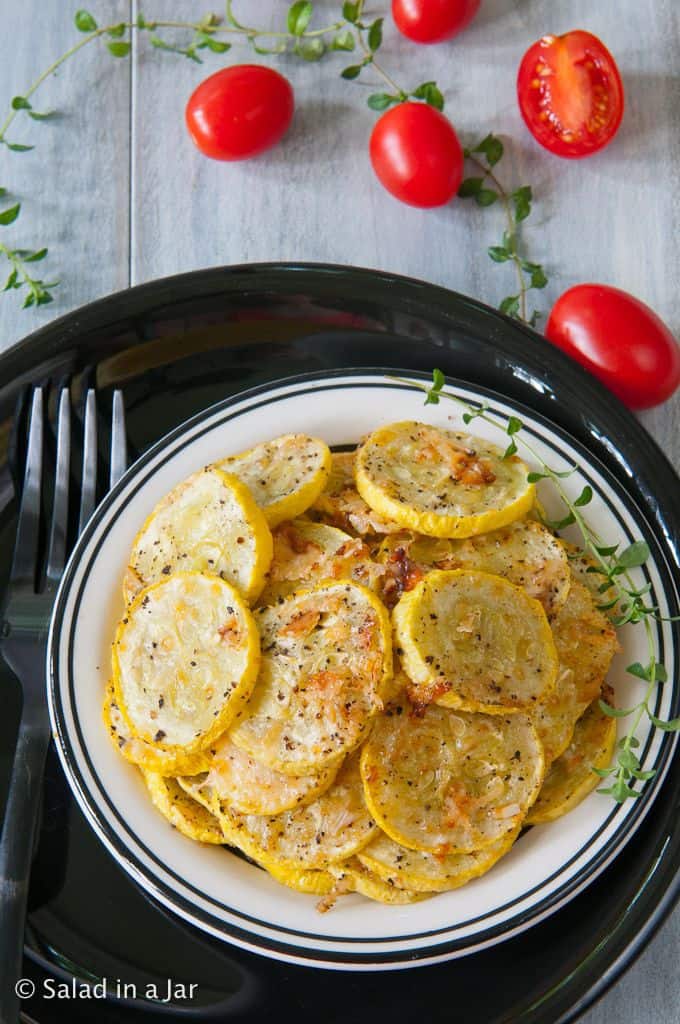 Ingredients and substitutions:
SQUASH: Yellow or summer squash is my first choice. Zucchini would make a fine substitute.

OIL: Olive oil lends a slightly fruity flavor that I love with almost any vegetables. Avocado oil is my second choice. Otherwise, any mild-flavored vegetable oil is sufficient.

PARMESAN CHEESE: Fresh parmesan cheese is hard to beat in this recipe. I like the pre-shredded Parm from Costco. The so-called Parmesan cheese in the green can need not apply.
My favorite way to lightly oil vegetables for roasting:
This oil sprayer is the best sprayer I've found for roasting vegetables and a plethora of other kitchen tasks.
---
How to prepare Parmesan Squash:
Preheat oven to 450˚ F.
1. Slice squash
Prep for this recipe is easy if you use a food processor or mandolin. (This particular mandolin received the highest recommendation for an inexpensive mandolin by Cooks Illustrated.)
If you do not have either of those, use a sharp knife to slice the squash approximately 1/4-inch thick.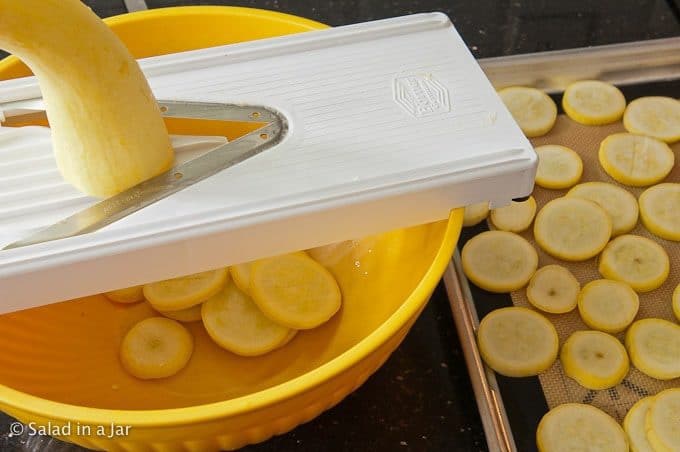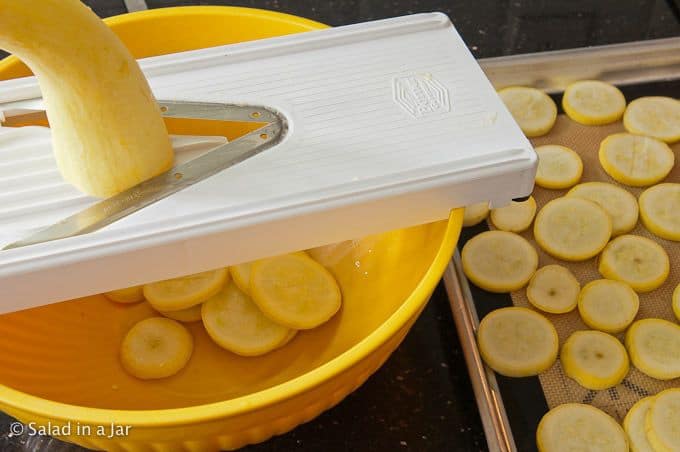 2. Prepare baking sheet
Cover a half-sheet pan with aluminum foil or a silicone baking sheet. Pour the oil onto the tray and then the sliced squash. Use your hands to toss the yellow squash with the oil
Try to arrange the squash so none of the slices overlap. I know. It isn't easy when you're in a hurry, and your squash is on the larger side.
However, yummy crispiness and browning will not happen if the squash overlaps each other.
3. Season squash
Sprinkle with salt, pepper, and grated Parmesan cheese.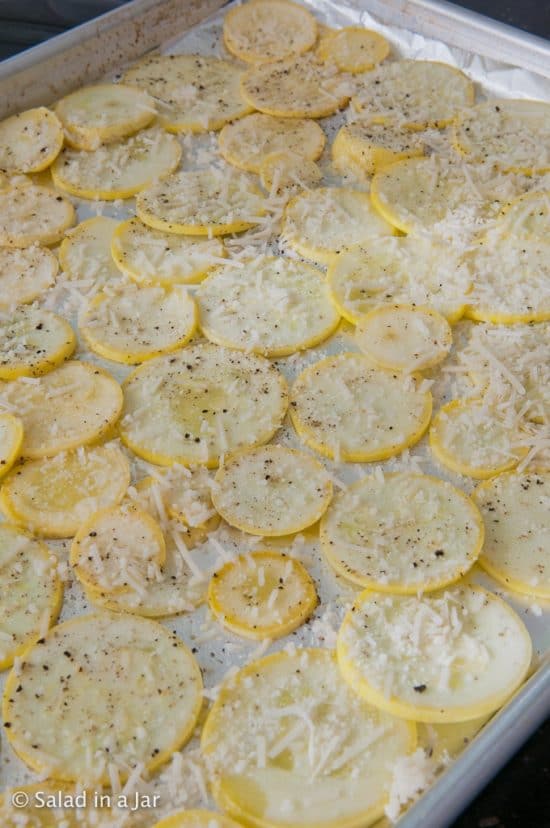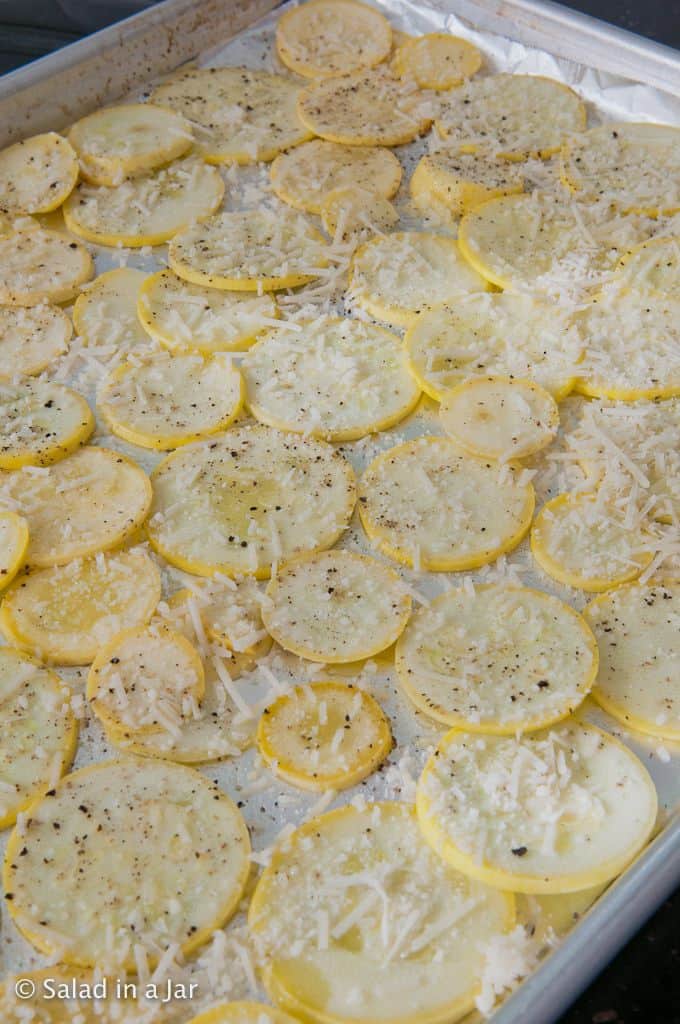 4. Bake
Preheat your oven for 20 minutes at 450˚F.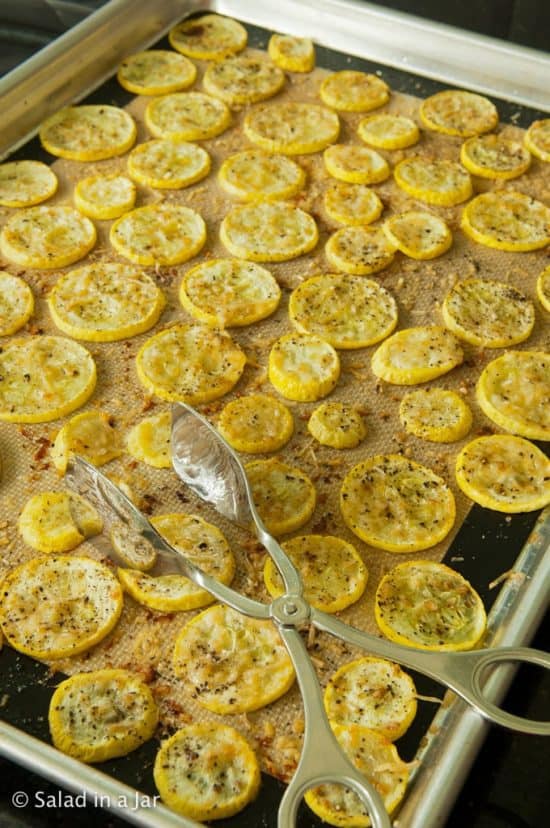 ***Kitchen Tip: Use Non-Stick Aluminum Foil
Reynolds Wrap Non-Stick Aluminum Foil is the coolest thing ever!
Use it whenever baking with cheese or making something that sticks and is tricky to get out of the pan, like brownies or lasagna.
Unfortunately, the price is a little high. Now you know why I hide mine from the rest of the family.
I don't want them to use it unwittingly to cover a bowl, wrap a sandwich, or something else unworthy of this fantastic invention.
---
Looking for more veggie recipes?
---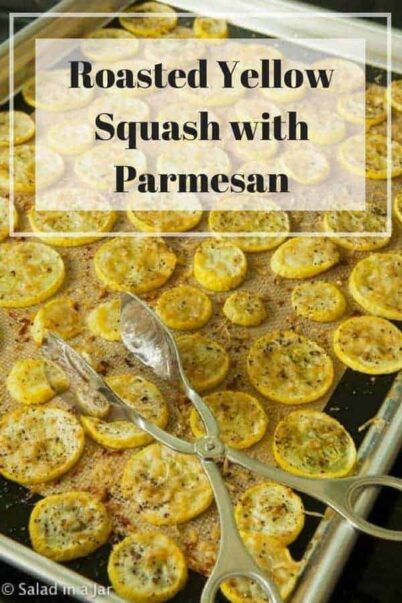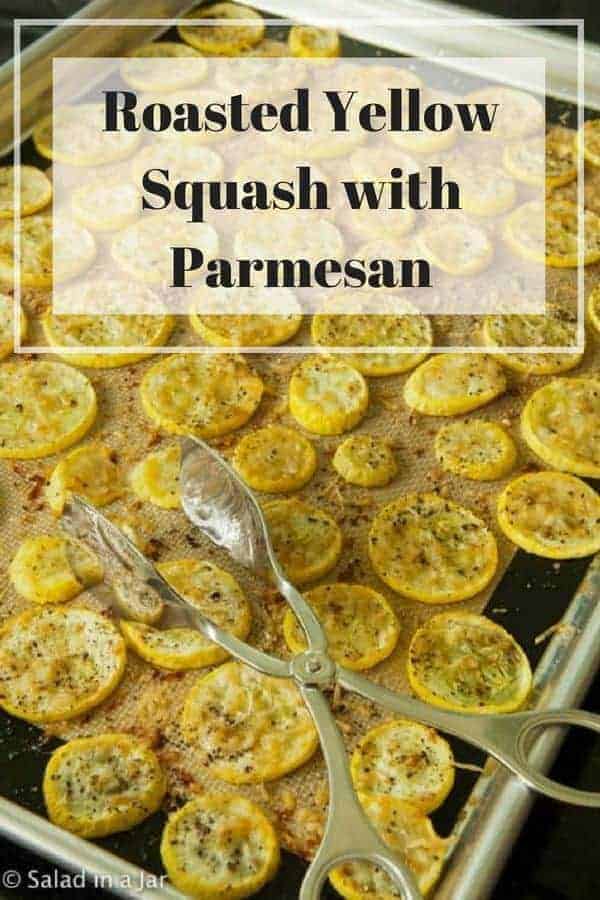 If you enjoyed this recipe, it would help others and me if you gave it a five-star rating inside the recipe card below. 🤩 No comment required. Thank you.

Hope to see you again soon!
Paula
p.s. Questions or suggestions? Please email me: Paula at saladinajar.com.
---