Ham Stew with Beef and Bacon: Popular with Meat Lovers
Sneak Preview: This hearty Ham Stew with beef and bacon satisfies and warms but won't leave you weighed down. The secret is in the apple-flavored broth. This is my favorite soup recipe in the world!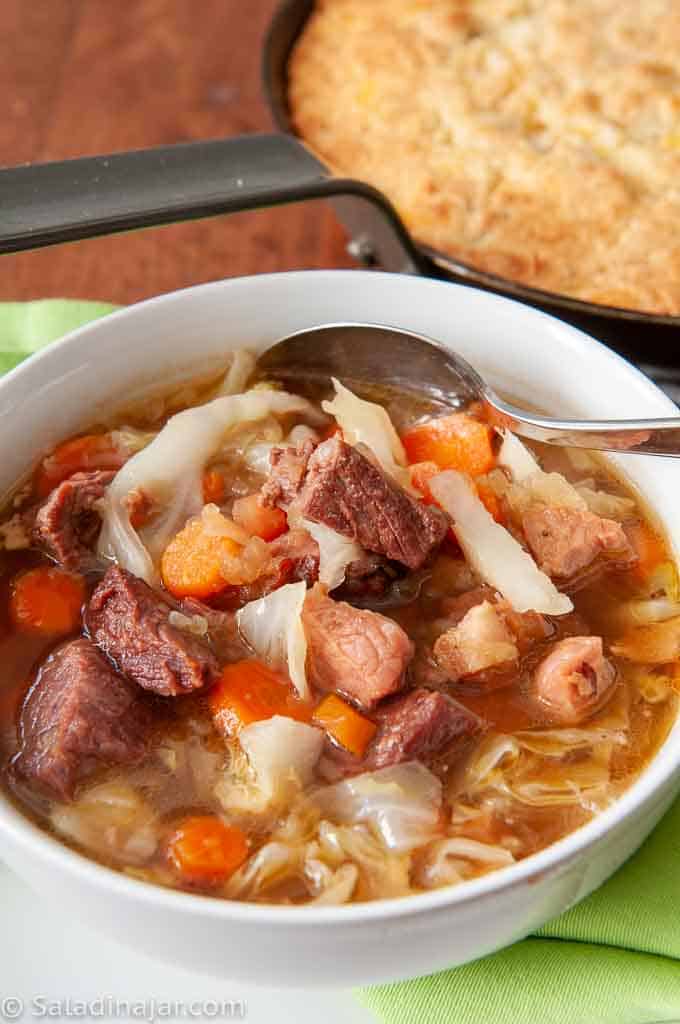 As an Amazon Associate, I earn from qualifying purchases.
My favorite soup recipe on this blog is Ham Stew. #1!! On a cold and blustery day, nothing warms your innards better than this meaty bowl of soup with a slurpin' good broth. It's filling but not heavy on your belly since there is no gravy or cream sauce.
The secret to this ham stew is the broth. Invisible (cooked to smithereens) chopped apples add a subtle sweetness.
You can't see the apples without a close inspection, but they work magic. Honestly, I would be content with a piece of hot, crusty cornbread and a bowl of broth alone. Tasty and comforting!
Leave out one (optional) ingredient to make this stew gluten-free and grain-free.
This Cabbage Stew recipe is packed with beef, ham, and bacon for a most satisfying soup. is an unforgettable combination of smoky bacon, tender chunks of beef chuck, cubes of ham, cabbage, apples, and other veggies combined with a delicious beef broth.
Ingredients and substitutions:
Ham: This soup is a great recipe for leftover ham. Or plan ahead. Around the holidays is an opportune time to pick up an unsliced ham on sale. Cut it into small half-inch chunks and freeze for this soup.
Cubed Chuck Roast: Stew meat works perfectly. I try to buy chuck roast on sale, cut it up myself, and freeze it for future stew.
Bacon: Bacon is essential to this stew. If you want to use pre-cooked bacon pieces, be sure to add bacon grease to brown the stew meat. Although you can use oil instead, bacon grease adds a ton of flavor.
Onions: Yellow onions are the best for most soups, in my opinion. White onions will work, too. Frozen onions are also fabulous and more convenient.
Apples: The best apples will "melt" into this soup while cooking. I don't want to see apple chunks floating around in my soup.

My preferred apple for this recipe is Golden Delicious. Granny Smith would also work.
The recipe calls for 2 cups of finely chopped apples. This usually requires 2 medium apples or 3 small apples. A little more or less than 2 cups is fine.
Carrots: Scrape or peel regular carrots and slice about 1/4-inch thick. Save a little time by using baby carrots since you won't have to peel or scrub. Cut them into about four slices since they are smaller in diameter.
Cabbage: The only important tip to mention about the cabbage is not to let it cook too long at the end. I like it to be a bit soft with a little bit of crunch. Is it appropriate to say the cabbage should be "al dente"?
---
Is this ham stew recipe grain-free and/or gluten-free?
Yes, both, IF you leave out the optional Worcestershire sauce. It's not a deal-breaker when it comes to this recipe. Your soup will still be delicious.
---
Stove-top, slow cooker, or pressure cooker?
Stove-Top
For the 25-30 years that I've been making this recipe, I did it on top of the stove. You can, too. Allow 2-1/2 to 3 hours. See the notes in the recipe for detailed instructions.
Slow Cooker
Then I started doing it in my slow cooker. After frying the bacon, brown the beef. Then add the onions, apples, ham, and carrots, along with the broth and other seasonings.
After cooking the meat and veggies all day, add the cabbage and bacon for the last 10 minutes before you are ready to serve. This is a good plan if you can't be home during the day.
Pressure Cooker
Are you a pressure cooker or Instant Pot fan? I sure am. You can make this hearty soup from start to finish in about an hour. Maybe not the first time. Much of that time is while the stew is in the pressure cooker, giving you time to throw together some cornbread if you like.
With a little practice, this extraordinary ham stew will come together fast. See the video for more details about making this recipe in a pressure cooker.
📌Kitchen Tip📌-If you buy whole cabbage for this recipe, you'll have leftover cabbage. This recipe for Crunchy Coleslaw with Ramen, is a tasty solution.
---
How to make Ham Stew with an Instant Pot: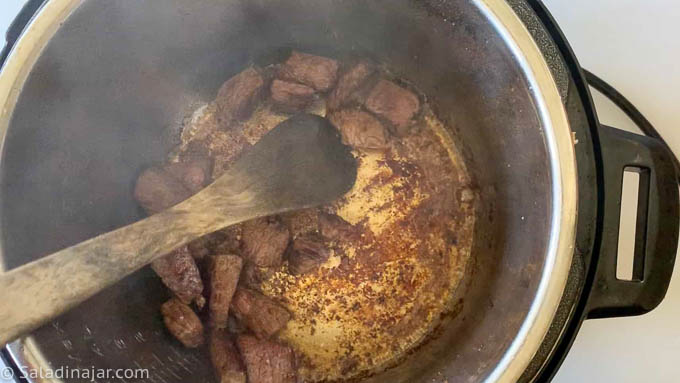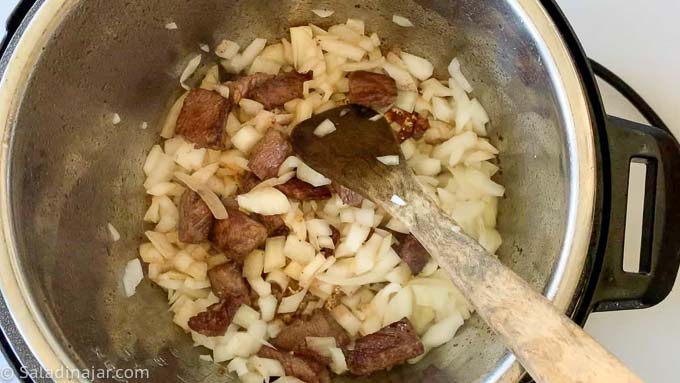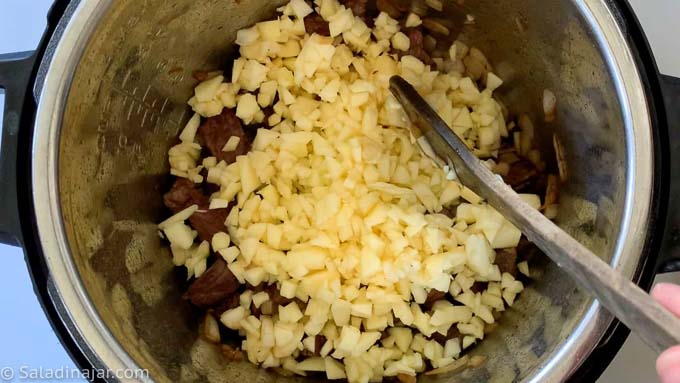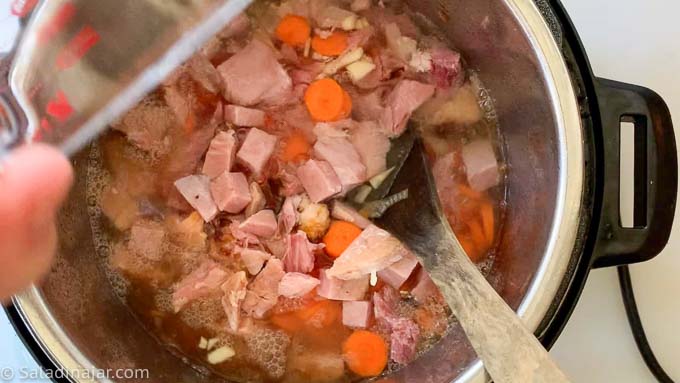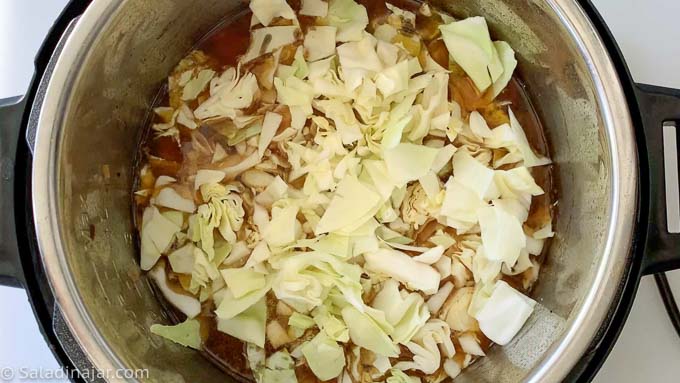 Parting Thoughts: I am a soup gal from the word "go"! Some other favorites are my Chicken Tortilla Soup and Leftover Rotisserie Chicken Soup. Both of these recipes are a delicious way to use leftover cooked chicken.
---
Recipe Help at Your Fingertips: For questions or suggestions, email Paula at saladinajar.com. If you need help, I'm happy to troubleshoot via email (faster than leaving a comment). Attach pictures and as many details as possible for the best advice.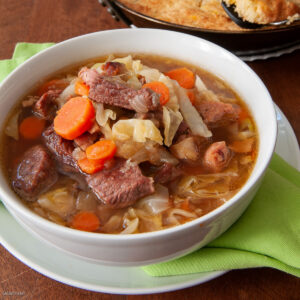 Hearty Ham Stew Recipe
A beef-broth-based soup recipe with beef stew meat, ham, bacon, carrots, cabbage, and apples. See the notes for directions using a slow cooker or your stove top.
Tried this recipe? ⬇ Rate it here.
Ingredients
4

strips

bacon

–

cut into 1-inch pieces

1

pound

boneless chuck

–

cut into 1-inch cubes

1

medium

onion

–

chopped

2

cups

apples

–

peeled and finely chopped (I prefer Golden Delicious)

2

cups

carrots

–

sliced in 1/2-inch pieces

1

cup

ham

–

small cubes

1

cup

beef broth

–

I like Better Than Bouillon beef base, 1 teaspoon + 1 cup water

1

tablespoon

Worcestershire sauce

4-5

cups

water

1

bay leaf

4

cups

cabbage

–

coarsely chopped
Instructions
Directions for Instant Pot:
Set Instant Pot to Sauté. Fry chopped bacon until crispy. Remove from the pot and set aside.

Sauté beef in two batches in the pot using the leftover bacon grease.

Meanwhile, chop onions, apples, and carrots.

Add chopped onion to the browned beef chunks (which have all been added back to the pot) and cook until onions are soft.

Add apples, carrots, ham, broth, 4 cups of water, Worcestershire sauce, and a bay leaf. Cover and set to cook on high pressure for 35 minutes. Allow the pot to release pressure naturally for 10 minutes. At this point, pot can sit unopened for hours until you are ready to eat.

Ten minutes before serving, change the Instant Pot to Sauté. Add cabbage and bacon. Cook for about 10 minutes. Cabbage should still have a slight crispness to it. Remove bay leaf before serving.
Notes
SLOW COOKER:
If you prefer, add browned beef, onion, carrots, apples, and broth to a slow cooker and cook on low for 6-9 hours. Transfer back to the pot on the stove to finish cooking ham, cabbage, and crispy bacon for about 10 minutes.
STOVE-TOP:
Fry bacon in a large dutch oven. Remove from the pan and set aside.
Saute beef in bacon grease.
Meanwhile, prepare onions, apples, and carrots.
Add chopped onions and cook until softened.
Add apples, carrots, ham, broth, and 4 cups of water and a bay leaf. Cover and simmer for 1 1/2 hours.
Depending on how much the broth has reduced, you may need to add some water. You need enough to cover all the ingredients with a little to spare.
Ten minutes before serving, add cabbage and bacon. Cabbage should still have a slight crispness to it. Remove bay leaf before serving.
Cook's Prerogative: Adding more than 1 pound of chuck and 1 cup of ham makes the soup even heartier. I never measure it myself.
Nutrition
Serving:
1
bowl
|
Calories:
185
kcal
|
Carbohydrates:
11
g
|
Protein:
17
g
|
Fat:
8
g
|
Saturated Fat:
3
g
|
Polyunsaturated Fat:
1
g
|
Monounsaturated Fat:
4
g
|
Trans Fat:
1
g
|
Cholesterol:
49
mg
|
Sodium:
416
mg
|
Potassium:
509
mg
|
Fiber:
3
g
|
Sugar:
7
g
|
Vitamin A:
5403
IU
|
Vitamin C:
17
mg
|
Calcium:
47
mg
|
Iron:
2
mg
HELP OTHERS find this recipe. Leave a 5 🌟🌟🌟🌟🌟 rating at the top of the recipe card if you enjoyed it. No comment is required.