Thick and Hearty Chicken Tortilla Soup Recipe To Boost Your Day
Sneak Preview: This Thick ChickenTortilla Soup recipe is a tomato and chicken stock-based tortilla soup with finely chopped corn tortillas added to the broth for a thicker, more flavorful soup.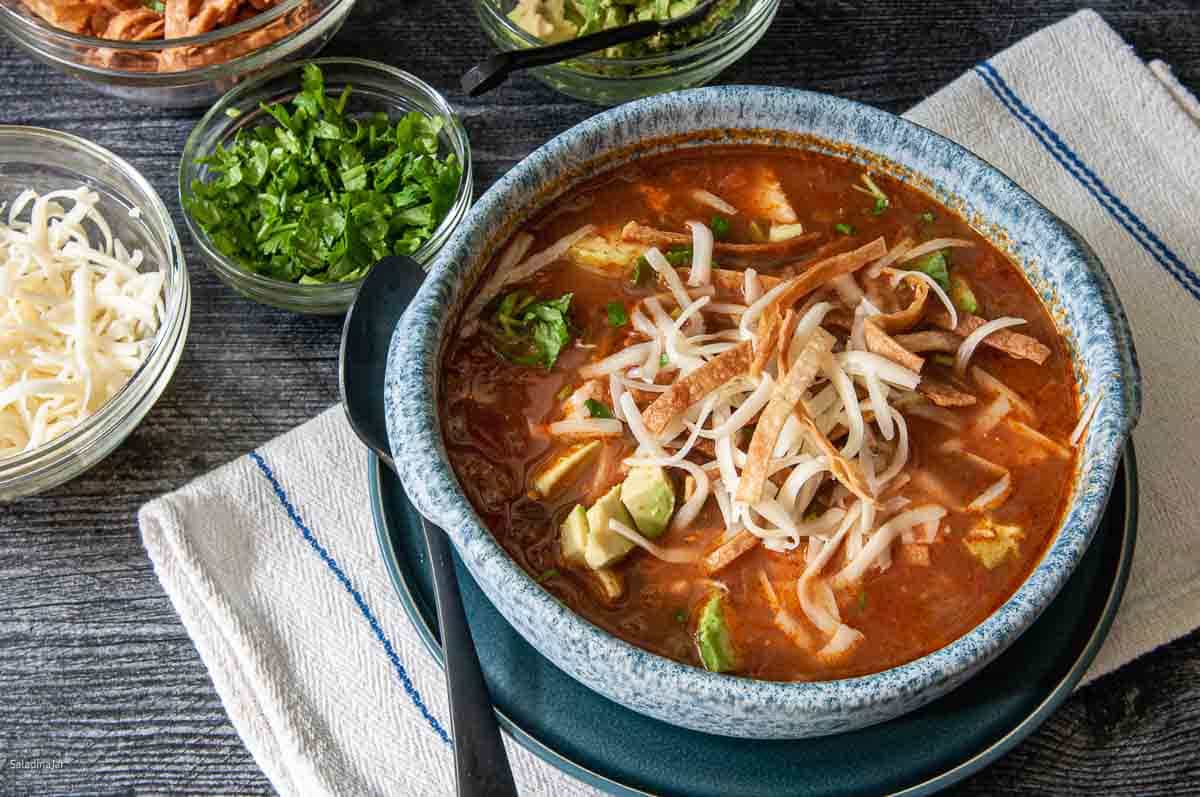 As an Amazon Associate, I earn from qualifying purchases.
Tortilla soup comes in so many forms. Unless you're a repeat customer, you never know what kind you'll get when ordering at a restaurant. It could be tomato-based, broth-based, thick, thin, with or without avocados, with or without vegetables such as zucchini or corn, etc. So what do you prefer?
I personally have cycled through various stages with tortilla soup. This is my newest favorite–a tomato-based version of a thick and hearty tortilla soup.
Only the most traditional vegetables are called for. But that doesn't stop me from adding the occasional vegetable, such as zucchini, yellow squash, or corn.
Happy Cooks Speak Up
"Yup. made it again for dinner tonight (I've made it at least 5 times since finding this recipe). I LOVE it!
Thanks again… 🙂" —Kendra
---
What makes this soup thick and hearty?
By virtue of its name, all tortilla soups contain corn tortillas. However, in this one, part of the tortillas are chopped and sautéed with the onions. They don't get crispy.
Instead, they are cooked in the broth and become a thickening agent in the soup, making it hearty and filling with the best flavor imaginable. Of course, you still need the requisite crispy fried tortilla strips to flavor and garnish.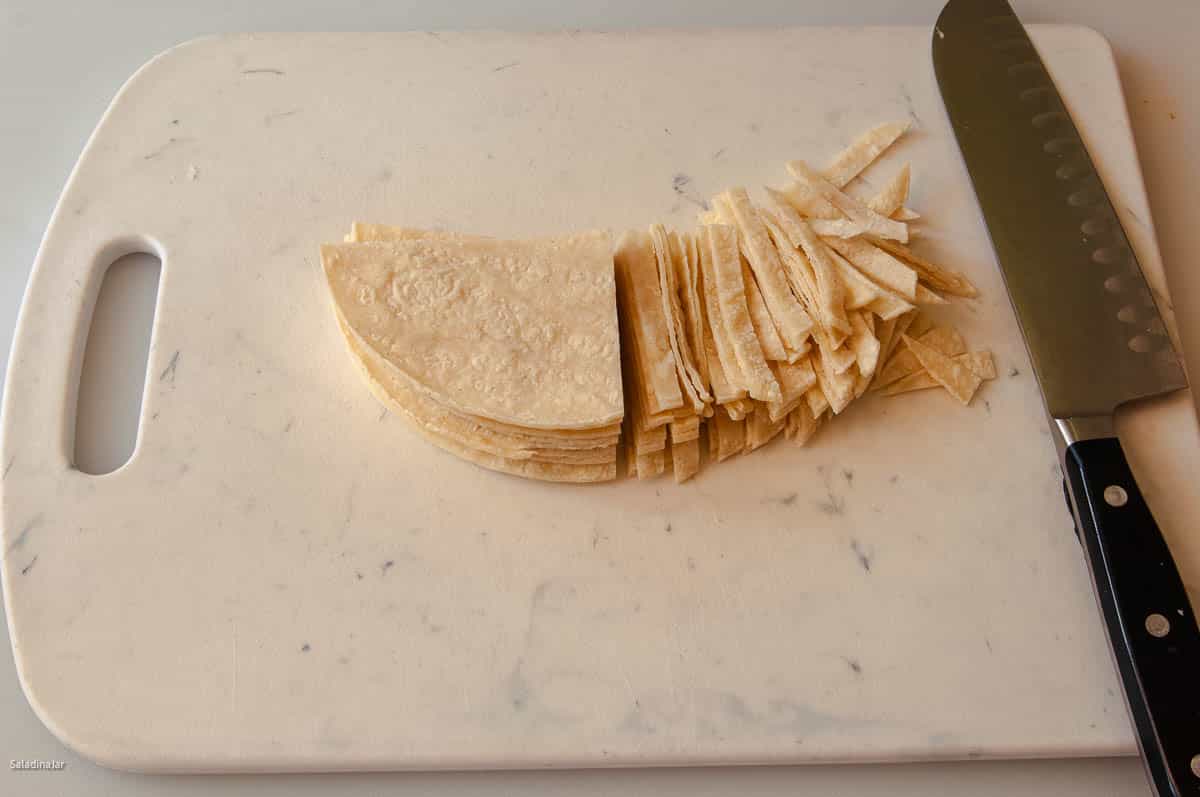 ---
Ingredients and substitutions:
OIL: Use a mild vegetable oil like avocado, canola, or corn oil.

TORTILLAS: In this recipe, the tortillas cook until they disintegrate. This causes the broth to thicken while adding flavor.

GARLIC: Fresh garlic is the best, then jarred minced garlic in a glass jar. I would only use powdered garlic in an emergency.

ONION: Chopped fresh or frozen yellow or white onions go best in this recipe.

CUMIN: Powdered cumin gives the broth a distinctly Tex-Mex flavor. It's important to the wonderful flavor of the broth.

CHILI POWDER: This is another seasoning that adds flavor. So be sure it's fresh.

TOMATOES: While some would say you should always buy whole tomatoes and crush them yourself, diced tomatoes are too convenient to pass over.

BAY LEAVES: I hope you have these in your spice cupboard. They add flavor to many stocks, roast meat, and marinara. Don't forget to remove them before serving.

CHICKEN STOCK: If at all possible, make this using the chicken bones left from the chicken you will use in the soup.

SALT: If you must use canned chicken stock, go easy on the salt.

CAYENNE: You won't need much cayenne or red pepper, but it will wake up this soup. So, don't leave it out.

CHICKEN: Shredded chicken from any baked chicken recipe or a rotisserie chicken is good. Pull the skin off.
---
How to make thick chicken tortilla soup: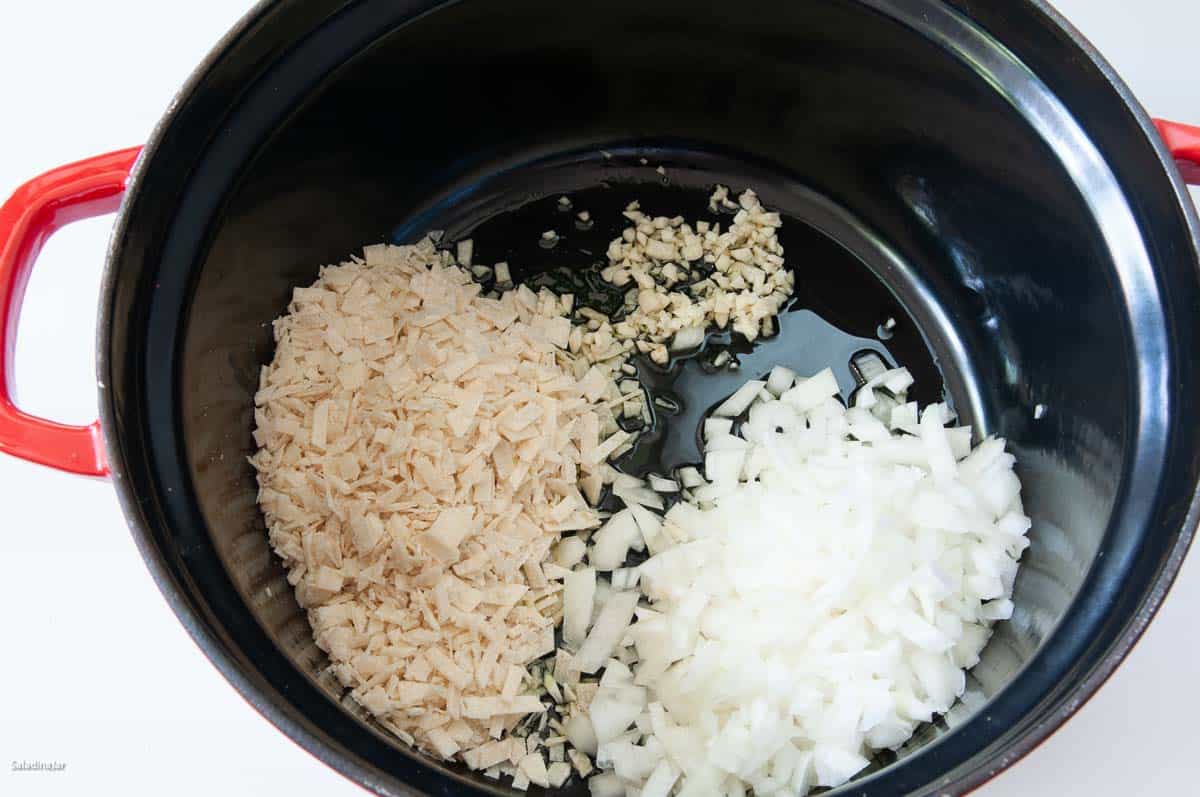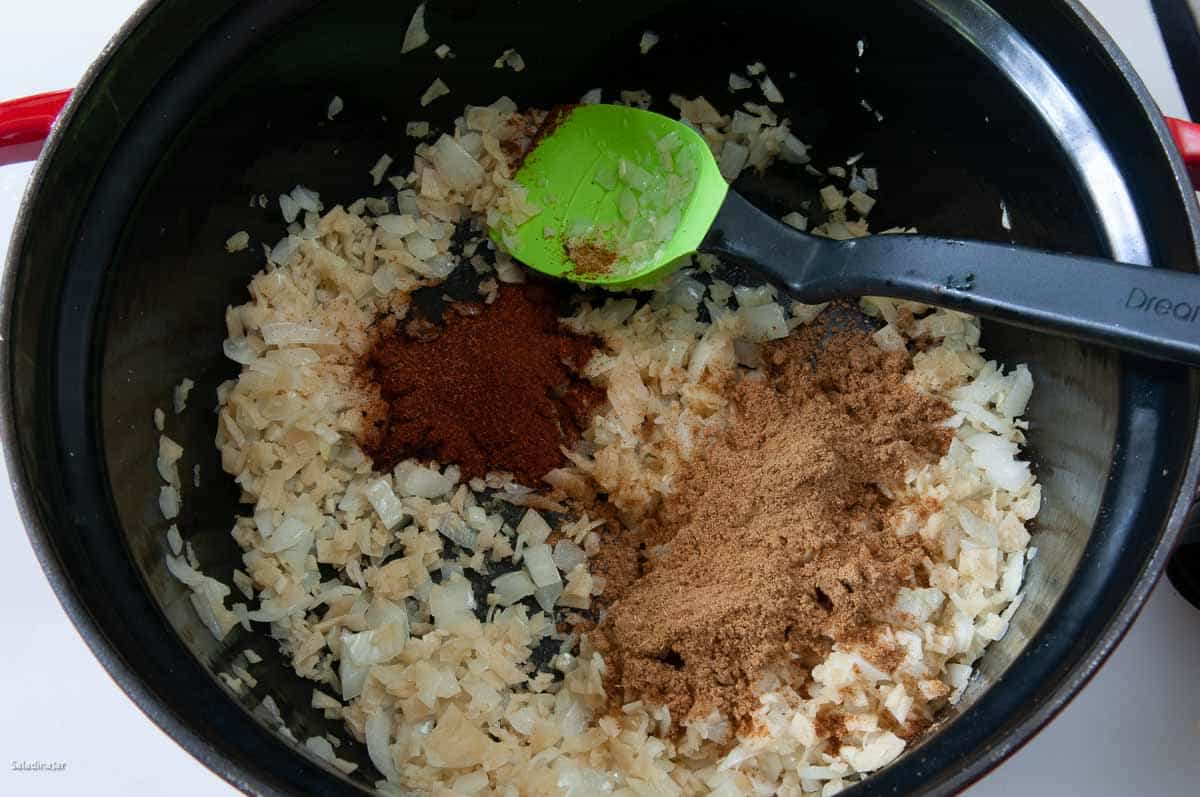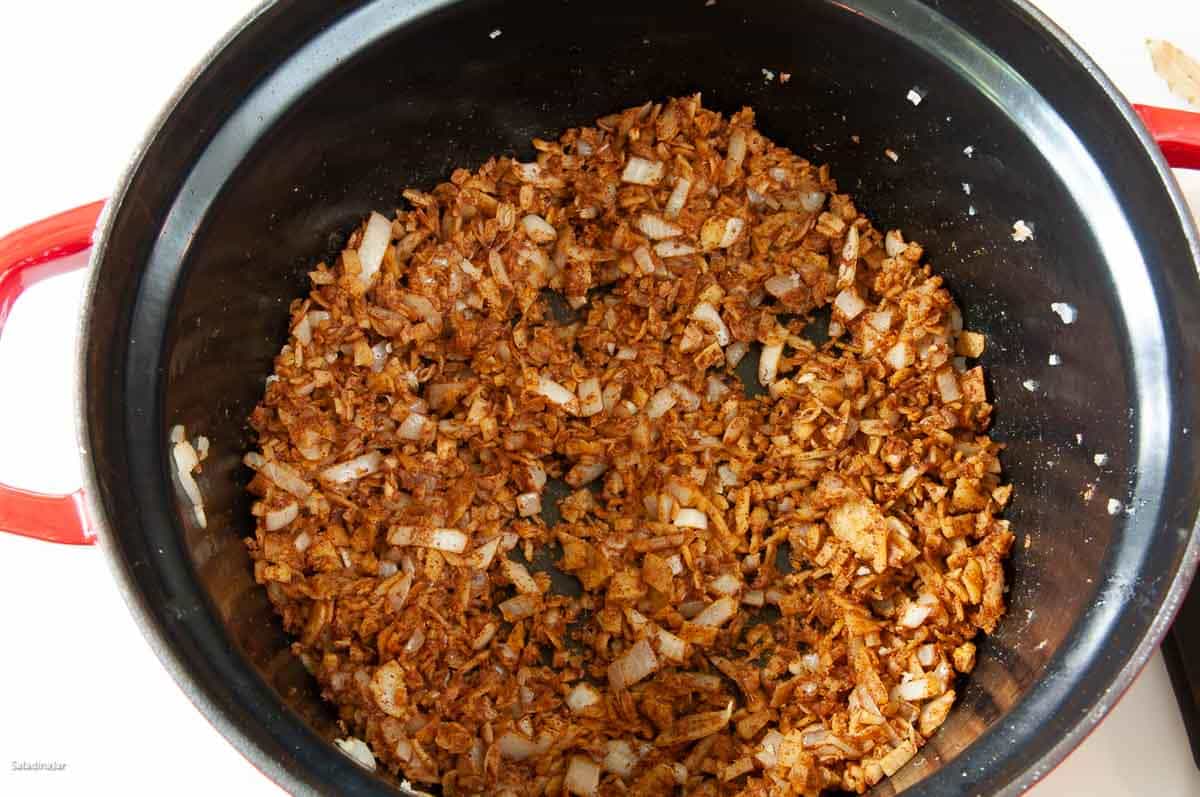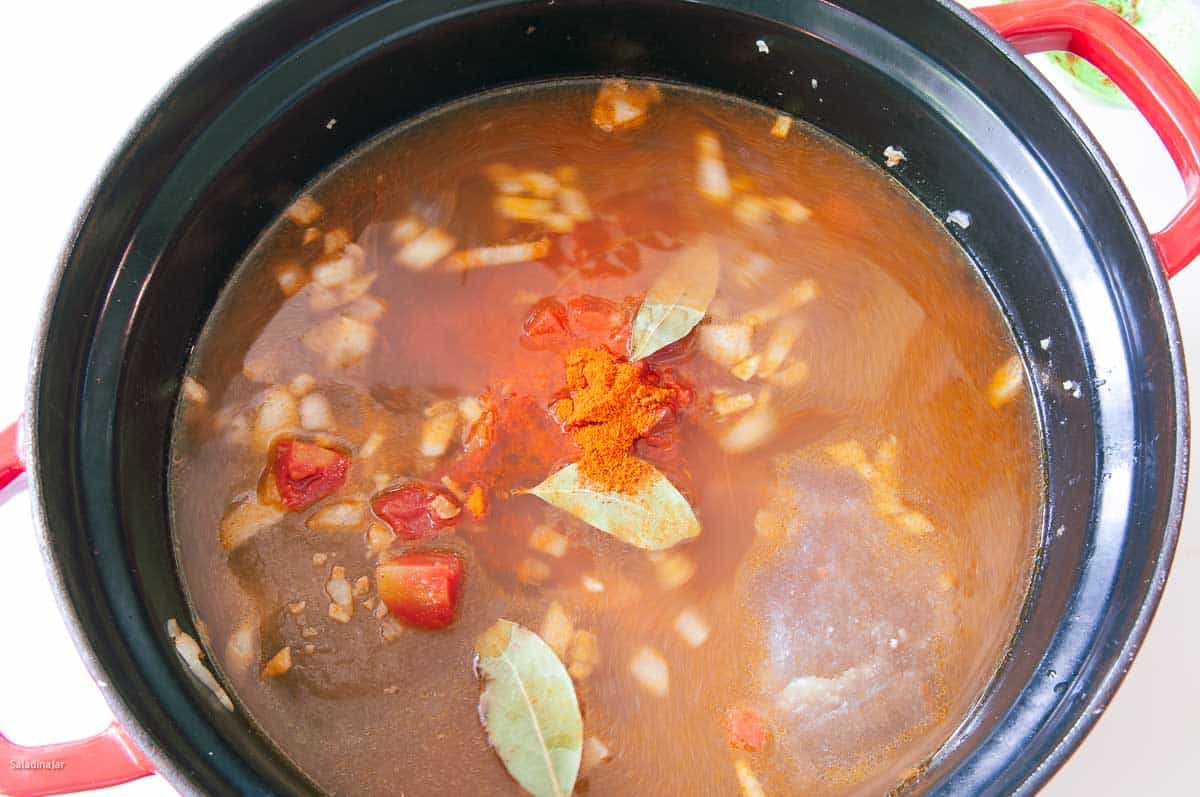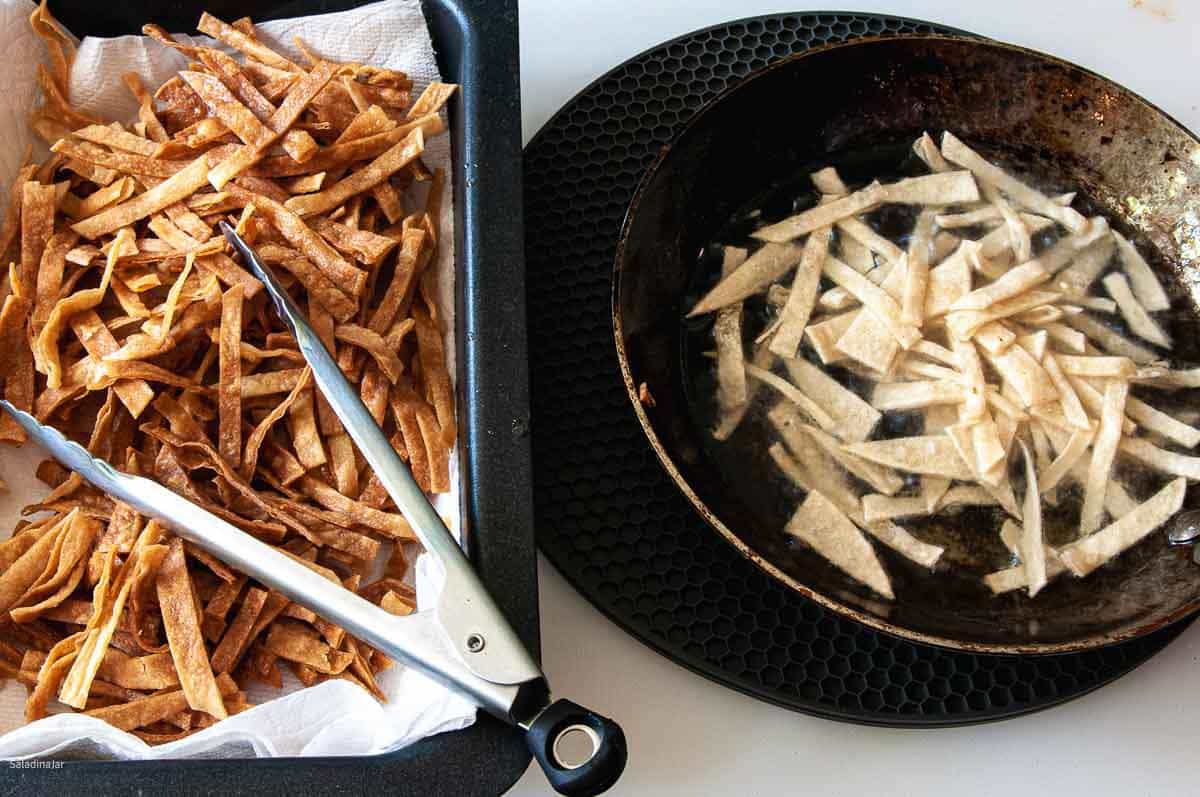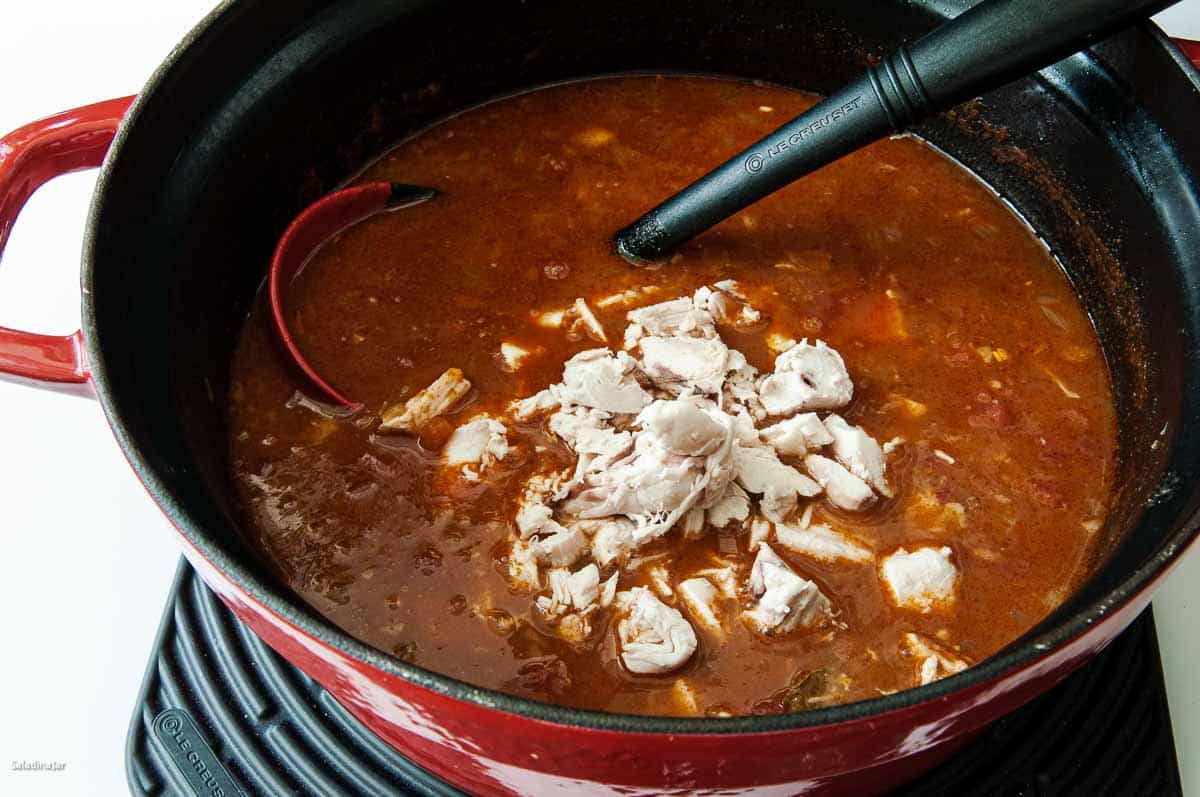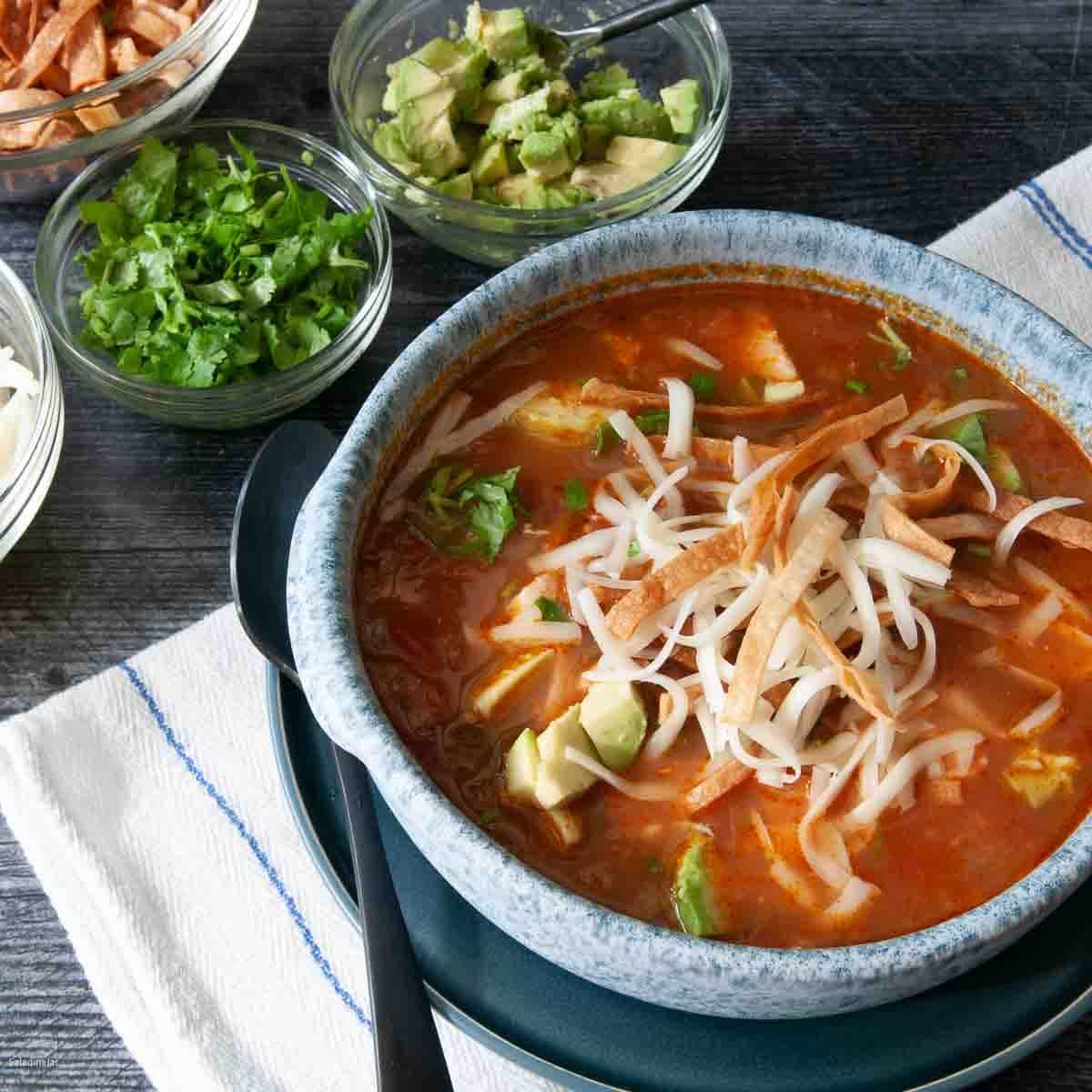 FAQs about Thick Chicken Tortilla Soup:
What makes this tortilla soup thick?
Finely chopped corn tortillas, white or yellow, are added to the broth and cooked until they mostly disintegrate.
Can I make this soup ahead of time?
Make the recipe to step 3 and remove the soup from the heat before you add the chicken. Store in the refrigerator for 2-3 days. Prepare the condiments immediately before serving.
Does it matter what kind of chicken I use?
I prefer rotisserie chicken. Whatever you use should be cooked before adding it to the soup. Use boneless skinless chicken breasts if you prefer all-white meat, or thighs, legs, and wings for dark meat. Or combine them. Suit yourself.
Do I really need a whole chicken?
The amount of chicken doesn't really matter. If you have leftover cooked chicken, use what you have. If you are vegetarian, leave it out.
Parting Thoughts: I know that preferences regarding tortilla soup range all over the board. However, I encourage you to try this soup. It's hardy and filling without being heavy. I hope you'll try it.
If you're a Tex-Mex lover and need to scratch the itch, I recommend my Texas Tamale Pie or this Baked Chile Relleno Casserole with Ground Beef.
If you're a soup lover, I have many fabulous soup recipes on this website. A couple of my favorites are Ham Stew with Beef and Bacon: Popular with Meat Lovers, and Easy Mini Meatball Soup with Zucchini and Eggplant.
---
Help at Your Fingertips: For questions or suggestions, email Paula at saladinajar.com. If you need help, I'm happy to troubleshoot via email (faster than leaving a comment). Attach pictures and as many details as possible for the best advice.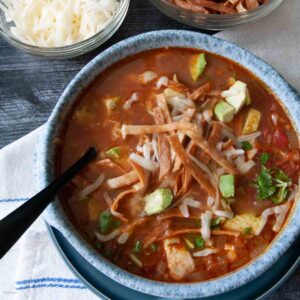 Thick Chicken Tortilla Soup Recipe
This Thick and Hearty Tortilla Soup is a tomato and stock-based tortilla soup with finely chopped tortillas added while cooking for a thicker, more flavorful soup.
Share recipe love here. ⬇
Ingredients
3

tablespoons

vegetable oil

6

corn tortillas

–

chopped

3

cloves

garlic

–

minced

1

medium onion

–

chopped

2

tablespoons

ground cumin

1

tablespoon

chili powder

1

28-oz can

diced tomatoes

3

bay leaves

6

cups

chicken stock

–

I boil the bones of the rotisserie-baked chicken to make stock.

1

teaspoon

salt

¼-½

teaspoon

cayenne pepper

1

whole

rotisserie-baked chicken, meat removed, no skin

–

shredded or cubed
Garnishes
2

cups

Monterey Jack cheese

–

shredded

2-3

avocados

–

cubed

½

cup

chopped fresh cilantro

6

corn tortillas

–

sliced and fried crisp (actually, we need more than this because we like to eat them plain)
Instructions
Heat

3 tablespoons

vegetable oil in a large saucepan over medium heat. Add

6

corn tortillas, finely chopped,

3 cloves

garlic, and

1

medium onion. Saute 2-3 minutes. Add

2 tablespoons

ground cumin and

1 tablespoon

chili powder. Saute for an additional minute to bring out the flavor of the spices (and make the house smell good).

Add

1 28-oz can

diced tomatoes,

3

bay leaves,

6 cups

chicken stock, and

1 teaspoon

salt, and

¼-½ teaspoon

cayenne pepper. Return to a boil, reduce heat and simmer for 30 minutes. Add salt if necessary depending on the saltiness of the stock. Meanwhile, make the fried tortilla strips.
Making fried tortilla strips:
While the soup simmers, fry tortillas strips for a garnish. Preheat 1/2-3/4 cups of vegetable oil in a small skillet to 375˚F. Cut

6

corn tortillas into strips. When the oil is hot enough to bubble when tortillas hit the oil, put in enough strips to cover the bottom. Strips are done when they start to turn a golden brown color. Remove strips from the oil with a slotted spoon and repeat the process with the remaining strips.

Remove bay leaves and stir in

1 whole

rotisserie-baked chicken, meat removed, no skin. Reheat briefly.

Garnish soup with shredded

2 cups

Monterey Jack cheese,

2-3

avocados, chopped,

1/2 cup

chopped fresh cilantro and fried tortilla strips. Sour cream is optional.
Nutrition
Serving:
1
|
Calories:
529
kcal
|
Carbohydrates:
41
g
|
Protein:
20
g
|
Fat:
33
g
|
Saturated Fat:
11
g
|
Polyunsaturated Fat:
7
g
|
Monounsaturated Fat:
13
g
|
Trans Fat:
0.05
g
|
Cholesterol:
41
mg
|
Sodium:
1011
mg
|
Potassium:
801
mg
|
Fiber:
9
g
|
Sugar:
6
g
|
Vitamin A:
855
IU
|
Vitamin C:
9
mg
|
Calcium:
369
mg
|
Iron:
3
mg
HELP OTHERS find this recipe. Leave a 5 🌟🌟🌟🌟🌟 rating at the top of the recipe card if you enjoyed it. No comment is required.
Adapted from Stop and Smell the Rosemary, published by the Junior League of Houston.