Meatball Ratatouille Soup is packed with mini meatballs combined with eggplant, zucchini, tomatoes and Italian spices in this delicious soup–easy on the waistline.

Ratatouille is…
a.  a movie
b.  cold tomato based soup
c.  an excuse to buy eggplant
d.  the inspiration for one of my favorite "fat day" soups
e.  what rats say to each other after they sneeze
f.  hard to spell
Answer?  All except e.  And "e" could be true, but I 'm unable to verify the facts.
You may know "Ratatouille" as a movie or a cold soup. For me, it's best as a hot soup for a "fat" day.
Can you relate to "fat" days?  If you are a woman, I'm betting you can–no matter what you weigh.
Feel free to leave out the meatballs if you are vegetarian or vigilantly counting calories. However, they add flavor and texture. Mushrooms would be a nice substitution, if you favor that route.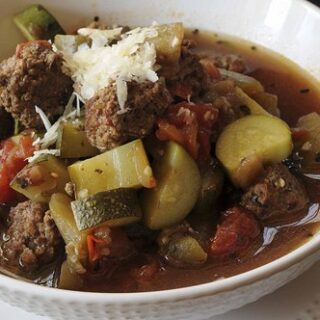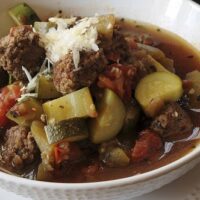 Meatball Ratatouille Soup
Mini meatballs combined with eggplant, zucchini, tomatoes and Italian spices in a delicious soup--easy on the waistline.
Ingredients
1/2 pound ground beef
1/2 cup onions, choppped
1/2 cup green peppers, chopped
1 1/2 teaspoon garlic, minced
2-3 medium zucchini, sliced
1/2 small to medium eggplant, peeled and diced (Here's an idea for the other half)
1 14 ounce can diced tomatoes
1 10 ounce can beef broth (or equivalent beef base or bouillon and water)+ 1 can water
1/2 teaspoon dried basil or 1 teaspoon fresh basil, chopped
1 bay leaf
Salt and pepper to taste
Grated parmesan cheese to garnish
Instructions
Form ground beef into mini meatballs. You can do this by hand but my preference is a tiny ice cream dipper. Brown in large saucepan or dutch oven.
Add onions and green peppers to ground beef and saute 2-3 minutes. Add garlic and saute another minute.
Add zucchini, eggplant, tomatoes, broth and seasonings. Simmer 15 to 20 minutes. Serve with fresh grated parmesan cheese if desired.
Nutrition Information:
Yield:

5 servings
Serving Size:

1
Amount Per Serving:
Calories:

197
Total Fat:

9g
Saturated Fat:

3g
Trans Fat:

0g
Unsaturated Fat:

4g
Cholesterol:

42mg
Sodium:

660mg
Carbohydrates:

14g
Fiber:

4g
Sugar:

7g
Protein:

17g
Posts Related to Meatball Ratatouille Soup