Preview: This satisfying Ratatouille Soup recipe is made with mini-meatballs combined with eggplant, zucchini, tomatoes, and basil. Quick to throw together.
This is the kind of soup you want when you've been eating too much rich or junky food. The veggies are comforting and the meatballs satisfy. Savory broth warms you from the inside out.
Throw it together in 30-35 minutes. It's an easy way to make friends with eggplant.
Updated January 4, 2020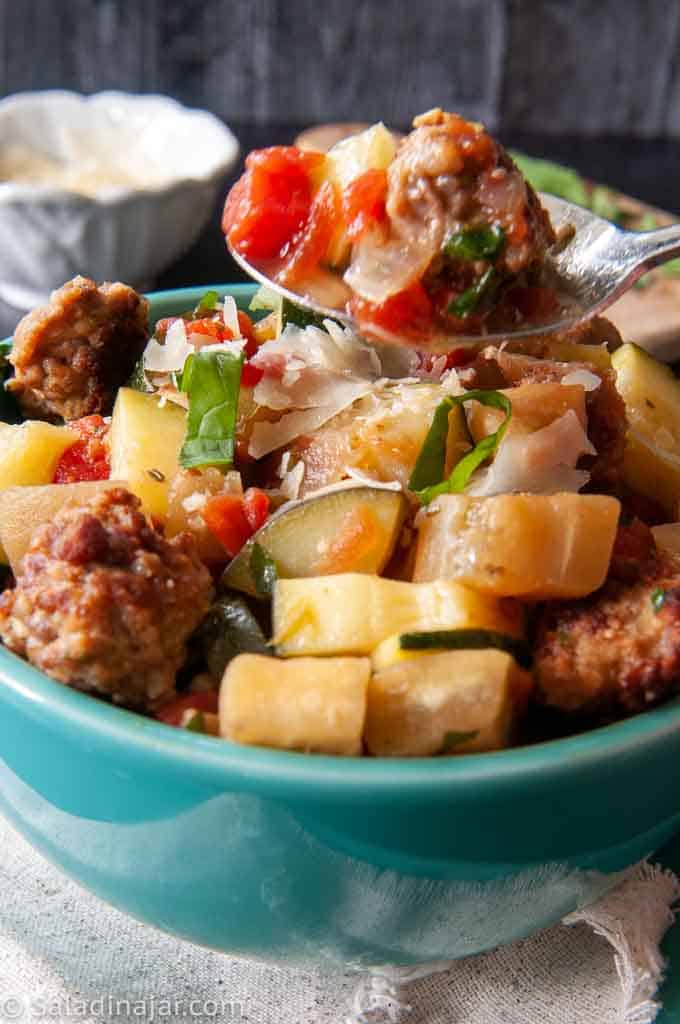 Here's a quick quiz to test your knowledge about the term "ratatouille." There may be more than one answer.
What is "ratatouille?"
a. a movie
b. cold tomato-based soup or salad
c. an excuse to buy eggplant
d. the inspiration for one of my favorite "fat day" soups
e. what rats say to each other after they sneeze
f. hard to spell
Answer? All except e. And "e" could be true, but I'm unable to verify my theory.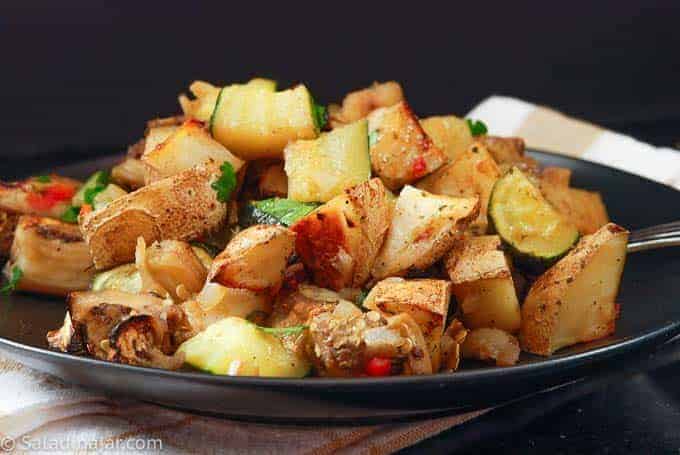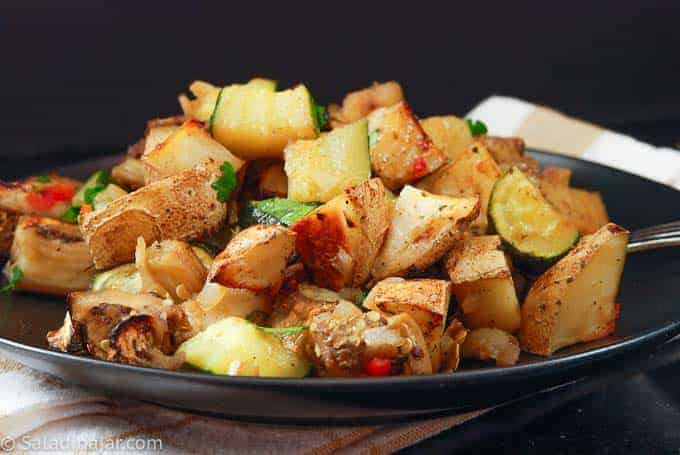 You may know "Ratatouille" as a movie, cold soup, or a salad. It usually consists of a mixture of sliced eggplant (aka aubergine), zucchini, garlic, and tomatoes and is most often served at room temperature or chilled.
Let me introduce you to aubergine or eggplant.
Is eggplant a fruit or a vegetable?
Did you know eggplant is technically a fruit?
So much for being proud of myself that I was eating more vegetables.
However, eggplant is usually prepared and served as a vegetable. Guess that's why eggplant has an identity crisis.
Why is it called "eggplant"?
According to Wonderopolis, "Way back in the 1700s, early European versions of eggplant were smaller and yellow or white. They looked like goose or chicken eggs, which led to the name "eggplant."
You can buy these smaller eggplants in international and specialty grocery stores. I use the aubergine-colored variety in this recipe. Aubergine is another name for the dark purple color as well as the eggplant itself.
Is it OK to eat the skin and seeds of eggplant?
As eggplants age and get bigger, the skin gets tougher and more bitter. If you are buying a small eggplant, leave the tender skin on. It adds texture to the soup. Otherwise, peel it.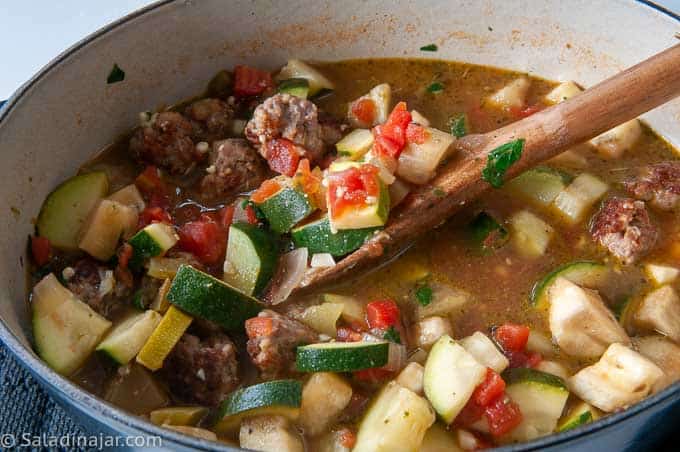 According to Rebecca Bragg from Livestrong.com, "The seeds of a fresh eggplant should be soft and barely visible and if they are, there's no need to remove them. If seeds are brown, scoop them out with a spoon."
I never remove the seeds since this is soup. Nobody will notice.
Recipe Tip:
If you are cooking for picky eaters, peel the eggplant and cut in small cubes. They will be unrecognizable amongst the other ingredients. (This is not guaranteed to work, but worth a try.)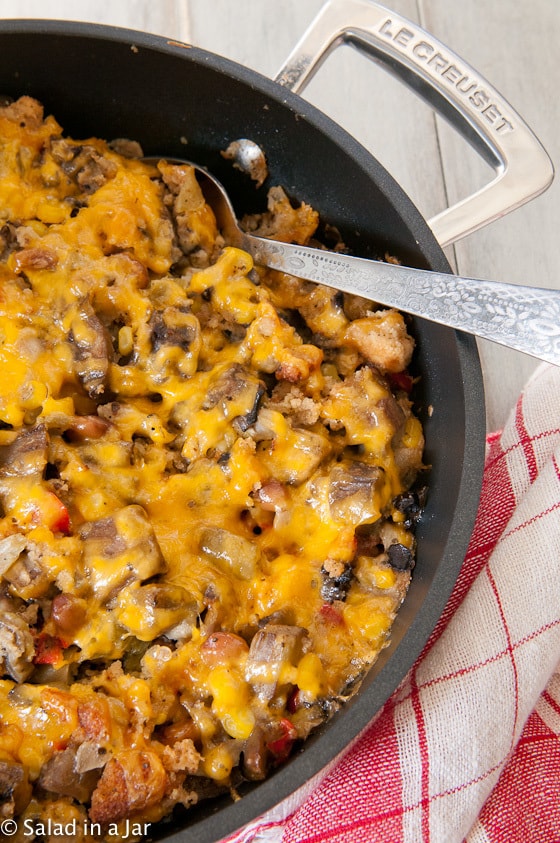 Is it necessary to salt eggplant before cooking it?
Since the eggplant in this recipe cooks in broth (not fried), there is no reason to salt and let the eggplant sit ahead of time.
Ingredients and Substitutions:
Meatballs:
If you find making meatballs tedious or time-consuming, brown the ground meat without shaping it into balls.
If you make the meatballs yourself, they will hold together best if the meat was not frozen beforehand. Save time and buy pre-cooked mini meatballs from the freezer section at the supermarket.
The third option would be to leave out the meat and go vegetarian. Mushrooms would be a good substitution.
Onions:
Use frozen chopped onions to save time.
Yellow or white onions are the best variety for this recipe.
Green Bell Peppers:
Substitute red, yellow, or orange peppers if you prefer.
Leave the peppers out if you like, but it is a traditional ingredient of ratatouille.
Zucchini:
No need to peel the zucchini. The skin adds color.
Substitute yellow squash for the zucchini if you must.
Don't overcook the soup. The zucchini should still have some bright green color.
Eggplant: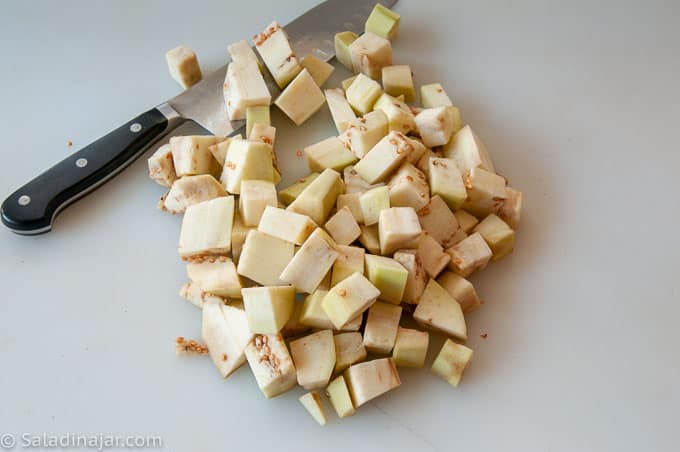 Substitute mushrooms for the eggplant if you like. I've been forced to do this when I let the eggplant sit in my refrigerator for too long. The flesh turns brown and gets soft spots as it ages.
Tomatoes:
I'm fond of the Red Gold brand of diced tomatoes. But whatever you have on hand will work. Some people would rather use whole canned tomatoes. Break them up by squeezing with your hands or give them a quick chop.
Beef Broth:
Use canned beef broth or beef bouillon cubes reconstituted with hot water. If you're the kind who makes your own broth, use it and please invite me to your house.
Mushroom & Company Umami Seasoning: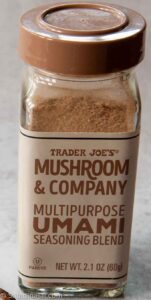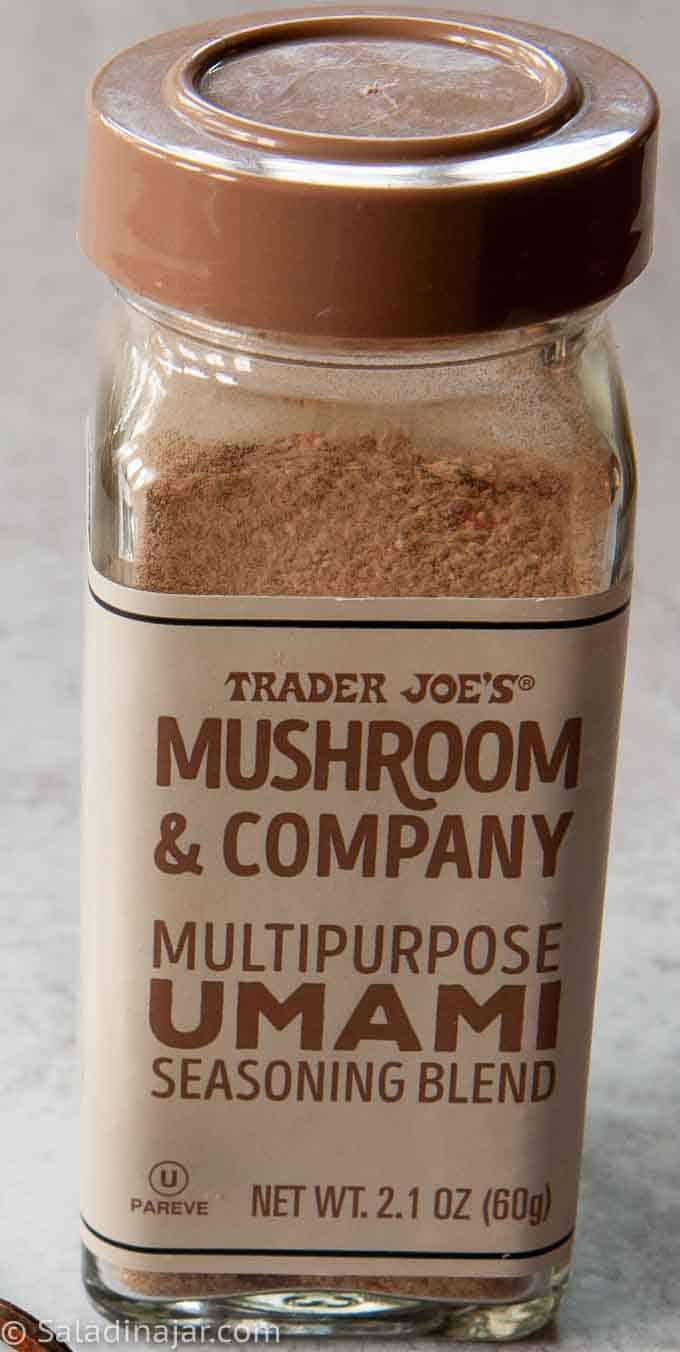 I recently discovered this seasoning at Trader Joes (but you can get it from Amazon). It's perfect for this soup. Warning: It's high in salt, so taste your soup before adding more salt.
If you want to make your own mushroom powder seasoning, look at this recipe from NomNomPaleo. I used this for quite a while before I found the Trader Joe's brand.
Parmesan Cheese:
Optional. Any variety is OK but fresh cheese tastes best.
Sprinkle it over individual bowls immediately before eating.
Variations:
Add 1-2 tablespoons of pesto instead of the Italian Seasoning or basil.
Use ground turkey, sausage, hot sausage, or Italian sausage instead of beef.
Add 1/3 cup of dry white wine to the broth.
A teaspoon of chopped parsley adds color and freshness.
What do I serve with this soup?
French bread or garlic sticks, a green salad or nothing. It's a complete meal by itself.
How to make Ratatouille Soup: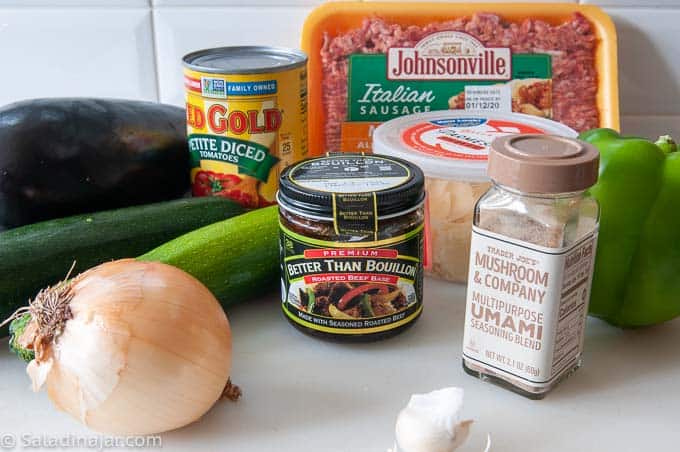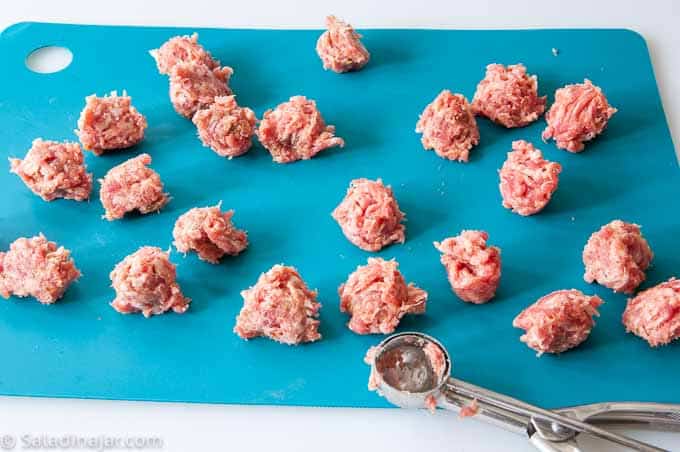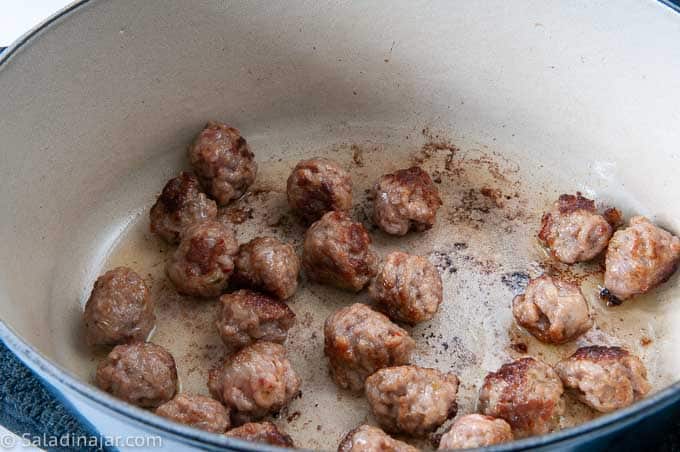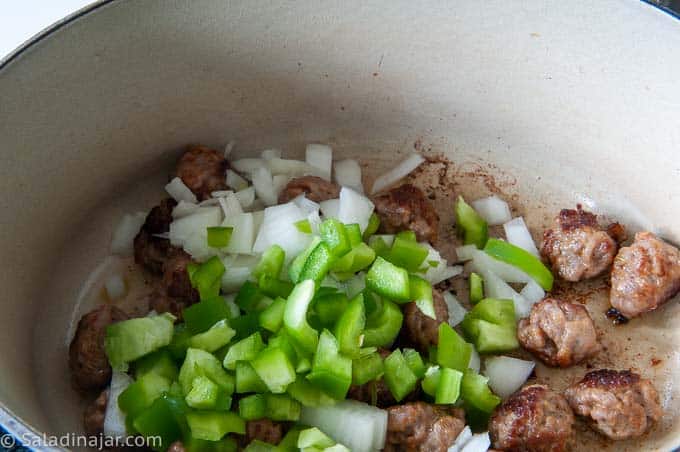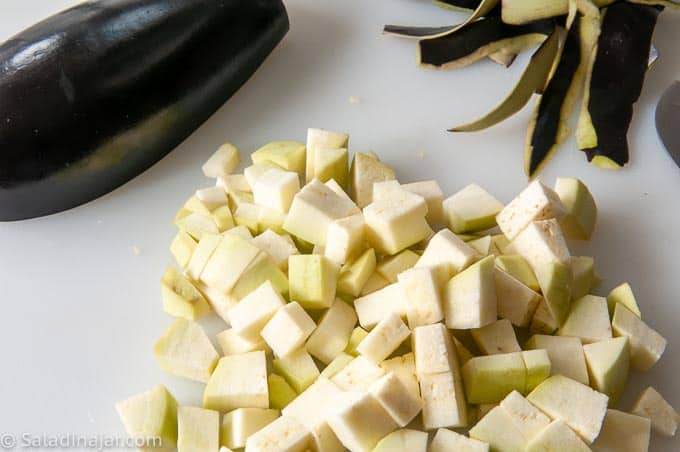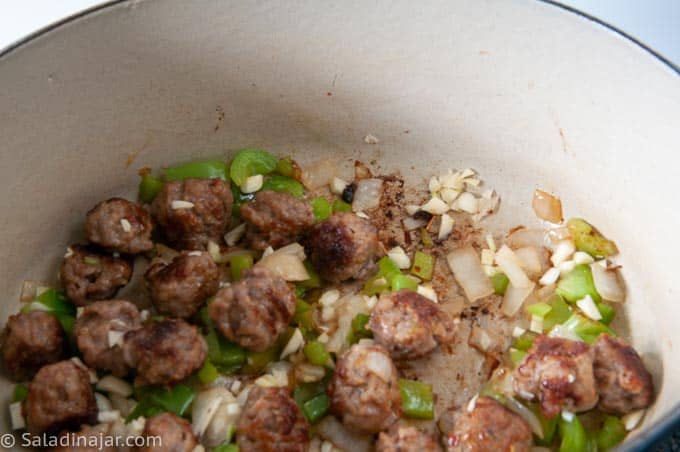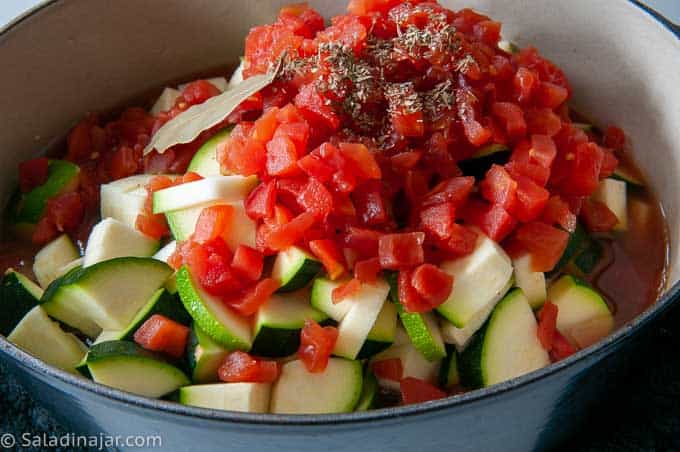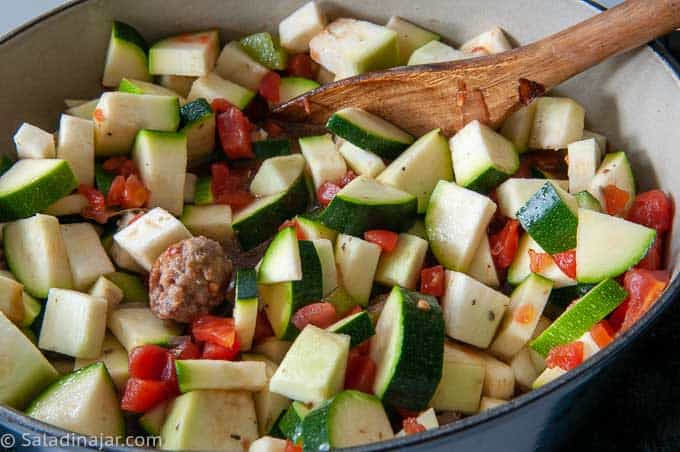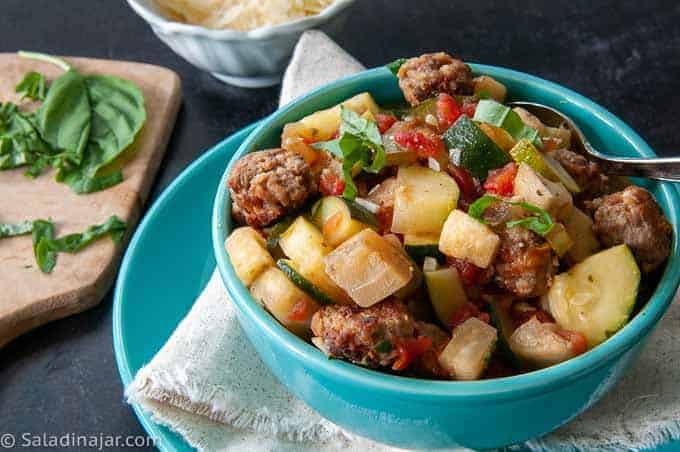 ---
In a soup mood? Check out these recipes.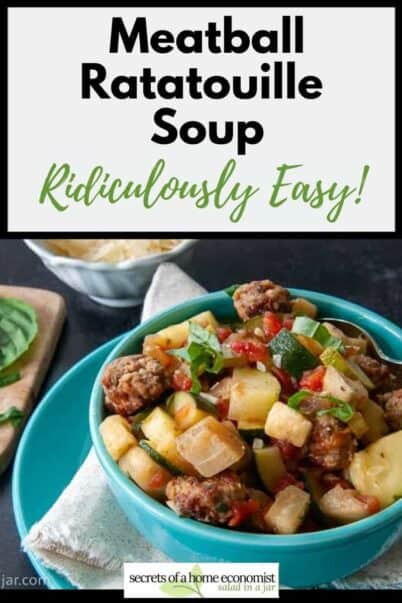 If you enjoyed this recipe, it would help others and me if you gave it a five-star rating inside the recipe card below. 🤩 No comment required. Thank you.

Hope to see you again soon!
Paula
p.s. Questions or suggestions? Please email me: Paula at saladinajar.com.
---