Preview: This recipe for Baked Edamame and Mushrooms is seasoned with balsamic vinegar or soy sauce and oil. The mushrooms add interest and flavor. Try this as a hearty and satisfying side dish or vegetarian entree.
The first time my husband and I tried edamame, we didn't quite know what to do with it. He brought home unshelled, steamed soybeans as part of a take-out order so we didn't have anybody to ask. We decided to chew the whole thing–beans AND shells like you might eat sugar snap peas.
As you can imagine, that didn't go well. After some discussion, we called the restaurant to find out if we should consume the shells. Of course, we were told "no," and we proceeded to enjoy squeezing/sucking the beans out of the salt-dipped shells.
That incident happened several years ago. Do you know how you can tell?
Because nowadays, we wouldn't call the restaurant. We grab our phones or iPads and google it. Right?
Good-natured arguments and bets on disagreements are so outdated. I might miss the bantering back and forth if the instant gratification of proving I was right from the beginning wasn't so satisfying. Never mind the times I am wrong.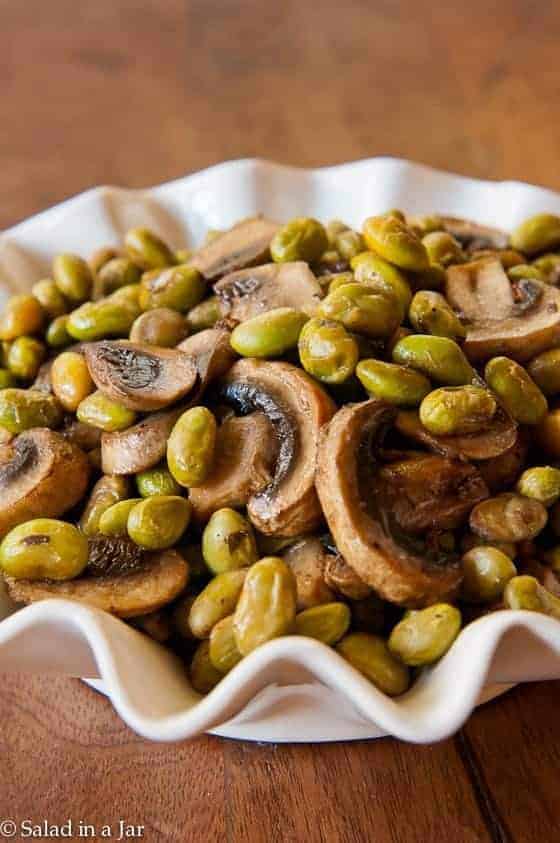 What is mukimame?
Mukimame is a label for soybeans without their shells. You will see them in the freezer section of the grocery store. It sounds like less work to me, making them one of my new favorite snacks.
Microwave a bag according to the directions on the package. Allow to cool, then store in a Mason jar in the fridge.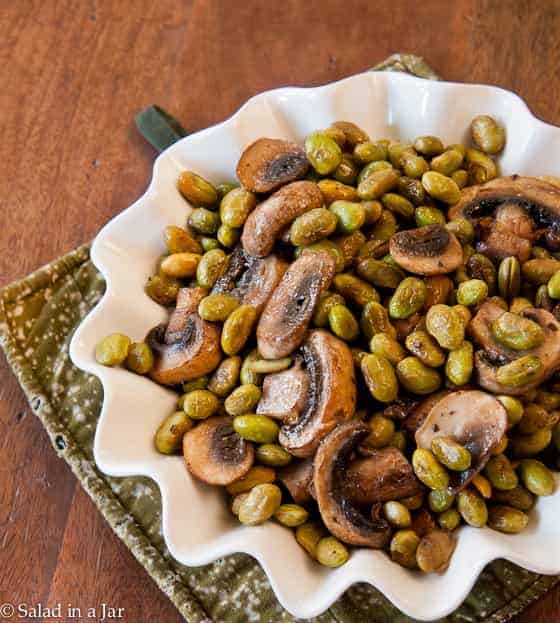 Baking edamame:
Steamed edamame is fun, but roasting takes this lima-bean-look-alike to a new level. When you bake the shelled beans at a high temperature, they take on a suntanned appearance. Baking or roasting also intensifies the nutty flavor and somewhat chewy texture.
Meaty mushrooms bring an earthy flavor to the party. Marinate them with the beans in a soy sauce or balsamic vinegar (your choice) and oil mixture. Don't worry. They won't seem greasy at all as there is just enough oil to keep them moist.
I prefer this recipe as a side dish. But if you're having a vegetarian day, it makes a filling entree as well.
My apologies for not specifying the exact amount of salt and pepper. It is a matter of taste. However, the balsamic or soy sauce you add to the marinade will also affect the saltiness.
This post was inspired by the Roasted Green Beans with Mushrooms, Balsamic, and Parmesan from Kalyn's Kitchen.
Related Posts:
If you enjoyed this recipe, it would help others and me if you gave it a five-star rating inside the recipe card below. 🤩 No comment required. Thank you.

Hope to see you again soon!
Paula
p.s. Questions or suggestions? Please email me: Paula at saladinajar.com.