Sneak Peek: Slow-Cooker Pulled Ham served with a Honey-Mustard Barbecue Sauce is a make-ahead shredded ham that's gentle on the pocketbook, easy to serve, and fun to eat
Often when I encounter cooked ham (especially in a sandwich), I see pieces of fat hanging off the edges that need to be trimmed off. Performing surgery at the table seems uncouth, but I am obsessed.
With this pulled ham recipe, the "fat-ectomy" is done ahead. No more worries about cutting the big pieces in half, looking for the slice with the least fat, or avoiding the dried-out slices (not that I would ever really do that, of course.)
Do you love make-ahead recipes?
Spending quite a bit of time in the kitchen is my thing. Just don't ask me to do it after a long day at work or after coming home from church (for example, Easter Sunday).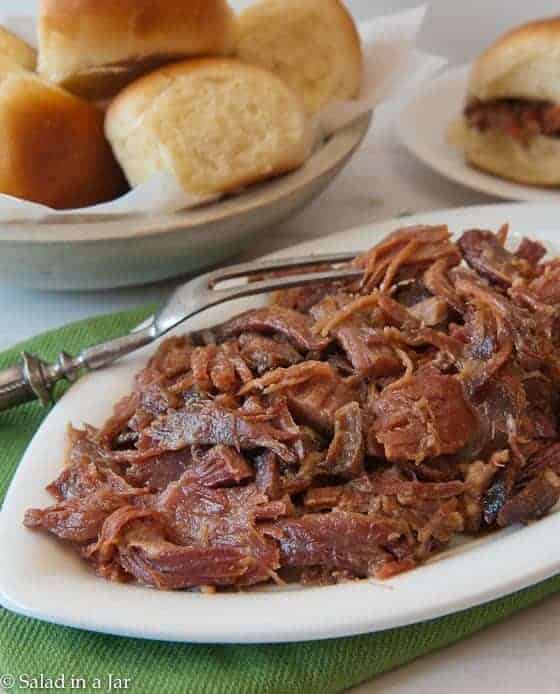 Recipe inspiration:
I am smitten with this simple and inexpensive way to prepare shredded ham that I first saw here. Mel cooked hers on the stove. But since I'm a slow cooker girl, this is my version.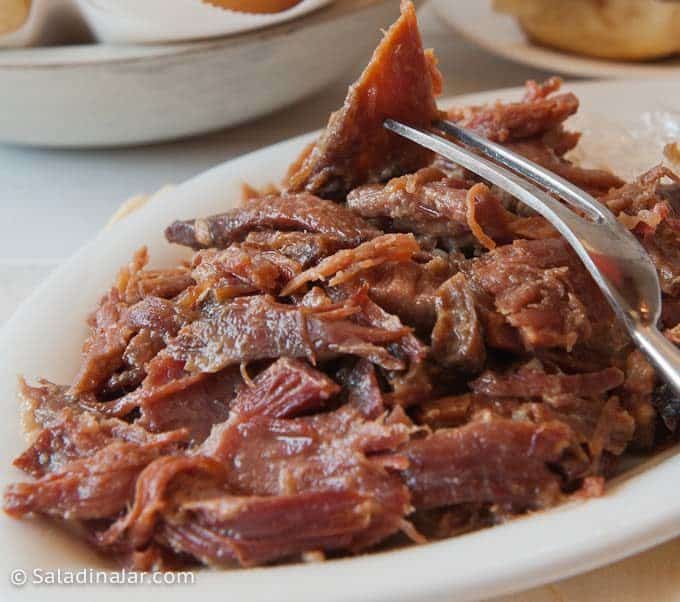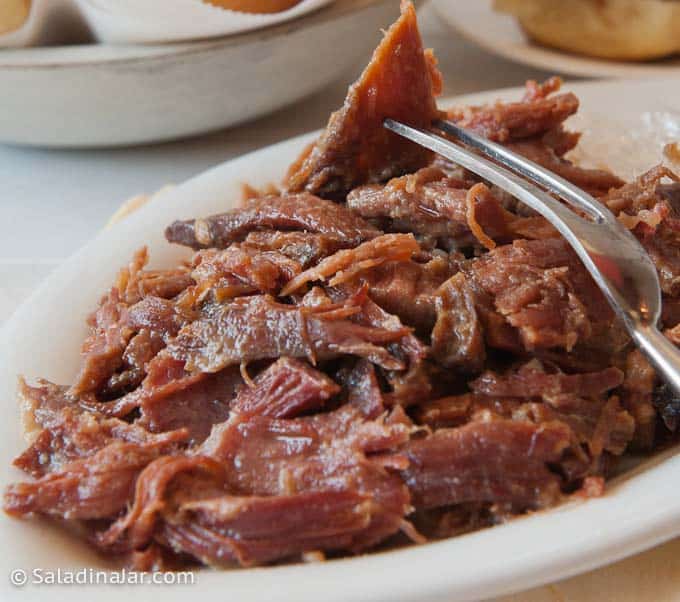 ---
4 reasons why this ham is perfect for a celebration:
#1
All the work can be done ahead of time.
Buy an unsliced, bone-in, smoked, shank ham. Cook it a day or two ahead of time in your slow cooker with water and cider vinegar.
After cooling a bit, shred the ham with two forks, your fingers, or a food processor (using the bread kneading blade).
Another easy way to shred ham is in a stand mixer. Use the flat beater attachment. Add chunks of ham to the bowl. Select a medium speed and turn on. After about 30 seconds (depending on how much meat is in the bowl), you will have shredded meat.
Store in the refrigerator.
#2
Pulled ham (or gammon) requires no attention for the last hour before serving.
You will have plenty of time to attend to other details of your meal.
When you are ready to serve, pop ham into the oven (or back into the slow cooker) layered with brown sugar and mustard.
The subtle vinegar flavor left behind from the long cooking time combined with the sugar/mustard treatment results in an irresistibly tender and piquant meat entree.
#3
The long water and vinegar bath help to neutralize the salt.
Ham can be really salty, but sitting in the slow cooker all day helps.
What about all the fat?
As you shred the ham, it's easy to pull out any fatty pieces. Honestly, dissecting the fat from the meat can be slightly tedious. But since you can do it ahead of time, it's forgivable. Exam gloves are helpful.
#4
Easier to serve and eat than a whole ham.
It's easy for kids to eat this ham since no fat has to be trimmed off on their plate, and the shreds are already bite-sized.
Or, stuff some into homemade or store-bought slider buns for an easy-to-eat miniature sandwich.
---
How to make slow-cooker pulled ham: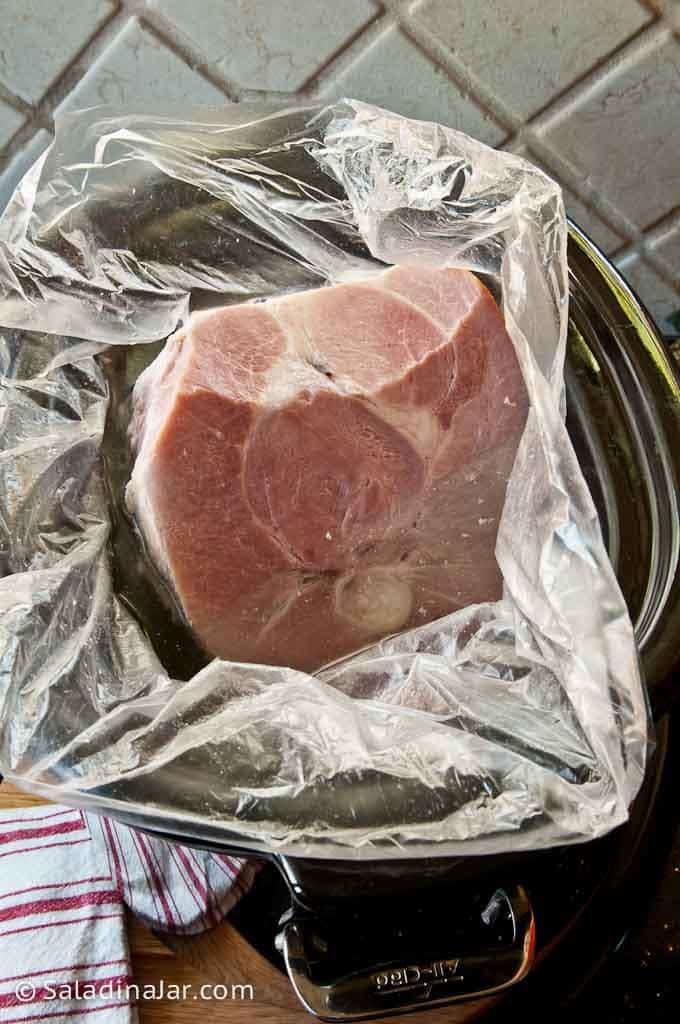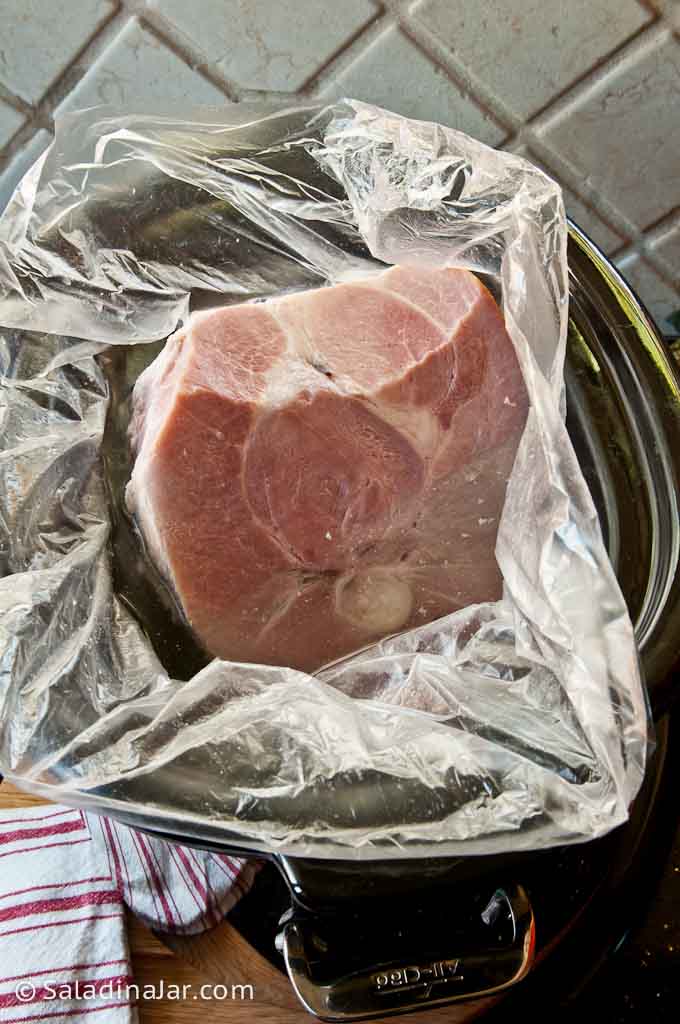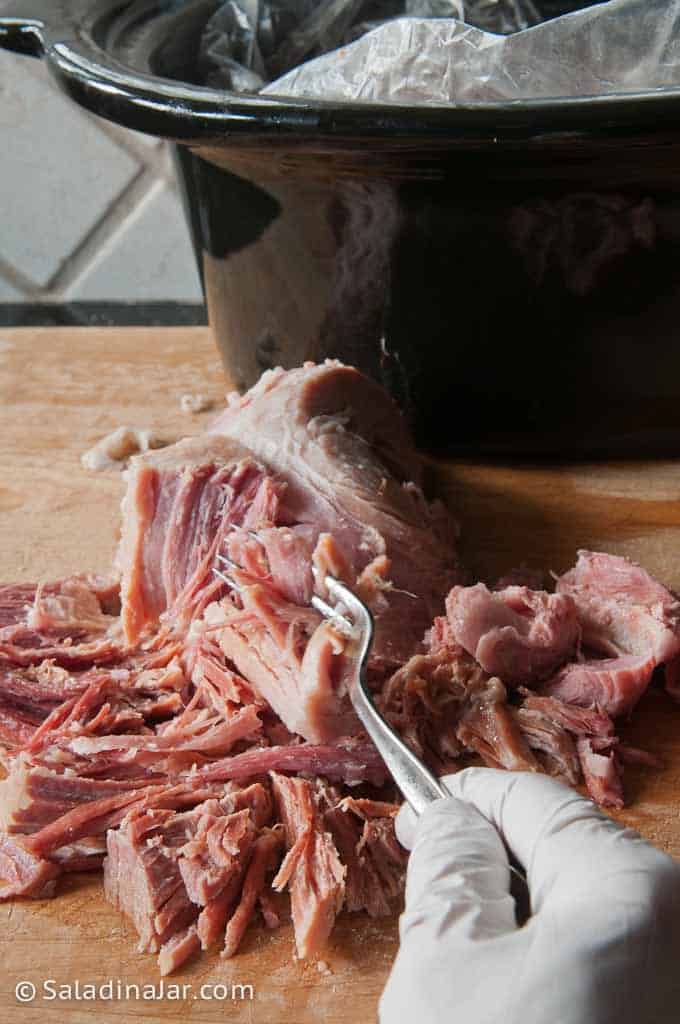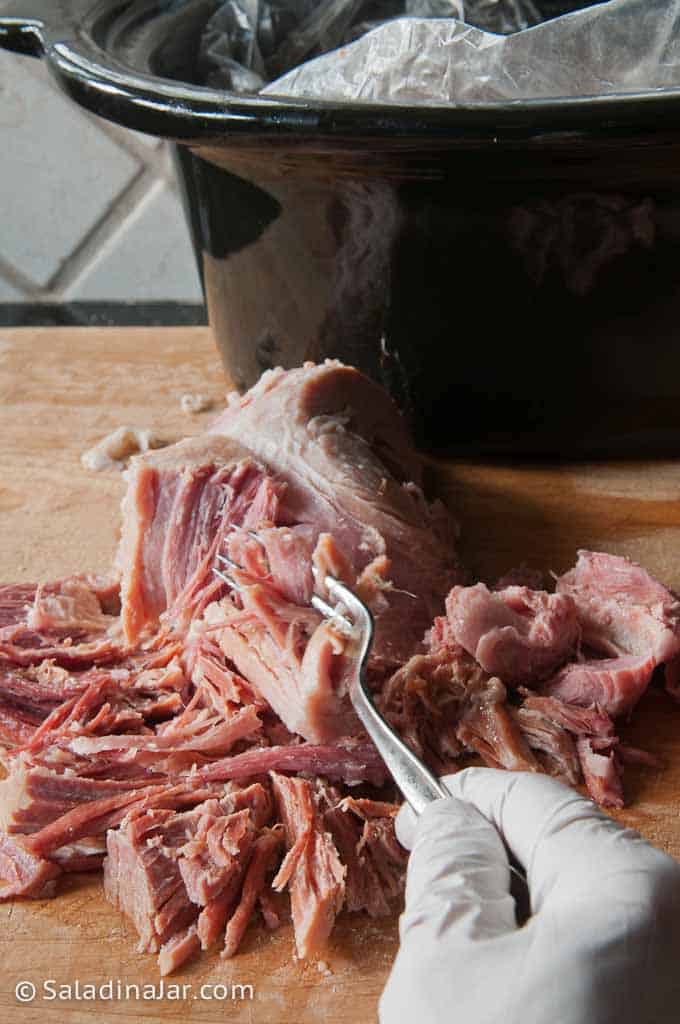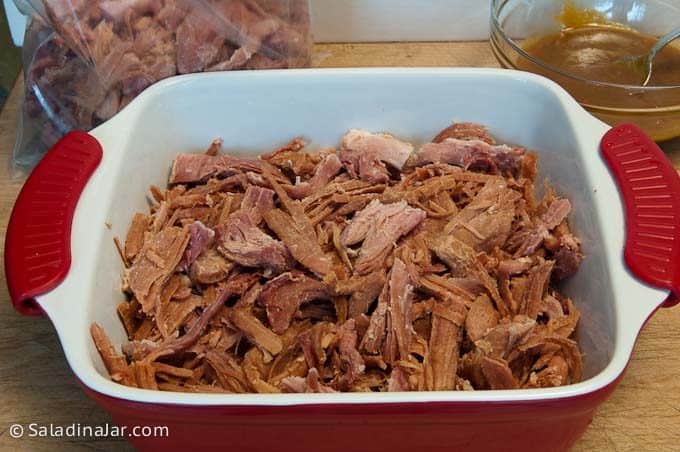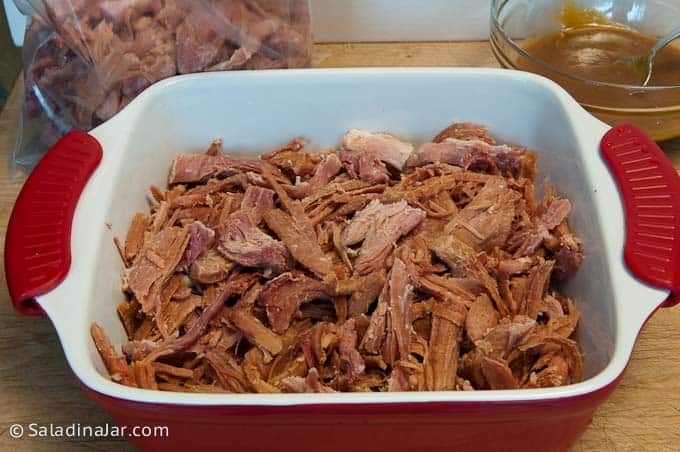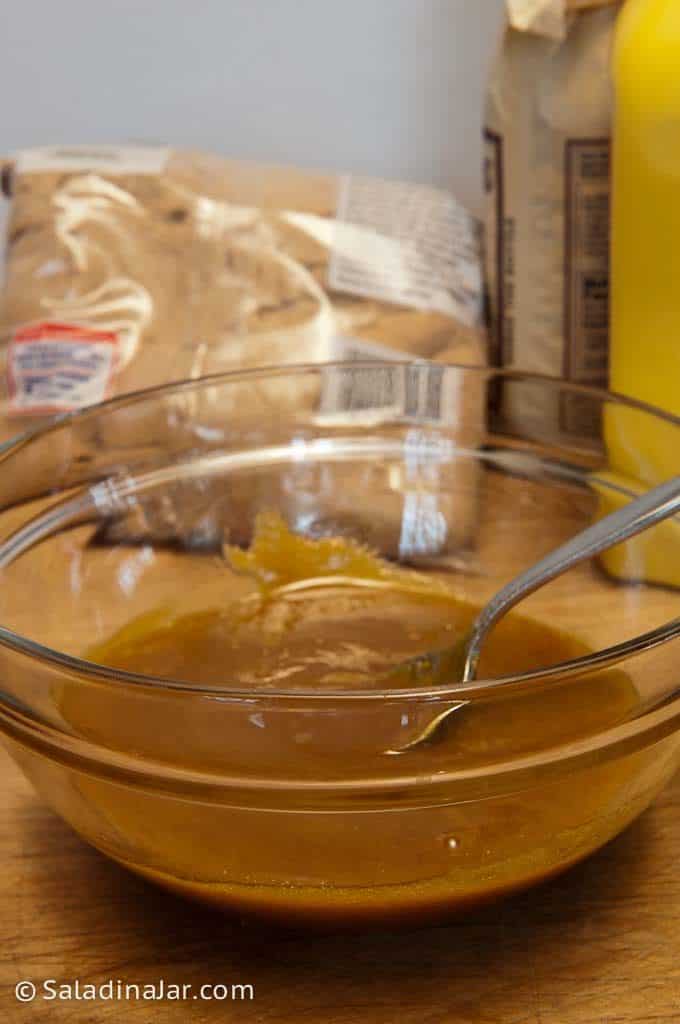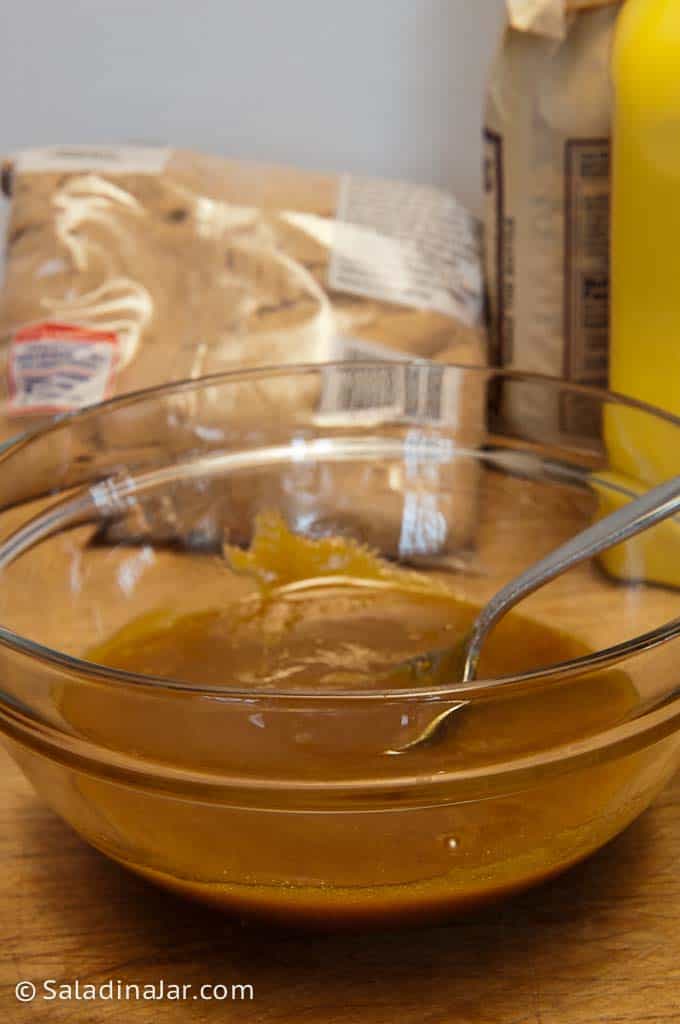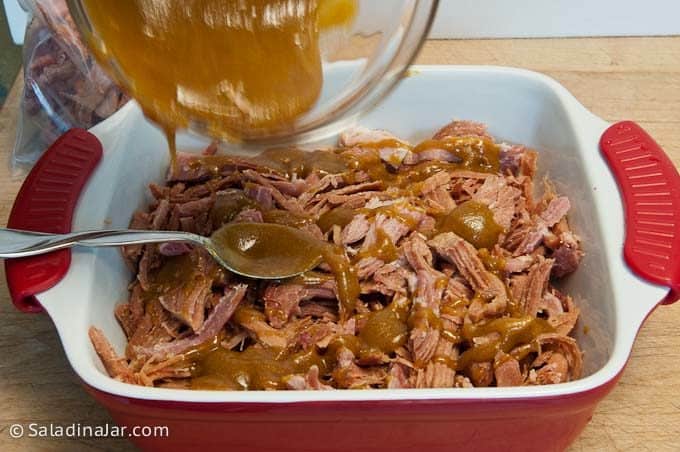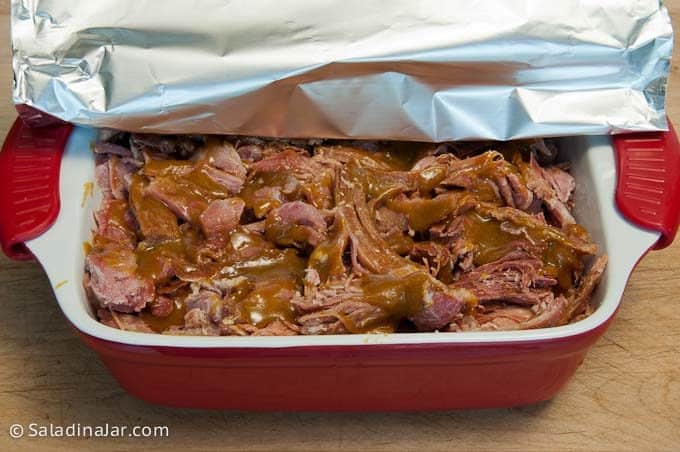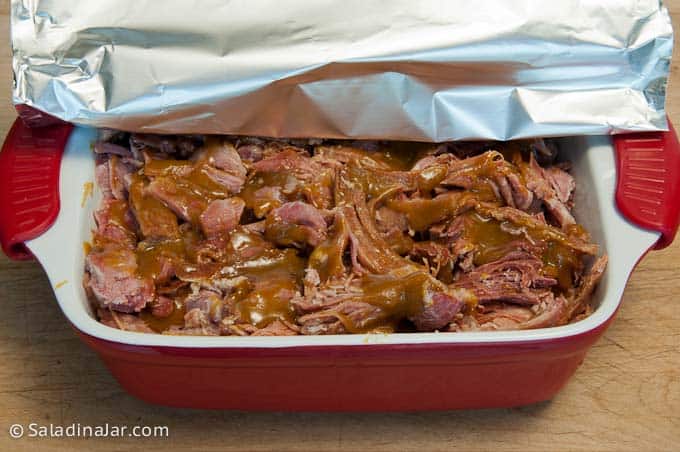 ---
I prefer this ham with no additional condiments. But if you are a mustard lover, you might appreciate an extra dose of mustard flavor provided by the Honey-Mustard Barbecue Sauce pictured below.
Incidentally, grilled meats such as ribs or chicken benefit from the same treatment.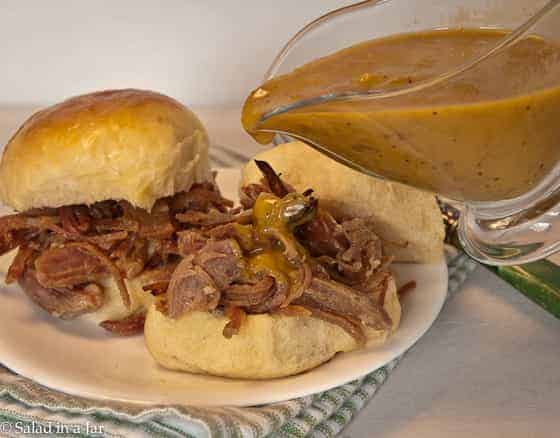 Speaking of homemade rolls, the bread you see in the picture above is my best clone of Sweet Hawaiian Bread. You can make it in your bread machine.
---
Do you need more ideas for ham?
Did you enjoy this recipe? If so, you can help others and me by leaving a 5-star 🤩 rating inside the recipe below. No comments are required.
Hope to see you again soon!
Paula
p.s. If you have any questions or suggestions, you can email me privately: Paula at saladinajar.com.
---