Preview: Easy Beef and Mushroom Soup made in a Slow Cooker combines round beef steak with mushrooms and a creamy broth. This recipe creates a quick-to-assemble soup you can put in a slow cooker and forget about until dinner time.
Is your freezer a black hole like mine?
Recently, I found a package of round steak hanging out at the bottom of my freezer. It was still safe to eat, but it had a little bit of freezer burn – slightly past its prime. Evidently, it fell down the black hole in my freezer.
Consequently, I started thinking about making soup with the steak using a crockpot or slow cooker. The result is this tasty recipe for Easy Beef and Mushroom Soup made in a Slow Cooker.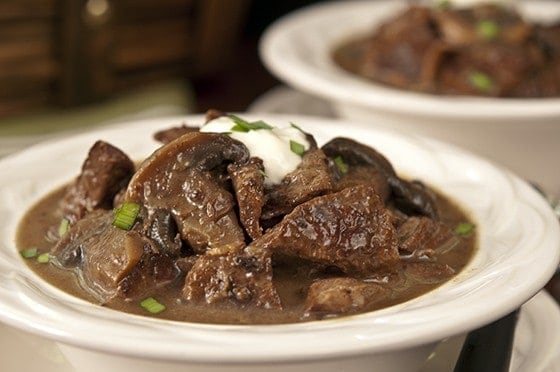 ---
Recipe inspiration:
The original idea originated with the prime rib soup at Harrigan's restaurant (sadly, long gone in our area). It used to be one of my favorites on their menu, along with New Orleans potatoes and Cheesy Yeast Rolls.
I don't use prime rib in this recipe because I normally don't have such elegant leftovers. But round steak is delicious, especially when cooked in a slow cooker.
---
Ingredients and substitutions: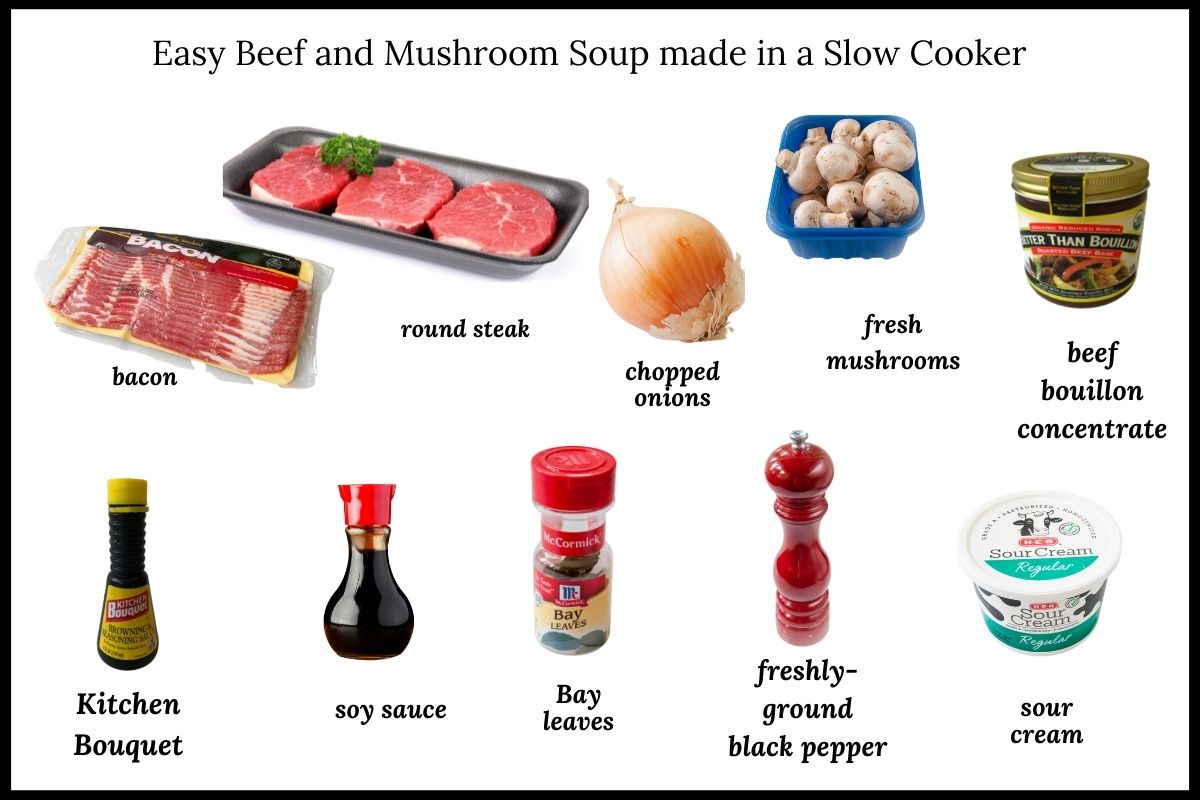 BACON: You could use thick or thin-slice bacon, but I prefer the latter. Other substitutes include pre-cooked bacon crumbles (like the ones sold at Costco) and turkey bacon.

ROUND STEAK: Any cut of round steak is good. Chuck steak, cube steaks, or sirloin can substitute for the round steak since they are fine when cooked for a long period of time with moist heat.

ONIONS: Even though I usually use frozen onions to save time, fresh onions are equally delicious.

MUSHROOMS: Use the most common white button mushrooms sold in all (American) grocery stores. In a pinch, substitute canned sliced mushrooms.

BEEF BOUILLON CONCENTRATE: I like the paste form shown above the best. Bouillon cubes or canned broth are also options.

KITCHEN BOUQUET: Kitchen Bouquet adds umami and color. Worscesterhire sauce will give you flavor but not the dark caramel color.

SOY SAUCE: Soy sauce adds salt but also more umami flavor that complements the meat.

BAY LEAF: I love to use bay leaves in my cooking. Don't forget to remove them before serving. They add flavor but you can leave them out.

SOUR CREAM or unflavored GREEK YOGURT: Either ingredient adds a creamy texture and a stroganoff-type of flavor. Add immediately before serving. Don't let the soup boil after you add the sour cream or yogurt. Boiling can cause either of them to separate.
---
Frequently Asked Questions about Steak and Mushroom Soup:
Why use a slow cooker for this soup?
Round steak is not particularly good for a walk-in-the-door-and-eat-10-minutes later kind of menu. It's more tender when cooked with moisture for a long period of time.
Can I make this on the stove?
Yes. Let the meat simmer in the liquid for 1-2 hours until tender.
Can I make this soup ahead of time?
Yes, Make it earlier in the day if you look. It will store for 4-5 days in the refrigerator.
Can I freeze this soup?
Freezing will cause the sour cream or yogurt to separate. Although you can usually fix this by adding more cream, I don't recommend freezing.
More Recipes for Your Consideration
---
If you enjoyed this recipe, it would help others and me if you gave it a five-star rating inside the recipe card below. 🤩 No comment required. Thank you.

Hope to see you again soon!
Paula
p.s. Questions or suggestions? Please email me: Paula at saladinajar.com.
---