Beef and Vegetable Soup Without Tomatoes: Easy with a Crockpot
Sneak Preview: This Beef and Vegetable Soup Without Tomatoes uses leftover beef pot roast or precooked beef, veggies, and a slow cooker to create a healthy, delicious, and satisfying vegetable soup.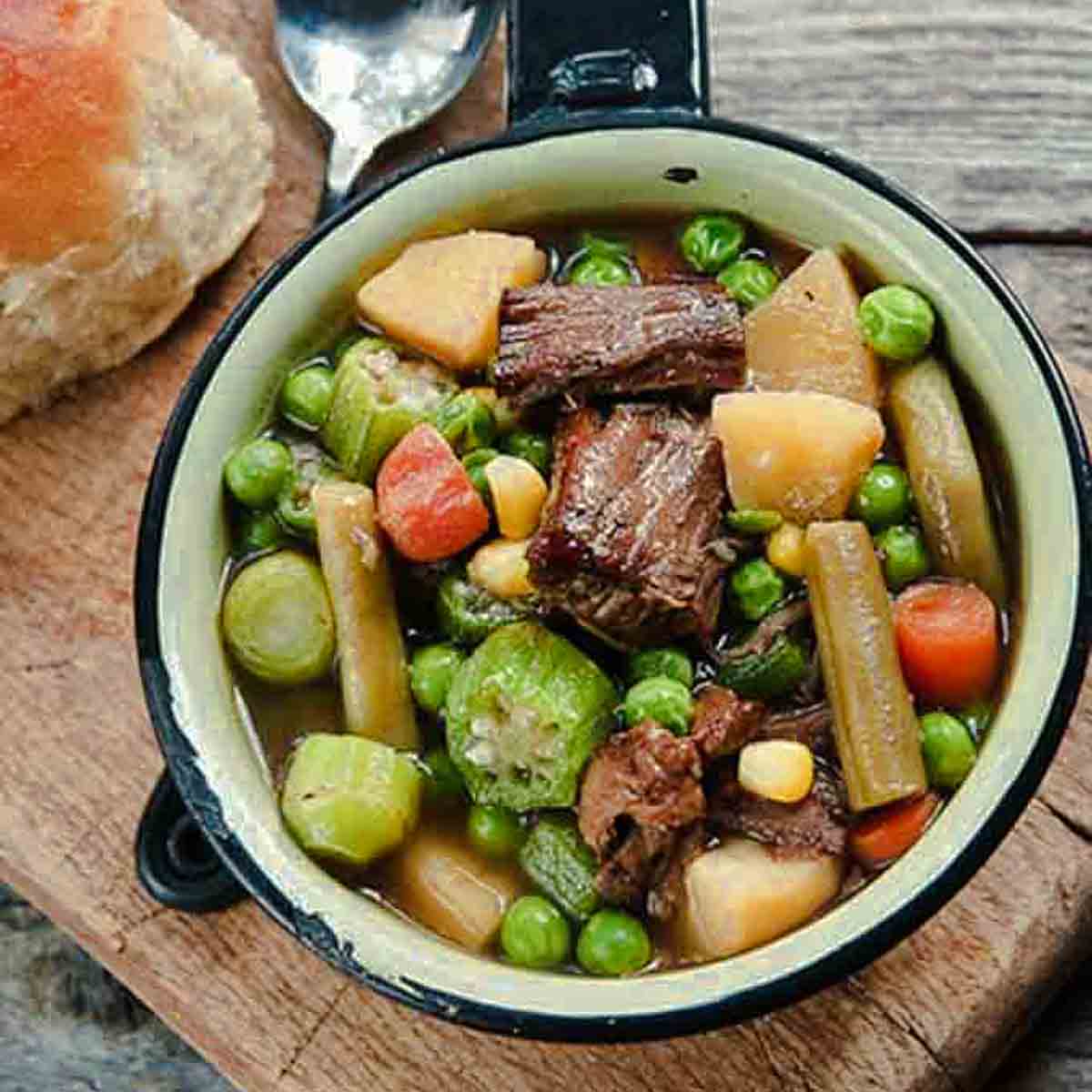 As an Amazon Associate, I earn from qualifying purchases.
We don't have many traditions associated with Halloween–it's not my favorite holiday. But there is one tradition I like. We usually have this vegetable beef soup for dinner. It makes me feel better after eating too many Snicker bars and Reese's peanut butter cups. It's also a favorite in January for reasons I'm not admitting to.
Who needs a vegetable soup recipe? Maybe none of us. So, let this serve as an idea or reminder the next time you cook a big roast or need to clean out various veggies in your fridge or freezer. Speaking of leftover pot roast, don't forget about my Shepherd's pie, the most visited post on this website.
---
Ingredients and substitutions:
Leftover beef: Any leftover cooked beef, even ground beef, is appropriate for this recipe. I have not tried it with chicken or other proteins. Make this vegetarian and leave out the beef.

Leftover gravy or beef broth: If you don't have gravy or canned beef broth, use water and bouillon cubes or a paste, like Better than Bouillon, to make broth. Use vegetable broth for a vegetarian version.
Potatoes: Peeled russets or Yukon potatoes are my first choice. Small unpeeled red potatoes are another possibility.

Carrots: Baby carrots are quick (no peeling), but whole carrots will serve the purpose.

Worcestershire sauce: This common staple in America adds umami. I add Kitchen Bouquet at the end to add color and richness to the broth if it doesn't look "beefy."

Bay Leaf: Bay leaves also add umami. I use them in most of my soup and roast recipes. Don't forget to remove them before serving.

Frozen Veggies: Look through your freezer. Take this opportunity to clean it out. I usually have green peas, green beans (I like canned ones, too), corn, okra, and lima beans.

Beans: I favor lima beans, the frozen kind. But canned kidney beans, cannellini, white beans, or chickpeas are other possibilities. Leave them out if you're counting carbs.

Salt-Free Seasoning: There are many choices at the grocery store. I'm currently using McCormick's Perfect Pinch–Garlic and Herb. I like salt-free seasoning because the bouillon I use has plenty of salt.

Freshly Ground Pepper: This is the final touch. Pre-ground pepper is fine.
---
My rules for vegetable soup with or without beef:
It may seem like I have an anything-goes policy for this soup, but I have a few rules. Enjoy breaking them if you choose.
1. Yes, to frozen okra
Usually, I'm not too fond of boiled okra, but I love it in a soup recipe for some mysterious reason. Leave it out if you disagree.
2. Yes, to salt-free seasoning
I usually don't add extra salt because the variety of spices in salt-free seasoning adds interest to the flavor. Besides that, I usually use bouillon with plenty of salt to make broth. I currently like McCormick's Perfect Pinch–Garlic and Herb.
3. No tomatoes
I love tomatoes but prefer my vegetable soup without them.
4. No cabbage, broccoli, or cauliflower
Sorry, Mom. I never learned to like the cabbage you put into your vegetable soup. Furthermore, it reminds me of the cabbage soup some people eat to lose weight.
5. No bell peppers
Specifically, I don't want green bell peppers (I save them for my okra gumbo). The red, yellow, and orange bell peppers with a sweeter flavor are fine.
6. No grains or pasta
I make Jalapeno Cheese Cornbread, French Bread, or these Really Crusty Rolls if I want more carbs with my soup.
---
How to make Vegetable Beef Soup Without Tomatoes:
My vegetable soup is somewhat like a scavenger hunt:
Start with leftover pot roast or beef and gravy (if you have it).
Raid the refrigerator for once-fresh-but-now-tired veggies like onions, celery, green onions, green beans, etc. Then check the freezer for half-empty bags of vegetables or beans.
Look through the pantry for beans or veggies like green beans, corn, or mushrooms.
If weather permits, check to see if you have any herbs, like fresh parsley, dried thyme (or fresh thyme), or oregano.
This recipe is perfect for a slow cooker or Crockpot. Simmer all day on Low or all afternoon on HIGH.
Stage 1: Getting the soup started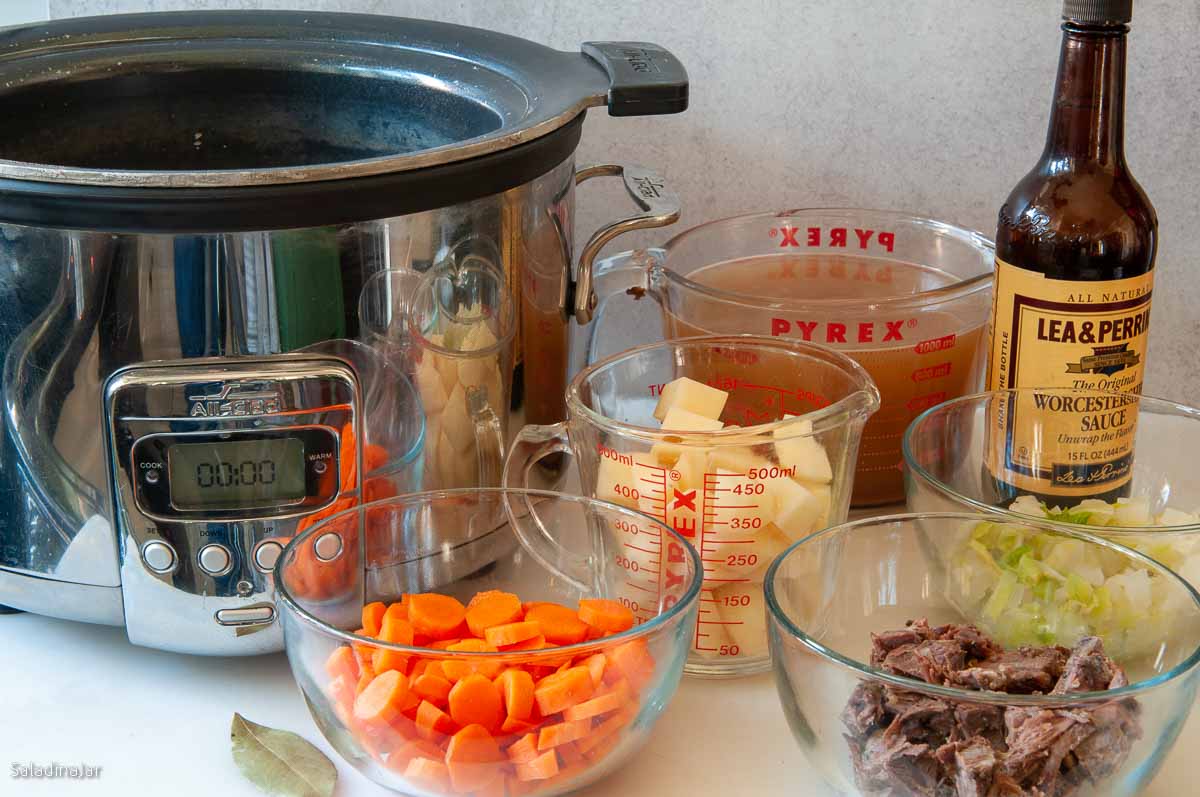 Stage 2–Last 45 minutes of cooking time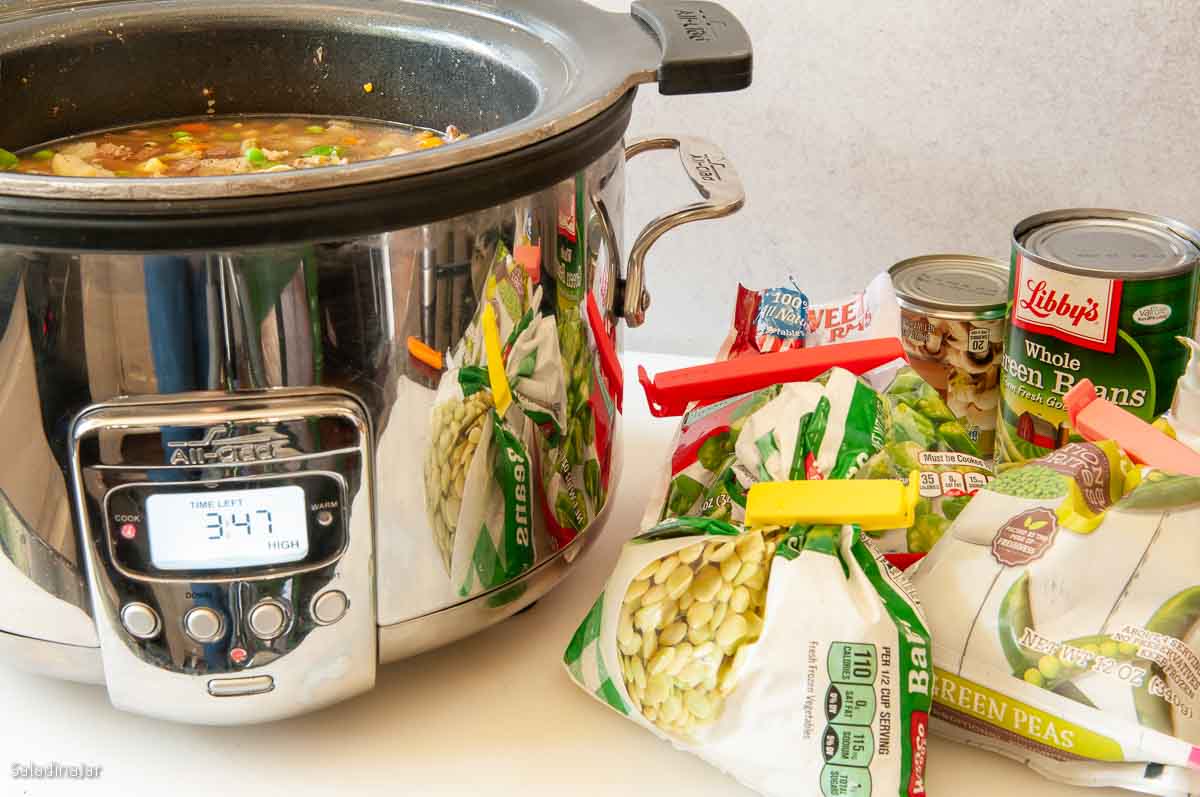 Stage 3: Let's eat.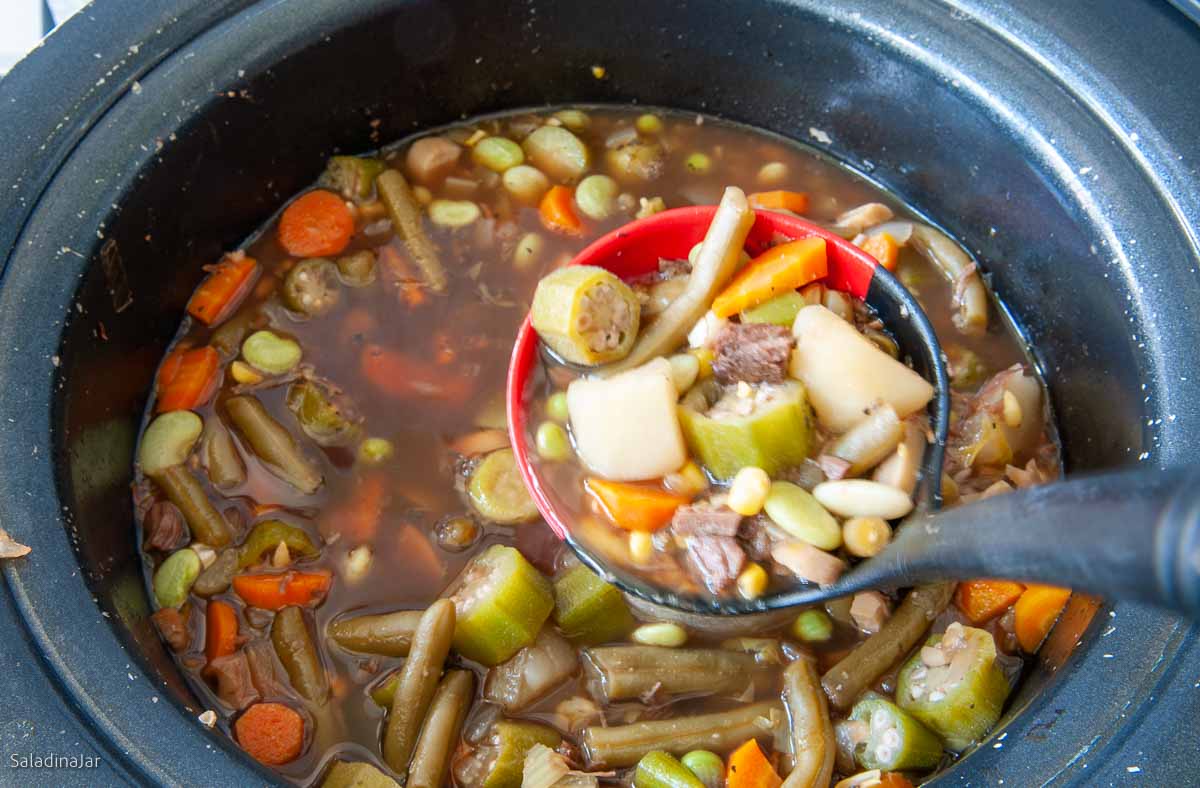 ---
FAQs about vegetable soup without tomatoes:
What can I use instead of a slow cooker?
Use a large Dutch oven or a small stock pot on the stovetop. Heat the assembled soup over medium heat, then let it simmer until all vegetables are tender.
How can I make this soup gluten-free?
The only gluten in this recipe could come from the leftover gravy. Use beef or chicken stock instead. Check the labels for gluten if you use bouillon.
What's your best trick for making the broth richer?
Add Kitchen Bouquet for a dark caramelized color and extra flavor. 1-2 capfuls should do it. Epicurious recommends, "Whisking a small amount of butter into a sauce or broth adds a bit of richness, but it also rounds out the flavors that are already there, softening anything that's too harsh."
How can I spice up this soup?
Add garlic, chili powder, or herbs like fresh parsley, thyme, oregano, or basil.
---
Parting thoughts: This is another recipe I got from a friend. Although we rarely see each other anymore, I always think of her when I make this recipe. Actually, I don't know that she shared a written-down recipe. She just told me how she did it. Sometimes those are the best kind.
If you need some homemade bread to sop up the delicious broth in this soup, you can't go wrong with these Soft Bread Machine Breadsticks or this Jalapeno Cheddar Cornbread.
---
If you have questions or suggestions, email me privately for a quick answer: Paula at saladinajar.com. Hope to see you again soon!
---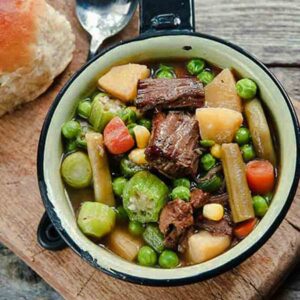 Beef and Vegetable Soup Without Tomatoes
This healthy vegetable beef soup is a great way to clean out the fridge and use up leftovers. All ingredients and amounts are negotiable. Please take a look at the recipe notes for directions for making this recipe on a stovetop.
Rate this recipe here
Ingredients
½-1

cup

leftover pot-roast or pre-cooked beef

-

cubed or shredded

1

quart

leftover gravy and/or beef broth

-

If using broth, use homemade, canned, or bouillon cubes or paste with water.

2-3

medium potatoes

-

diced, peeled or unpeeled

2-3

sliced whole carrots

-

or sliced baby carrots

1

tablespoon

Worcestershire sauce

1

bay leaf

1

cup

frozen peas

1

cup

green beans

-

I prefer canned or frozen.

1

cup

frozen corn

1

cup

frozen okra

1

cup

lima beans

-

or other beans of your choice

1

tablespoon

salt-free seasoning

-

for example, McCormick Perfect Pinch Garlic & Herb

⅓

tablespoon

Freshly ground pepper

1

tablespoon

Kitchen Bouquet (optional)
Instructions
Stage 1
Add the meat, gravy and/or broth, potatoes, carrots, Worcestershire sauce, and a bay leaf to a slow cooker. Cover and cook on LOW for 8-10 hours or HIGH for 3-4 hours.
Stage 2
Approximately 30-45 minutes before serving, add the remaining vegetables and seasonings. Add more broth or water if necessary to cover the veggies. Turn the heat to HIGH on the slow cooker to finish cooking.
Stage 3
Remove bay leaf and season to taste with freshly ground pepper and Kitchen Bouquet (if using) before serving.
Notes
Cooking on a stovetop: Use a large Dutch oven or a small stock pot. Heat the soup through Stage 1 to a boil over medium heat, then let it simmer for an hour. When the carrots are tender, go to Stage 2 and add the remaining ingredients. Heat over medium-low until all vegetables are cooked–usually 30-45 minutes.
Nutrition
Serving:
1
|
Calories:
200
kcal
|
Carbohydrates:
35
g
|
Protein:
8
g
|
Fat:
4
g
|
Saturated Fat:
1
g
|
Polyunsaturated Fat:
0.4
g
|
Monounsaturated Fat:
1
g
|
Trans Fat:
0.1
g
|
Cholesterol:
10
mg
|
Sodium:
727
mg
|
Potassium:
669
mg
|
Fiber:
6
g
|
Sugar:
8
g
|
Vitamin A:
2923
IU
|
Vitamin C:
26
mg
|
Calcium:
48
mg
|
Iron:
2
mg
Did you try this recipe?
If you loved it, don't forget to leave a 5-star rating 🌟🌟🌟🌟🌟 at the top of the recipe card. Thanks so much for taking the time to do that!