What Is the Best Vacuum-Seal Machine for Saving Lettuce in Mason jars? This is a common question around here. This post is a discussion of factors to consider. We will specifically explore three options.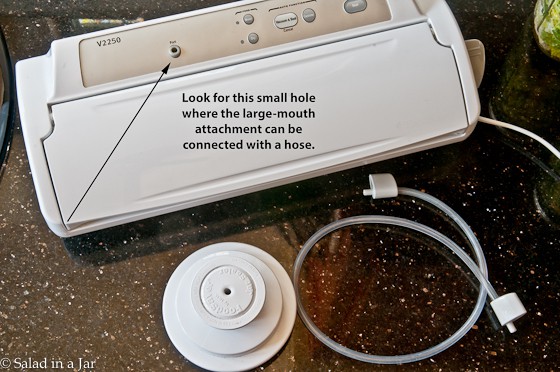 In addition to questions about the feasibility of adding veggies to vacuum-packed jars of lettuce, readers ask me most often about which vacuum-pack machine they should buy. I've done some homework and tried out a few different systems to save you the trouble and give you some choices.
When I started vacuum-packing salads, I used a vacuum-pack machine similar to the one above. I ordered the wide-mouth attachment and purchased wide-mouth (easier to seal and fill than regular-mouth) quart-size glass canning jars.
Required equipment
Unless you have plans to vacuum-pack most of the food in your refrigerator and freezer, you don't need a fancy machine. However, to make salad-in-a-jar my way, you must have the following:
a port on the machine (see picture above)
the wide-mouth attachment (ordered separately)
a hose
Please note the hose comes with the machine, not the attachment. You can order a replacement hose here.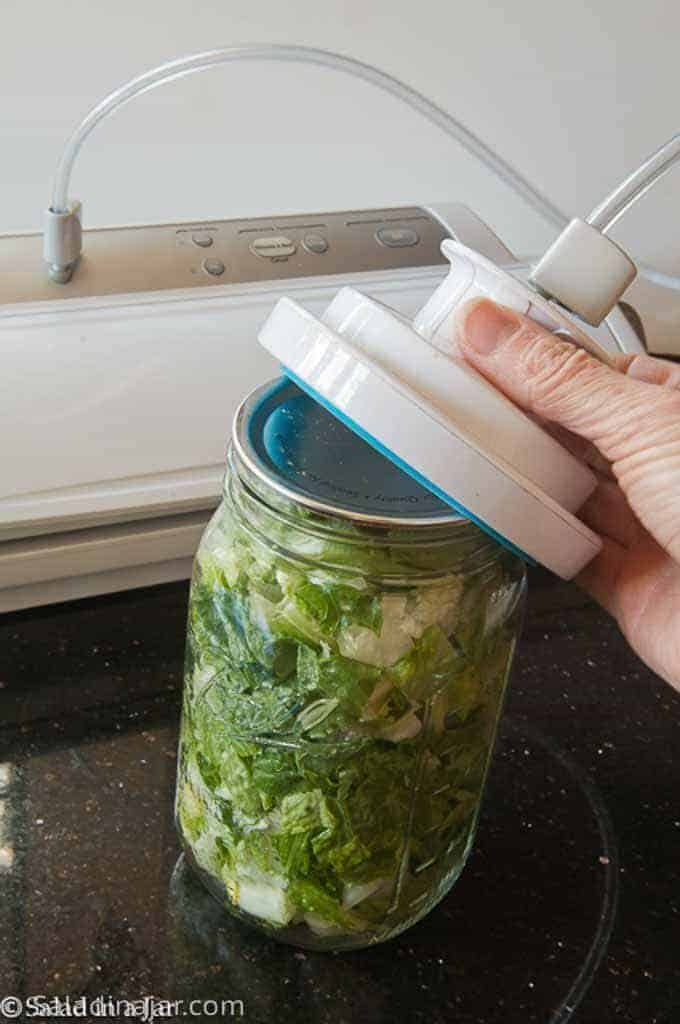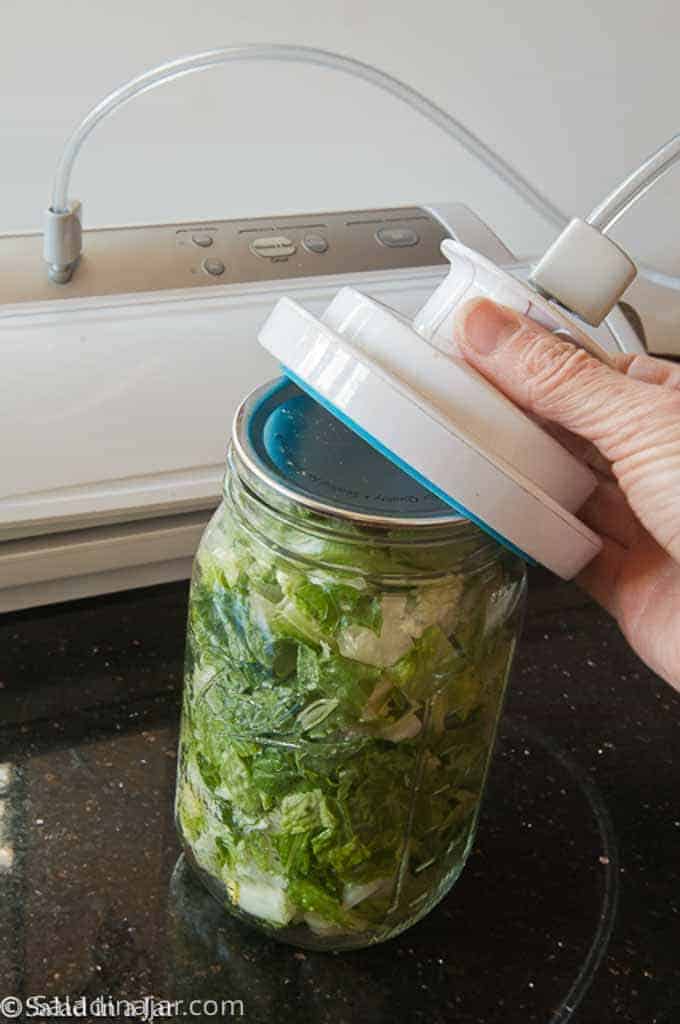 Handheld vacuum-pack systems
I still love my full-size FoodSaver and use it occasionally. But I've found some cheaper and space-saving alternatives.
The handheld system seen below is also manufactured by FoodSaver but costs only about $20 and sometimes you can find it for less. You still need the wide-mouth attachment as seen in the picture, but not the hose.
You must press firmly against the opening in the top of the attachment to seal the hole so the machine can vacuum properly. It's rechargeable. This gadget can also be used with specially-designed zipper bags sold by FoodSaver.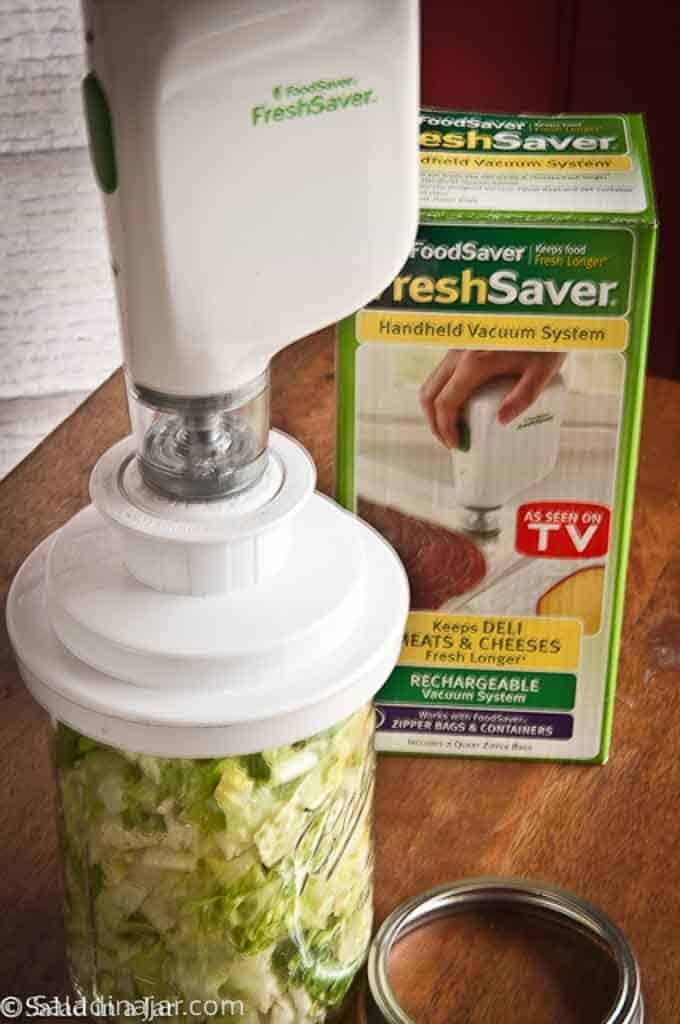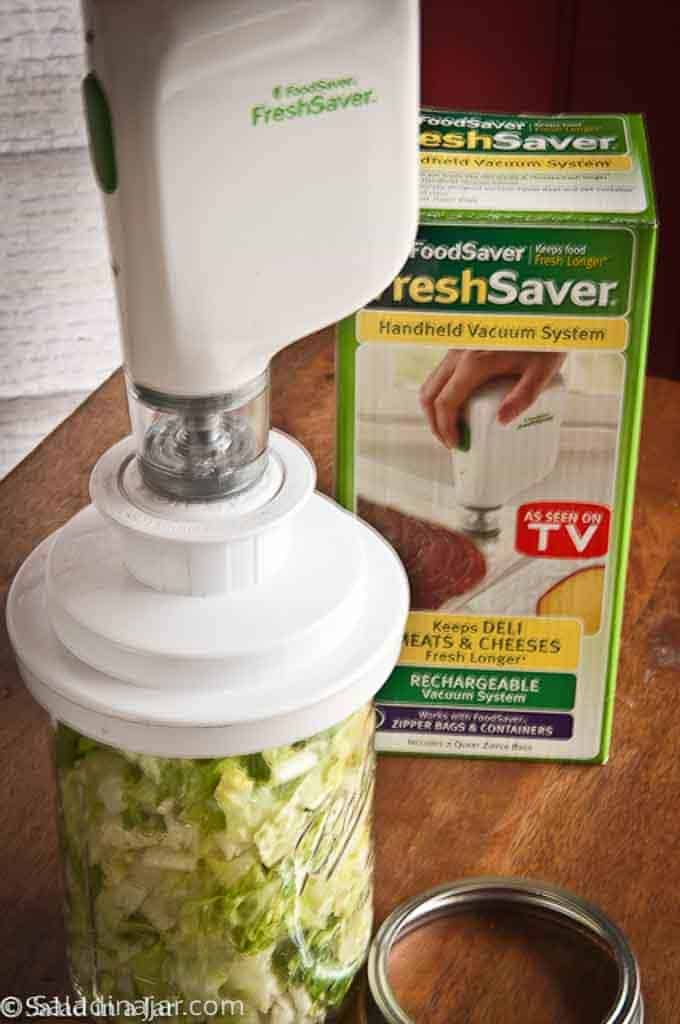 Another option I recently discovered is a hand-held sealer by Reynolds called a Handi-Vac. Again, you don't need the hose, but you still need the wide-mouth attachment.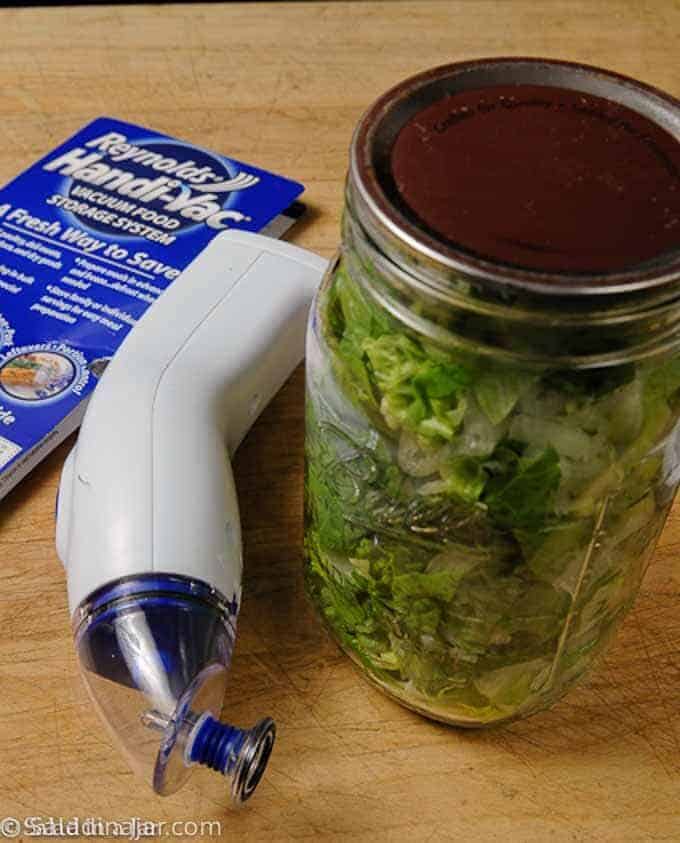 This works the same way as the Food Saver hand-held device. Position the nozzle over the top of the wide-mouth attachment and press the button to suck the air out of the jar.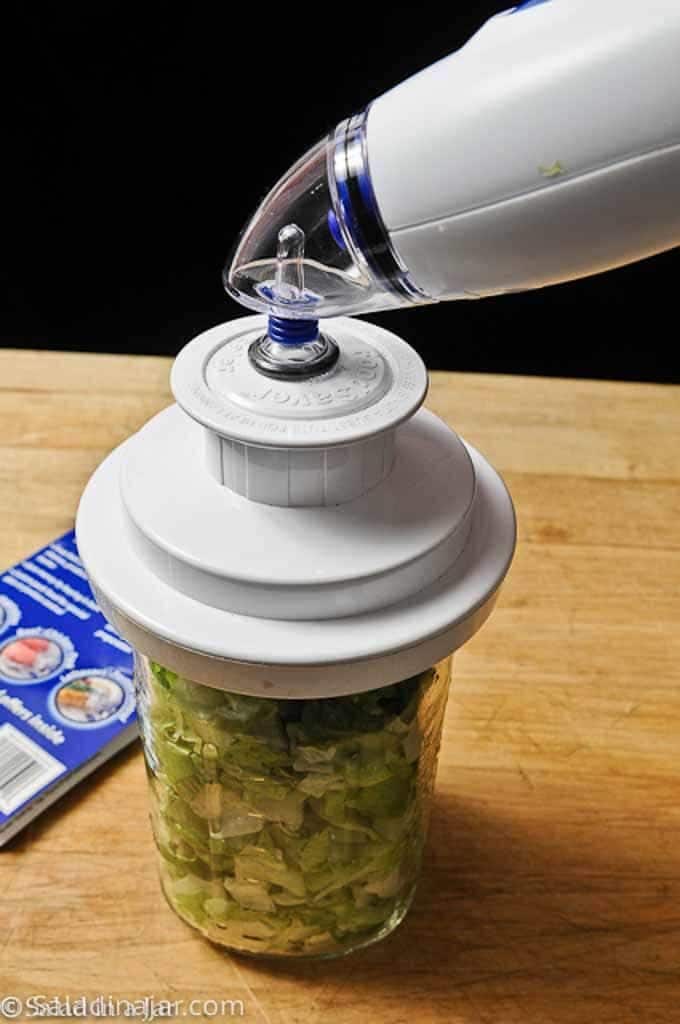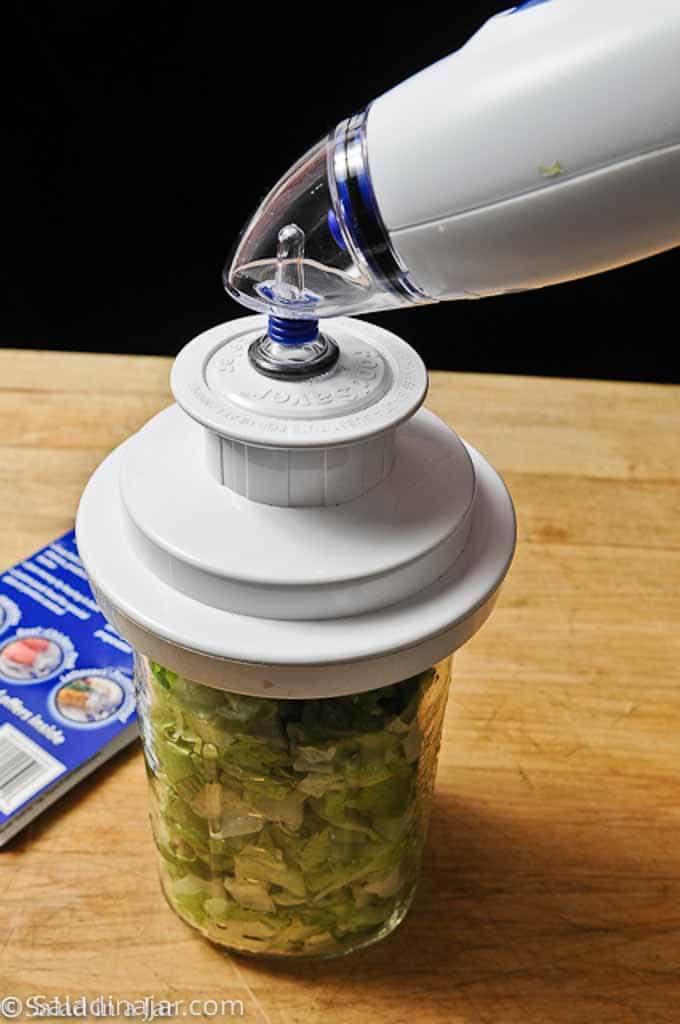 This is my personal favorite because it is cheap, small, relatively quiet, and it works! Hope you can find one.
Using a canister to vacuum-pack
I do have one more option in case you already own a regular FoodSaver machine and a large FoodSaver canister. Attach the hose to your machine and the canister lid. Put the jar inside the canister and seal. Immediately remove the jar and place the metal collar on top of the flat lid and repeat with your other jars.
This is a really good use for these canisters because they are not good for storing food. My experience, shared by many, is that these canisters quickly develop cracks, making them useless–except for sealing salad in a jar.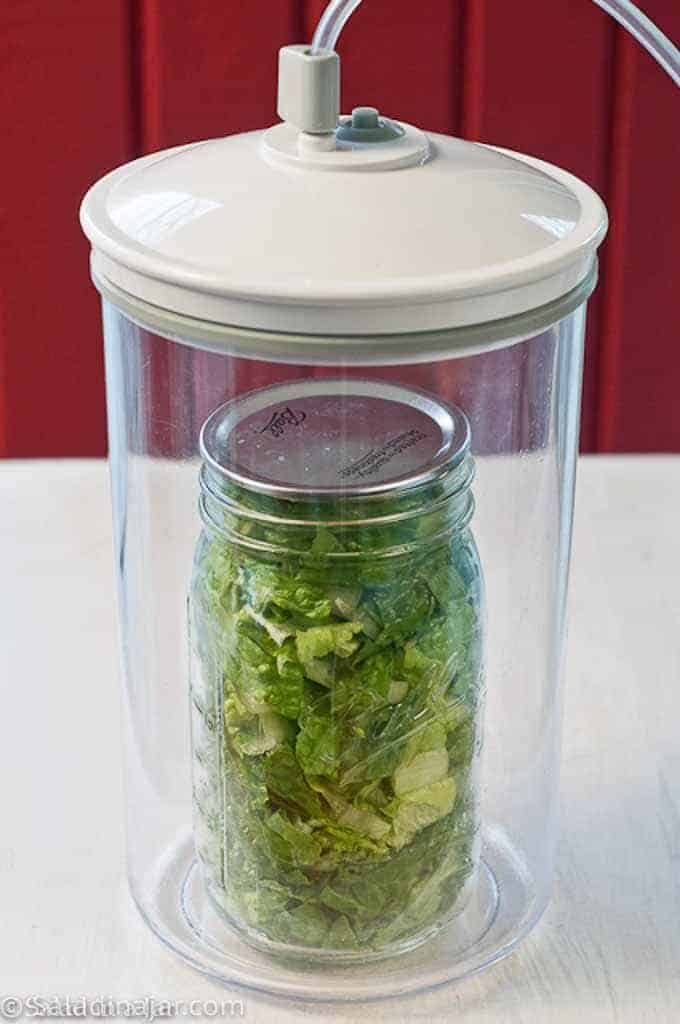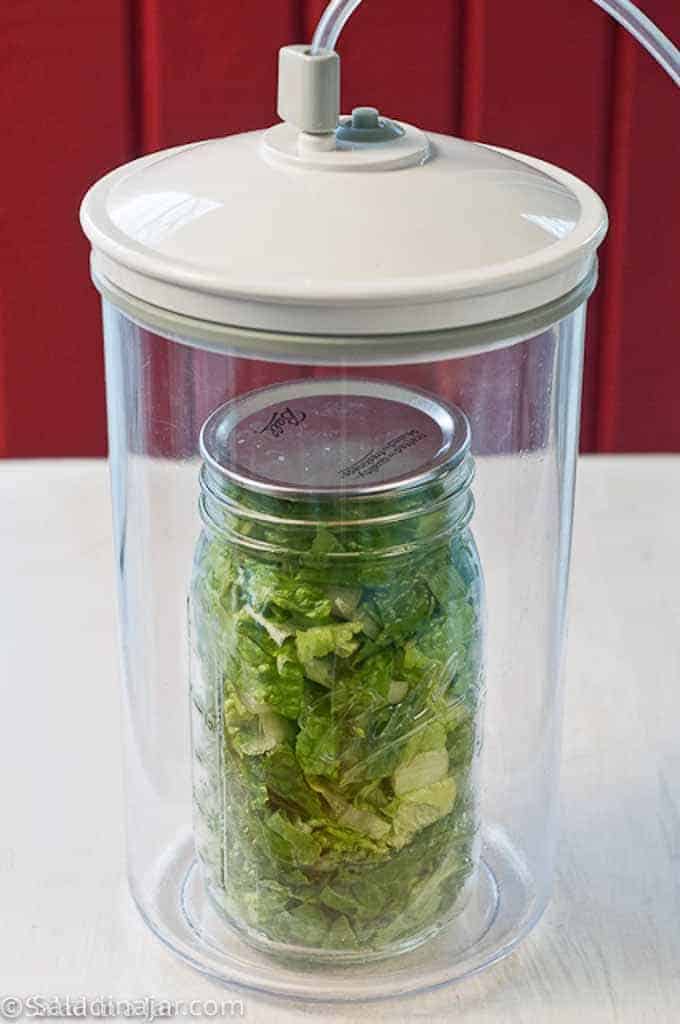 I have not tried any other brand of full-size vacuum-pack machines because I have not found any with the large-mouth jar attachment. If you know of one, please let me know.
Also, I have not received one dime for references to FoodSaver, Reynolds, or Reyn-Lock in this post. Just sharing what works for me.
Related Posts
---
---
Did you enjoy this recipe? You can help others (and me) by leaving a rating on the recipe card itself underneath the picture. No comment required. Thank you.

Hope to see you again soon!
Paula
p.s. Questions? Email me: paula at saladinajar.com.