5 Best Glass Jars for Food Storage in a Home Kitchen
Sneak Preview: These are the 5 Best Glass Jars for Food Storage in a home kitchen based on my Mason jar collection and a few I don't like. I talk about lids, too.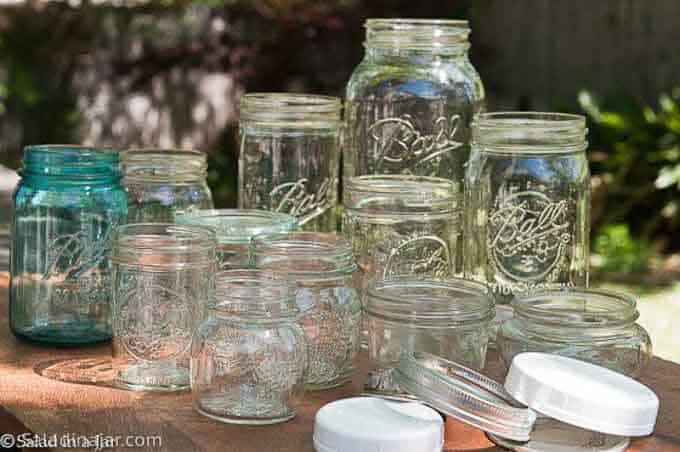 Are glass canning jars still relevant, especially with so many exciting glass and plastic containers on the market? For many, these classic quart-size jars evoke memories of preserved fruits and vegetables, neatly lined up in kitchens or restaurants.

My love affair with Mason jars started fourteen years ago when I started blogging about vacuum-packed chopped romaine salad. So, I bought a carton of quart-sized, wide-mouth Mason glass jars to hold the lettuce.
I initially owned regular-mouth jars but found them difficult to fill and clean. Through experience, I've identified my top five favorite Mason glass jars, along with a few I dislike and the reasons why.
Five of the best glass jars for food storage needs (at least they are my favorites):
1. A wide-mouth quart-size (32 oz.) Mason jar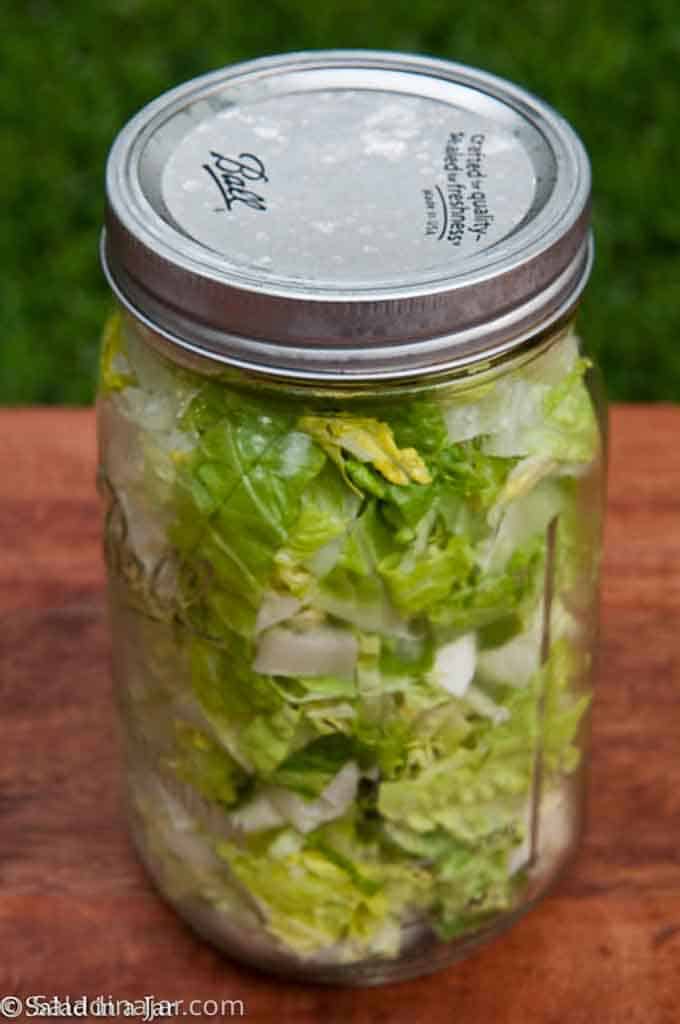 Quart jars are probably the most common Mason jar out there. They're available in most large grocery stores, Walmart, hardware stores, and online(pain link). Stick with the wide-mouth jar for ease of use and care.
The quart-size jar is my favorite for vacuum-sealing salads. But, again, stick with the wide-mouth variety for easy filling and cleaning. Not only are they easier to seal, but they are also easier to clean.
---
2. A pint-and-a-half (24 oz.) straight-sided wide-mouth jar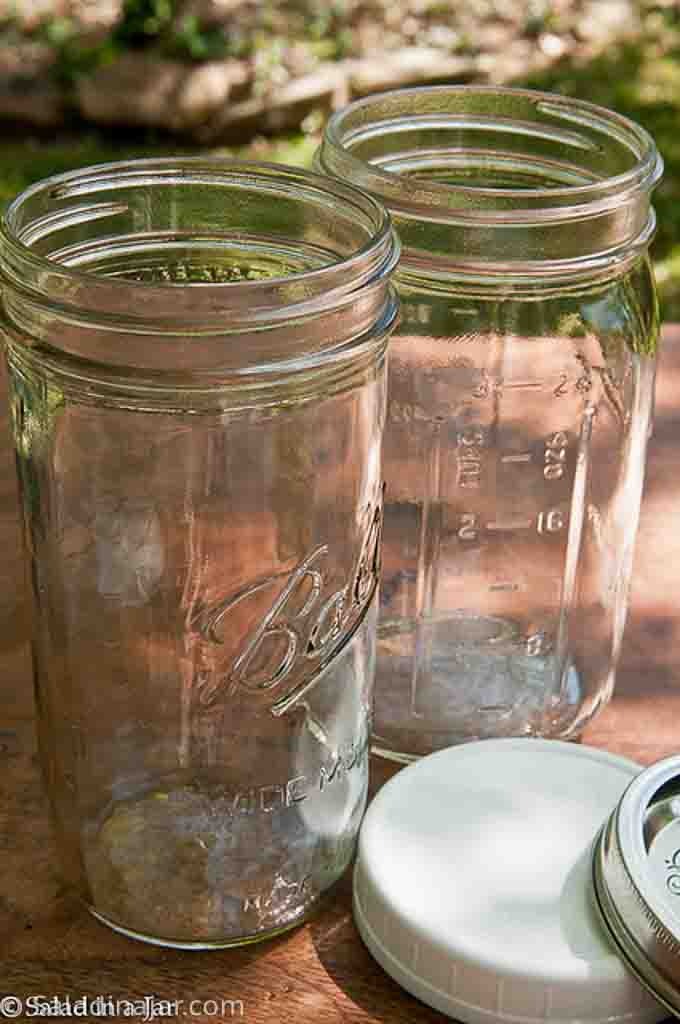 In addition to storage, the pint-and-a-half jar makes a decent drinking glass, especially for my healthy iced coffee. Unfortunately, the straight sides don't catch ice as you drink, so I use a straw. I buy mine at Walmart, but they are also available online (paid link).
---
3. A 2-quart (64 oz.) wide-mouth jar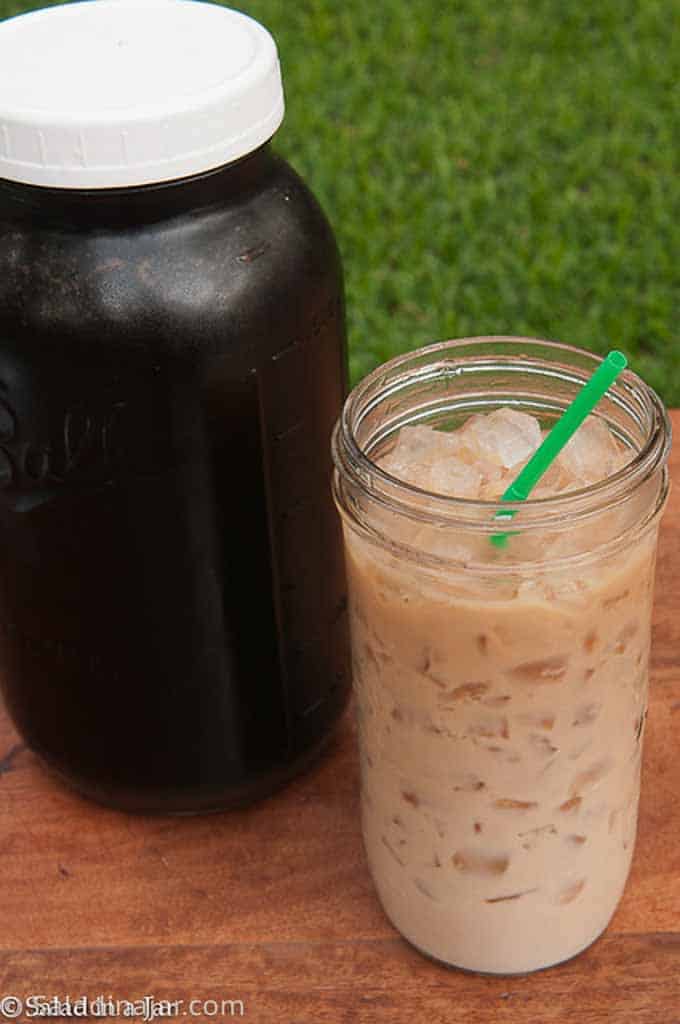 I use these large jars for iced coffee concentrate and pantry staples like rice, flour, and granola. They're available in hardware stores and online (paid link).
---
4. A half-pint (8 oz.) wide-mouth jar with straight sides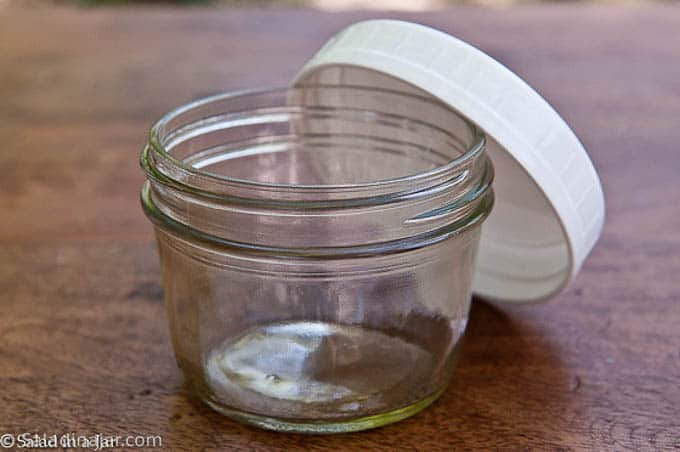 These small jars are my favorite way to store homemade yogurt or anything else I carry in my lunch.
I adore Kerr's short, wide-mouthed jar. It's easy to eat from without making a mess, and its straight sides make cleaning a breeze. You can purchase them here (paid link), but I got mine at a local hardware store.
---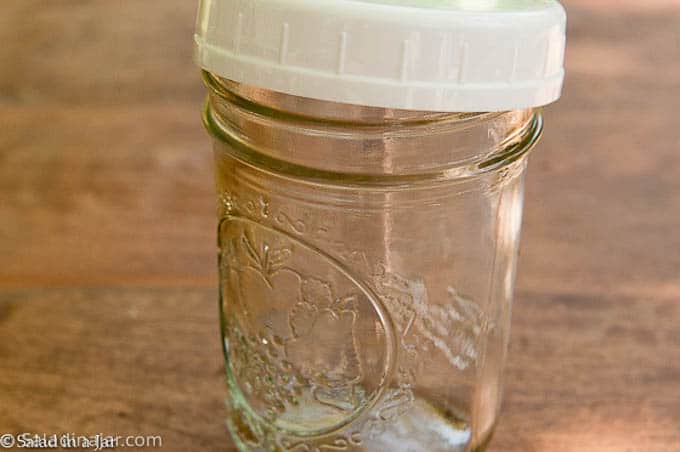 These pint jars get tons of use. I especially like to store homemade mayo, low-calorie dressing, and creamy strawberry dressing. Every other day, I store the avocado half I didn't use in my huge lettuce salad for the next day.
---
On a different but related subject…
Consider the lids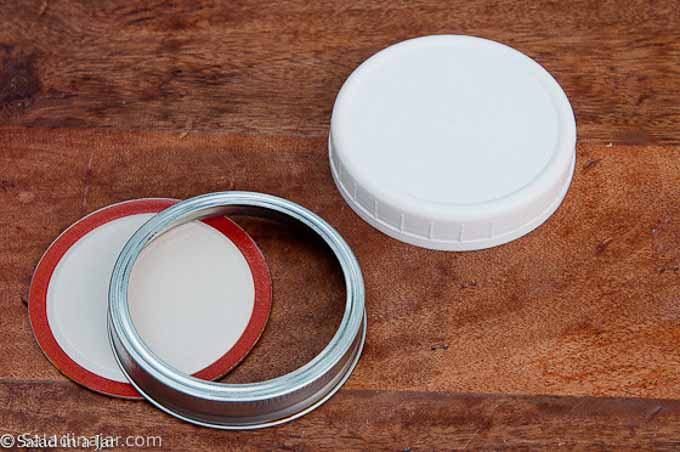 The flat lids combined with the collar will seal tight and prevent liquid from escaping when tipped over. They are reusable indefinitely if you don't use them for heat canning.
Plastic lids are not leak-proof, so I don't use them in my lunch bag to hold liquids.
However, I prefer using plastic lids when storing something that doesn't need to be vacuum-packed. They also don't rust like metal lids. Plastic lids are usually available for purchase wherever Mason jars are sold or get them online(paid link).
ADDENDUM 10/16/21: Ball now makes leak-proof jar lids. (paid link) I love them.
---
Glass jars that aren't my favorites, and why: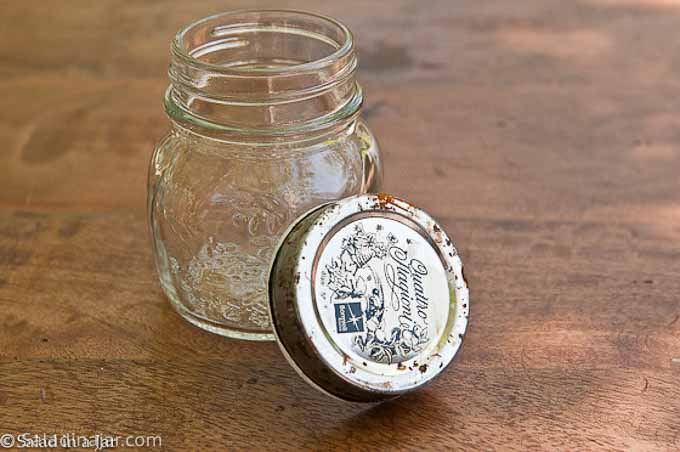 These jars are from The Container Store. I loved the engraved designs on the side. But since they have a regular mouth, they are hard to eat from and hard to clean.
Worse than that, the lids rust quickly. Fortunately, a regular-mouth plastic lid can replace the metal lid that comes with it.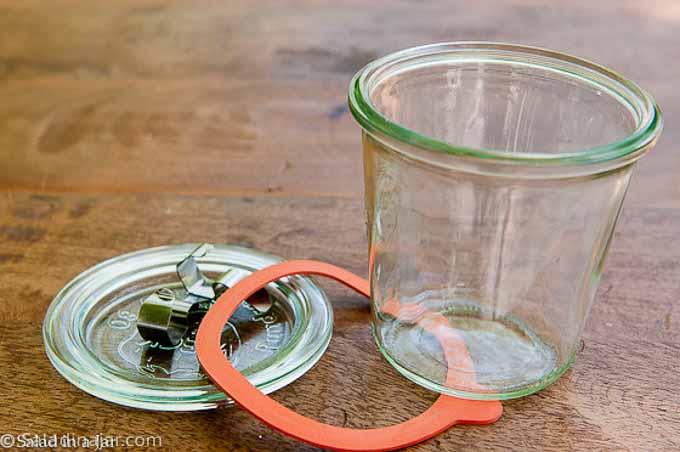 These Weck jars are expensive, but I initially thought they were worth the price. The lids look cool. However, it turns out all those parts are hard to corral.
The glass lids cannot be vacuum-packed, and the plastic screw-on lids don't fit either. Maybe they are suitable for heat canning, but that is not my shtick, so they are not very useful in my kitchen. I do like them for sourdough starter, using only the glass lid without the rubber seal or clamps.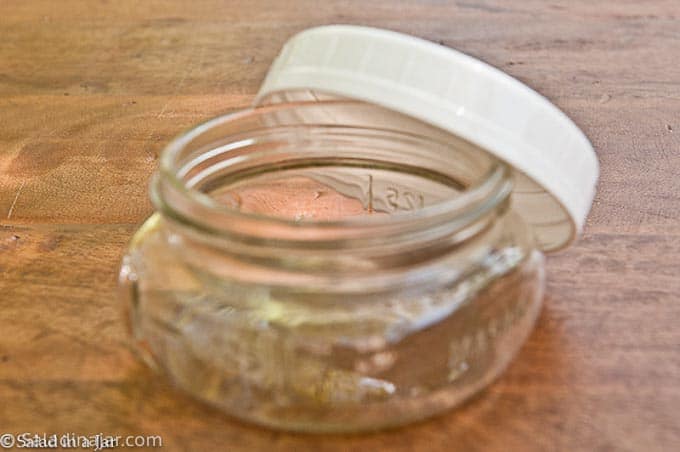 I used to carry my homemade yogurt to work in these jars I purchased at Target. People accused me of eating a candle. The rounded area inside and just beneath the rim is difficult to clean and makes it a challenge to get every last drop of delicious yogurt out of the jar.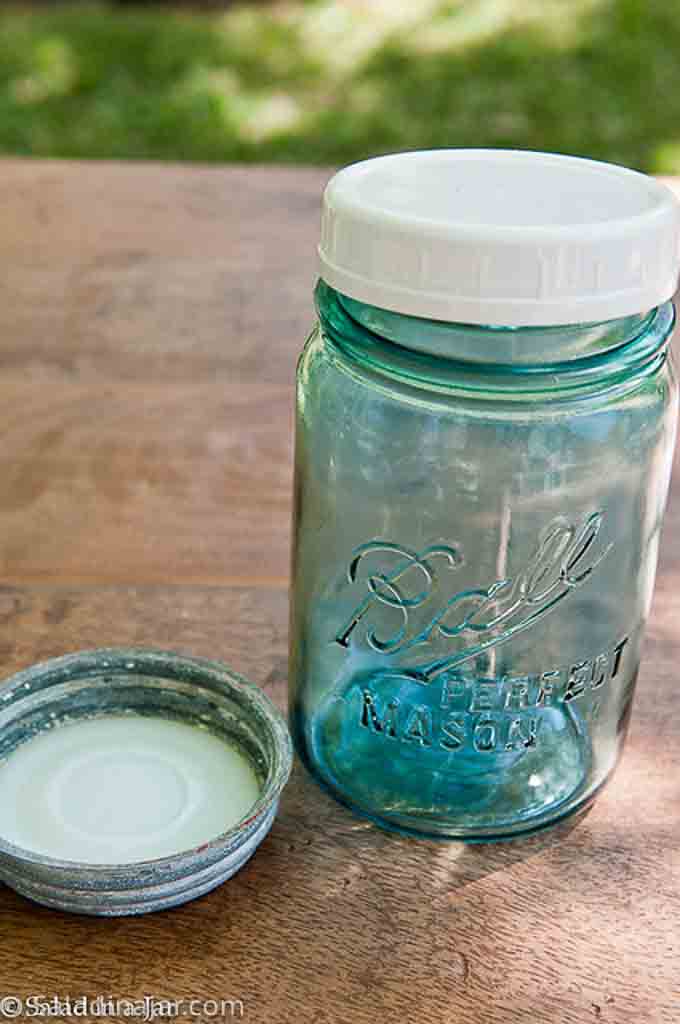 Many of you probably have a similar jar at home. I love the color but dislike the aged glass-lined lid for sanitary reasons. Consider using a regular-mouth plastic or two-part metal lid instead. Personally, I use mine as a flower vase and a prop in food photos for homemade Greek yogurt.
Parting thoughts: What's your preferred glass jar for food storage? Any brands I haven't mentioned? Please comment with the brand and where you found it. Don't want to miss out on great glass jars!
Help at Your Fingertips: For questions or suggestions, email Paula at saladinajar.com. If you need help, I'm happy to troubleshoot via email (faster than leaving a comment). Attach pictures and as many details as possible for the best advice.