How To Make Ricotta from Whey Produced by Straining Yogurt
Sneak Preview: Discover how to make ricotta from whey leftover from the process of straining yogurt to make Greek yogurt. Whey gives ricotta the perfect flavor.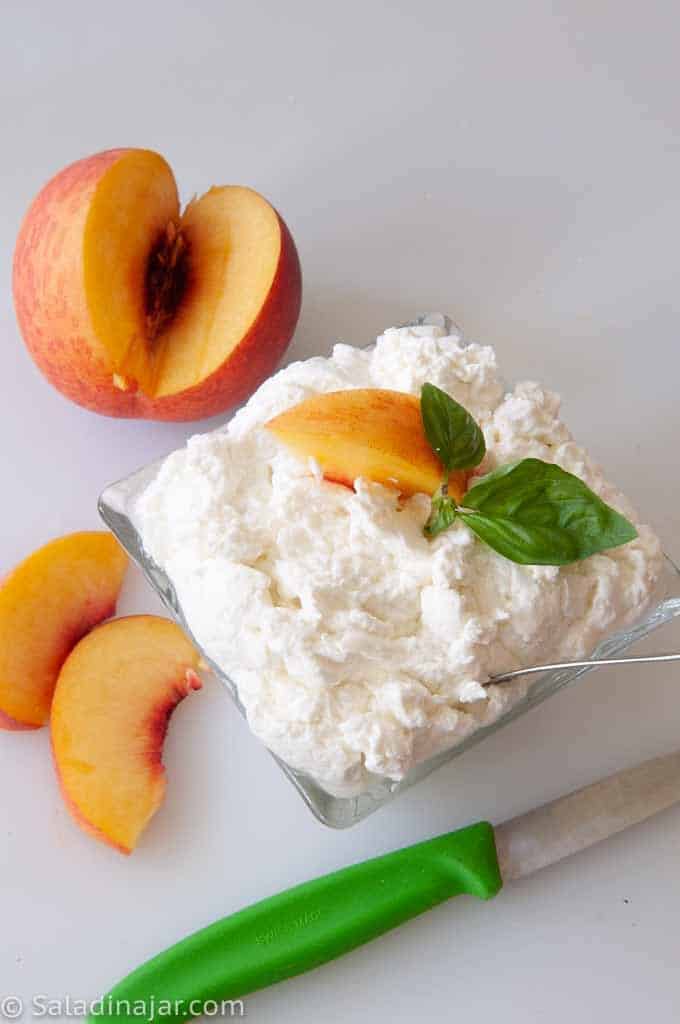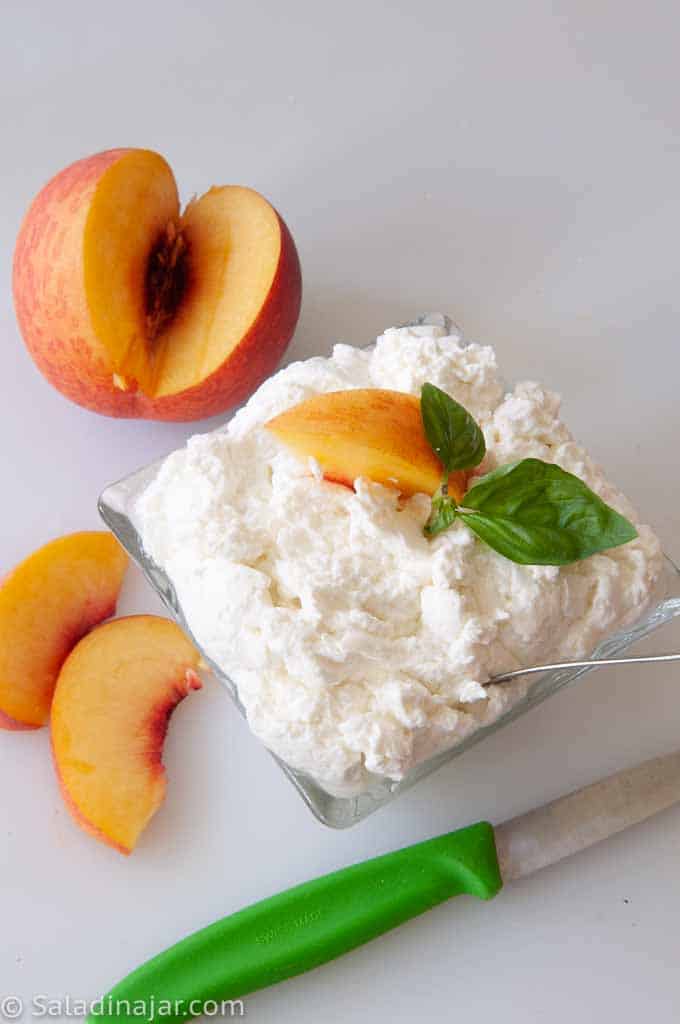 As an Amazon Associate, I earn from qualifying purchases.
Are you a Greek yogurt maker with lots of whey on your hands? Then, making ricotta cheese is a practical idea for using the whey from straining regular yogurt.
Save yourself a last-minute trip to the store the next time you get hungry for lasagna. It's one reason I always keep a quart of whey from my latest batch of yogurt in the fridge.
Not a yogurt maker? Substitute buttermilk for the whey.
Homemade recipes typically call for lemon juice or vinegar to make ricotta. However, using yogurt whey creates a neutrally-flavored cheese perfect for any recipe.
How is yogurt whey different from the whey leftover from making cheese?
Traditional ricotta cheese involves boiling whey leftover from making cheese. It's called "sweet whey."
Whey drained from yogurt is called "acid whey." Unlike sweet whey, most of the protein is removed from the whey in the yogurt-making process.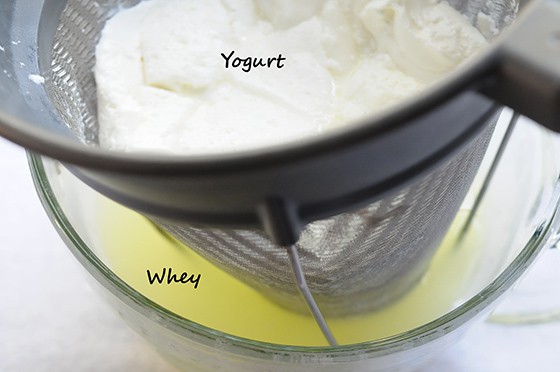 Why the difference matters:
A massive amount of yogurt whey is required to produce a minuscule amount of ricotta by simply boiling the whey.
To make ricotta with yogurt whey, we add whole milk or 2% milk. Or, to put it more accurately, we add whey to milk so the whey can act on the protein in the milk.
Can I use yogurt whey as a substitute for vinegar or lemon juice?
Recipes for homemade ricotta cheese often call for lemon juice or vinegar to separate the curds from the whey. This method/recipe uses yogurt whey instead.
Lemon juice is appropriate for ricotta you want to use in a dessert or a recipe with sugar. Vinegar is better for a savory dish like lasagna.
The good thing about yogurt whey is that it produces neutral-flavored ricotta. Use it for savory or sweet recipes. You can substitute buttermilk if you don't have yogurt whey available.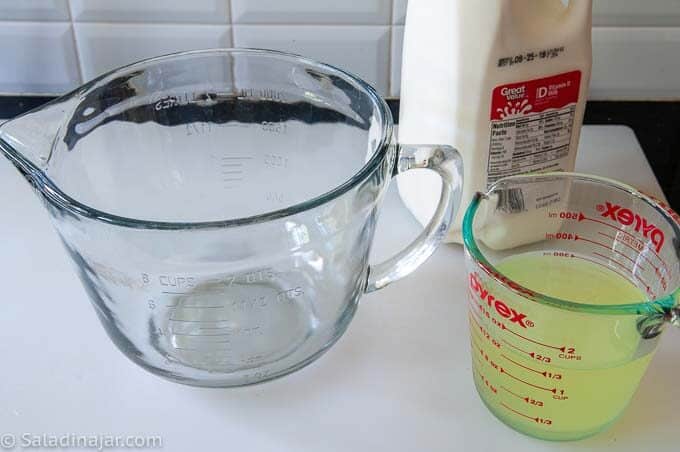 Why does this recipe produce even more whey?
The recipe calls for a half-gallon of milk and 2 cups of yogurt whey that yields about 1-1/4 cup of curds, aka ricotta cheese. The liquid leftover from the process is still whey.
At this point, I throw out the leftover whey. I've heard that animals like it but can't speak from personal experience on that one.
Using a microwave vs. stovetop to heat the milk: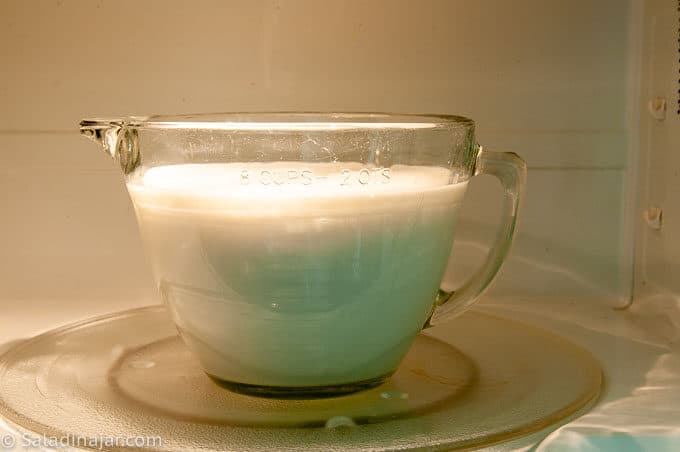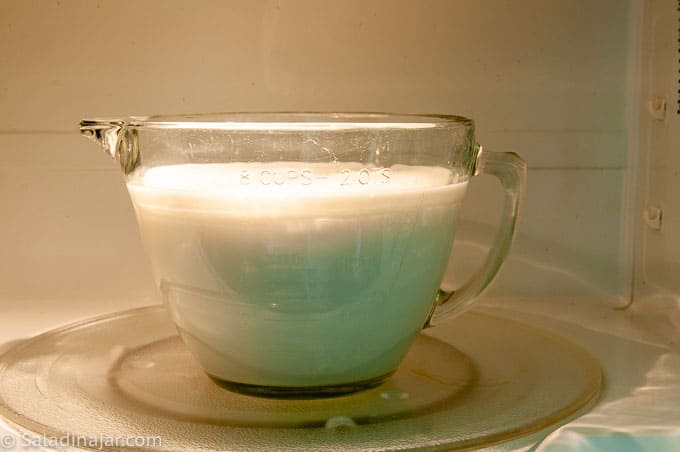 I'm a microwave person, so I always choose the microwave when possible. For me, it's faster, easier to clean up, and there is no risk of scorching.
On the other hand, heating the milk and whey on top of the stove is perfectly doable. However, be careful not to let the milk boil over, or you will have a mess on your hands.
How to make ricotta using yogurt whey:
It's simple. Grab a half-gallon of whole or 2% milk along with a couple of cups of whey you've saved from making Greek yogurt.
Whisk together in a saucepan and heat on the stove or in a microwave without stirring.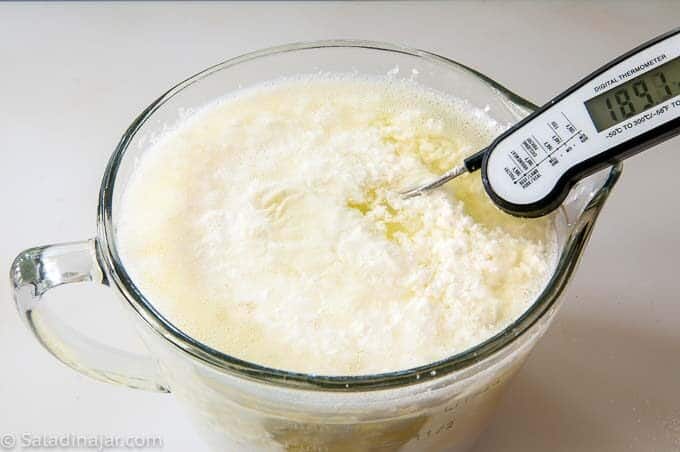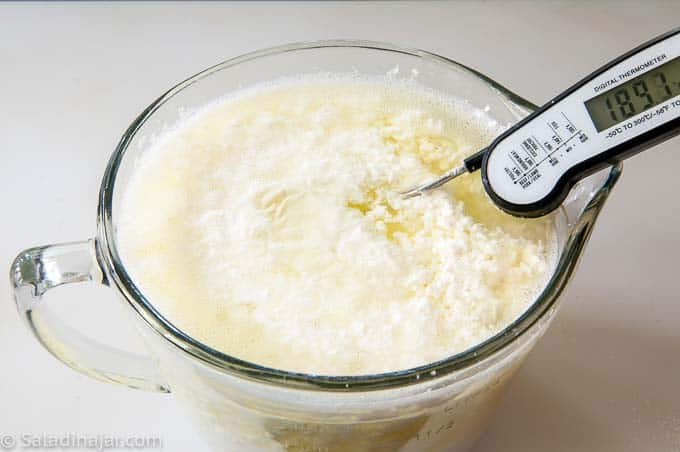 As the milk mixture heats, you will see the milk begin to curdle and separate into curds and whey. (Watch out for spiders!) 🙀
Remove from the stove when the temperature reaches 180-190˚F. Allow the mixture to sit for 15 minutes.
3 ways to separate the curds from the whey:
#1
Use a fine-mesh strainer
Use a slotted spoon to remove curds to a fine-mesh strainer. Let the ricotta drain to your preferred dryness. Season with a pinch of salt. Easy. Right?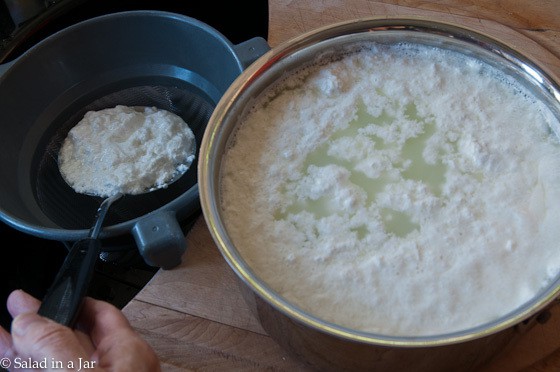 Separate the curds from the whey using a fine-mesh strainer.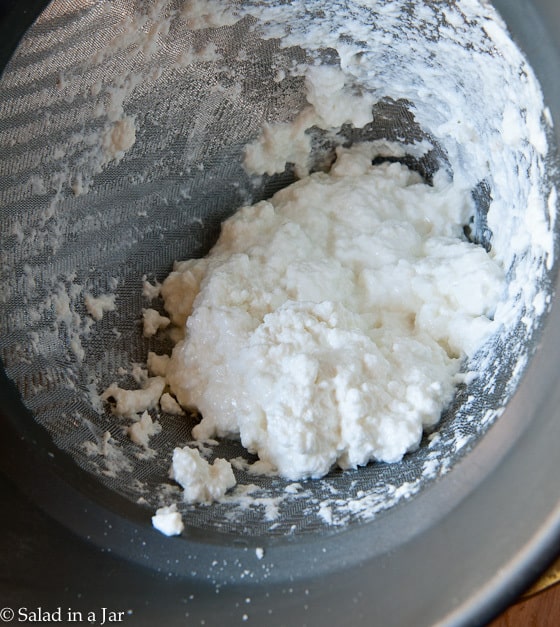 See the ricotta cheese inside the fine-mesh strainer.
#2
Use a nutbag or yogurt pouch.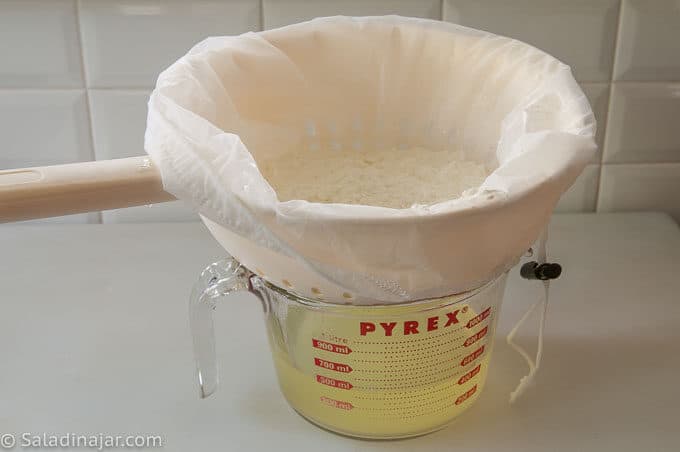 #3
Line a cheap colander with 3-4 layers of cheesecloth.
You could also cover a colander with a thin cotton t-shirt (a spotless one, of course).
TIP: Don't pour all of the curds and whey into the colander at once.
I tried this–once. The tiny curds quickly clogged up the system. It took forever to separate the curds from the whey.
Also, the big chunks of curd fell apart.
Get a slotted spoon or small strainer (like a tea strainer) and carefully dip out the curds. You want to leave most of the whey in the original container.
How long should I strain my ricotta?
Strain the whey out of the curds until they are as dry or moist as you prefer. It doesn't take long. Maybe 15-30 minutes.
If your ricotta drains a little too long or you are just feeling decadent, stir in a little heavy cream. YUM!

How do I store homemade ricotta cheese?
Store in a glass bowl or jar in the refrigerator for 4-7 days. If you are a vacuum-sealer (you know who you are), vacuum-pack the finished ricotta in a Mason jar and double the storage time to approximately two weeks.
If you like, freeze ricotta in a plastic container or bag.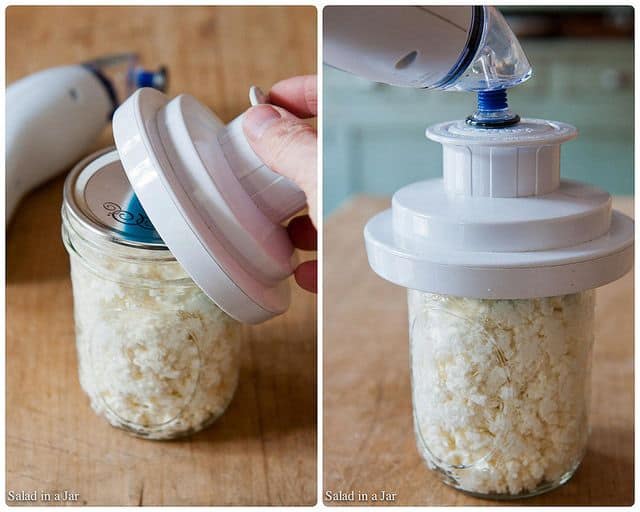 ---
Pin this post!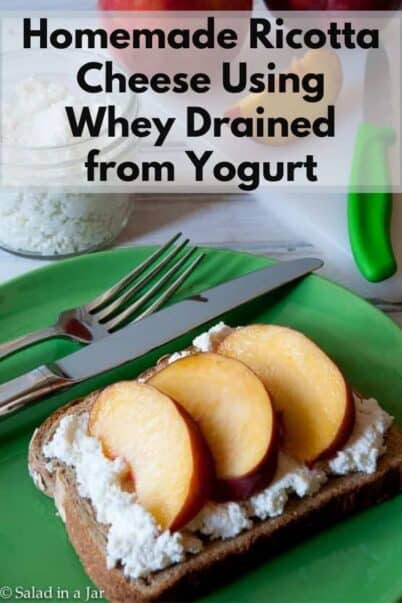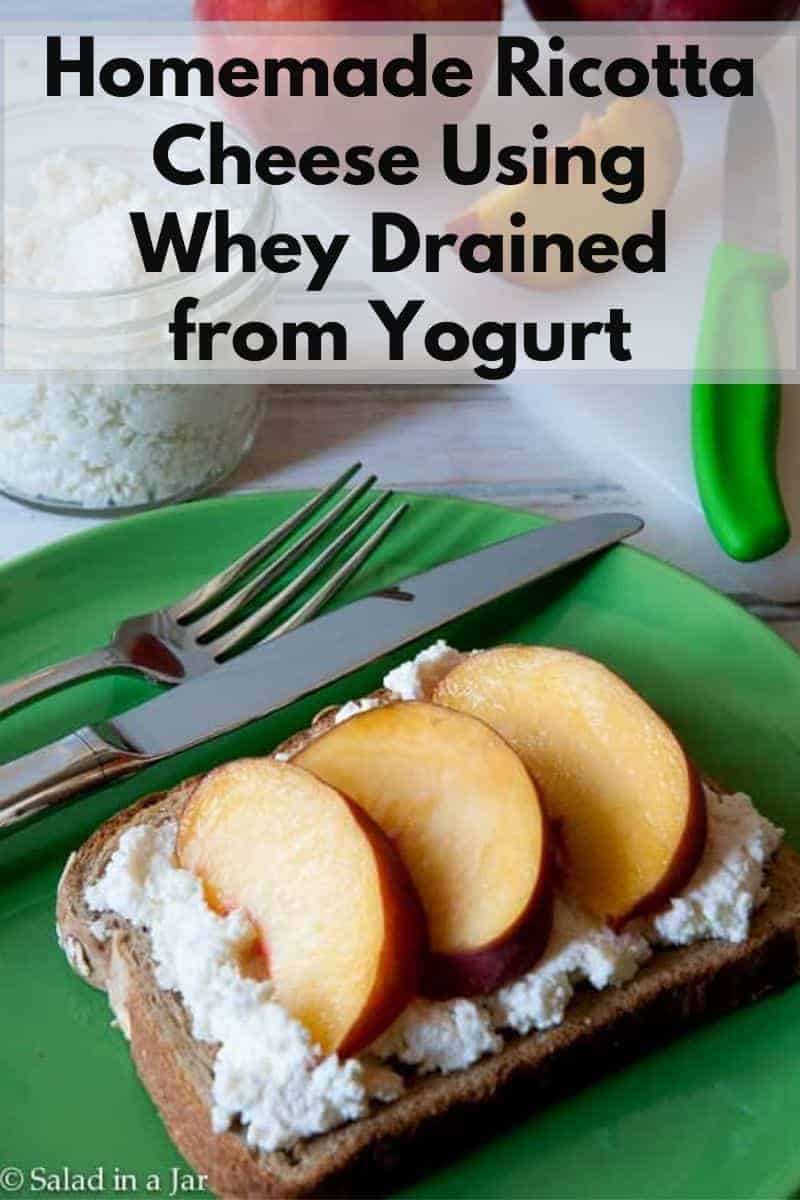 ---
Did you enjoy this recipe? If so, leave a rating 🤩 inside the recipe below. No comment required. If you have any questions or suggestions, email me privately: Paula at saladinajar.com. Hope to see you again soon! Paula
---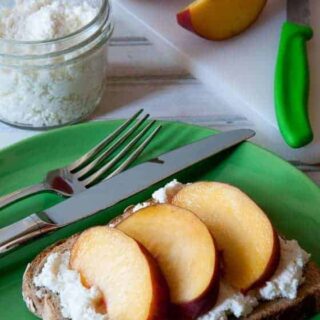 How To Make Fresh Ricotta from Yogurt Whey
Learn how to make ricotta cheese using the whey gathered from straining yogurt.
Ingredients
2

cups

whey drained from making Greek yogurt

-

drained from making Greek yogurt

½

gallon

milk

-

whole or 2%

½

teaspoon

salt
Instructions 
Stir the milk and whey together in a large saucepan.

Heat on stove to 180˚F. Milk will curdle.

Remove from the stove and allow it to stand for 10-15 minutes.

Gently retrieve curds from pan using a slotted spoon and place it into a fine-mesh strainer or use whatever strainer you have, lined with two layers of cheesecloth.

When curds have drained to your preferred dryness, store in a glass or plastic jar up to 4-7 days.
Notes
Making Ricotta Cheese in a Microwave:
Stir the milk, whey, and salt together in a microwave-safe container.
Heat on HIGH for 18-20 minutes or until mixture reaches 180-190 degrees. (This is just a starting point. Microwave ovens vary hugely. Best to use a thermometer until you figure out how long it takes.) Don't stir.
Proceed with step 3 above.
Nutrition
Nutrition Facts
How To Make Fresh Ricotta from Yogurt Whey
Amount per Serving
% Daily Value*
* Percent Daily Values are based on a 2000 calorie diet.