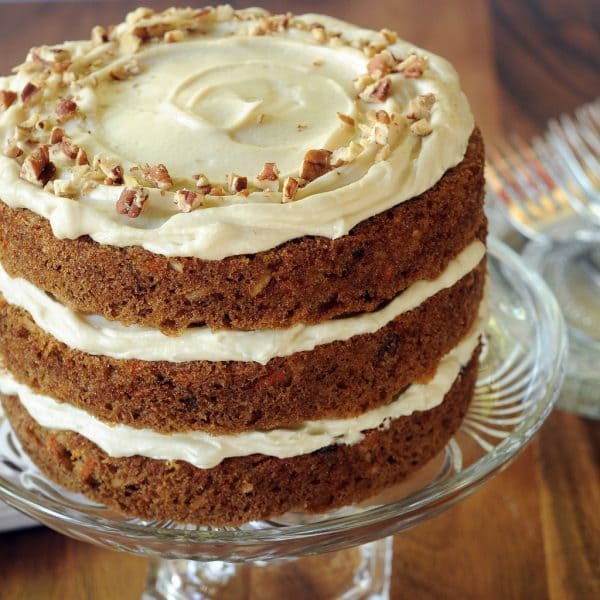 We celebrated my mom's 93rd birthday this weekend with a "carry-in dinner". That's what we called potluck meals at the little church of my childhood back home in Indiana. (Reminds me of the song Jim Nabors sings at the opening of the Indy 500 every year. Never fails to rip a tear out of me.) Anyway, my two daughters-in-law and I REALLY DID cook the entire meal in our own kitchens and carry it to their little apartment at the retirement village where they live. It was easier for my parents that way.
My mom loves carrot cake so it was the excuse I needed to record the family recipe–along with a few changes I couldn't resist. The original comes from my sister Kay, a true southern cook who has spent most of her adult life in Alabama. She is not afraid of a little sugar and fat to make things taste good. Her husband claims it is absolutely one of her tastiest creations.
My modifications are heavily influenced by Dorie Greenspan's carrot cake as published in Baking, From My House to Yours. Changes are noted inside the parenthesis. Because it's not quite as rich, I really like the second recipe for cream cheese icing, based on a version printed in a recent issue of Cook's Country magazine. However, it doesn't make a lot, so consider doubling the recipe if you're baking a layer cake and want to frost the sides too.
The actual cake pictured above is a half recipe baked in 3 6-inch round pans. It's the perfect size for our rather small family, leaving us with a piece or two for the birthday person to enjoy later.

A Carrot Cake to Celebrate
Ingredients
Cake
2 cups flour
2 teaspoons baking powder
2 teaspoons soda
2 teaspoons cinnamon
1 teaspoon salt
1-1/2 cup oil (1 cup)
2 cups sugar (1-1/2 cup)
4 large eggs
3 cups grated carrots
2 teaspoons vanilla extract
½ cup chopped walnuts (I use toasted pecans + ½ cup raisins or dried cranberries + 1 cup shredded coconut)
Cream Cheese Icing
6 ounces cream cheese, softened
¼ cup butter, room temperature
1 pound (3-1/2 cups) powdered sugar
2 teaspoons vanilla extract
Cream Cheese Icing (My way)
8 ounces cream cheese, softened
1-1/2 cups marshmallow cream
1 teaspoon vanilla extract
¼ cup powdered sugar
Instructions
Cake
Preheat oven to 325 degrees F. Prepare 3 9-inch round cake pans or 10 x 14-inch rectangular pan by spraying with vegetable oil/flour combination such as Baker's Joy or line the bottom of pans with wax paper or parchment paper (my preference).
Whisk together flour, baking powder, soda, cinnamon, and salt.
Combine oil and sugar in mixer bowl until smooth. Add eggs and mix until smooth. Mix in carrots and vanilla.
Add dry ingredients and mix only until they disappear. Gently fold in nuts, fruit and coconut if using.
Bake for 25-35 minutes rotating pans half way through baking time. After cooling for 5 minutes, turn out onto baking rack and allow to cool completely before icing.
Cream Cheese Icing
Mix cream cheese and butter till smooth and fluffy using an electric mixer. Add powdered sugar and vanilla. Beat until light and fluffy.
Cream Cheese Icing My Way
Beat cream cheese, marshmallow cream and vanilla until light and fluffy. Add powdered sugar and beat on low until smooth.

Other cakes we make in our family…