Bread Crumb Pudding: A Delicious Solution for Stale Bread
Sneak Preview: Bread Crumb Pudding made from leftover bread crumbs is one answer to the breadmaker's dilemma of having too much bread in the house. If you can't eat it all, make this delectable dessert. Bonus: This pudding contains Greek yogurt, so you get added protein with your dessert.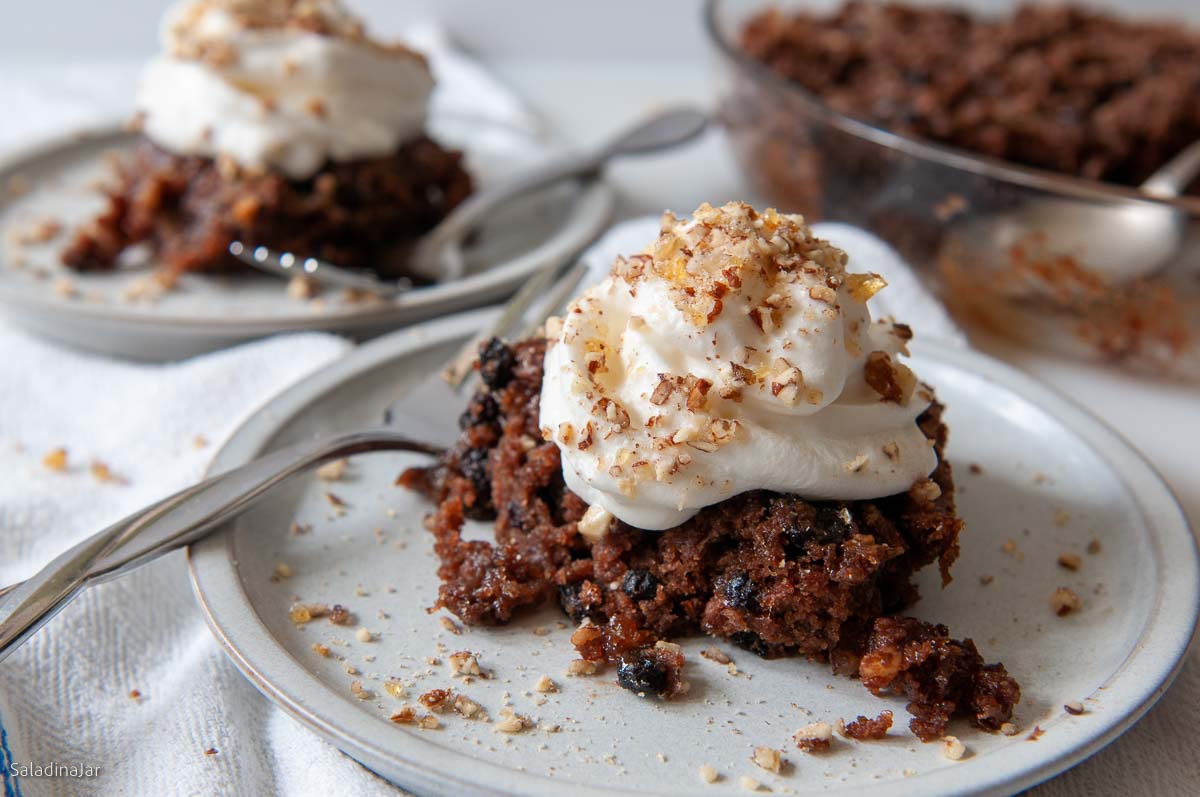 As an Amazon Associate, I earn from qualifying purchases.
If you're a breadmaker, you know the problem. Homemade bread stales much faster than storebought bread which is loaded with preservatives. A person can only eat so much bread, so what does one do with excess bread to minimize food waste? Make croutons, melba toast, or this Bread Crumb Pudding recipe with stale bread crumbs.
After making my Steakhouse Bread Recipe at least seven or twenty times recently for an update, I gave away some of it, but there was still more than two of us could eat.
Then I remembered the recipe for Cake Crumb Pudding from Helen Corbitt's Cookbook. I've talked about her before when making her Graham Cracker Crust Recipe, Savory Monkey Bread, Ice Cream Pecan Balls with Fudge Sauce, and her Coffee Angel Food Cake.
Ms. Corbitt's recipe called for cake crumbs or bread crumbs. When I supervised the kitchen at the Greenhouse (a luxury health spa once associated with Neiman Marcus) 40+ years ago, we always used leftover bread crumbs. If you have a stale cake without frosting, this recipe will work with that, too.
This is a bread pudding recipe, but the crumbs instead of cubes give it a different vibe. I revised the recipe to cut the sweetness and use ingredients most of us have on hand. The spices, raisins, and pecans make this dessert an occasional treat.
Happy Cooks Speak Up:
"Just made it, Delicious!" —Ken
---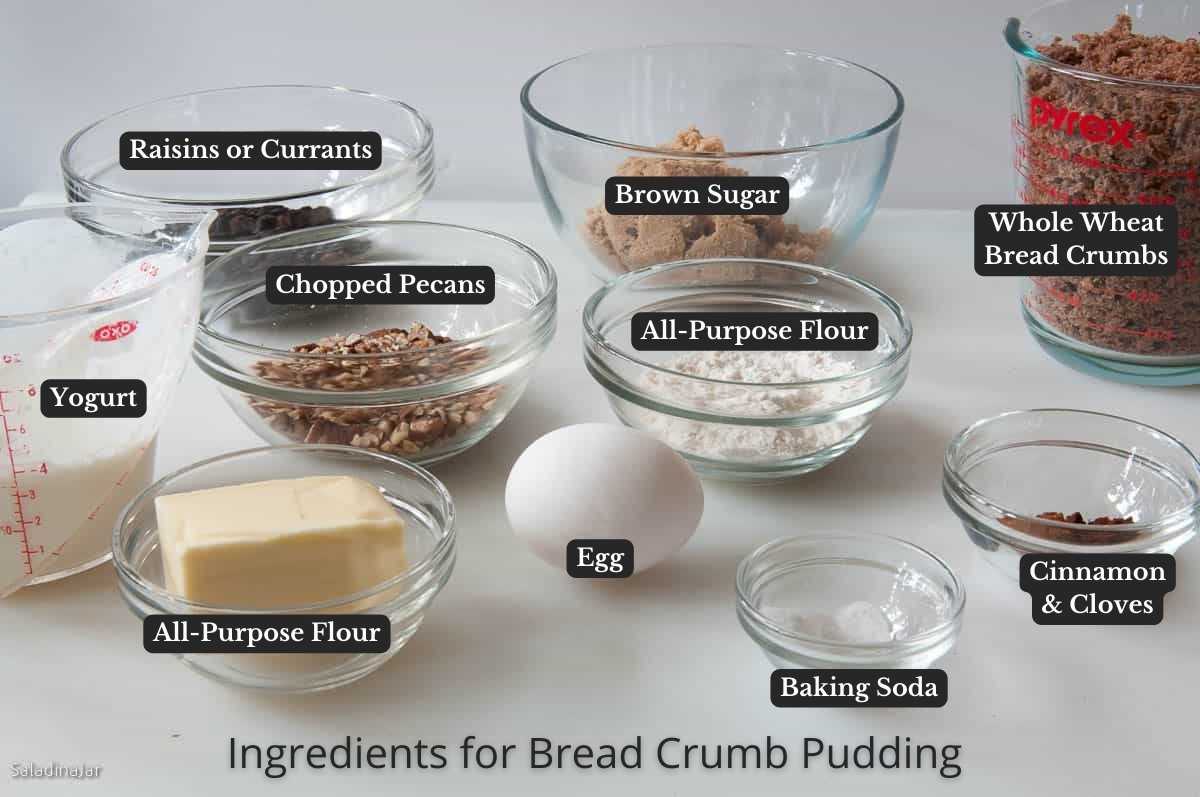 Ingredients and substitutions:
Butter: I use salted butter, but if you have unsalted butter, substitute it with a pinch of salt.

Sugar: Use brown sugar for a butterscotch flavor or granulated sugar for a milder flavor.

Egg: I always bake with large eggs, but a different size is fine, too.

Yogurt: Homemade Greek yogurt is my go-to, but regular yogurt, buttermilk, or sour milk will serve the purpose.

Baking Soda: Do not substitute baking powder for baking soda. The yogurt and baking soda work together.

Raisins: Raisins, currants, or golden raisins (aka sultanas) will suffice. Or try a different dried fruit like dates or figs. Leave them out if preferred. Mini chocolate chips would be fun for the kids.

Pecans: Toasting pecans brings out the flavor. Substitute walnuts or leave out the nuts.

Flour: All-purpose flour, bleached or unbleached will suffice.

Cinnamon and cloves: As one of my readers says, "A little clove goes a long way." She's right, but it makes this dessert taste memorable.

Bread Crumbs: You don't have to use whole wheat bread crumbs, but I always do. I especially like to use crumbs from my Honey Wheat Whole Bread, 100% Whole Wheat Loaf, or these Whole Wheat Dinner Rolls.

---
How to make soft bread crumbs:
Slice or tear leftover bread into medium-sized (an inch or less) bread cubes or pieces.
Place them into a food processor or blender.
Use the pulse button to evenly process all of the bread.
Although the bread may be stale, it should still be somewhat soft. Dried-out bread doesn't work so well with this recipe. Neither does very crusty or chewy bread (like a classic sourdough). It's better to use dried bread crumbs to coat chicken filets, fish, or pork chops.
---
How to assemble Bread Crumb Pudding: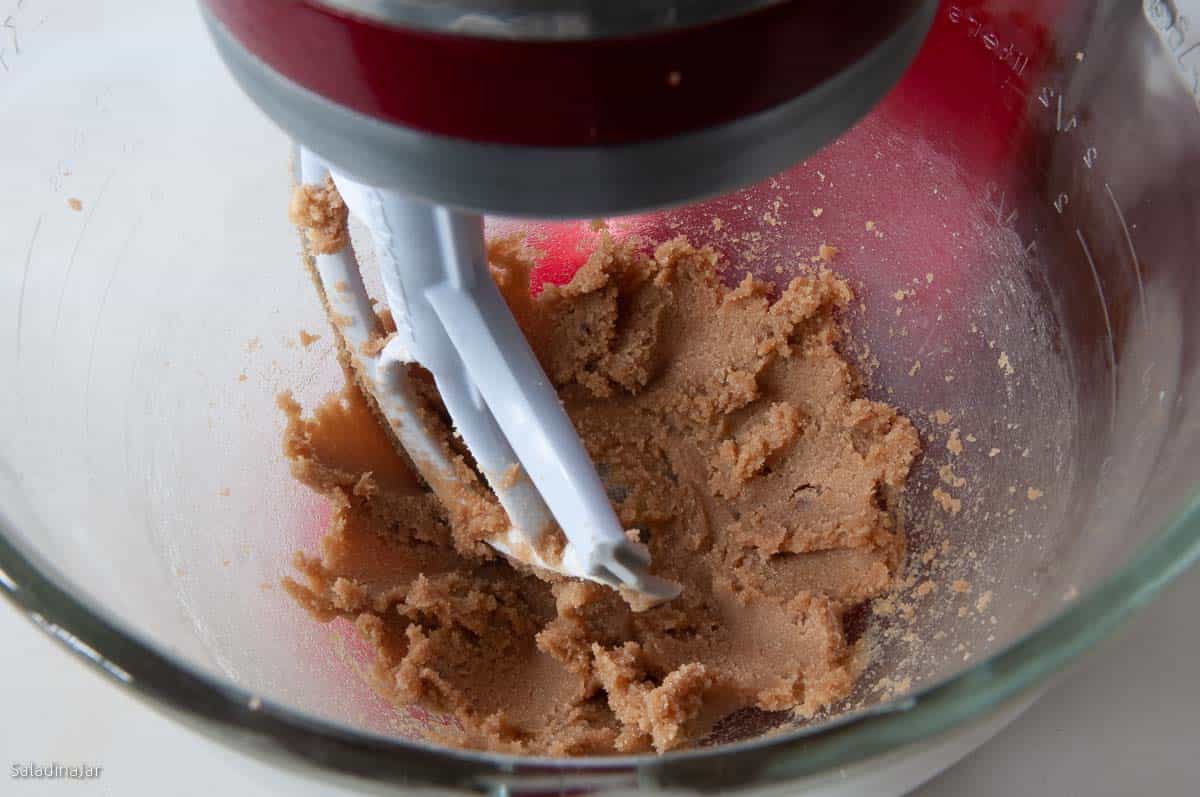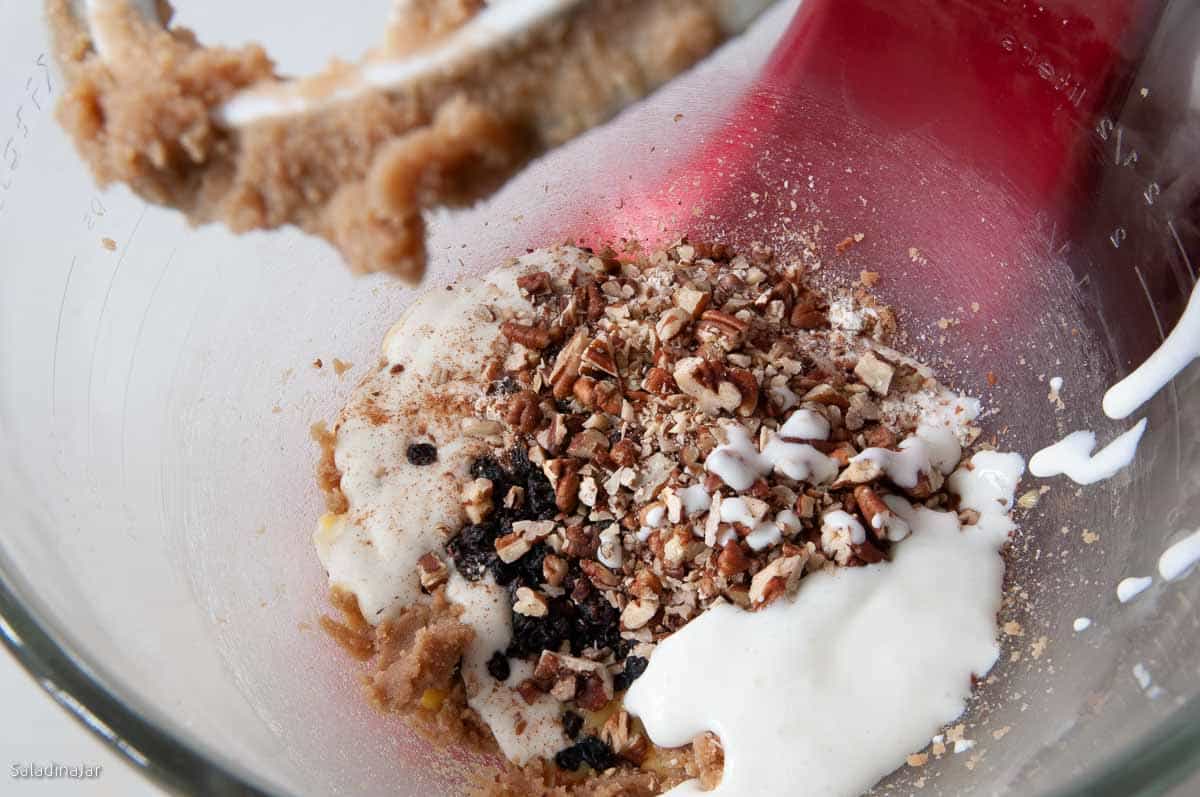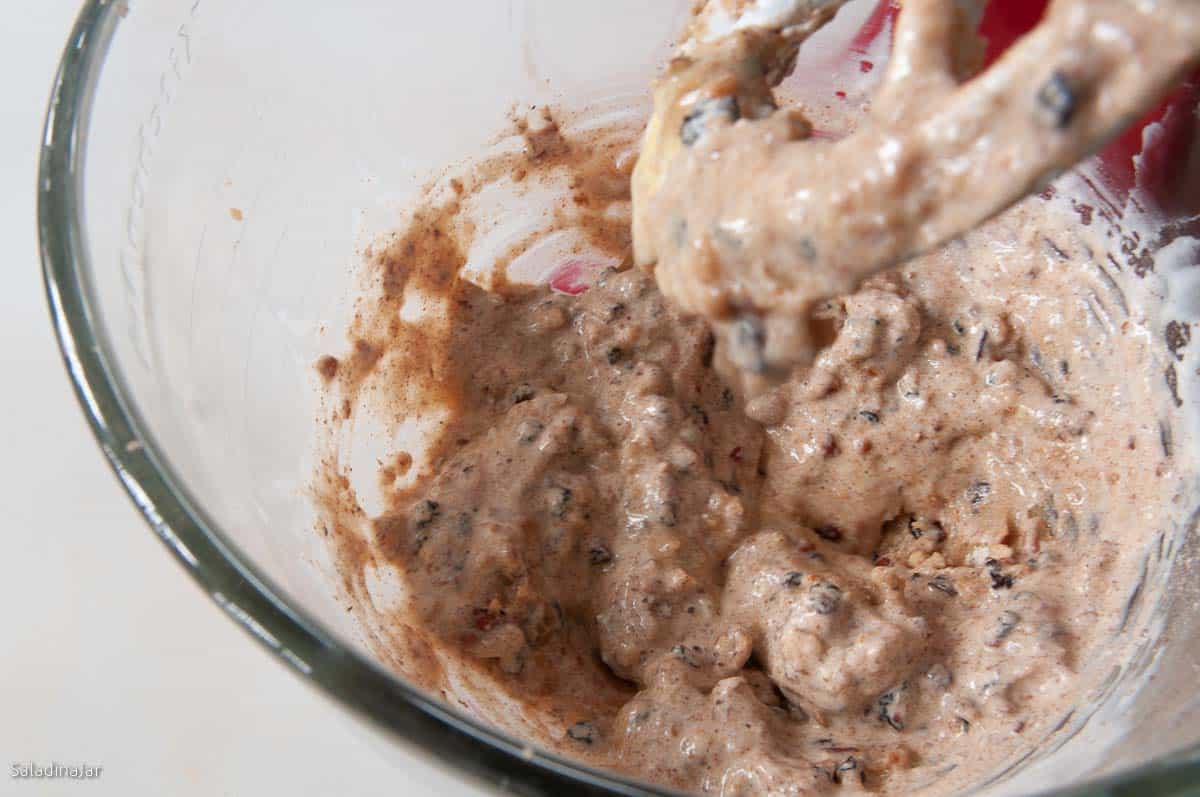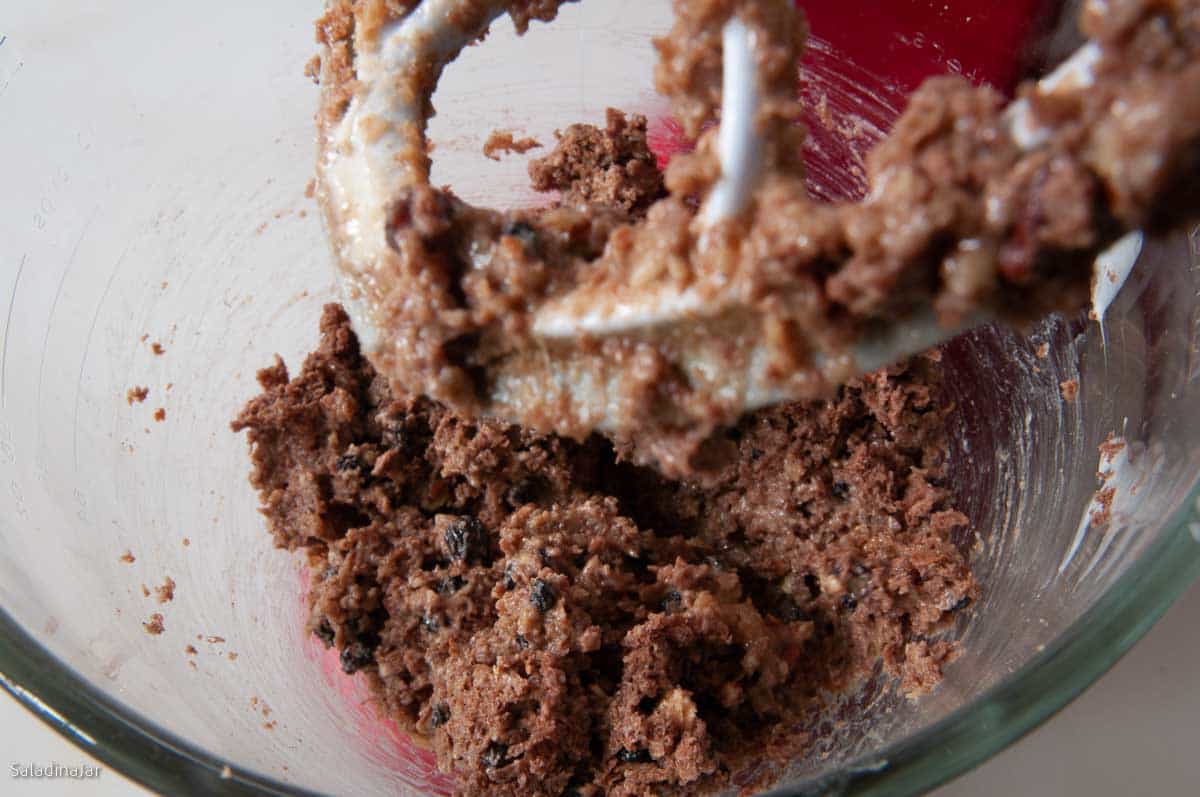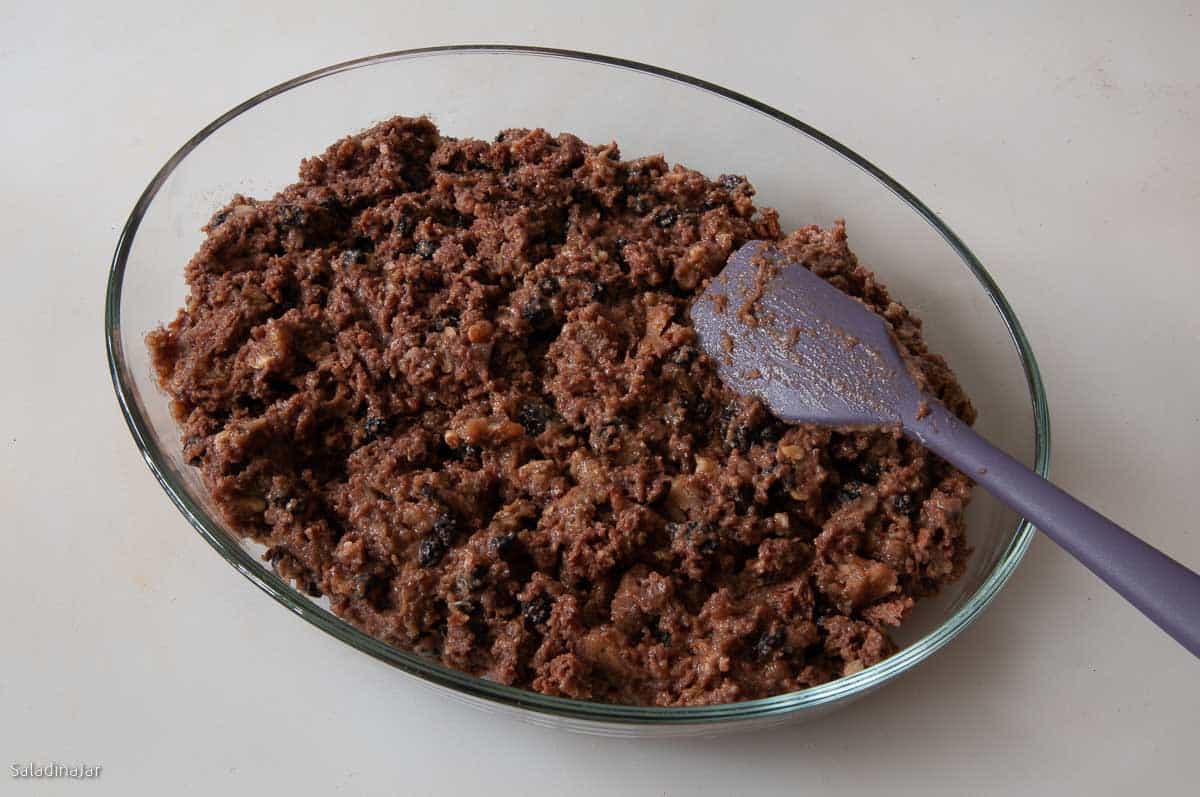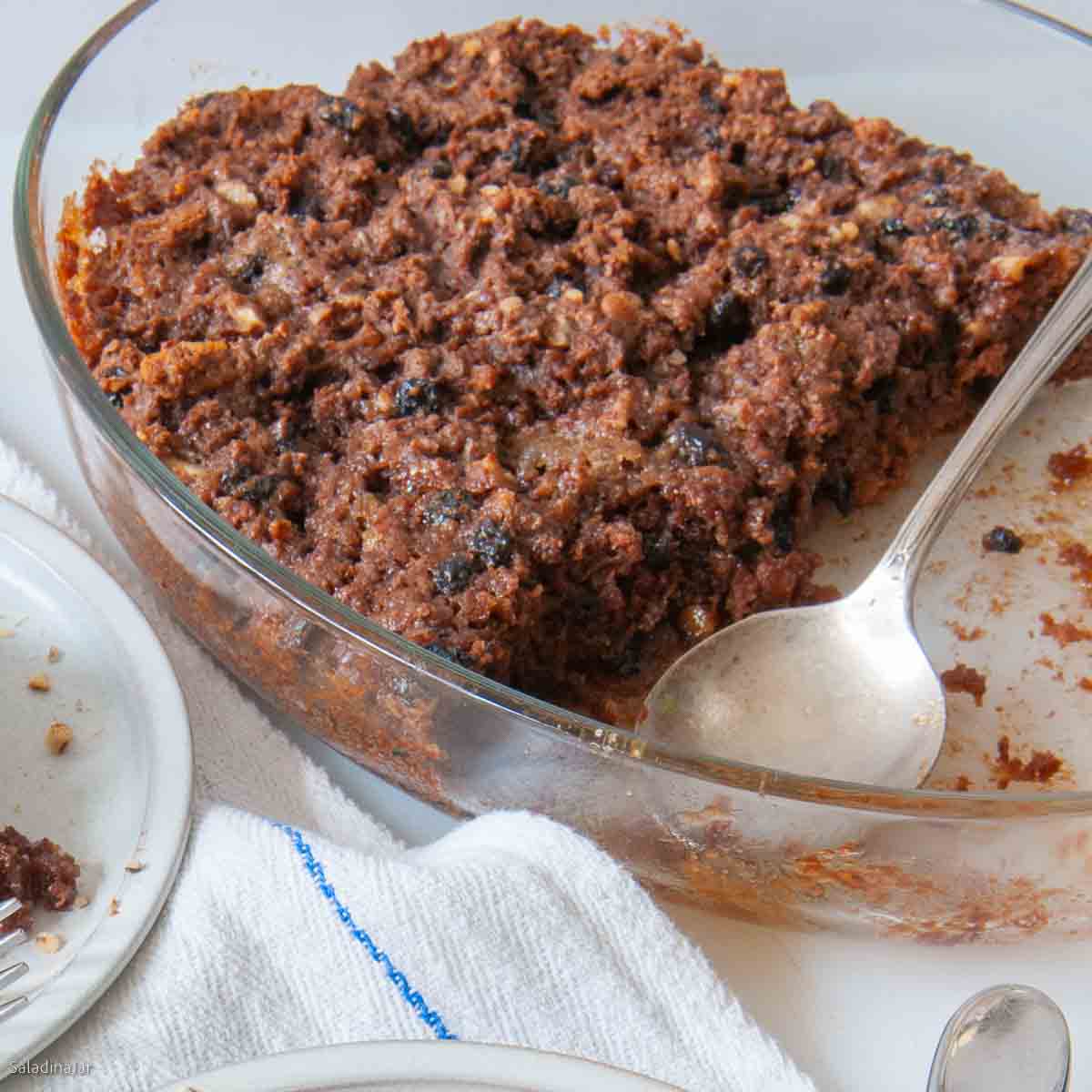 FAQs about Bread Crumb Pudding:

Can I use cake instead of bread in this recipe?
Yes, as long as it doesn't have icing. Then you can call it "Cake Crumb Pudding." Tear the cake into small pieces and pulse them in a food processor or blender until they are soft crumbs. You might need to adjust the sweetness.
How should I serve bread crumb pudding?
Serve hot, warm, or cold in a small dish or on a dessert plate. Top with whipped cream, ice cream, or a sauce like a whiskey or a bourbon sauce.
Parting Thoughts: Bread crumb pudding is a delicious way to recycle leftover bread (or cake) crumbs. Sometimes, I spoon it into muffin pans instead of a quart dish to make individual servings that are easy to serve and convenient to freeze.
---
Recipe Help at Your Fingertips: For questions or suggestions, email Paula at saladinajar.com. If you need help, I'm happy to troubleshoot via email (faster than leaving a comment). Attach pictures and as many details as possible for the best advice.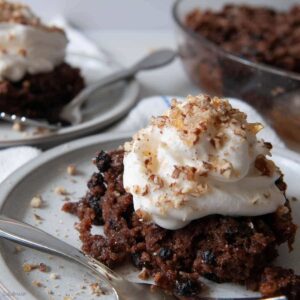 Leftover Bread Crumb Pudding Recipe
This is a great way to recycle leftover bread from bread that is less fresh than you would like. Add an egg and yogurt for protein, whole wheat bread for fiber, and spices for a knock-out flavor.
Share recipe love here. ⬇
Ingredients
¼

cup

(

56

g

)

butter

⅓

cup

(

71

g

)

brown sugar

1

large

(

50

g

)

egg

½

cup

(

113

g

)

unflavored Greek yogurt

½

teaspoon

baking soda

½

cup

(

75

g

)

raisins or currants

½

cup

(

55

g

)

pecans, chopped

¼

cup

(

30

g

)

all-purpose unbleached flour

–

substitute whole wheat flour

1

teaspoon

ground cinnamon

½

teaspoon

ground cloves

2

cups

(

168

g

)

bread crumbs
Instructions
Preheat oven to 350˚F (180˚C).

Beat

¼ cup

(

56

g

) butter and

⅓ cup

(

71

g

) brown sugar in a large bowl until light and creamy.

Add

1 large

(

50

g

) egg,

½ cup

(

113

g

) unflavored Greek yogurt,

½ teaspoon

baking soda,

½ cup

(

75

g

) raisins or currants,

½ cup

(

55

g

) pecans, chopped,

¼ cup

(

30

g

) all-purpose unbleached flour ,

1 teaspoon

ground cinnamon, and

½ teaspoon

ground cloves. Mix until fluffy.

Stir in

2 cups

(

168

g

) bread crumbs. Pour this mixture into a 1-quart (oven-safe) casserole dish.

Cover and bake for 15 minutes. Uncover and continue baking for another 15 minutes or until a toothpick inserted in the middle comes out clean.

Serve hot or cold with ice cream, whipped cream, or another sauce like whiskey sauce or soft custard sauce. They are all good!
Nutrition
Calories:
253
kcal
|
Carbohydrates:
40
g
|
Protein:
6
g
|
Fat:
8
g
|
Saturated Fat:
5
g
|
Polyunsaturated Fat:
1
g
|
Monounsaturated Fat:
2
g
|
Trans Fat:
0.2
g
|
Cholesterol:
40
mg
|
Sodium:
333
mg
|
Potassium:
180
mg
|
Fiber:
2
g
|
Sugar:
11
g
|
Vitamin A:
227
IU
|
Vitamin C:
1
mg
|
Calcium:
87
mg
|
Iron:
2
mg
HELP OTHERS find this recipe. Leave a 5 🌟🌟🌟🌟🌟 rating at the top of the recipe card if you enjoyed it. No comment is required.