Now you can make Homemade Condensed Cream of Celery Soup at home so you can modify it for your specific dietary needs. Directions for both microwave and top-of-the-stove assembly are included. It's gluten-free, too!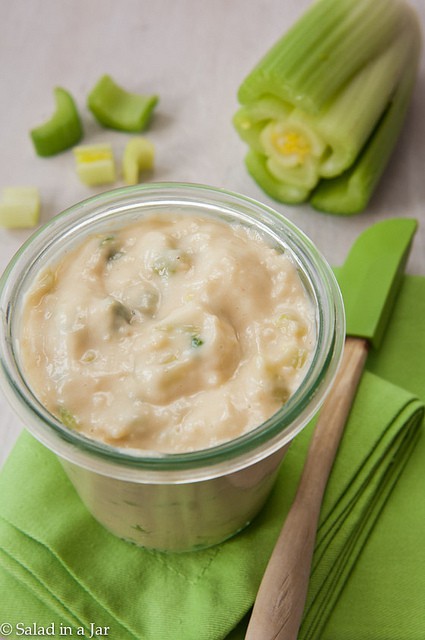 Cooks who liked my homemade Condensed Cream of Mushroom Soup have requested recipes for other varieties of condensed cream soups.  Just in time for Thanksgiving, I revisited the idea and came up with this condensed cream of celery soup for those of you who would rather not use the canned stuff in your favorite dishes.
Consider this recipe your starting point.  Decide if you want to make it in the microwave or on the stove. Directions are included for both. Then consider the possibilities for variations. Try different herbs, spices, or flavored oils. For example, I usually substitute 1-2 tablespoons of fresh or frozen chopped onion for the onion powder because I like the taste better with real onion. The original recipe specifies powdered onion because it results in a taste closer to the commercial soup.
Kitchen Secret About Freezing Celery:
While we're talking about celery, did you know you can freeze it? I probably wouldn't use it in chicken salad, but it works great in a recipe where the celery is cooked. Chop it up and throw it into a plastic bag. It's a good solution for leftover celery that might otherwise languish in the produce drawer until it turns brown and slimy. Vacuum-packing the stalks into a glass jar (kept in the refrigerator, of course) will also buy you a few more days of storage time.
 How To Make Condensed Cream of Celery Soup in the Microwave:
How To Make Condensed Cream of Celery Soup on Top of the Stove:
Regarding substitutions for the evaporated milk:
Various kinds of fresh milk from non-fat to half and half will work, but they will not stand up to the prolonged cooking many recipes require. If you accidentally let the soup boil, it could break and curdle. Also, freezing soup made with fresh milk may result in some separation when it thaws–something you may or may not care about depending on how you are using it. Evaporated milk is more stable and results in a product closest to that found in the can, in my opinion.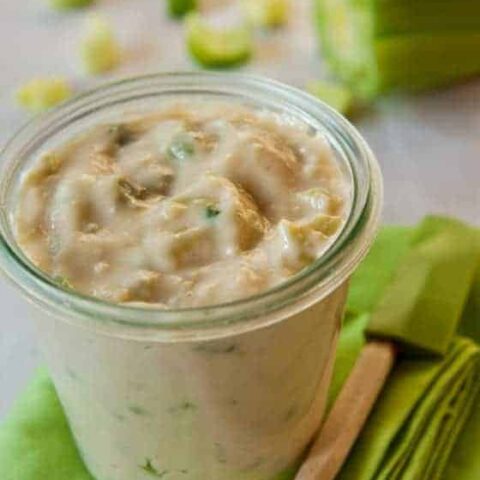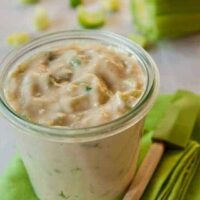 Condensed Cream of Celery Soup
Using only a whisk and a microwave, you can make your own condensed cream of celery soup. Customize to your own taste.
Ingredients
3/4 cup finely-chopped celery
1 tablespoon vegetable or avocado oil
8-ounces 2% evaporated milk
1 teaspoon onion powder (I substitute 1 tablespoon chopped onion)
2 tablespoons cornstarch
1/8 teaspoon white pepper
1/4 teaspoon celery salt or table salt
Pinch of sugar
Instructions
Microwave
Place chopped celery and oil into a 2 quart glass microwave-safe bowl. Cover and cook on HIGH for 4 minutes. (If substituting onion for onion powder, add the onion to the celery to knock off the crunchiness.)
Add remaining ingredients and whisk until smooth.
Microwave for 2 minutes, stopping to whisk after 1 minute and again when finished.
Stove-top
Saute celery (and onion if substituting for powder) in hot oil in skillet over medium heat.
When vegetables are softened, add milk, then whisk in remaining ingredients. Stir constantly and cook gently until thickened.
Recommended Products
As an Amazon Associate, I earn from qualifying purchases. But don't worry. This doesn't change the price you pay.
Nutrition Information:
Yield:

3
Serving Size:

1
Amount Per Serving:
Calories:

185
Total Fat:

11g
Saturated Fat:

4g
Trans Fat:

0g
Unsaturated Fat:

6g
Cholesterol:

24mg
Sodium:

421mg
Carbohydrates:

16g
Fiber:

1g
Sugar:

10g
Protein:

6g
Posts Related to Homemade Condensed Cream of Celery Soup: