Gluten-Free Cream of Celery Soup Recipe: Easy to Customize
Sneak Preview: This Gluten-Free Cream of Celery Soup recipe is easily customizable for your dietary needs. Easy directions are included for both microwave and stove-top users.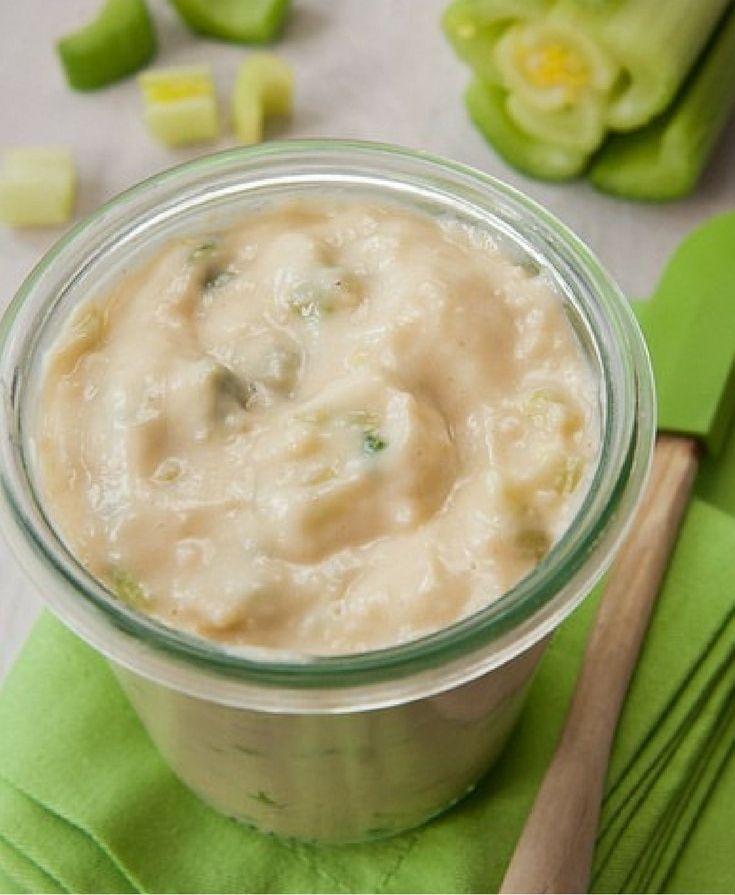 As an Amazon Associate, I earn from qualifying purchases.
How long has it been since you made your favorite casserole because you need it to be salt or gluten-free? If that recipe calls for condensed cream of celery soup, try making it yourself with this recipe. Cornstarch is the thickening agent and is generally gluten-free. Salt is easy to leave out or use a salt substitute.
Cooks who liked my homemade Condensed Cream of Mushroom Soup and Condensed Cream of Chicken Soup have requested other varieties of condensed cream soups.
In time for Thanksgiving, I revisited the idea. Condensed cream of celery soup is the result. Customize this soup with herbs and other vegetables if you desire.
What variations can I use with this recipe?
Try different herbs such as thyme, oregano, or parsley. Add some chopped carrots, broccoli, red peppers, or shallots. Get creative.
Ingredients and substitutions:
CELERY: Fresh celery is best. I often freeze chopped celery if I have more than I can use. This recipe is perfect for that celery.

VEGETABLE OIL: My vegetable oil of choice is avocado oil. Any light vegetable oil can be substituted.

EVAPORATED MILK: The original goal of this recipe was to imitate Campbells. The cooked taste of evaporated milk comes closest. Also, evaporated milk is more stable with higher temperatures that may be present in casseroles.
CORNSTARCH: Using cornstarch to thicken this soup makes it gluten-free as opposed to using flour. Always check the label to be sure.

ONION POWDER: Onion powder is easy. Like evaporated milk, if you want a fresher taste, use fresh or frozen onions instead. You will only need about a tablespoon.

WHITE PEPPER: Substitute black pepper or freshly ground pepper.

CELERY SALT: Celery salt pumps up the flavor. Substitute the same amount of regular salt or leave it out completely for a sodium-free version of this recipe.
---
Can I substitute regular milk for evaporated milk?
Various kinds of fresh milk, from non-fat to half-and-half or heavy cream, will work. However, they won't stand up to the prolonged cooking many recipes require. If you accidentally let the soup or casserole boil, it may break and curdle.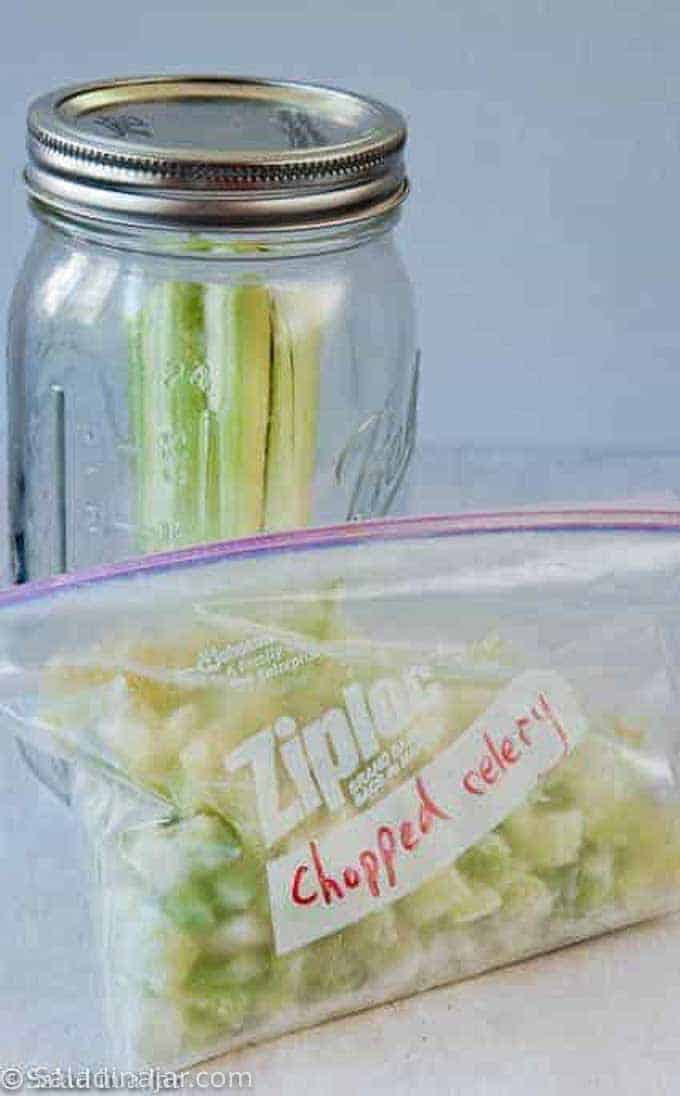 Kitchen Tip: How to freeze celery
While we're talking about celery, did you know you can freeze it? Freezing is an excellent solution for leftover celery. Otherwise, it often languishes in the produce drawer until it turns brown and slimy.
I wouldn't use it in chicken salad, but frozen celery works well in a recipe when the celery cooks. Chop up the raw celery and throw it into a plastic bag. Use it like you would frozen chopped onions or peppers.
Try vacuum-sealing the stalks into a glass jar like I vacuum-pack cut lettuce. Store both in the refrigerator, of course. This technique will buy you several more days of freshness.
How to make gluten-free "cream of celery" soup in a microwave: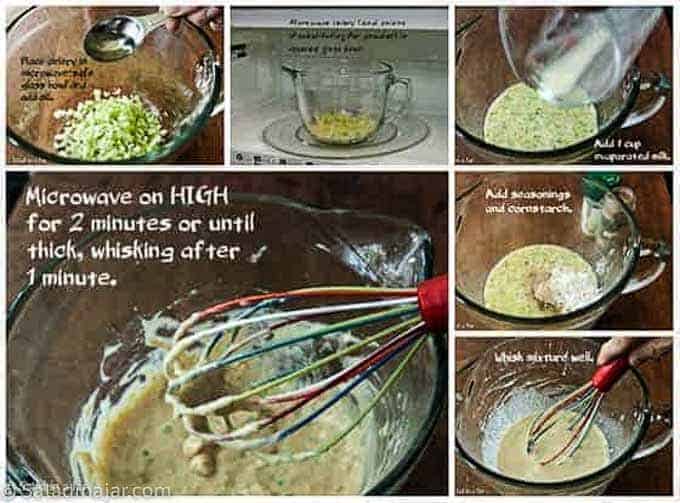 How to make celery soup on the stove: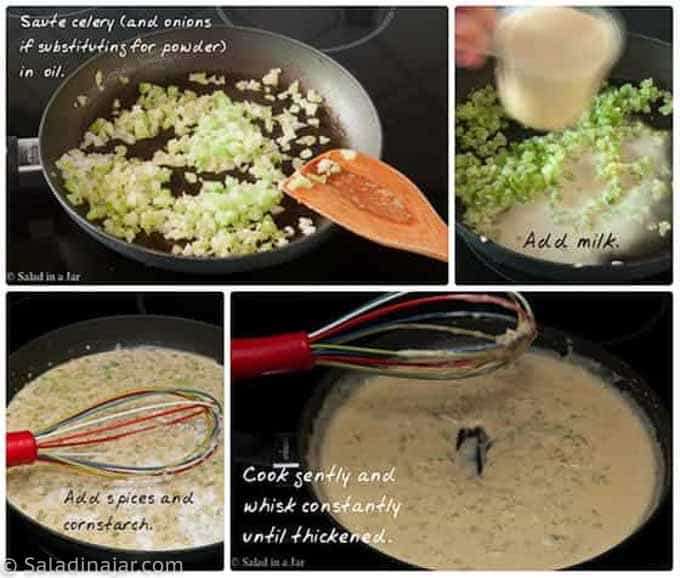 What about freezing?
Freezing soup made with fresh milk may result in some separation when it thaws. You may or may not care, depending on how you use it. Evaporated milk is more stable and results in a product closest to that found in the can, in my opinion.
---
Parting Thoughts: Be sure to bookmark or pin this link to all three of my condensed soup recipes.
Recipe Help at Your Fingertips: For questions or suggestions, email Paula at saladinajar.com. If you need help, I'm happy to troubleshoot via email (faster than leaving a comment). Attach pictures and as many details as possible for the best advice.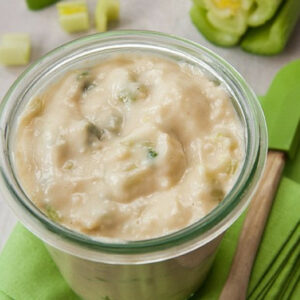 Gluten-Free Cream of Celery Soup Recipe
Using only a whisk and a microwave, you can make your own condensed cream of celery soup. Customize to your own taste.
Share recipe love here. ⬇
Ingredients
¾

cup

finely chopped celery

1

tablespoon

vegetable or avocado oil

1

cup

2% evaporated milk

–

8-ounces

1

teaspoon

onion powder

–

or substitute 1 tablespoon chopped onion

2

tablespoons

cornstarch

⅛

teaspoon

white pepper

¼

teaspoon

celery salt or table salt

Pinch

of sugar
Instructions
Microwave Method
Place chopped celery and oil into a 2 quart glass microwave-safe bowl. Cover and cook on HIGH for 4 minutes. (If substituting onion for onion powder, add the onion to the celery to knock off the crunchiness.)

Add remaining ingredients and whisk until smooth.

Microwave for 2 minutes, stopping to whisk after 1 minute and again when finished.
Stove-Top Method
Saute celery (and onion if substituting for powder) in hot oil in skillet over medium heat.

When vegetables are softened, add milk, then whisk in remaining ingredients. Stir constantly and cook gently until thickened.
Nutrition
Serving:
1
|
Calories:
139
kcal
|
Carbohydrates:
15
g
|
Protein:
6
g
|
Fat:
6
g
|
Saturated Fat:
1
g
|
Polyunsaturated Fat:
1
g
|
Monounsaturated Fat:
3
g
|
Cholesterol:
15
mg
|
Sodium:
315
mg
|
Potassium:
72
mg
|
Fiber:
1
g
|
Sugar:
9
g
|
Vitamin A:
119
IU
|
Vitamin C:
1
mg
|
Calcium:
36
mg
|
Iron:
1
mg
HELP OTHERS find this recipe. Leave a 5 🌟🌟🌟🌟🌟 rating at the top of the recipe card if you enjoyed it. No comment is required.