5-Minute Gluten-Free Cream of Chicken Soup Recipe: Satisfies Everyone
Sneak Preview: This Gluten-Free Cream of Chicken Soup recipe is a delicious substitute for the red can. Save time and dirty dishes—use the microwave instructions. Customize the ingredients for your own dietary needs or preferences.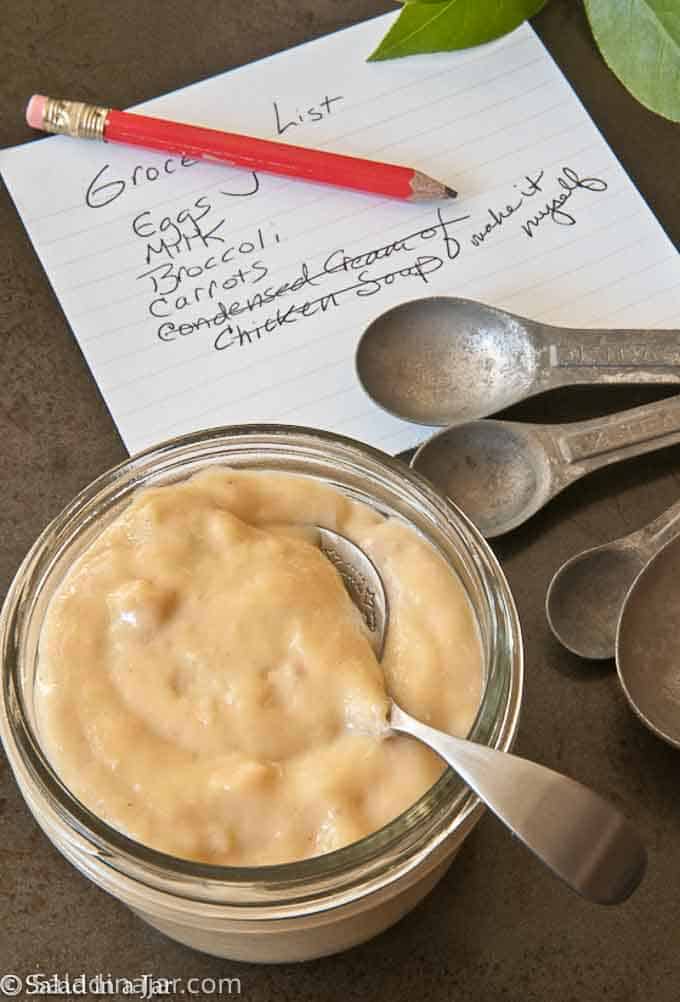 As an Amazon Associate, I earn from qualifying purchases.

Are you tired of "salt pills" packaged as condensed cream soups? Maybe they aren't available where you live. Or perhaps it's Thanksgiving eve, and you can't find any in the pantry to make Aunt Bertha's casserole.
Here is a quick way to make it yourself at home. You control the salt, the seasonings, and the freshness.
So far, I've tackled condensed cream of mushroom, cream of celery, and now, this chicken soup. If you care about such things, they are all gluten-free. But, of course, you will want to check the labels of the brands you use.
This recipe is the simplest yet. Whisk all ingredients together and microwave for 3 minutes or longer if you have a slow or older microwave.
For those who don't do microwaves, cook it gently on the stove, frequently stirring until it thickens.
The Better Than Bouillon chicken base pictured below is the primary source of chicken flavor. I prefer it over bouillon cubes or store-bought chicken broth.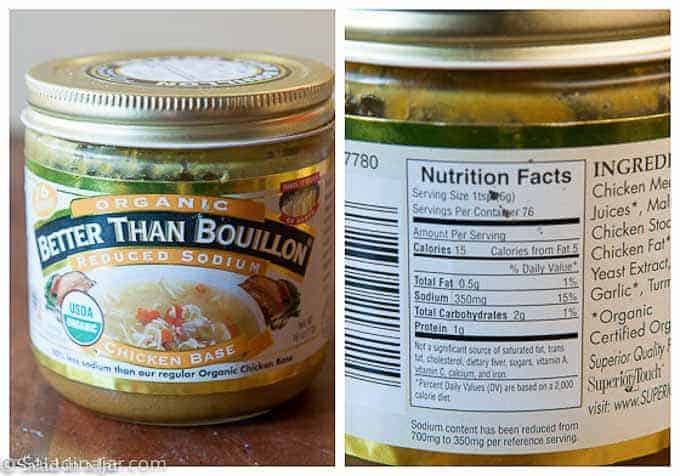 Homemade chicken stock would taste better. Unfortunately, reducing the volume to get enough flavor would be best, causing this recipe to take way longer than 5 minutes. That makes the chicken base my first choice.
---
Ingredients and substitutions:
EVAPORATED MILK: The original goal of this recipe was to imitate Campbells. The cooked taste of evaporated milk comes closest. Also, evaporated milk is more stable with higher temperatures that may be present in casseroles.
VEGETABLE OIL: My vegetable oil of choice is avocado oil. You can substitute any light vegetable oil for avocado oil.

CORNSTARCH: Using cornstarch to thicken this soup makes it gluten-free as opposed to using flour. Always check the label to be sure.

ONION POWDER: Onion powder is easy. Like evaporated milk, if you want a fresher taste, use fresh or frozen onions instead. You will only need about a tablespoon.

WHITE PEPPER: Substitute black pepper or freshly ground pepper.

SALT: Leave the salt out completely for a sodium-free version of this recipe.

CHICKEN: Rotisserie chicken is my favorite. Plain leftover chicken is always a good choice. Nothing says you can't use ground beef, leftover roast, or pulled pork if you want to make a cream sauce for biscuits.

CHICKEN BASE: Using a base or bouillon gives a more concentrated chicken flavor. I like the reduced-sodium "Better than Bouillon" brand.
---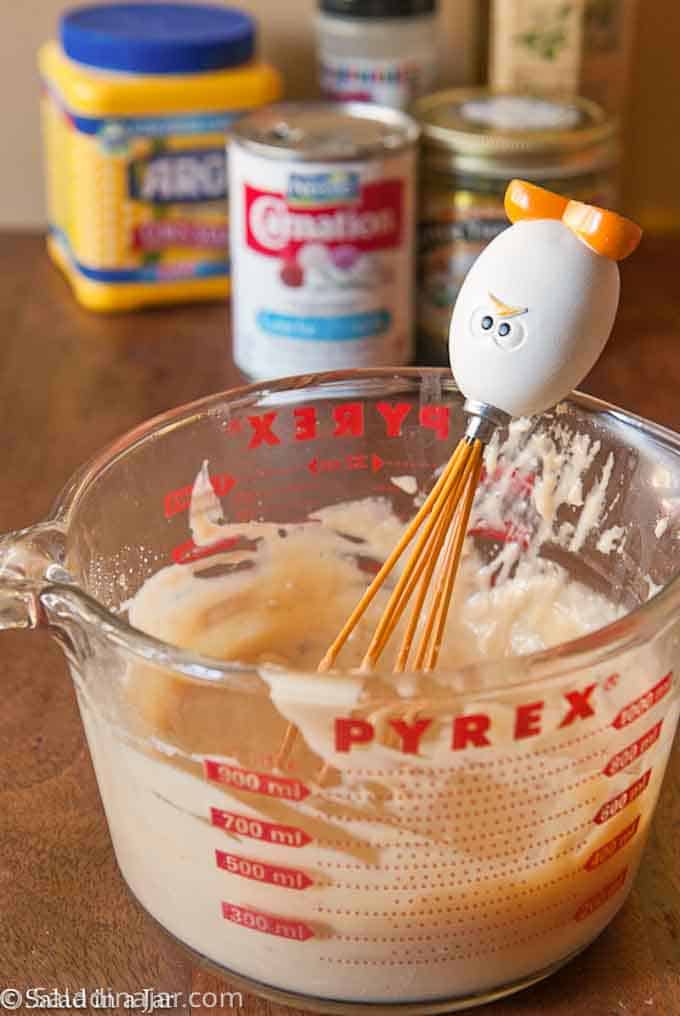 ---
FAQ: 5-Minute Gluten-Free Cream of Chicken Soup Recipe
Can I substitute regular milk for evaporated milk?
Various kinds of fresh milk, from non-fat to half-and-half or heavy cream, will work. However, they won't stand up to the prolonged cooking many recipes require. For example, if you accidentally let the soup or casserole boil, it may break and curdle.
Can I freeze this soup after I make it?
The most frequently asked question about the other cream soups was regarding freezing the prepared soup. In my experience, yes. It will separate slightly, but a quick warm-up in the microwave followed by vigorous whisking will restore the original creamy texture.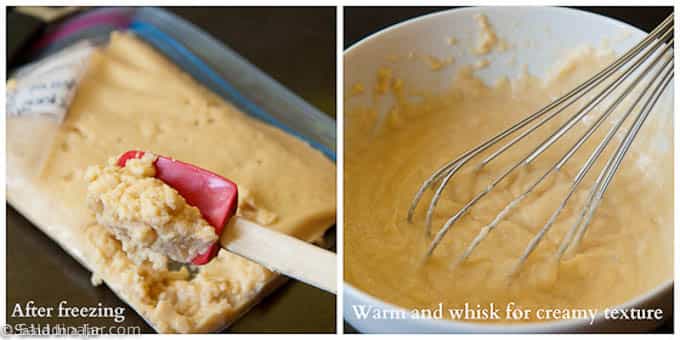 Pin
Will this replace the red can of condensed cream of chicken soup?
Yes, this recipe will yield the same amount. However, if you need two cans, double the recipe.
What other readers are saying about Gluten-Free Cream of Chicken Soup:
"I just made this, and it works so well! It was fast and easy. Thanks, Paula!" –Bonnie
"Cornstarch is gluten-free, so this is a great alternative for those who try to avoid it! Also, it tastes so much better than the canned variety. Thanks for the recipe. I tried it first this past Thanksgiving, and it has been a staple ever since." –Jenilee
---
Recipe Help at Your Fingertips: For questions or suggestions, email Paula at saladinajar.com. If you need help, I'm happy to troubleshoot via email (faster than leaving a comment). Attach pictures and as many details as possible for the best advice.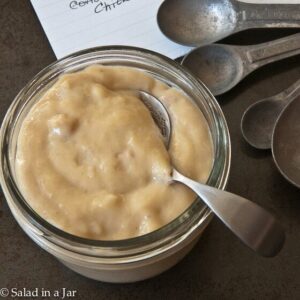 Gluten-Free Cream of Chicken Soup Recipe
Homemade Condensed Cream of Chicken Soup can substitute for the commercial soup sold in the red can. This allows you to customize for your own taste and dietary needs. Gluten-free.
Share recipe love here. ⬇
Ingredients
1-1/4

cup

2% evaporated milk

–

see the notes about evaporated milk

1

tablespoon

olive or vegetable oil

2

teaspoons

chicken base

1

teaspoon

onion powder

2

tablespoons

cornstarch

⅛

teaspoon

white pepper

1-2

tablespoons

cooked chicken

–

finely chopped
Instructions
Whisk

1-1/4 cup

2% evaporated milk,

1 tablespoon

olive or vegetable oil,

2 teaspoons

chicken base,

1 teaspoon

onion powder,

2 tablespoons

cornstarch, and

1/8 teaspoon

white pepper together in a microwave-safe glass container no less than 1 qt in size. Microwave on HIGH for 3 minutes until very thick, stopping to whisk mixture after each minute. Microwave ovens vary wildly so, it may be different in yours. Keep cooking and whisking until it gets thick.

Alternatively, you may pour the whisked mixture (see notes) into a saucepan or skillet and cook on medium-low on top of the stove until thickened.

If you find lumps in the soup, pour it through a strainer. Add

1-2 tablespoons

cooked chicken, finely chopped.
Notes
1.Use fresh milk instead of evaporated (never sweetened condensed milk), but it will not hold up to prolonged cooking or freezing like the evaporated milk does.
2. If you decide to make this on the stove, I recommend you mix it in a blender first, OR plan to push it through a strainer when it has been cooked. The chicken base doesn't seem to dissolve as readily as it does in the microwave, so blending it first results in a creamier product.
3. Be advised that microwave ovens vary wildly. If your soup doesn't thicken after 3 minutes, keep cooking and stirring every minute until it does. (You did add the cornstarch, right?)
Nutrition
Serving:
1
|
Calories:
56
kcal
|
Carbohydrates:
5
g
|
Protein:
2
g
|
Fat:
3
g
|
Saturated Fat:
1
g
|
Polyunsaturated Fat:
1
g
|
Monounsaturated Fat:
2
g
|
Cholesterol:
4
mg
|
Sodium:
209
mg
|
Potassium:
13
mg
|
Fiber:
1
g
|
Sugar:
1
g
|
Vitamin A:
2
IU
|
Vitamin C:
1
mg
|
Calcium:
7
mg
|
Iron:
1
mg
HELP OTHERS find this recipe. Leave a 5 🌟🌟🌟🌟🌟 rating at the top of the recipe card if you enjoyed it. No comment is required.