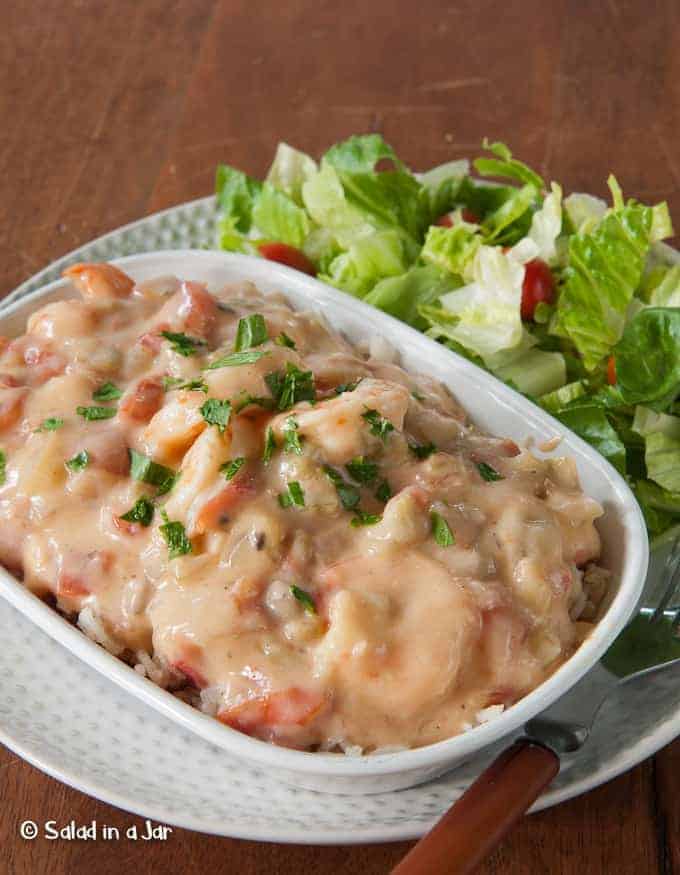 Obviously, this isn't authentic étouffée, but it's easy to love this seafood dish on its own merit. Loaded with scrumptious shrimp, tomatoes, and plenty of spicy heat from the peppers, rice is the perfect foil. If you need a super easy dish to serve for company (it makes a lot), and you don't mind opening a few cans, this might be your next favorite dinner party recipe. We recently enjoyed Mock French Étouffée with rice, a green salad (salad-in-a-jar), and a loaf of homemade French bread when the family Takens were here for a 9-day visit. (I've written about them before here.)
A quick back story on our Dutch friends:  I was an exchange student in Holland for a couple months when I was 17. One of the families I stayed with came to visit our Indiana farm the following summer. We've stayed in touch ever since. All but one of the parents involved have passed on, but I am still friends with the older son in the family, Bert (pictured below holding the reflector), his wife, and their three children. We've had a grand time watching our families grow up and change. Since both of us were raised on farms, we have a common background. You "farm kids" probably know what I'm talking about.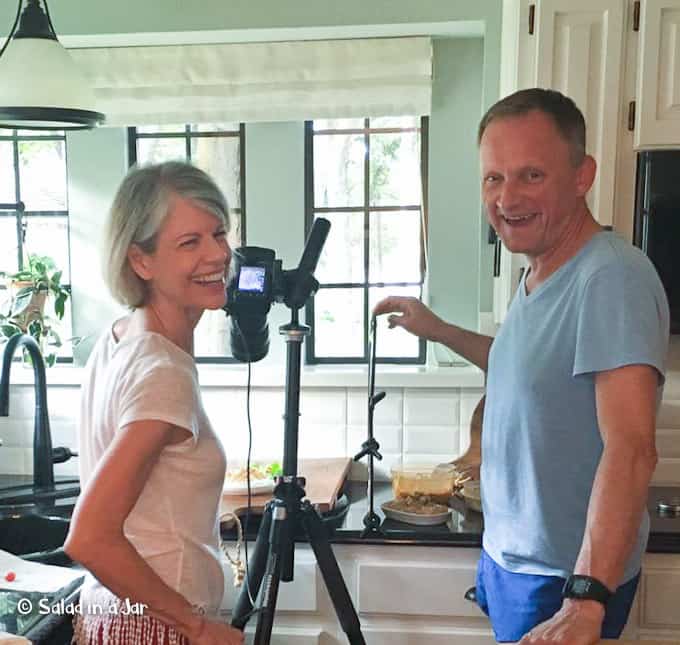 Jasmine is the preferred rice at my house. However, I myself like to eat Mock Shrimp Étouffée poured over mashed cauliflower, like gravy, to reduce the carbs. It's kinda like drinking diet coke with a candy bar since there are plenty of carbs in the cream soups. Oh, well.
Speaking of cream soups, if you live close to me in the DFW metroplex area, the only place I have found the condensed cream of shrimp soup is at Walmart.  My sister who gave me this recipe buys hers at Publix, a supermarket prevalent in the South, I think. Substitute another can of mushroom or celery soup if necessary.
If you don't see the recipe, click here.

Mock Shrimp Étouffée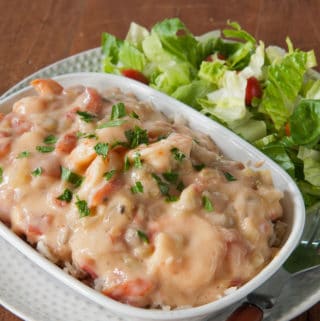 Recipe type:
Seafood Entree
This creamy, spicy, tomato-y mixture with shrimp makes a great company dish when served over rice.
Ingredients
2 tablespoons butter
1 large onion, chopped
1 large bell pepper, chopped
1 stalk celery, chopped finely
1 10.5 oz can cream of shrimp soup
1 10.5 oz can cream of mushroom soup
1 10.5 oz can cream of celery soup
2 14.5 oz cans tomatoes with green chiles like Rotel (go milder and make one of the cans regular tomatoes if you prefer)
¼ teaspoon red pepper
½ teaspoon minced garlic
½ t. onion powder
2 pounds shrimp, peeled w/o tails
Salt and pepper to taste
2 tablespoons minced parsley
Instructions
Saute onions, peppers, and celery in 2 tablespoons butter in a large non-stick skillet over medium heat until tender.
Add soups, tomatoes, and seasonings. Simmer 45-60 minutes or place in a crock pot on Low for 3-4 hours.
Add shrimp in last 10-15 minutes minutes before serving. Salt and pepper are optional so taste before you add. Garnish with parsley.
Other posts you may find interesting: