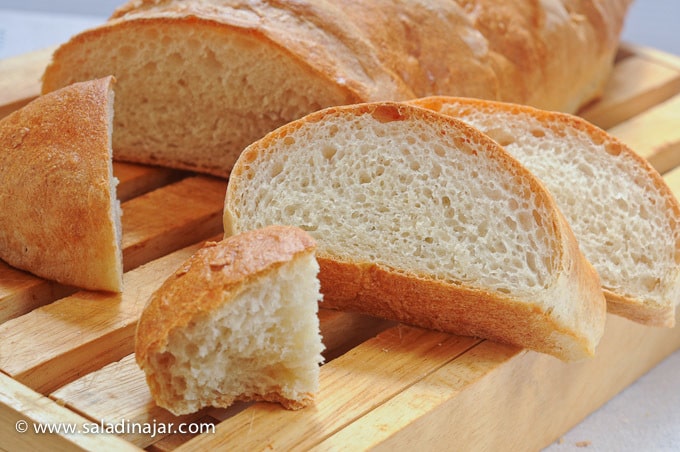 Have you ever given somebody a recipe and then when they turn around and serve it to you—you don't even recognize it? That's what happened with this Crusty French Bread. I gave the recipe to my daughter-in-law, Amanda. Later, she baked it and served it to me and I asked HER for the recipe. How did that happen? Now she is famous in our family for this French bread.
This bread has a soft, compact crumb with a crispy crust. It is NOT a chewy kind of artisan bread with big holes in it. Nope, nothing too sophisticated. Just a fresher than fresh loaf of bread you may want to add to your regular rotation or bring out for company. Slice it for eating out of hand, smear garlic butter on it to accompany pasta or make sandwiches with it (see below).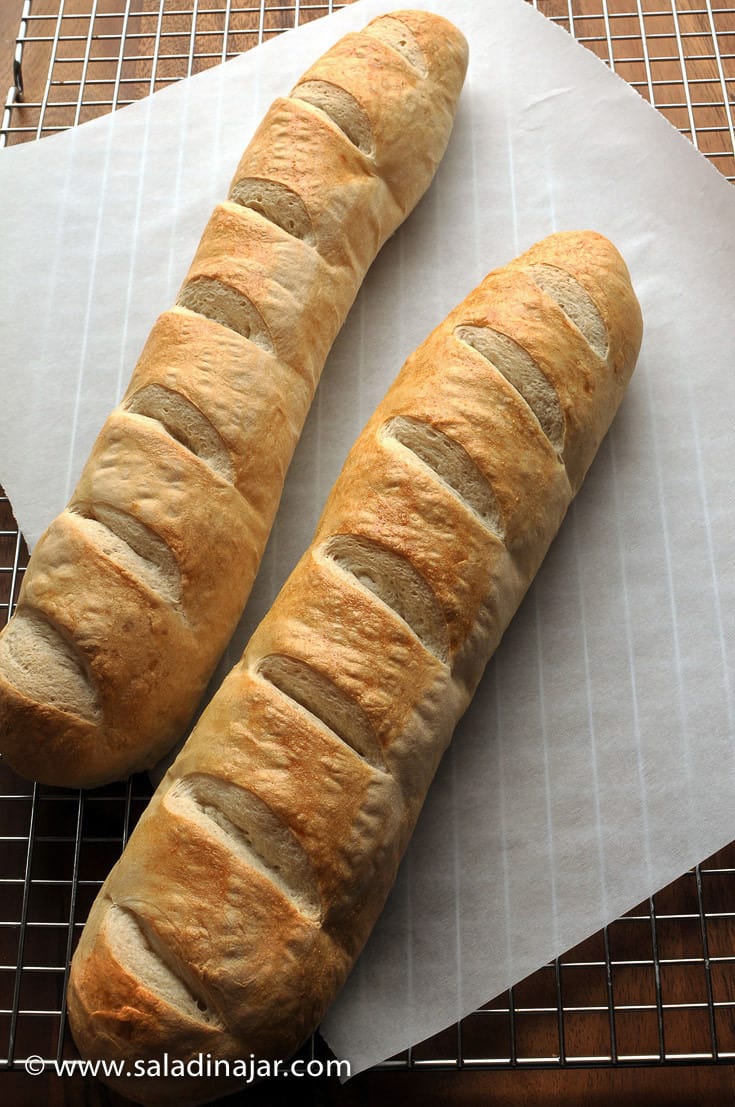 Amanda recently made this for my mom's birthday party. We used it to make sandwiches for beef au jus. My other daughter-in-law, Susie, told me about McCormick's Au Jus Gravy mix. It's a touch salty but I forgive. Place the browned beef roast in a crock pot, pour seasoning mixed with water (according to the package) over the meat and cook it on high or low, depending on when you want to eat. 5 hours later on high — perfectly seasoned broth and fork tender shreds of beef.
Proceed straight ahead for a picture tutorial of interest to beginning bread makers…
Crusty French Bread (Mixed in a Bread Machine)
Author:
Adapted from One Hundred Years of Bread by Sidney Brockman Carlisle.
Ingredients
1 cup lukewarm water
1-1/2 teaspoons shortening or butter
1-1/2 teaspoons sugar
1-1/2 teaspoons salt
3+ cups bread flour
1 teaspoon instant yeast
Glaze: 1 egg white + 1 teaspoon water whisked together well.
Instructions
Place all ingredients in bread machine pan in order listed. Start dough cycle. After 5-10 minutes, lift the lid and check dough. If dough is too sticky (levels out), add more flour 1 tablespoon at a time. If dough is too dry, add water a teaspoon at a time. Dough should be a loose ball that sticks to the sides, then pulls away.
When dough cycle is complete, turn dough out onto lightly floured board. Roll into oval shape slightly longer than you want your final loaf to be. Starting from long side, roll into a cylinder shape. Pinch seam together. Turn over so seam is hidden. Pinch ends together and turn under making a small rounded shape on each end. Cover with a tea towel and allow to rise in warm place until almost double.
Preheat oven to 425 degrees. Make glaze and brush over loaf. Using a sharp knife, (I use a serrated knife) or a single edge razor blade, cut diagonal slashes about 2 inches apart and ½ inch deep across the top of loaf.
Bake loaf for 20 minutes. Reduce heat to 350 degrees and bake another 5-10 minutes until golden brown. Remove to cooling rack or slice and eat immediately.

If you enjoy making bread, you might consider these recipes made in a bread machine…