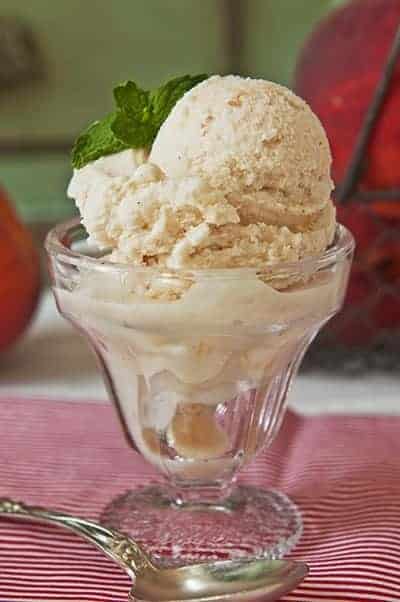 I have been wanting to create my own frozen yogurt recipe ever since I started making Greek yogurt at home.  Other recipes I tried were a disappointment and had a weird texture.  After several experiments, I've found a combination I like. Now I can't wait to try some other flavors.
This recipe fits my requirements because:
The peaches are totally fresh–never cooked.
Whole milk Greek yogurt is not required.  Use it if that's what you have and like.  Personally, I'm a nonfat girl–it's what I'm used to and what I make. Of course you don't have to make your own Greek yogurt for this recipe. Buy it at the store if that's more your style.
I only keep nonfat milk in the house along with a Costco-size carton of heavy cream (because it keeps a long time). I use them together whenever I need more flavor and/or a smoother texture.  Works in this recipe too.
The Amaretto helps to prevent the yogurt from freezing rock hard.  Next time I will probably add an additional teaspoon or two. If it's too hard to dip the next day, a few seconds in the microwave or a few minutes on the counter will remedy the problem.
I freeze my yogurt  in a Donvier hand crank freezer.  It's easy, doesn't take up much freezer space and is portable (non-electric).  However, this recipe will work in any 2-quart ice cream freezer.
Peachy Amaretto Frozen Greek Yogurt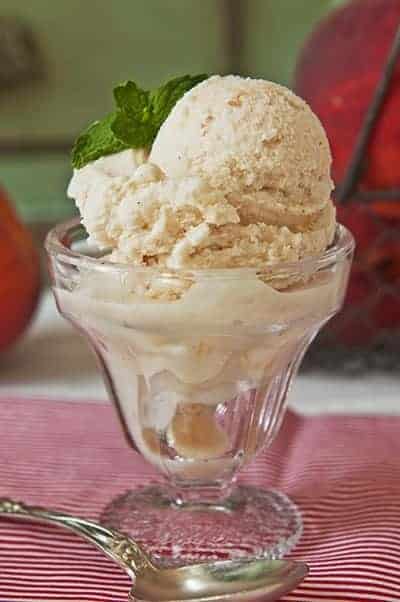 Fresh peaches and Greek yogurt dance together in an ice cream freezer to create this delicious summer treat.
Ingredients
1-1/2 cup peeled and mashed fresh peaches
2 tablespoons sugar
1 teaspoon lemon juice
1-1/2 cup plain Greek yogurt (I use nonfat yogurt. Use whole milk Greek yogurt for a richer product)
½ cup nonfat milk
1 cup whipping cream
⅔ cup sugar
1 teaspoon vanilla bean paste or vanilla extract
¼ teaspoon almond extract
1 tablespoon Amaretto
Instructions
After mashing peaches, stir in sugar and lemon juice. Set aside.
Combine yogurt, milk, cream and sugar stirring until sugar dissolves.
Add vanilla, Amaretto and mashed peaches. Chill.
Freeze in small ice cream freezer according to manufacturer directions.
Nutrition Information
Serving size:
½ cup
Calories:
191
Fat:
4.7 g
Carbohydrates:
31.7g
Fiber:
2.0g
Protein:
5.3
Cholesterol:
21 mg
Related Posts: