Preview: This classic but simple Deviled Eggs Without Mustard recipe boasts a mildly sweet flavor that will please everybody. No mustard. A favorite at potluck dinners.
One thing my mom and I agreed about was deviled eggs. They were always our first choice to take to potluck meals. Why? Because the plate will be licked clean. You won't have to take any food back home. Guaranteed!
Need more reasons to make this recipe?
You can make them ahead of time.
Eggs are usually cheap.
If you're not a mustard lover, this recipe is for you.
Eggs stay fresh for a long time in the fridge so it's easier to keep them on hand.
You don't have to worry about keeping them hot or warming anything up when you get to the party.
People will pick up deviled eggs, even when they aren't pretty. Go the extra mile with a sprinkle of paprika or a sprig of parsley and you'll be a rockstar.
People seem to love deviled eggs but few people want to go to the trouble. Try this recipe for the win.
Bonus: No weird ingredients to scare off small children.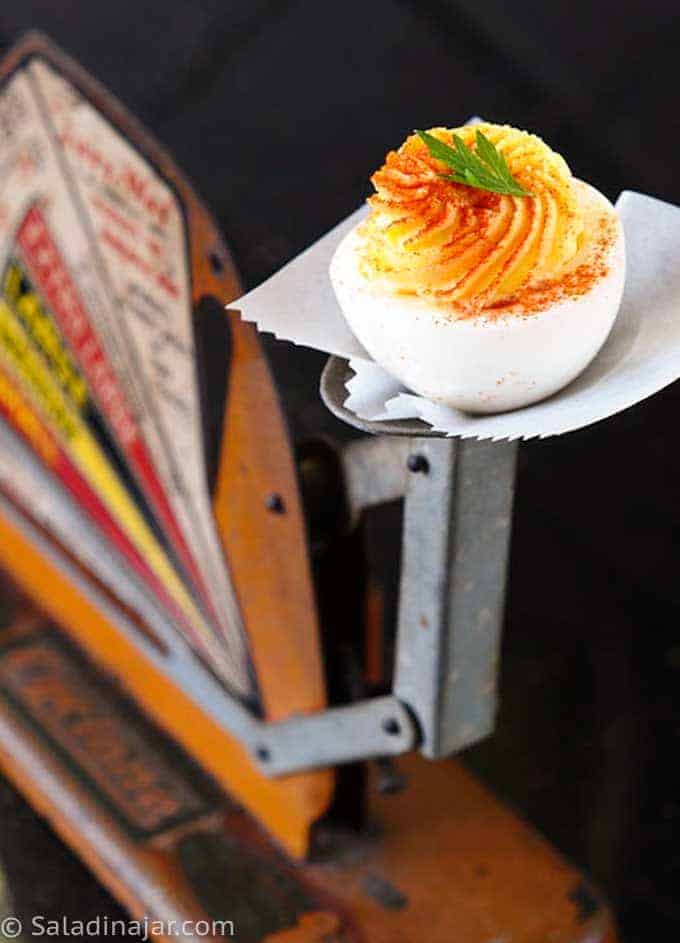 Recipe Inspiration
A few years ago, my older sister whipped up a batch of her deviled eggs for us to snack on during a car trip back home from her house in Alabama.
Kay's deviled eggs were so delicious, I couldn't stop eating them. (Or maybe I was bored of riding in the car?)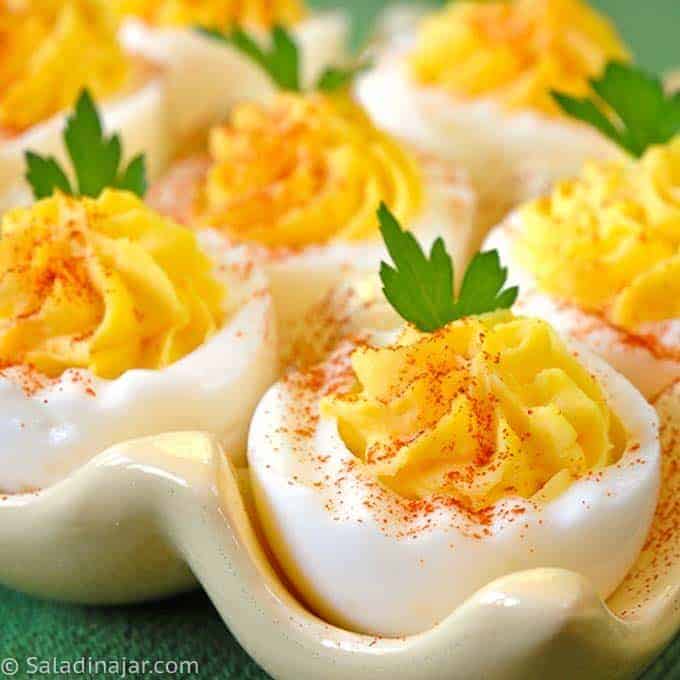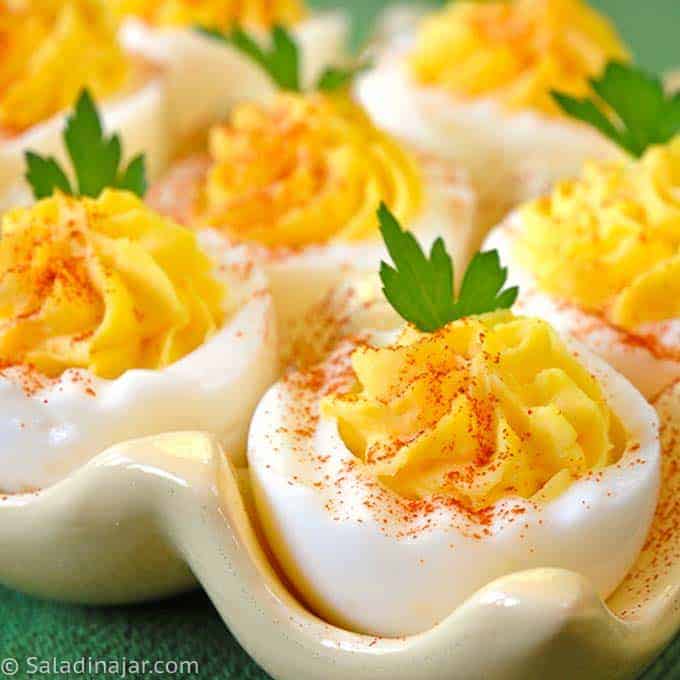 A breakthrough moment…
At any rate, I was astounded when she sent me the recipe. I couldn't believe how simple it was. You can see it at the bottom of this post.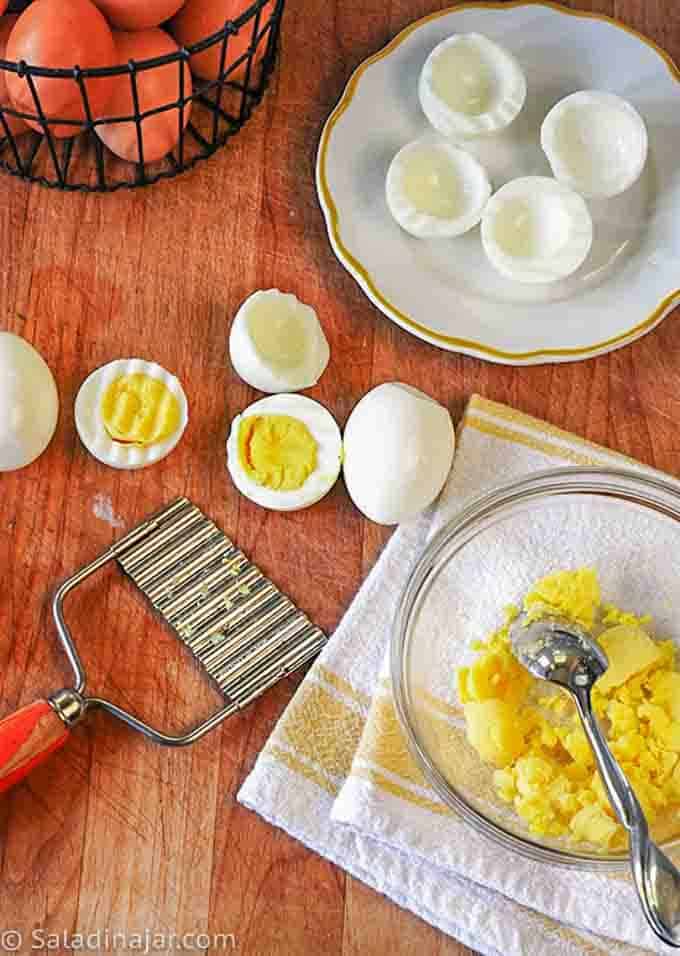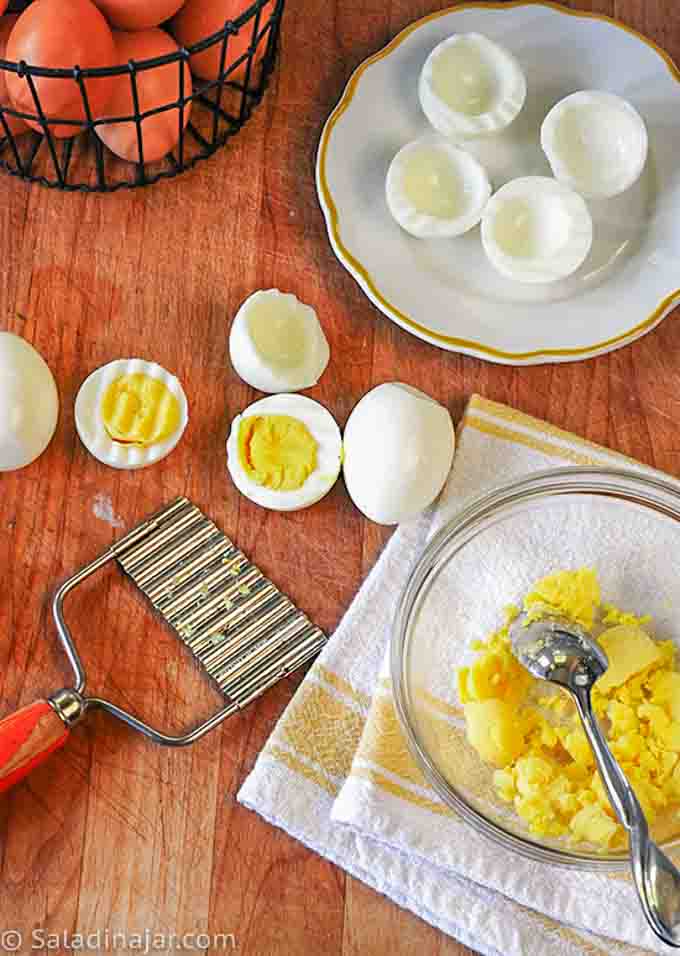 "It's the sweet, simple, things of life which are the real ones after all."

—Laura Ingalls Wilder
---
Just in case you don't have your own method, this is the way I cook eggs so I won't get that icky green layer around the yolks caused by over-cooking.
How I make hard-cooked eggs: (as of 6/1/18)
Place 6-8 eggs inside your Instant Pot or another electric pressure cooker with a rack or grocery store steamer inside. Add 1 cup of water. Set to HIGH PRESSURE for 5 minutes. When done, allow pressure to release naturally for 1 minute. Open Instant Pot and remove eggs to ice water to stop the cooking. When eggs are cool, pour out most of the water and gently shake the eggs within the bowl until shells are cracked. Peel eggs.
---
If you enjoyed this recipe, it would help others and me if you gave it a five-star rating inside the recipe card below. 🤩 No comment required. Thank you.

Hope to see you again soon!
Paula
p.s. Questions or suggestions? Please email me: Paula at saladinajar.com.