Preview: Roasted Eggplant and Potatoes in addition to zucchini, onions, and mushrooms are seasoned with a spritz of olive oil and ranch dressing dry mix packet and roasted in the oven.
Do you like eggplant but have trouble getting your family excited about it? This is one of our favorite eggplant recipes because it's not a goopy casserole or full of grease.
Roasting brings out the flavors of each vegetable: eggplant, diced potatoes, zucchini, and mushrooms without adding a lot of oil. Picky eaters can easily select the individual veggies they prefer, but all ingredients contribute to the whole–as in a whole lot of flavor and textural interest.
Thanks to my daughter-in-law, Amanda who put me on to this recipe from Art Smith's Kitchen Life Cookbook. When I first tasted it, I didn't recognize the eggplant. Nor did I recognize the seasonings as a dried salad dressing straight out of the packet. Doesn't get any easier than that!
You won't have trouble eating your vegetables when you put this on the table.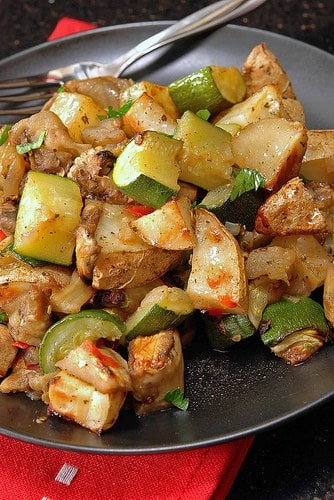 Ingredients and substitutions:
EGGPLANT: (AKA aubergine) I don't peel the eggplant for this recipe although you can if you like.

POTATOES: Yukon Gold potatoes are my first choice. No need to peel these, either. Red-skinned waxy potatoes are also appropriate.

RANCH DRESSING MIX: This makes seasoning your vegetables so easy. If you prefer to make it yourself, check out this recipe for homemade ranch dressing mix (not the dressing).

ZUCCHINI: No reason to peel zucchini. Make sure they are fresh and firm, but not too big. I don't suggest substituting yellow squash for the zucchini as they are not as sturdy and might fall apart.

ONION: Use white or yellow onions.

MUSHROOMS: Fresh button mushrooms are the most readily available. Use canned mushrooms only when desperate.

RED PEPPER: Red, orange, or yellow peppers contribute color and flavor to this dish. Green peppers will change the flavor profile.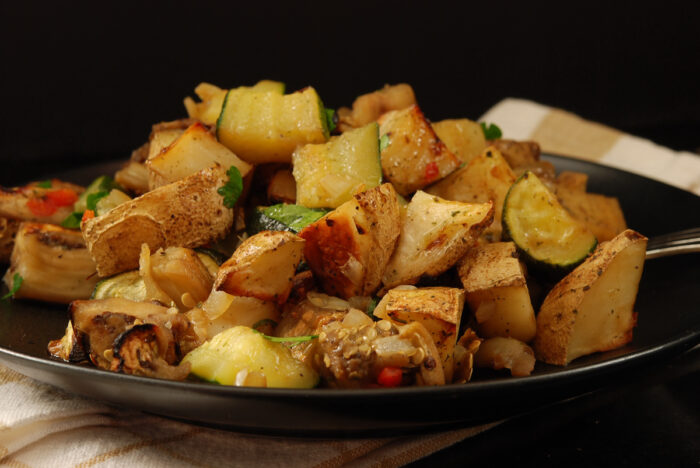 ---
FAQ about Eggplant and Potatoes:
Is aubergine the same as eggplant?
Yes. Aubergine is the more common name in Great Britain. The term "aubergine" can also describe the color of eggplant.
Is it OK to eat the skin of an eggplant?
Yes. Eggplant skin is full of nutrients. According to the NY Times, the skin of purple eggplants contains its most valuable nutrient, a powerful antioxidant called nasunin, one of a type of flavonoid called anthocyanins present in many fruits and vegetables with red, blue, and purple hues (berries, beets, and red cabbage, to name a few).
Should I remove the seeds?
Only if they are big and brown. Use a spoon to scoop them out.
Can I make this recipe ahead of time?
It's best cooked at the last minute and served immediately.
---
More Eggplant Recipes:
If you enjoyed this recipe, it would help others and me if you gave it a five-star rating inside the recipe card below. 🤩 No comment required. Thank you.

Hope to see you again soon!
Paula
p.s. Questions or suggestions? Please email me: Paula at saladinajar.com.