Beefy Refried Beans for burritos and more are cooked and mashed pinto beans coupled with ground beef and several seasonings. We're talking extreme flavor.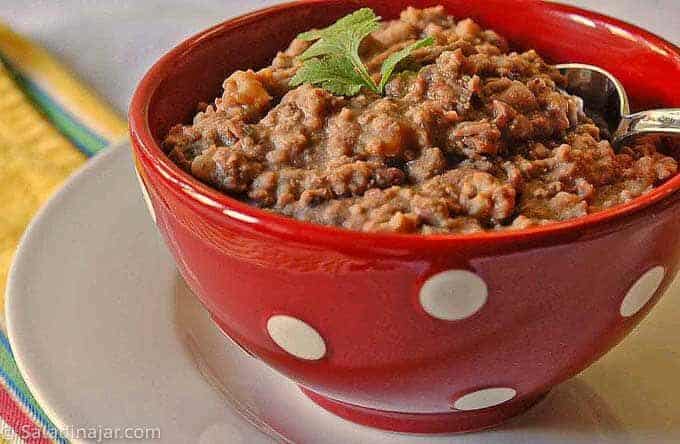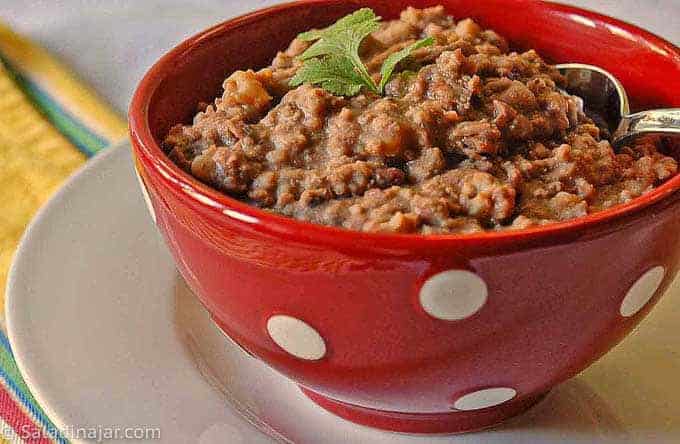 If you live in Texas, Mexican food is a given.
But I have not always craved Mexican food as I do now.
A glass jar of tamales sat in my mom's pantry for years. I can picture it clearly. We used to move that jar around in the cabinet as looking for something more appetizing. When we finally opened the jar, the tamales were mushy and flavorless.
It's a wonder I ever touched Mexican food again. As a matter of fact, I'm still not a huge fan of tamales. Maybe that's why.
Then I married a Texan.
I was quickly introduced to refried beans. Now our whole family loves them!
Why you should try this recipe:
Throughout my married life, I have tried many refried bean recipes. This one is slightly more complicated but a ton tastier. Ground beef increases the flavor considerably. You don't have to use the more traditional lard or bacon grease unless you just want to.
Can I freeze these refried beans?
These beans freeze beautifully. Place them in freezer zipper-locked bags for convenience.
One tortilla plus a small serving of these refried beans equals an effortless, healthy lunch when eaten with my daily salad.
How to make Beefy Refried Beans for burritos or a sidedish: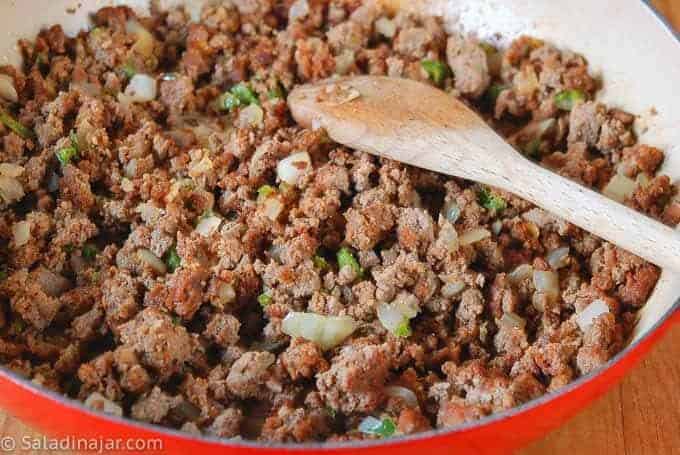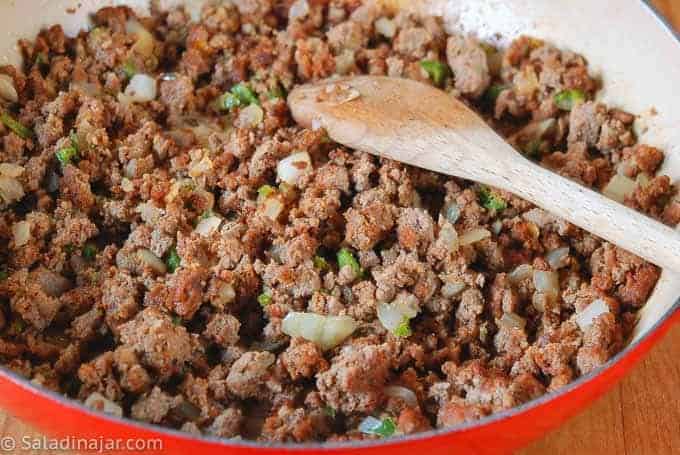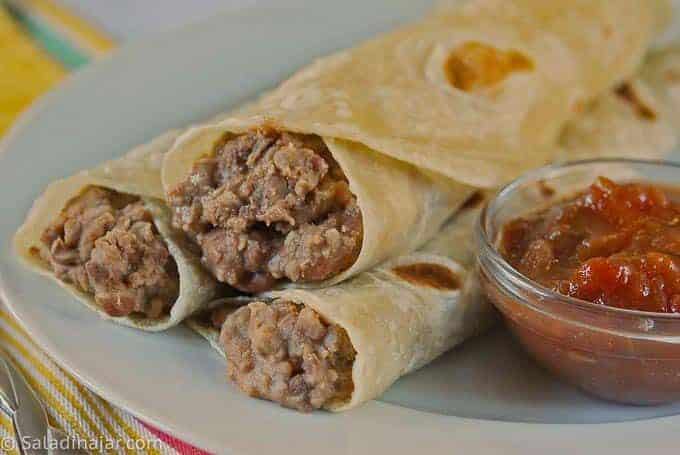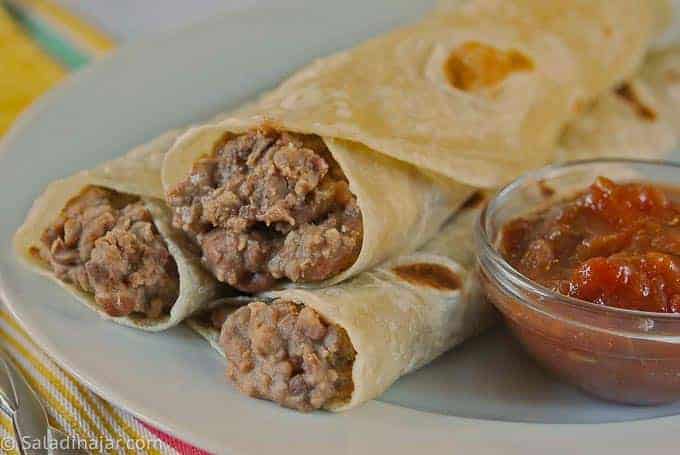 Other Mexican food you might like:
Did you try this recipe and enjoy it? Consider helping other readers (and me) by returning to this post. Leave a rating on the recipe card itself underneath the picture. Although always appreciated, comments aren't required.

If you have a question or tip to share, please leave it in the regular comments after the recipe so I can answer back. Or, email me privately: paula at saladinajar.com.

Thank you for visiting!
Paula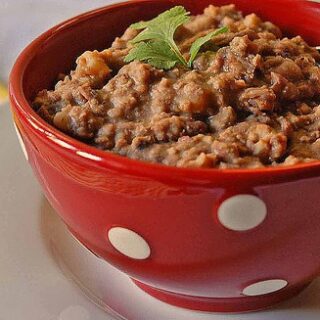 Ground Beef and Refried Beans
Total Time:
9 hours
30 minutes
Refried beans coupled with ground beef and several seasonings results in extreme flavor appropriate as a Tex-Mex side dish or burrito filling.
Ingredients
1 pound dried pinto beans (could also use 4 (15 oz.) cans of pinto beans, well rinsed and drained)
1 1/2 teaspoons salt (omit if using canned beans)
1 pound lean ground beef
2 cloves garlic, minced
1 egg
1/4 cup oyster sauce (contains no oysters; available in the Oriental section)
1 tablespoon tomato paste (buying it by the tube makes this easy)
1 1/2 teaspoons Worcestershire sauce
1/2 large onion, coarsely chopped
1 small jalapeno pepper, minced (may substitute 1/2 to 1 tablespoon pickled jalapeno peppers )
1/2 teaspoon Adobo seasoning (a Puerto Rican spice mixture; if unavailable, substitute 1/2 teaspoon garlic powder, 1/4 teaspoon black pepper and 1/4 teaspoon ground oregano)
Instructions
Soak beans and cook according to package, adding salt AFTER beans are tender.
Meanwhile, combine beef, garlic, egg, oyster sauce, tomato paste, and Worcestershire sauce. Mix it together however you can. Hands work best--it's like making meatloaf. Put in bowl and cover with plastic wrap to marinate while beans cook.
When beans are tender, drain off juice and reserve.
In separate skillet, brown ground beef mixture, onions and jalapeno pepper. Drain excess grease.
Combine beans and meat in one pot and start mashing. A fork will work but a masher or granny fork works faster. Mash until there are no obvious whole beans but still some texture. If you don't like lumps, put small batches in a food processor. Add reserved liquid till beans are the thickness you like. If they are still too thick, add a little more water.
Season with Adobo seasoning and simmer on the stove over low heat for another 30-45 minutes.
Nutrition Information:
Yield:

10
Serving Size:

1
Amount Per Serving:
Calories:

216
Total Fat:

7g
Saturated Fat:

2g
Trans Fat:

0g
Unsaturated Fat:

3g
Cholesterol:

61mg
Sodium:

665mg
Carbohydrates:

19g
Fiber:

6g
Sugar:

1g
Protein:

20g