Preview: This recipe for Ground Beef and Refried Beans is perfectly seasoned to make a quick burrito. The only thing to add is lots of cheese (and maybe some salsa and sour cream).
When you live in Texas, Mexican food is part of the landscape. But as an Indiana farm girl, I did not always crave Tex-Mex as I do now. I think it's because of the infamous canned tamales.
A glass jar of tamales sat in my mom's pantry for years. I can still picture it. We used to move that jar around in the cabinet while looking for something tastier. When we finally opened the jar, the tamales were mushy and flavorless.
It's a wonder I ever touched Mexican food again.
Then I married a Texan.
Refried beans became my new favorite tortilla stuffer. Now, our whole family loves them!
Throughout my married life, I have tried many refried bean recipes. This one is slightly more complicated but worth the trouble. Ground beef increases the flavor considerably. Also, you don't have to use the more traditional lard or bacon grease unless you want to.
---
Ingredients and substitutions:
DRIED PINTO BEANS: Please note that the older dried beans are, the longer they will take to cook. Substitute 4 (15 oz.) cans of pinto beans that have been rinsed and well-drained for dried beans if you want to save time.

SALT: Omit the salt if you are using canned beans.

GROUND BEEF: Substitute turkey or ground breakfast-style sausage if you like.

OYSTER SAUCE: Don't be put off by the name. You can read more about oyster sauce here. It is a common Chinese cooking ingredient that adds umami. You could leave it out but it is an important component of the taste profile for these beans. Soy sauce and hoisin sauce are two possible substitutes.

TOMATO PASTE: If you use tomato paste from the can, freeze the remainder for later use. Using tomato paste squeezed from a tube is even easier.

JALAPEÑO PEPPER: If you don't have a fresh jalapeño pepper on hand, substitute 1/2 to 1 tablespoon pickled jalapeño peppers. Did you know you can freeze fresh jalapeño peppers? You don't even have to cut them up. Just throw a bag of whole fresh peppers in the freezer.

ADOBO SEASONING: This is a Puerto Rican spice mixture. If unavailable, substitute 1/2 teaspoon garlic powder, 1/4 teaspoon black pepper, and 1/4 teaspoon ground oregano.
---
Can I freeze these refried beans?
These beans freeze beautifully. Place them in freezer zipper-locked bags for convenience.
One tortilla plus a small serving of these refried beans equals an effortless, healthy lunch when eaten with my daily salad.
---
How to make Ground Beef and Refried Beans: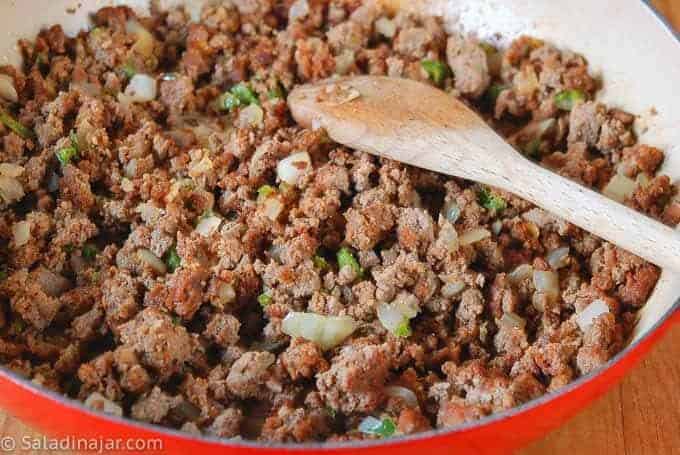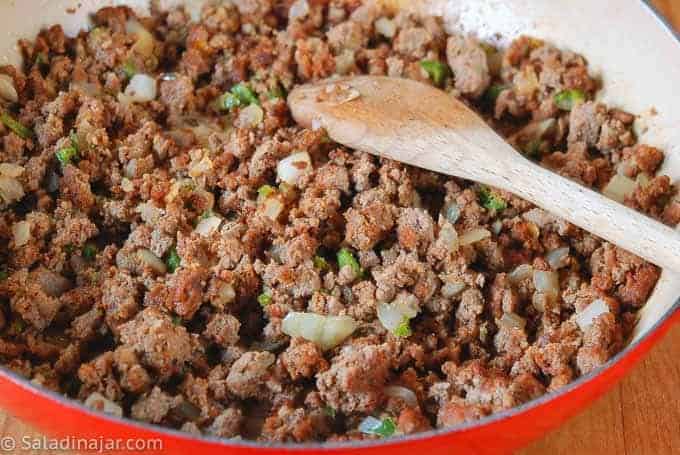 ---
Other Mexican food you might like:
---
---