Sneak Preview: This recipe for San Antonio Bean Burgers makes a beefy hamburger topped with refried beans, cheese, and Fritos similar to those once served at EZ's.
Have you ever driven to your favorite restaurant with great anticipation only to find a "gone out of business" sign on the door?
A few years ago, we drove to Dallas (about 45 minutes away) to eat at one of our favorite restaurants. It was a 50's style diner called EZ's.
When we drove up, we observed the building was gone and replaced with a convenience store. In shock and dismay, we drove around the block looking for it as if somebody had rearranged the neighborhood without telling us.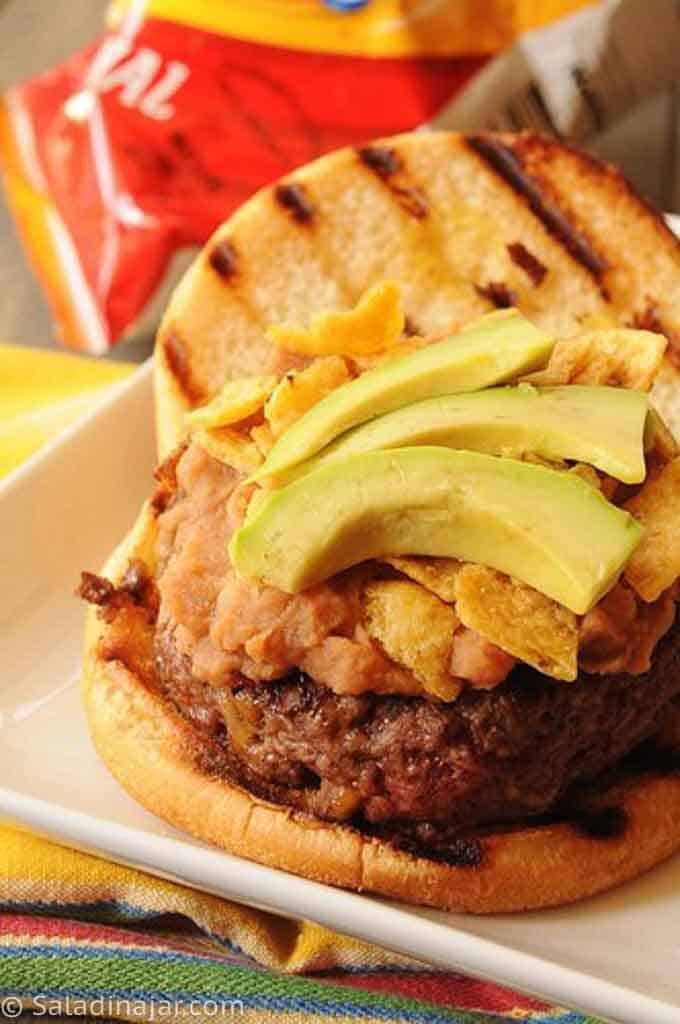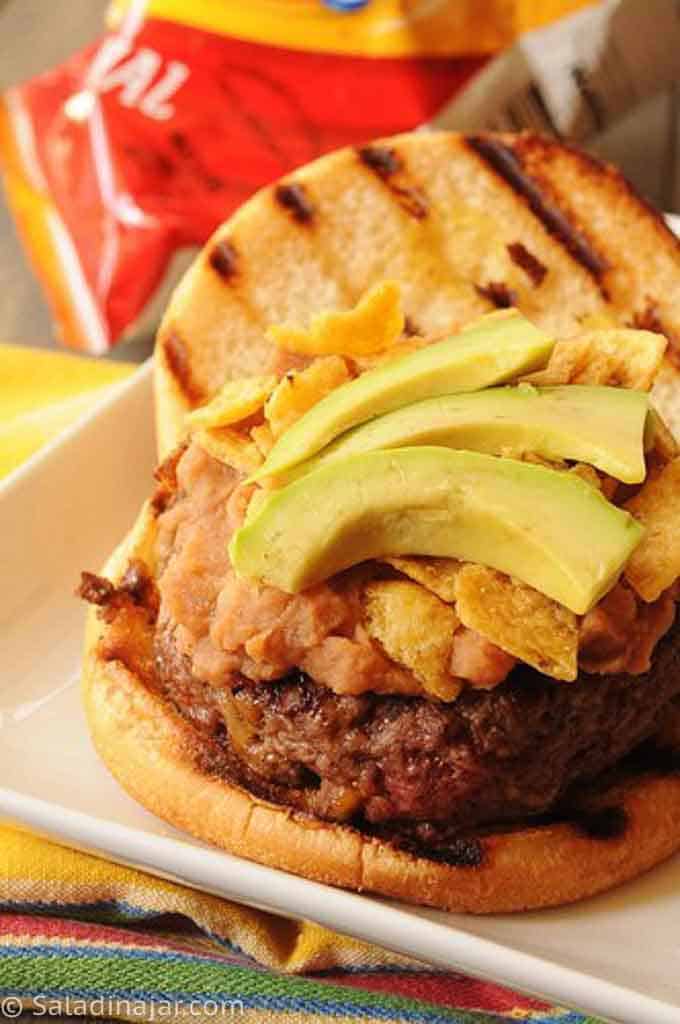 RECIPE INSPIRATION
San Antonio Beanburgers with Fritos on top were one of our favorite items on the menu at EZ's, a restaurant based out of San Antonio. Unfortunately, they are no longer in the DFW area.
As a result of their disappearance, I have tried to recreate a similar sandwich-a delicious hamburger topped with refried beans, Cheddar, Fritos, onions, and Picante sauce.
WHAT IS A SAN ANTONIO BEAN BURGER?
The "beanburger is an iconic San Antonio dish originally made with a beef patty that is topped with diced onions, crushed Fritos corn chips, refried beans, and Cheez Whiz (processed cheese sauce or spread)."
—TasteAtlas.com
As you may have figured out, this bean burger is not a vegetarian affair. Not at all. It takes its name from the fact that refried beans are part of the many delicious toppings.
WHAT MAKES THIS SPECIALTY HAMBURGER MEMORABLE?
Thick, juicy hamburger + cheese + garlic-y refried beans + + the crunchy saltiness of the Fritos + a fresh hamburger bun = HAMBURGER ECSTASY!!
Recreating EZ's World Famous Beanburger is one of my culinary obsessions. The interesting blend of textures and flavors make their world-famous bean burger unique and memorable. They are a treat well worth a few extra jumping jacks!
These are messy but worth it.
San Antonio Bean Burgers are a little tricky to eat. The beans on top of a thick beef patty are refried. That means they are squishy and may "drip" when you take a bite. The Fritos sprinkled on top require a fairly large mouth to get a taste of everything in one go. I don't mind the challenge.
INGREDIENTS
Ground beef: Yes, this burger starts with ground beef. Good quality chuck is my first choice.

Cheese: You can go several ways. I like to add shredded cheese to the hamburger meat before making into patties. You could also try slices of cheese melted on top or a small amount of processed American cheese, like Cheez Whiz, poured over the cooked burgers. The latter would probably be your favorite if you favor gooey nachos like those sold at the ballpark.

Refried Beans: We prefer refried pinto beans. Refried black beans are also popular.

Other toppings: We love to add avocado slices or guacamole. In addition, some people add onions, but not me. A tomato slice or Picante sauce would be good but honestly, this sandwich is pretty thick already, so it gets even messier if you go overboard on the extras.
---
MORE RECIPES FOR TEX-MEX LOVERS
---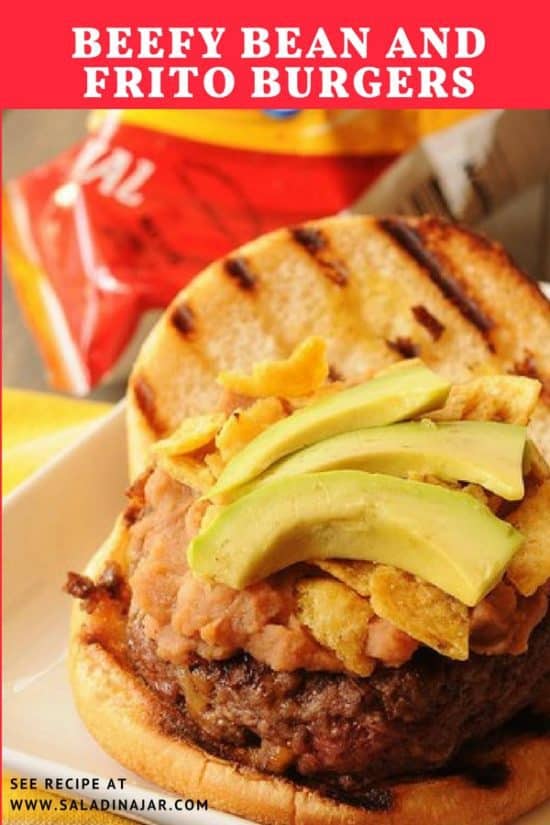 If you enjoyed this recipe, it would help others and me if you gave it a five-star rating inside the recipe card below. 🤩 No comment required. Thank you.

Hope to see you again soon!
Paula
p.s. Questions or suggestions? Please email me: Paula at saladinajar.com.