Preview: Make easy Baked Tortilla Bowls with an upside-down muffin pan. Pop them into the oven for a delicious edible container for various taco salads or meat mixtures.
Do you deep-fry in your kitchen? Me, neither. I deep fry only when the weather is nice enough to fry outside or in the garage. Because of the smell, no company can visit for a week. In other words, hardly ever do I deep fry anything!

When I saw this idea for BAKED tortilla bowls in a magazine a few years ago, I filed it away to try for a party. Edible bowls can be really fun.
How easy are oven-baked tortilla bowls? Tuck flour tortillas between the upside-down cups of a muffin pan. Bake until crisp and golden brown. No frying involved.
These shells make it easy for everyone to customize his own "bowl."
Note: The shells will be fairly small when made with 6-inch tortillas and a standard muffin pan. Most adults would probably eat 2 of them for a meal. If using for a salad, it would be more of a "side salad" size.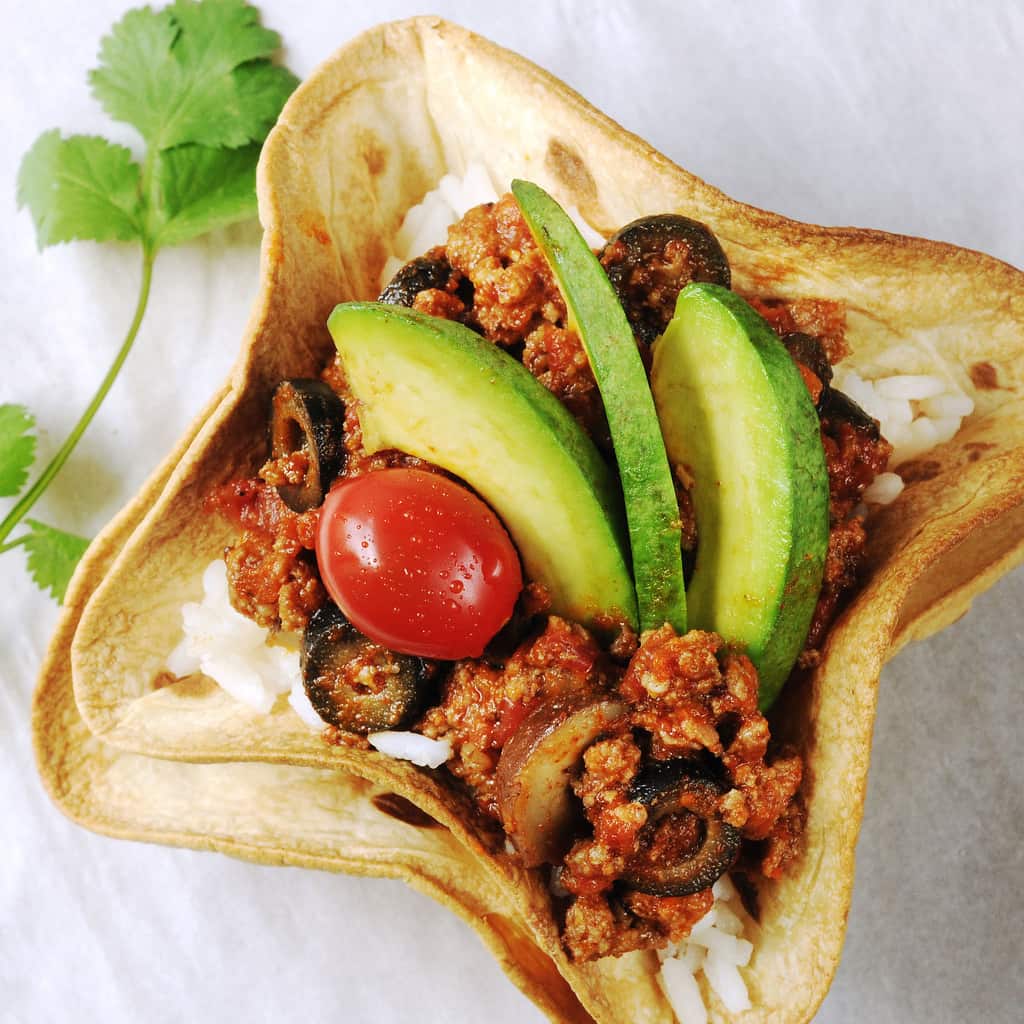 BEFORE and AFTER: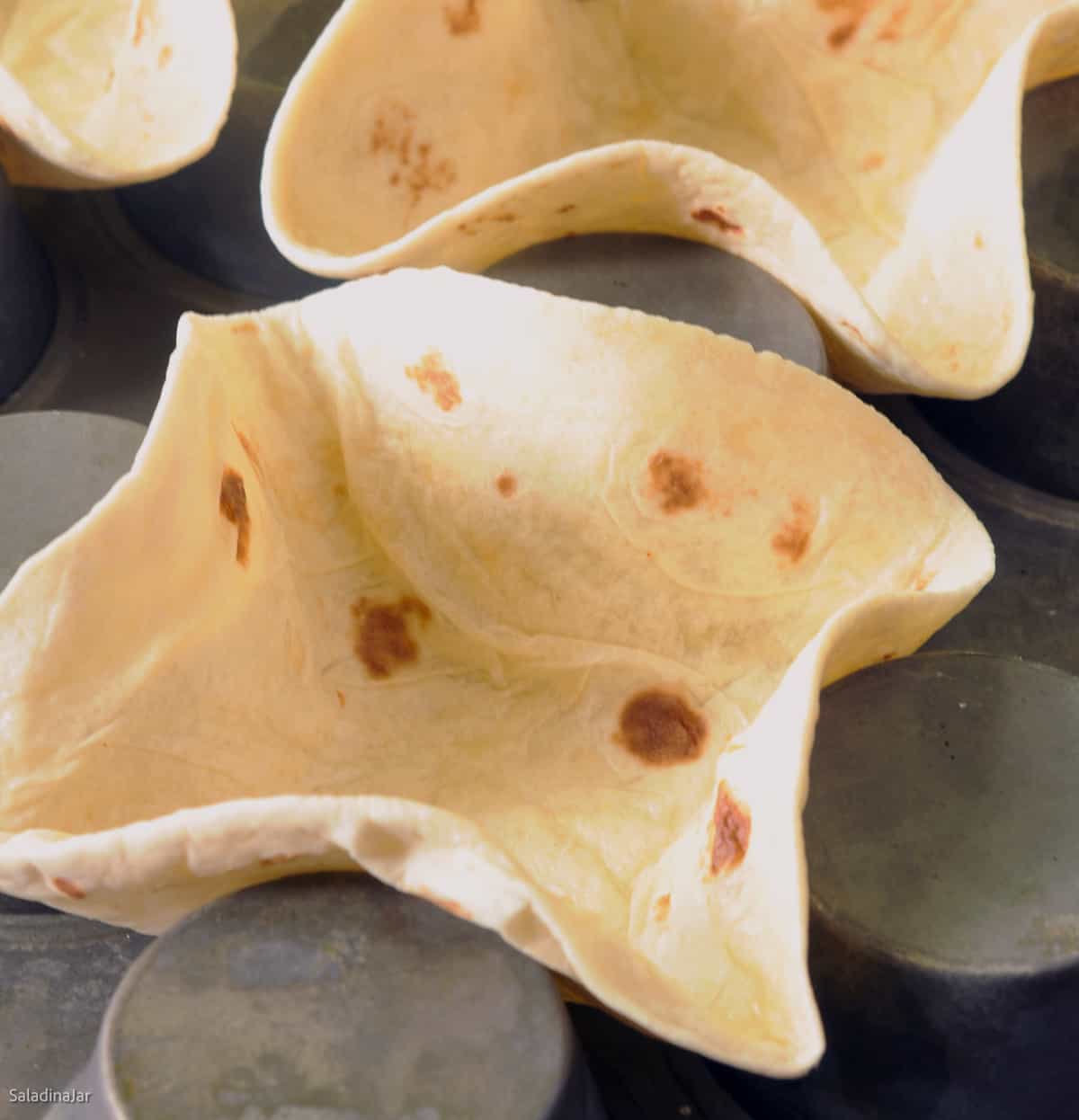 How to serve baked tortilla bowls:
Prepare the meat mixture of your choice. Taco filling is obvious, but any kind of saucy or seasoned mixture of meat and/or veggies will work.
Prepare the rice and/or chopped lettuce if using.
Bake flour tortillas to make the bowls.
Collect the condiments you want to serve on the side. Try things like cheese, sour cream, cherry tomatoes/chopped tomatoes, avocados/guacamole, beans, salsa, etc.
FAQ:
Does it matter what kind of flour tortillas I use?
The thinner ones work best. For a standard muffin tin, buy 6-inch tortillas. If you buy raw tortillas, be sure you cook them first (in a dry skillet per directions on the package) and poke or dock them with a fork (like you would an empty pie crust) before shaping them.
Can I use a muffin tin to make bigger bowls?
You can make bigger bowls with a jumbo muffin tin and larger tortillas.
How long will baked flour tortilla shells stay fresh?
Baked tortilla bowls are best right out of the oven. If it has been 2-3 days since you made them you can freshen them. Place baked tortilla shells in a heated oven for 2-3 minutes before serving or microwave for 15 seconds apiece, then allow to cool for maximum crispiness. You can also make these a day ahead.
Do I have to spray them with oil?
A spritz of oil adds flavor and a golden brown color. But you can leave it off if you prefer.
By the way, I really like the oil sprayer in the picture. I use it nearly every time I cook.
Can I use whole wheat tortillas instead of white flour tortillas?
Yes. They may not be quite as flexible, making them more challenging to mold. Be sure to heat them briefly in the microwave per the instructions.
Can I bake corn tortillas this way?
No. Frying in oil is the best way to make corn tortilla shells crispy.
What you need to make tortilla bowls in the oven:
How to bake tortilla or taco salad bowls:
Preheat your oven to 425˚F.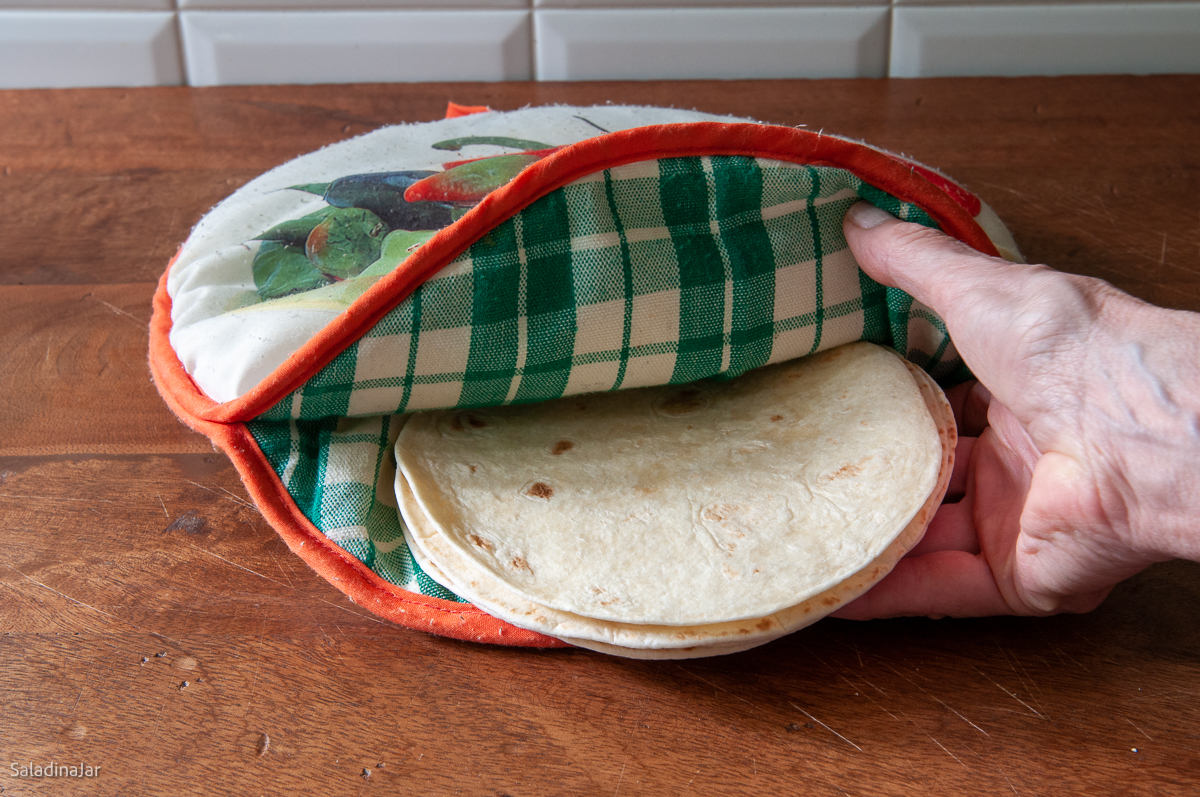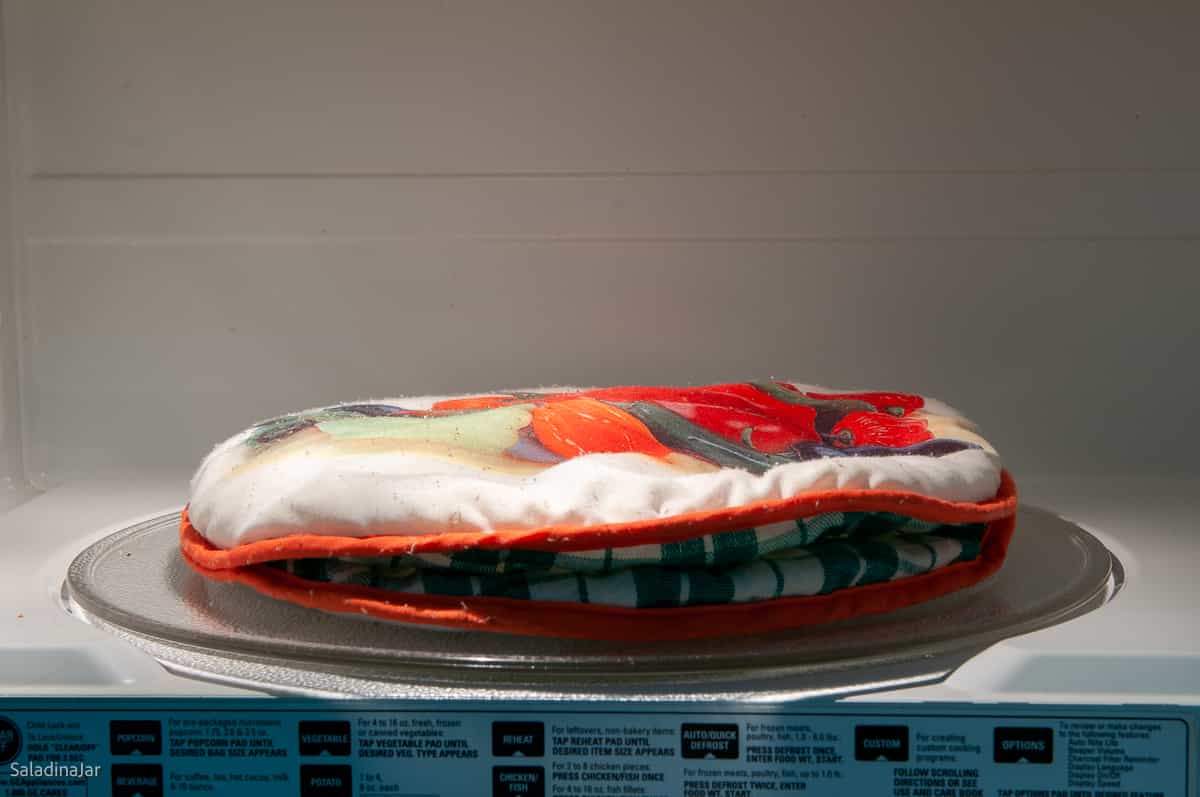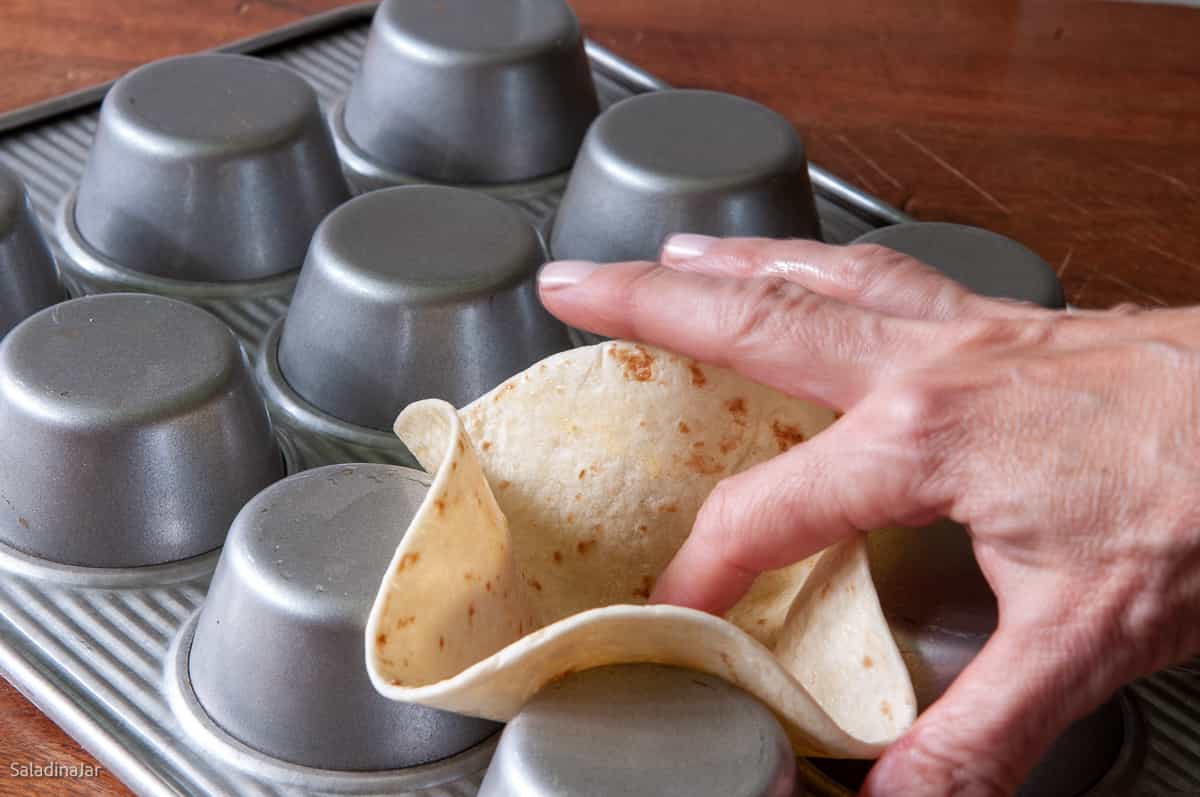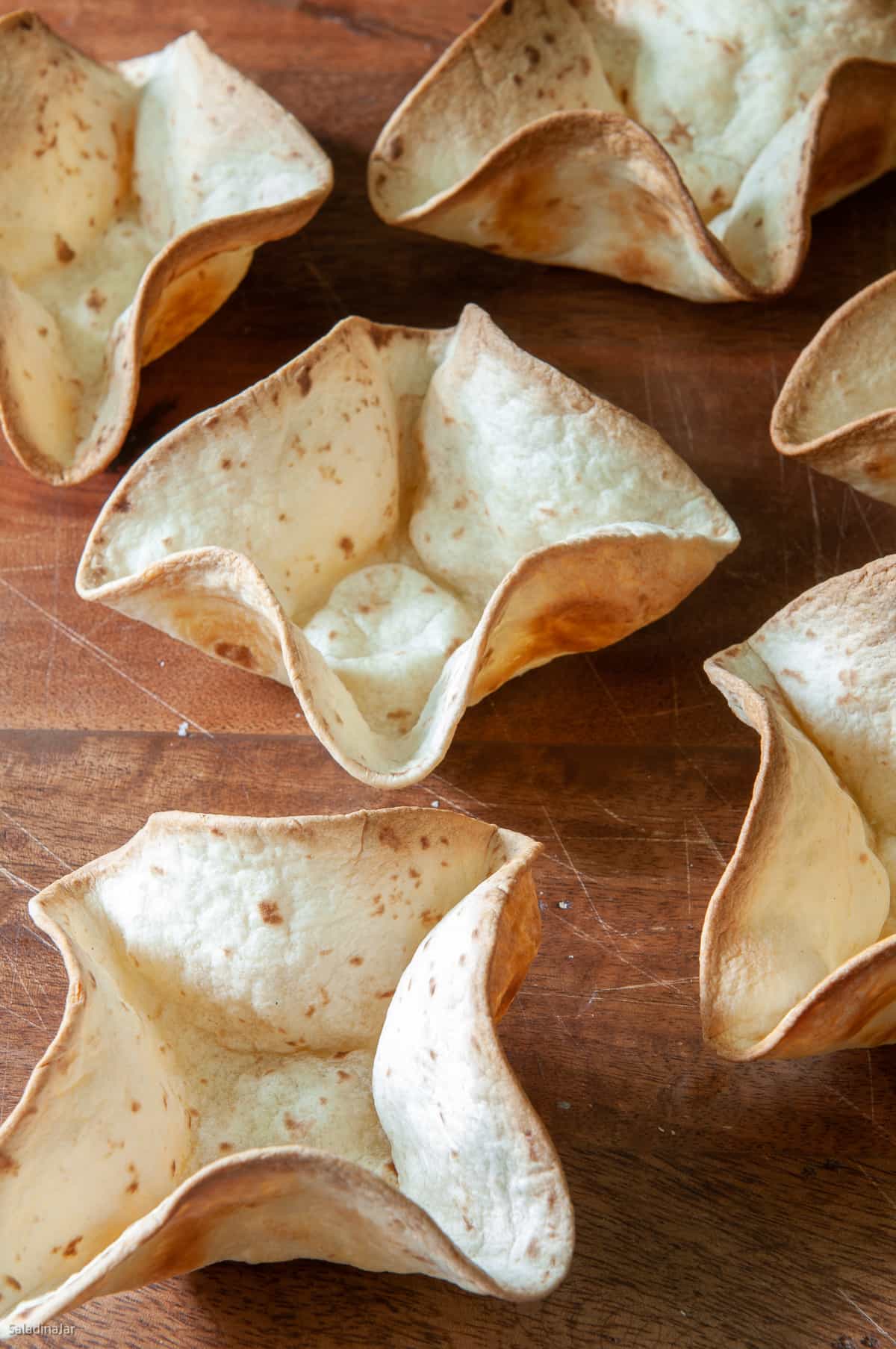 ---
If you enjoyed this recipe, it would help others and me if you gave it a five-star rating inside the recipe card below. 🤩 No comment required. Thank you.

Hope to see you again soon!
Paula
p.s. Questions or suggestions? Please email me: Paula at saladinajar.com.
---