Preview: These soft garlic bread machine breadsticks are easy to mix and knead with a bread machine. They taste similar to the ones at Olive Garden.
How does the Olive Garden restaurant know my weakness for warm, soft, and garlicky bread? What's more, they keep offering bread basket refills at no extra charge. It's a conspiracy, I tell ya'.
Now I can make them with my bread maker. No, this is not their authentic recipe. From my experience working in Research & Development for a nationwide pizza chain, I know that large companies use products and formulations not available to the public. These secrets make it impossible to imitate exactly.
This recipe for Soft Garlic Bread Machine Breadsticks used to live on my post about converting traditional bread recipes for use in a bread machine.
You don't have to twist the sticks if that seems more complicated. They are just as tasty untwisted but not as photogenic in my experience. It's challenging to keep the straight ones even and straight.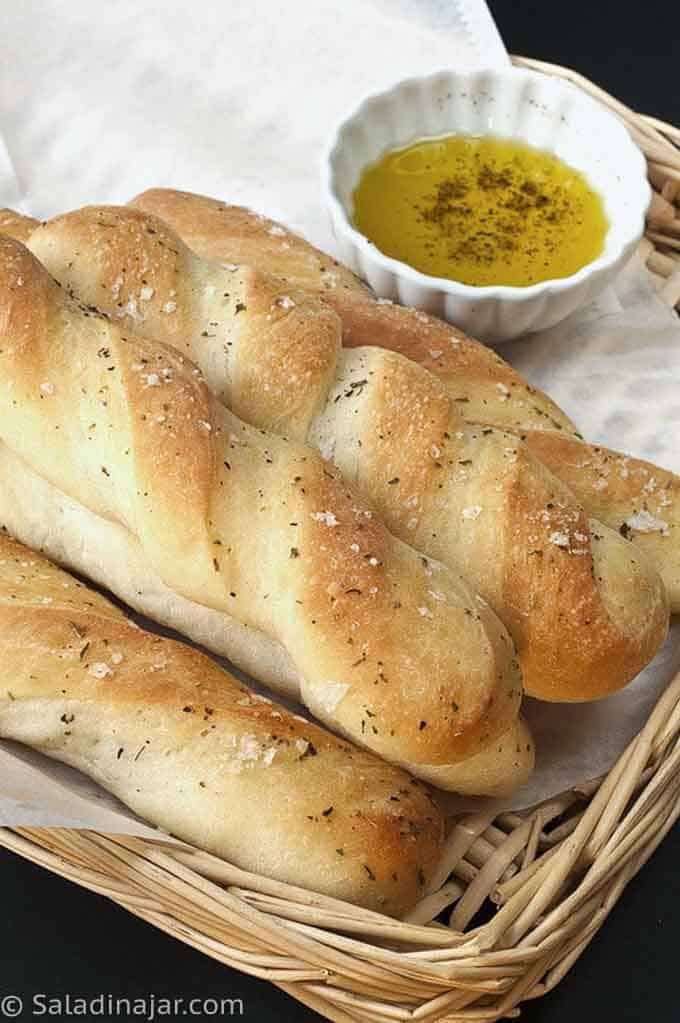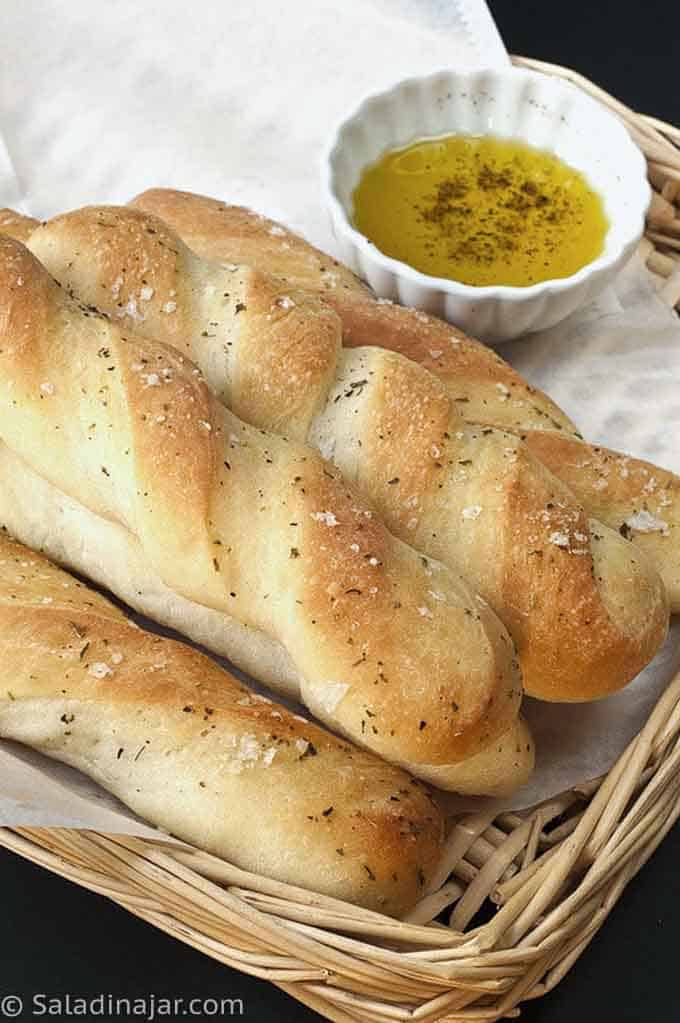 How to use a bread maker to make these bread machine garlic breadsticks:
Dump all ingredients into the bread machine in the order listed: Liquids first, other ingredients like salt, sugar, and fat, next, then flour, and last is the yeast.
Select the DOUGH cycle and press START.
After the bread has been kneading for a few minutes, open the lid and take a peak. This is the most important thing you can do when using a bread machine. Make adjustments according to the directions below.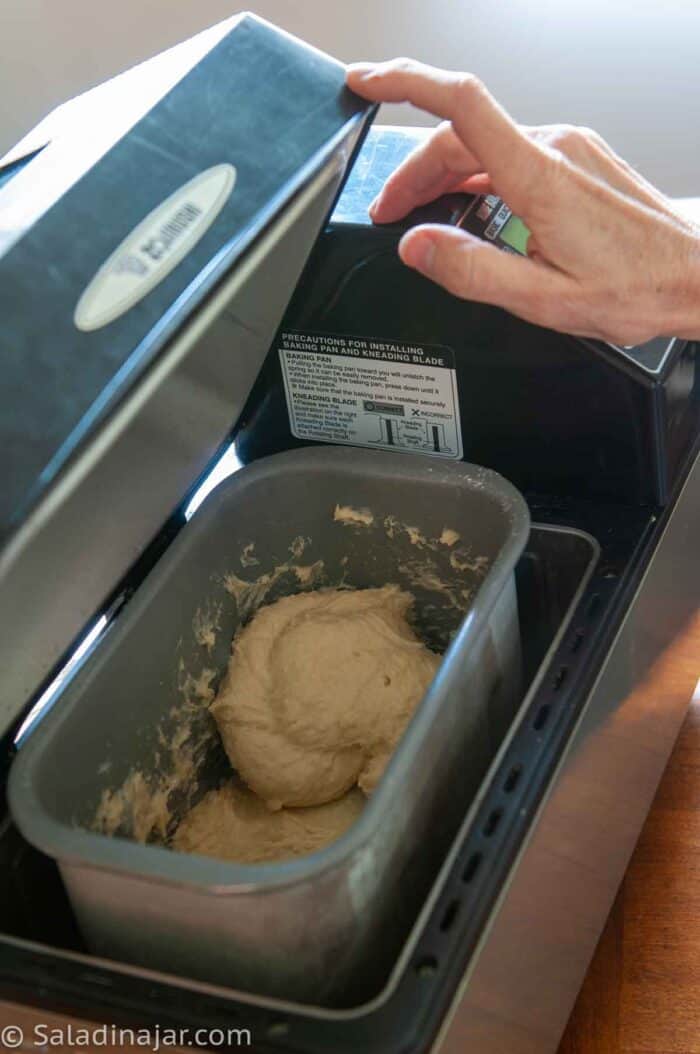 Remove the dough from the bread machine pan to a floured surface. Shape breadsticks by hand as shown below and place them onto a prepared cookie sheet.
Allow breadsticks to rise until almost double.
Brush with the buttery glaze and bake in a preheated oven until golden brown.
---

Ingredients and substitutions:
WATER: Spring water is my first choice, then tap water–always room temperature.

MILK: Any milk regardless of the fat content is fine, but the higher the fat content, the softer the crumb.

OLIVE OIL: Substitute vegetable oil if olive oil is not available.

SALT: I use table salt or sea salt. Add 1/4 teaspoon extra if using Kosher salt.

SUGAR: The recipe specifies granulated white sugar. I have not tried anything else.

FLOUR: Bread flour is my preference but unbleached all-purpose flour can be substituted.

YEAST: Instant yeast (interchangeable with bread machine or rapid-rise yeast) is the only kind of yeast I buy. If you use active-dry yeast, add 1/4 teaspoon extra–it can be slower to rise.
How to roll out bread machine breadsticks: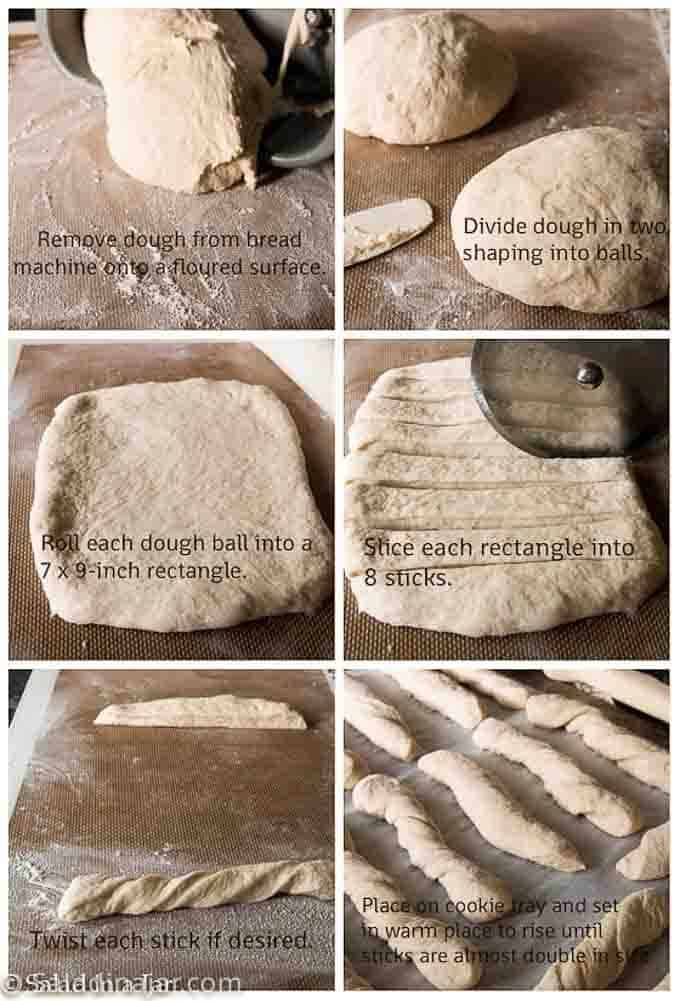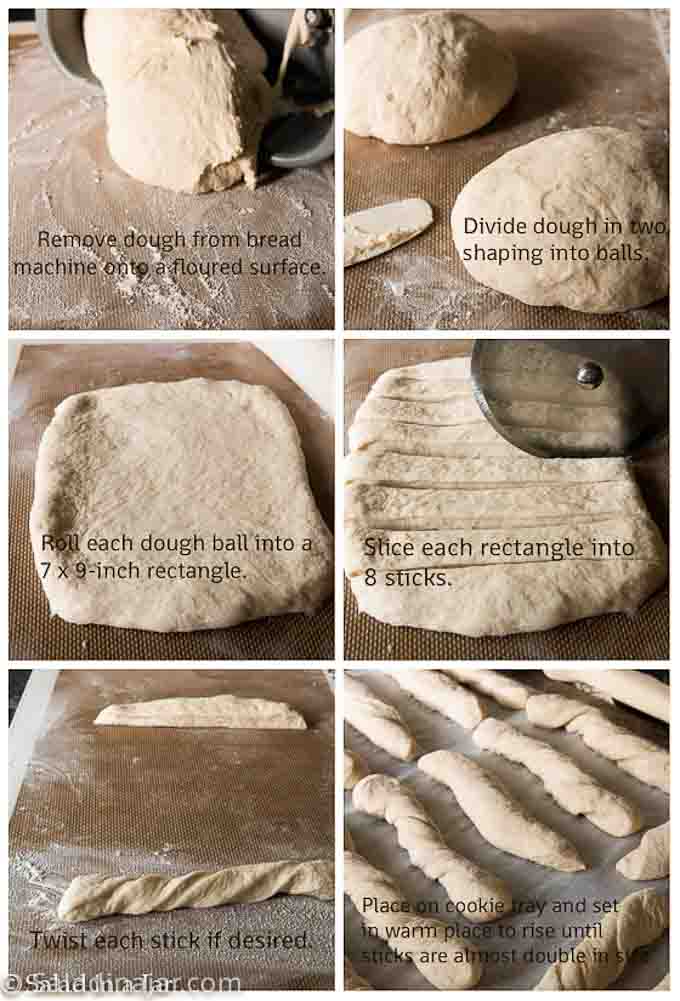 ---
FAQ for garlicky bread sticks like those at Olive Garden:
How can I get the breadsticks to stay twisted?
After twisting the dough strips, cover them with a tea towel. Walk away for about 10 minutes. This downtime will allow the dough to relax and hold the twist. If any of the strips unravel, retwist and press down on them slightly.
What is the best way to store this bread?
Keeping homemade bread fresh is always a challenge since no preservatives are added. That's one reason why we all love homemade bread. I try not to make much more than we can eat in one sitting. If there are leftovers, I recommend you keep them in a sealed plastic bag. If you have several, freeze them for no more than a month.
---
---
Did you enjoy this recipe? If so, you can help others and me by leaving a 5-star 🤩 rating in the comment section below. No comment is required.
p.s. If you have any questions or suggestions, you can email me privately: Paula at saladinajar.com.
Hope to see you again soon!
Paula
---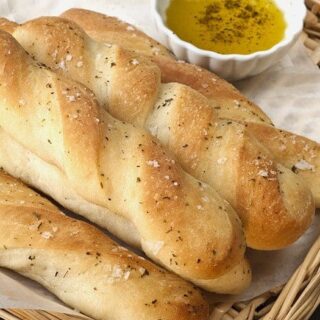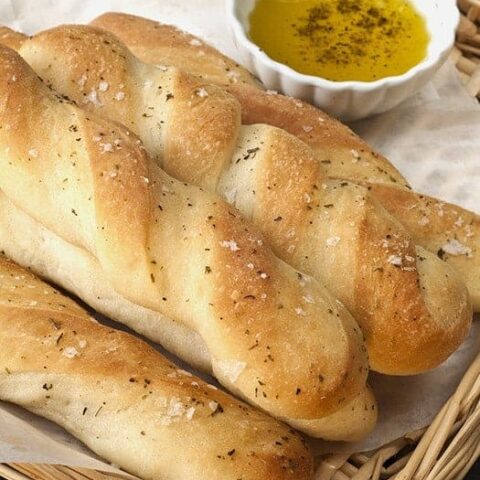 Soft Garlic Bread Machine Breadsticks Recipe
This bread machine recipe for yeasted garlic breadsticks tastes similar to the ones at Olive Garden.
Ingredients
1

cup

lukewarm water

-

227 gr

2

tablespoons

milk

-

28 gr

2

tablespoons

olive oil

-

27 gr

1-1/4

teaspoon

table salt

-

7 gr

1

tablespoon

granulated sugar

-

13 gr

3

cups

bread flour

-

360 gr

2

teaspoons

instant yeast

-

6 gr
BUTTERY GLAZE:
1

clove

garlic

-

reduced from original recipe

3

tablespoons

melted butter

-

43 gr

½

teaspoon

Italian seasoning

PInch

sea salt or Kosher salt
Instructions
Place ingredients in order listed into bread machine pan saving back 1/4 cup of the water. Select the DOUGH cycle.

Check the dough at least twice by lifting the lid to take a peek. Do this right after the machine starts to see if the paddles are correctly engaged.

Recheck the consistency of the dough again 15 minutes into the DOUGH cycle.

If your dough is too wet, add flour one tablespoon at a time. The dough should stick to the side, then pull away cleanly.

Conversely, if the dough is too dry, add one tablespoon of liquid at a time until the dough looks just right. Find out more about this surprising secret to success with a bread machine here.

Divide dough in half and shape it into two balls. Roll out each ball into a 7 x 9-inch rectangle. Let the dough rest for 10-15 minutes. Use a pizza cutter or large sharp knife to cut each rectangle into 8 strips. See the picture above.

Twist each strip to disguise imperfections and place side-by-side on a greased baking sheet or one covered with baking paper or a silicone mat. (See the notes if your breadsticks try to unravel.)

Preheat oven to 400˚F.

Allow breadsticks to rise until puffy almost double.

Brush with the buttery glaze. Sprinkle with sea salt and bake for 15-16 minutes or until golden brown. Serve warm.
Notes
Kitchen tip for twisted rolls: Try not to twist the dough too many times or too tightly when shaping the breadsticks. Only 2-3 twists at the most, are needed. Also, if the dough is too thick, it will most certainly unravel while rising. Sometimes, when they are stubborn, I press down on the whole twist with the palm of my hand "imprint" the shape.
If all else fails, walk away and let the dough relax for a few minutes. It will behave better when you return.
Nutrition
Serving:
1
breadstick
Calories:
128
kcal
Carbohydrates:
19
g
Protein:
4
g
Fat:
4
g
Saturated Fat:
2
g
Polyunsaturated Fat:
1
g
Monounsaturated Fat:
2
g
Trans Fat:
1
g
Cholesterol:
6
mg
Sodium:
57
mg
Potassium:
43
mg
Fiber:
1
g
Sugar:
1
g
Vitamin A:
69
IU
Vitamin C:
1
mg
Calcium:
8
mg
Iron:
1
mg