Soft Bread Machine Garlic Breadsticks: Look Like a Bread Boss
Sneak Preview: These soft bread machine garlic breadsticks (brushed with garlic and herb butter) are easy to mix and knead with a bread machine. They will remind you of those addictive restaurant breadsticks with a "twist."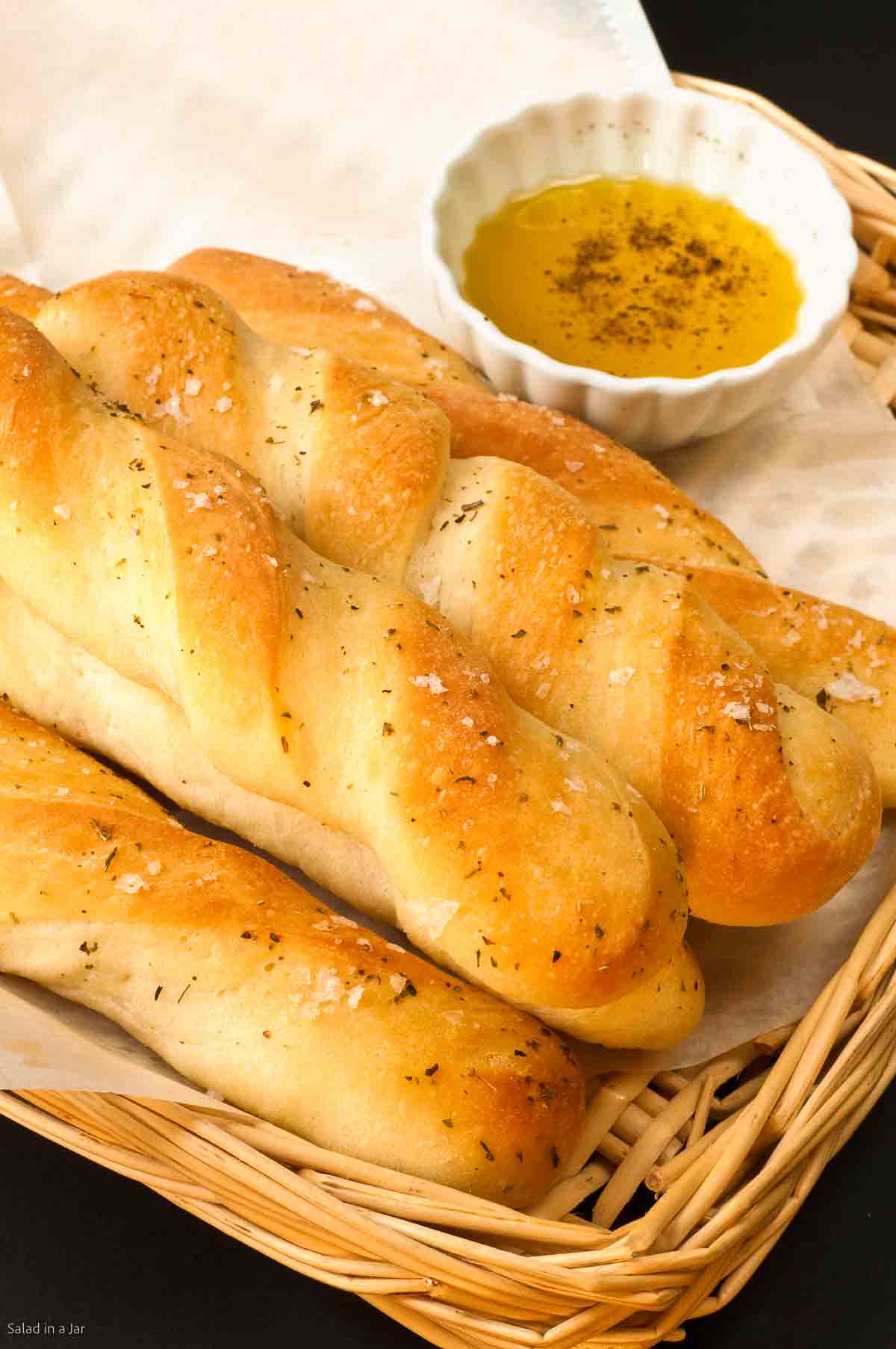 As an Amazon Associate, I earn from qualifying purchases.
How does the Olive Garden restaurant know my weakness for warm, soft, and garlicky bread? Also, they keep offering bread basket refills at no extra charge. It's a conspiracy, I tell ya.
Now I can make them with my bread maker(paid link) and this simple recipe. No, this is not their authentic recipe.
From my experience working in Research and Development for a nationwide pizza chain, I know large companies use products and formulations unavailable to the public. These secrets make it impossible to imitate their product exactly. Even if we knew the recipe, the flour and seasonings are likely unavailable to home bakers.
No bread machine? No worries. See the recipe notes for directions for mixing this bread with a stand mixer or by hand.
Happy Bakers Speak Up:
"I followed the recipe exactly as written. These turned out amazing! They were so soft on the inside. —Kristina
📌 Bread Bakers Tip: You don't have to twist the dough sticks if that seems too complicated. In my experience, they are just as tasty untwisted but not as photogenic. It's challenging to keep the untwisted ones even and straight without the benefit of a commercial cutter.📌
---
Ingredients and substitutions: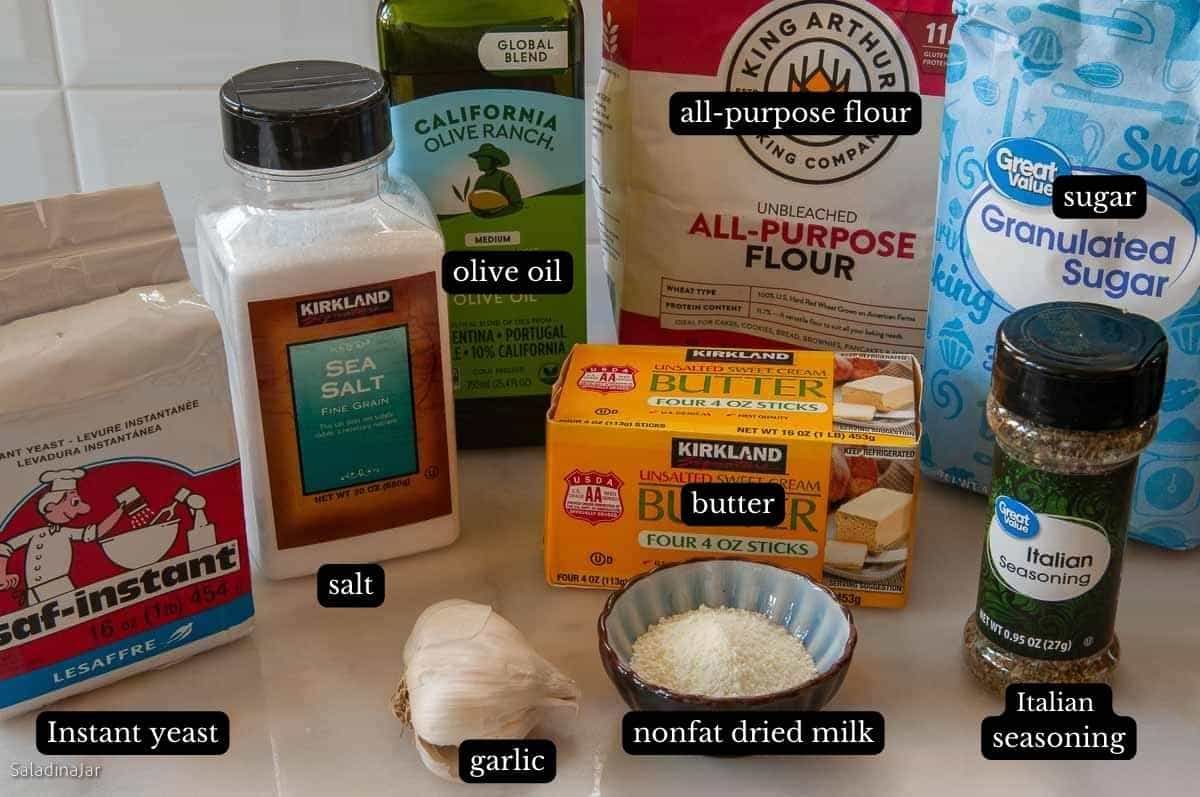 Water: Tap water is sufficient. Use spring water if you think your tap water is problematic.
Nonfat Dried Milk: I hope you keep this in your fridge or pantry. Use fresh milk instead of water if you don't have it.
Oil: Since these rolls are flavored with garlic and Italian seasoning, olive oil is a perfect choice. Swap vegetable oil for olive oil if you don't have it.
Salt: I tested the recipe with table or sea salt. If using Kosher salt, add a quarter teaspoon extra.
Sugar: The recipe was formulated with granulated sugar. I haven't tried any substitutions such as honey or other sweeteners.
Flour: All-purpose flour is my favorite for breadsticks because I like my breadsticks to be soft inside. You could substitute bread flour for a more sturdy interior. Either way, the sticks will be chewy on the outside.
Yeast: I recommend instant yeast anytime you pull out the bread machine. It's more convenient and doesn't need to be dissolved.
Garlic: Fresh garlic equals fresher flavor. Substitute bottled garlic if that's what you have.
Italian Seasoning: This mixture of Italian herbs includes basil and oregano, among other spices. Make it yourself and customize it to your taste. I use salt-free garlic and herb seasoning if I don't have fresh garlic. Or skip the Italian seasoning altogether if you like.
---
How to make breadstick dough with a bread machine: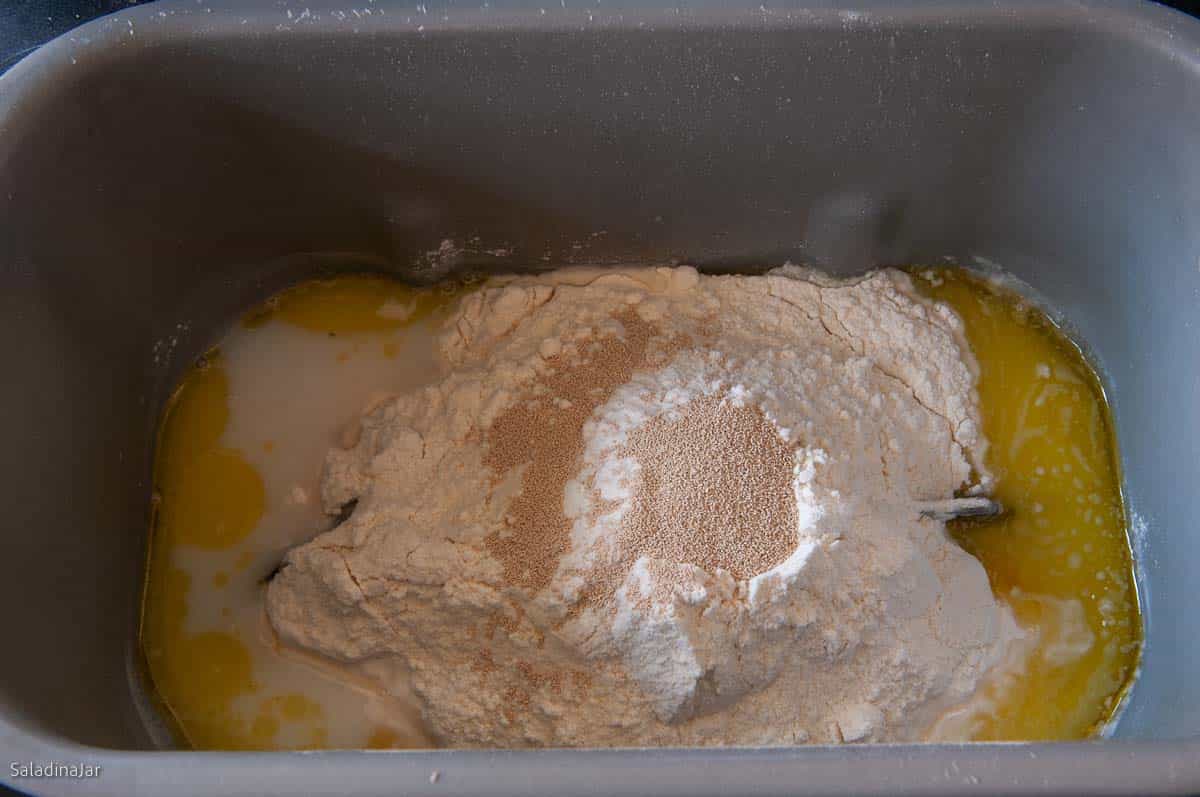 Select the DOUGH setting and press START. Don't use the basic bread cycle because you won't bake the breadsticks in the machine.
If the dough looks like pancake batter, add flour until the dough clumps. If the dough looks dry, like raw oatmeal, add liquid slowly until the dough starts to come together.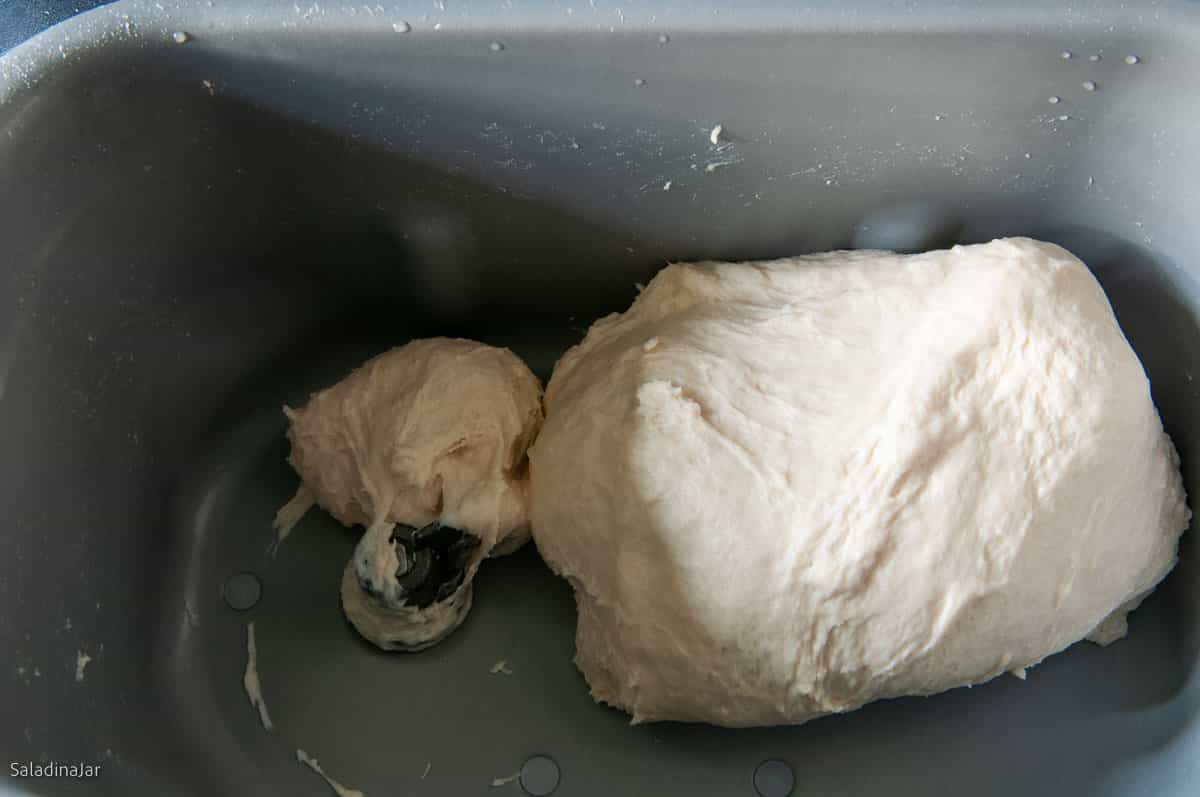 This is the most important thing you can do when using a bread machine. The dough should stick to the sides, then pull away cleanly. If it clings to the wall of the pan, add flour one tablespoon at a time, giving time between each addition for the dough to absorb the flour. If the dough is dry and bouncy or rides on top of the kneading paddle, add liquid one tablespoon at a time, allowing time for the liquid to absorb.
Note: This dough starts out pretty soft and sticky, so don't be too quick to add flour in the beginning of the DOUGH cycle. It may not be the same for you, but I rarely need to add flour or water to this recipe.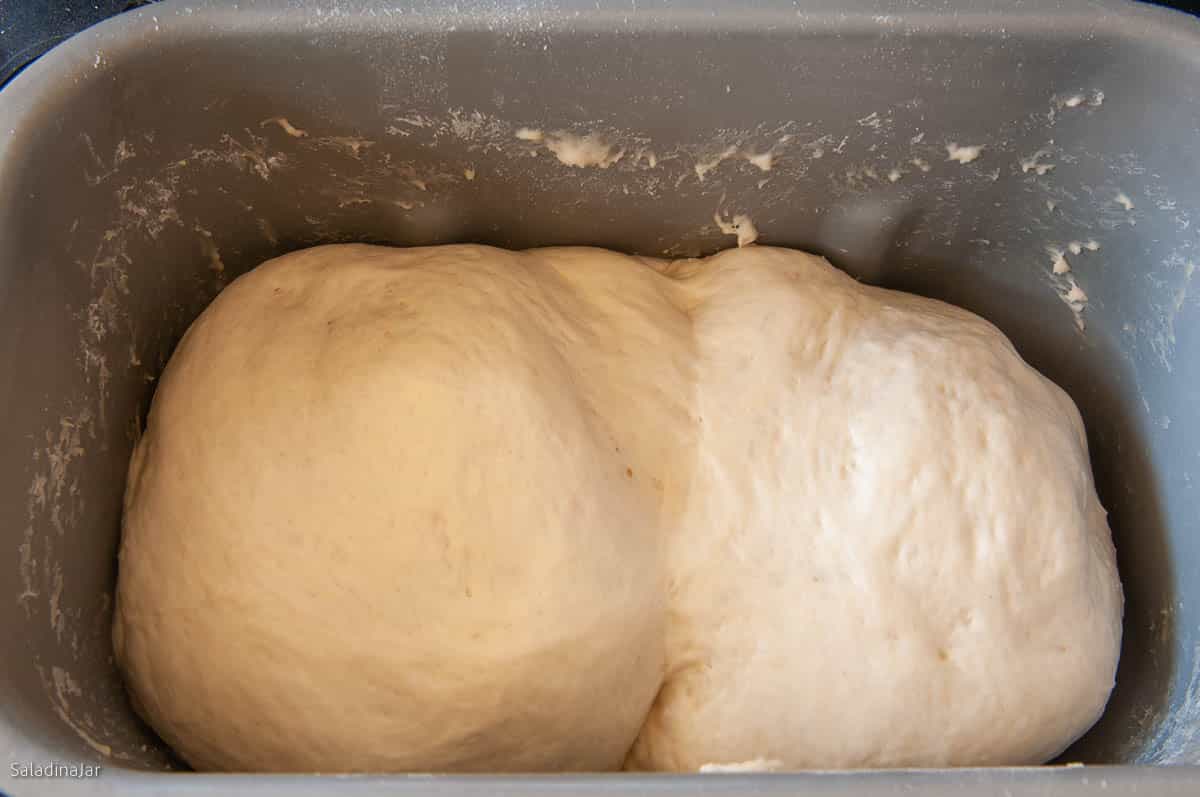 ---
How to shape dough for garlic breadsticks: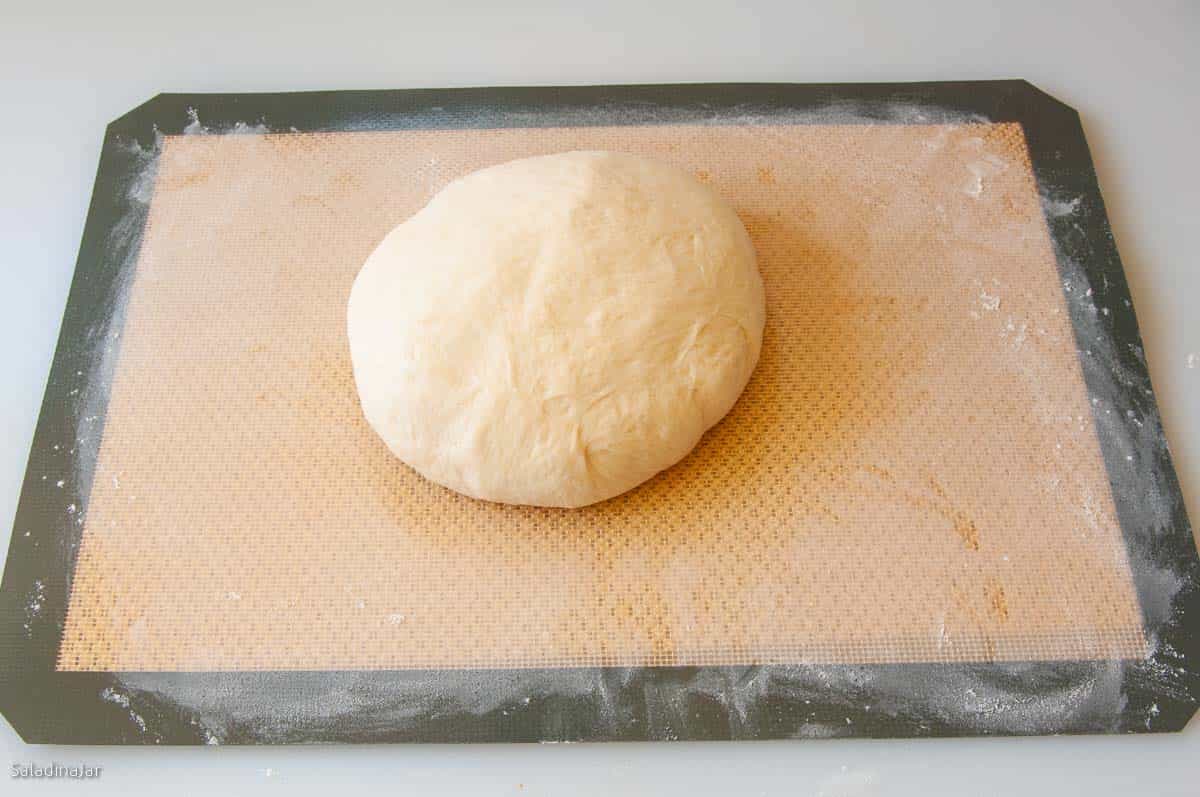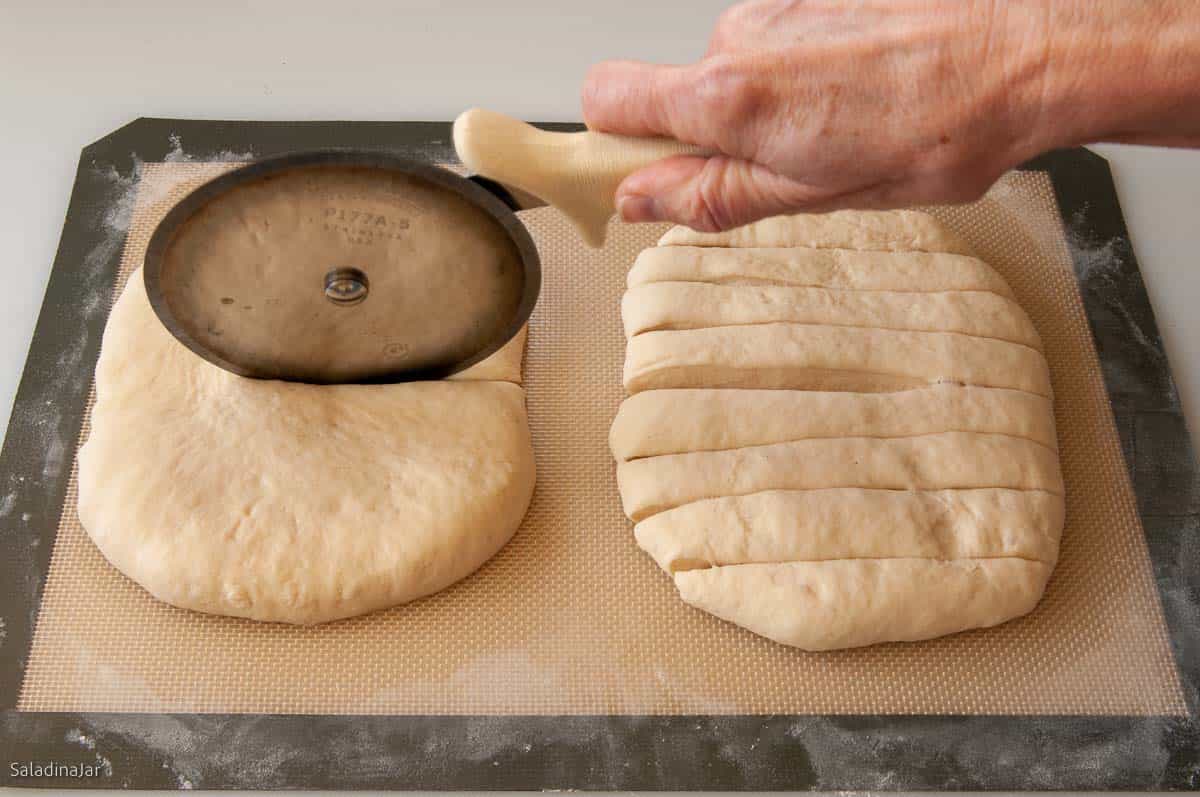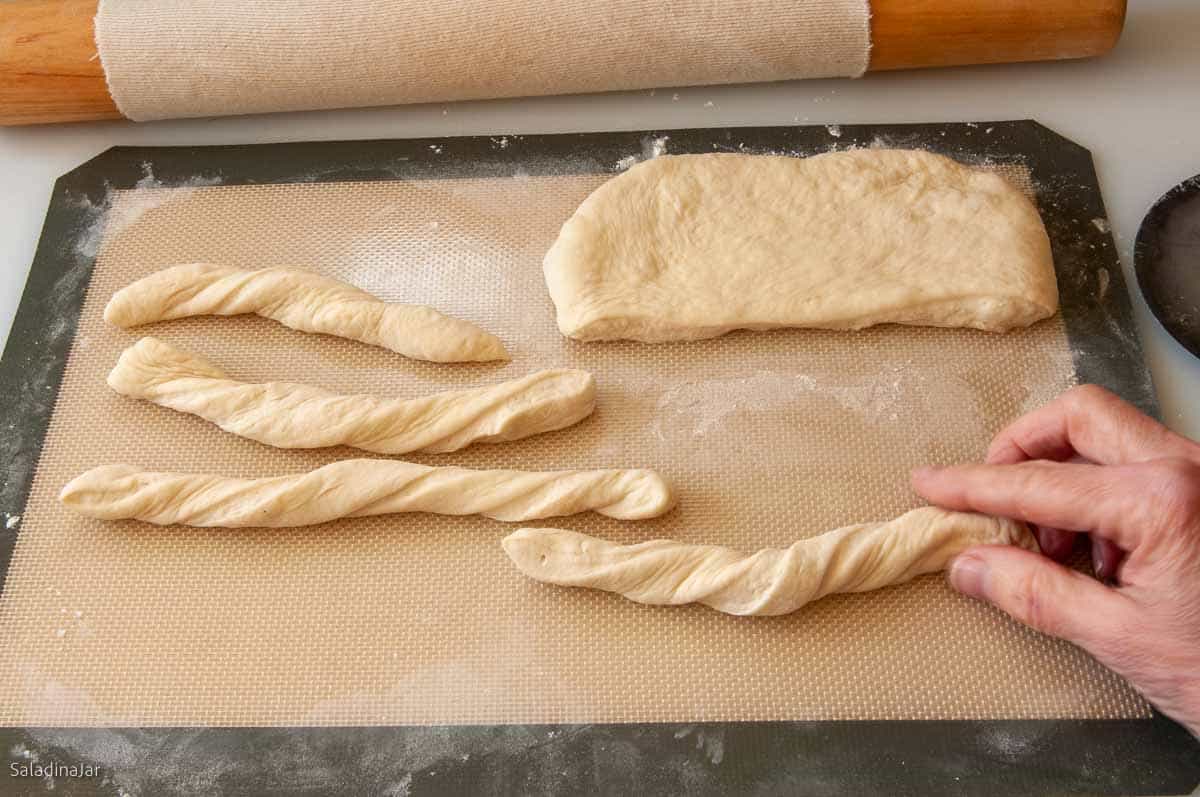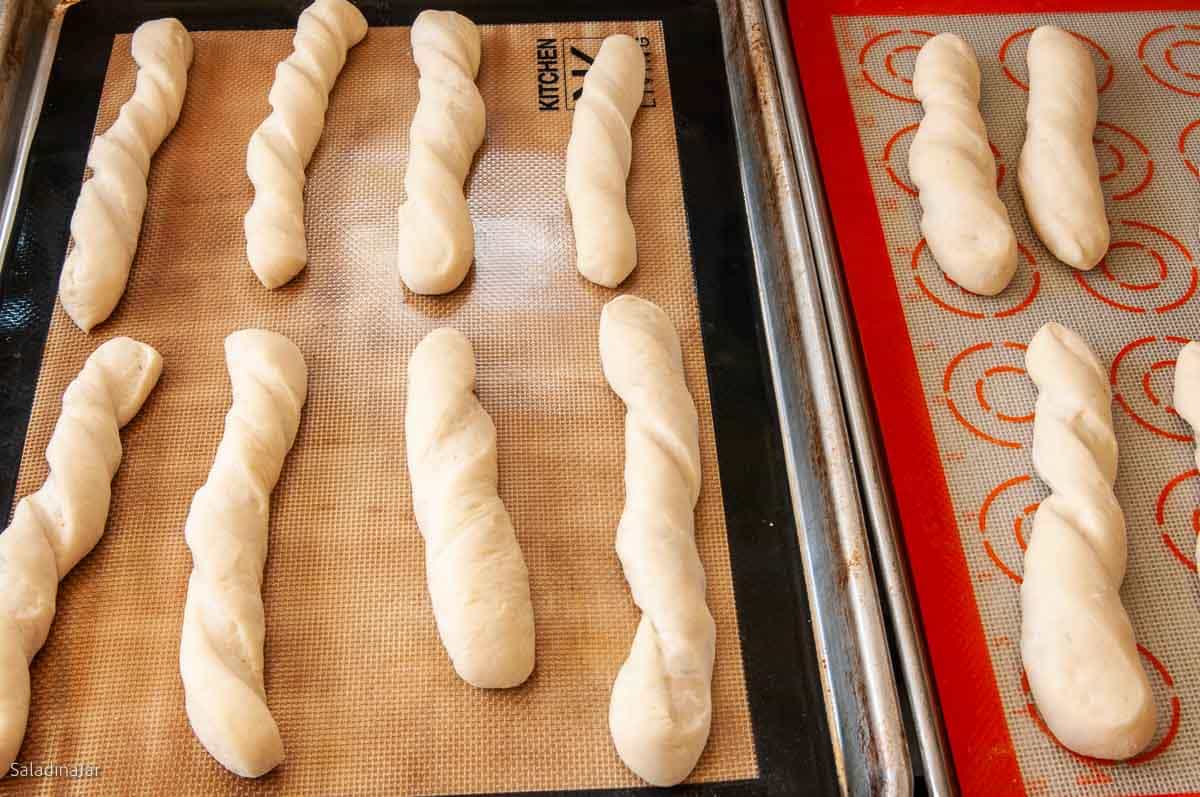 Preheat your conventional oven to 500˚F (260˚C) or as high as it will go. A preheated oven is crucial to getting a good bake with this bread.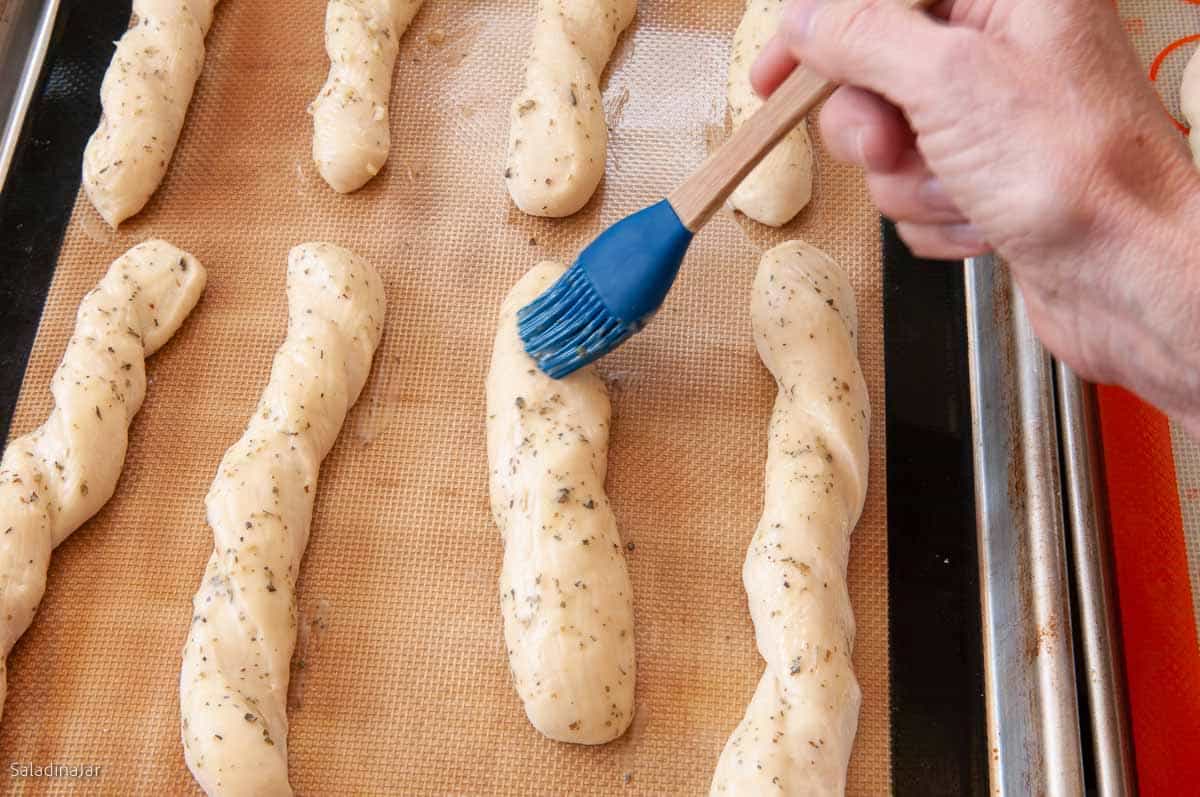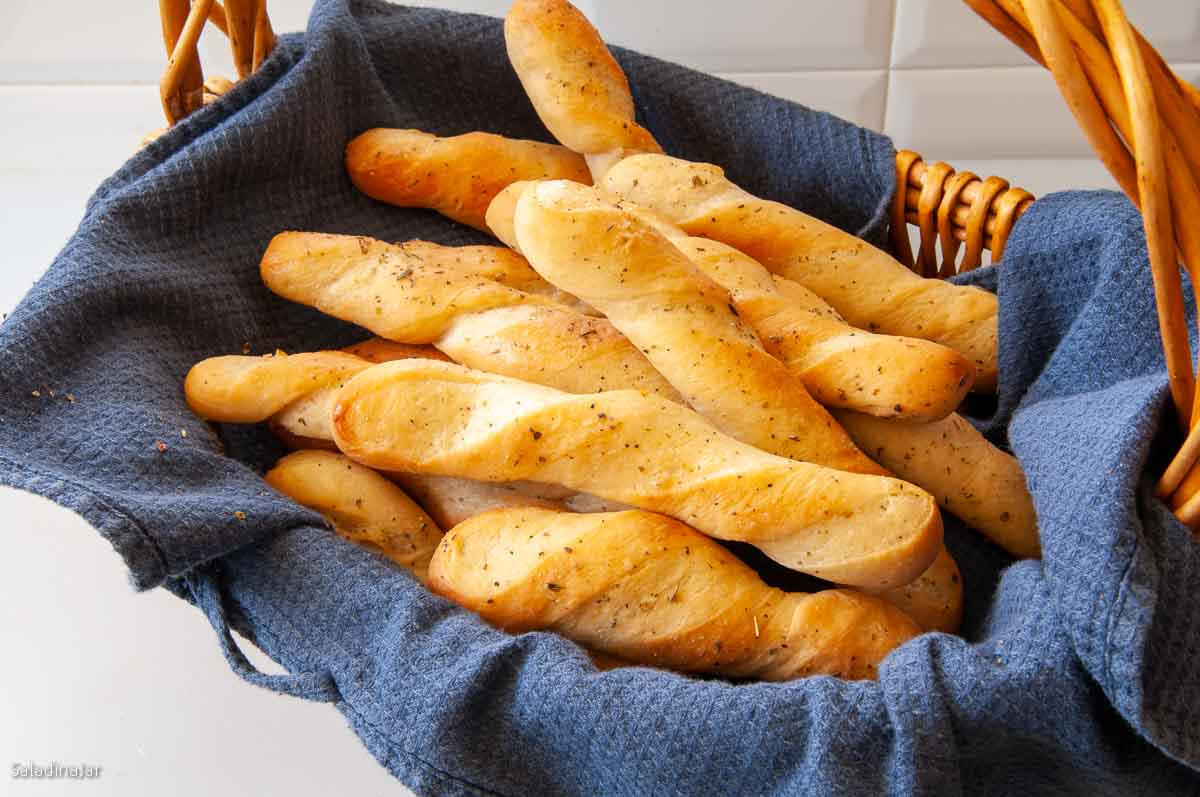 I used to bake these at a lower temperature. However, the breadsticks got too hard before they browned. This way, they come out of the oven soft on the inside with a thin and nicely browned crust.
This may be overkill, but I like to butter my breadsticks again when they come out of the oven and lightly sprinkle them with Kosher salt.
---
Cinnamon-Sugar Version:
Want to thrill your kids, grandkids, or neighbors? Share these cinnamon-sugar breadsticks. They are so addictive!
You can only do this if you haven't used the garlic-herb glaze before you baked the breadsticks.
Another way to make cinnamon-sugar bread sticks: Use leftover breadsticks. Coat them with butter, then a mixture of cinnamon and sugar. Put them in your air fryer (390˚F) until the crust gets a little crispy. It doesn't take long. When you serve these, everybody will follow you around, begging for more.
---
FAQ for garlic and butter breadsticks like those at Olive Garden:
How can I get the breadsticks to stay twisted?
After twisting the dough strips, cover them with a tea towel. Walk away for about 10-20 minutes. This downtime will allow the dough to relax and hold the twist better. If any strips unravel, re-twist and press down on them slightly.
What is the best way to store this bread?
Keeping homemade bread fresh is always challenging since we don't add preservatives. That's one reason we all love homemade bread. I try not to make much more than we can eat in one sitting.

If there are leftovers, I recommend you store them in a sealed plastic bag. You can freeze them, double-wrapped, for no longer than a few weeks.
Does garlic affect the yeast?
Not in this recipe. You'll only find garlic in the glaze, not the dough.
Can I bake breadsticks in my bread maker?
No. You can try baking the dough as a loaf, but I don't recommend it. The crust would most likely be like cardboard, especially on the sides and bottom of the loaf.
How long will these breadsticks stay fresh?
They are best eaten the day you make them, like donuts or pretzels. If you want to make the dough the day before, store it in a large covered container after the DOUGH cycle ends. The next day, let the dough sit on the counter to warm up. Then shape the dough and let it get puffy before you bake the bread stick as directed in the recipe.
What can I sprinkle on top of these breadsticks?
Instead of the Italian seasoning, we like fresh Parmesan cheese, fresh chopped rosemary, dried minced onion, garlic powder, or everything-but-the-bagel seasoning. Or go off-road and sprinkle them with a mixture of cinnamon and sugar.
Parting Thoughts: If these breadsticks are too fussy for you, I recommend this extremely popular recipe for Crusty French Bread (Mixed in a Bread Machine). After baking the loaf, slice it down the middle the long way and use the garlic butter mixture to cover the inside cut edges. Toast under the broiler while you watch.
If you're a beginning bread machine baker, start here: How To Use a Bread Machine: The Most Important Tip (+Video). No matter how you use your machine, it's important to master this technique to increase your chances of success.
---
Help at Your Fingertips: For questions or suggestions, email Paula at saladinajar.com. If you need help, I'm happy to troubleshoot via email (faster than leaving a comment). Attach pictures and as many details as possible for the best advice.
---
Soft Bread Machine Garlic Breadsticks Recipe
This bread machine recipe for yeasted garlic breadsticks tastes similar to the ones at Olive Garden.
Share recipe love here. ⬇
Ingredients
Dough:
1

cup

(

227

g

)

water

3

tablespoon

instant nonfat dry milk

4

tablespoons

(

52

g

)

olive oil

1½

teaspoon

table or sea salt

1½

tablespoons

granulated sugar

3

cups

(

360

g

)

all-purpose unbleached flour

1½

teaspoons

instant yeast
Buttery Garlic Glaze:
1

clove

garlic

–

finely chopped

3

tablespoons

(

42

g

)

melted butter

½

teaspoon

Italian seasoning
Alternate Egg Glaze:
1

large

(

50

g

)

egg

2

tablespoons

(

26

g

)

olive oil
Instructions
Making the Dough:
Place

1 cup

(

227

g

) water,

3 tablespoon

instant nonfat dry milk,

4 tablespoons

(

52

g

) olive oil,

1½ teaspoon

table or sea salt,

1½ tablespoons

granulated sugar,

3 cups

(

360

g

) all-purpose unbleached flour, and

1½ teaspoons

instant yeast into the bread machine pan.

Select the DOUGH cycle, then START.

During the first minute, lift the lid and take a peek. Check to see if the paddles are correctly engaged. The dough should start to clump immediately.

Recheck the consistency of the dough 15 minutes into the DOUGH cycle.

If your dough is too wet, add flour one tablespoon at a time. The dough should stick to the side, then pull away cleanly.

Conversely, if the dough is too dry, add 1+ tablespoons of water until the dough looks just right. Learn more about this surprising secret to success with a bread machine here.
Shaping the dough:
When the DOUGH cycle completes and the dough has doubled in size, remove it from the bread machine pan onto your work surface. Use as little flour as possible, or none at all.

Divide the dough in half and shape it into two balls. Roll out each ball into a 7 x 9-inch rectangle. Let the dough rest for 10-15 minutes.

Use a pizza cutter, bench scraper, or large sharp knife to cut each rectangle into 8 strips. Place each strip on a greased baking pan or one covered with baking paper or a silicone mat.

Optional: After placing all the strips on a cookie sheet, twist each strip to disguise imperfections.

Cover the strips with a tea towel. Let them rise until puffy and almost double in size.

Preheat oven to 500˚F (260˚C).

Meanwhile, mix the ingredients for the glaze of your choice. When the breadsticks are ready to bake, brush them with the glaze. Sprinkle with Kosher or sea salt.

Turn the oven back to 475˚F (241˚C) and bake for 7-9 minutes or until golden brown. You may need to rotate the tray halfway through for more even browning. Watch your rolls carefully. At this high temperature, they can easily overbake if your oven is not calibrated correctly.

Brush the breadsticks with butter immediately after the breadsticks come out of the oven. Serve warm.
Notes
Kitchen tip for twisted rolls: Try not to twist the dough too many times or too tightly when shaping the breadsticks. Only 2-3 twists at the most, are needed. Also, if the dough is too thick, it will most certainly unravel while rising. Sometimes, when they are stubborn, I press down on the whole twist with the palm of my hand to "imprint" the shape.
If all else fails, walk away and let the dough relax for a few minutes. It will behave better when you return.
Directions for making bread with a stand mixer or by hand:
To make this recipe in a heavy-duty stand mixer: Add ingredients to the bowl in the same order. Turn on LOW to mix until all ingredients are moistened. Then, using a dough hook, turn the speed to 2 or 3. Continue beating/kneading until the dough becomes smooth and elastic (about 5-10 minutes). Cover and allow to rise in a warm place. Deflate the dough gently and shape it as indicated in the recipe.
If making by hand: Combine all ingredients into a shaggy ball in a large bowl. Turn the dough out onto a floured surface. Knead with your hands until the dough becomes smooth and elastic. Kneading will likely take 10-20 minutes, depending on your experience. Place the dough ball into a greased bowl. Cover and allow to rise until double. Deflate the dough gently and shape it as indicated in the recipe.
Please note: If you only have active dry yeast, use 1/4 teaspoon more than is called for in the recipe.

It no longer needs to be dissolved first

, but you can still do it.
Nutrition
Serving:
1
breadstick
|
Calories:
136
kcal
|
Carbohydrates:
19
g
|
Protein:
3
g
|
Fat:
5
g
|
Saturated Fat:
2
g
|
Polyunsaturated Fat:
0.5
g
|
Monounsaturated Fat:
3
g
|
Trans Fat:
0.1
g
|
Cholesterol:
6
mg
|
Sodium:
167
mg
|
Potassium:
46
mg
|
Fiber:
1
g
|
Sugar:
1
g
|
Vitamin A:
77
IU
|
Vitamin C:
0.1
mg
|
Calcium:
12
mg
|
Iron:
1
mg
HELP OTHERS find this recipe. Leave a 5 🌟🌟🌟🌟🌟 rating at the top of the recipe card if you enjoyed it. No comment is required.