Sneak Peek: Bread Machine Challah, a traditional Jewish bread, is easy to mix up and knead in a bread machine. This particular version is dairy-free and sweetened with honey. Don't be surprised by all the oohs and ahs you get when you bring this bread to the table.
Challah is said to hold rich symbolism in regard to the daily manna God provided for the Israelites in the desert for years.
I don't really enjoy eating the same food for three days in a row (unless it's ice cream), much less for 40 years as the Israelites did. Oh my. But I'm grateful for the way God continues to care for us even now as we traverse the "deserts" of life.
If you don't have a bread machine, see the directions in the recipe notes for using a large stand mixer or making by hand.
---
Have you ever wondered about the correct pronunciation of the name of this bread?
You don't pronounce the "ch" in the same way you would say church. The way I understand it, the first sound should be more of a guttural "h." You can listen to the correct (supposedly) pronunciation online.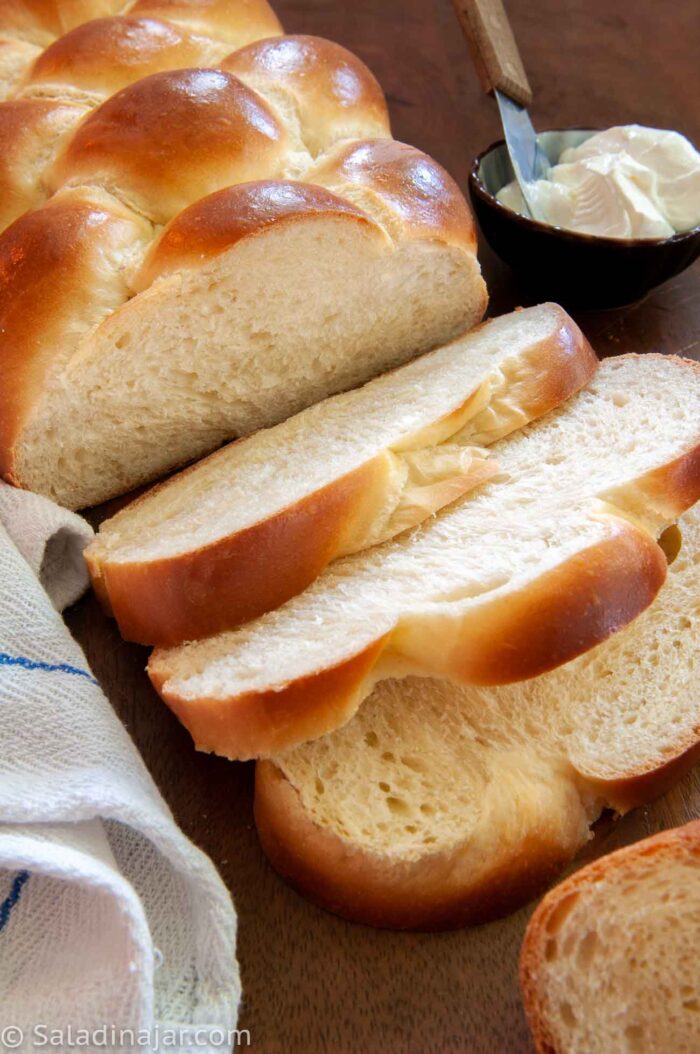 Recipe Inspiration
This recipe is loosely adapted from the Bread-Machine Challah recipe in the wonderful paperback entitled More Bread Machine Magic by Linda Rehberg and Lois Conway.
A closer look at the recipe reveals that it's quite eggy (this recipe calls for 3 eggs) and rich.
I recently tweaked the recipe and replaced the sugar with honey in an amount that wouldn't be quite so sweet and lends additional moisture to the bread.
Let's talk about the simple ingredients you'll need.
---
Ingredients and substitutions for bread machine Challah: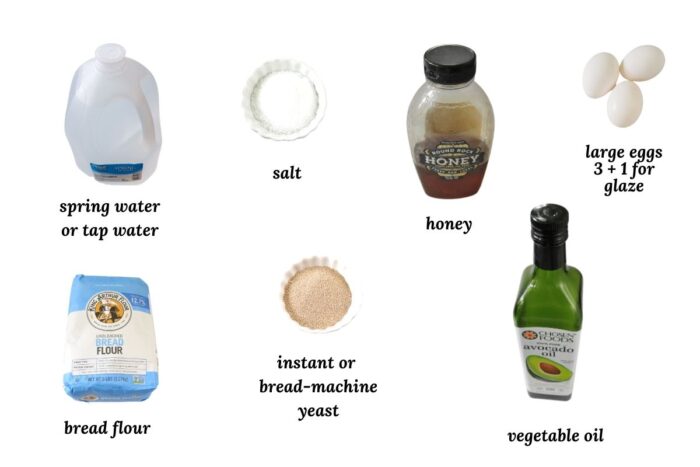 ---
WATER: I keep a gallon of spring water in the house just for bread-making. Chlorine and yeast aren't best friends. If you don't have any spring water on hand, tap water will work. That's what I used for years.
EGGS: Use the large size. Room temperature, please.
HONEY: Substitute sugar for honey if that's what you have. My original recipe called for 1/4 cup of sugar. I recently changed it, and love how the honey makes this bread moister and not quite so sweet.
SALT: Use table salt or sea salt. If you prefer Kosher salt, add 1/4 teaspoon.
BREAD FLOUR: In the past, I used all-purpose unbleached flour in this recipe. It turned out fine, but I like the texture and the rise better with bread flour.
If possible, weigh your flour. At the very least, don't scoop the flour with your measuring cup. You'll most likely end up adding too much.
BREAD MACHINE OR INSTANT YEAST: Instant or bread-machine yeast (same thing) is a fast-acting yeast. It will hit the floor running.
You could substitute active dry yeast. It's no longer necessary to dissolve it and wait, but you can if you want to. Because it's slower on the uptake, I recommend you add 1/4 teaspoon extra yeast.
VEGETABLE OIL: My favorite vegetable oil for this bread is avocado oil, but corn or canola oil is also good.

You may notice the instructions tell you to add the oil a minute or so after you have started your machine. I find this works better and makes a nicer texture. If you forget and add all the ingredients at once like normal, don't fret. It will be fine. Proceed as usual.
---

FAQ about Bread-Maker Challah
How is Challah different from egg bread or brioche?
Challah is a parve loaf traditionally made without any dairy products. Use oil instead of butter. Both egg bread and Challah have lots of eggs.

Brioche is similar in that it has a soft, sweet, and fine texture, but it has LOTS of butter.
Can I make Challah if I don't have a bread machine?
Yes. Use a stand mixer or mix and knead the dough by hand. (See the recipe notes for details.)
The advantage of a bread machine is that it automatically mixes and kneads the dough for the perfect amount of time. No more worries about under or over-kneading.
Can I make Challah in a different shape than a braid?
Yes. Make two ropes and twist them. Or simply form the bread into a ball or oblong. You could even fill a loaf pan and make a Challah loaf. It won't be traditional, but the flavor and texture should still be fabulous.
What if I let my braided dough rise too long before putting it in the oven?
You really want to avoid this as the flavor will be overly yeasty and the texture will not be light and fluffy.
You could try re-kneading the bread for a minute, roll it out, and re-braid it. Let it rise again (watch it closely) and bake. No guarantees, but it's worth a try.
How do I get the traditional golden shine on my Challah bread?
Don't leave off the egg wash. It's important to produce the gorgeous glaze characteristic of Challah.
How do you know when Challah is done?
The most reliable method is to use a quick-read thermometer. It should read 200˚- 205˚F when carefully poked into the middle of the bread.
Experienced bread makers can tell by the hollow sound heard when tapping the bottom of the loaf. (I've been making bread for over 40 years and still prefer to use a thermometer. It's fail-proof.)
How do I keep Challah from getting too brown in the oven before it's cooked through?
If you see it's getting too brown, lay a sheet of foil over the top. Next time, try moving the baking rack a little lower in the oven.
How do I slice warm Challah without squashing it?
Wait a minimum of one hour while Challah cools on a rack before slicing. If you can't resist, slice off only the smallest piece from one end (when nobody is watching–you don't want to start a stampede).
When you do slice it, use a serrated knife that doesn't rip the bread.
How long will Challah stay fresh?
Challah tends to stale quickly because it contains a lot of honey and fat although the eggs help keep it fresh. What you don't eat after the first couple of days will make good French toast, bread pudding, or a breakfast casserole on succeeding days.
Can I freeze this recipe?
Yes. Be sure to double wrap the baked bread. Use plastic wrap then place it in a plastic bag or wrap securely with foil. Keeps for about a month.
Can I make the dough ahead of time and bake the next day?
Yes. Make the dough in your bread machine. Remove it at the end of the DOUGH cycle and shape. Cover and refrigerate immediately.
Remove the shaped dough a couple of hours before you want to bake it and let it come to room temperature. When the dough is puffy, bake in a preheated oven.
Whether you make a 3-braid loaf or 4-braid loaf is strictly up to you. Either way, don't be surprised by all the oohs and ahhs you get when you bring this bread to the table.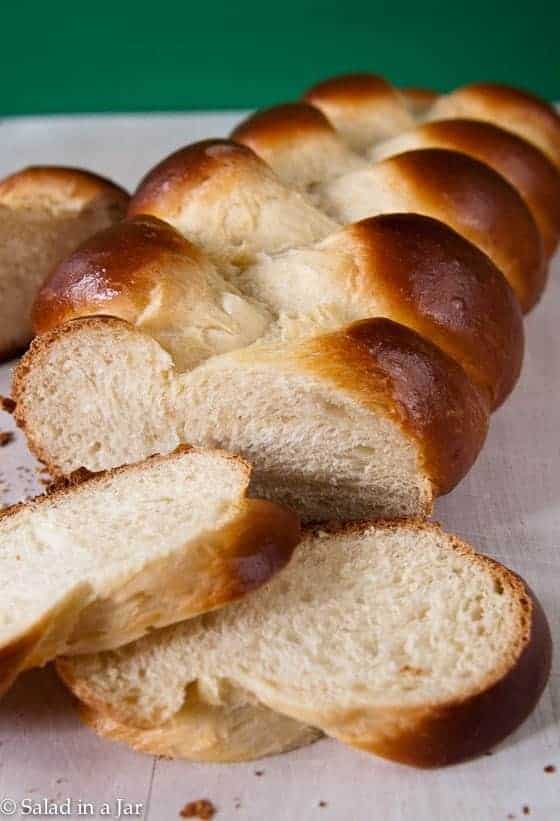 How to make a 3-strand braid with bread dough: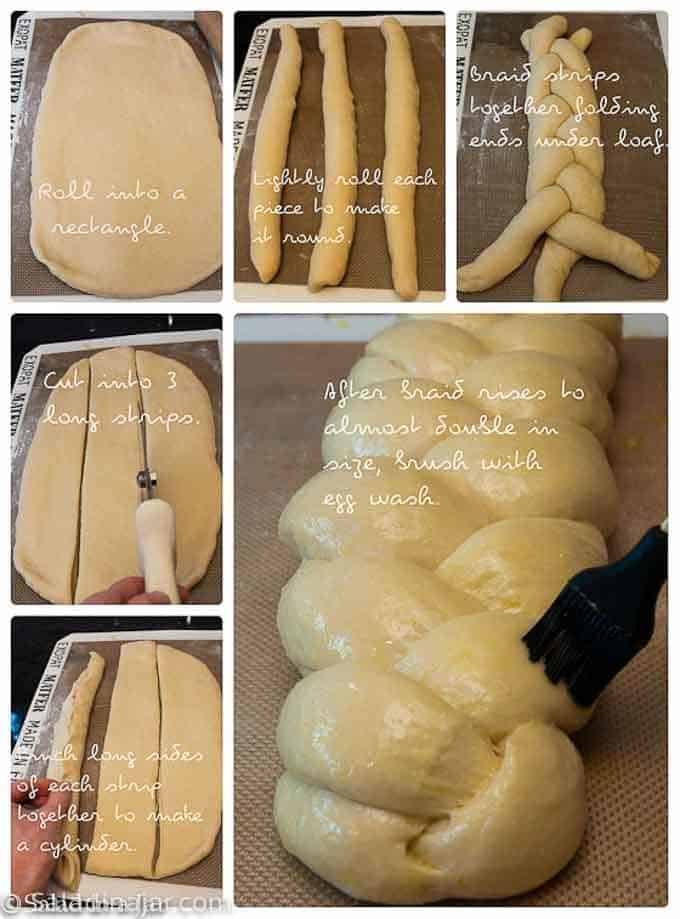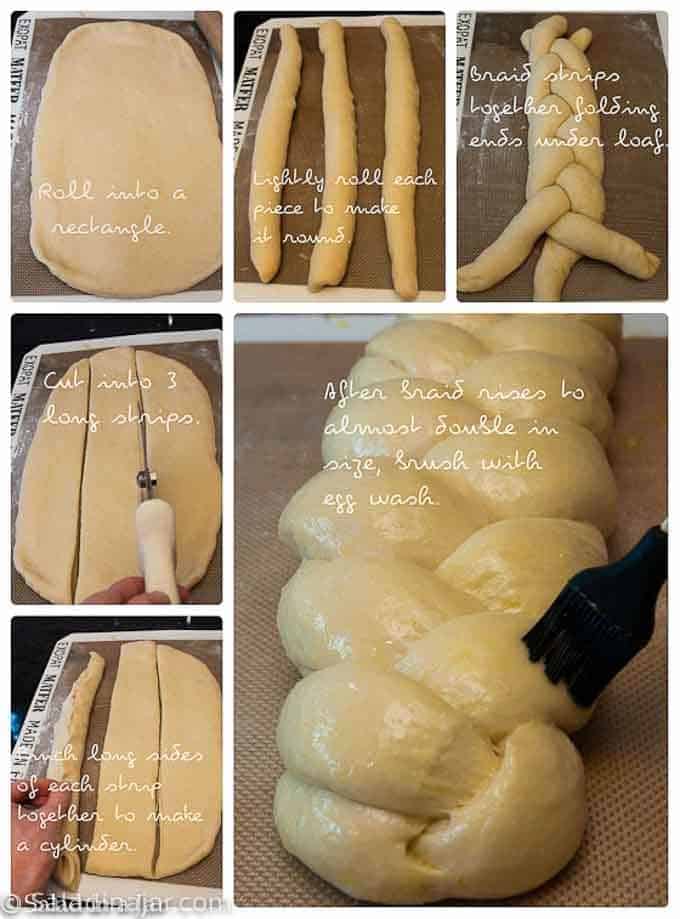 How to shape a 4-braid Challah: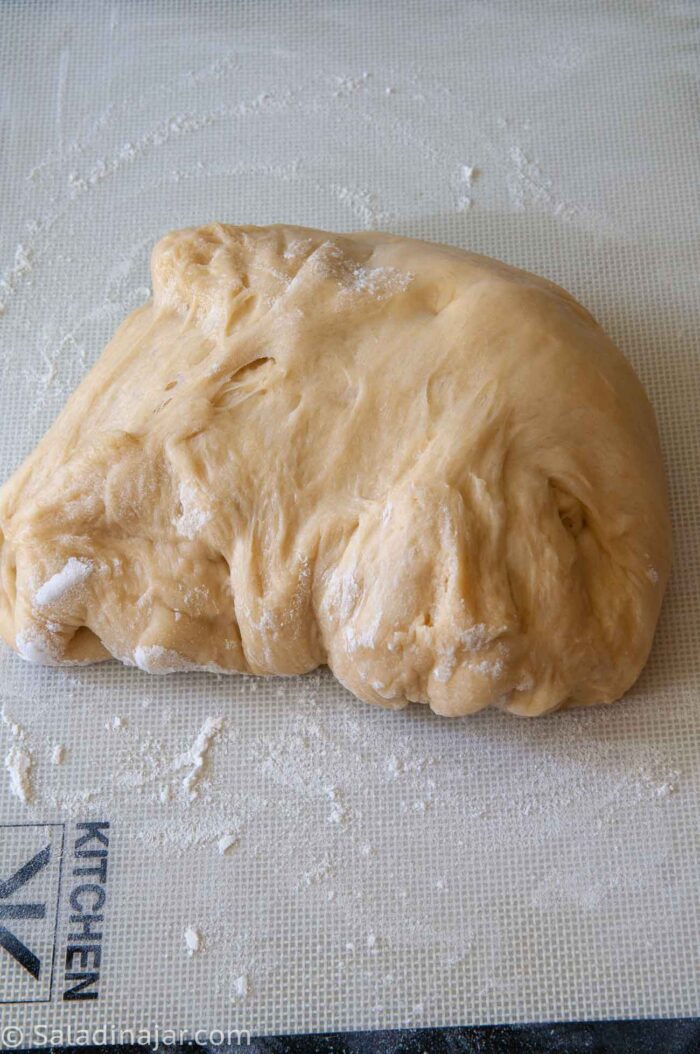 If you find this hard to follow, I made a movie for you to watch. If you're still confused, go to YouTube and look for a video that speaks to you. There are several ways to accomplish this task — this method worked for me.
How to assemble a Challah recipe with a bread machine: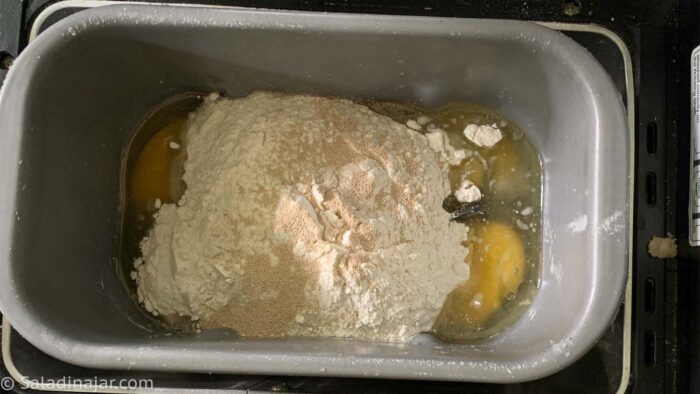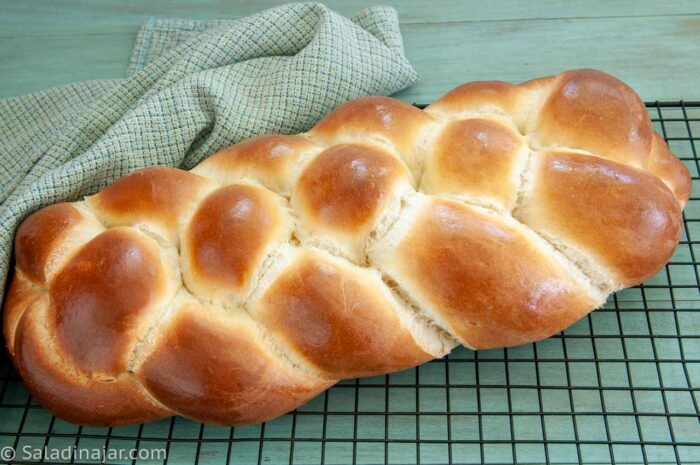 Other posts you might enjoy:
---