Break out of your same old banana bread routine. Use those old bananas to make this healthy Banana Yeast Bread in your bread machine. It's slightly sweet with a sugar-cardamom mixture sprinkled over the top.
No worries if you don't have a bread machine. See the recipe notes for how to make this recipe with a stand mixer or by hand.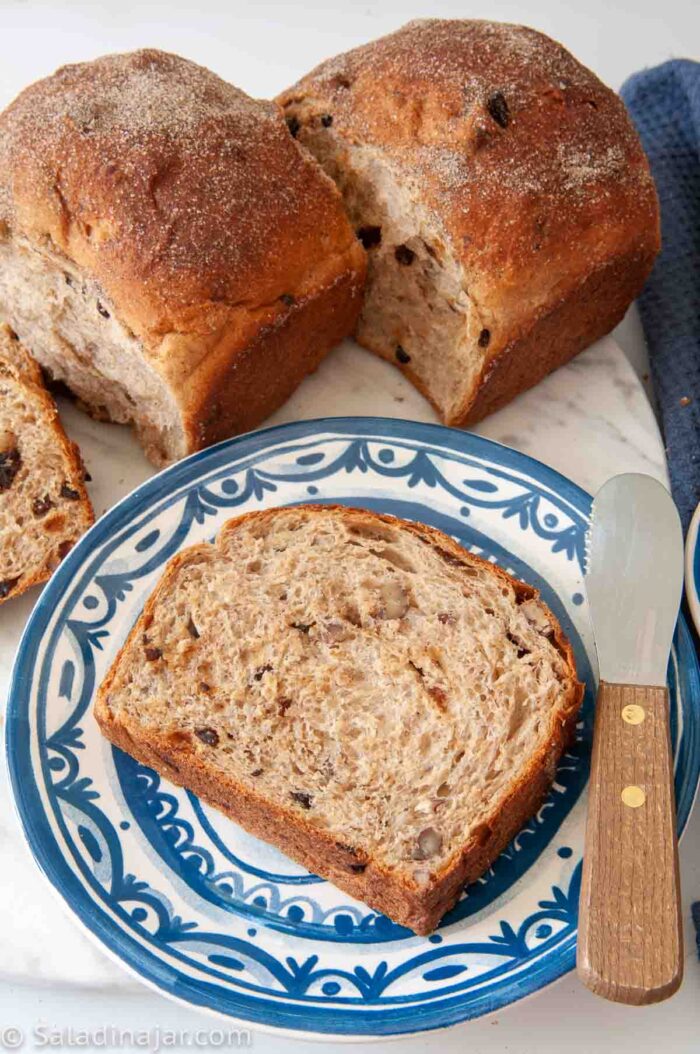 This is easily one of my favorite yeast bread recipes. If given the choice, I would choose a slice of this over a piece of traditional banana bread any day.
Eat it for breakfast, make a jelly sandwich for lunch, eat it with chicken salad for a light supper, and make sweet cinnamon melba toasts with leftovers the next day. Call me. I want to enjoy it with you.
Ingredients and Substitutions
Flour: I love that this recipe calls for part whole wheat flour. More fiber and protein never tasted so good. Bread flour constitutes the rest of the flour requirement. You could use all-purpose unbleached flour instead of bread flour, but you may need to add a tablespoon more. Decide that after you start mixing the dough and check the dough consistency.

Milk: I used milk for years. But since yogurt has taken over my life, I substitute it whenever I can.

Bananas: If your bananas are not very soft, you may need to add some extra water. Peek at the dough after the bread machine has been running a few minutes to determine if more is needed.

Honey: Because of the dried fruits and banana in this recipe, you could leave the honey out. If you don't have honey in the house, maple syrup will work.

Yeast: Use instant or bread-machine yeast (no difference) as specified by the recipe. If you only have active-dry yeast on hand, dissolve the yeast in the 1/3 cup of water the recipe calls for. Let it sit for 5 minutes. Add remaining ingredients as directed.

Nuts: Pecans or almonds are specified in the recipe. Walnuts or macadamia nuts would make a good substitute. Be sure to toast the nuts for maximum flavor. It's easy to toast nuts with a paper plate in the microwave.

Dates and Raisins: You can leave out either of these ingredients if you prefer. They add quite a bit of sweetness though. Chopped dried figs could be subbed for the dates.

Cardamom: Fragrant cardamom comes in pods or seeds. For this recipe, you want the green seeds in the ground form. This spice is pretty easy to find at the grocery store. If you are wondering what to do with the rest of the jar, here are 25 Suggestions for Ways To Use Cardamom from the Cooking Channel.

Since you are only sprinkling it on top of the bread, it can be left out.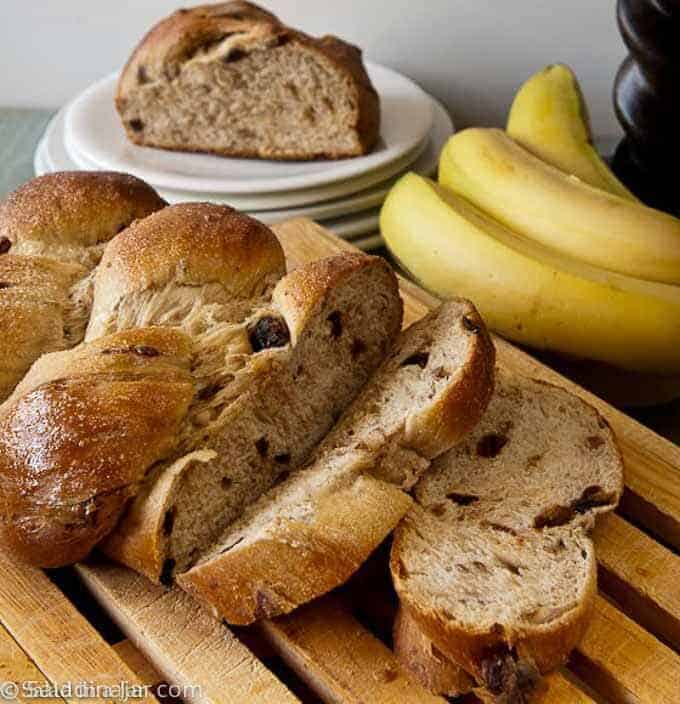 Can I make this ahead of time?
This bread is best eaten the day it's made. Unlike store-bought yeast bread, there are no preservatives.
How To Make a Braid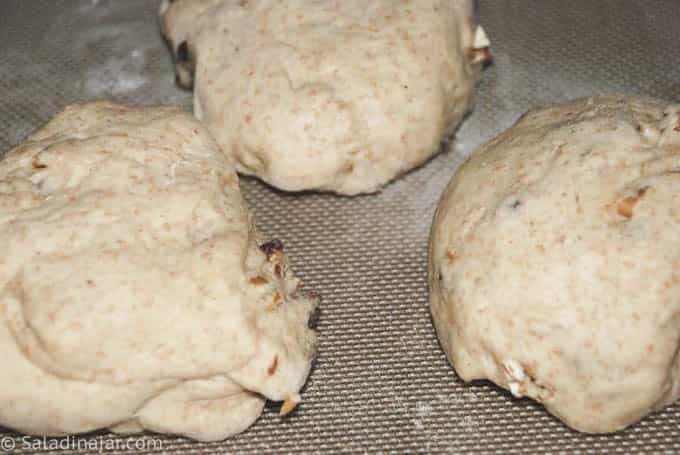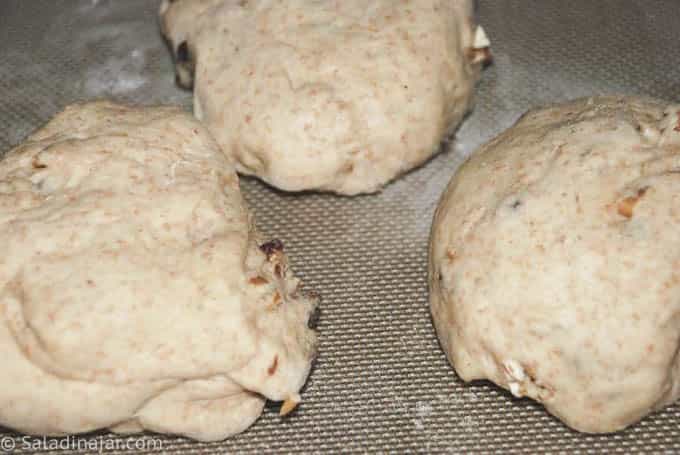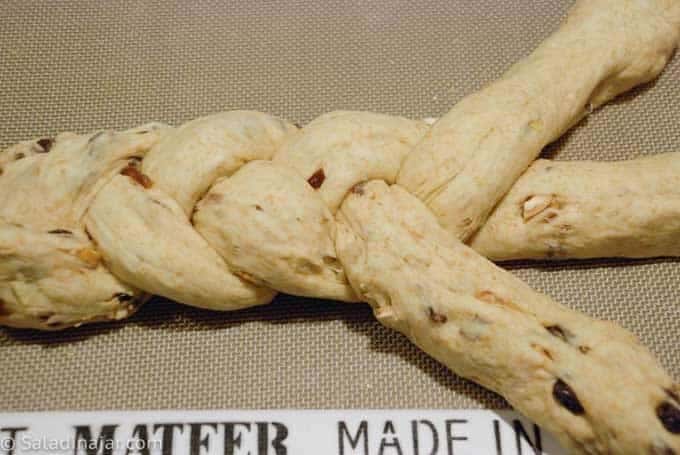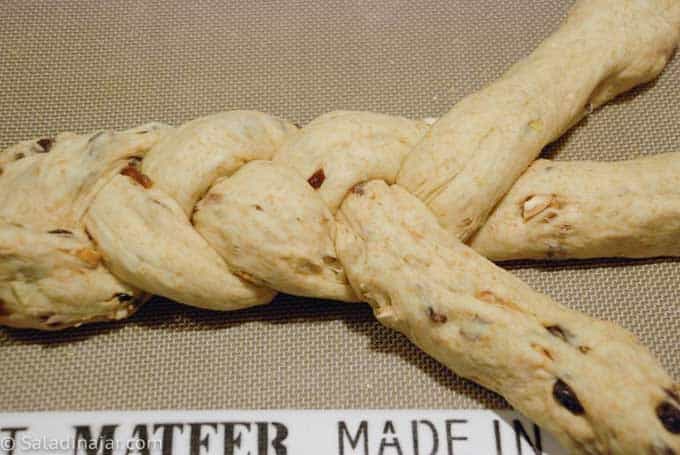 ---
---
Did you try this recipe and enjoy it? Consider helping other readers (and me) by returning to this post. Leave a rating on the recipe card itself underneath the picture. Although always appreciated, comments aren't required.

If you have a question or tip to share, please leave it in the regular comments after the recipe so I can answer back. Or, email me privately: paula at saladinajar.com.

Thank you for visiting!
Paula
---