Sweet Banana Bread with Yeast: A Bread Machine Recipe
Sneak Preview: Sweet Banana Bread with Yeast is a bread machine recipe and contains less sugar and fat than traditional banana bread. I'll show you two different ways to shape the bread.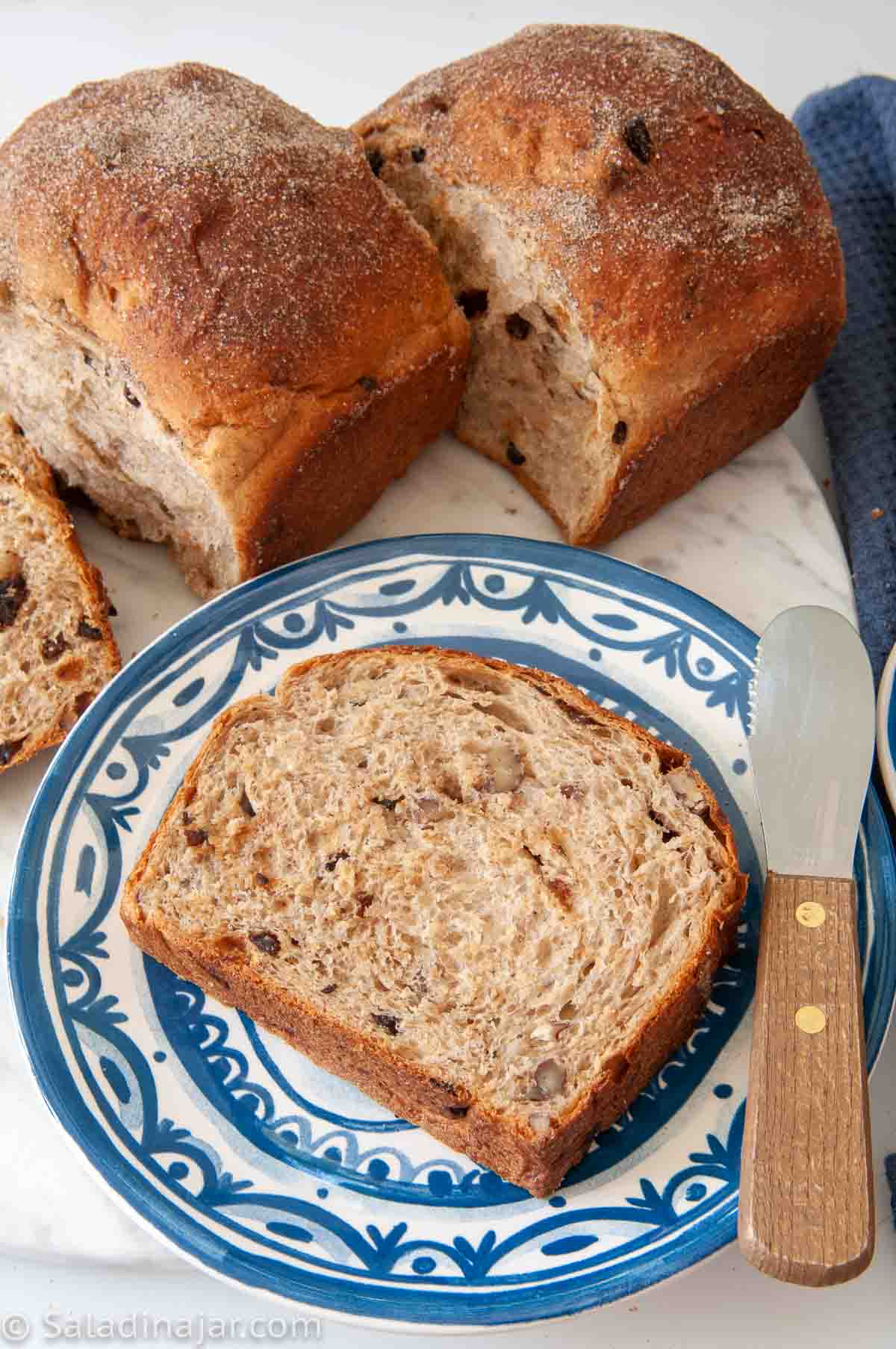 As an Amazon Associate, I earn from qualifying purchases.
What do you do with ripe bananas? I peel mine, throw them into small plastic bags, and freeze them. I don't know about you, but I swear those little bags have babies once they get into the freezer.
This bread recipe is my answer to the "ripe banana" problem. Use those ripe, dark, soft bananas to make this healthy Banana Yeast Bread with whole wheat flour. When you taste it, you'll barely notice how much fiber is in this bread.
Overripe bananas don't have to be an excuse to eat cake (I'm looking at you, traditional banana quick bread). This recipe is slightly sweet, with an optional sugar-cardamom mixture sprinkled over the top. This bread gets most of its sweetness from the raisins and dates. Leave them out if you're not a fan. Your bread will still be fantastic.
Eat this special bread for breakfast, make a jelly sandwich for lunch, or eat it with chicken salad for a light supper. If there are any leftovers, make sweet cinnamon melba toasts with leftovers the next day.
No worries if you don't have a bread machine. See the recipe notes for how to make this recipe with a stand mixer or by hand.
---
Ingredients and substitutions:
FLOUR: This recipe specifies one cup of whole wheat flour. More fiber and protein never tasted so good. Bread flour constitutes the rest of the flour requirement. You could use all-purpose flour instead of bread flour and/or wheat flour, but you may need to add an extra tablespoon. Make that decision after mixing the dough, and check the dough's consistency.

MILK: I used milk for years. But since homemade yogurt has taken over my life, I substitute it whenever possible. The milk or yogurt does not need to be warmed. Room temperature or cool is fine. The bread machine paddle will heat the ingredients quickly.

BANANAS: If your bananas are not very soft, you may need to add some extra water. Peek at the dough after the bread machine runs for a few minutes to determine if more liquid is required.

Add extra milk or water if you are short on bananas. If your banana is too large, reduce the liquid to compensate. See this post to adjust the dough if it is too dry or too wet.

HONEY: Because of this recipe's dried fruits and bananas, you could leave the honey out. Maple syrup will work if you don't have honey in the house.

YEAST: Use instant or bread machine yeast (no difference) as the recipe specifies. You can now substitute active dry yeast without dissolving it first. Be aware that it may be a little slower to activate and raise your bread dough.

NUTS: This recipe specifies pecans or almonds. Walnuts or macadamia nuts would make a good substitute. Be sure to toast the nuts for maximum flavor. It's easy to toast nuts with a paper plate in the microwave.

DATES AND RAISINS: Leave out either of these ingredients if you prefer. They add quite a bit of sweetness, though. Chopped dried figs are a good substitution for the dates.

If your dried fruit is dry, plump it up by soaking the fruit in hot water for 5-10 minutes. Drain well.

CARDAMOM: Fragrant cardamom comes in pods or seeds. For this recipe, you want the green seeds in powdered form. This spice is easy to find in the jarred spices section at the grocery store. If you are wondering what to do with the rest of the jar, here are 25 Suggestions for Ways To Use Cardamom from the Cooking Channel. Try it in this Crazy-Good Cardamom Bread made in a bread machine.

Since you only sprinkle the sugar-cardamom mixture on top of the bread, it can be left out. Sprinkling sugar on top has the same effect as sprinkling salt on food at the table. You can taste it more, so you might not need as much.
---
Variation:
Banana-Pecan Yeast Bread: Replace the whole-wheat flour with a cup of bread or unbleached all-purpose flour. Replace the honey with 1/4 cup of sugar.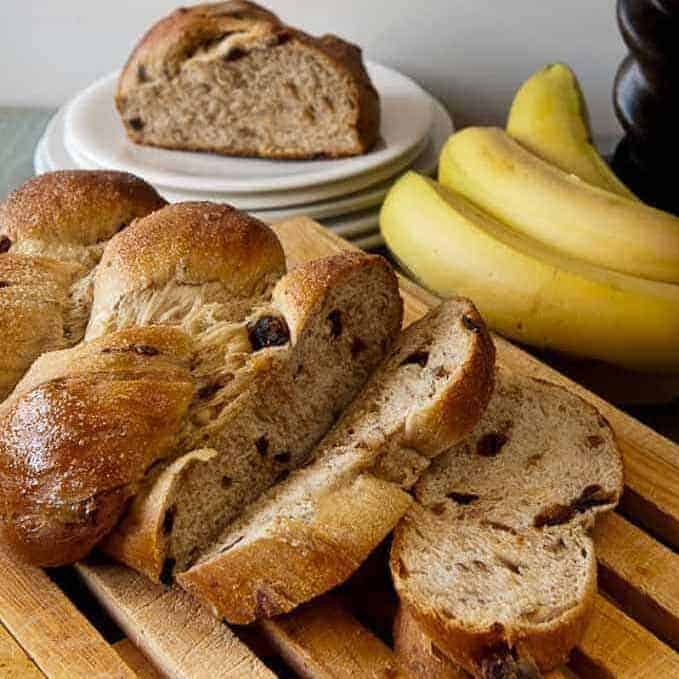 ---
How to assemble yeasted banana bread dough using a bread maker: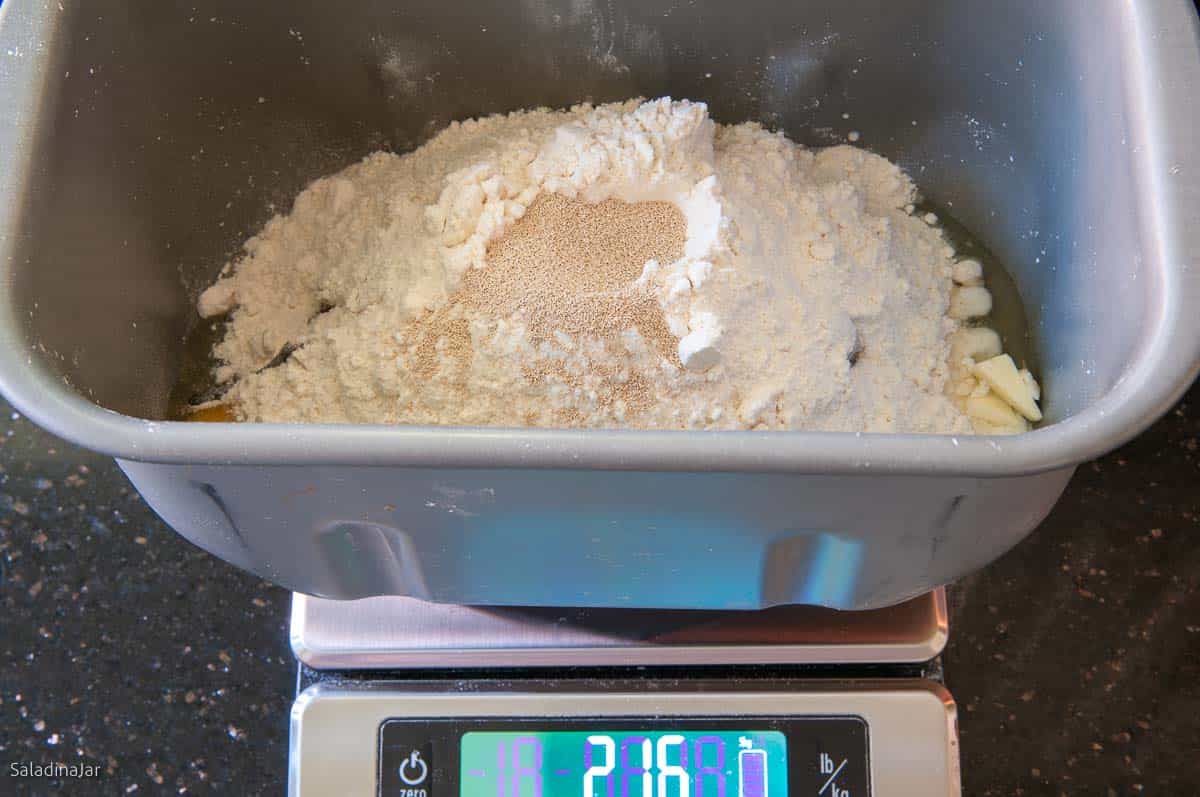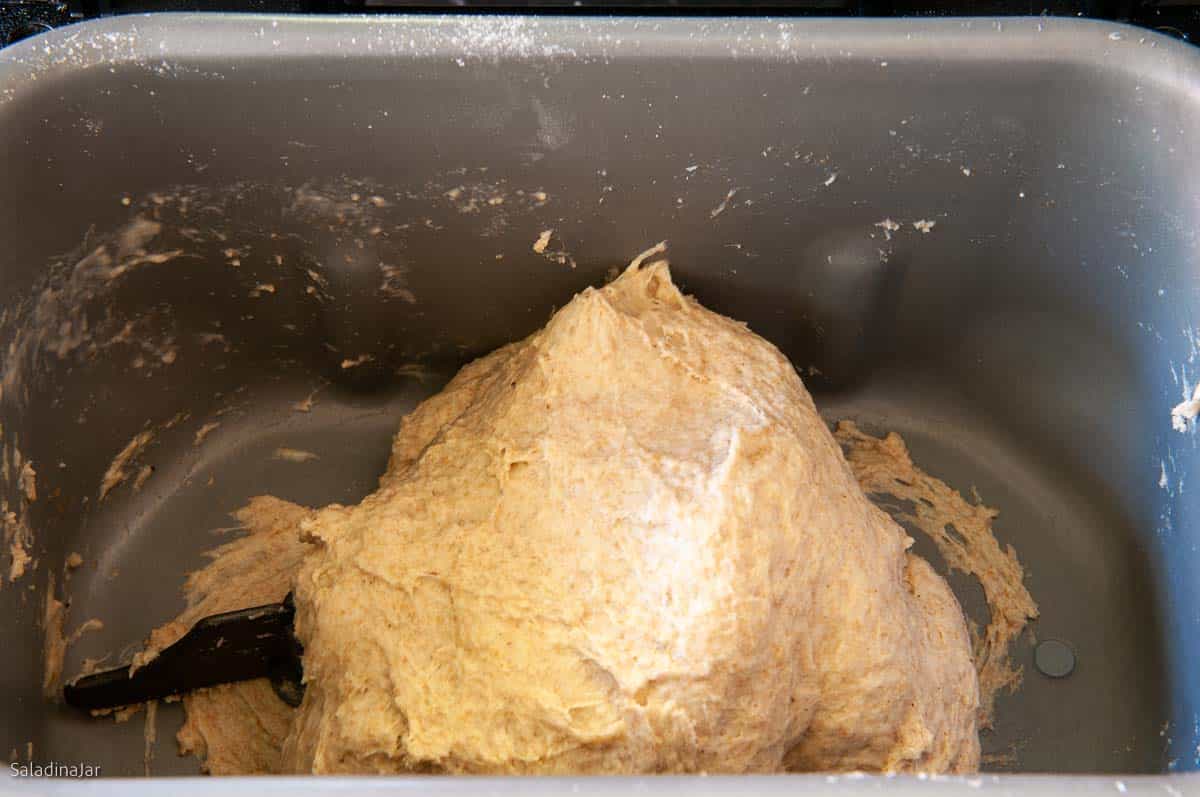 If the dough is too wet to pull away, add flour one tablespoon at a time, waiting 2 minutes between each addition. If the dough is too dry and rides freely on top of the post, add liquid one tablespoon at a time, waiting 1-2 minutes between each addition. You may have to intervene with a small spatula to press the liquid into the dough.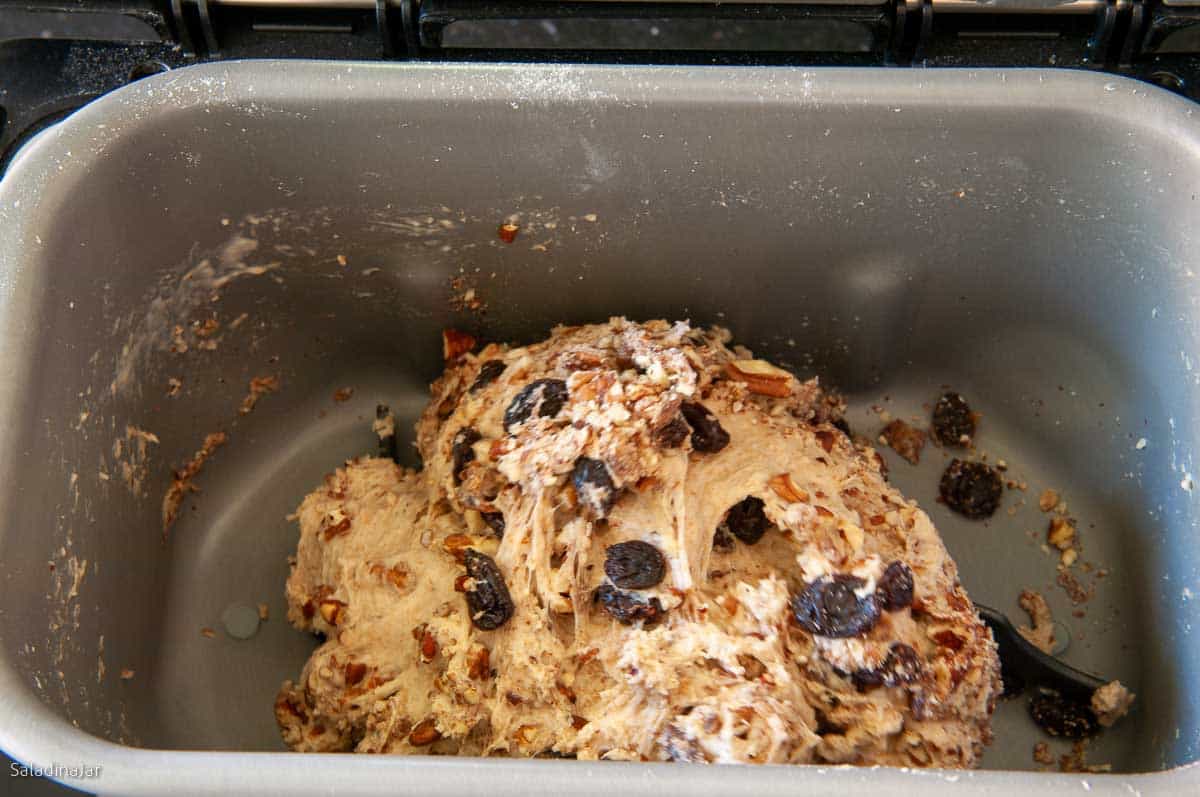 ---
An easy way to shape banana yeast bread: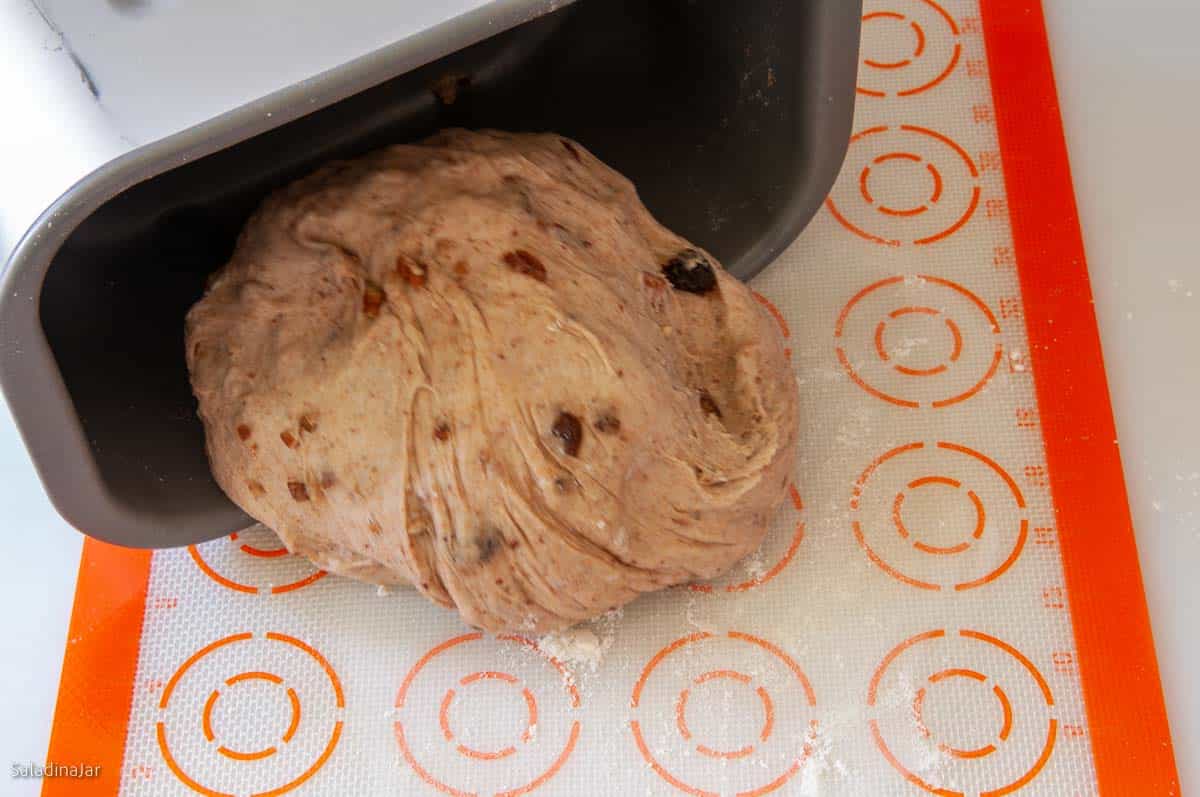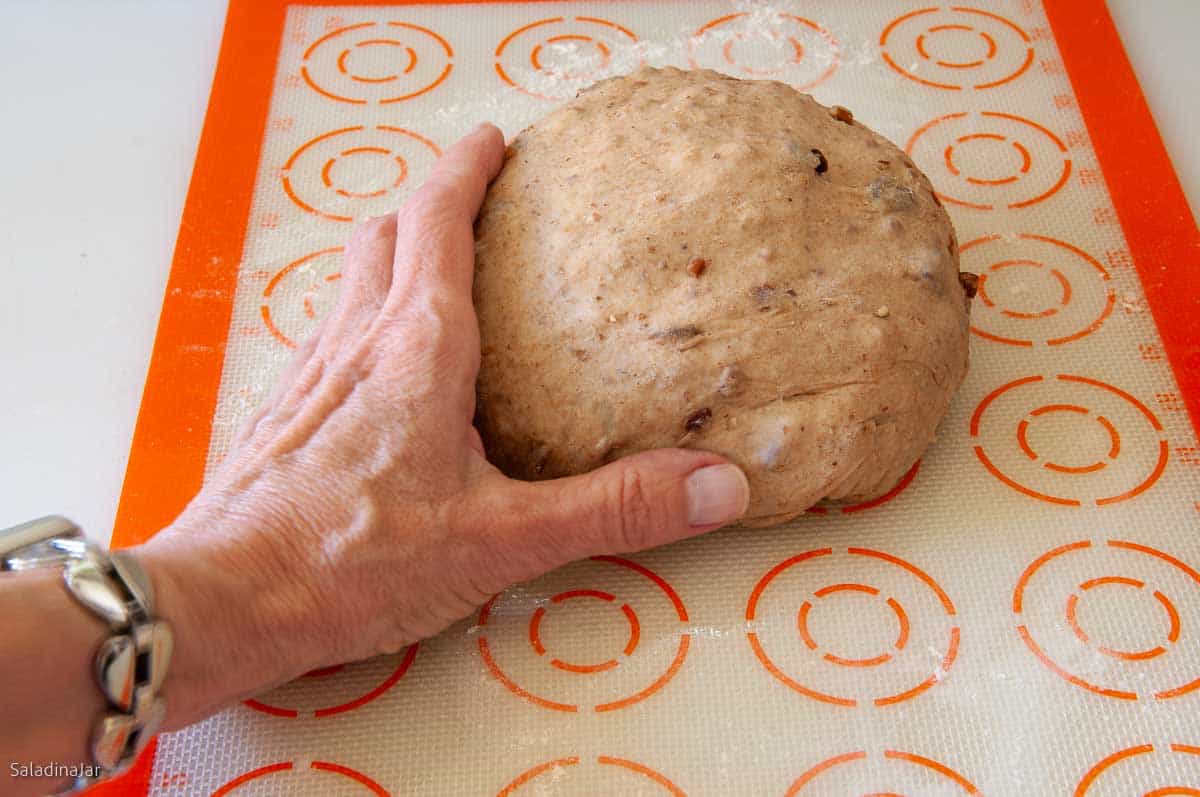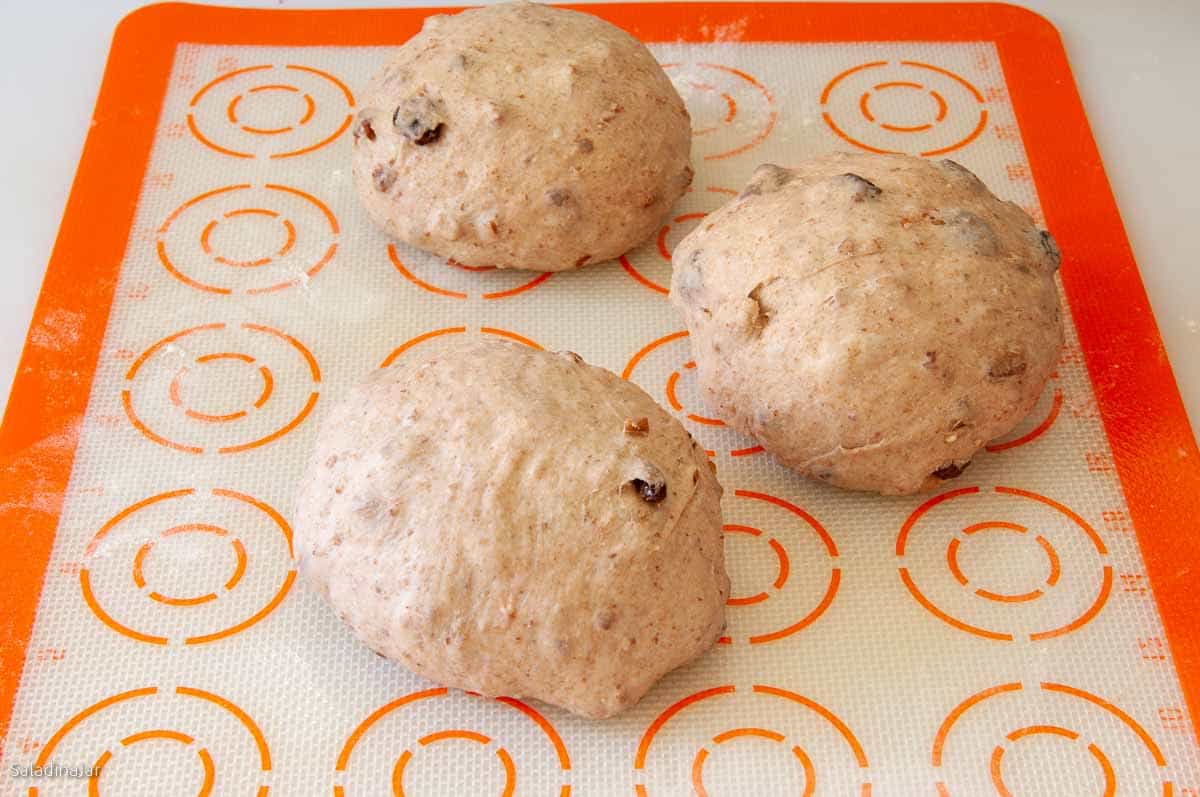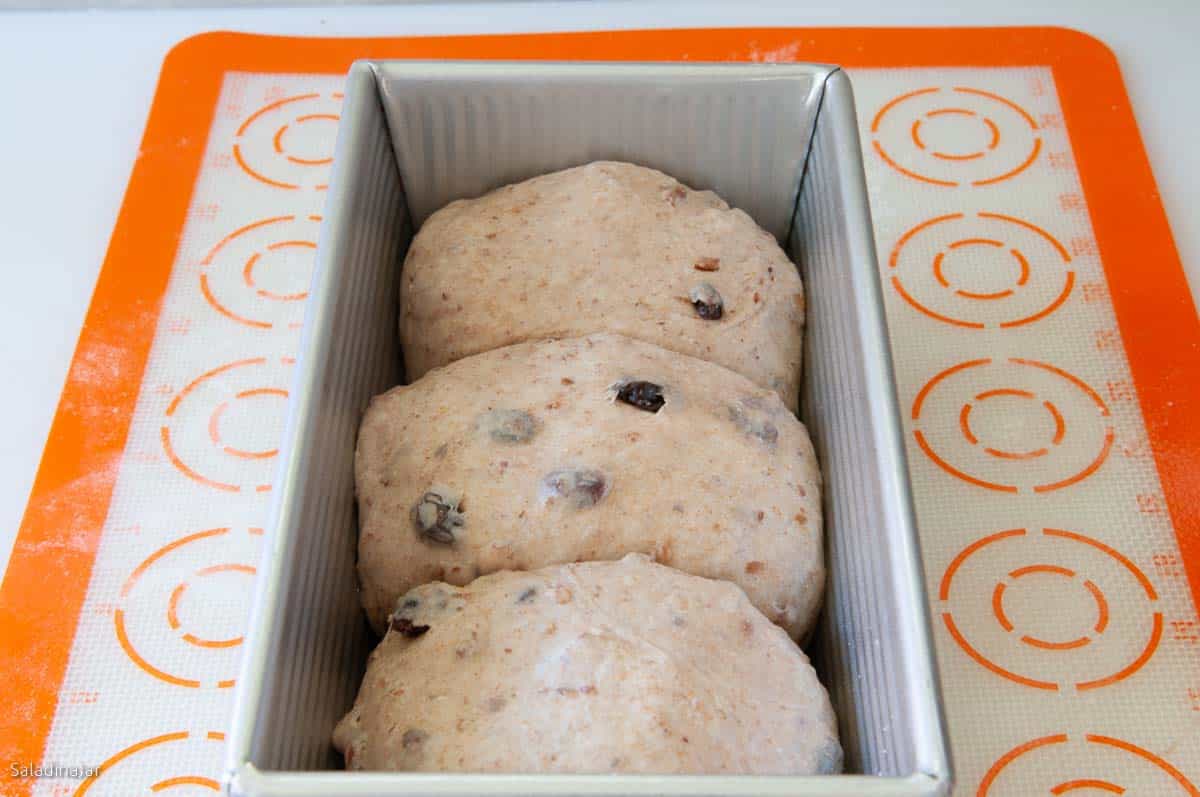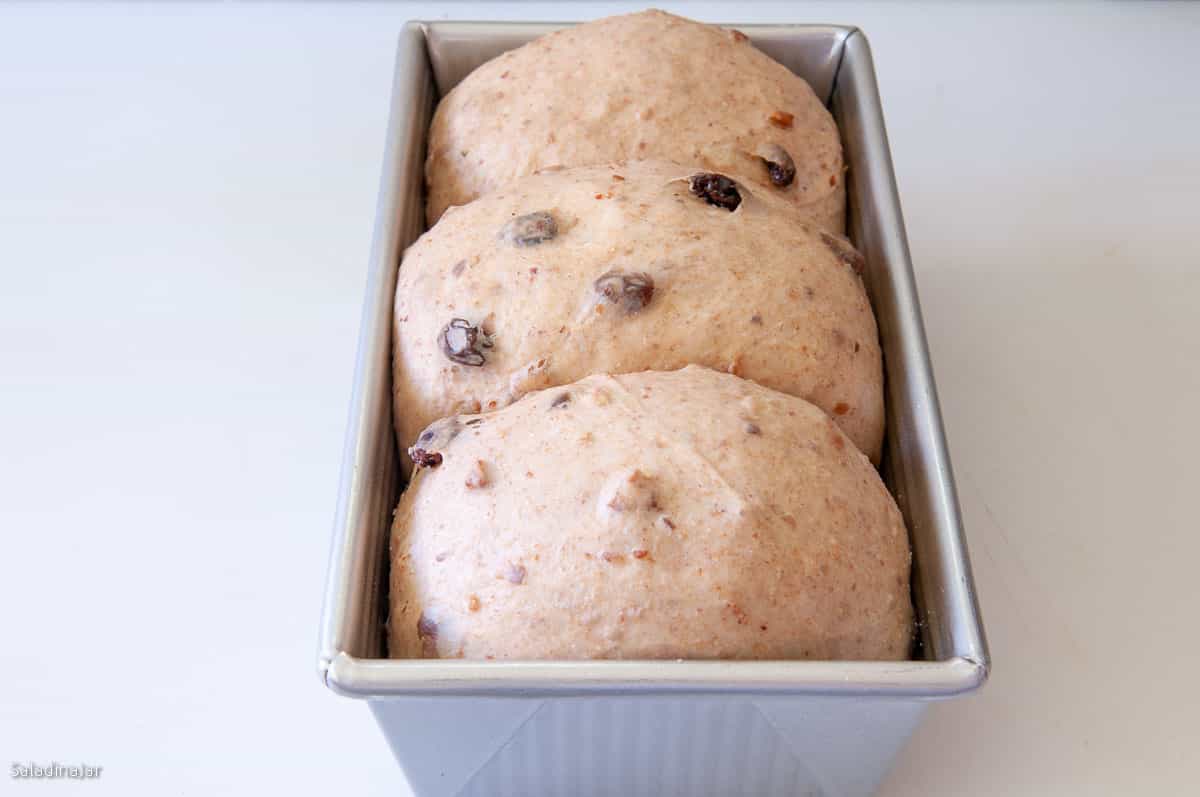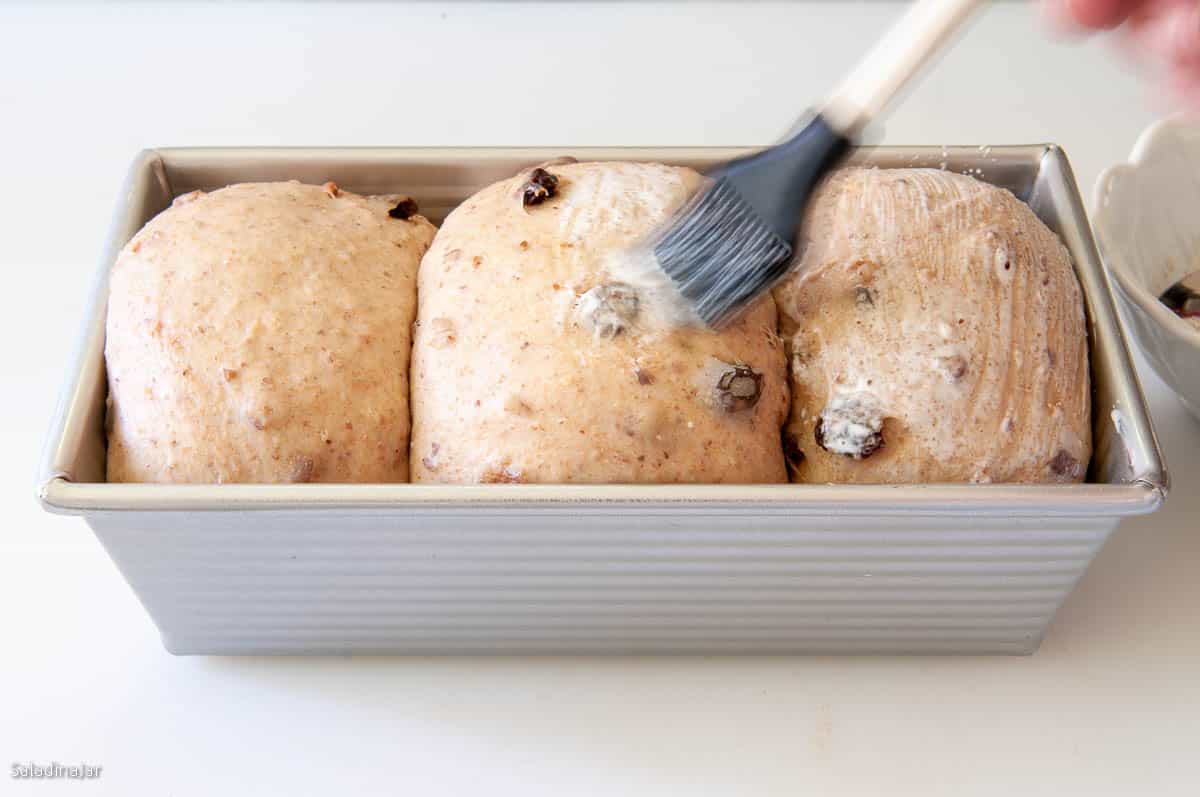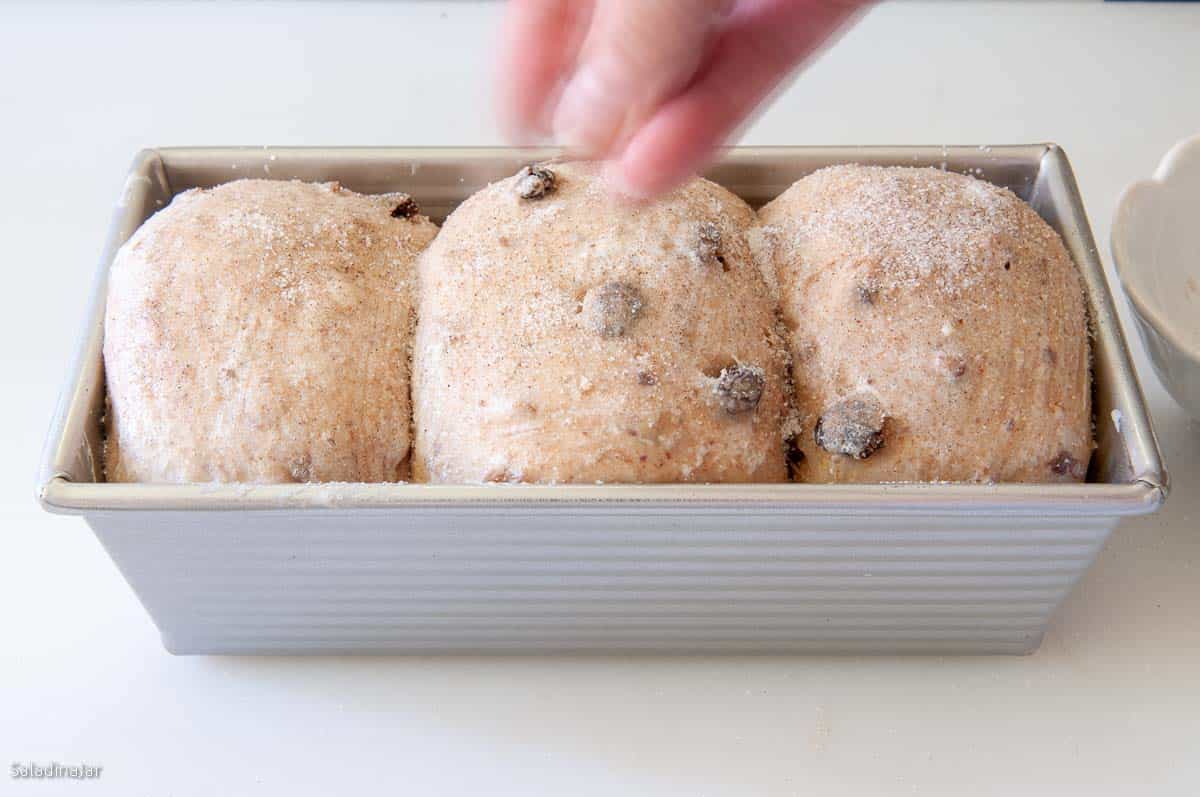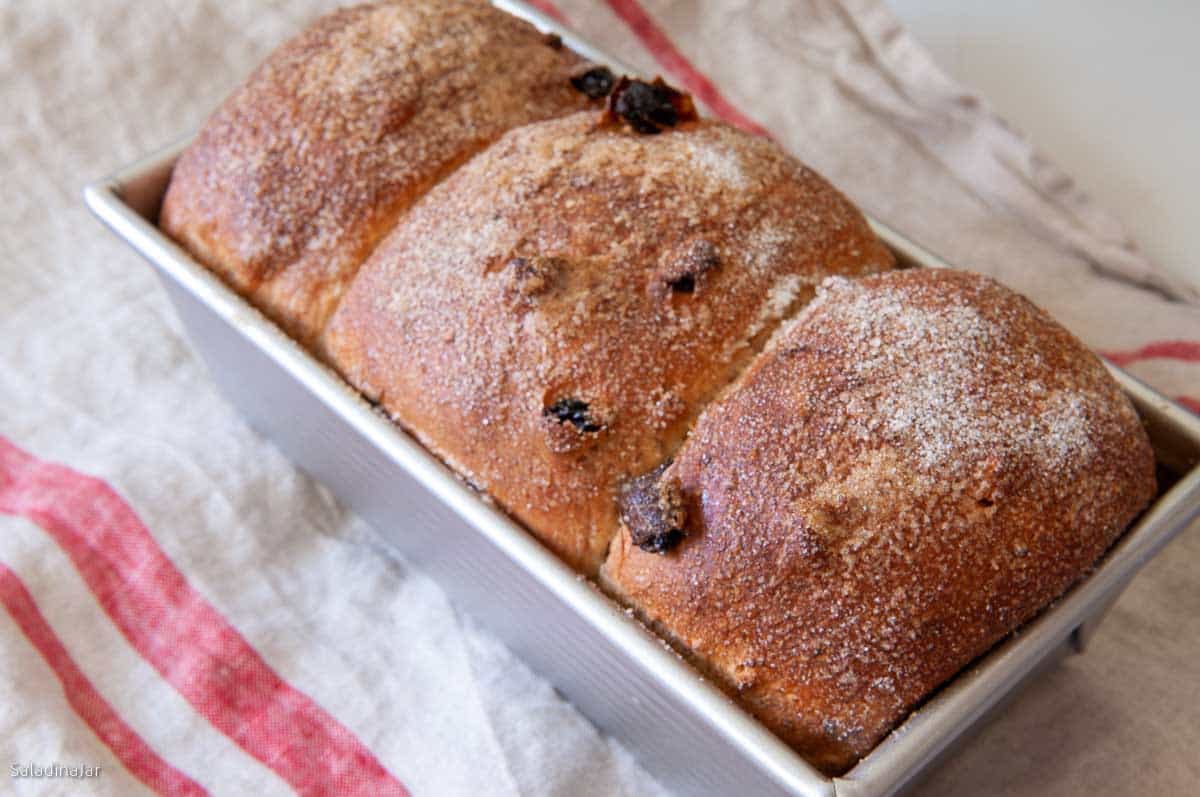 ---
Alternate shaping: How to make a 3-strand braid
If you're not afraid of braiding, this dough is easy to work with.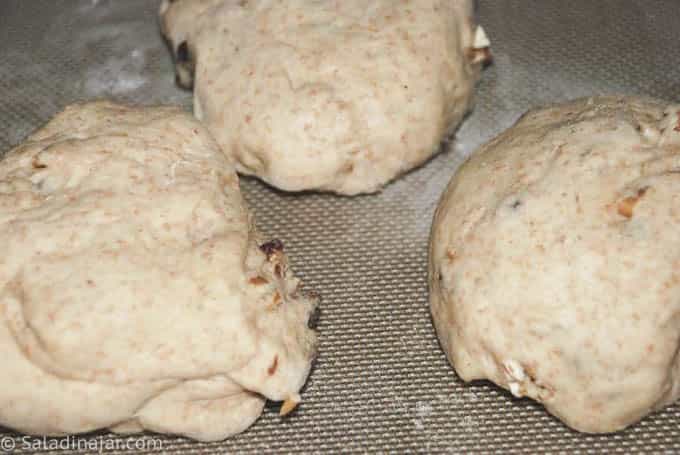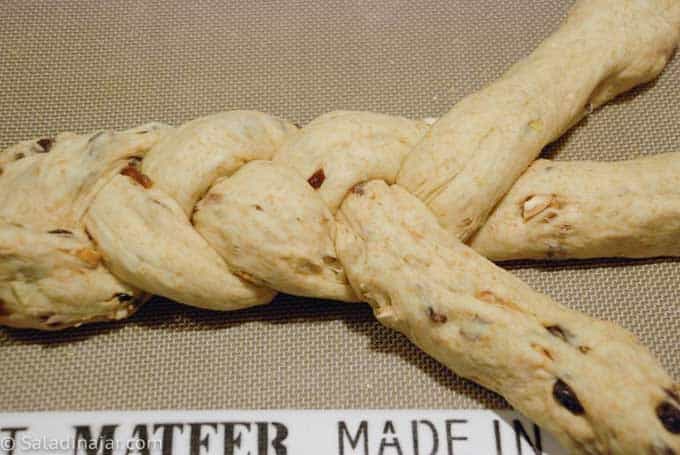 ---
FAQ about yeasted banana bread:
How long does this bread stay fresh?
Because this bread loaf has no preservatives, it's best eaten the day you bake it.
Can I freeze this bread after baking?
Yes. Slice the bread and wrap the slices individually in plastic wrap. Store in the freezer. When you need a snack or a jelly sandwich, take a couple of slices out to thaw for a few minutes or run them through the toaster. Delicious.
How do I freeze bananas?
I prefer to peel old bananas and drop them into a zippered plastic bag before placing them into the freezer.
Parting thoughts: Life is good as long as I have some of this bread in my freezer. It is much more filling than traditional banana bread, not to mention the extra fiber in whole wheat flour and dried fruit. I hope you love it. And don't forget about making sweet melba toast with any leftover bread. Those sweet crispies are almost better than cookies.
---
More tips and recipes for bread machines:
If you have questions or suggestions, email me privately for a quick answer: Paula at saladinajar.com. Hope to see you again soon!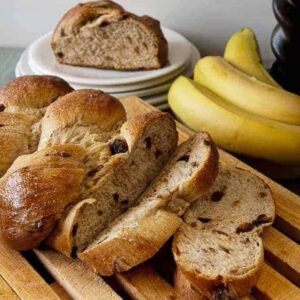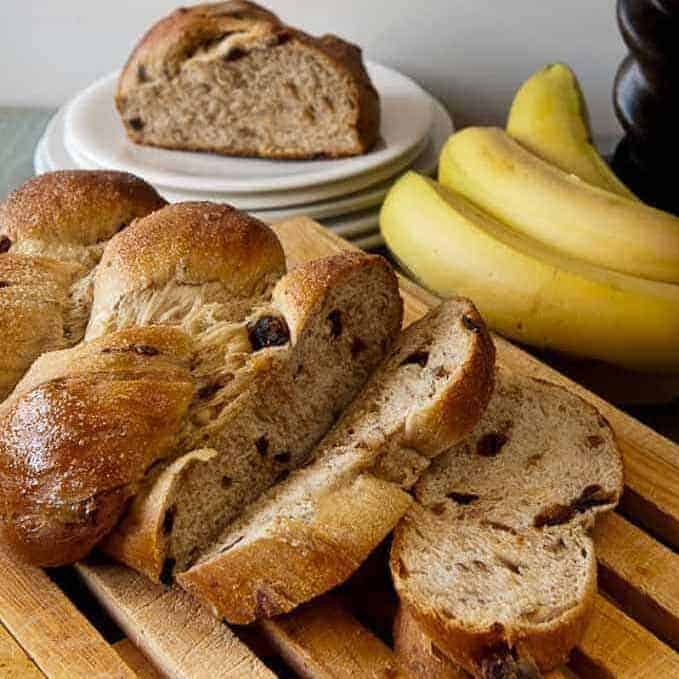 Sweet Banana Bread with Yeast: A Bread Machine Recipe
Break out of your same old banana bread routine. Use those old bananas to make this Banana Yeast Bread with whole wheat flour in your bread machine. It's slightly sweet with a sugar-cardamom mixture sprinkled over the top.
Rate this recipe here
Ingredients
Dough
⅓

cup

milk or thinned yogurt

-

76 gr

1

large egg

-

50 gr

1

tablespoon

honey

-

21 gr

½

teaspoon

salt

-

3 gr

2

tablespoons

butter

-

(cut up) 28 g

1

small ripe banana

-

mashed (approximately 1/2 cup) (see notes in the post if you have more or less)

1

cup

whole-wheat flour

-

120 g

1¾

cups

unbleached bread flour

-

210g

2

teaspoons

bread machine or instant yeast

-

8g

½

c.

toasted pecans or almonds

-

65 g

⅓

c.

raisins

-

50 g

¼

c.

chopped dates

-

45g
Topping
1

tablespoon

milk

-

14 gr

1

tablespoon

granulated sugar

-

12 gr

½

teaspoon

ground cardamom

-

1 gr
Instructions
Combine all dough ingredients (except the nuts, raisins, and dates) into a bread machine pan in the order given. Select the DOUGH cycle and press START.

Check the dough at least twice during the mixing and kneading phase by lifting the lid to take a peek. The first time, look immediately after the machine starts mixing to ensure the paddles are engaged correctly.

Look again 15 minutes into the DOUGH cycle to assess the consistency of the dough. For most recipes, the dough should stick to the side, then pull away cleanly.

If your dough is too wet, add flour one tablespoon at a time.

Conversely, if the dough is too dry, add one tablespoon of liquid at a time until the dough looks just right. Read more about this surprising secret to success with a bread machine here.

When the machine signals it's time for "add-ins", add nuts and dried fruit.

At the end of the cycle, if the dough has risen to double its size, remove dough from pan. If not double, leave the dough in the machine until it has doubled. Remove to a lightly floured surface and form into a ball. Allow dough ball to rest for 10 minutes.

Divide into 3 equal portions. Form into 3 cylinders each about 12 inches long. Braid as shown in the picture, tucking the ends under.

Transfer to a cookie sheet covered with parchment paper or a silicone baking mat. Let rise for about 45 minutes covered with a soft tea towel.

If the idea of braiding intimidates you, divide the dough into three balls and place them side by side into an 8½x4½-inch loaf pan.

Brush milk lightly over the raised loaf. Combine sugar with cardamom and sprinkle on top of the braid.

Bake at 375˚F (190˚C) for 30-35 minutes or until done.

Note: You may need to cover the loaf with aluminum foil halfway through to protect the top crust from over-browning before the loaf is cooked in the middle. If you have a quick-read digital thermometer, which I recommend if you intend to make much bread, the temperature should reach 190°F (88˚C).

Allow the loaf to cool down on a rack for 30 minutes before cutting for the best slices.
Notes
Directions for making bread with a stand mixer or by hand:
To make this recipe in a heavy-duty stand mixer: Add ingredients to the bowl in the same order. Turn on LOW to mix until all ingredients are moistened. Then, using a dough hook, turn the speed to 2 or 3. Continue beating/kneading until dough becomes smooth and elastic (about 5-10 minutes). Cover and allow to rise in a warm place. Deflate dough gently and shape as indicated in the recipe.
If making by hand: Combine all ingredients into a shaggy ball in a large bowl. Turn dough out onto a floured surface. Knead with your hands until the dough becomes smooth and elastic. Kneading will likely take 10-20 minutes, depending on your experience. Place the dough ball into a greased bowl. Cover and allow to rise until double. Deflate the dough gently and shape as indicated in the recipe.
Please note: If you only have active dry yeast, use 1/4 teaspoon more than called for in the recipe.

It no longer needs to be dissolved first

, but you can if you prefer.
Nutrition
Serving:
1
|
Calories:
187
kcal
|
Carbohydrates:
24
g
|
Protein:
4
g
|
Fat:
10
g
|
Saturated Fat:
2
g
|
Polyunsaturated Fat:
2
g
|
Monounsaturated Fat:
5
g
|
Trans Fat:
1
g
|
Cholesterol:
19
mg
|
Sodium:
126
mg
|
Potassium:
236
mg
|
Fiber:
4
g
|
Sugar:
8
g
|
Vitamin A:
104
IU
|
Vitamin C:
1
mg
|
Calcium:
27
mg
|
Iron:
1
mg
Did you try this recipe?
If you loved it, don't forget to leave a 5-star rating 🌟🌟🌟🌟🌟 at the top of the recipe card. Thanks so much for taking the time to do that!