This recipe for Bread-Machine Swedish Cardamom Braid (also known as Pulla Bread) is a sweet and rich yeast bread with a magic ingredient: cardamom! You may not have that spice in your kitchen now, but after you try this bread, you'll never be without it again.
(Yes, you can make this bread by hand or with a stand mixer if you don't have a bread machine.)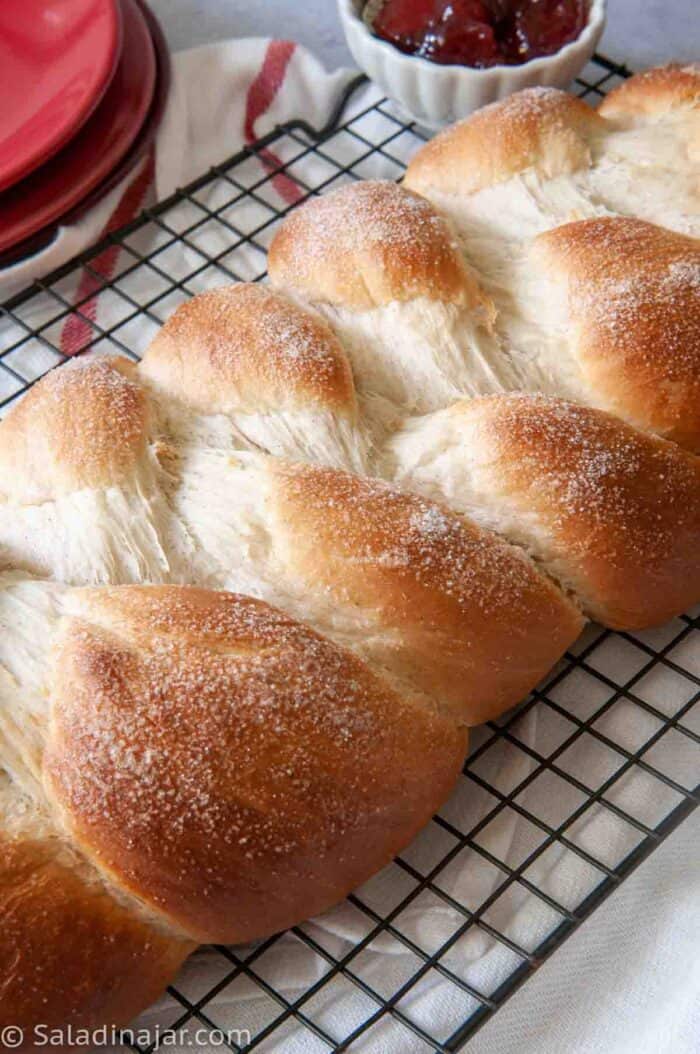 What is cardamom powder?
It is a wonderful spice originating from a green cardamom pod. The powder has a sweet, pungent flavor and aroma that's difficult to describe. It looks like a pale-colored cinnamon powder but the taste is different and a bit exotic.
There are other types of cardamom, but the powder is what you most commonly see in the spice aisle at your local supermarket.
Where can I buy cardamom powder?
If you're like me, you don't want to pay $4-5+ for a spice to use in only one recipe–especially an experiment. My suggestion is to buy a small amount where spices are sold in bulk.
This is a great idea if you live in a metroplex area where stores like Central Market or Whole Foods are located.
If you live in a less populated area you may not have that luxury. In which case, you'll have to trust me that cardamom is worth the money. (Check Amazon if you can't find it at the grocery store.)
You'll find other uses for cardamom if you are a baker. Check out my recipe for Banana Whole Wheat Bread seen below that also calls for cardamom. It is one of my all-time favorites.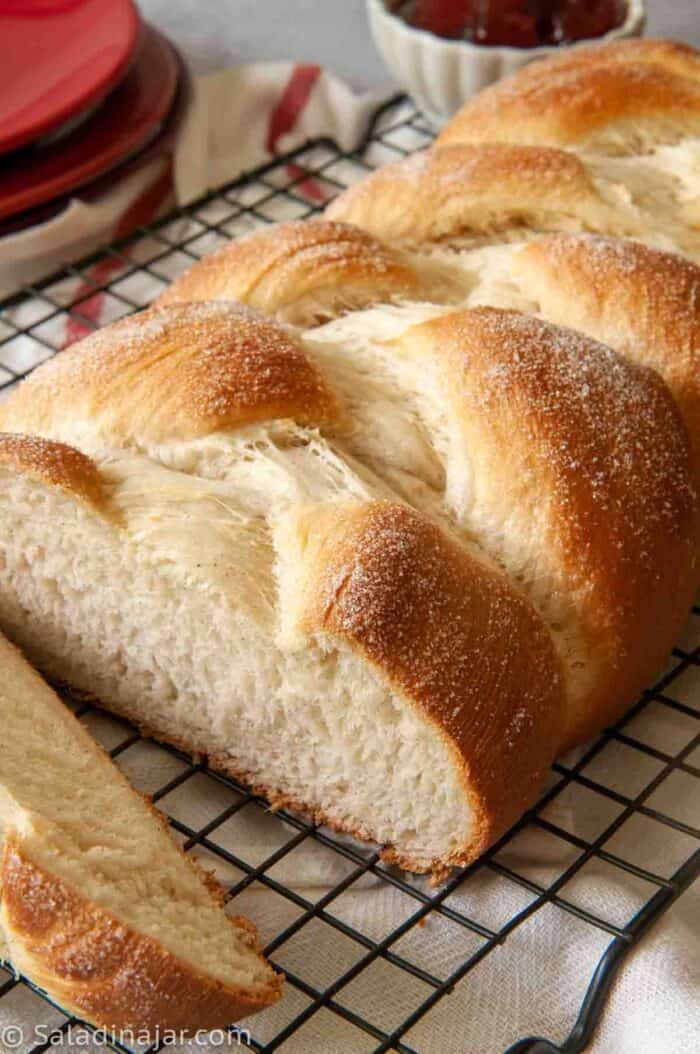 Can I substitute for the cardamom?
You might be tempted to substitute cinnamon. And you could. And it will probably be delicious.
But I promise, if you try the cardamom, people will rave. They will ask you about that mysterious flavor. More than likely, they will come back for another slice. It is THAT good!
Ingredients and Substitutions
Flour: I always keep unbleached flour in the house so that's what I use. Bleached all-purpose flour will work, too.
Speaking of flour: I recommend you weigh it, if possible. It is so much better than any dipping method. If you make a lot of bread, investing in digital scales and using them will improve your baking. Promise!
Yeast: Anytime you are using a bread machine, instant yeast or bread machine yeast makes it easy. But if you only have active dry yeast in the house, you can use it instead. No need to dissolve it these days. Use it the same amount and same way as instant yeast. Be aware that it is often slower to activate, but it will happen.
Milk: Whole milk is preferred. Substitute 2% or fat-free milk, but your bread won't be quite as rich.
Cardamom: It's the distinctive ingredient in this recipe. You could leave it out or substitute cinnamon.
Sugar topping: I normally use regular granulated sugar. Many people use sanding sugar (larger particles) on top. Suit yourself.
---
How To Shape the Dough Into a Braid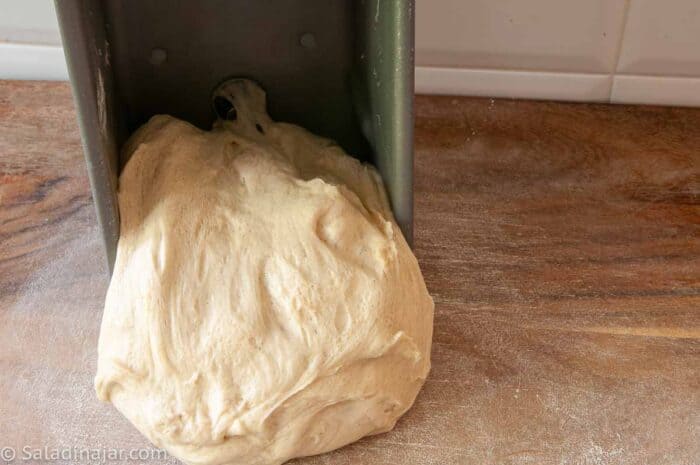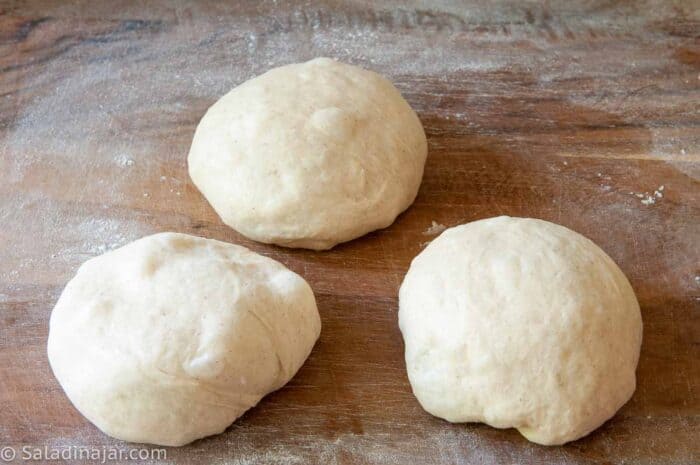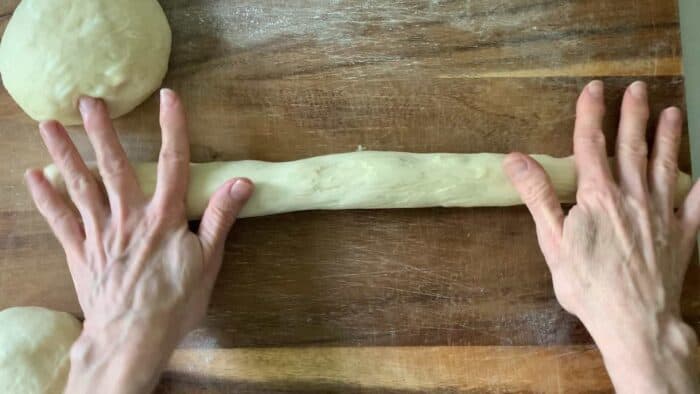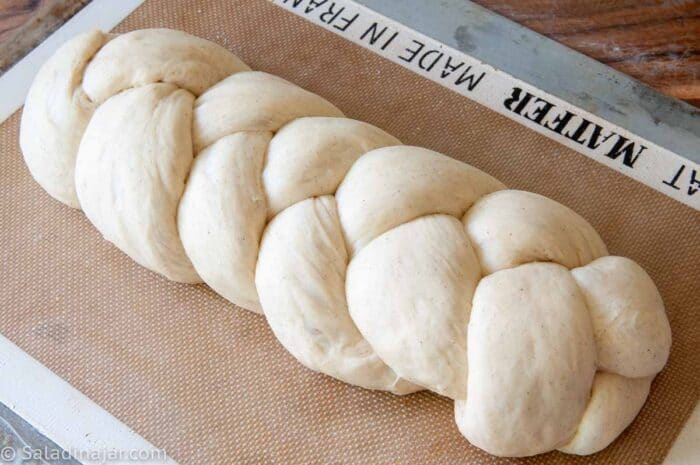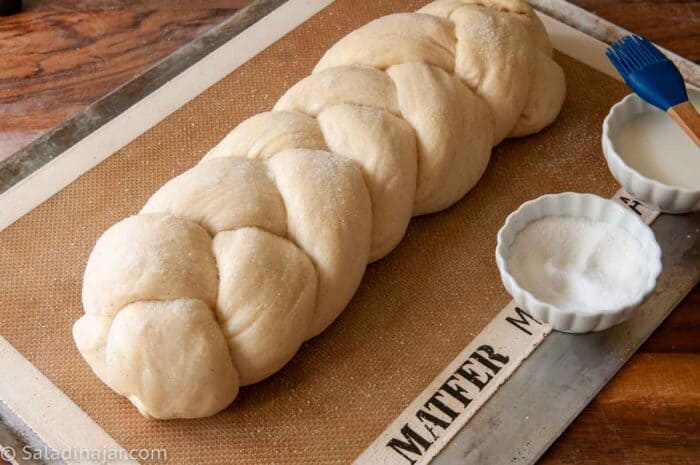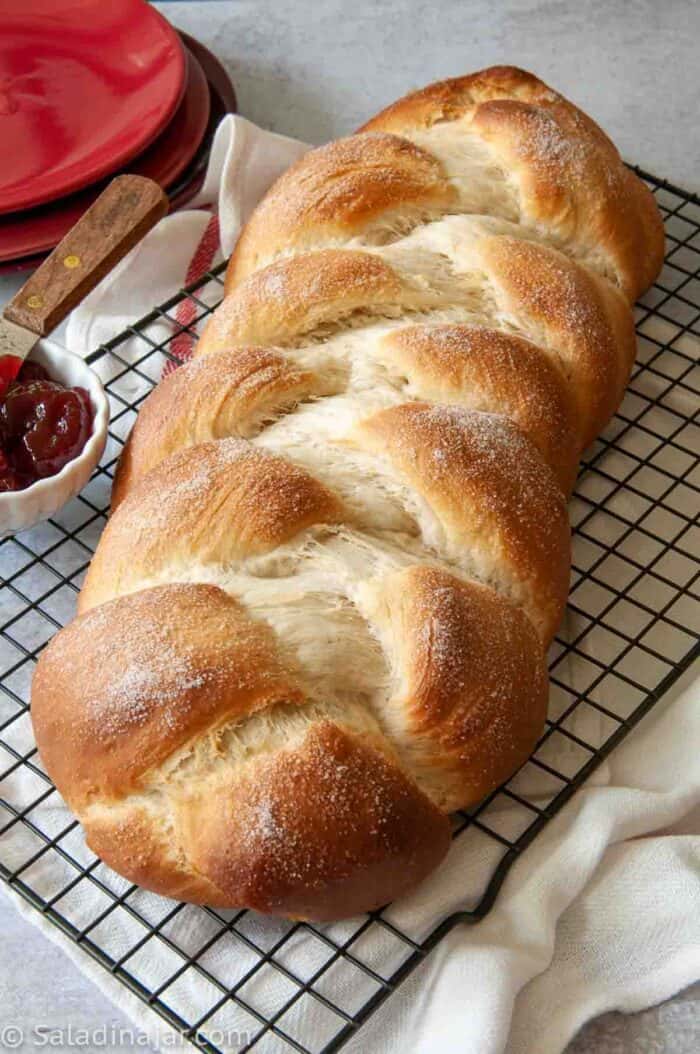 You can see in the picture that I didn't get the ends covered very well with the foil.
---
Alternate shaping ideas
If the braiding intimidates you or just doesn't work for you, take the three balls and place them side-by-side into a 9 x 5-inch bread pan. Let it rise, glaze with milk, sprinkle with sugar, and bake as directed.
If you would prefer to actually bake this bread in the bread machine, set the machine for a regular bread cycle that mixes, kneads and bakes. You won't get the nice braided shape, and the texture won't be as nice. But hopefully, it will taste just as good.
What bread recipe would you like to try next?
---
Pin the picture below to save for later.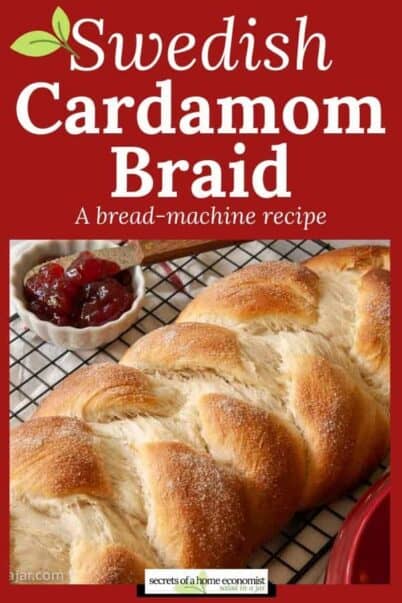 ---
---
---
Did you try this recipe and enjoy it? Consider helping other readers (and me) by returning to this post. Leave a rating on the recipe card itself underneath the picture. Although always appreciated, comments aren't required.
If you have a question or tip to share, please leave it in the regular comments after the recipe so I can answer back. Or, email me privately: paula at saladinajar.com.

Thank you for visiting!
Paula
---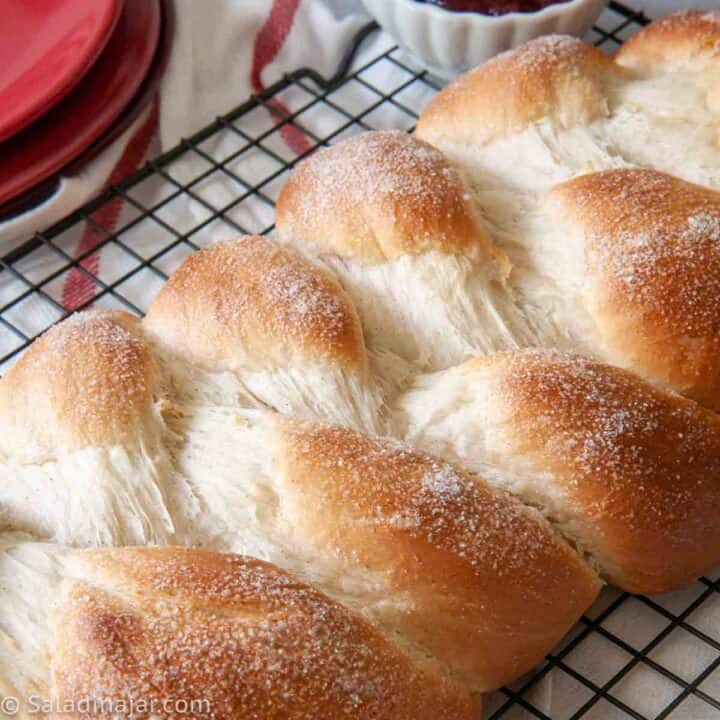 Bread-Machine Swedish Cardamom Bread
Prep Time:
2 hours
45 minutes
Total Time:
3 hours
15 minutes
Cardamom Yeast Bread for the bread machine is a sweet and rich yeast bread, spiced with cardamom. Instructions for mixing and kneading in a bread machine, then shaping and baking in a conventional oven.
Ingredients
3/4 cup warm milk
1/4 cup sugar
1/2 teaspoon salt
3/4 teaspoon cardamom
1 egg
1/4 cup butter, softened
3 cups flour (360 gr), all-purpose, unbleached
2 1/4 teaspoons bread machine yeast
Instructions
Add ingredients to the bread machine pan in order given. Select the DOUGH cycle.
When the cycle is completed, the dough should be smooth, elastic and risen to double the original size. Remove from pan to a lightly floured surface.
Divide into 3 balls and let relax for about 10 minutes.
Roll each ball into a long rope approximately 14 inches long. Braid these shapes, pinching ends under, securely. Place braid on a prepared cookie sheet
If this method doesn't work for you, divide the dough into two balls. Smooth them and place side by side in 9 x 5 bread pan.
Set aside to rise again until the braid is not quite double the original size.
Brush milk over the braid and carefully sprinkle with a light coating of sugar.
Bake in a preheated oven at 375˚F for 20 to 25 minutes. Cover with foil the last 10 minutes, if necessary, to prevent over-browning. Move from the cookie sheet to a cooling rack.
Notes
Alternate Mixing Instructions:
Directions for making bread with a stand mixer or by hand:
To make this recipe in a heavy-duty stand mixer, add ingredients to the bowl in the same order. Turn on low to mix until all ingredients are moistened. Using a dough hook, turn speed to 2 or 3 and continue beating/kneading until dough becomes smooth and elastic (about 5-10 minutes). Cover and allow to rise in a warm place. Deflate dough gently and shape as indicated in the recipe.
If making by hand, combine all ingredients into a shaggy ball in a large bowl. Turn dough out onto a floured surface and knead with your hands until dough becomes smooth and elastic, a process that will likely take 10-20 minutes depending on your experience. Place the dough ball into a greased bowl. Cover and allow to rise until double. Deflate dough gently and shape as indicated in the recipe.
Please note: You can substitute active dry yeast for instant or bread machine yeast. There is no longer any need to dissolve it. Be aware that it may be a little slower acting than instant yeast, but it'll get there.
Nutrition Information:
Yield:

16
Serving Size:

1 slice
Amount Per Serving:
Calories:

135
Total Fat:

4g
Saturated Fat:

2g
Trans Fat:

0g
Unsaturated Fat:

1g
Cholesterol:

20mg
Sodium:

100mg
Carbohydrates:

22g
Fiber:

1g
Sugar:

3g
Protein:

3g