Preview: Swedish Cardamom Bread for a bread machine is a braided, sweet, and rich yeast bread, spiced with cardamom. It's a winner!
Secret ingredients have a magical attraction for me. I guess I want to be part of the inner circle that knows what it takes to make a recipe memorable and irresistibly tasty.
This recipe for Bread Machine Swedish Cardamom Bread (also known as Pulla Bread) is a sweet and rich yeast bread with a magic ingredient: cardamom!
You may not have that spice in your kitchen now, but after you try this bread, you'll never be without it again.
What is cardamom powder?
It is a wonderful spice originating from a green cardamom pod. The powder has a sweet, pungent flavor and aroma that's difficult to describe. It looks like a pale-colored cinnamon powder but the taste is different and a bit exotic.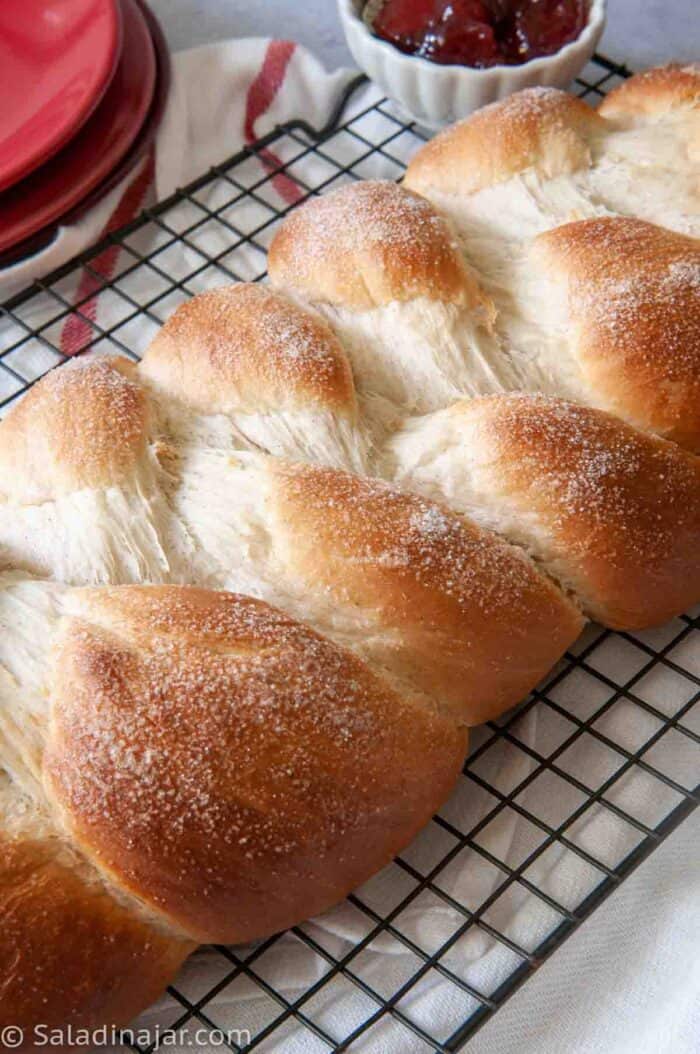 There are other types of cardamom, but the powder is what you most commonly see in the spice aisle at your local supermarket.
Where do I buy cardamom?
If you're like me, you don't want to pay $4-5+ for a spice to use in only one recipe–especially an experiment. My suggestion is to buy a small amount where spices are sold in bulk.
This is a great idea if you live in a metroplex area where stores like Central Market, Whole Foods, or Winco are located.
If you live in a less populated area you may not have that luxury. In which case, you'll have to trust me that cardamom is worth the money. (Check Amazon if you can't find it at the grocery store.)
You'll find other uses for cardamom if you are a baker. Check out my recipe for Banana Whole Wheat Bread that also calls for cardamom. It is one of my all-time favorites.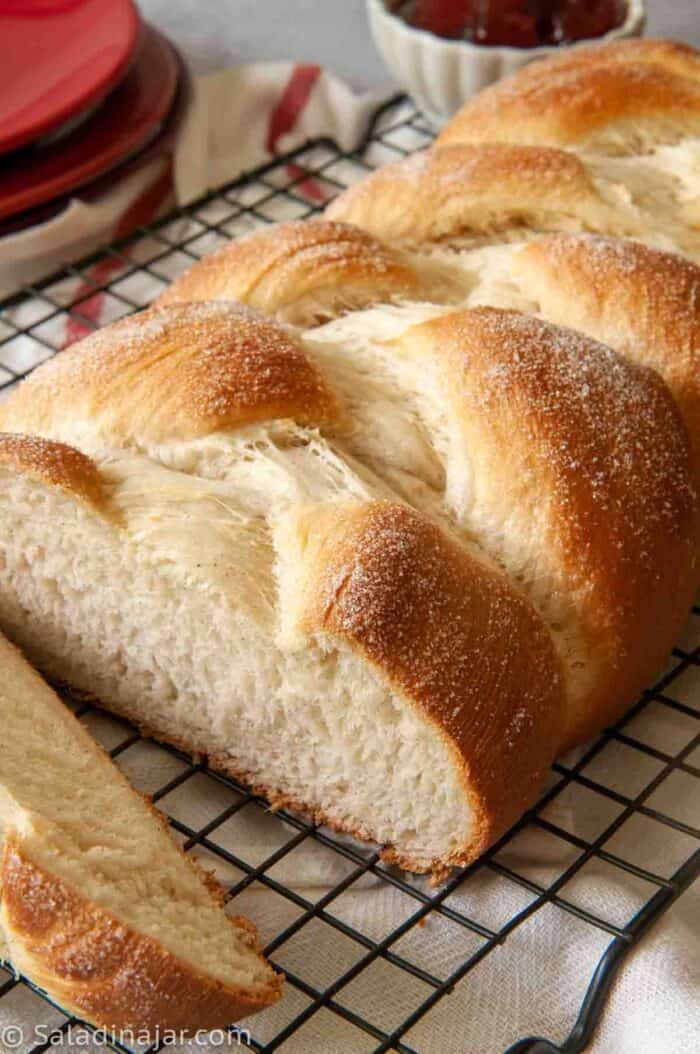 What can I substitute for cardamom?
You might be tempted to substitute cinnamon. And you could. And it will probably be delicious.
But I promise, if you try the cardamom, people will rave. They will ask you about that mysterious flavor. More than likely, they will come back for another slice. It is THAT good!
---
---
Flour: I always keep unbleached flour in the house so that's what I use. Bleached all-purpose flour will work, too.
Speaking of flour: I recommend you weigh it, if possible. It is so much better than any dipping method. If you make a lot of bread, investing in digital scales and using them will improve your baking. Promise!
Yeast: Anytime you are using a bread machine, instant yeast or bread machine yeast makes it easy. But if you only have active dry yeast in the house, you can use it instead. No need to dissolve it these days. Use it the same amount and same way as instant yeast. Be aware that it is often slower to activate, but it will happen.
Milk: Whole milk is preferred. Substitute 2% or fat-free milk, but your bread won't be quite as rich.
Cardamom: It's the distinctive ingredient in this recipe. You could leave it out or substitute cinnamon.
Sugar topping: I normally use regular granulated sugar. Many people use sanding sugar (larger particles) on top. Suit yourself.
---
How to shape the dough in to a braid: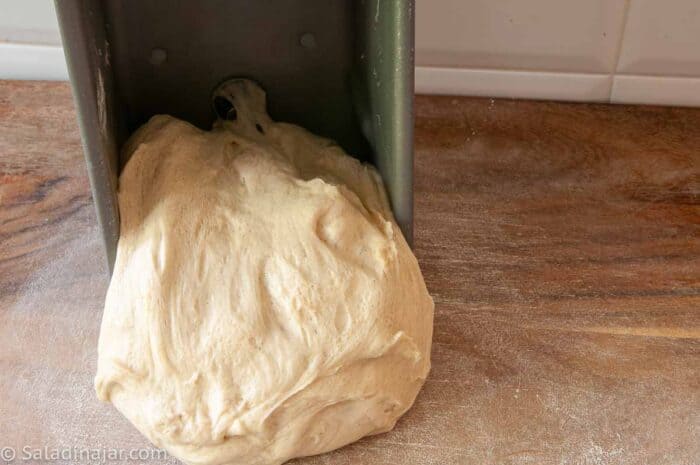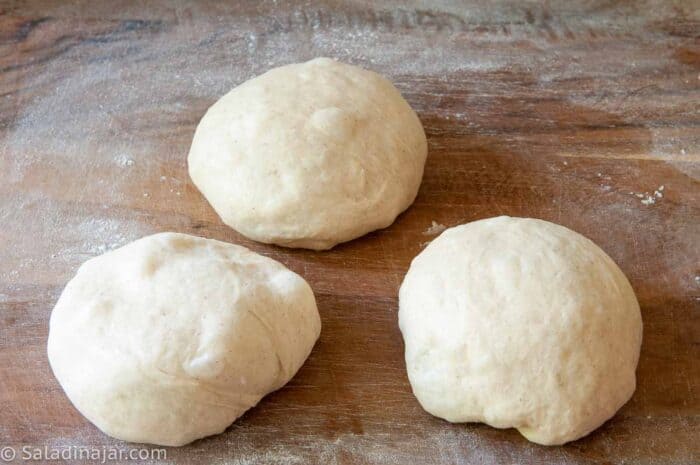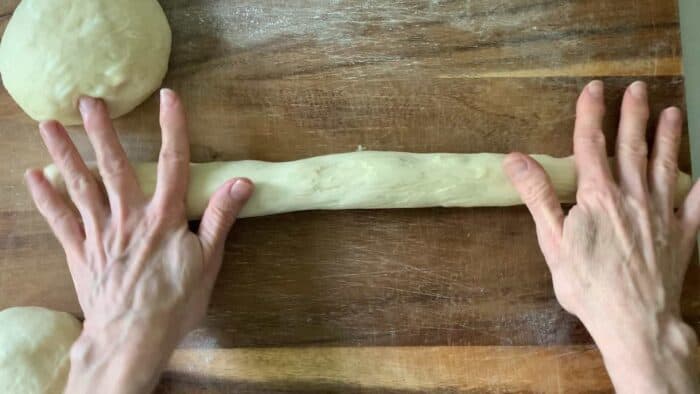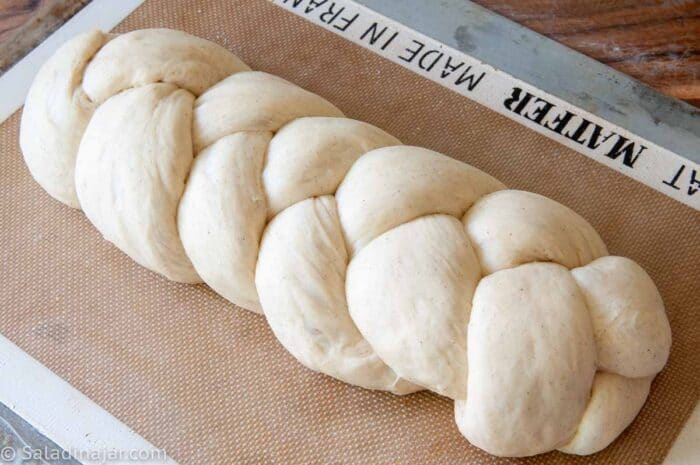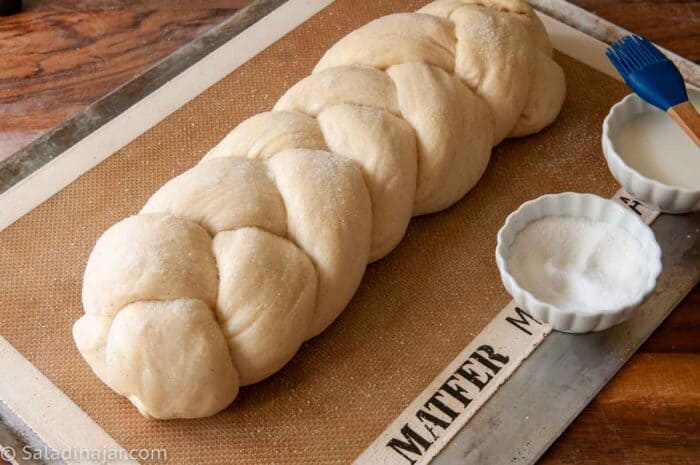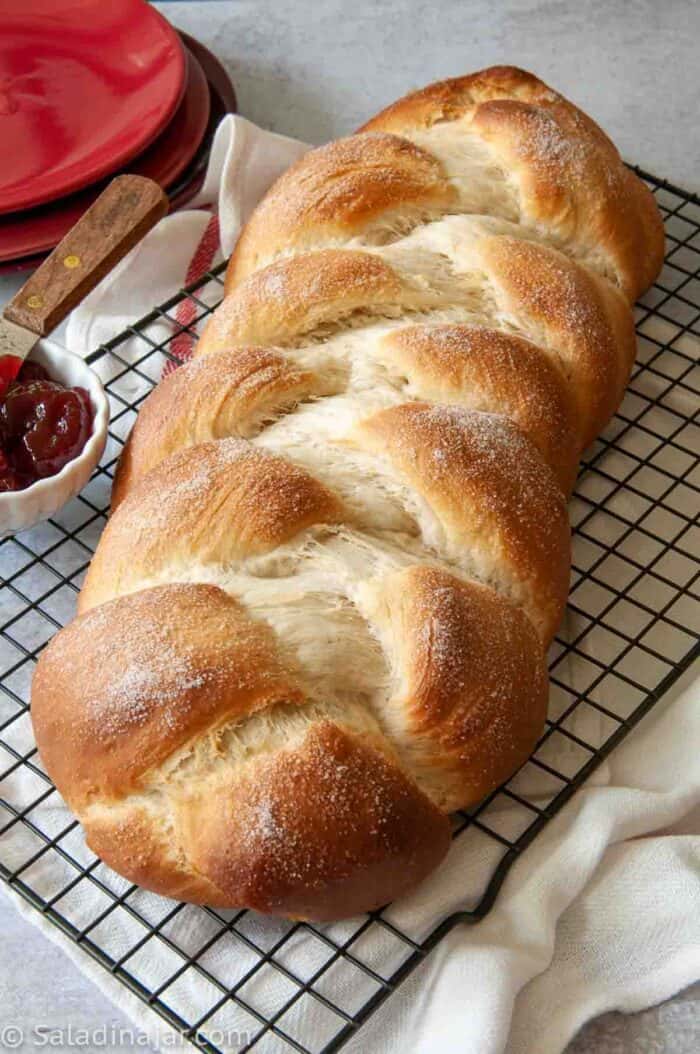 You can see in the picture that I didn't get the ends covered very well with the foil.
---
Alternate shaping ideas
If the braiding intimidates you or just doesn't work for you, take the three balls and place them side-by-side into a 9 x 5-inch bread pan. Let it rise, glaze with milk, sprinkle with sugar, and bake as directed.
If you would prefer to actually bake this bread in the bread machine, set the machine for a regular bread cycle that mixes, kneads and bakes. You won't get the nice braided shape, and the texture won't be as nice. But hopefully, it will taste just as good.
What bread recipe would you like to try next?
---
Did you try this recipe and enjoy it? Consider helping other readers (and me) by returning to this post. Leave a rating on the recipe card itself underneath the picture. No comment required.
If you have a question or tip to share, please leave it in the regular comments after the recipe so I can answer back. Or email me: paula at saladinajar.com.

Thank you for visiting!
Paula
---