Poppy Seed Dinner Rolls Made Easy with a Bread Machine
Sneak Preview: These Poppy Seed Dinner Rolls are light and airy yeast rolls with a touch of sweetness. Use a bread machine (or stand mixer) to mix and knead the dough, then bake them in your oven. (A dairy-free and egg-free recipe)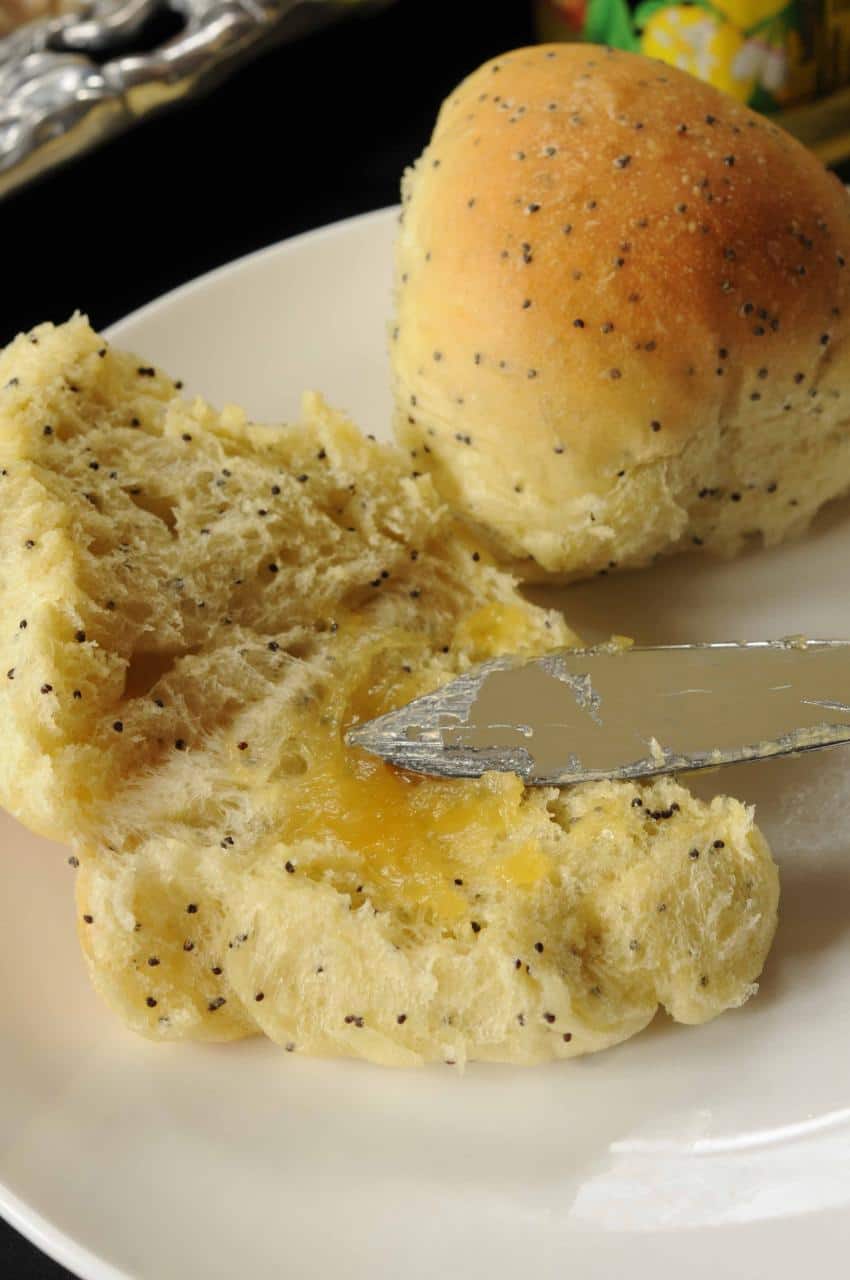 As an Amazon Associate, I earn from qualifying purchases.
If you are a poppy seed fan, you will want to add these Poppy Seed Dinner Rolls to your repertoire. Try them spread with lemon curd or preserves.
These are simple poppy seed rolls without a filling, glaze, or fancy shaping. Instead, shape your dough into simple balls (see the video below).
Take the savory route and make hot ham and cheese sliders. Perfect for a party. Whip up these dinner rolls for Easter dinner. Later, make sandwiches using leftover Easter ham and some honey or Dijon mustard.
Note: These rolls are dairy-free.
No bread machine? See recipe notes for alternative instructions.
How can I use a bread machine to make rolls?
You don't have to have a bread machine to make these, but it's easier with a bread maker. First, dump all ingredients into the bread machine pan and select the DOUGH cycle. Wait until the dough has doubled in size before removing the dough. This is how I do all of my bread machine recipes—mix the dough in a bread machine and bake it in my oven.
Next, remove the dough from the pan, form it into rolls, and let them rise again until almost double. Bake in a conventional oven. Don't worry. All the details are in the recipe.
Voila! You have just made yeast rolls you'll have to tie down to keep from floating off like a cloud.
---
Ingredients and common substitutions:
Water: Tap, filtered, or spring water will all work. The water doesn't have to be warmed. The friction of the bread machine blades will warm the dough in a hurry.
Oil: Vegetable oil could include canola, avocado, or other lightly-flavored oil.
Cake Batter Extract: This secret ingredient gives the dough a golden color and sweet flavor. It's readily available in most large grocery stores under the McCormick brand. This extract is also specified in my Hawaiian rolls.
Salt: I use table or sea salt in my bread recipes. If you use Kosher salt, add ¼ teaspoon more. Please don't cut out the salt entirely, even if you're trying to reduce salt in your diet. Cut back slightly and see how it goes. Salt is important for flavor and as a partner with the yeast.
Sugar: Use granulated white sugar.
Poppy Seeds: Did you know that freezing poppy seeds significantly prolongs their freshness? Otherwise, they can go rancid in a hurry.
Flour: The recipe specifies bread flour, but it's fine to substitute all-purpose flour. Your rolls won't be quite as chewy. I have not experimented with whole wheat flour.
Yeast: If possible, use bread machine or instant yeast. It's the easiest.
---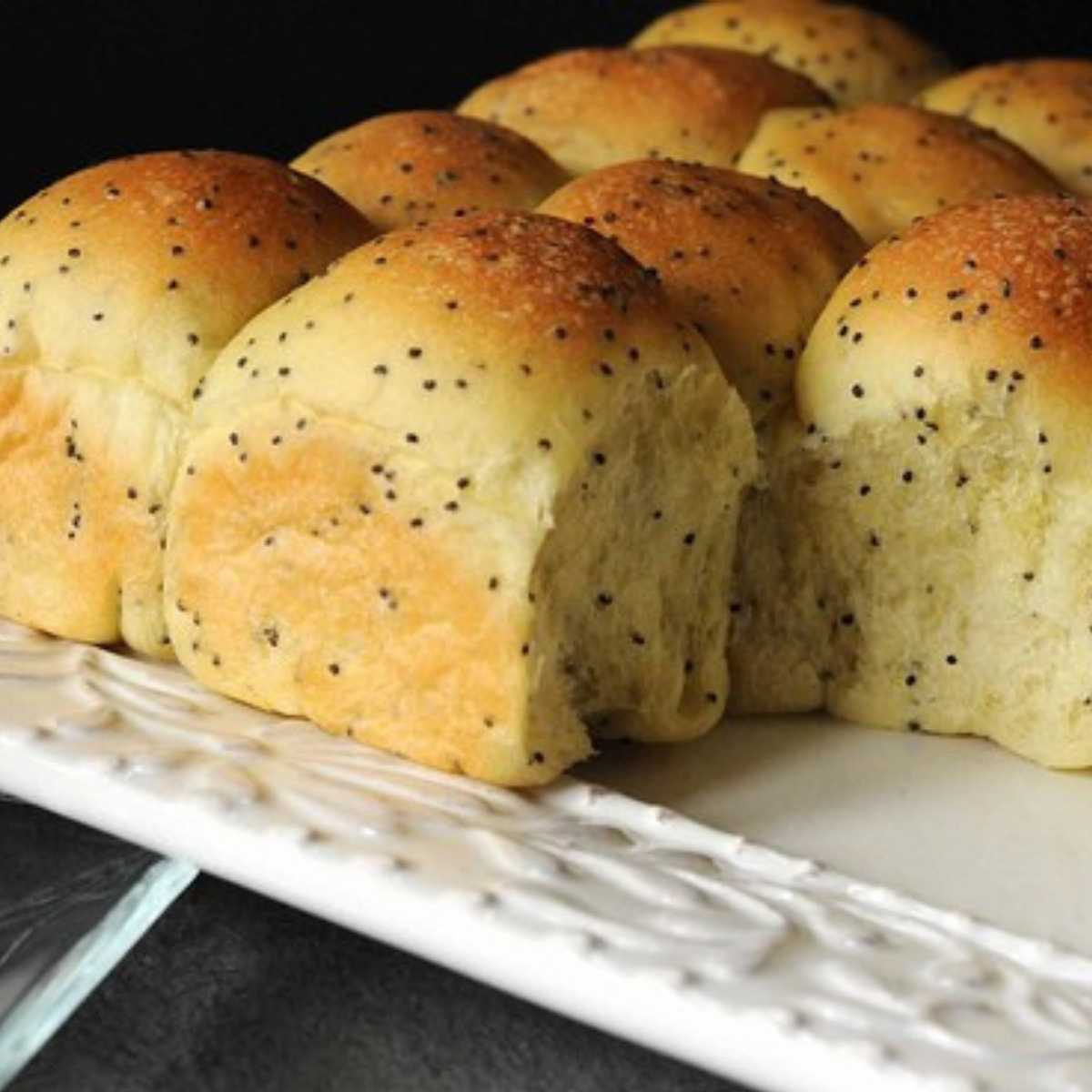 One more thing: Unlike most homemade bread, these rolls will stay fresh and delicious for 3-4 days. This is important because I don't feel compelled to eat all the rolls the day I make them.
---
Using a bread machine to make poppy seed dinner rolls: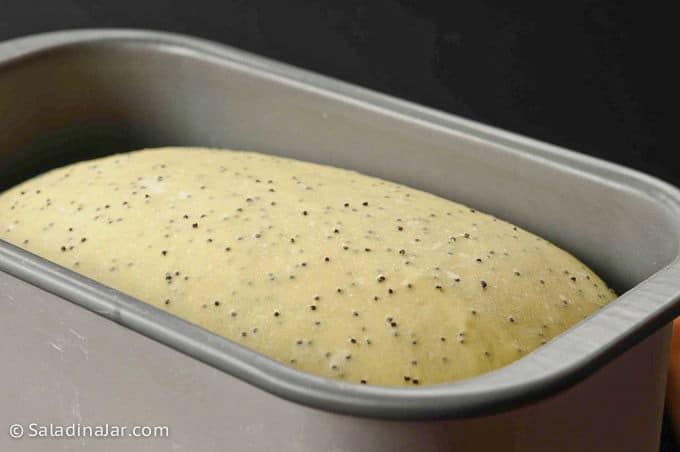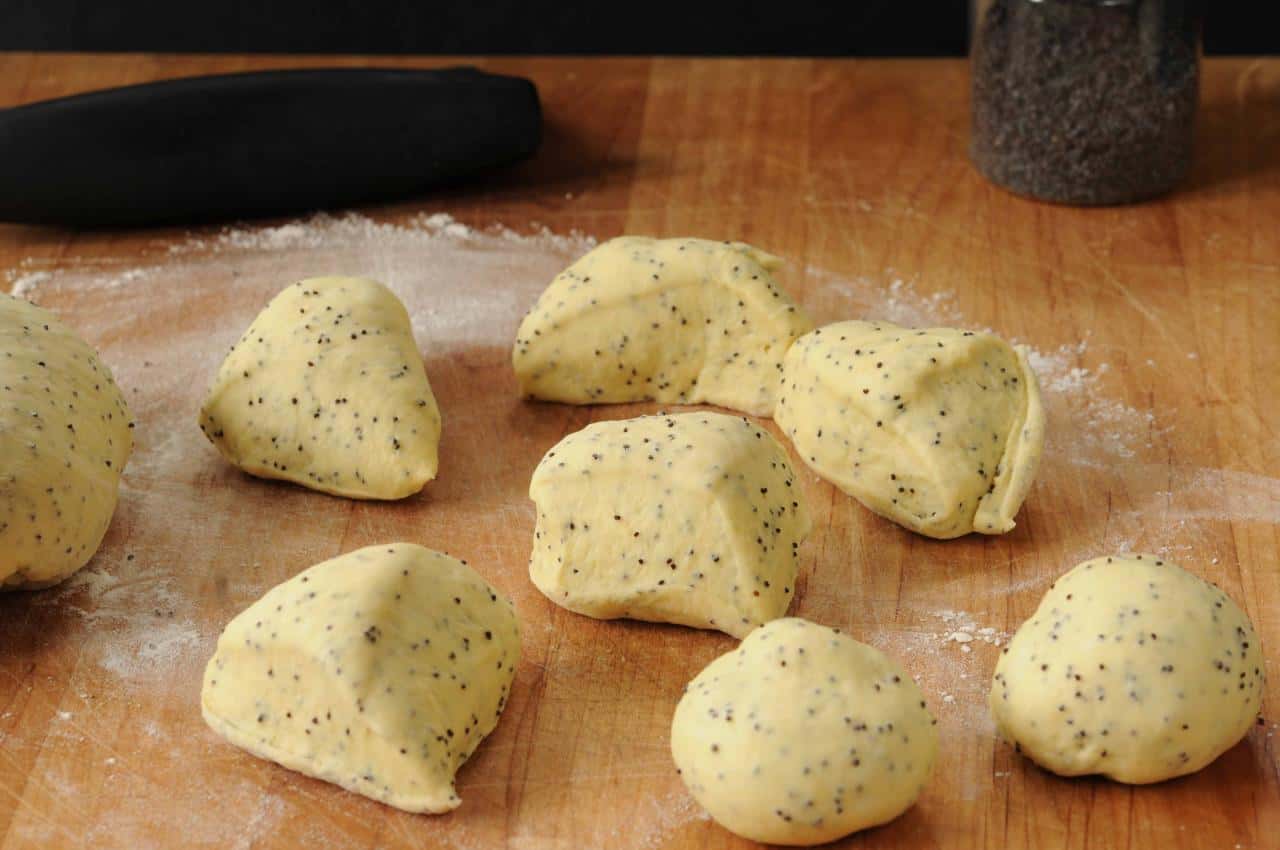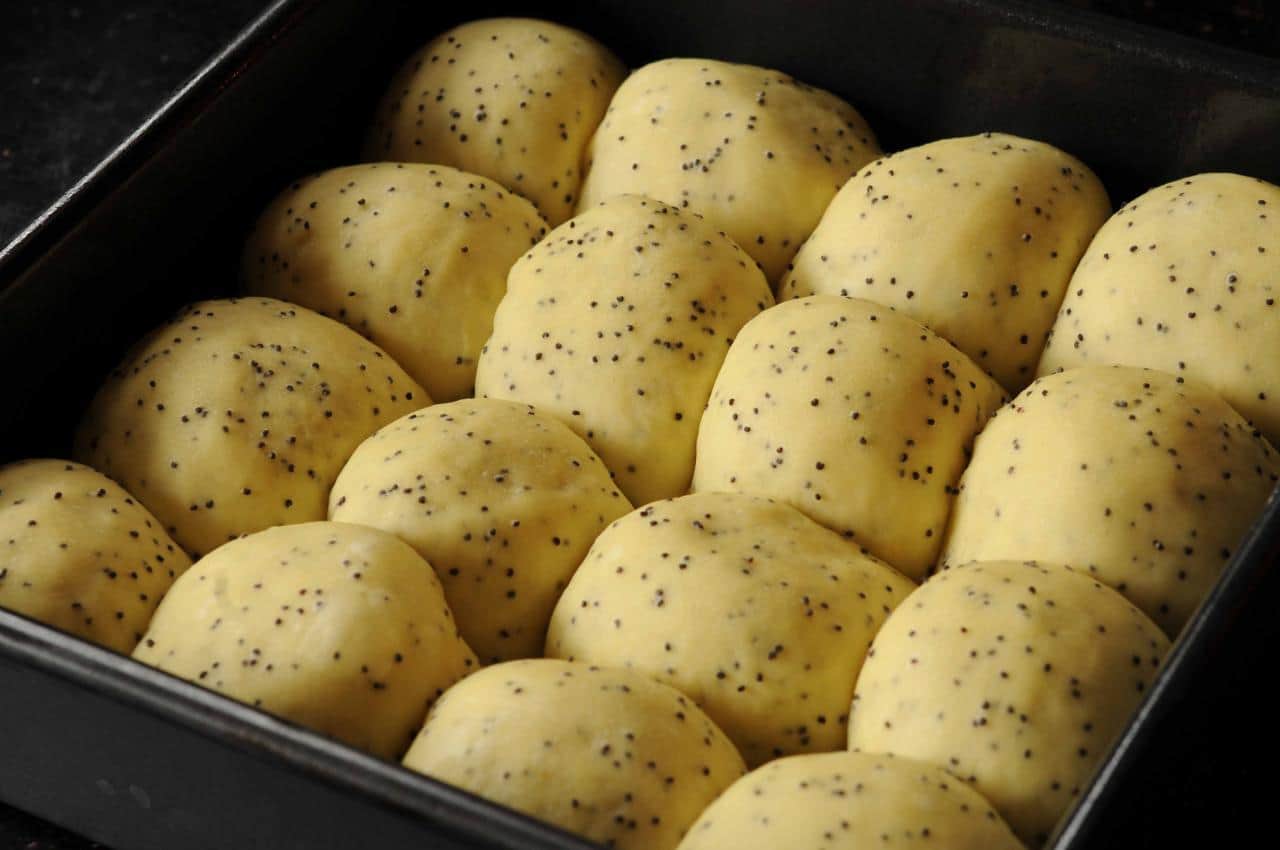 Bake at 350˚F (180˚C) for 11-14 minutes until the internal temperature reaches 190˚F (88˚C). After removing them from the oven, turn the rolls onto racks to cool. Otherwise, you might get soggy bottoms.
---
Frequently asked questions about poppy seed dinner rolls or buns:
What do poppy seeds do for a recipe?
They add texture and nutty flavor and lend an interesting appearance.
Can I make the dough for these rolls a day ahead of time?
Yes. After the DOUGH cycle finishes, place the dough in the refrigerator overnight. The following day, take the dough out of the refrigerator and let it warm slightly, then shape the balls and let them rise until puffy and almost double their original size. Bake them as directed in the recipe.
What readers are saying:
I made your Poppy Seed Dinner Rolls recipe this morning. Oh my. They are soooo delicious. I followed your recipe to the tee. The extracts, especially the Cake Batter extract, truly shine through. I'm in awe over this recipe. The dough texture was so pleasant to work with. The texture of the rolls and the browning were just to perfection. The outcome of this recipe is what every baker wants to achieve. I cannot say enough of how wonderful this recipe is.

Joan G.
---
If you have questions or suggestions, email me privately for a quick answer: Paula at saladinajar.com. Hope to see you again soon!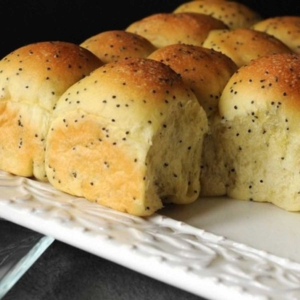 Poppy Seed Dinner Rolls Made Easy with a Bread Machine
Poppyseed Yeast Rolls are lightweight dinner rolls with a touch of sweetness. The seeds add interest and texture.
Ingredients
1

cup

of room temperature water

-

227 gr

¼

cup

vegetable oil

-

48 gr

1

teaspoon

vanilla extract

-

5 gr

1

teaspoon

cake batter extract

-

5 gr

½

teaspoon

almond extract

-

2.5 gr

1

teaspoon

salt

-

6 gr

3

tablespoons

sugar

-

36 gr

1½

tablespoons

poppy seeds

-

9gr

3

cups

bread flour

-

360 gr

2¼

teaspoons

bread machine or instant yeast

-

7 gr
Instructions
Place ingredients in order listed into a bread machine. Select the DOUGH cycle. Open the lid and check to ensure the paddle(s) are installed correctly and the dough is clumping.

After 15 minutes, open the lid and recheck the dough. If too dry, add water one tablespoon at a time. If too wet, add flour one tablespoon at a time. When the cycle finishes, remove the dough from the pan to a lightly floured surface.

Divide the dough in half. Cut each half into 16 pieces. Form into balls. See the video for an explanation of how to form dough into balls. Arrange the balls into two 8-inch round or a 9-inch square pan sprayed with vegetable oil.

Cover the pans and allow the rolls to rise in a warm place until almost double in size. The proofing period may take from 30 minutes to 1 hour. (Don't watch the clock. Let the rolls be your guide.)

About 15 minutes before you think the rolls will be ready to bake, preheat your oven to 350˚F.

Bake rolls for 11-14 minutes until golden brown. The internal temperature should reach 190˚F.

Let rolls sit on the counter for about 5 minutes. Then turn out onto a towel or plate. Flip upright onto a serving plate or tear apart and pile into a serving basket.
Notes
To make this recipe in a heavy-duty stand mixer: Add ingredients to the bowl in the same order. Turn on low to mix until all ingredients are moistened. Using a dough hook, turn speed to 2 or 3. Continue beating/kneading until dough becomes smooth and elastic (about 5-10 minutes). Cover and allow to rise in a warm place. Deflate dough gently and shape as indicated in the recipe.
If making by hand: Combine all ingredients into a shaggy ball in a large bowl. Turn dough out onto a floured surface. Knead with your hands until the dough becomes smooth and elastic. This will likely take 10-20 minutes depending on your experience. Place the dough ball into a greased bowl. Cover and allow to rise until double. Deflate the dough gently and shape as indicated in the recipe.
Please note: You can substitute active dry yeast. Dissolving it first is optional. It tends to rise slower in the beginning but will catch up eventually.
Nutrition
Serving:
1
roll
|
Calories:
135
kcal
|
Carbohydrates:
20
g
|
Protein:
4
g
|
Fat:
4
g
|
Saturated Fat:
1
g
|
Polyunsaturated Fat:
2
g
|
Monounsaturated Fat:
1
g
|
Trans Fat:
1
g
|
Sodium:
148
mg
|
Potassium:
47
mg
|
Fiber:
1
g
|
Sugar:
2
g
|
Vitamin A:
1
IU
|
Vitamin C:
1
mg
|
Calcium:
17
mg
|
Iron:
1
mg