Hawaiian Rolls with a Little Help from Your Bread Machine
Sneak Peek: Prepare to wow your loved ones with Hawaiian Rolls made with the help of your bread machine that rival store-bought Hawaiian bread in flavor, texture, and appearance. Ingredients include pineapple juice, honey, ginger, all-purpose flour, and cake-batter extract (the secret ingredient.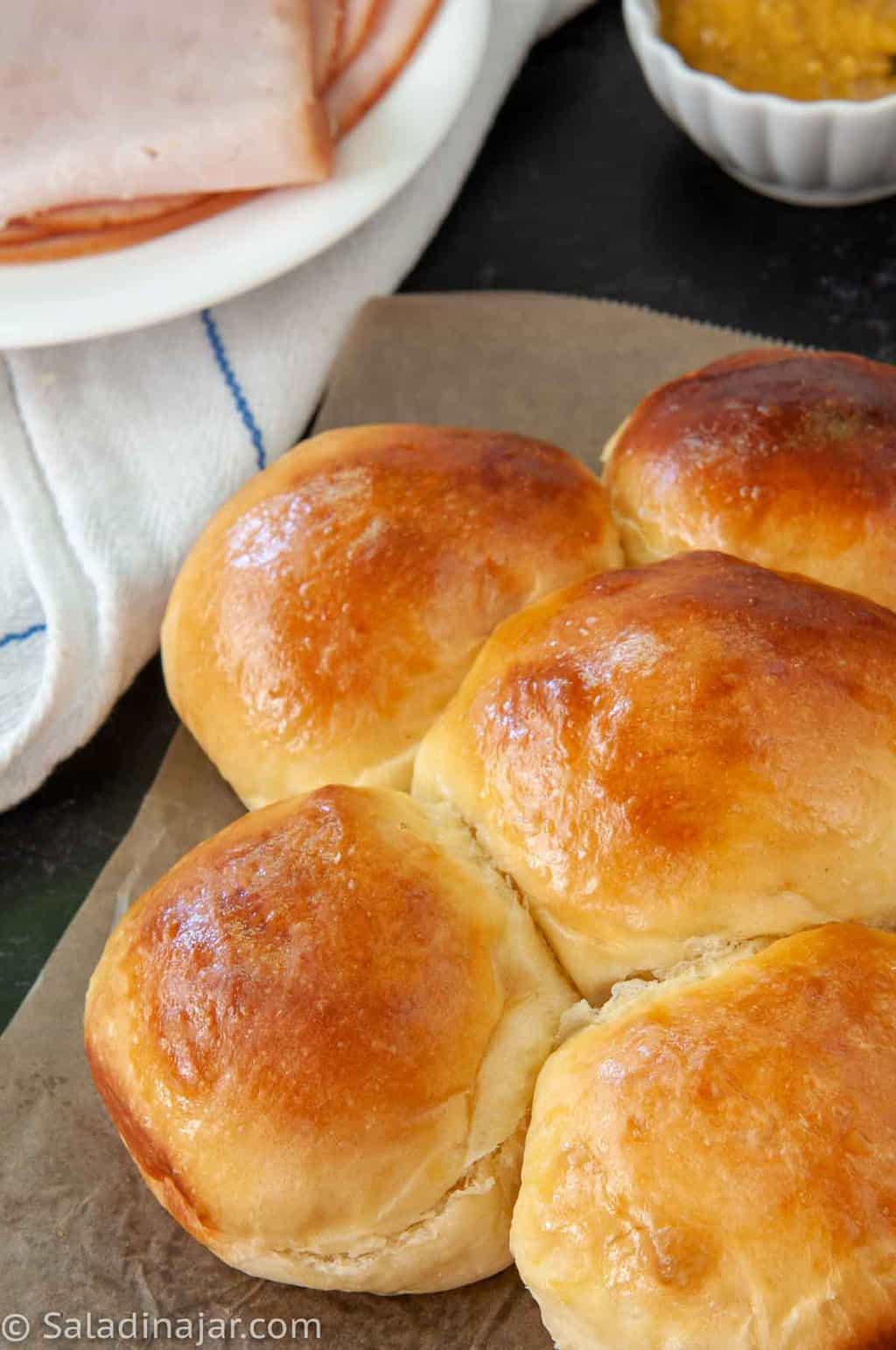 As an Amazon Associate, I earn from qualifying purchases.
Have you been looking for the perfect Hawaiian Bread recipe that genuinely looks and tastes like the fabulous bread you buy in the store? Me, too. Of course, we will make it with our bread machine.
If you don't have a bread machine, you can always make these rolls by hand or use a stand mixer. See the recipe notes for details.
I think I've mastered the formula after years of disappointment with recipes that claimed to imitate Sweet Hawaiian Bread. That's according to my tastebuds and those of my family and friends. I think you will agree after you taste them.
Try using these as slider buns. Eating sandwiches will be fun all over again.
Happy bakers speak up:
I just made these, and they are wonderful! Thank you so much for this recipe! I looked all over town for butternut extract, (no luck there), so I used 1/4 tsp of almond extract, and 1/4 tsp of Butter extract, and it hit the nail on the head! They taste even better than the store bought King's rolls!

Thank you again for sharing this recipe!–Shealeigh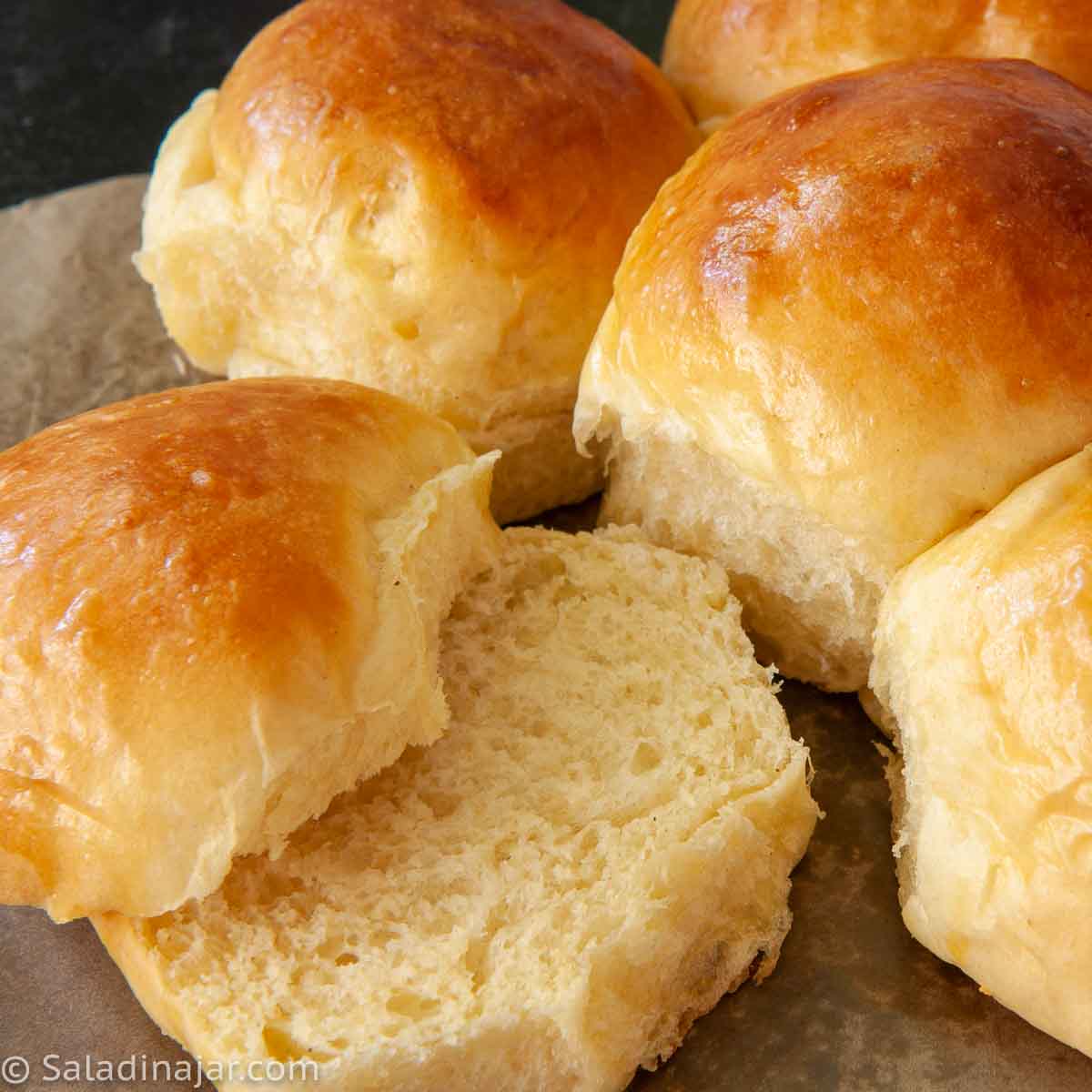 Recipe inspiration:
Creating a clone of commercially-produced Hawaiian Bread has been on my recipe bucket list for a long time.
I can tell by the ingredient list on the package sold at the supermarket that a home cook is not likely to figure out the exact recipe, but that doesn't deter me.
At any rate, it's time to stop the experimentation before I have to graduate to a larger dress size. These are a splurge, and I cannot resist when these Hawaiian rolls call my name!!!
Ingredients and substitutions:
Pineapple juice: Pineapple juice is not listed on the label of King's Hawaiian bread. That label is pretty mysterious. But canned pineapple juice adds a sweet and tart flavor that works. Use water or milk if you can't get or don't like pineapple juice. By the way, you don't have to warm the liquid when using a bread machine.

Dried milk: If you don't have dried milk, you can use fresh or canned milk for the liquid instead of pineapple juice.

Egg and egg yolk: Eggs add to the yellow color and the richness of the dough. Be sure to freeze the leftover egg white for this Homemade Angel Food Cake with Chocolate Ganache.

Mashed Potatoes: Leftover mashed potatoes are perfect. I often freeze packets of mashed potatoes just for these rolls.

If you don't have leftovers, cook a medium-size unpeeled potato for 3-4 minutes. Pull the skin off and chop. Add to the bread machine pan as is.

Instant potatoes are another option. Follow the directions on the package.

Heavy Cream: Substitute half and half or milk if you don't have cream.

Sugar: Use 2-3 tablespoons of granulated sugar, depending on your sweet tooth.

Honey: Honey contributes to the texture and sweetness.

Butter: Instead of softened butter, I now recommend you chop your butter with a table knife. It will melt quickly when the bread machine paddles get their hands on it—no need to wait for it to soften.

Ginger: I use powdered ginger that you buy in the spice aisle at the grocery store. A pinch of fresh ginger might work, but I haven't tried it myself.

Cake-Batter Extract: Cake batter extract imparts a specific enigmatic flavor to sweet yeast bread and a yellow color characteristic of Hawaiian-style bread. If you can't find it, vanilla-butter-nut extract is also good. Vanilla extract is my third choice.

Flour: My first choice is unbleached all-purpose flour. Bleached all-purpose flour can be substituted. Different flours may require slight adjustments in the amount used. Check your dough while mixing to see if you need to add more liquid or flour. The goal is for the dough to stick to the sides of the pan, and then pull away cleanly.

Instant Yeast: If you are mixing this recipe in a bread machine, use bread-machine yeast, instant yeast, or active dry yeast. If you are using active dry yeast, there is no longer any need to dissolve it. If using active dry yeast, add an additional ¼ teaspoon. Read more about using yeast with a bread machine here.

Lemon Juice (optional): Since I don't keep pineapple juice in my pantry, I usually use milk instead of pineapple juice. When I do that, I like to add 1-2 teaspoons of lemon juice for the subtle flavor it adds to this bread. It works the same way as the lemon juice in my basic white bread machine loaf recipe. It helps the yeast rise and acts as a dough conditioner. You won't taste it.
---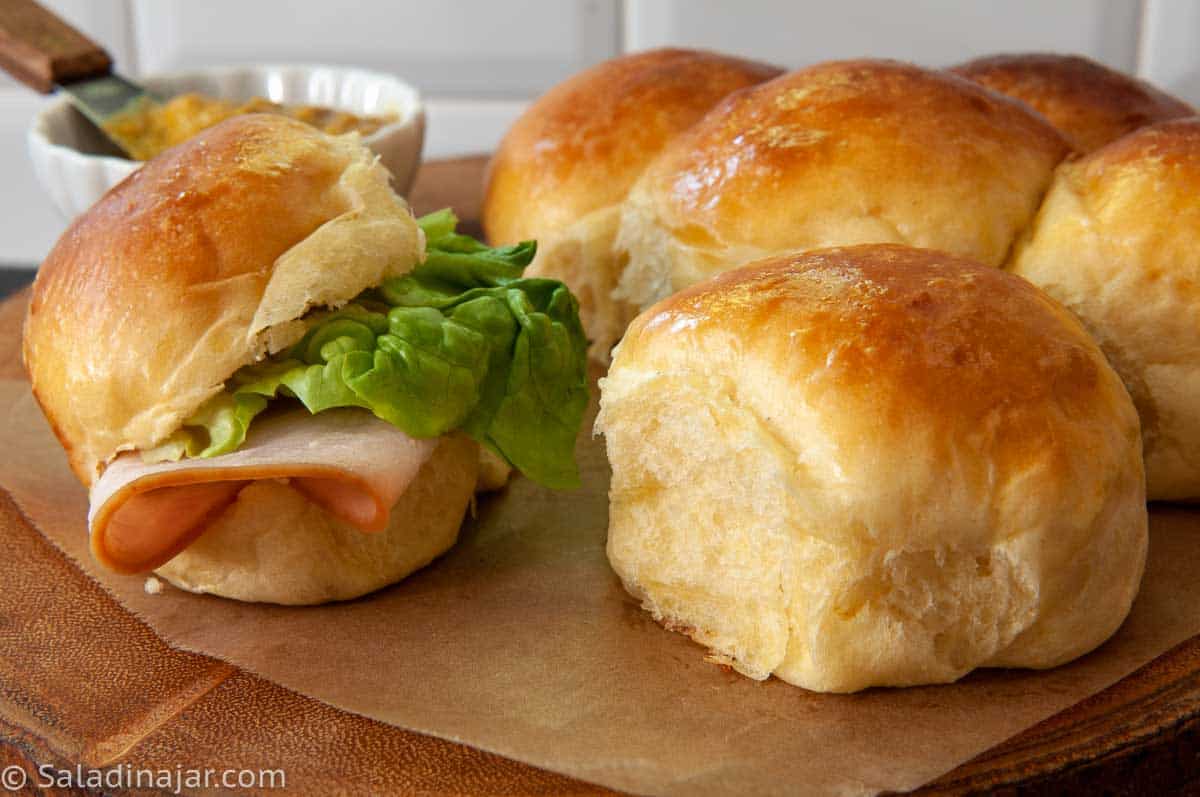 ---
How to make Sweet Hawaiian rolls with a bread machine: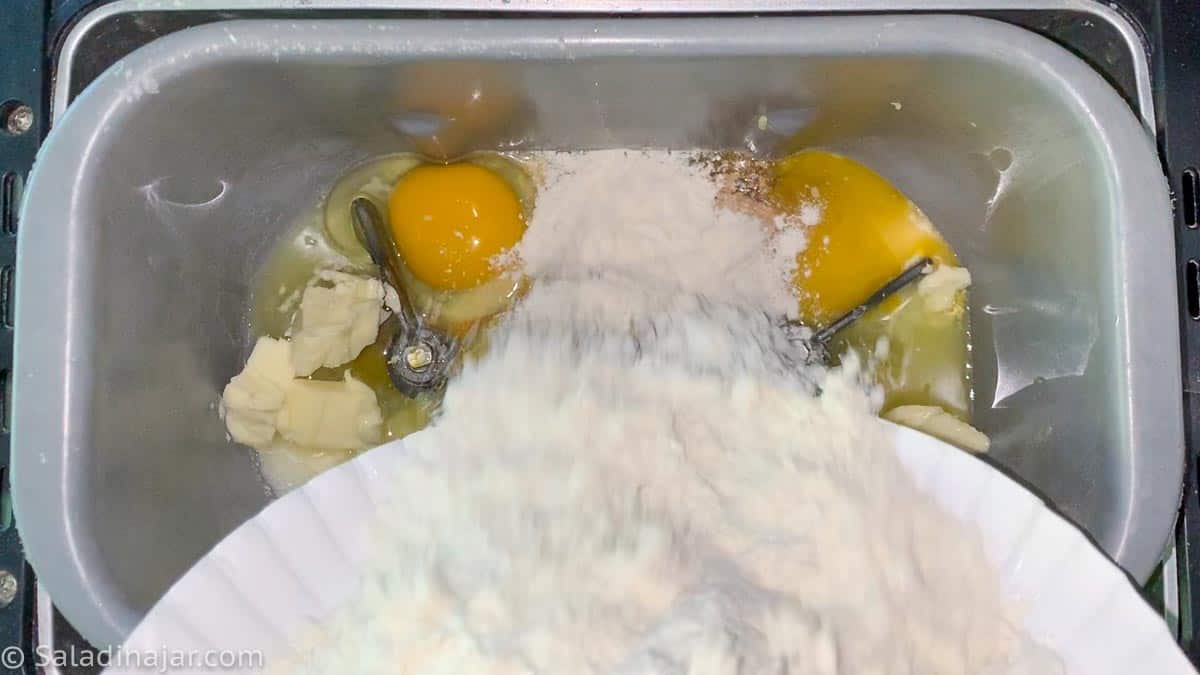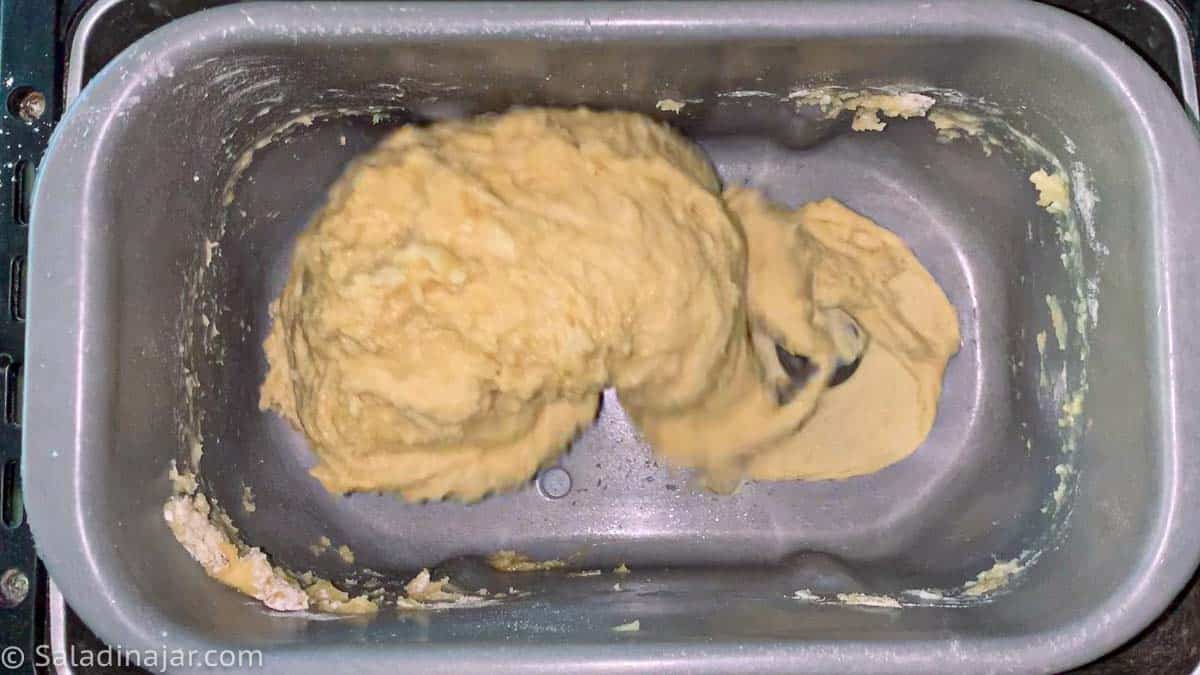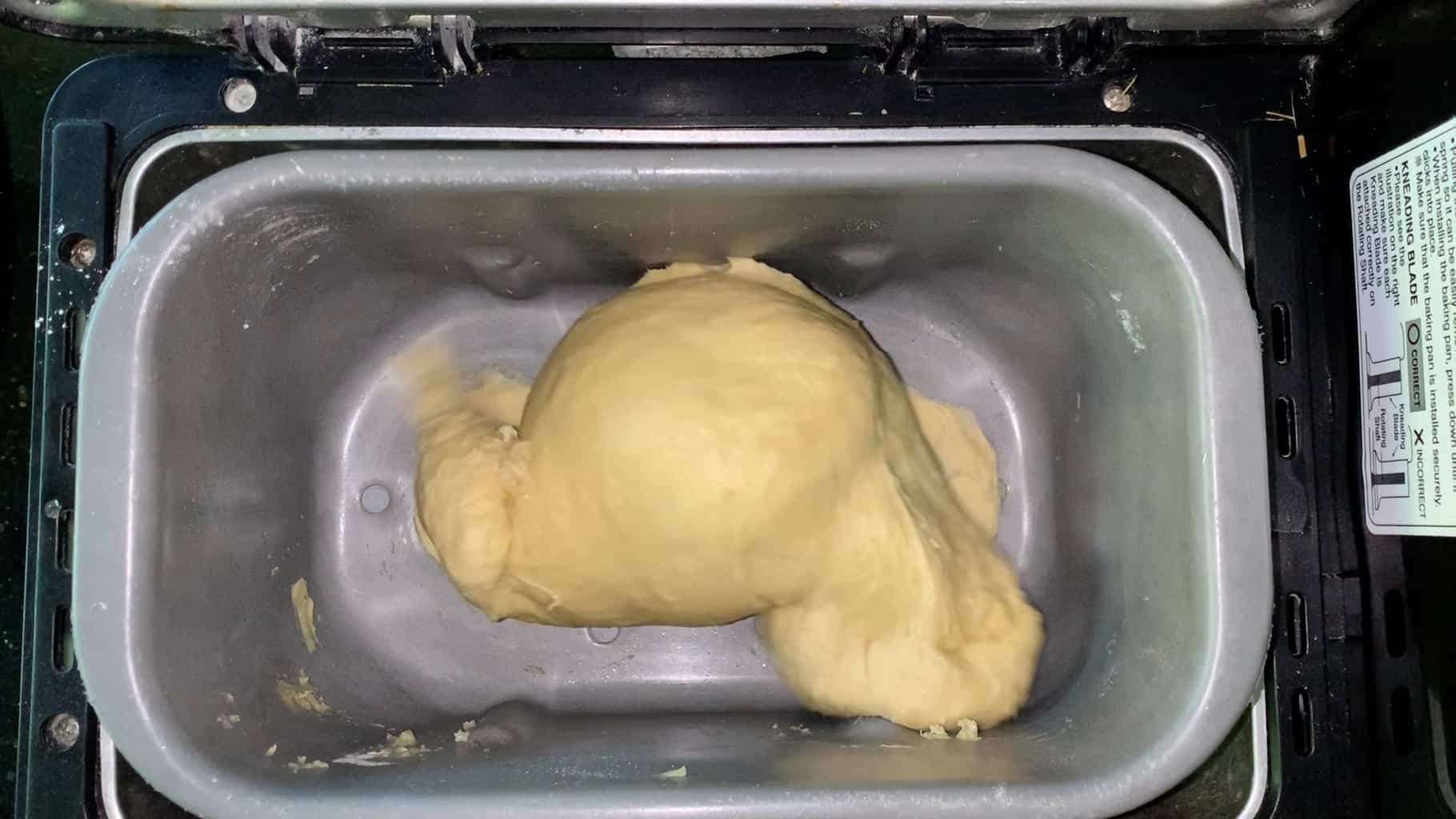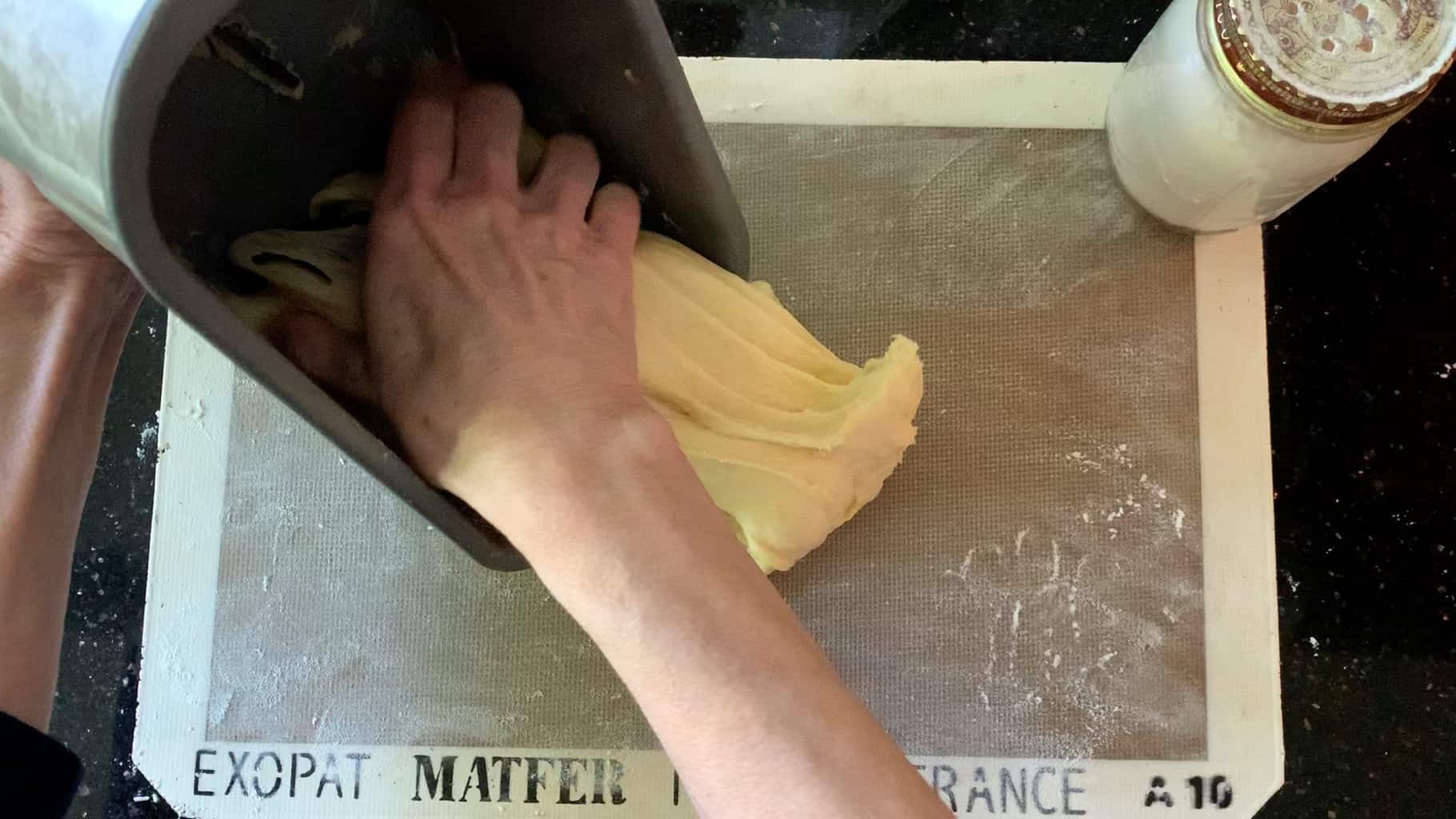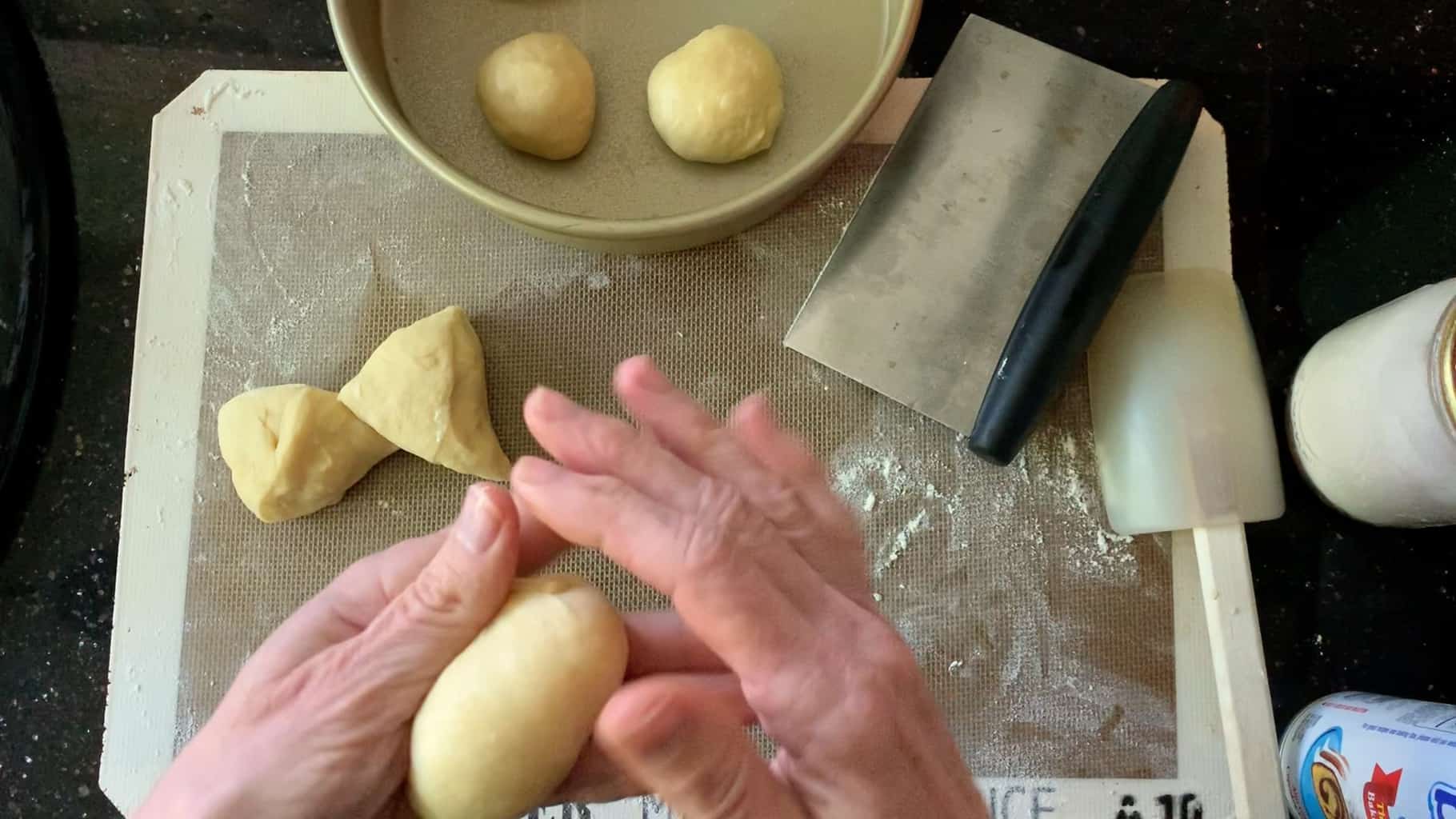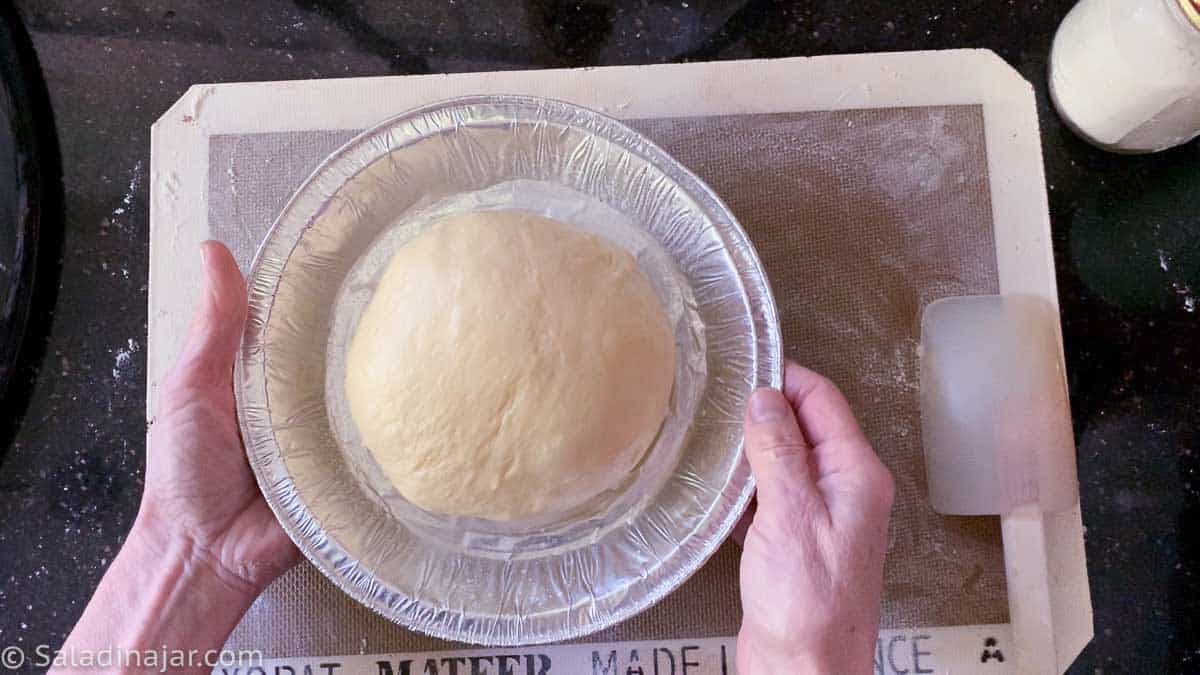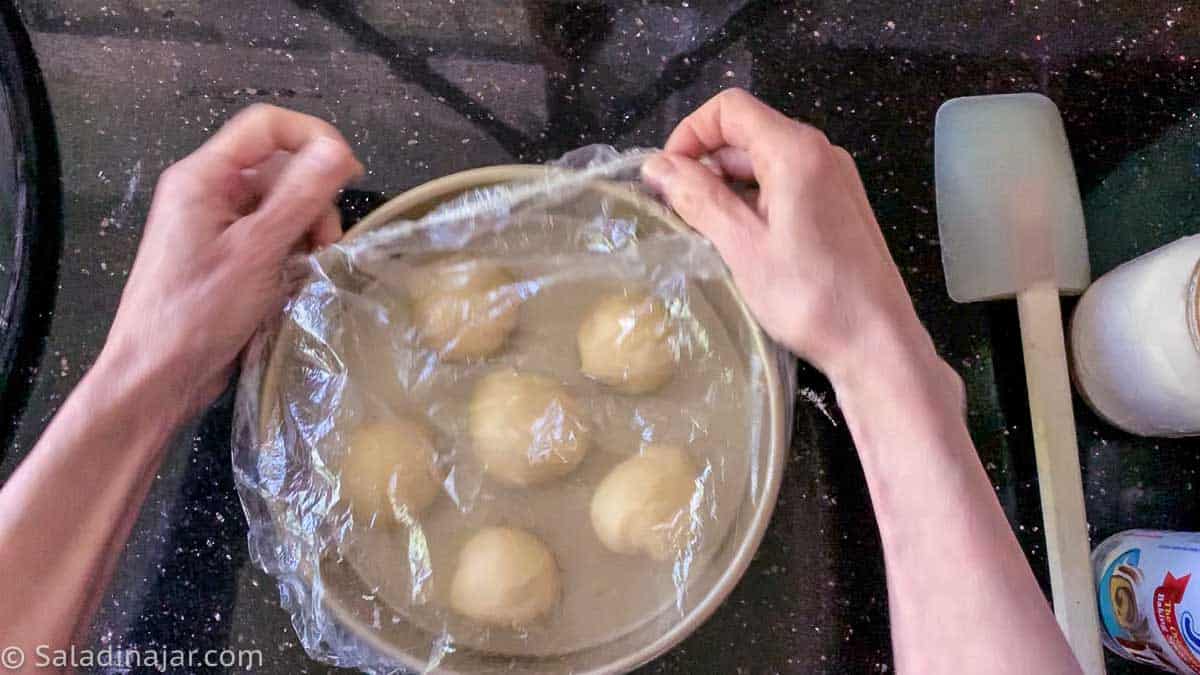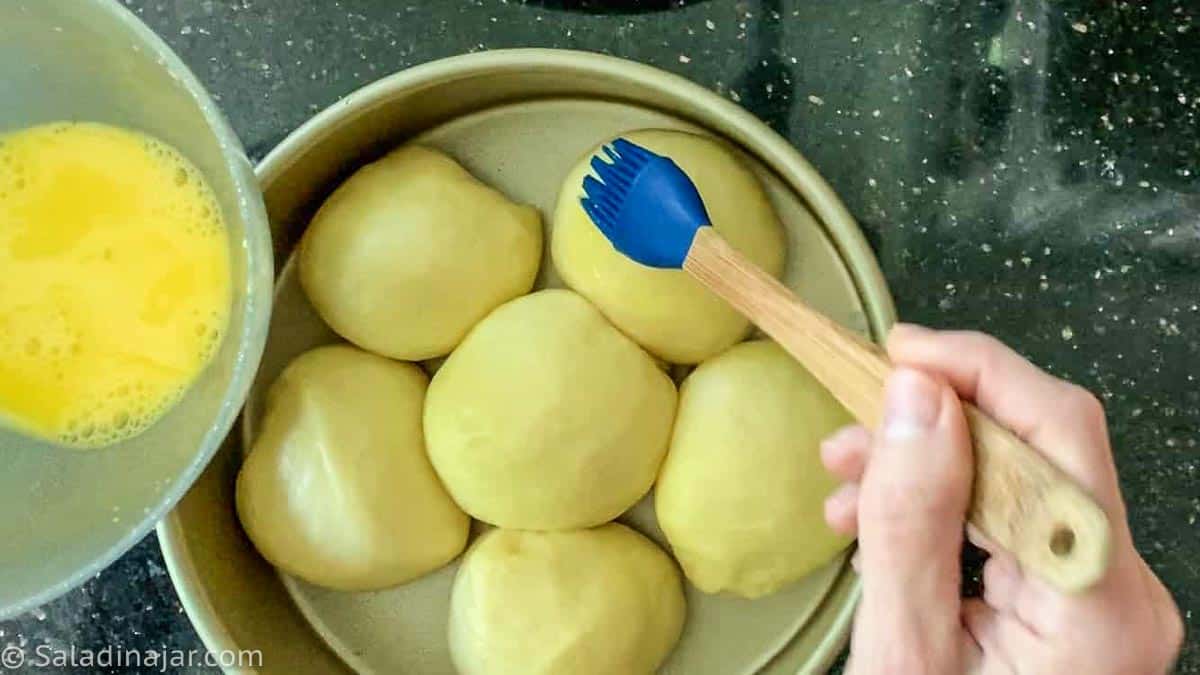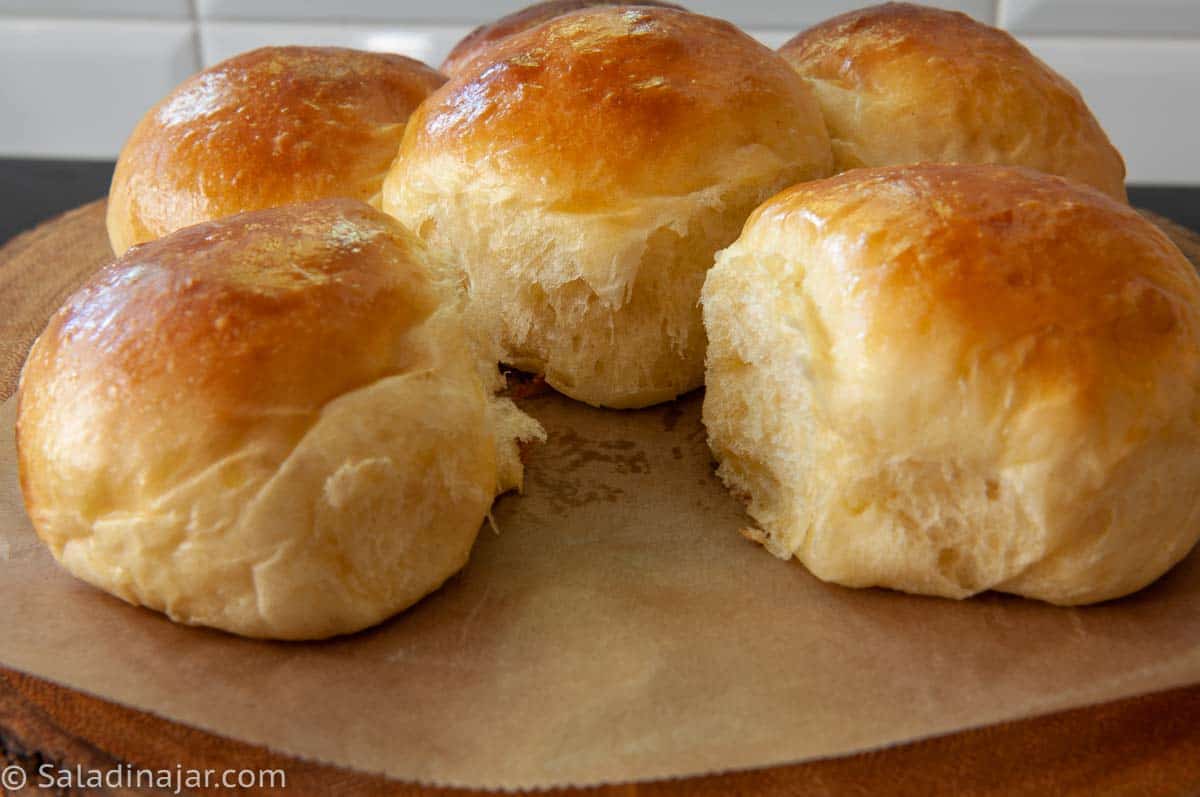 ---
FAQ about making bread machine Hawaiian rolls:
Why does it take the dough so long to rise?
The dough is rich in butter, cream, and sugar. Those ingredients tend to make yeast sluggish (like me, when I eat too much dessert). Expect a longer rise than normal.

When the DOUGH cycle completes, check the dough. If it has not yet doubled in size, leave the dough in the bread machine until it does. Then, remove it to a floured surface for shaping.

The second rise after shaping will take a bit longer, too. However, I don't wait for the dough to double. Instead, bake the rolls when they are about 1-½ the original size. Otherwise, the texture of the rolls is too coarse and sometimes a little dry.

How can I get a soft but nicely browned crust?
Use lighter-colored metal pans. Gold finishes or USA pans are my favorite. Reusable aluminum foil cake or pie pans can work, too. But don't run them through the dishwasher, or they will become dull. Instead, try washing aluminum pans by hand and reusing them.

The egg glaze makes the top dark, shiny, and soft.
When I tried baking in foil pans, why didn't the bottom of my bread brown?
A lower position will help the bottoms to brown and keep the tops from browning too much. Another tip: Always place foil pans onto a cookie sheet when baking.
Why do I need to check the dough after starting the bread machine?
Neglecting to open the lid and take a look may result in disappointment in the form of dough too sticky to handle or something resembling a firm rubber ball.

Check twice. Look after the first minute to ensure the blades are engaged and the dough clumps. Check again about 12-15 minutes after starting your bread machine. Look to see if you need to add additional flour or water to make the dough stick to the sides, then pull away cleanly.
How do I know when my bread is done?
Specifying exact baking times can be tricky in bread recipes. Of course, you don't want your rolls to be overdone and dry. Doughy isn't good, either. If you have a quick-read thermometer, bake the rolls or loaf to 190˚F in the center.
Do these Hawaiian Sweet Rolls require a glaze?
The glaze is optional. If you examine the bread at the store, the rolls are unglazed, but the larger round loaves are glazed. I prefer my rolls glazed, so I've added the instructions here. You can see what they look like unglazed here.
Can I make this bread into a loaf?
I like to make round loaves for snacking. This loaf includes about 2/3's of the dough from this recipe. I formed the remainder of the dough into small balls for slider buns.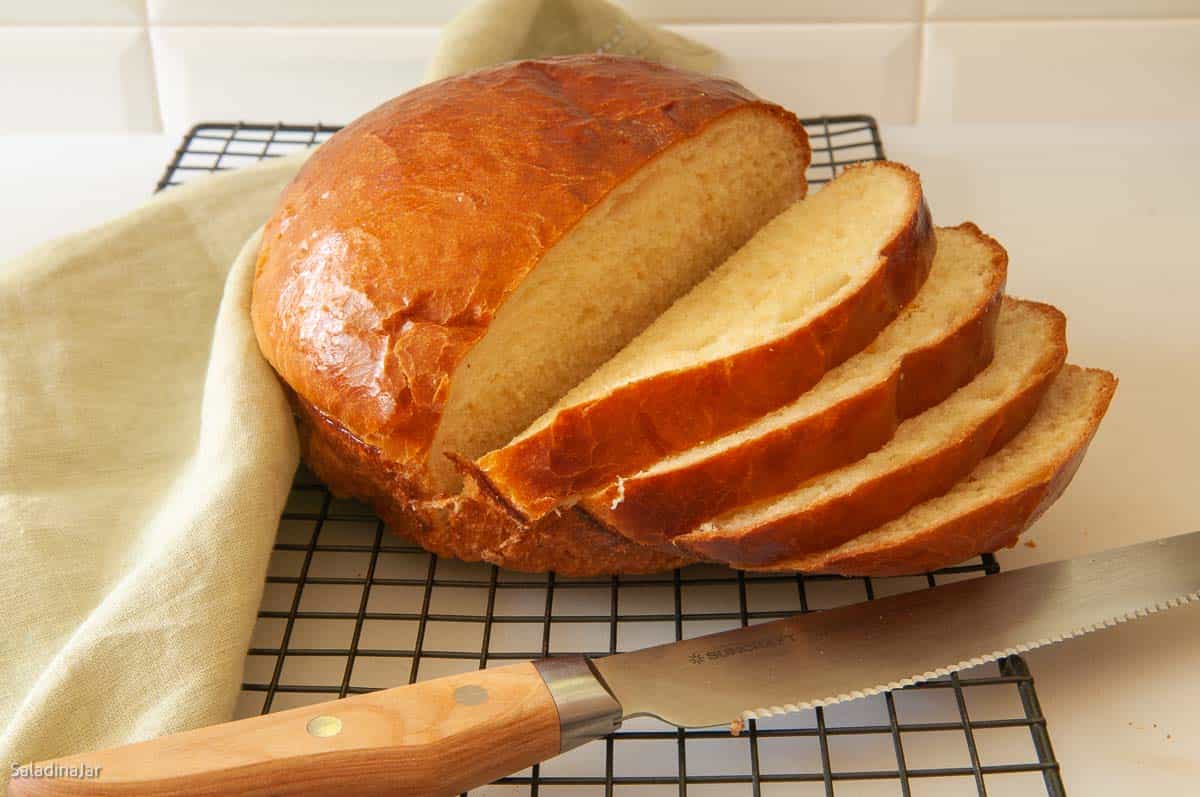 Parting thoughts: If you try these rolls, I can't wait to hear from you. What do you think? Did you use the recipe exactly as written, or did you have to use a substitute? Let me know.
---
Recipe Help at Your Fingertips: For questions or suggestions, email Paula at saladinajar.com. If you need help, I'm happy to troubleshoot via email (faster than leaving a comment). Attach pictures and as many details as possible for the best advice.
---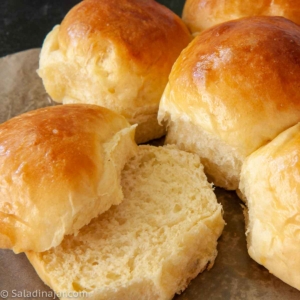 Hawaiian Rolls Bread Machine Recipe
A sweet and soft bread in the same style as my favorite Hawaiian bread at the grocery store. The instructions are for mixing and kneading in a bread machine, then shaping by hand and baking in a conventional oven.
Share recipe love here. ⬇
Ingredients
⅓

cup

(

76

g

)

pineapple juice

–

(can substitute water or milk)

½

cup

(

125

g

)

mashed potatoes

2

tablespoons

nonfat dried milk powder

–

(or use milk instead of pineapple juice and leave the milk powder out)

1

large

(

50

g

)

egg

1

(

18

g

)

egg yolk

3

tablespoons

(

36

g

)

sugar

⅓

cup

(

76

g

)

heavy cream

¼

cup

(

58

g

)

unsalted butter

–

chopped

1

tablespoon

(

21

g

)

honey

1

teaspoon

salt

¼

teaspoon

ground ginger

½

teaspoon

cake batter-extract

3

cups

(

360

g

)

unbleached all-purpose flour

2

teaspoons

bread machine or instant yeast
Glaze
1

(

18

g

)

egg yolk

1

tablespoon

(

14

g

)

milk
Instructions
Making the dough:
Combine

1/3 cup

(

76

g

) pineapple juice,

1/2 cup

(

125

g

) mashed potatoes,

2 tablespoons

nonfat dried milk powder,

1 large

(

50

g

) egg,

1

(

18

g

) egg yolk,

3 tablespoons

(

36

g

) sugar,

1/3 cup

(

76

g

) heavy cream,

1/4 cup

(

58

g

) unsalted butter,

1 tablespoon

(

21

g

) honey,

1 teaspoon

salt,

1/4 teaspoon

ground ginger,

1/2 teaspoon

cake batter-extract,

3 cups

(

360

g

) unbleached all-purpose flour, and

2 teaspoons

bread machine or instant yeast into the bread machine pan in the order given. Select the DOUGH cycle and push the START button.

Open the lid after a minute and check to ensure the paddles are engaged and working correctly. The dough should start to clump.

If the dough looks like pancake batter or is dry and crumbly, you may have inadvertently mismeasured an ingredient, or perhaps there is a mistake in the recipe. Add flour, one tablespoon at a time, if the dough is too wet, or liquid if the dough is too dry (wait a couple of minutes between each addition).

When the dough cycle completes and the dough has risen to double, remove dough from the bread machine pan to a floured surface. (I use a silicone mat so I can throw it in the dishwasher.)
Shaping the dough for rolls:
Spray two 7 or 8-inch, square or round pans with an aerosol oil/flour mixture like Baker's Joy.

Form dough into a large ball. Divide in half. Divide each half into 10 portions and form each portion into a ball.

Place 10 balls into each pan. Cover pans with a tea towel and find a warm place for the rolls to rise again.

About 15 minutes before rolls are ready to bake, preheat oven to

375

°F

Let dough balls rise until about half again their original size. If you let them get too big during this rising, they will be dry.
Glaze
Whisk

1

(

18

g

) egg yolk and

1 tablespoon

(

14

g

) milk together in a small bowl. Use a silicone brush to carefully coat unbaked rolls (don't let it drip) before you place them into the oven.
Baking Rolls
Place rack in a low position in your oven. Bake rolls at

375

°F

(190˚C) for 13-15 minutes or until golden brown and the internal temperature reaches 190˚F (88˚C). You don't want them to be doughy, but if you bake them too long, they will be dry and lose the soft texture you expect in Hawaiian bread.

After cooling an hour or two, place rolls into a plastic bag to keep the crust soft.
Notes
Variation:
1. Knead a cup of raisins or other dried fruit into the bread dough after removing it from the bread machine for a fabulous variation.
2. If you want a round loaf, divide the dough into three parts. Use two parts to make a round loaf. The remaining dough is good for rolls. In case you're wondering why not make a bigger loaf with all the dough: My experience says it's difficult to get a whole loaf of that size to bake all the way through without drying out the loaf on the edges.
Directions for making bread with a stand mixer or by hand:
To make this recipe in a heavy-duty stand mixer: Add ingredients to the bowl in the same order. Turn on LOW to mix until all ingredients are moistened. Then, using a dough hook, turn the speed to 2 or 3. Continue beating/kneading until dough becomes smooth and elastic (about 5-10 minutes). Cover and allow to rise in a warm place. Deflate dough gently and shape as indicated in the recipe.
If making by hand: Combine all ingredients into a shaggy ball in a large bowl. Turn dough out onto a floured surface. Knead with your hands until the dough becomes smooth and elastic. Kneading will likely take 10-20 minutes, depending on your experience. Place the dough ball into a greased bowl. Cover and allow to rise until double. Deflate the dough gently and shape as indicated in the recipe.
Please note: If you only have active dry yeast, use 1/4 teaspoon more than called for in the recipe.

It no longer needs to be dissolved first

, but you can if you prefer.
Nutrition
Serving:
1
roll
|
Calories:
133
kcal
|
Carbohydrates:
20
g
|
Protein:
3
g
|
Fat:
5
g
|
Saturated Fat:
3
g
|
Polyunsaturated Fat:
1
g
|
Monounsaturated Fat:
1
g
|
Trans Fat:
1
g
|
Cholesterol:
30
mg
|
Sodium:
148
mg
|
Potassium:
75
mg
|
Fiber:
1
g
|
Sugar:
4
g
|
Vitamin A:
171
IU
|
Vitamin C:
2
mg
|
Calcium:
19
mg
|
Iron:
1
mg
HELP OTHERS find this recipe. Leave a 5 🌟🌟🌟🌟🌟 rating at the top of the recipe card if you enjoyed it. No comment is required.