Sweet Hawaiian-Style Rolls are a sweet and soft yeast roll in the same style as the crowd favorite Hawaiian bread at the grocery store.
Instructions for mixing and kneading in a bread machine, then shaping by hand and baking in a conventional are included. If you don't have a bread machine, you can always make these rolls by hand or use a stand mixer.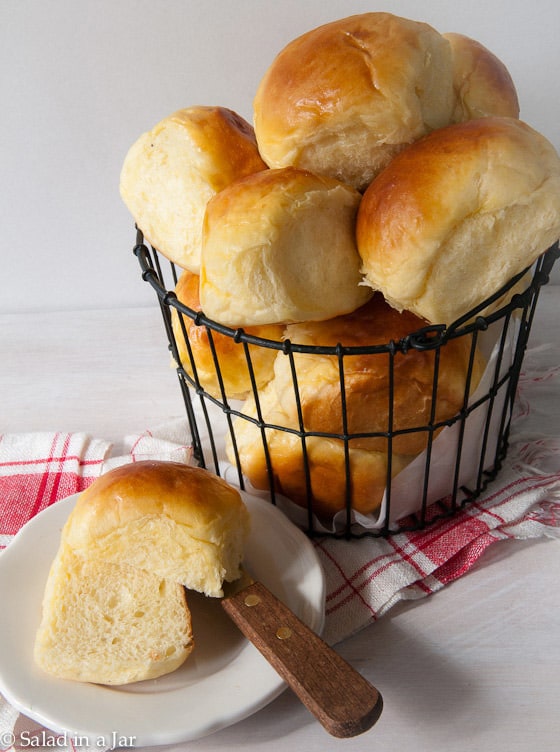 Creating a clone of Sweet Hawaiian Bread has been on my recipe bucket list for a long time. I can tell by the ingredient list on the package sold at the supermarket that a home cook is not likely to figure out the exact recipe, but that doesn't deter me.
After many years of disappointment with recipes that claimed to imitate Sweet Hawaiian Bread, I think I've got it, at least for my tastebuds. At any rate, it's time to stop the experimentation before I have to graduate to the next dress size. These are a splurge, and I simply cannot resist when they are in the house!!
This recipe is for the rolls only. I have tried to make the big round loaves, but they are problematic. It's challenging to get them cooked all the way through without the crust being too thick and dry. I'll work on that another day.
Meanwhile, with all the Hawaiian bread currently in my freezer, I need to start working on the next item on my recipe bucket list–bread pudding. If you have a good one you don't mind sharing, please send. I don't want too rich or too sweet or too eggy. I hope I'm not asking too much.
Don't Miss These Secrets For Making Sweet Hawaiian-Style Rolls
#1 Use shiny pans to avoid a thick crust.
Aluminum foil cake or pie pans work perfectly, and they are reusable if you don't run them through the dishwasher.
#2 When using foil pans, bake on the lowest shelf in your oven.
This will help the bottoms to brown a bit and keep the tops from browning quite so fast.
#3 You absolutely must check your dough 5-10 minutes after you start your bread machine.
The mashed potatoes can be a variable depending on how you make them. I've used potatoes with a little bit of butter, milk and salt, and I've used potatoes with a lot of cream cheese, butter, and salt and pepper. They all worked.
However, the moisture content can vary and may affect the consistency of your dough. That's just one reason you ABSOLUTELY MUST CHECK YOUR DOUGH 5-10 MINUTES AFTER YOUR BREAD MACHINE HAS BEEN RUNNING TO SEE IF YOU NEED TO ADD ADDITIONAL FLOUR OR WATER.
Neglecting to open the lid and take a look may result in disappointment in the form of dough too sticky to handle or something resembling a firm rubber ball.
#4  Vanilla-butter-nut extract is essential.
Many cooks don't hesitate to make substitutions for ingredients they don't have on hand. Works sometimes, sometimes not. One of the secrets of this recipe is the vanilla butter nut extract, and I highly recommend it.
Vanilla butter nut extract is fairly cheap and readily available at most grocery stores. (I got mine at my local Krogers also available online from Walmart.) It imparts a certain enigmatic flavor to sweet yeast breads and also a yellow color characteristic of Hawaiian-style bread. You could use vanilla extract instead, but it won't be the same.
#5 Watch your rolls in the oven closely.
Specifying exact baking times can be tricky in bread recipes. Of course, you don't want your rolls to be overdone and dry or underdone. But doughy isn't good either. Use a thermometer if you have one and bake to 190 degrees F. Watch the rolls closely because your oven will invariably bake differently from mine, so the times given are not gospel.
#6 To glaze or not to glaze.
The glaze is optional. If you examine the bread at the store, the rolls are unglazed, but the larger round loaves are glazed. Personally, I prefer my rolls glazed, so I've added the instructions here.  You can see what they look like unglazed here.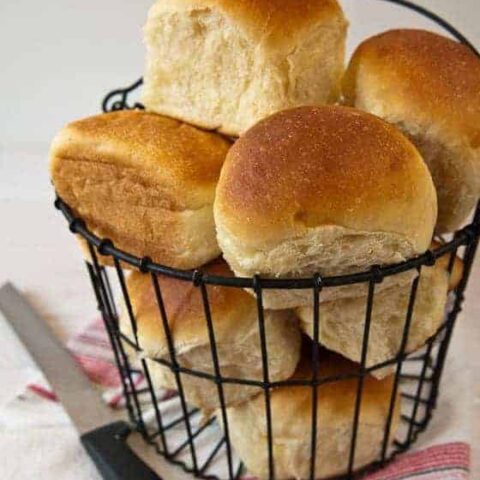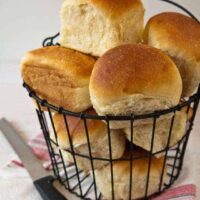 Sweet Hawaiian-Style Rolls
Prep Time:
2 hours
45 minutes
Total Time:
2 hours
57 minutes
A sweet and soft roll in the same style as my favorite Hawaiian bread at the grocery store. Instructions for mixing and kneading in a bread machine, then shaping by hand and baking in a conventional oven.
Ingredients
1/3 cup warm pineapple juice
1/2 cup mashed potatoes
2 tablespoons nonfat dried milk solids
1 large egg + 1 egg yolk
1/4 cup sugar
1/3 cup warm heavy cream
1/4 cup butter, softened
1 tablespoon honey
1 teaspoon salt
1/4 teaspoon ground ginger
1/2 teaspoon vanilla butter nut extract
3 cups unbleached all-purpose flour
2 teaspoons bread machine yeast
1 egg yolk + 1 tablespoon milk
Instructions
Combine all ingredients in bread machine pan in order given. Select the dough cycle and push start button.
Check bread after 5-10 minutes to make sure dough sticks to the side of the pan and then pulls away. If necessary, add 1 tablespoon of flour at a time if dough is too sticky or thin and won't pull away. If dough is too dry to stick to edge of pan, add water or milk 1 tablespoon at a time until dough looks perfect. Experience really helps with this step. This post has some pictures that might be helpful.
When dough cycle completes and/or dough has risen to double, remove dough from pan to a floured surface. (I use a silicone mat so I can throw it in the dishwasher to clean.)
Spray two 7 or 8-inch, square or round, aluminum foil pans with an aerosol oil/flour mixture like Baker's Joy.
Form dough into a large ball. Divide in half. Divide each half into 12 portions and form each portion into a ball. See this video if you need an easy way to make perfect balls.
Place 12 balls into each pan. Cover pans with a tea towel and find a warm place for the rolls to rise again. One of my favorite places is inside a microwave oven where I have boiled a cup of water for 5 minutes to make it steamy and warm.
Meanwhile, preheat oven to 375 degrees.
Let dough balls rise only 30-40 minutes until about half again their original size. If you let them get too big during this rising, they will be dry.
Whisk egg yolk and milk together in a small bowl. Use a silicone brush to carefully coat unbaked rolls just before you place them in the oven.
Place rack in a low position in your oven. Bake rolls at 375 degrees F for 12-13 minutes or until golden brown. You don't want them to be doughy but if you bake them too long they will be dry and lose the soft texture you expect in Hawaiian bread.
After cooling about an hour or two, place into a plastic bag to keep the crust soft.
Notes
Knead a cup of raisins or other dried fruit into the bread dough after removing it from the bread machine for a fabulous variation.
Recommended Products
As an Amazon Associate, I earn from qualifying purchases. But don't worry. This doesn't change the price you pay.
Nutrition Information:
Yield:

24 small rolls
Serving Size:

2 small rolls
Amount Per Serving:
Calories:

118
Total Fat:

5g
Saturated Fat:

3g
Trans Fat:

0g
Unsaturated Fat:

2g
Cholesterol:

33mg
Sodium:

129mg
Carbohydrates:

16g
Fiber:

1g
Sugar:

4g
Protein:

3g
 Related Posts: