Preview: Try these 100% White Whole Wheat Rolls with no white flour. If you can find white whole wheat flour, this recipe is a good excuse to try it.
What if you could make 100% whole wheat bread that tasted and looked more like bread made with white flour?
You can if you use White Whole Wheat Flour–a flour made from a different type of wheat than traditional whole wheat. Don't worry. You still get the nutrition of the whole kernel of wheat. More on that later.
This recipe was written for a bread machine. No worries if you don't have one. See alternate directions in the recipe notes.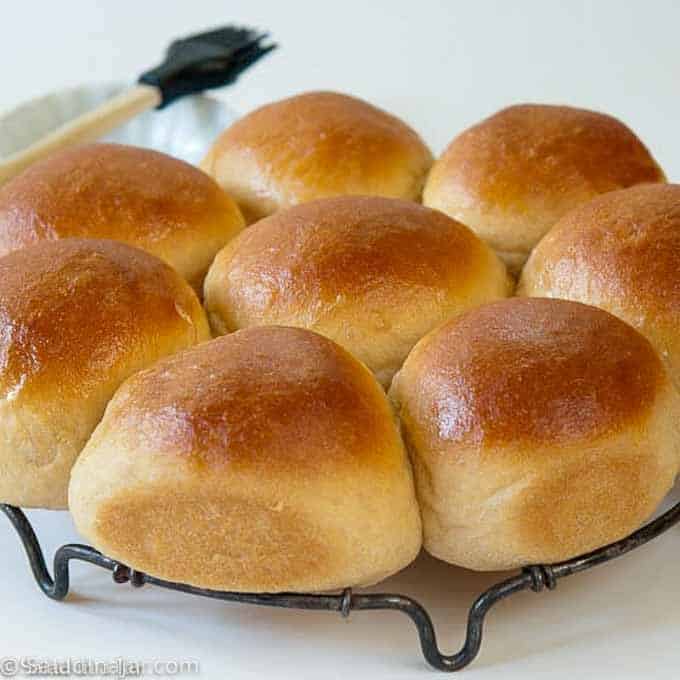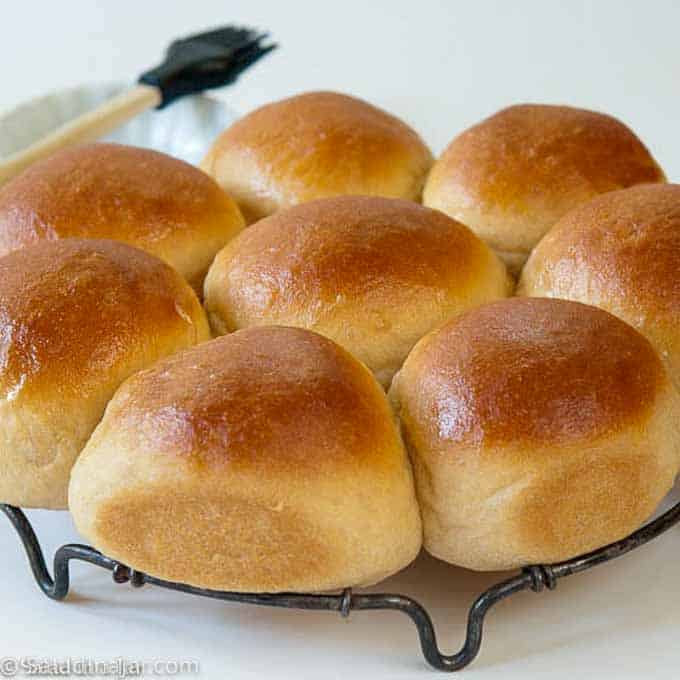 If you were raised on white bread like I was, but desperately want to like whole wheat, try the white whole wheat flour. The taste and texture are milder than regular whole wheat but equally nutritious.
Arguably, one of my best bread recipes is the first one I published entitled My Favorite Classic Dinner Rolls. I've made them at least 8,958 times. I used that recipe as a starting point for this one.
Ingredients and substitutions:
FLOUR: If you don't have white whole wheat, you could substitute 2 cups of unbleached white flour and 1 cup of whole wheat flour.

YEAST: I only use instant or bread machine yeast. If you want to use active dry yeast, add 1/4 teaspoon extra as it can be a little slower acting.

EGG: All of my bread recipes use large eggs. If you have smaller or larger ones, adjust the liquid accordingly.

SUGAR: Granulated sugar is specified. Honey could be substituted–use 2 tablespoons + 1 teaspoon.

BUTTER: If you don't have butter, shortening is an OK substitute. Be sure your better is room-temperature, not melted or refrigerator-cold.

MILK: Milk enriches your bread and makes it softer. Milk with a higher content will make your rolls richer. Water could be substituted in a pinch.
---
Frequently Asked Questions:
How will these rolls taste different from rolls made with unbleached all-purpose flour?
The texture will be slightly coarser. They can sometimes be a little dryer. Both of these characteristics will be even more pronounced when using 100% traditional whole wheat flour.
Is white whole wheat flour as healthy for you as whole wheat flour?
"White–whole wheat flour is every bit as nutritious as whole wheat flour (it contains the nutrient-rich germ and the fiber-rich bran), it just bakes better and tastes more like the unhealthy all-purpose flour. … Best of all, white whole wheat flour offers the same nutritional goodness of its darker cousin."
—CleanCuisine.com
How should I store white whole wheat flour?
Store in a sealed container and refrigerate for up to 6 months. Freeze for up to a year. When left at room temperature, it tends to go rancid. Get more details about storing white whole wheat flour here.
Can I make this bread ahead of time?
You can make it the day before. Mix the dough, let it rise, and then form it into balls. Place in pans and refrigerate them overnight. Take them out of the fridge a couple of hours before you want to bake them for the final rise.
---
How to shape the rolls:
These round-as-a-baby's-butt shapes are easy to make if you follow my video instruction below. No rolling pin required! A little practice and you'll be making beautiful rolls faster than (I Love) Lucy could stuff candy in her mouth.
Remove dough from the bread machine to a floured surface.
Divide dough into equal halves.
Cut each half into 8 equal pieces.
Roll into ball shapes. (See video)
Place 8 balls each into two 8 or 9-inch pans. Pans should be lightly greased. They will brown better if the pan is a dark color or gold.
Cover with a tea towel or cheap shower cap and allow to rise until the rolls are almost double in size.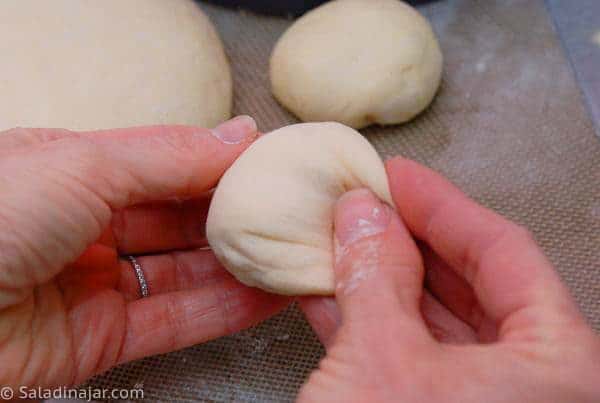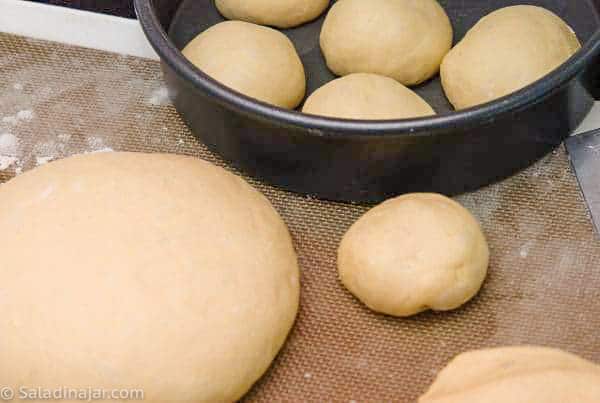 ---
If you enjoy making bread, check out these posts:
If you enjoyed this recipe, it would help others and me if you gave it a five-star rating inside the recipe card below. 🤩 No comment required. Thank you.

Hope to see you again soon!
Paula
p.s. Questions or suggestions? Please email me: Paula at saladinajar.com.
---