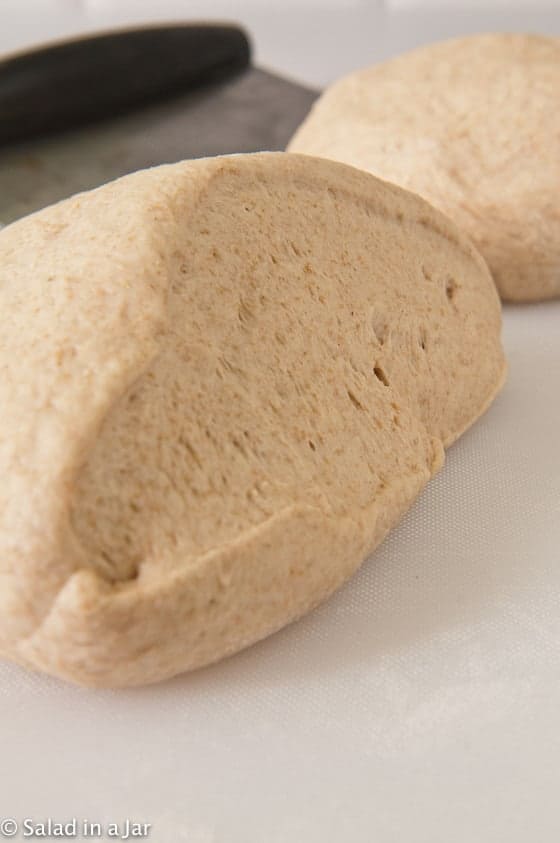 Thank you for the advice. Many of you told me to take it easy on myself after my mom passed away back in March. So I decided to put my camera away for awhile and take a blogging break. Meanwhile, both of my married sons along with their families have or are in the process of buying homes and moving back to our town. These changes have been a blessed distraction.
One of the original reasons for starting this blog was the convenience of having all my recipes organized and in one place. I discovered a new pizza dough recipe a while back and haven't added it to this space yet. I'm getting tired of hunting for the recipe every time a pizza craving hits, and I've been too lazy to memorize it. So finally, I'm inspired once again.
When I'm in the mood, or get a bad report about my cholesterol, I try to add more whole grains to my diet. For years, guilt about eating pizza has driven my search for an irresistible whole wheat pizza dough.  Mostly the texture and sometimes the flavor has been a disappointment so I kept going back to My Favorite Pizza Dough. Being a fan of California Pizza Kitchen, I have a couple of their cookbooks and thought it might be worth trying their recipe for Honey Whole Wheat Pizza Dough since they seem to know a thing or two about pizza. Turns out I loved it and think you will, too. I realize it is not 100% whole wheat, but it's better than none. Right? Of course, the original recipe wasn't written for a bread machine, but I simply won't do it any other way. So, I changed the directions and adjusted the amounts to fit the size of most bread machines.
Please note the dough is best when made a day ahead, so plan accordingly.

CPK Honey Whole Wheat Pizza Dough from Your Bread Machine
Ingredients
1 cup warm water
3 tablespoons honey
2 tablespoons olive oil
1-1/2 teaspoons salt
1 cup whole wheat flour
2 cups bread flour
2 teaspoons bread machine or instant yeast
Instructions
Put all ingredients into your bread machine in order listed. Set machine on the dough cycle and press start. When dough cycle has completed, remove dough to a large bowl (cover tightly) or a gallon zipper lock bag and refrigerate overnight.
Approximately 2 hours (less in my warm kitchen) before you plan to put together your pizza, remove the dough from the fridge. Divide in half and form each half into a smooth, rounded ball. At this point I place each ball into a well oiled pizza pan and cover with plastic wrap.
When dough has warmed and looks puffy, preheat oven to 450 F. Use your hands/fingers to flatten the ball until it is the thickness you prefer. I use a 13" pizza pan and try to press it to the edge. If you tear it or make a hole, patch it with your fingers.
Assemble pizza as you prefer. For me that would be sauce first, then cheese, then meat or other toppings. If I have enough, I usually sprinkle a little more cheese over the top.
Pop into the oven and turn temperature back to 425 degrees. How long you bake the pizza will depend on how liberal you were with the toppings, and your specific oven so I hesitate to be specific about the time. My pizzas usually take around 12 minutes, but yours might be different, so watch carefully after the first 10 minutes.
RELATED POSTS: