Bread Machine Whole Wheat Rolls: Good for Slider Buns, Too
Sneak Preview: These Bread Machine Whole Wheat Rolls make great slider buns for your favorite sandwiches. The recipe is designed for mixing in a bread machine, but you can use a stand mixer or mix by hand instead.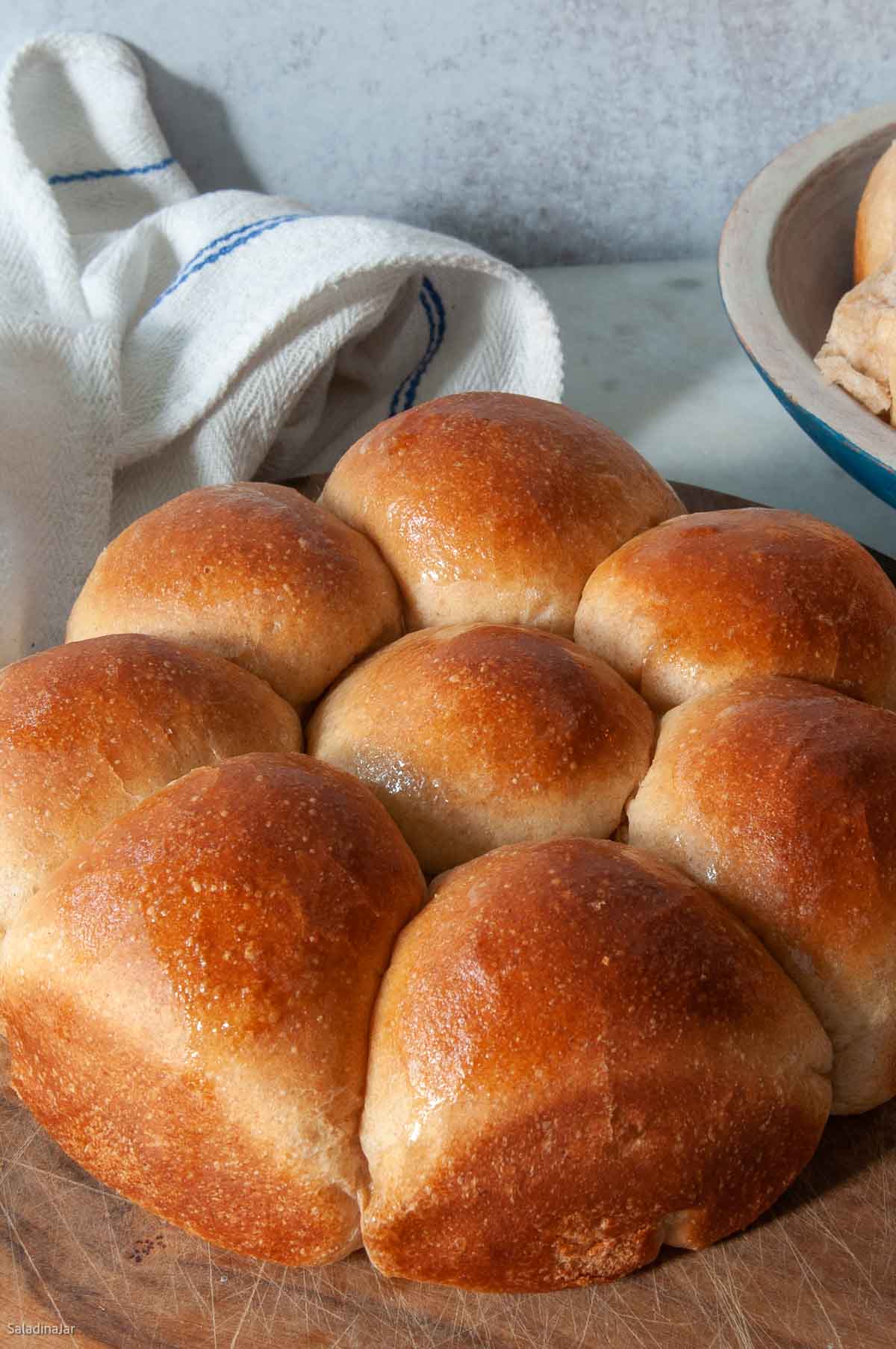 As an Amazon Associate, I earn from qualifying purchases.
What if you could make whole wheat rolls your whole family would eat? What if you could mix them up in a bread machine? Of course, you can't bake rolls in a bread machine, but I promise it won't be hard to shape them and bake them in the oven.
After trying several recipes and various modifications, this is the recipe I like best. If you are into whole wheat, give these a try. Although light, they are sturdy enough for sandwiches or sliders.
We like to use these Whole Wheat Rolls as slider buns filled with sloppy joe filling. If you make eight rolls instead of sixteen, they make good hamburger buns, too.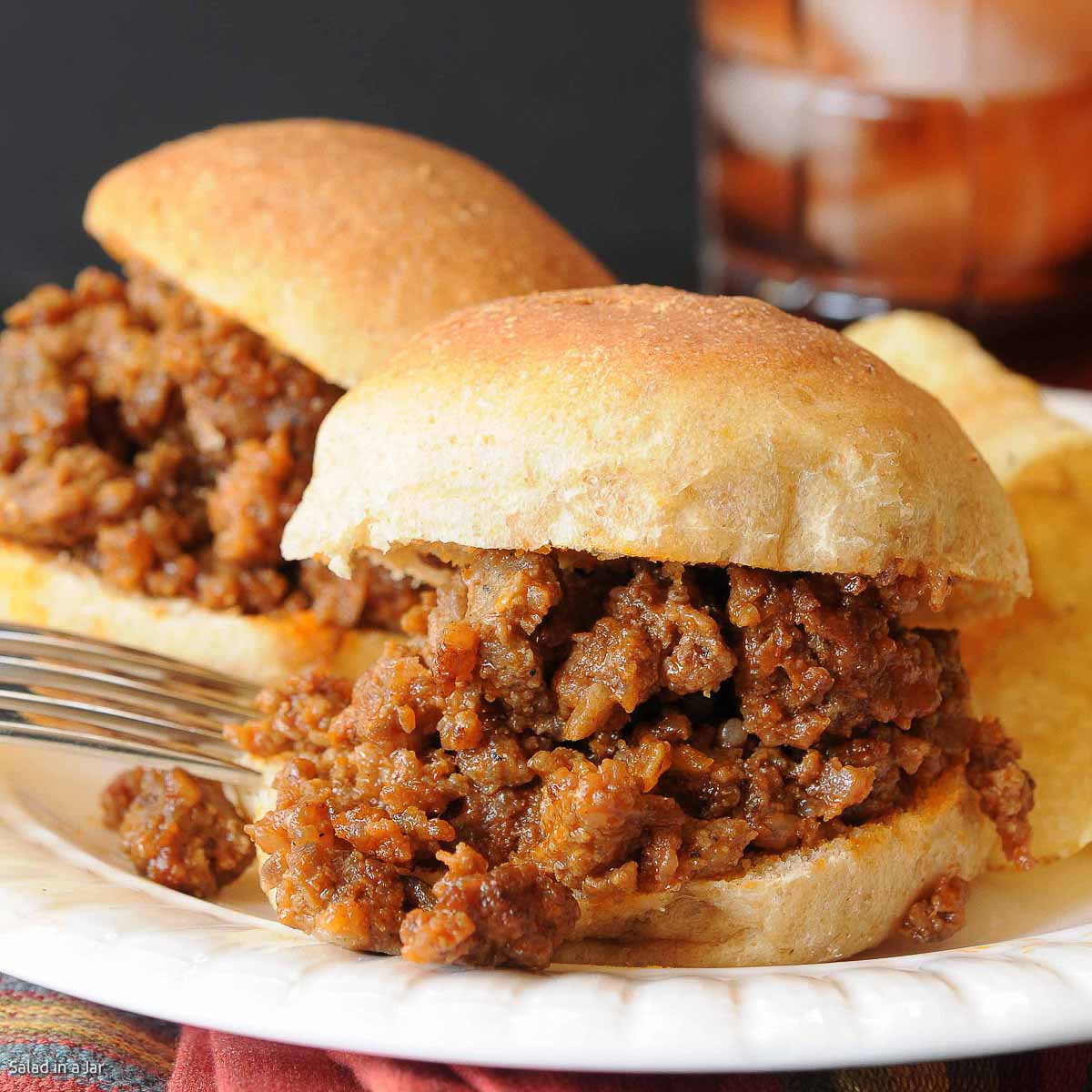 Ingredients and substitutions:
WATER: I like to use spring water if I have it because chlorine and yeast aren't such good friends. Otherwise, tap water is fine. (room temperature)
EGG: The recipe is written for a large egg. It doesn't need to be warm.

SALT: Table salt or sea salt is a good choice. If you want to use Kosher salt, add an extra 1/4 teaspoon.

HONEY: Honey and whole wheat are a great pairing. You could substitute sugar or maple syrup.

OIL: A light-flavored oil such as avocado or vegetable oil.

FLOUR: Bread flour and whole wheat flour make a good combination. Whole wheat needs all the boost it can get from bread flour. You could sub all-purpose unbleached flour for the bread flour, but your rolls may not rise as much.

VITAL WHEAT GLUTEN: This will help make your rolls lighter. It's especially helpful with this much whole grain in the recipe. However, it's optional.

YEAST: I use nothing but bread machine or instant yeast (same thing). It is formulated to dissolve quickly.

---
How to make whole wheat rolls with a bread machine:
Step #1: Add all ingredients to your bread machine in the order listed. Select the DOUGH cycle. When the DOUGH cycle is done, check the dough. It should be doubled in size. If not, leave the dough in the machine with the lid down until it rises to double the original size.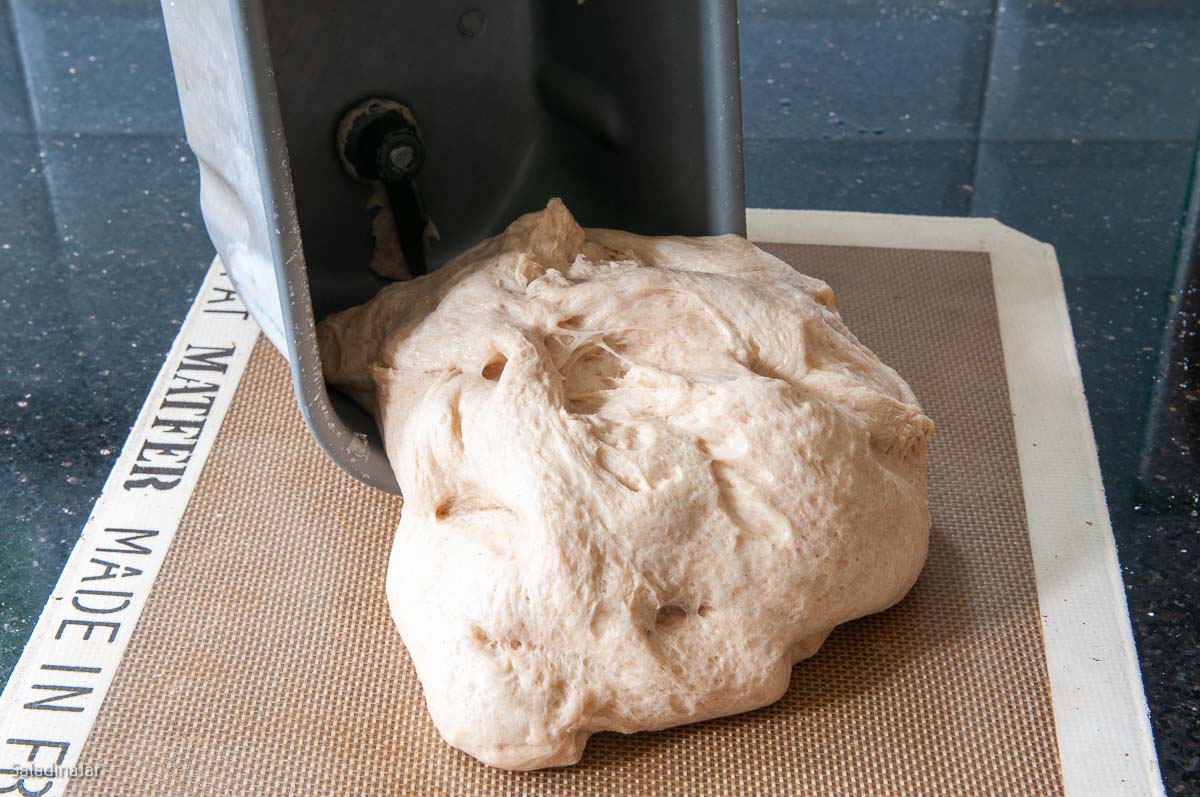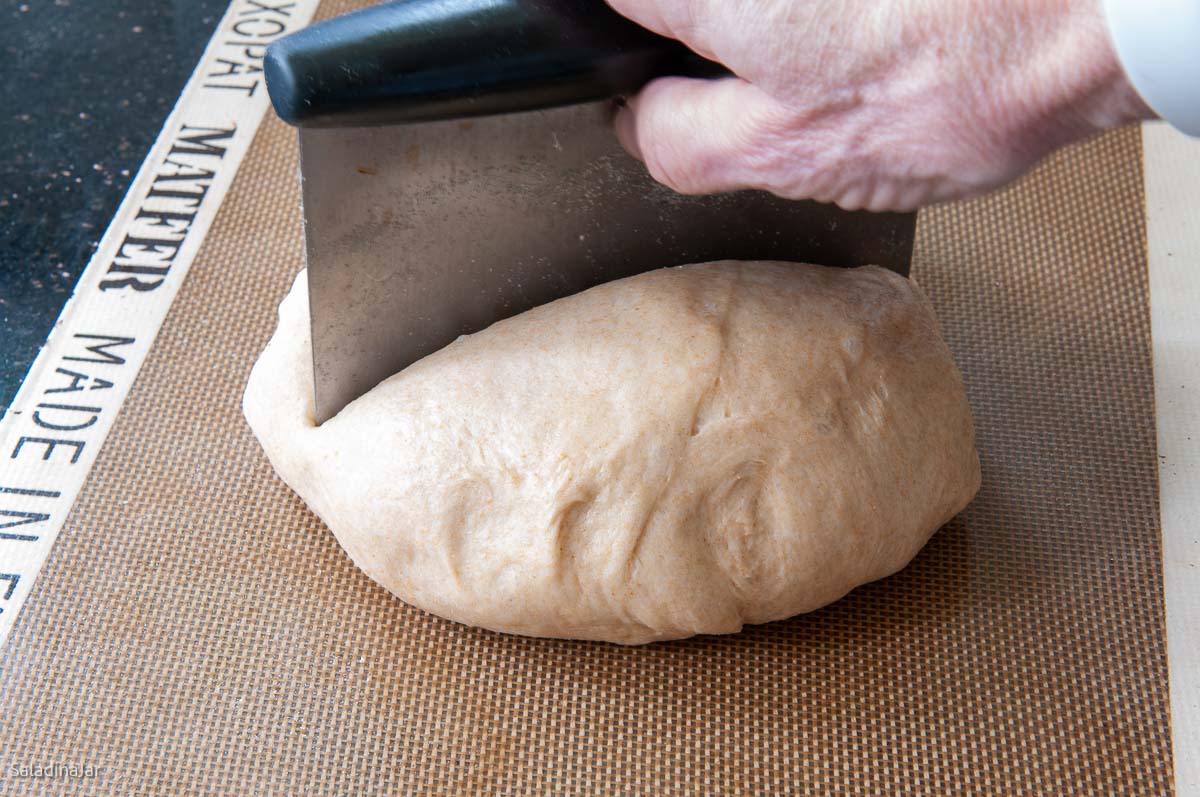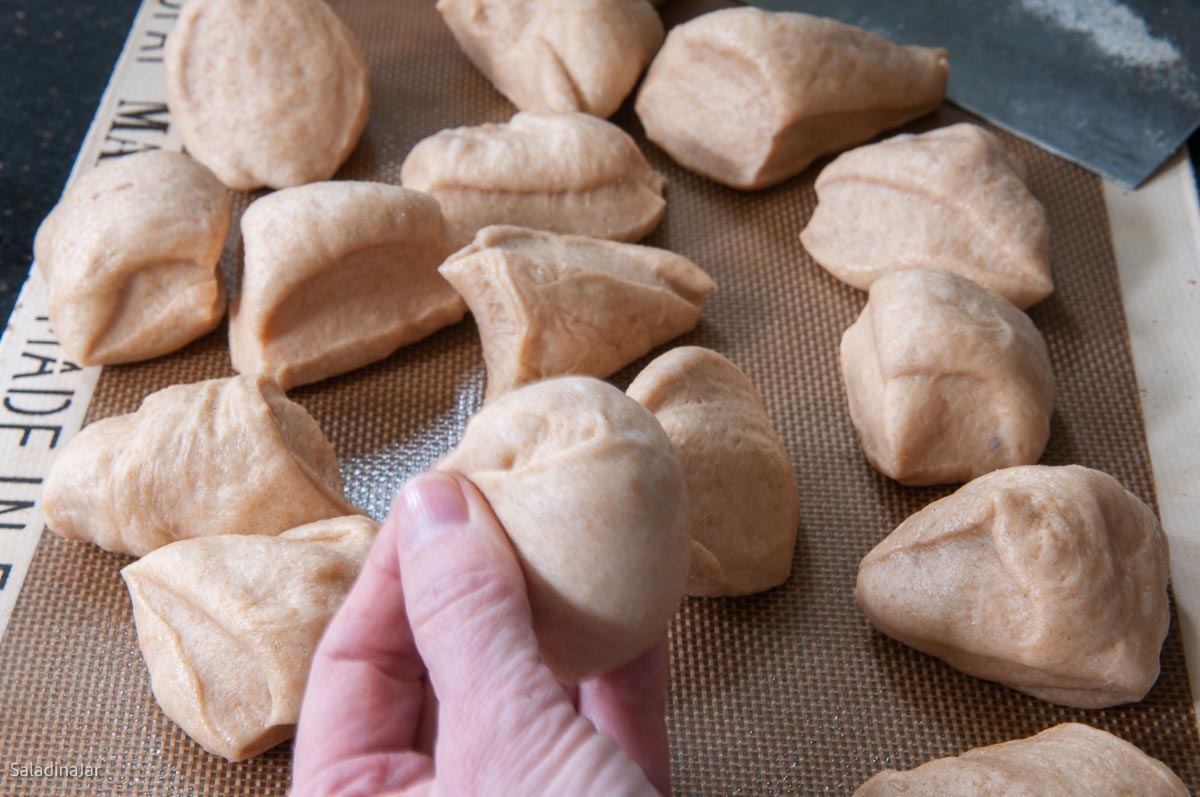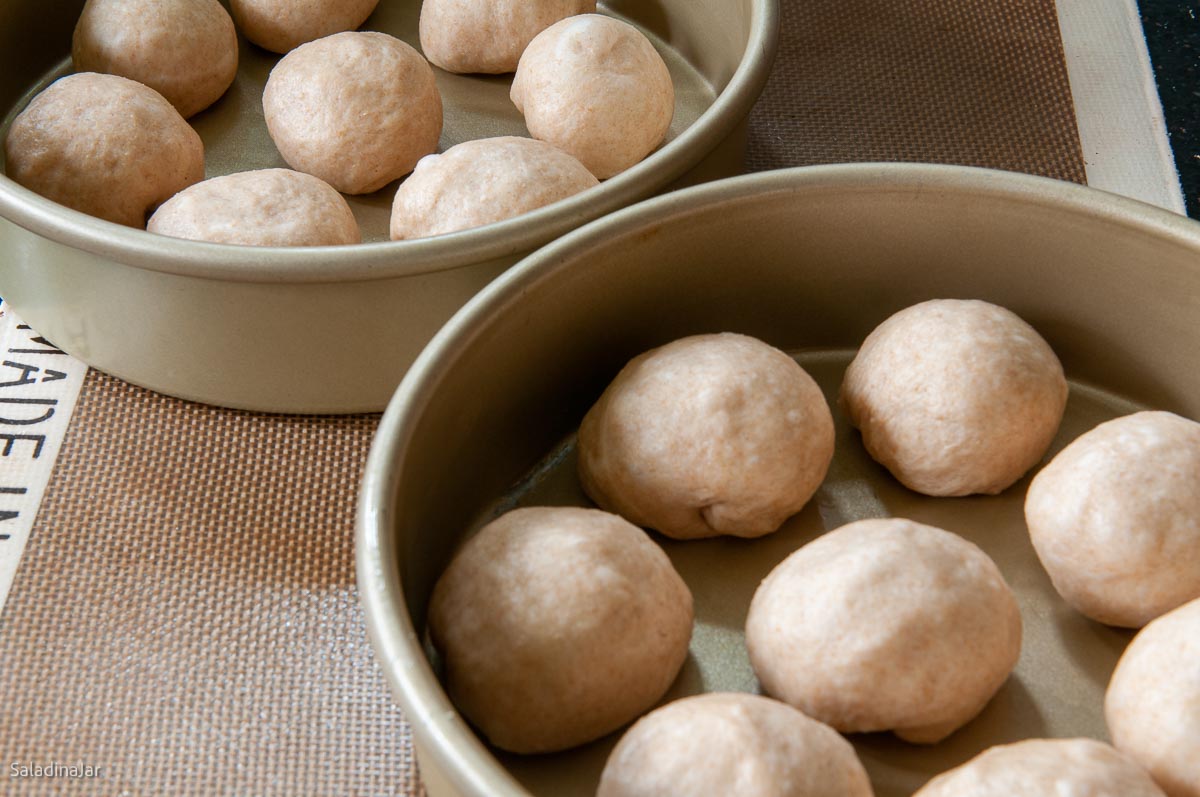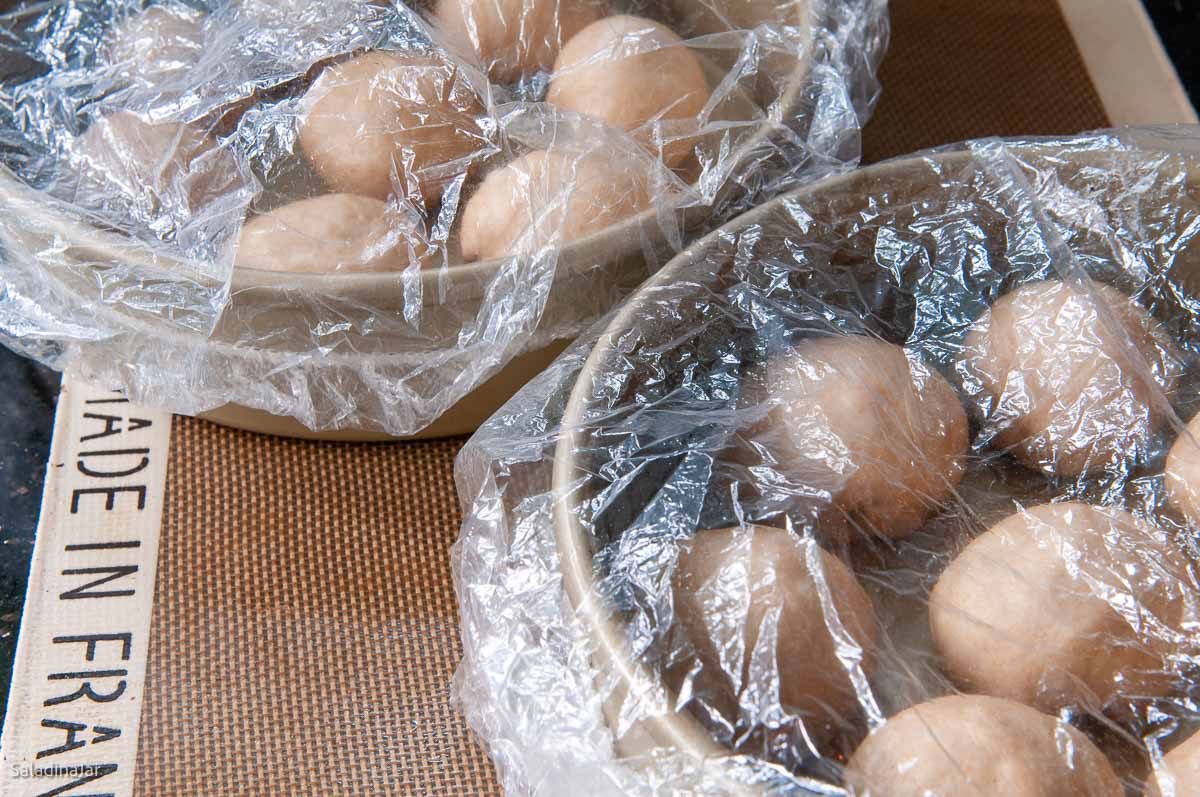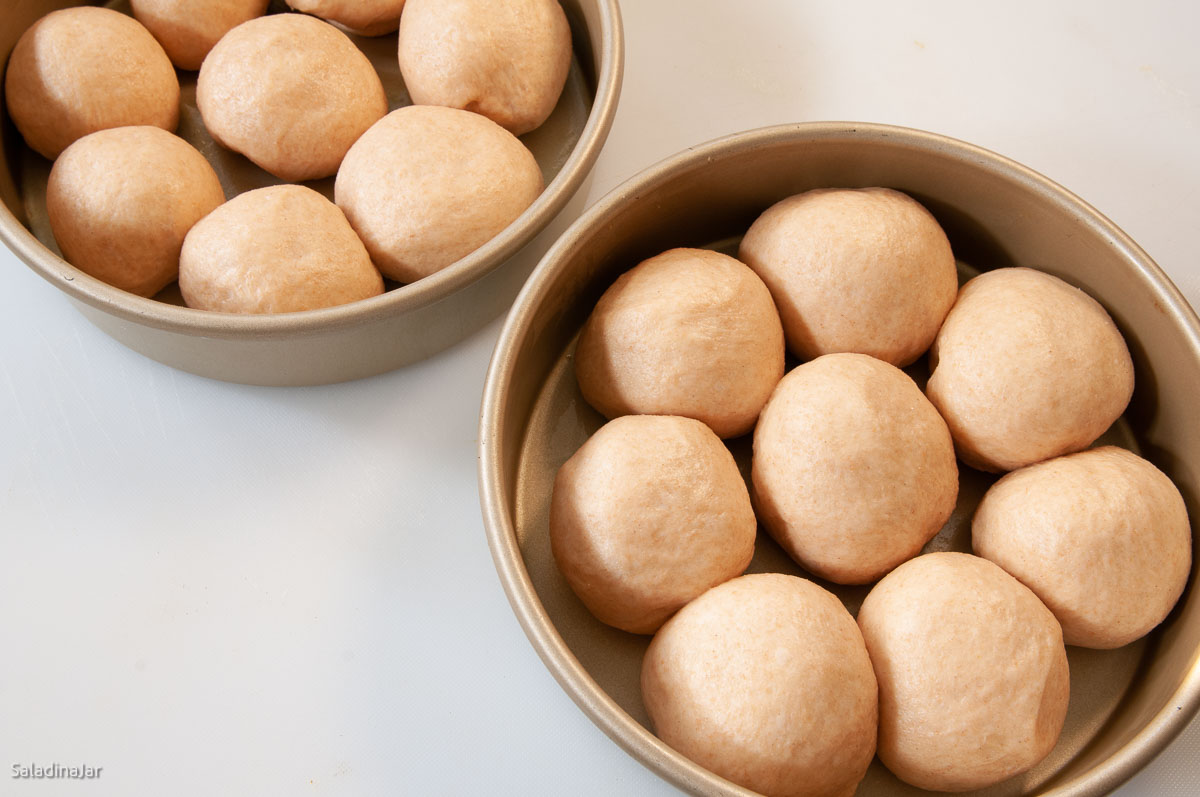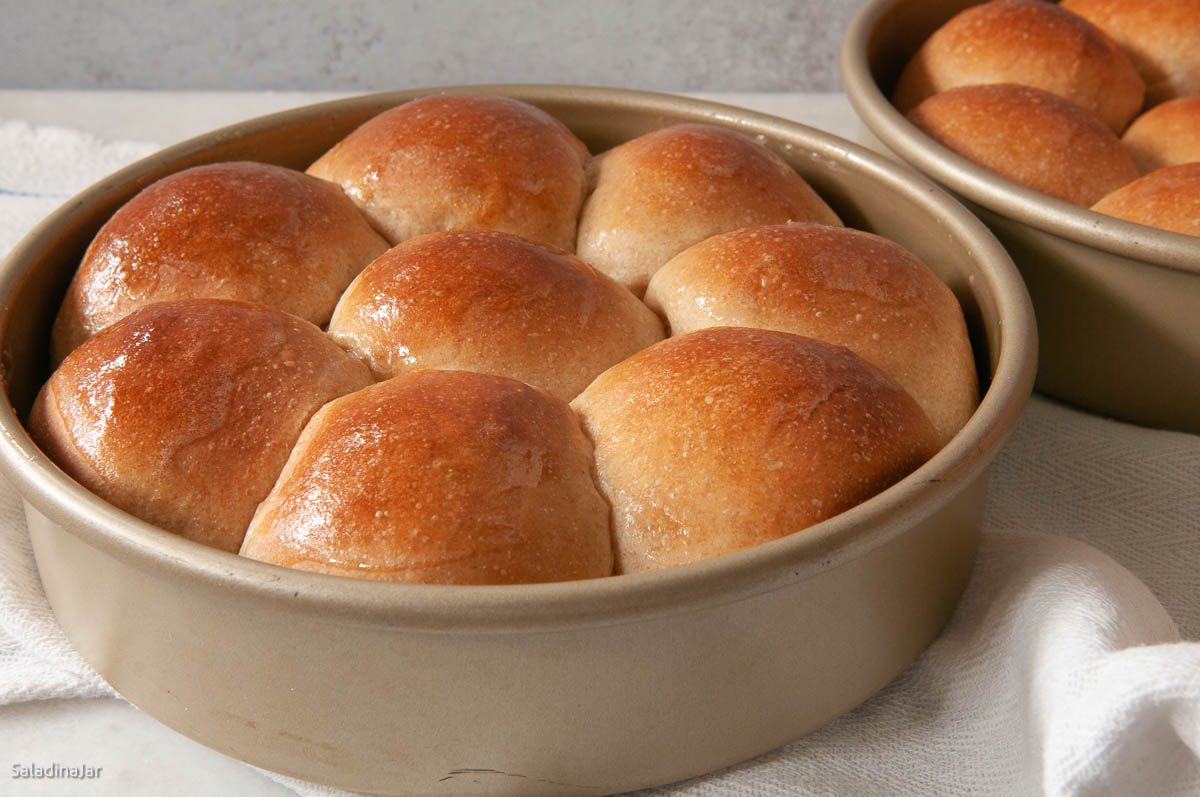 ---
FAQ about these Bread Machine Whole Wheat Rolls:
Can I freeze these rolls?
Yes. Double-wrap the rolls after they are baked and cooled. Best if eaten within a month.
What is the best way to store whole wheat rolls?
Ziplock bags seem to work best. The second choice would be a bread box. Do not refrigerate
How do I keep whole wheat flour from going rancid?
Store the flour in your refrigerator or freezer.
Can I substitute whole wheat for the white flour and have 100% whole wheat rolls?
I don't recommend it. You will probably end up with dense rolls.
p.s. I have removed the sloppy joe recipe from this post. You can still see the recipe here.
If you have questions or suggestions, email me privately for a quick answer: Paula at saladinajar.com. Hope to see you again soon!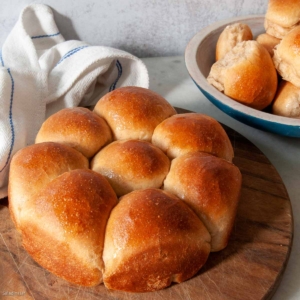 Bread Machine Whole Wheat Rolls Recipe
These Whole Wheat Rolls are sturdy but soft and tasty, making them suitable for buns or mini-sliders.
Ingredients
¾

cup

warm water

-

170 gr

1

large egg

-

50 gr

1¼

teaspoon

table or sea salt

-

6 gr

3

tablespoons

honey

-

63 gr

3

tablespoons

oil

-

37 gr

1 ½

cup

bread flour

-

180 gr

1 ½

cup

whole wheat flour

-

170 gr

1

tablespoon

vital wheat gluten

-

optional (9 gr)

2 ¼

teaspoons

yeast

-

7 gr
Instructions
Add ingredients to bread machine in order listed.

Set for the DOUGH cycle and press start.

After 5-7 minutes, lift the lid and check on the dough. If the dough is too wet (sticking to all sides) add flour 1 spoonful at a time until the dough begins to hold its shape. If too dry, (bouncing against the sides) add water 1 spoonful at a time until dough sticks to one side at a time. (See this picture tutorial if you are new to using a bread machine.)

When the DOUGH cycle is complete, check the dough. It should be doubled in size. If so, remove it from the pan. Otherwise, leave the dough in the pan until it rises until double the original size.

Remove the dough onto a floured surface. Divide the dough in half, then each half in half. Continue until you have 16 total balls for dinner rolls or slider buns. Only make 8 portions if you want larger buns.

Shape into balls. Fill 2 8-inch or 9-inch pans (round or square) with balls,

Cover the rolls with a clean tea towel (not terrycloth) and place in a warm place to rise until double. This may take 30 minutes to an hour depending on the ambient temperature.

Bake at 350˚F until golden brown–about 10-12 minutes.

Optional: Brush rolls with butter after removing from the oven.
Nutrition
Serving:
1
roll
|
Calories:
223
kcal
|
Carbohydrates:
35
g
|
Protein:
7
g
|
Fat:
7
g
|
Saturated Fat:
1
g
|
Polyunsaturated Fat:
6
g
|
Cholesterol:
23
mg
|
Sodium:
276
mg
|
Fiber:
3
g
|
Sugar:
7
g