Tomato Basil Bread (Bread Machine)–Perfect for a Cheesy Panini
Sneak Preview: Mix Tomato Basil Bread in your bread machine or stand mixer, shape it by hand, then bake it in your oven. Use tomato paste, sundried tomatoes, herbs, and spices for maximum flavor.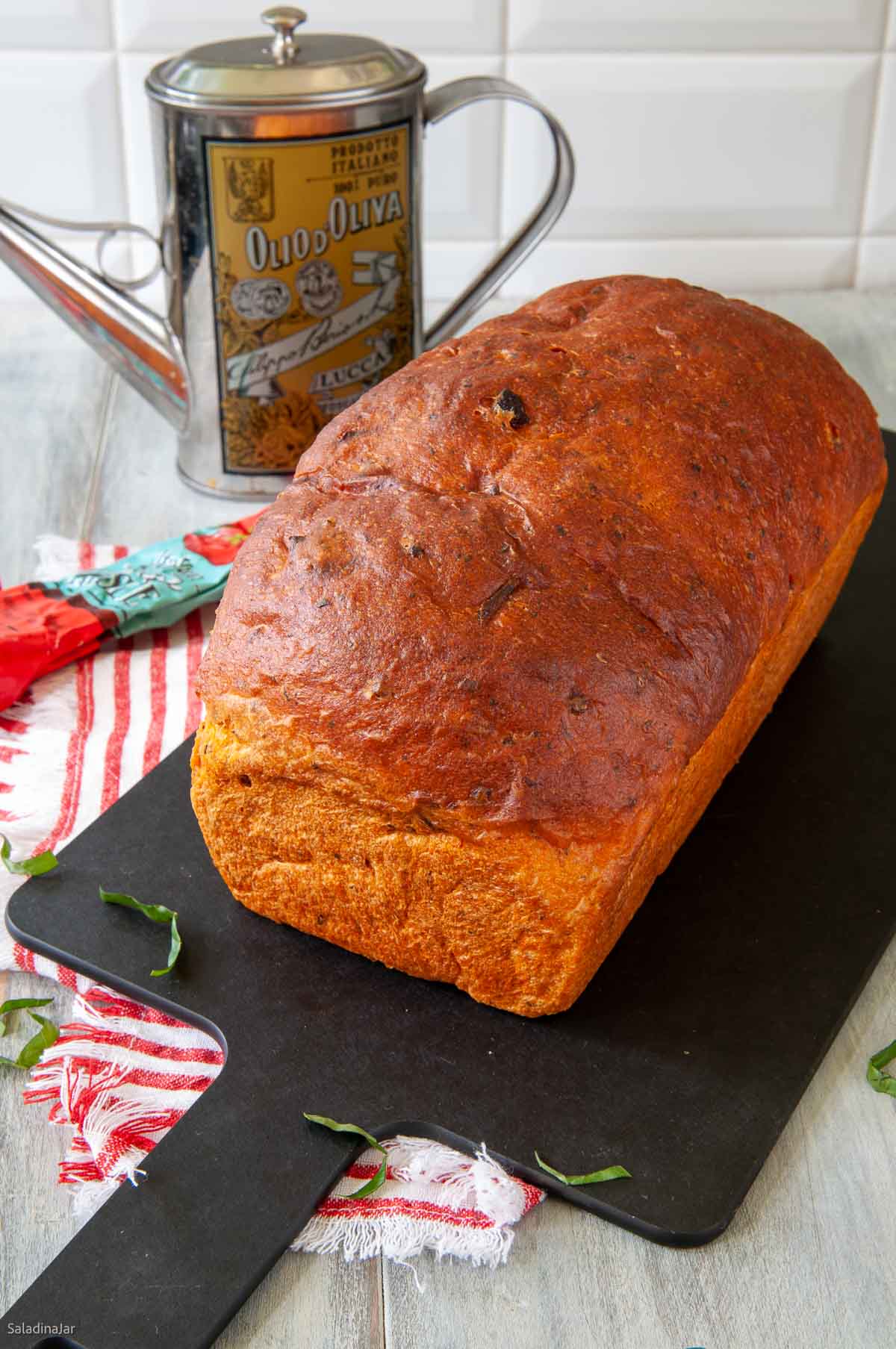 As an Amazon Associate, I earn from qualifying purchases.
Is there a bread memory you would like to recreate with your bread machine? Maybe it's from your childhood, a restaurant, or a vacation. But, no matter the origin, there's a good chance you can use a bread machine.
You might be thinking this loaf doesn't look like it was made in a bread machine. The secret is to use the DOUGH cycle to mix and knead the dough. (I call it "using a bread machine for what it does best.") Remove the dough from the machine, shape it by hand for the best texture, then bake it in the oven for the best crust—no more cardboard crusts with holes in the bottom and weirdly shaped loaves.
Note: No bread machine? No worries. Use a stand mixer or mix and knead by hand. See details in the recipe notes.
Happy bakers speak up:
WOW – what a fabulous recipe! I have read and tried so many recipes for tomato bread and this one is OUTSTANDING!! I made it yesterday and it was gone in no time! My family devoured it.

Adele
Recipe inspiration:
Recently, one of my readers requested a bread recipe with sundried tomatoes to make in her bread machine. I suspect she had previous taste experience (Panera bread, maybe?). Of course, the first step was figuring out exactly what kind of bread we wanted. Would it be rustic, enriched, or sandwich bread?
Once we narrowed down the type of bread, I tossed out the enriched recipes (containing eggs, milk, and lots of fat) and anything having a starter or sponge. This recipe would be for a sturdy sandwich bread with off-the-scale sundried tomato and basil flavor. I didn't want the bread to require advanced planning, such as a starter or sponge demand.
Since many of you ask for more whole grains in your bread recipes, I added some whole wheat flour but not a lot. I didn't want this to be a heavy loaf.
I decided against adding cheese. But you could certainly add some Parmesan cheese or shredded Mozzarella if you desire. (I would start with about 1/2 cup of shredded cheese.)
My reader asked for sun-dried tomatoes. Got it! However, I wanted even more color and tomato flavor. I tried tomato paste. Not only is it easy to find, but it's also easy to use.
I love adding spices to bread (something you don't find too much in the bread aisle at the supermarket), so I went with dried garlic, dried basil, and dried minced onion. I could have used fresh onions, but that would complicate the recipe considerably because of the extra moisture.
---
Let's start baking.
Ingredients and substitutions: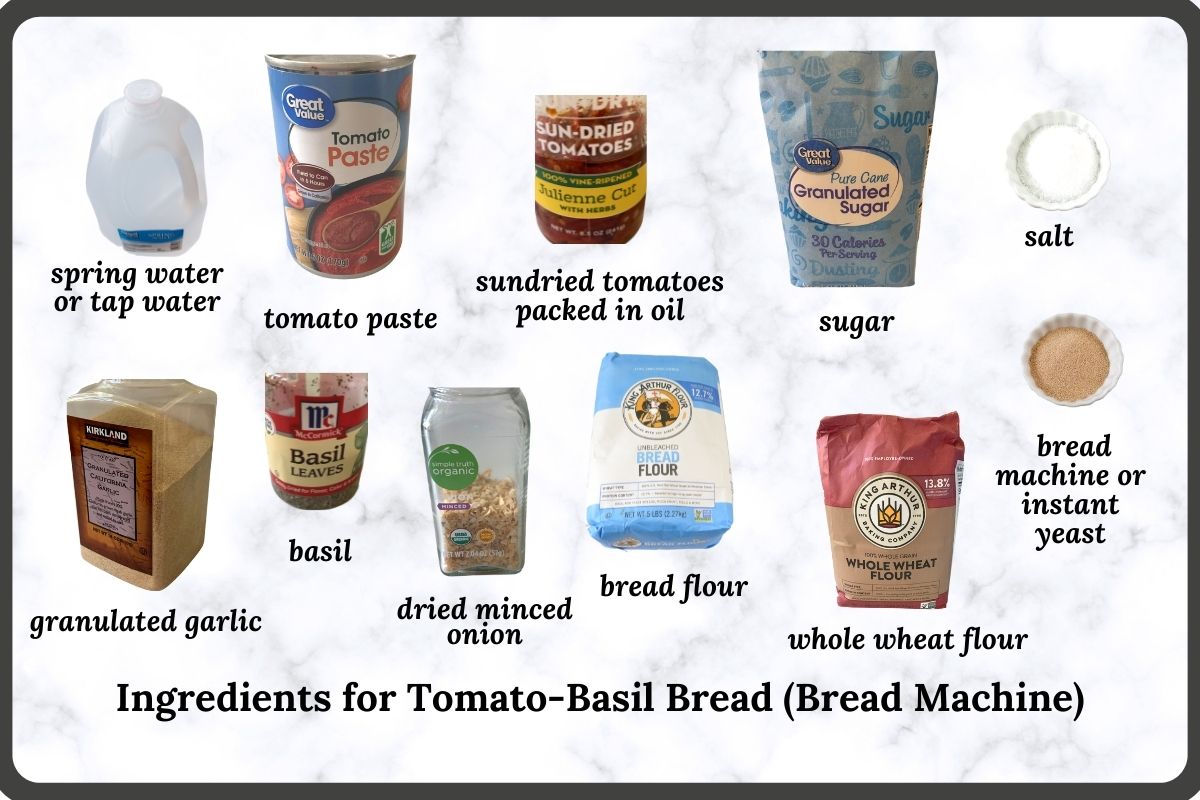 WATER: Some people recommend spring water when making any bread. However, I agree with Epicurious when they write, "Most tap water is perfectly suitable for bread baking. However, very hard water will toughen the dough and slow fermentation, while very soft water will soften the dough, making it sticky. In these cases, it's better to use bottled mineral water."
Note: It is not necessary to use warm water when using a bread machine as long as it is not icy cold.

TOMATO PASTE: This recipe calls for three tablespoons of tomato paste which equals a little less than half of a 6-ounce can. Freeze the remainder in tablespoon-size portions. Tubes of tomato paste are more convenient but also more expensive.

Tomato sauce is not a good substitute for tomato paste. Tomato sauce contains more water and fewer solids. Neither the flavor nor the color will be as exciting. The extra water will throw off the liquid vs. flour proportions.

SUNDRIED TOMATOES PACKED in OIL: Although you can buy sundried tomatoes vacuum-packed in a foil bag, I like the oil-packed tomatoes for two reasons. First, the oil-packed tomatoes don't dry out. The texture is like a chewy raisin, which I prefer in bread. Secondly, the oil is flavorful, so I also use it in the recipe.

If you only have vacuum-packed tomatoes available, be sure they are not too dry. Use olive, avocado, or canola oil as a substitute for the sundried tomato-infused oil.

If you can't buy sundried tomatoes or don't care for them, your bread will still be tasty without them.

SALT: I use fine sea salt. Add a quarter to a half teaspoon more if you prefer Kosher salt.

SUGAR: Granulated sugar is specified, but brown sugar is a good substitute.

SPICES: Using dry spices keeps it simple, especially concerning the moisture content of this recipe.

WHOLE WHEAT FLOUR: Whole wheat flour gives flavor and substance to this bread. I have not tested this bread with more than 60 grams. If you want to use whole wheat, I suggest you substitute whole wheat flour for SOME of the bread flour in small but ever-increasing amounts. Too much whole wheat flour will slow down the rise and cause your loaf to be dense and heavy. The wheat flavor will be milder if you can find white whole wheat flour.

If you don't have whole wheat or prefer a lighter loaf, substitute white flour for whole wheat.

BREAD FLOUR: The higher protein content of bread flour will make a loaf sturdy enough for sandwiches (see picture below). Bread flour will produce a slightly chewier loaf than all-purpose flour.

However, if all you have is all-purpose flour, you can still make a good loaf, but it will be softer because there is less gluten. Use a little less water at first since it absorbs less moisture than bread flour or whole wheat.

YEAST: I always use instant or bread machine yeast in my bread recipes. Yes, you can substitute active dry yeast if you like. I would add about 1/4 teaspoon extra, as it can be slow out of the gate.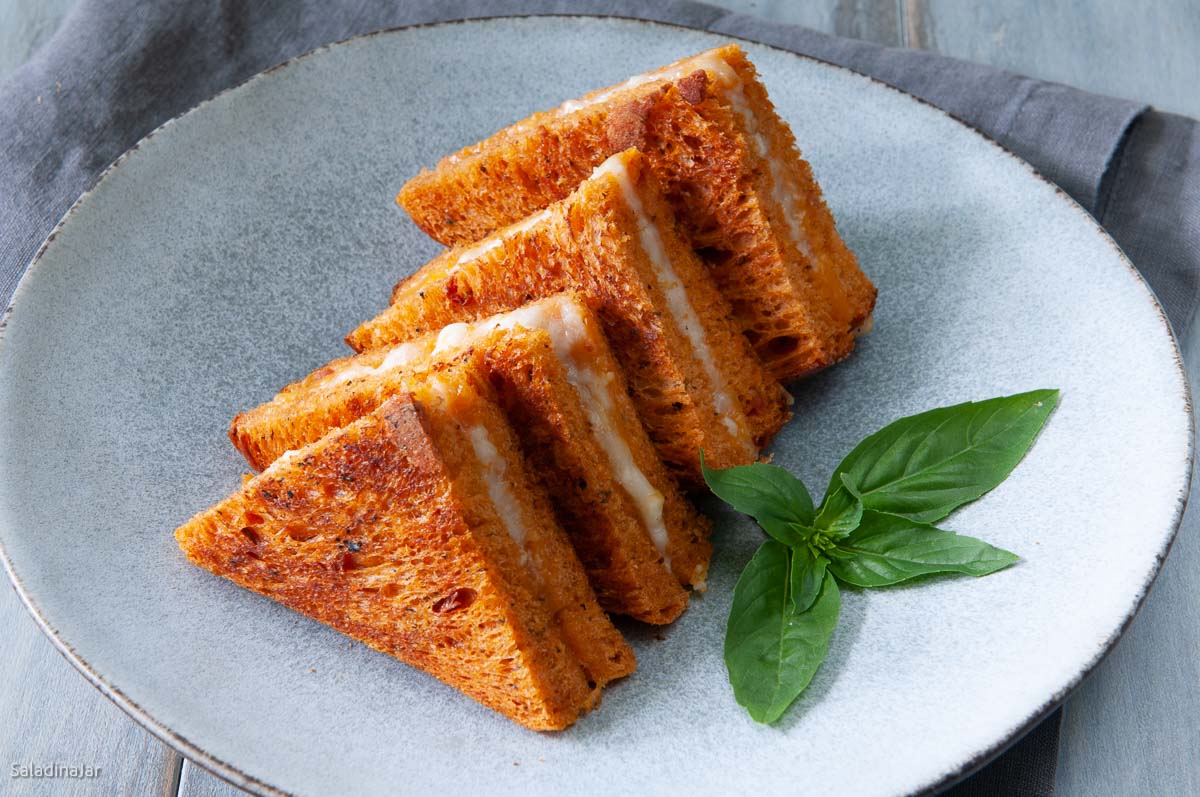 ---
---
How to make Tomato Basil Bread with a bread machine: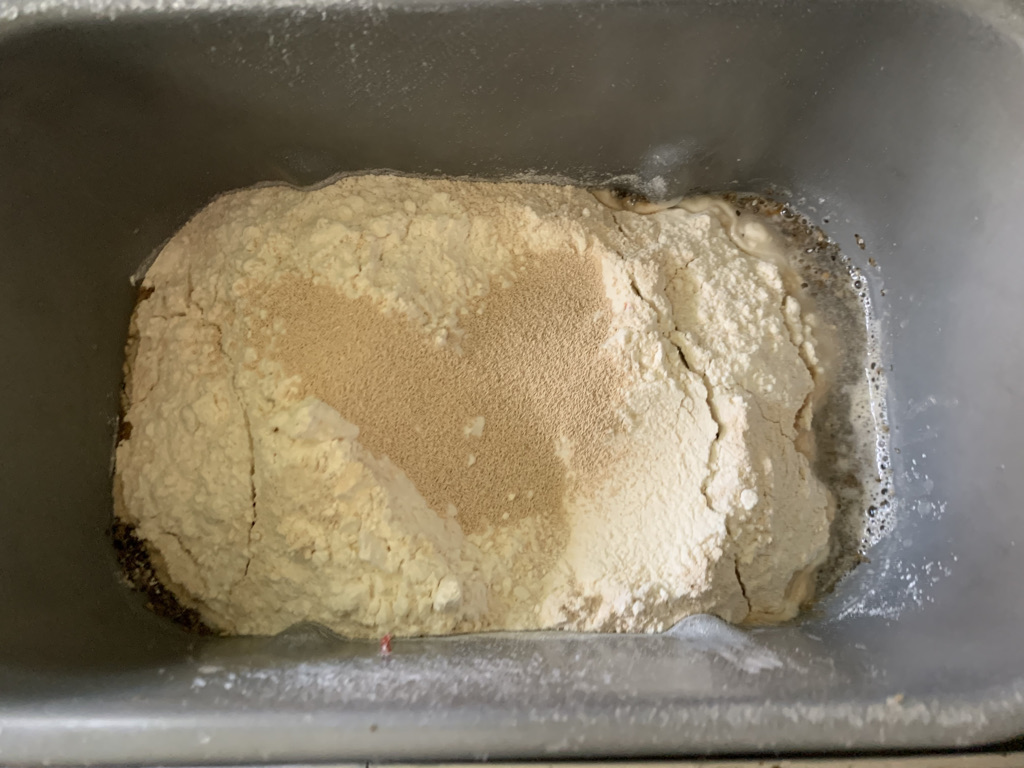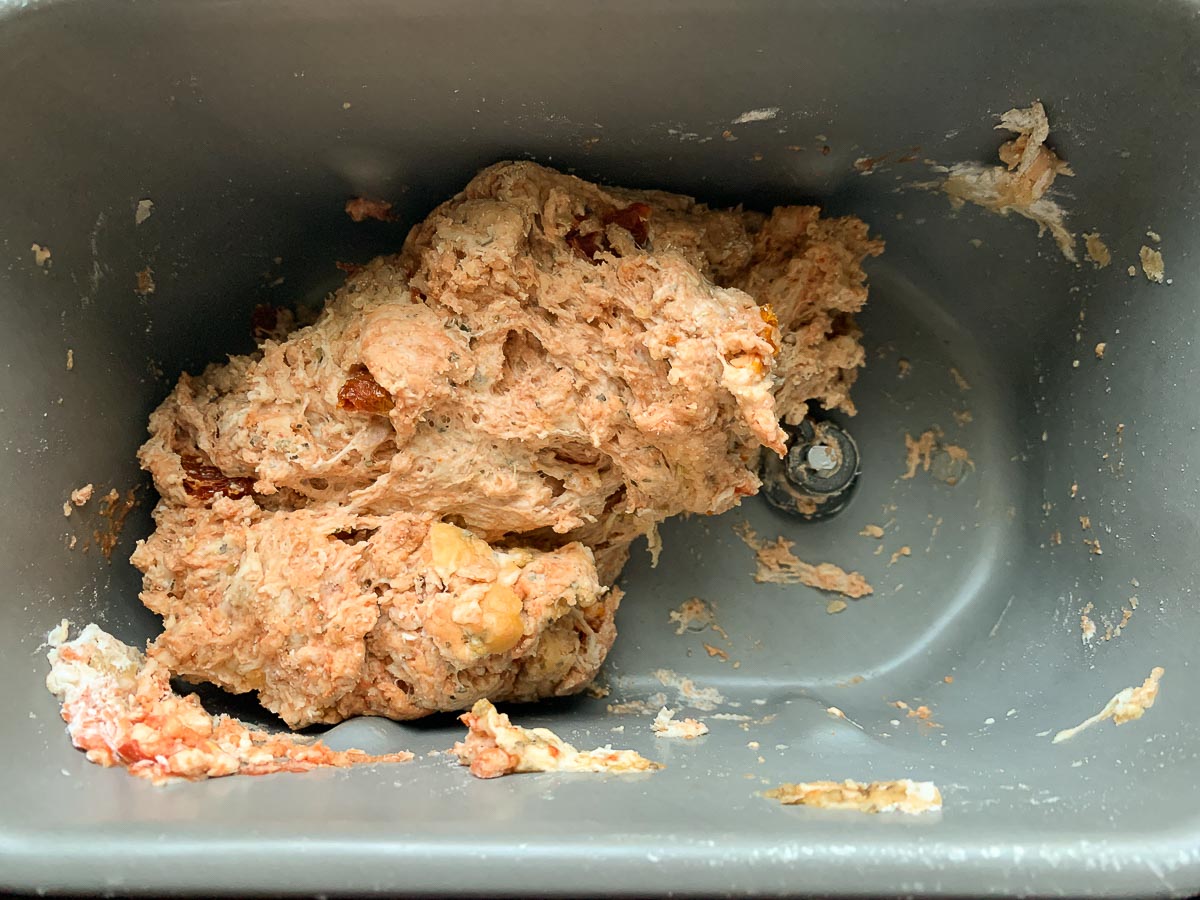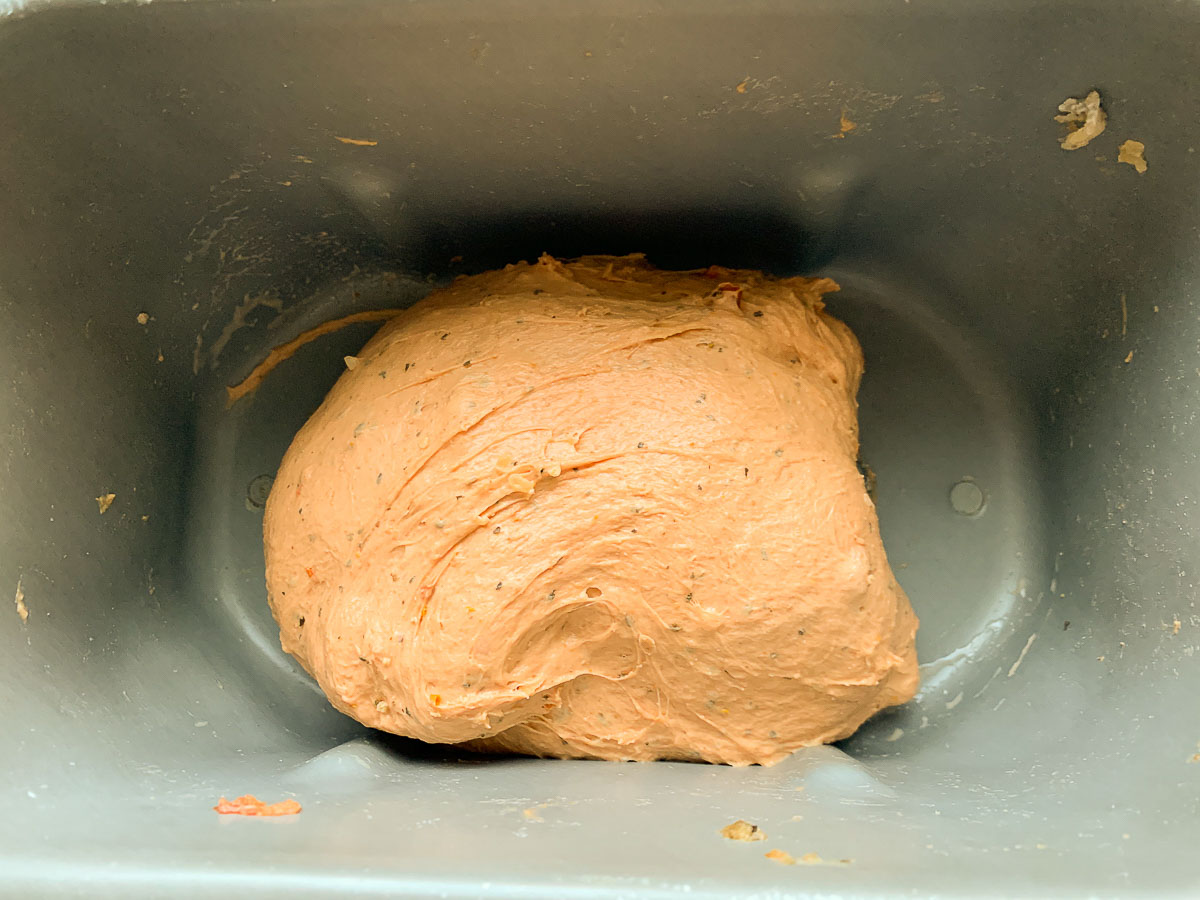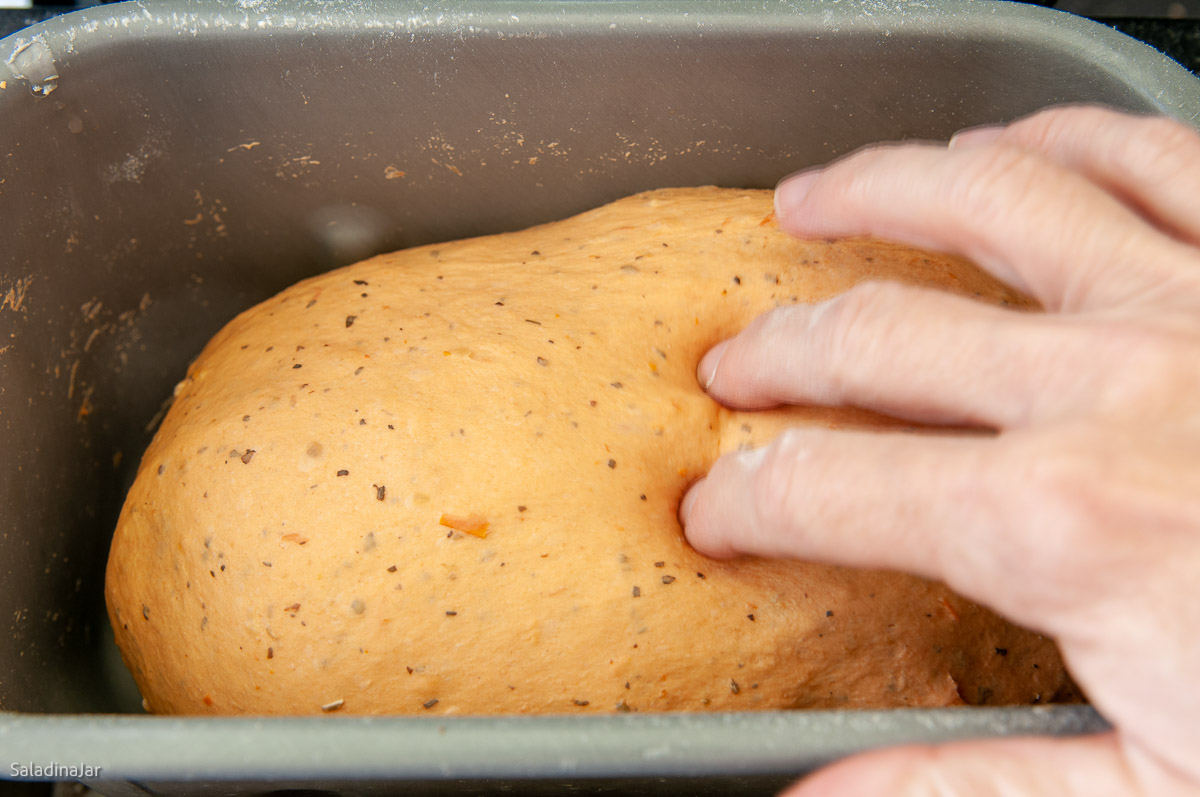 Check the rise with the two-finger method. Use two floury fingers to gently punch holes into the dough, then pull your fingers back out. If the holes fill in quickly, you probably need to let the dough rise longer.

If the holes fill in slowly, your dough is perfect. The dough is over-proofed if the holes don't fill in at all. Proceed to the next step.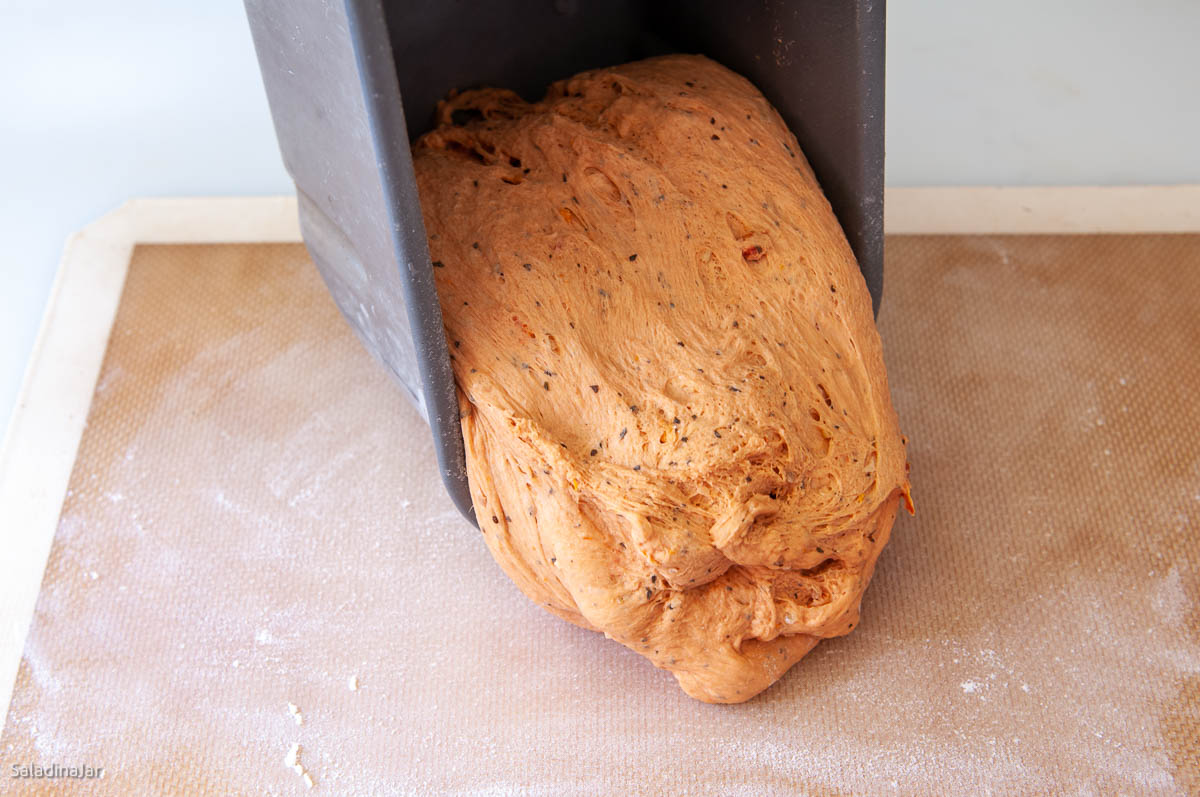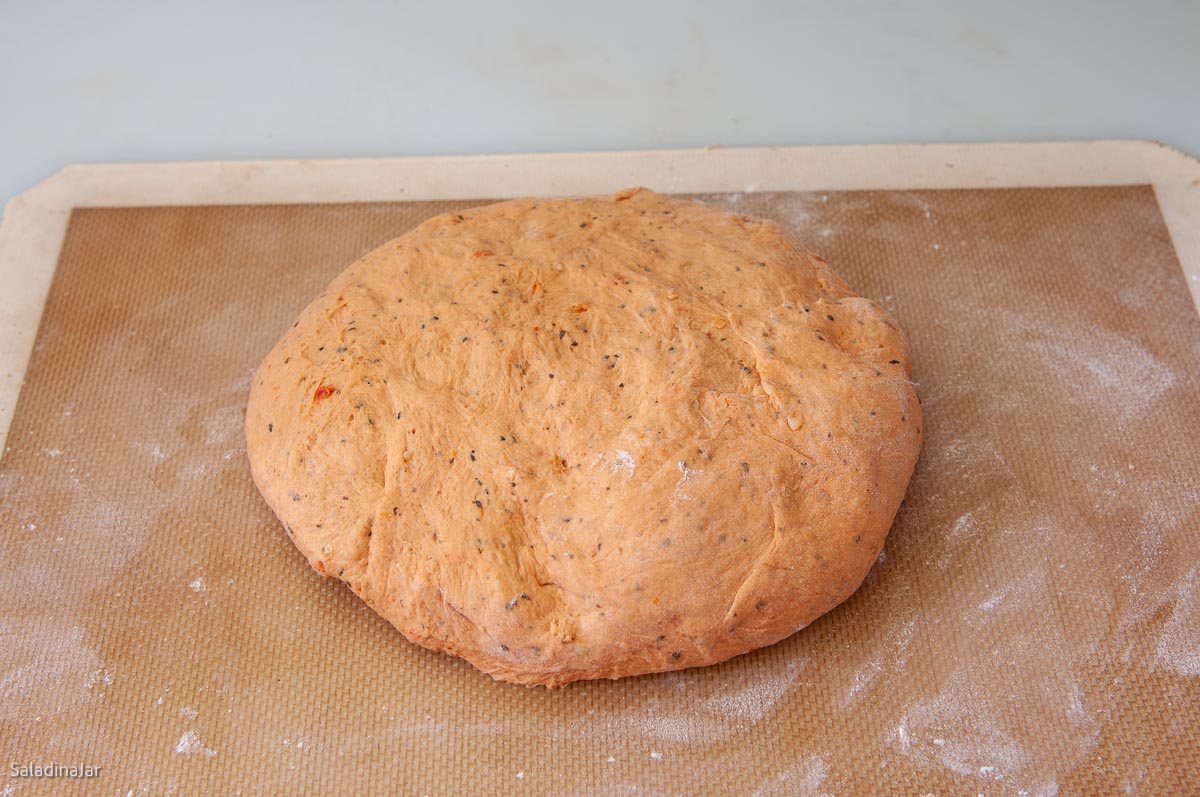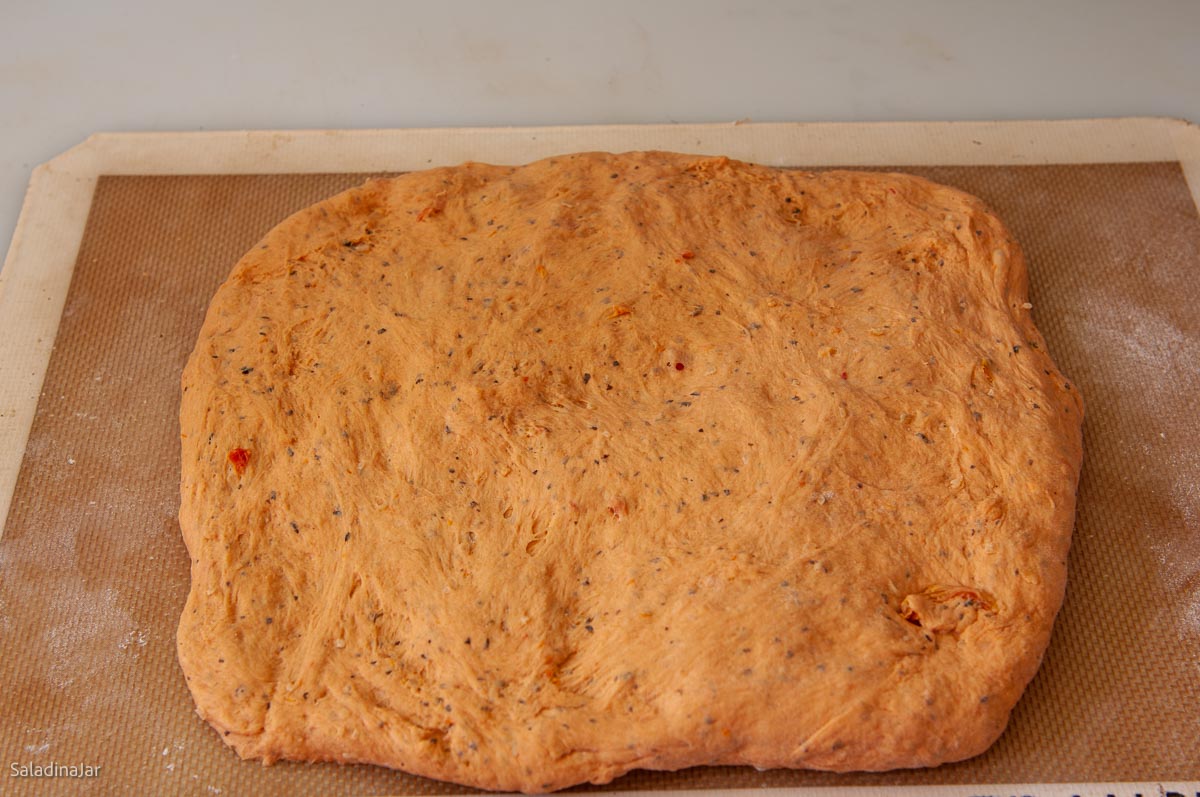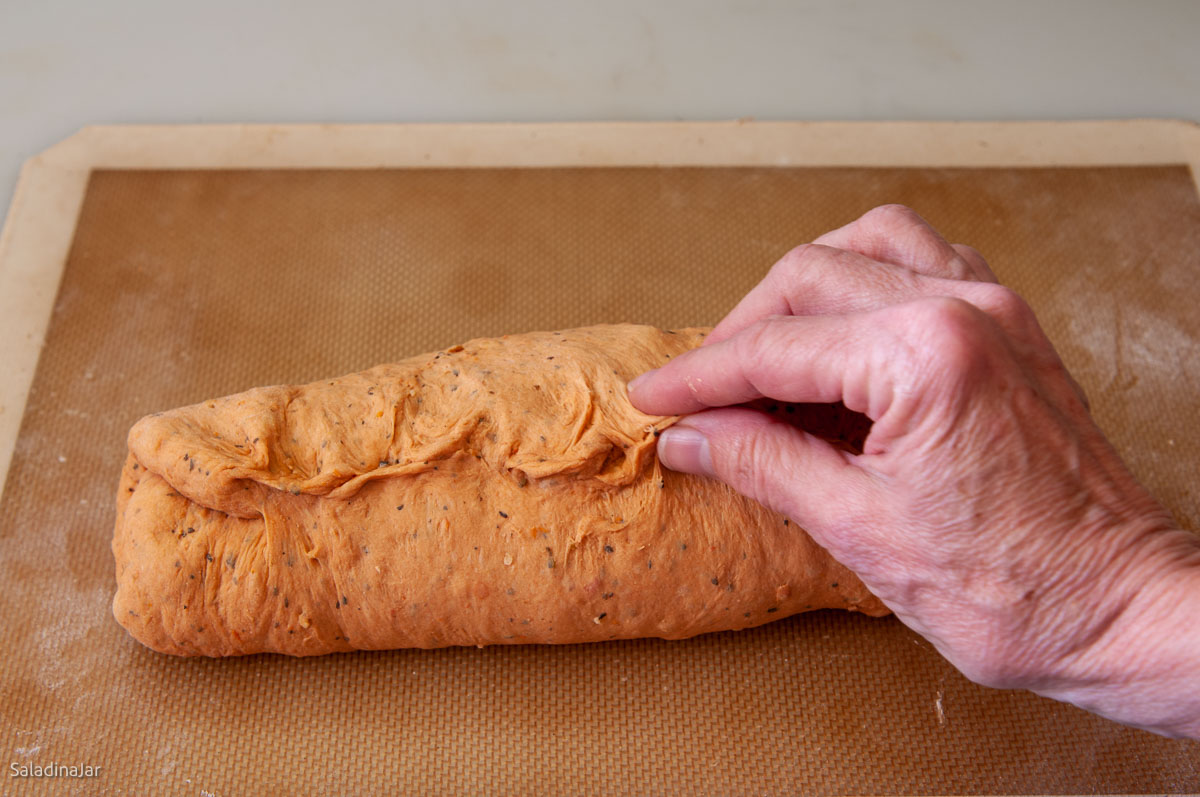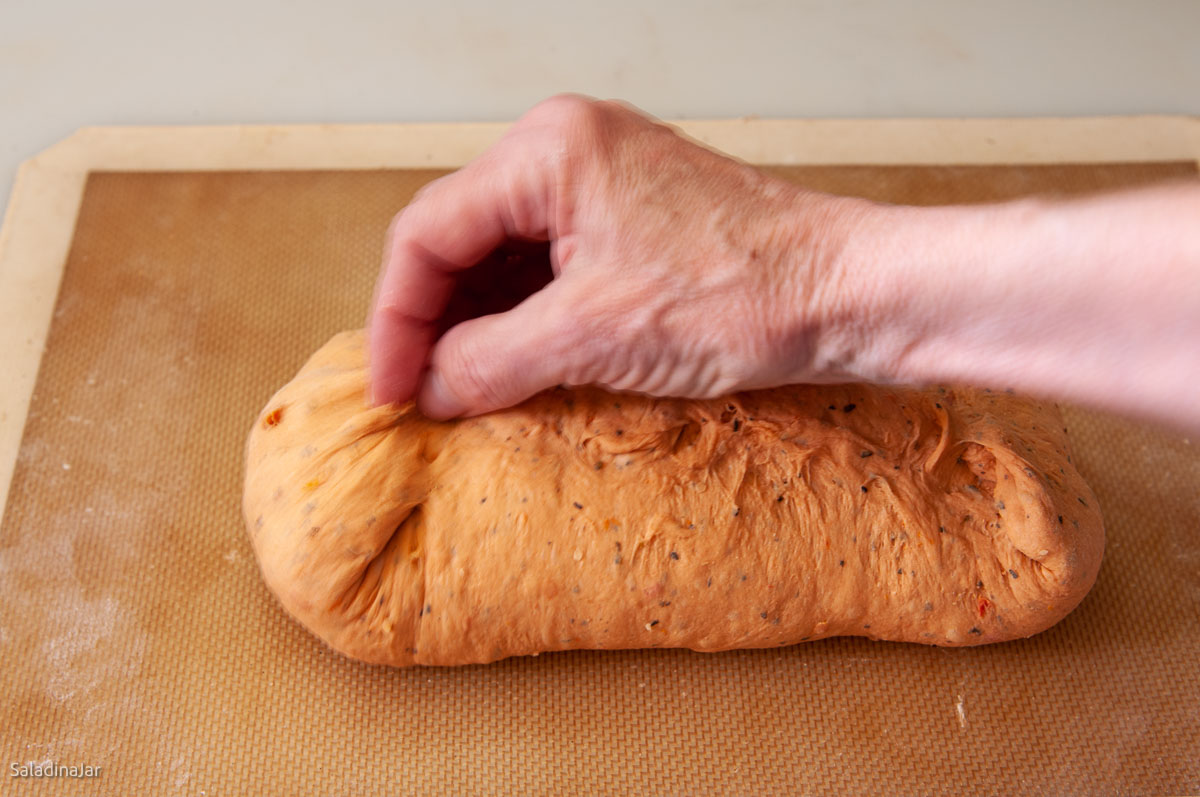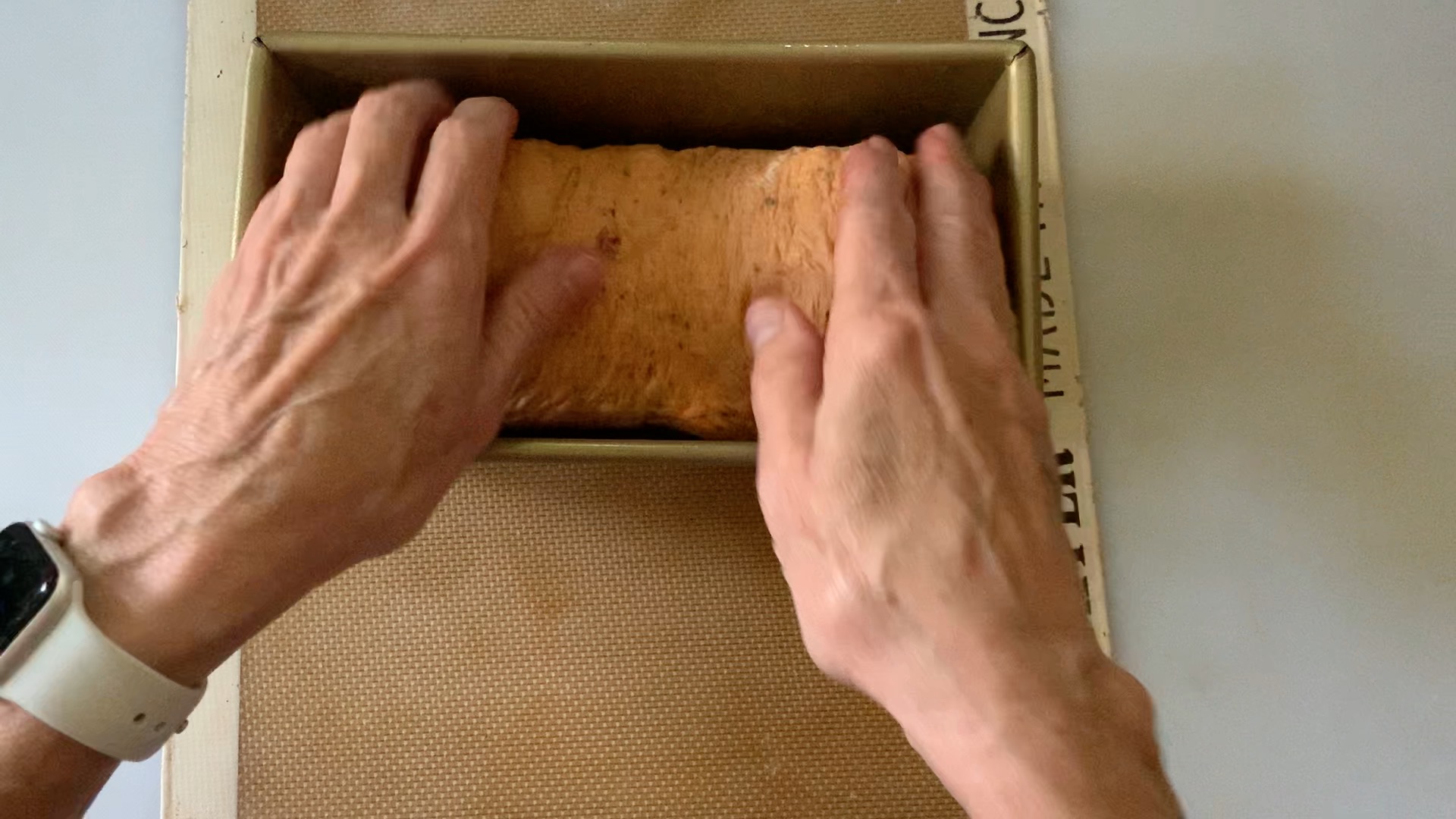 Brush the crust with melted butter. (Optional) After 10 minutes, turn the loaf onto a wire rack to cool.
---
FAQ about bread machine Tomato Basil Bread:
1. Can I make and bake this bread from beginning to end in a bread machine?
I can't recommend it. If all you want is toast, it will suffice. Not for me.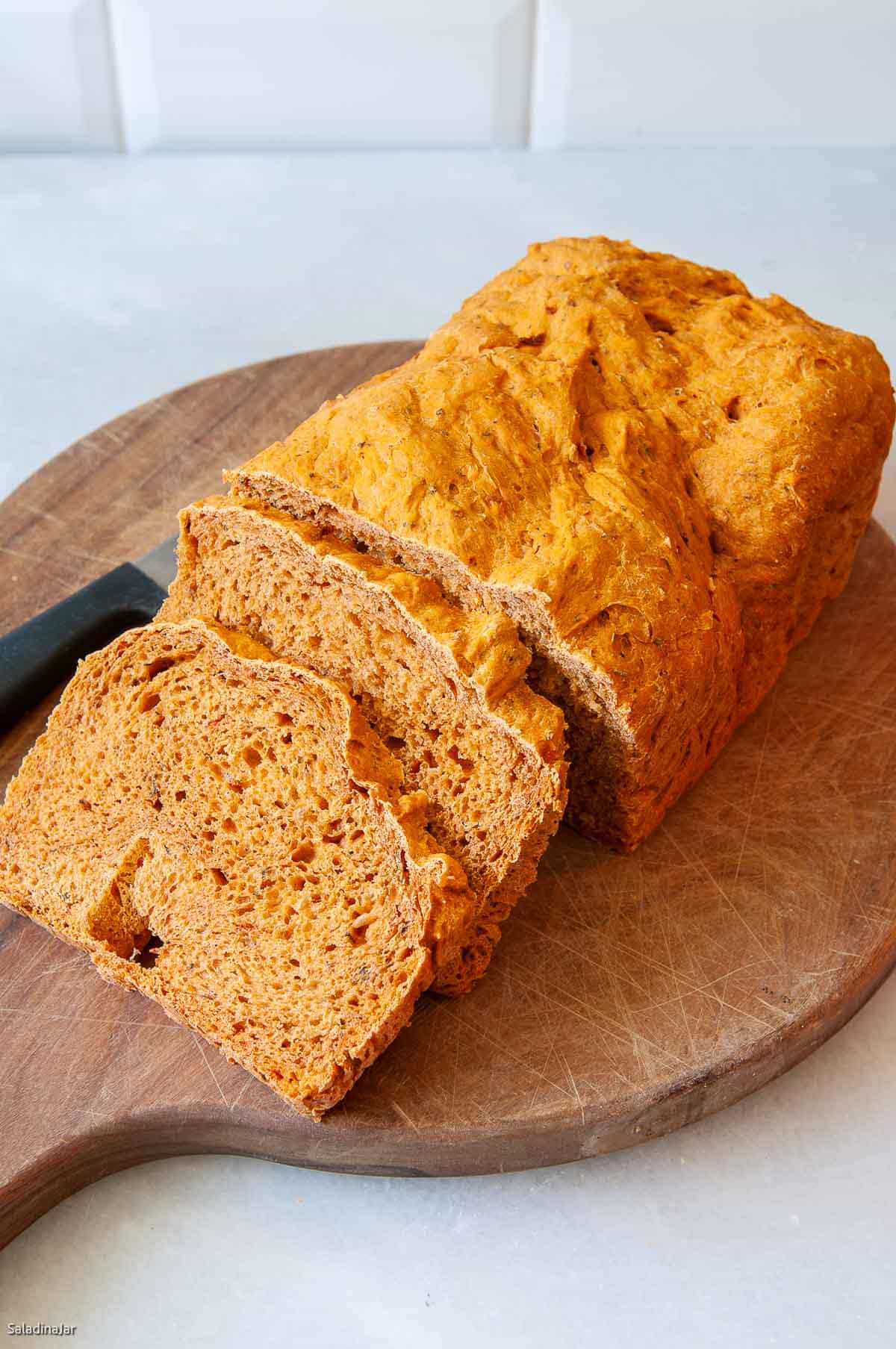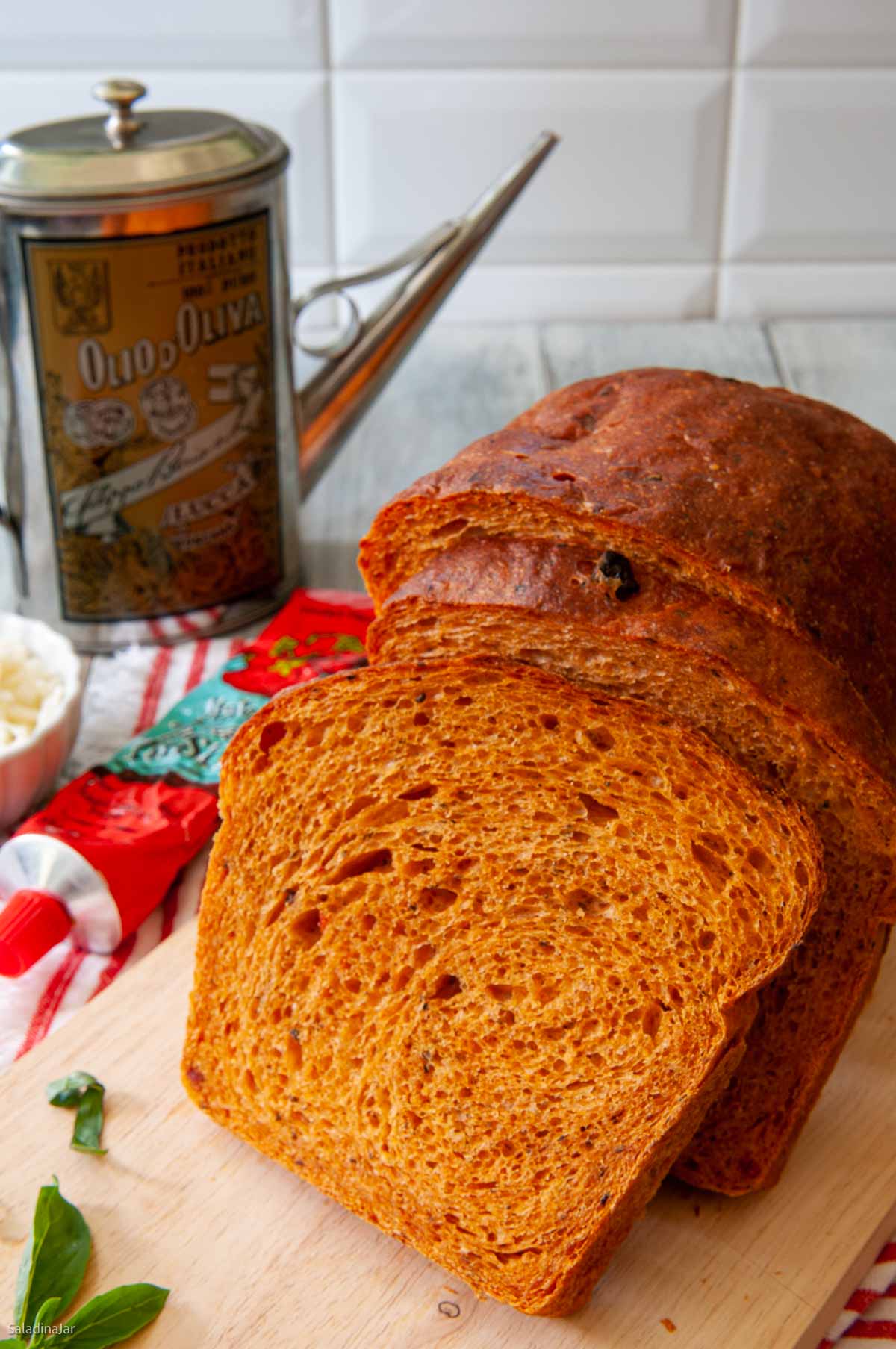 2. How should I store Tomato Bread to keep it fresh longer?
First, let it cool for at least an hour before you cut it. If you plan to eat it all the first day, turning the cut side down on the counter or cutting board will keep it from drying out. Beyond that, store your bread in a plastic bag. Don't store it in the refrigerator. Expect it to stay fresh for no longer than 3-4 days.
3. Is tomato basil bread whole grain?
Bread is considered whole grain if at least some of the flour includes bran, germ, and endosperm. This particular recipe includes a small percentage of whole-grain flour, but it is not 100%. That would make a denser loaf than most people prefer.
---
Parting Thoughts: I chose to make a loaf out of this recipe so I could use it for sandwiches. However, since you are shaping the dough by hand, feel free to make a boule or round loaf. Place it on a greased cookie sheet or a baking sheet covered with a silicone mat. Check this post to find a suitable glaze.
Recipe Help at Your Fingertips: For questions or suggestions, email Paula at saladinajar.com. If you need help, I'm happy to troubleshoot via email (faster than leaving a comment). Attach pictures and as many details as possible for the best advice.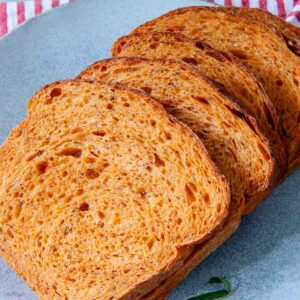 Tomato Basil Bread Recipe Mixed in a Bread Machine
Mix up Tomato Basil Bread in your Bread Machine, shape by hand, then bake in your oven. Take your next toasted cheese sandwich up a notch.
Share recipe love here. ⬇
Ingredients
1

cup

(

227

g

)

water

3

tablespoons

(

50

g

)

tomato paste

1

tablespoon

oil from sundried tomatoes packed in oil

2

tablespoons

chopped sundried tomatoes

1

teaspoon

sea salt

1

tablespoon

sugar

¼

teaspoon

garlic powder

2

teaspoons

dried minced onion

2

teaspoons

dried basil

2 ¾

cups

(

330

g

)

of bread flour

½

cup

(

60

g

)

whole wheat flour

2 ¼

teaspoons

bread machine or instant yeast
Instructions
Add all ingredients (

1 cup

(

227

g

) water,

3 tablespoons

(

50

g

) tomato paste,

1 tablespoon

oil from sundried tomatoes packed in oil,

2 tablespoons

chopped sundried tomatoes,

1 teaspoon

sea salt,

1 tablespoon

sugar,

¼ teaspoon

garlic powder,

2 teaspoons

dried minced onion,

2 teaspoons

dried basil,

2 ¾ cups

(

330

g

) of bread flour,

½ cup

(

60

g

) whole wheat flour,

2 ¼ teaspoons

bread machine or instant yeast) listed to a bread machine pan (with the paddles in place) in the order given. Select the DOUGH cycle and press START.

The dough will look dry and ragged at first but will soon come together and even out.

Check the dough after it kneads for 10-12 minutes. The goal is for the dough to stick to the side of the pan, then pull away cleanly. If the dough is too dry to do this, (spinning around the post or in crumbles) add water one tablespoon at a time. If the dough is too wet (sticking to the sides of the pan and not releasing), add flour one tablespoon at a time until it is still sticky but releases as the paddles pull on the dough.

When the kneading is almost done, the dough should be slightly tacky but fairly smooth and shiny.

Leave the dough in the bread machine pan until the DOUGH cycle is finished. You want the dough to be doubled in size. If not, leave it in the pan to rise until it doubles. Note: Bread dough that contains whole grains will usually take longer to rise.

Remove the dough from the bread machine pan onto a lightly-floured surface. Lightly press with your fingers into a rectangle shape. Make sure all large bubbles are gently compressed. If the dough is bouncy and won't stay put, cover it with a tea towel and let the dough relax for 10-15 minutes. Come back and try again.

Your rectangle should measure about 12 inches long and about 2 inches + the length of your loaf pan. I use an 8½ x 4½ inch loaf pan. So my rectangle should measure approximately 12 x 11 inches. You don't have to measure–just eyeball it.

Spray your loaf pan with non-stick spray. Starting with the short side of the dough rectangle closer to you, roll up the dough. Pinch the seal with your fingers. Pull up each end of the dough cylinder toward the long seam and seal it to make nice round corners on the end. Flip the roll of dough over so the seam side is down and place it into your pan. Pat it down to evenly distribute the log of dough in the pan.

Cover the bread dough with a tea towel or cheap shower cap. Place it in a warm place (but not too warm) to rise until almost doubled in size. The longer it takes your dough to rise, the better the flavor.

When the dough is close to being ready to bake, preheat your oven to 400˚F (200˚C).

Turn the oven back to (180˚C)

350

°F

. Bake the bread for 30-35 minutes or until the internal temperature reaches (90-93˚C)

195-200

°F

Remove from the oven but let the bread sit in the pan for 15 minutes. Remove the loaf from the pan and allow it to cool on a rack for another 45 minutes before cutting. Slicing into the bread too quickly may result in a gummy loaf and unappetizing squishing.
Notes
Directions for making bread by hand or with a bread machine
To make this recipe in a heavy-duty stand mixer, add ingredients to the bowl in the same order. Turn on low to mix until all ingredients are moistened. Using the dough hook, turn speed to 2 or 3 and continue kneading until dough becomes smooth and elastic–about 5-10 minutes. Cover and allow to rise in a warm place. Deflate dough gently and shape as indicated in the recipe.
If making by hand, combine all ingredients into a shaggy ball in a large bowl. Turn dough out onto a floured surface and knead with your hands until dough becomes smooth and elastic, a process that will likely take 10-20 minutes depending on your experience. Place the dough ball into a greased bowl. Cover and allow to rise until double. Deflate dough gently and shape as indicated in the recipe.
Please note: If you substitute regular yeast for instant or bread machine yeast, you must dissolve it first before adding to the dry ingredients. Stir it into about 1/4 cup of the lukewarm liquid called for in the recipe. Let sit for about 10 minutes. Add to other wet ingredients and then add dry ingredients. Proceed as directed to knead and shape the dough.
Nutrition
Calories:
152
kcal
|
Carbohydrates:
28
g
|
Protein:
5
g
|
Fat:
2
g
|
Saturated Fat:
1
g
|
Polyunsaturated Fat:
1
g
|
Monounsaturated Fat:
1
g
|
Trans Fat:
1
g
|
Sodium:
235
mg
|
Potassium:
156
mg
|
Fiber:
2
g
|
Sugar:
2
g
|
Vitamin A:
95
IU
|
Vitamin C:
3
mg
|
Calcium:
15
mg
|
Iron:
1
mg
HELP OTHERS find this recipe. Leave a 5 🌟🌟🌟🌟🌟 rating at the top of the recipe card if you enjoyed it. No comment is required.