Preview: Mix up Tomato Basil Bread in your Bread Machine, shape by hand, then bake in your oven. Use tomato paste, sundried tomatoes, and spices for maximum flavor.
Is there a bread memory you would like to recreate with your bread machine? Maybe it's from your childhood, a restaurant, or a vacation. But, no matter the origin, there's a good chance you can use a bread machine.
Recently, one of my readers requested bread with sundried tomatoes to make in her bread machine. I suspect she had a previous taste experience. Of course, the first step was figuring out exactly what kind of bread we were going for. Would it be rustic, enriched, or a sandwich bread?
Once we narrowed down the type of bread we wanted, I tossed out the enriched recipes (containing eggs, milk, and lots of fat) and anything having a starter or sponge. This recipe would be for a sturdy sandwich bread with off-the-scale sundried tomato and basil flavor. I didn't want the bread to require much forethought, such as a starter or sponge requires.
Note: No bread machine? No worries. Use a stand mixer or mix and knead by hand. See details in the recipe notes.
Since many of you ask for more whole grains, I added some whole wheat flour but not a lot. I didn't want this to be a heavy loaf.
I decided against adding cheese. But you could certainly add some Parmesan or shredded Mozzarella if that's your desire. (I would start about 1/2 cup of shredded cheese.)
My reader asked for sun-dried tomatoes. Got it! However, I wanted even more color and tomato flavor.
I tried tomato paste. Not only is it easy to find, but it's also easy to use.
I love adding spices to bread (something you don't find too much in the bread aisle at the supermarket), so I went with dried garlic, dried basil, and dried minced onion. I could have used fresh onions, but that would complicate the recipe considerably because of the extra moisture.
---
Let's start baking.
Ingredients and substitutions: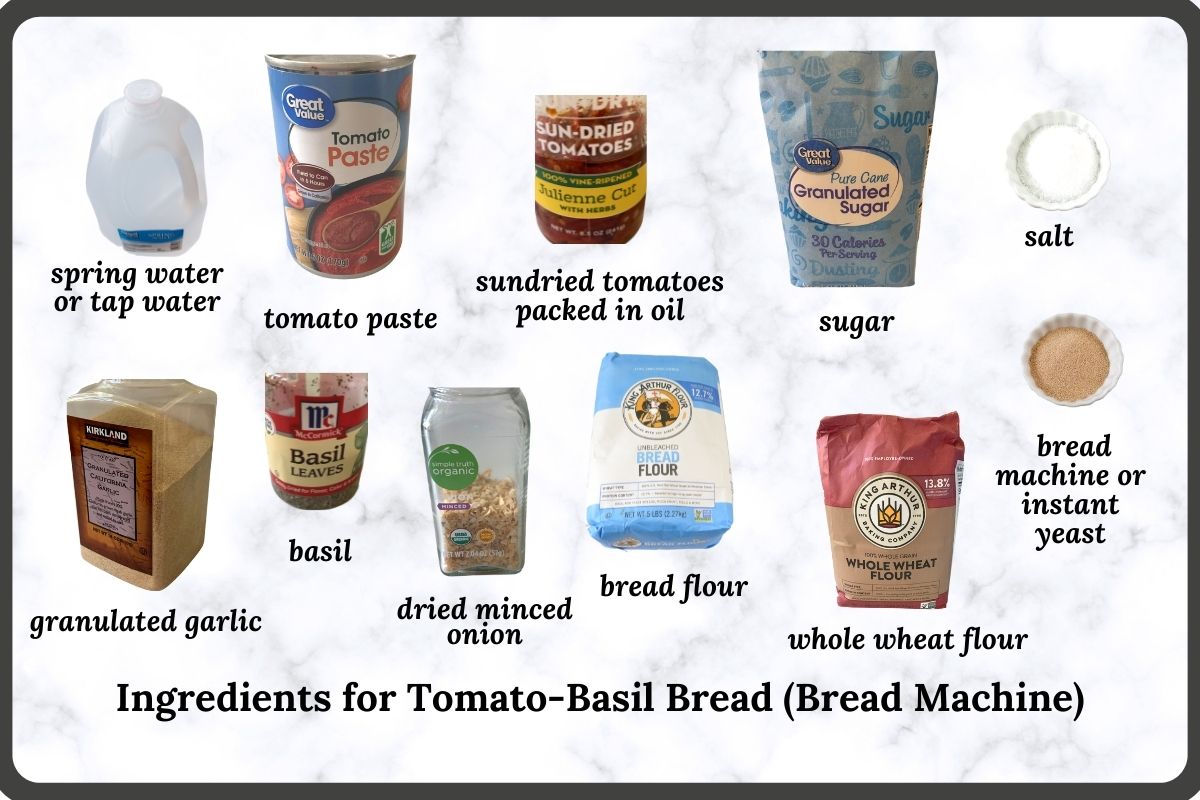 WATER: Some people recommend spring water when making any bread. However, I agree with Epicurious when they write, "Most tap water is perfectly suitable for bread baking. However, very hard water will toughen the dough and slow fermentation, while very soft water will soften the dough, making it sticky. In these cases, it's better to use bottled mineral water."

TOMATO PASTE: This recipe calls for 3 tablespoons of tomato paste which equals a little less than half of a 6-ounce can. Freeze the remainder in tablespoon-size portions. Tubes of tomato paste are more convenient but also more expensive.

Tomato sauce is not a good substitute for tomato paste. Tomato sauce contains more water and less solids. Neither the flavor nor the color will be as exciting. The extra water will throw off the liquid vs. flour proportions.

SUNDRIED TOMATOES PACKED in OIL: Although you can buy sundried tomatoes vacuum-packed in a foil bag, I like the oil-packed tomatoes for two reasons. First, the oil-packed tomatoes don't dry out. The texture is more like a chewy raisin, a texture I prefer in bread. Secondly, the oil is full of flavor, so I use it in the recipe, too.

If you only have the vacuum-packed tomatoes available, be sure they are not too dry. Use olive or avocado oil as a substitute for the sundried tomato-infused oil.

If you can't buy sundried tomatoes or don't care for them, your bread will still be tasty without them.

SALT: I use fine sea salt. If you prefer Kosher salt, add a quarter to a half teaspoon more.

SUGAR: Granulated sugar is specified, but brown sugar is a good substitute.

SPICES: Using dry spices keeps it simple, especially in regards to the moisture content of this recipe.

WHOLE WHEAT FLOUR: Whole wheat flour gives flavor and substance to this bread. I have not tested this bread with more than 60 grams. If you want to use more whole wheat, I suggest you substitute whole wheat flour for SOME of the bread flour in small but ever-increasing amounts. Too much whole wheat flour will slow down the rise and cause your loaf to be dense and heavy.

If you don't have whole wheat or you would prefer a lighter loaf, substitute white flour for the whole wheat.

BREAD FLOUR: The higher protein content of bread flour will make a loaf sturdy enough for sandwiches (see picture below). The chewy factor is better with bread flour than all-purpose flour.

However, if all you have is all-purpose flour, you can still make a good loaf, but it will be softer. Use a little less water at first since it absorbs less moisture than bread flour or whole wheat.
---

---
FAQ about Tomato Basil Bread
1. Can I make and bake this bread from beginning to end in a bread machine?
I can't recommend it. If all you want is toast, it will suffice. Not for me.
---
2. How can I store Tomato Basil Bread to keep it fresh longer?
First, let it cool for at least an hour before you cut it. If you plan to eat it all the first day, turning the cut side down on the counter or cutting board will keep it from drying out. Beyond that, store in a plastic bag. Don't store in the refrigerator. Expect it to stay fresh no longer than 3-4 days.
---
How to make Tomato Basil Bread with a bread machine: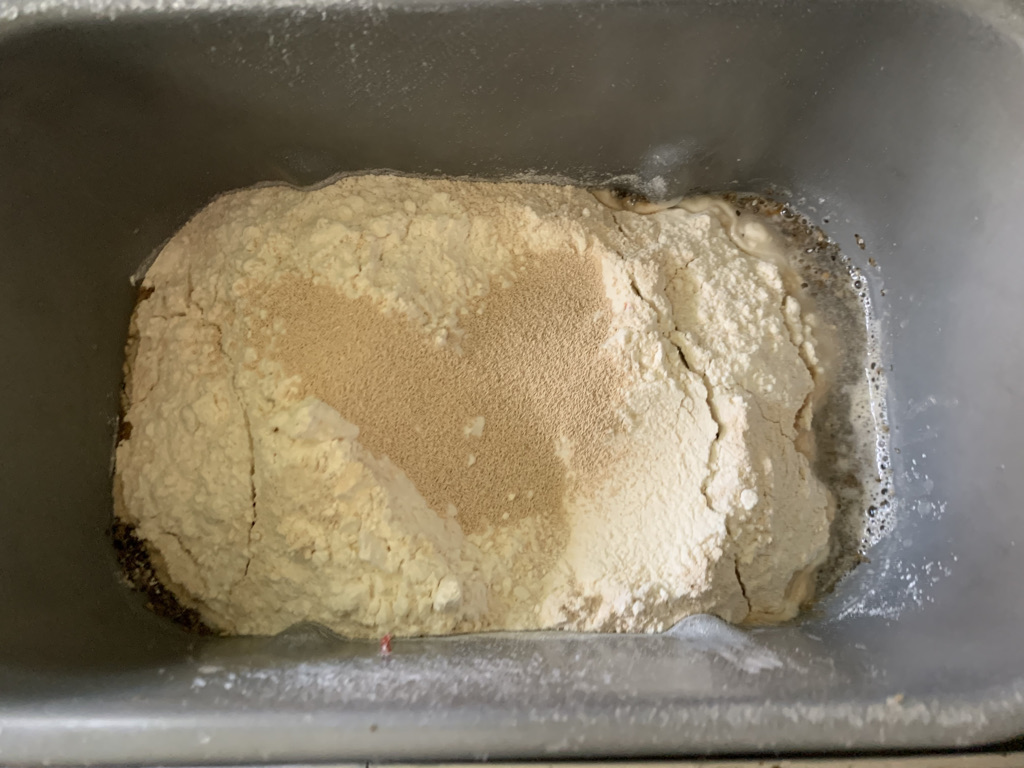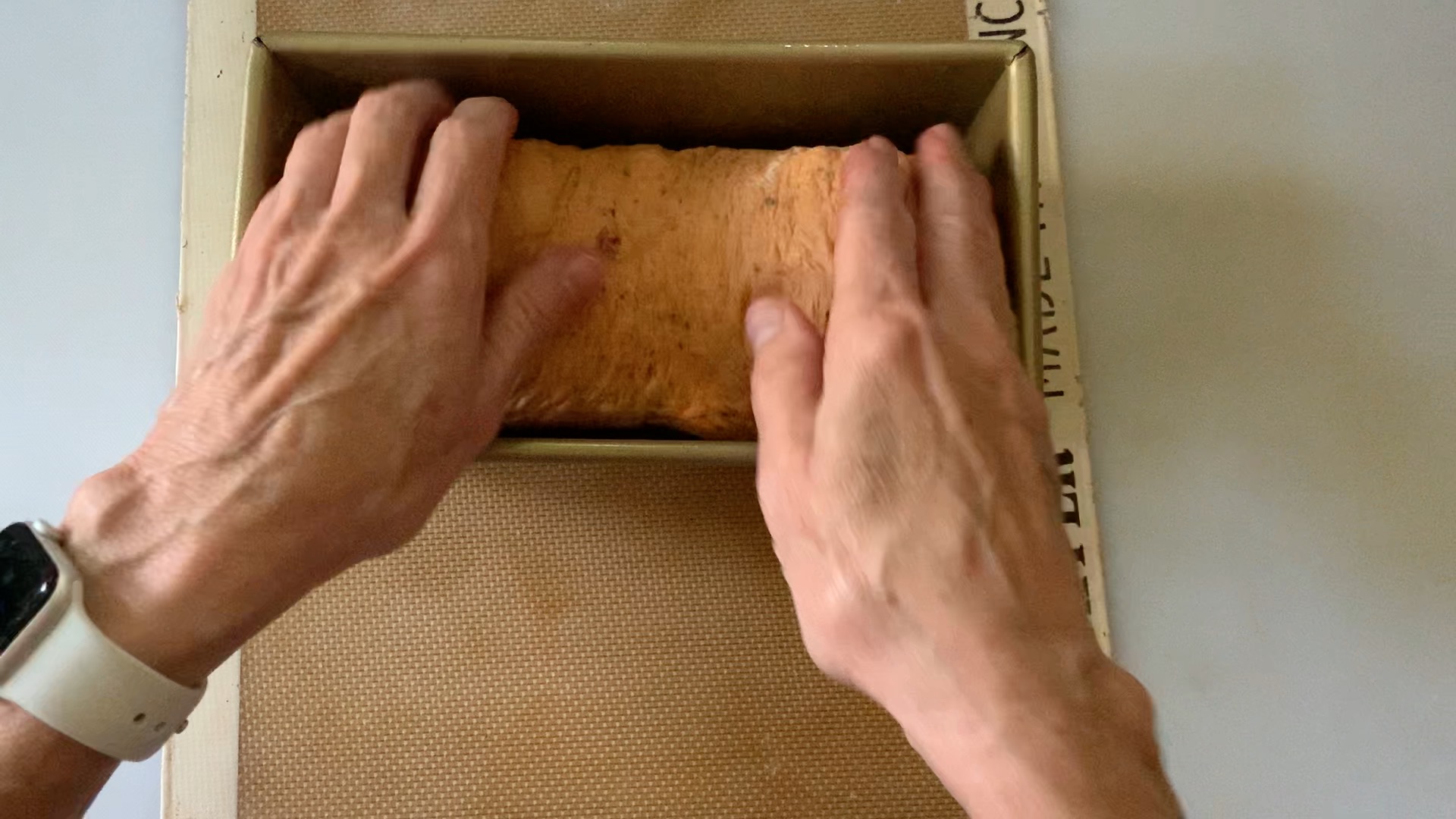 Bake the bread at 350˚F (180˚C) for 30-35 minutes or until the internal temperature reaches 200˚F.
---
If you enjoyed this recipe, it would help others and me if you gave it a five-star rating inside the recipe card below. 🤩 No comment required. Thank you.

Hope to see you again soon!
Paula
p.s. Questions or suggestions? Please email me: Paula at saladinajar.com.
---