Preview: This Buttermilk Bread Machine recipe makes a soft white sandwich loaf. Skip the hassle of kneading. Let your bread machine do the job instead. Shape the dough by hand and bake in your oven for a blue-ribbon loaf.
Have you tried the basic white-bread recipe in your bread machine manual? If you weren't in love with it, I have a better idea. Try this buttermilk white-bread loaf and rest assured your efforts will reap mouth-watering rewards.
My two grandsons pronounced it the "best bread you've ever made." But, of course, serving it alongside a big jar of Nutella didn't hurt.
No worries if you don't have a bread machine or bread maker. See the recipe notes for making this recipe by hand or with a stand mixer.
Can I make this recipe from beginning to end in a bread machine?
Yes. I call it "one-button" bread. If you are a new bread machine owner, you may be thinking that was the only reason you bought a bread machine.
If all you need is bread to toast for breakfast or make jelly sandwiches for the kids, the one-button-loaf might be good enough.
If you appreciate excellent bread or want to give your bread away, consider using the DOUGH cycle to mix the dough. Then, bake the loaf in your conventional oven for a much nicer crust and crumb texture. Keep reading for more details.
---
Why I prefer to make bread with the DOUGH cycle:
Check out the comparison pictures below. The buttermilk sandwich bread baked in a bread machine is on the left. The bread on the right was mixed in a bread machine but shaped by hand and baked in a conventional oven.
Avoid dense loaves, crater-tops, uneven browning, and cardboard crusts! Instead, use a bread maker for mixing and kneading only. Then, you do the shaping and baking for superior results.
---
Ingredients and substitutions:
BUTTERMILK: Buttermilk is the secret sauce in this recipe. It contributes tanginess, tenderness, and moisture. No buttermilk in the house? Use powdered buttermilk.

Another great substitute: yogurt whey + 3 tablespoons of dried milk powder. Or, try sour cream or yogurt thinned with some milk until it's the consistency of buttermilk.

Not a fan of buttermilk? Make this recipe with dairy milk or non-dairy milk such as almond or coconut milk. Your bread will still be fabulous although you should probably change the name. 😜

SUGAR: The sugar in this recipe is negotiable. You need some for the yeast to snack on, but feel free to cut back to 1 tablespoon. If your sweet tooth is aching, add an extra tablespoon of sugar. Know that adding more sugar can slow down the rising process.

You can substitute honey for sugar.

SALT: This recipe calls for table salt or sea salt. If you want to use Kosher salt, add at least another ¼ teaspoon. It's OK to experiment with reducing the salt, but cutting it out completely may result in unexpected consequences.

BUTTER: A little fat goes a long way in making the crust tender and the crumb moist. Substitute vegetable oil if you prefer.

EGG: Adding an egg adds a touch of richness to any bread recipe. Use a large egg at room temperature. If you prefer to skip the egg, add more buttermilk to make up for it.

FLOUR: Use white all-purpose flour or bread flour. White flour will produce a softer bread. Bread flour will make a sturdier and chewier product that will rise a bit higher.

Note that bread flour absorbs more liquid than all-purpose flour. You MAY need to add more liquid. Always check your dough while it's kneading in the bread machine to see if you need to add more liquid or flour to make the dough stick to the side and pull away cleanly.

I have not experimented with whole grain flours in this recipe. If you do, be aware that it will make the bread heavier depending on the ratio of wheat flour to white flour.

YEAST: I always specify bread machine or instant yeast in my bread machine recipes. It's easier and doesn't need to be "bloomed" or dissolved first.

Active dry yeast is a viable substitute for instant yeast. It's no longer crucial that you dissolve it in liquid first like we used to. But it will help the yeast activate more quickly.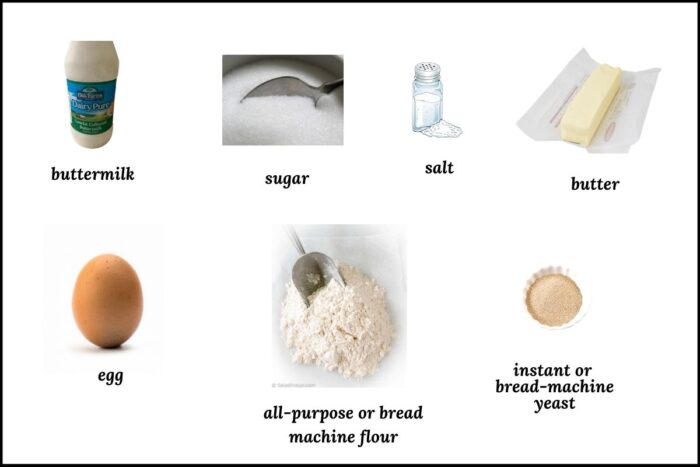 ---
How to make this Buttermilk Bread Machine recipe:
FAQ about Buttermilk Bread:
What does buttermilk do for this bread recipe?
The lactic acid in buttermilk makes bread tender and gives it a tangy flavor.
Should I heat the buttermilk?
Yes, if you intend to make this bread from beginning to end with a bread machine. No, if you plan to use the DOUGH cycle to mix it. The rise time takes longer when the liquid starts out cold. Here's a secret: The longer your dough takes to rise, the better your finished bread will taste.
What can I do with leftover buttermilk?
Portion leftover buttermilk for future recipes. Store each portion in a small plastic bag and freeze it.

The frozen buttermilk will likely curdle when thawed. Don't worry. It is OK to use in a baked product like muffins, pancakes, or this bread.
Can I use regular milk or non-dairy milk instead of buttermilk?
In this recipe, yes. No other ingredients such as baking soda are necessary when using milk. You can even use water instead of buttermilk, but it won't be as flavorful or rich.
Can I use a stand mixer or make this recipe by hand?
Yes, you may do either. See the notes at the end of the recipe for details.
Can I make buttermilk bread dairy-free or lactose-free?
Yes, Use non-dairy milk or water for the liquid. Use vegetable oil or shortening (Crisco) for the fat.
How can I make this recipe if I don't have a bread maker?
Make it by hand or use a stand mixer. See the notes at the end of the recipe for more details.
---
---

---
Want more bread machine tips and recipes?
---
---
Did you enjoy this recipe? If so, you can help others and me by leaving a 5-star 🤩 rating in the comment section below. No comment is required.
p.s. If you have any questions or suggestions, you can email me privately: Paula at saladinajar.com.
Hope to see you again soon!
Paula
---
Buttermilk Bread Machine Bread Recipe
This Buttermilk Bread Machine recipe makes a soft white sandwich loaf. Skip the hassle of kneading. Let your bread machine do the job instead. Shape the dough by hand and bake in your oven for a blue-ribbon loaf.
Ingredients
⅞

cup

lukewarm buttermilk

-

210 gr

1

large egg

2

tablespoons

granulated sugar

-

28 gr

1¼

teaspoon

table or sea salt

-

5 gr

1½

tablespoon

soft butter

-

21 gr

3

cups

+ 2 tablespoons all-purpose flour

-

375 gr

1½

teaspoon

bread machine or instant yeast

-

4 gr
Instructions
Mixing, Kneading, and First Rise:
Combine all ingredients into bread machine pan in the order listed above.

Select the DOUGH cycle and press START.

Check the dough at least twice during the mixing and kneading phase by lifting the lid to take a peek. The first time, look immediately after the machine starts mixing to ensure the paddles are engaged correctly.

Look again 15 minutes into the DOUGH cycle to assess the consistency of the dough. For most recipes, the dough should stick to the side, then pull away cleanly.

If your dough is too wet, add flour one tablespoon at a time.

Conversely, if the dough is too dry, add one tablespoon of liquid at a time until the dough looks just right. Read more about this surprising secret to success with a bread machine here.

When the DOUGH cycle has finished, check the dough to be sure it has risen to double the original size. If so, remove the dough to a lightly-floured surface for shaping. If your kitchen is cold and the dough has not doubled in size, leave it in the pan until it does. Then remove it for shaping. If your kitchen is warm, check the size of the dough before the DOUGH cycle completes. The dough may need to be removed and shaped early to avoid overproofing.
Shaping and Second Rise:
Shape dough with your hands or a rolling pin into a rectangle roughly 14 x 10 inches. If dough is too elastic to shape, cover with a tea towel and let it rest for 10 minutes before trying again.

Be sure there are no large visible bubbles, especially on the sides of the rectangle. Press them out or pinch them with your fingers to avoid tunnels in your bread. Also, brush off any excess flour as you go.

Starting from the short side nearest you, roll the dough into a cylinder. Try not to stretch the dough, but neither should it be too loose. Pinch the seam shut and pull up the ends toward the seam and pinch them closed.

Turn the cylinder of dough over so you can see the smooth top. Drop it into a lightly greased 8½ x 4½-inch loaf pan or a 9 x 4 x 4-inch Pullman pan. Gently smoosh the dough with your palms to make it level throughout the pan.

Cover with a cheap shower cap or a tea towel. Let rise until peaking over the edge of the pan.
Baking:
About 15 minutes before you think your bread will be ready to bake, preheat your oven to 350˚F.

Brush the top of the loaf with melted butter. Make one slash down the middle with a sharp knife or a razor blade. Pop into the oven for 30-40 minutes or until the internal temperature is 200˚F.

Let cool for 5 minutes. Remove loaf from the pan and cool on a wire rack. To avoid squashing the loaf, let it cool at least 30 minutes before cutting.

Notes
Directions for making bread with a stand mixer or by hand:
To make this recipe in a heavy-duty stand mixer: Add ingredients to the bowl in the same order. Turn on LOW to mix until all ingredients are moistened. Then, using a dough hook, turn the speed to 2 or 3. Continue beating/kneading until dough becomes smooth and elastic (about 5-10 minutes). Cover and allow to rise in a warm place. Deflate dough gently and shape as indicated in the recipe.
If making by hand: Combine all ingredients into a shaggy ball in a large bowl. Turn dough out onto a floured surface. Knead with your hands until the dough becomes smooth and elastic. Kneading will likely take 10-20 minutes, depending on your experience. Place the dough ball into a greased bowl. Cover and allow to rise until double. Deflate the dough gently and shape as indicated in the recipe.
Please note: You can substitute active dry yeast for instant yeast. Dissolving it first is optional. Active dry yeast tends to rise slower initially but will catch up eventually.
Nutrition
Serving:
1
slice
Calories:
155
kcal
Carbohydrates:
27
g
Protein:
5
g
Fat:
3
g
Saturated Fat:
1
g
Polyunsaturated Fat:
1
g
Monounsaturated Fat:
1
g
Trans Fat:
1
g
Cholesterol:
19
mg
Sodium:
280
mg
Potassium:
77
mg
Fiber:
1
g
Sugar:
3
g
Vitamin A:
93
IU
Vitamin C:
1
mg
Calcium:
28
mg
Iron:
2
mg