A Sweet Mashed Carrot Casserole Recipe with a Soufflé-Like Texture
Sneak Preview: This sensational Sweet Mashed Carrot Casserole contains maple-syrup-flavored mashed carrots baked into a light and smooth side dish with a soufflé-like texture.
How do you decide if you want to keep a cookbook? I guess you could ask if it "sparks joy." My younger sister got this recipe for a carrot casserole from an old cookbook that she kept for sentimental reasons.
This updated version will puff up in the oven, then deflate as it cools like a pumpkin pie or soufflé. The texture is light and smooth. The flavor is slightly sweet with maple syrup overtones, but not so sweet that it feels like a dessert.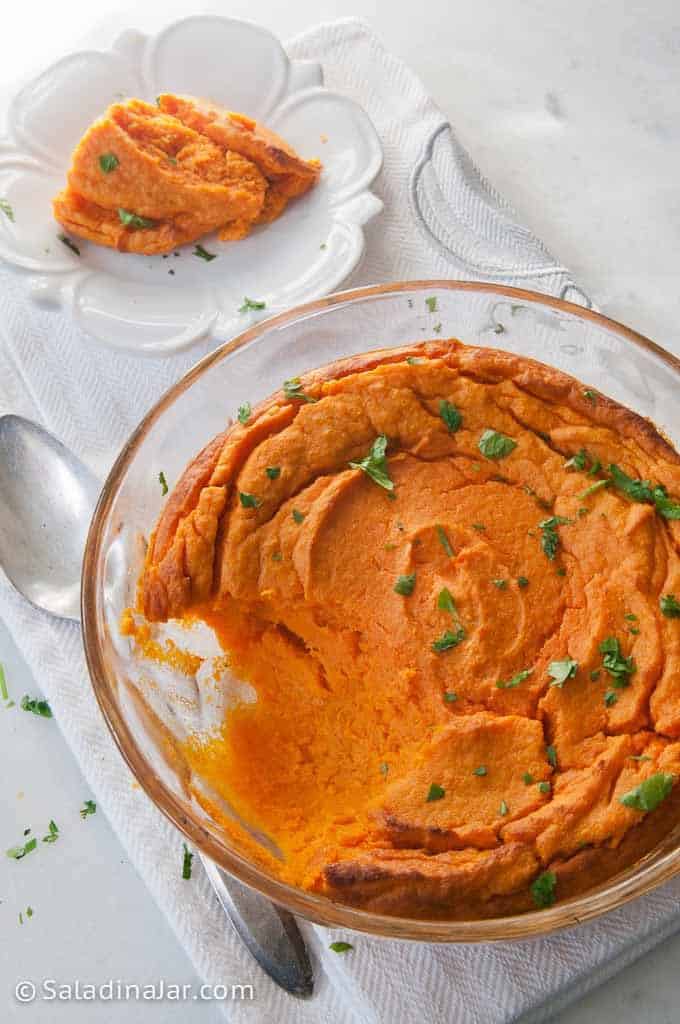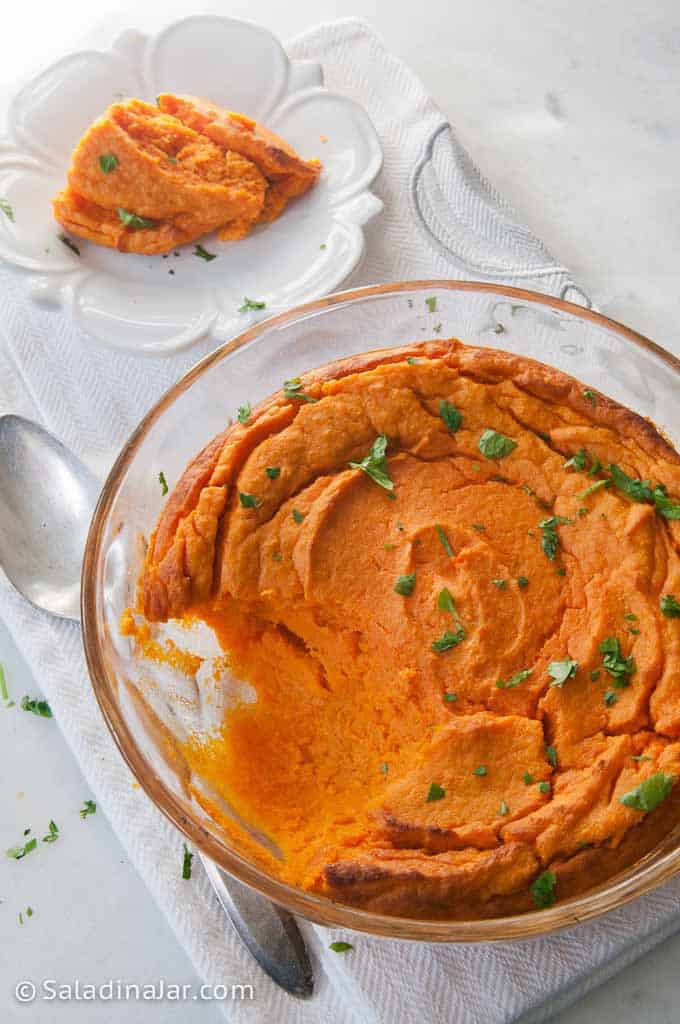 As an Amazon Associate, I earn from qualifying purchases.
Recipe inspiration:
Bonnie tells me she got this recipe from a cookbook called "Minnie Pearl Cooks." (paid link) It was given to her by her mother-in-law who got it at a garage sale. We're talking good ol' southern cooking here with plenty of butter and sugar.
How I made this Sweet Mashed Carrot Casserole healthier?
I thought the original idea for this recipe was good but the execution was not quite my style. So here's how I adjusted a few of the ingredients and methods. Hope you like it.
Reduced the butter and sugar by at least half.
Added salt.
Substituted maple extract for cinnamon. 
Used an Instant Pot to cook the carrots and intensify their flavor.
Used a food processor to mash carrots and blend in remaining ingredients for much better texture.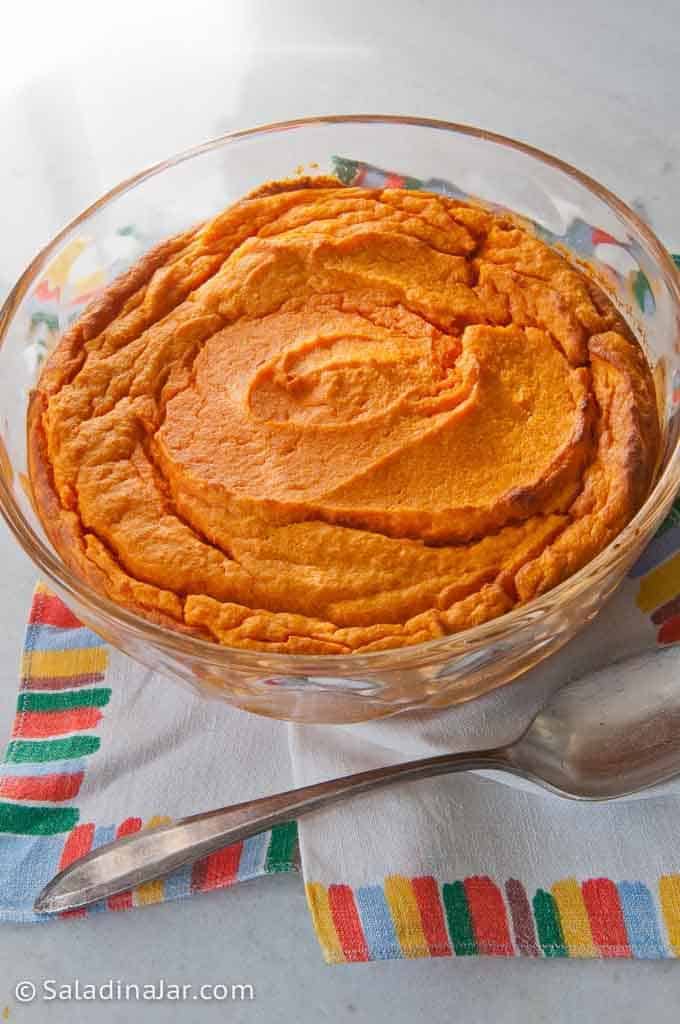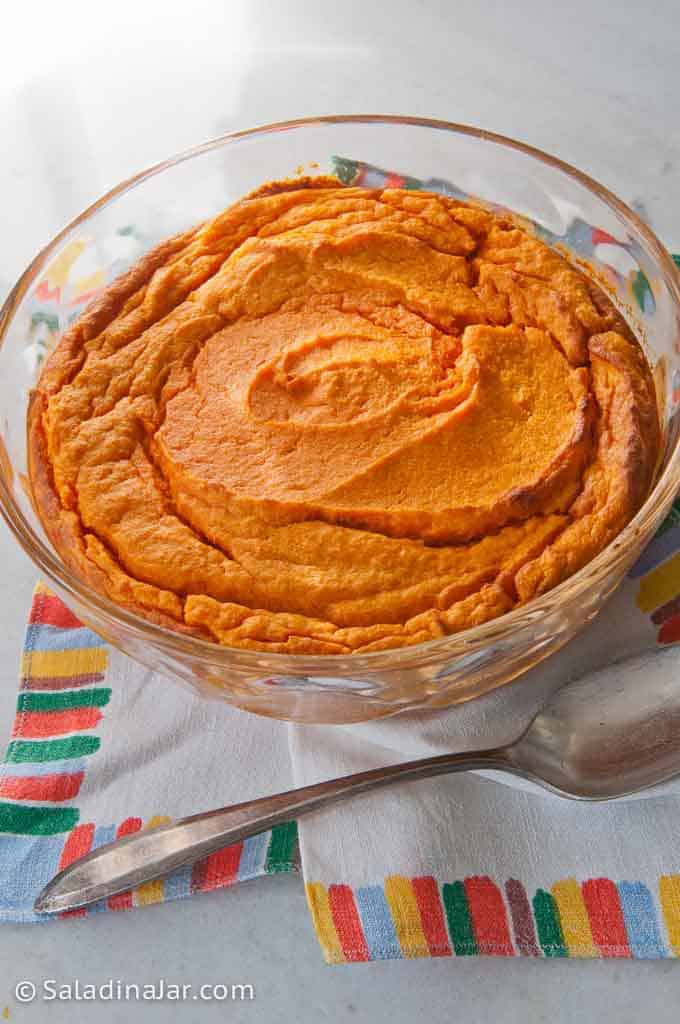 How can I make this recipe without an Instant Pot?
Cook the carrots on top of the stove or in a microwave oven. See the notes in the recipe for directions for using the stove.
Check out this site from Grimway Farms for microwave instructions to cook baby carrots.
How can I keep baby carrots fresh longer?
I learned a tip from the Grimmway Farms site about the best way to prolong the freshness of baby carrots.
To extend the shelf life of your carrots, you can place a damp paper towel in the bag or container, but avoid storing carrots in water as it will soften their texture.
—Grimmway Farms
When you find baby carrots on sale, buy an extra bag to make this recipe. You won't need to chop the carrots.
How to make Carrot Casserole: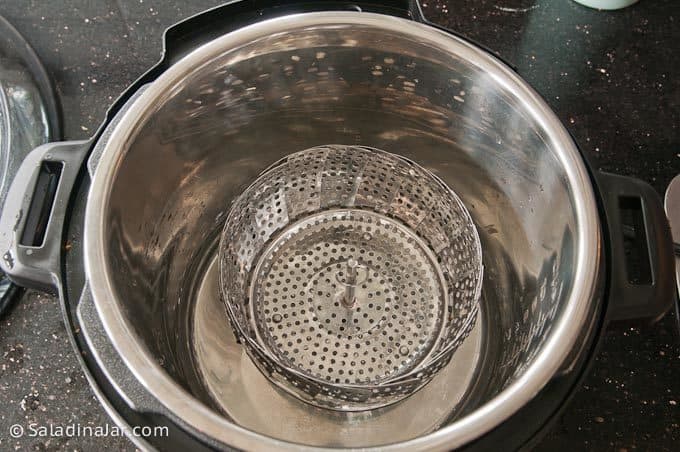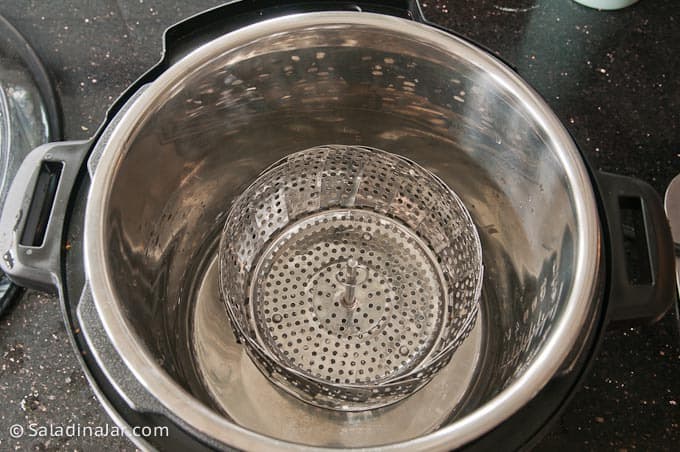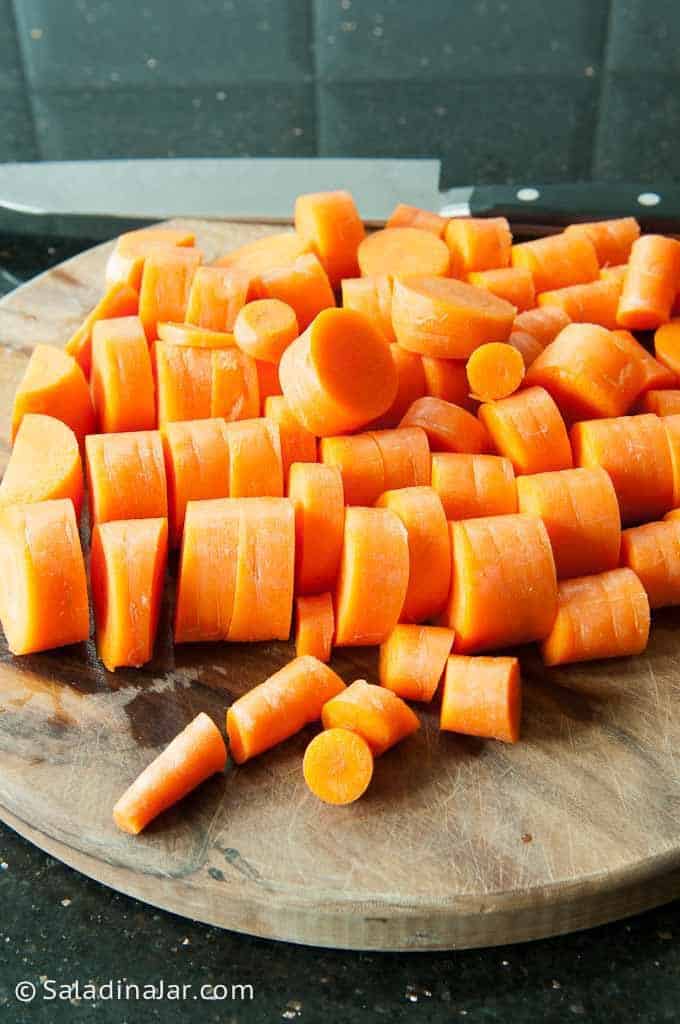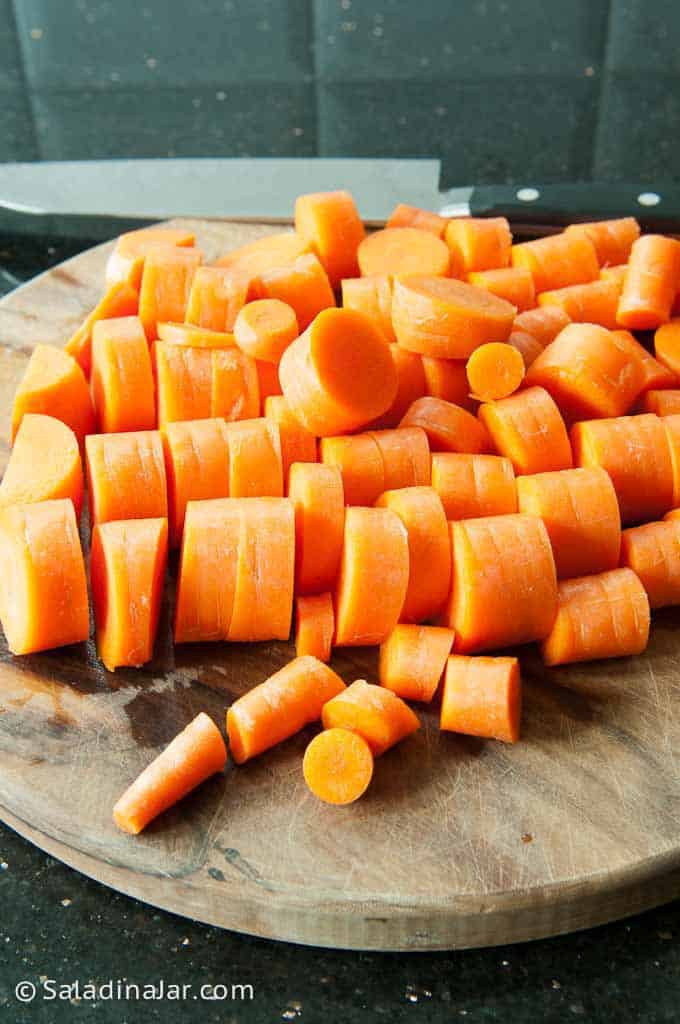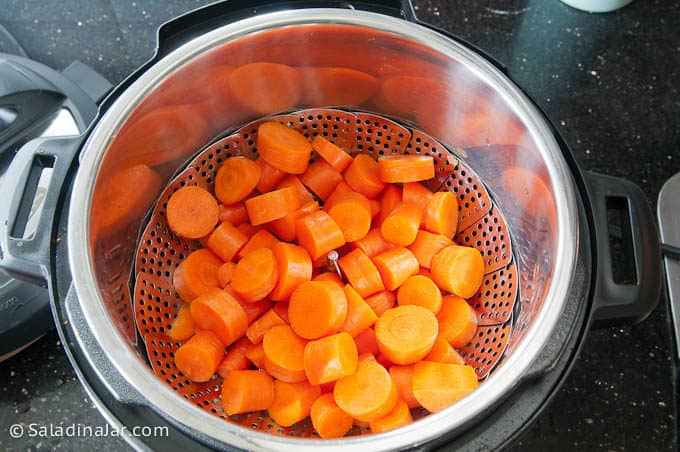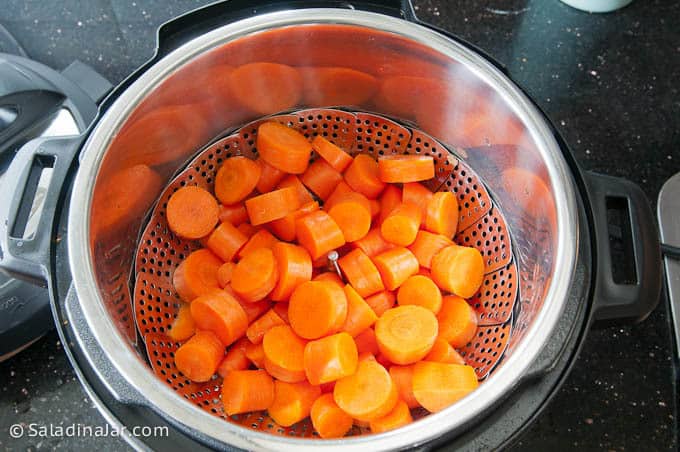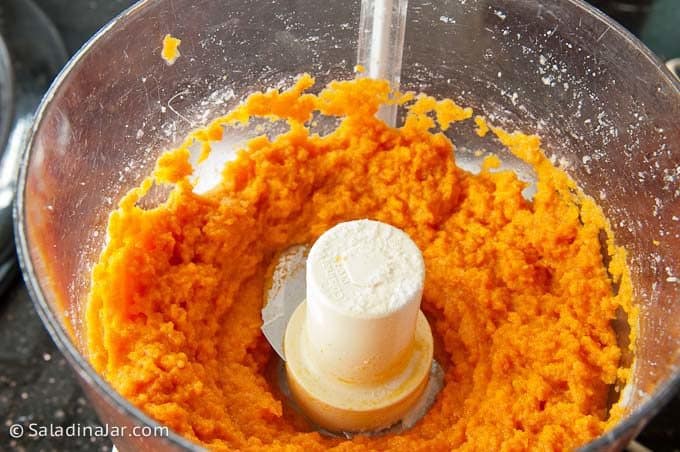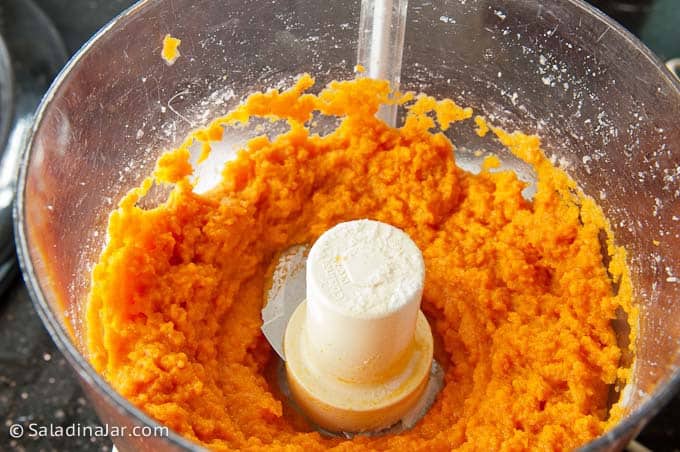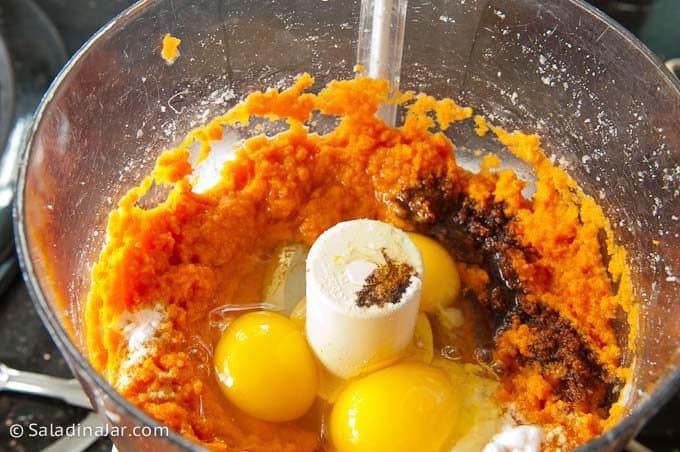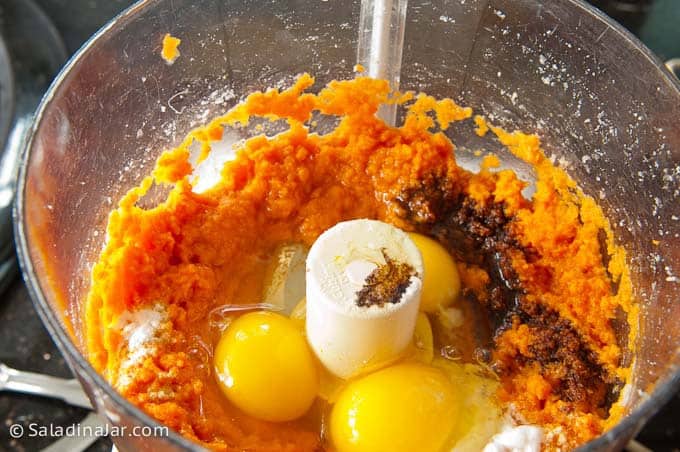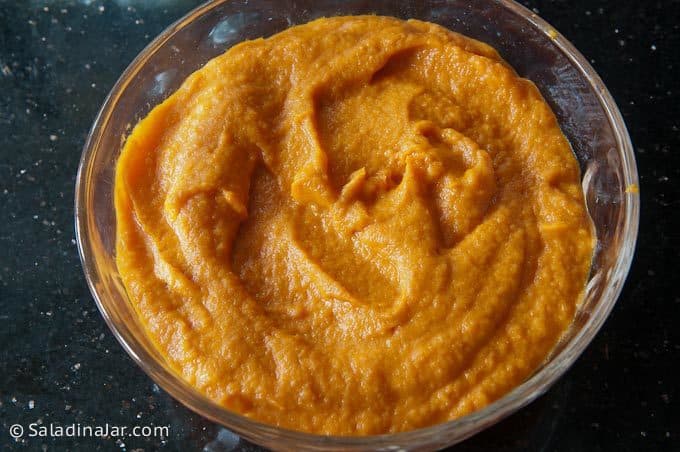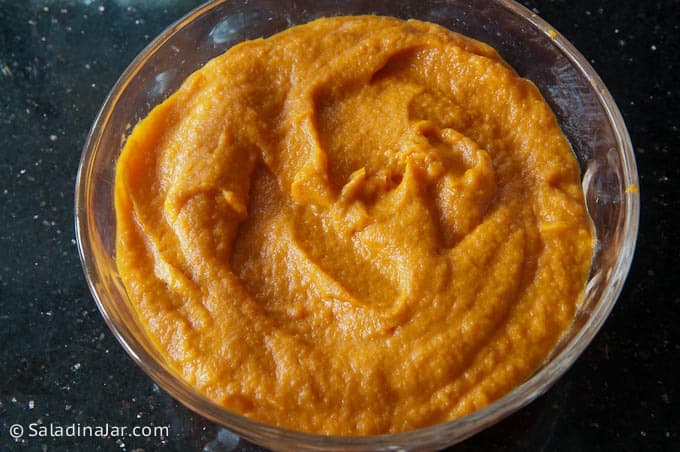 ---
More posts for veggie-lovers:
If you have questions or suggestions, email me privately to Paula at saladinajar.com. Hope to see you again soon! Paula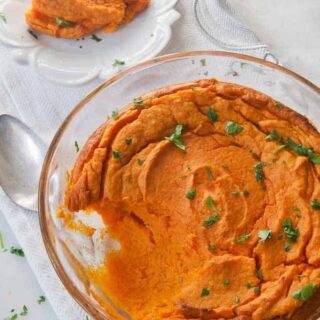 Sweet Mashed Carrot Casserole Recipe
Puréed carrots get a company-best treatment with a little butter, sugar, and maple flavoring. You'll love the soufflé-like texture. An Instant Pot and food processor make assembly quick and easy but neither are essential. Make it gluten-free by using gluten-free flour.
Ingredients
1

pound

scrubbed carrots -

cut in 1/2 to 3/4 inch chunks

3

tablespoons

flour -

I use Bob's Redmill Paleo flour to make this recipe grain-free

⅓

cup

sugar

-

I use Swerve

1

teaspoon

salt

1/2 teaspoon maple extract -

can sub vanilla extract

3

eggs

¼

cup

butter cut in chunks
Instructions 
Preheat oven to 400 degrees F.

Place carrots in the steamer. Set the Instant Pot to High Pressure for 5 minutes. Allow pressure to release naturally.

Place cooked carrots in a food processor and process until smooth. Add remaining ingredients and mix until smooth. Alternatively, use a stand mixer or immersion blender for this step.

Pour into a medium oven-safe buttered casserole dish. Bake at 400˚ F for 15 minutes. Reduce heat to 350˚ F. and continue baking for 45 minutes or until casserole is set and beginning to brown on top.
Notes
Directions for cooking without an Instant Pot:
Add 1 cup water to a large pot and then the sliced carrots.
Cook until carrots are tender. Cover to be sure the pot doesn't boil dry.
Proceed to step 2 above.
Nutrition
Nutrition Facts
Sweet Mashed Carrot Casserole Recipe
Amount per Serving
% Daily Value*
* Percent Daily Values are based on a 2000 calorie diet.
Like this recipe? Thanks for leaving a 5-star rating inside the recipe at the top! 🤩