Sneak Peek: Make this colorful chuck steak in a Crockpot recipe with carrots, onions, and tomatoes added to the mix. The result will be fork-tender meat bathed in a savory and colorful gravy.
Swiss Steak sounds like something retro that Beaver's mom (from the old TV show "Leave it to Beaver") would cook up in her fit-and-flare dress, apron, and heels.
My mom made a Deviled Swiss Steak recipe for Sunday dinner all my growing-up years without wearing heels. Too bad she didn't have a slow cooker back then.
We make this recipe with a chuck steak or even a small roast, whatever is on sale. No matter what you call it, this is comfort food for me. My family sees it the same way.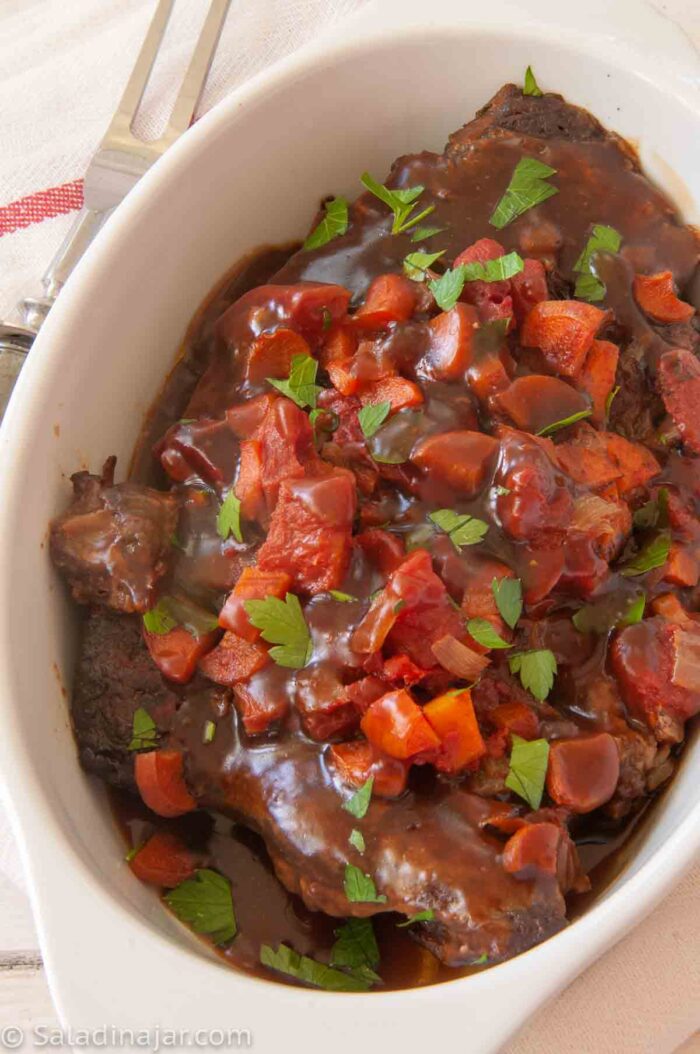 What is "Swiss Steak?"
According to Wikipedia, "Swiss" refers to a process whereby the cook pounds meat to make it tender-–which does apply to this recipe, especially when using round steak.
Does anybody pound their meat anymore? Maybe to make it thinner.
Do you even own a meat mallet? Just curious.
I rarely use a meat mallet to pound any meat, even though my mother frequently did. When you cook it long enough, it falls apart regardless.
What does "deviled" mean in this recipe?
The Oxford Companion to Food says that "devil" as a culinary term first appeared in the 18th century as a noun and in the early 19th century as a verb, "meaning to cook something with fiery hot spices or condiments." The Oxford Companion presumes the connection is related to "the devil and the excessive heat in hell."
This recipe contains dry mustard, the same spice many people use in deviled eggs. You may taste a mild spiciness, but you won't detect a mustardy flavor.
---
Ingredients and substitutions:
BEEF STEAK: Use round steak or chuck steak. We also use chuck roast because it serves a lot of people.

DRY MUSTARD: Powdered mustard adds the spice. We make this recipe often enough that it's worth buying a jar. We also use it in our deviled eggs.

If you don't want to invest in a whole bottle, buy a little from the bulk bins at the grocery store. Prepared mustard or Dijon mustard can also substitute for dry mustard.

Erin Huffstetler lists three other ideas for substitutes for powdered mustard: turmeric, wasabi powder, or horseradish powder. Sorry, I can't vouch for any of them. Yet.

ONIONS: I use yellow onions for almost every recipe that calls for cooked onions. White onions would be good, too.

CARROTS: Baby carrots or regular carrots are chopped to add color and flavor. The amount is not extremely important. It's a good time to clean out the fridge.

TOMATOES: Canned diced tomatoes give the gravy some textural interest and color. If tomato-haters sit at your dinner table, use crushed tomatoes.
---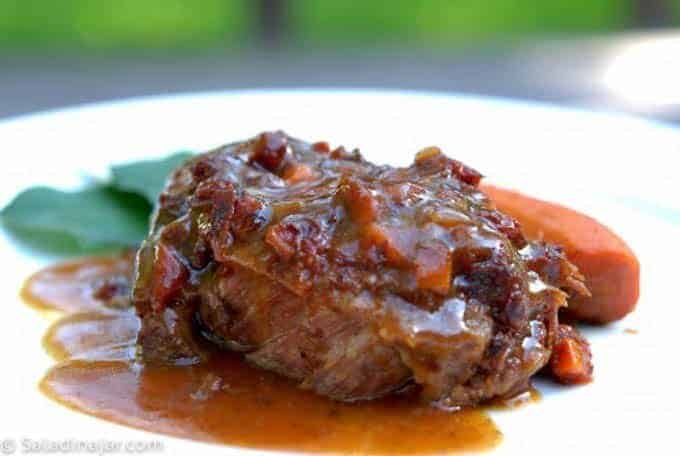 ---
---
What can I do with the leftover chuck roast?
A Beef Pot Pie–I've never used this recipe since I just make it out of my head. It looks a lot like mine, though.
---
How to make Deviled Swiss Chuck Steak in the Crockpot: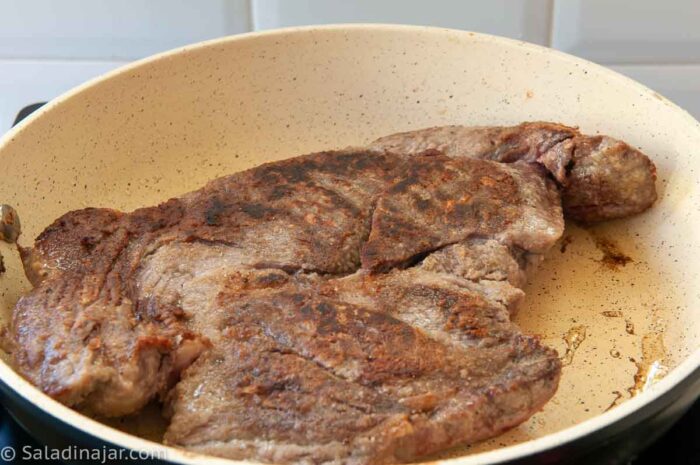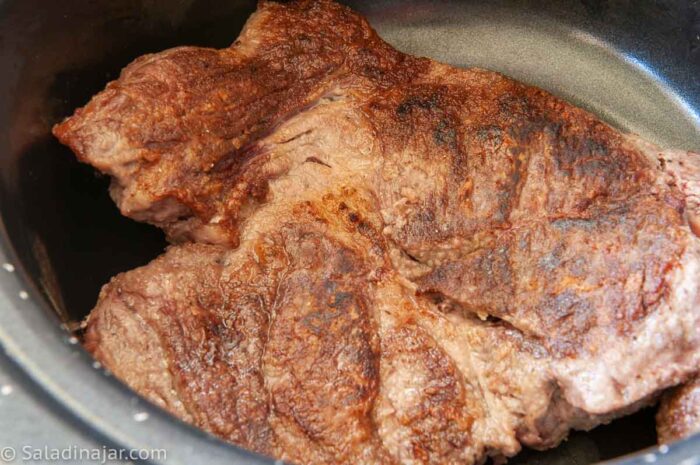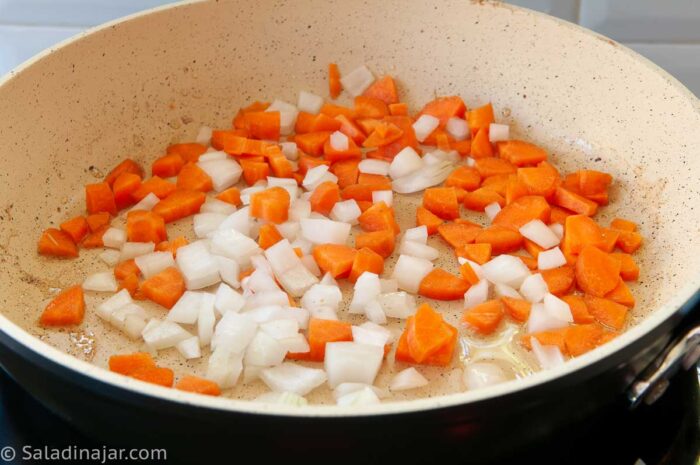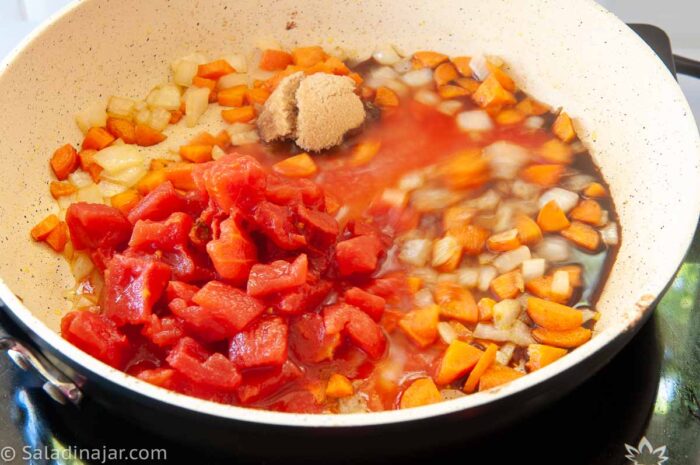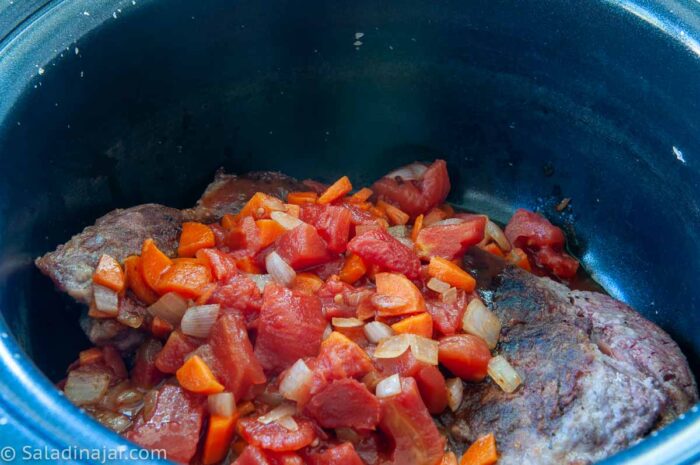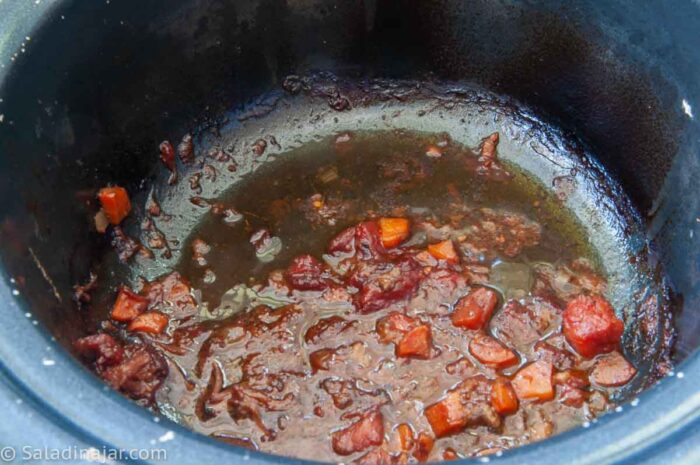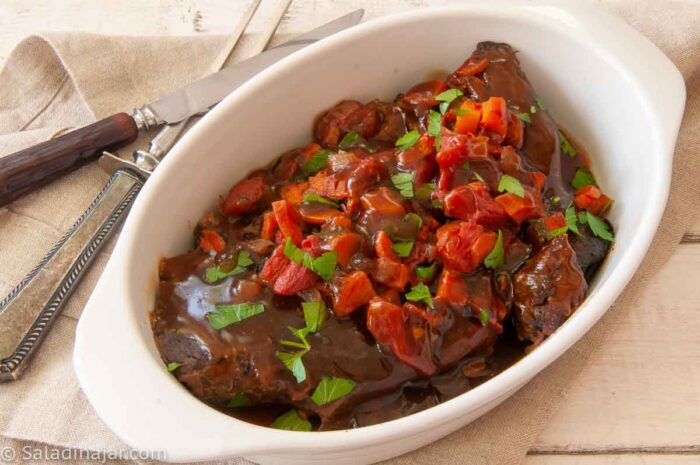 ---
Frequently asked questions about this chuck steak recipe:
1. Can I make this ahead of time?
Yes. It will be suitable for 2-3 days. After that, reheat in the microwave for the best flavor.
2. Can I make this beef chuck steak recipe in the oven?
Depending on the thickness of your steak or roast, it will take about 2-3 hours to roast in the oven. This is a tender beef recipe. Don't stop baking until the meat is falling apart and fork-tender.
One cautionary note when using the oven: Watch the water level. Don't let the roast cook dry. Be particularly observant if your pan is not very heavy and the lid doesn't seal tightly.
3. What should I serve with this?
Mashed potatoes or rice are traditional. However, Mashed cauliflower or cauli-rice is a low-carb option.
---
More Popular Beef Recipes
---
---
Did you enjoy this recipe? If so, you can help others and me by leaving a 5-star 🤩 rating in the comment section below. No comment is required.
p.s. If you have any questions or suggestions, you can email me privately: Paula at saladinajar.com.
Hope to see you again soon!
Paula
---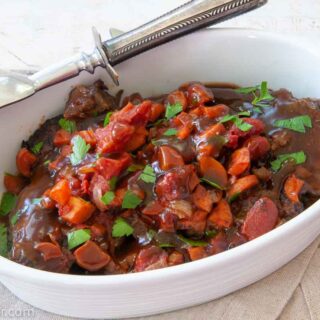 Deviled Swiss Chuck Steak Recipe in a Crockpot
A traditional Sunday dinner–beef steak cooked with carrots, onions and tomatoes results in a fork-tender beef with savory, rich gravy.
Ingredients
2 to 3

pound

chuck roast

⅓

cup

unbleached flour

1

tablespoon

dry mustard

½

teaspoon

salt

-

I use Kosher

¼

teaspoon

freshly ground pepper

2

tablespoons

vegetable oil

-

+ more if needed

½

onion

-

finely chopped

1

medium carrot

-

finely chopped

1

tablespoon

brown sugar

1

tablespoon

Worcestershire sauce

1 ½

cup

canned diced or crushed tomatoes
Gravy
2 ¼

cups

Pan drippings + water

¼

cup

cold water

2

tablespoons

cornstarch

½

teaspoon

salt

¼

teaspoon

freshly ground pepper
Instructions
Combine flour, mustard, salt, and pepper. Coat meat on both sides with flour mixture.

Heat 2 tablespoons of oil in a heavy skillet. When oil is hot, brown meat on both sides.

Place browned roast in a slow cooker or large roaster.

Add another tablespoon of oil into the now-empty skillet. Add chopped onions to the skillet and cook until softened–about 3 minutes

Add 1 cup of finely chopped carrots to the onions and brown for a couple more minutes. Combine brown sugar, Worcestershire sauce, and tomatoes with the carrots and onions. Stir together and pour over meat.

If using a slow cooker, set to low for 6-9 hours. Or bake in an oven at 325˚F for 2 1/2 to 3 hours.

When your roast is fork-tender, remove it from the pot and set aside on a serving platter to rest. Cover with foil.
Gravy in the microwave:
Skim as much fat as possible off the top of remaining pot juices.

In a large glass bowl or Pyrex 2-qt pitcher, combine cold water and cornstarch. Add pan juices to the cornstarch mixture. Add water if necessary for a total of 2 1/4 c. liquid.

Mix well with a whisk. Microwave on high for 3 minutes and stir well. Microwave for 3 more minutes or until mixture thickens and boils for 1 minute. Whisk again. Add salt and pepper to taste.

Alternate instructions for
gravy on the stove:
1. Skim as much fat as possible off the top of remaining pot juices.

2. Combine cornstarch and 1/4 cup of cold water. Add to the pot juices and whisk until smooth.

3. Cook the gravy over medium-low heat until it thickens. Add salt and pepper as desired.
Nutrition
Serving:
1
g
Calories:
233
kcal
Carbohydrates:
9
g
Protein:
19
g
Fat:
14
g
Saturated Fat:
5
g
Polyunsaturated Fat:
3
g
Monounsaturated Fat:
6
g
Trans Fat:
1
g
Cholesterol:
63
mg
Sodium:
580
mg
Potassium:
452
mg
Fiber:
1
g
Sugar:
3
g
Vitamin A:
1075
IU
Vitamin C:
4
mg
Calcium:
39
mg
Iron:
3
mg