Preview: This Smoked Carrots recipe has a secret ingredient that makes these oven-roasted baby carrots memorable: smoked paprika. Amazing smoky flavor!
Smoked paprika is the seasoning that makes these smoky-tasting baby carrots memorable. I keep it in my fridge at all times.
Olive oil and smoked paprika (aka pimenton) combine to make these carrots go down as easily as French Fries. They smell fabulous when you take them out of the oven. Every time I make these, people ask me if the recipe is on this website. Now it is.
This Smoked Carrot recipe is a vegetable side dish nearly everybody will love. After a trip through the oven, sprinkle the browned baby carrots with salt, pepper, and smoked paprika.
What is smoked paprika?
According to the Food Lover's Companion, paprika is a powder made by grinding aromatic sweet red pepper pods. Smoked paprika is derived from peppers smoked over oak fires. You can find regular paprika in nearly all grocery stores, but you may have to look a little harder for the smoked variety although it is commonly available online.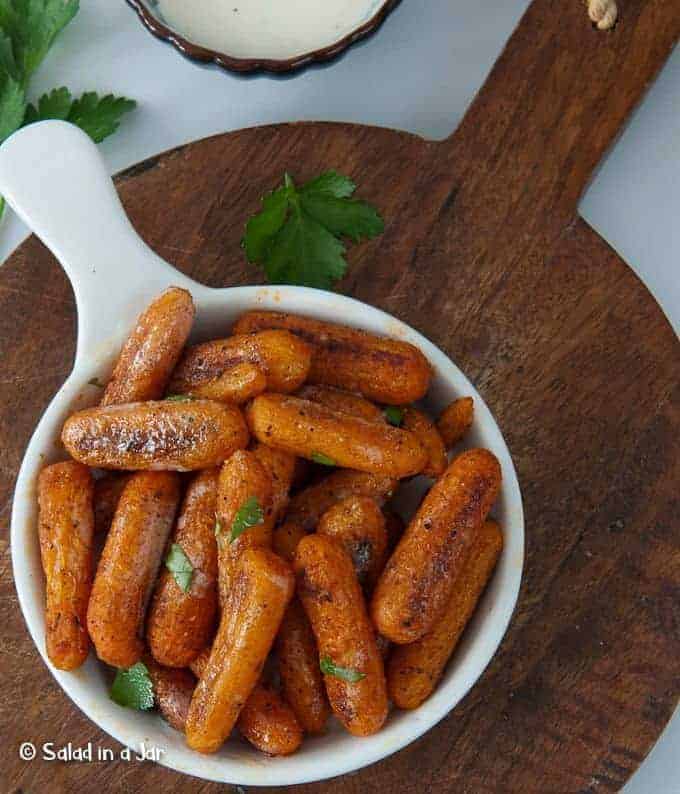 The act of roasting it on these carrots will intensify the flavor, making it even more irresistible.
What does smoked paprika taste like?
Smoked paprika will give your food a smoky flavor similar to actually smoking them in a grill like you would a turkey. It is neither hot nor bitter (unless you use the HOT smoked paprika).
What can I substitute for smoked paprika?
Substitute regular paprika. It will give your carrots a beautiful color but not the same divine flavor as using smoked paprika.
---
Kitchen tip for oven-baked smoked carrots:
Baking baby carrots on a naked baking sheet is a good way to exercise your scrubbing muscles. I much prefer to cover it with non-stick aluminum foil for two reasons.
You won't have to use as much oil on the carrots.
Nothing sticks to the non-stick foil.
Of course, you could cover the pan with regular foil instead and use lots of oil.
---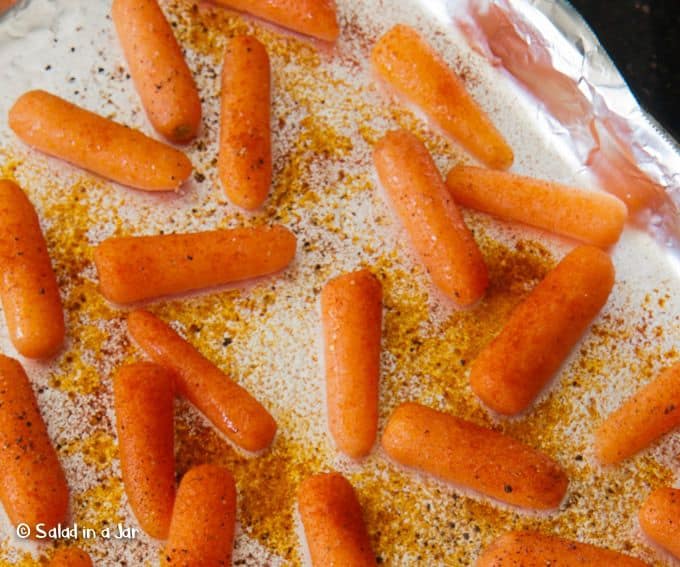 More recipes for veggies lovers:
---
If you enjoyed this recipe, it would help others and me if you gave it a five-star rating inside the recipe card below. 🤩 No comment required. Thank you.

Hope to see you again soon!
Paula
p.s. Questions or suggestions? Please email me: Paula at saladinajar.com.
---