The Best Chocolate Granola Recipe I've Ever Tasted
Sneak Peek: This is the Best Chocolate Granola Recipe. It's a sweet and salty experience that should be your new breakfast habit, afternoon snack, or bedtime ritual. It makes the BEST yogurt topping. Gluten-free.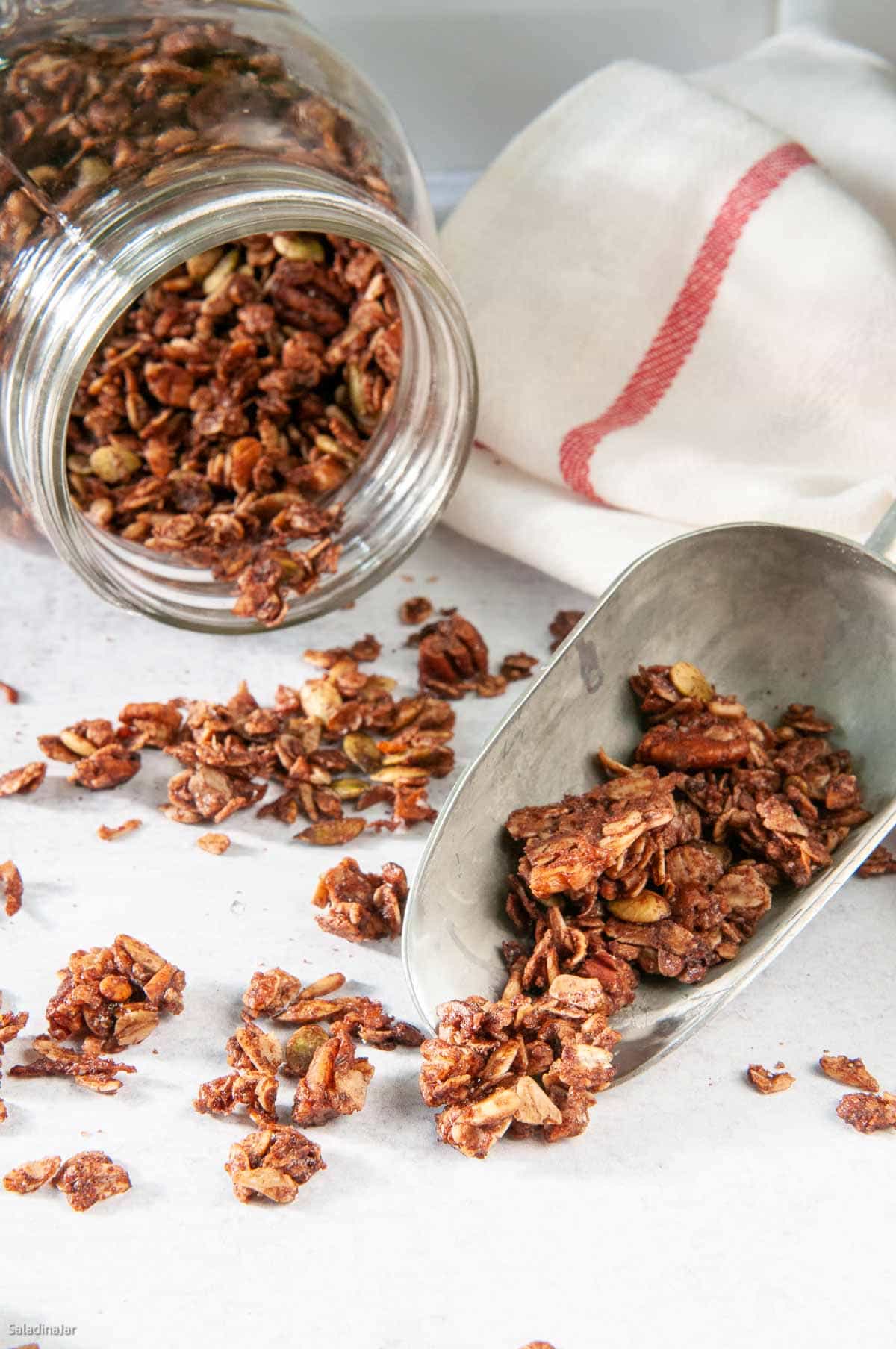 As an Amazon Associate, I earn from qualifying purchases.
Do you find store-bought granola disappointing? When I tear open a package of storebought granola, I like to see whole pieces. So please don't give me a bunch of powdery and dry crumbs. It's a sad way to start the day.
May I suggest this simple recipe for homemade chocolate granola? Not only is it FRESH, but each ingredient is identifiable, crunchy, and irresistibly tasty. Don't miss my hint for making big chunks of granola if that's the way you like it.
Happy Cooks Speak Up:
"First time making it. Really nice. —Lyn S
Although I eat granola mostly with homemade yogurt, that's not the only way.
Seven other ways to eat the Best Chocolate Granola you've ever tried:
Treat it like cereal–pour it into a bowl and add milk. Call it breakfast.
Sprinkle it on a peeled banana.
Scatter it over ice cream.
Use it to garnish a cup or dish of pudding.
Add to cookie, brownie, or bread dough.
Sprinkle on top of toast slathered with peanut butter or Nutella.
Roll a dessert cream cheese ball in crushed chocolate granola and serve with fresh fruit, butter crackers, or thin shortbread.
---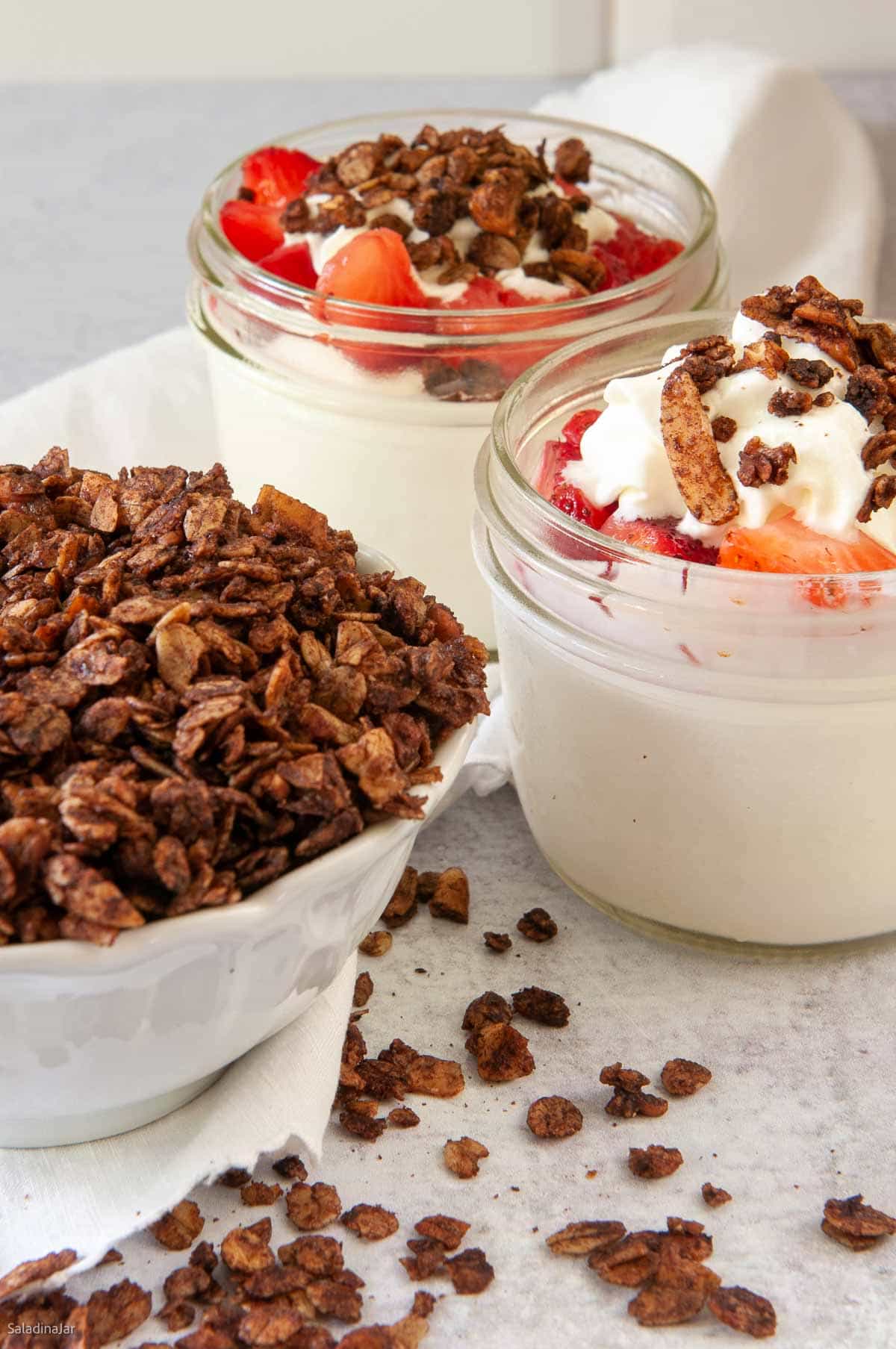 Recipe inspiration:
Have you ever made granola? It's not hard at all. All you need is a large bowl and a big spoon. But be warned. Once you make it, the texture will spoil you against the grocery store variety.
My favorite granola recipe was introduced to me by Orangette and slightly adapted from Nekisia Davis' Early Bird Granola and Food 52. I added cocoa to make this chocolate version.
---
Ingredients and substitutions:
OATMEAL: This recipe is written for old-fashioned rolled oats. Instant oats are thinner, so the baking time would be different. Steel-cut oats are a completely different animal. Save those for another recipe.

OLIVE OIL: Extra-virgin olive oil that smells fruity will set this granola apart from the average. You could substitute avocado, grapeseed, or coconut oil.

BROWN SUGAR: Brown sugar adds a butterscotch flavor that plays well with maple syrup. If you use artificial brown sugar as a substitute, watch your granola carefully in the oven. It has a tendency to brown faster than real brown sugar. Read the package for the specific amount recommended to replace regular brown sugar.

DARK COCOA POWDER: My favorite for this recipe is Dutch-processed cocoa powder for dark chocolate granola. You can substitute regular cocoa for Dutch-process cocoa. However, the finished product will not look or taste as chocolatey.

You can also leave the cocoa out completely for delicious olive oil granola.

MAPLE SYRUP: Maple syrup is a distinctive feature of this recipe. Honey or molasses are thicker than maple syrup, so they would not be a 1:1 replacement. Read more about how to substitute for maple syrup.

NUTS: When it comes to nuts, I play fast and loose. Substitute unroasted cashews, macadamias, walnuts, pistachios, pinenuts, sliced almonds, etc.

SEEDS: Use raw seeds such as sunflower seeds and pumpkin seeds (pepitas) since you will add them before baking your granola. Chia seeds and flax seeds can be added after baking.

COCONUT: Coconut flakes (shaved coconut) are my favorite ingredient. Of course, you could substitute shreds, but coconut lovers will appreciate the bigger pieces of coconut. It's fun to pick them out of the mix and eat those toasty babies individually when no one is looking.

---
If you want to keep your granola lean and mean (sans chocolate), check out my recipe for Skinny Granola. That name may sound like an oxymoron, but it's leaner than this recipe.
How do you make homemade granola with chocolate?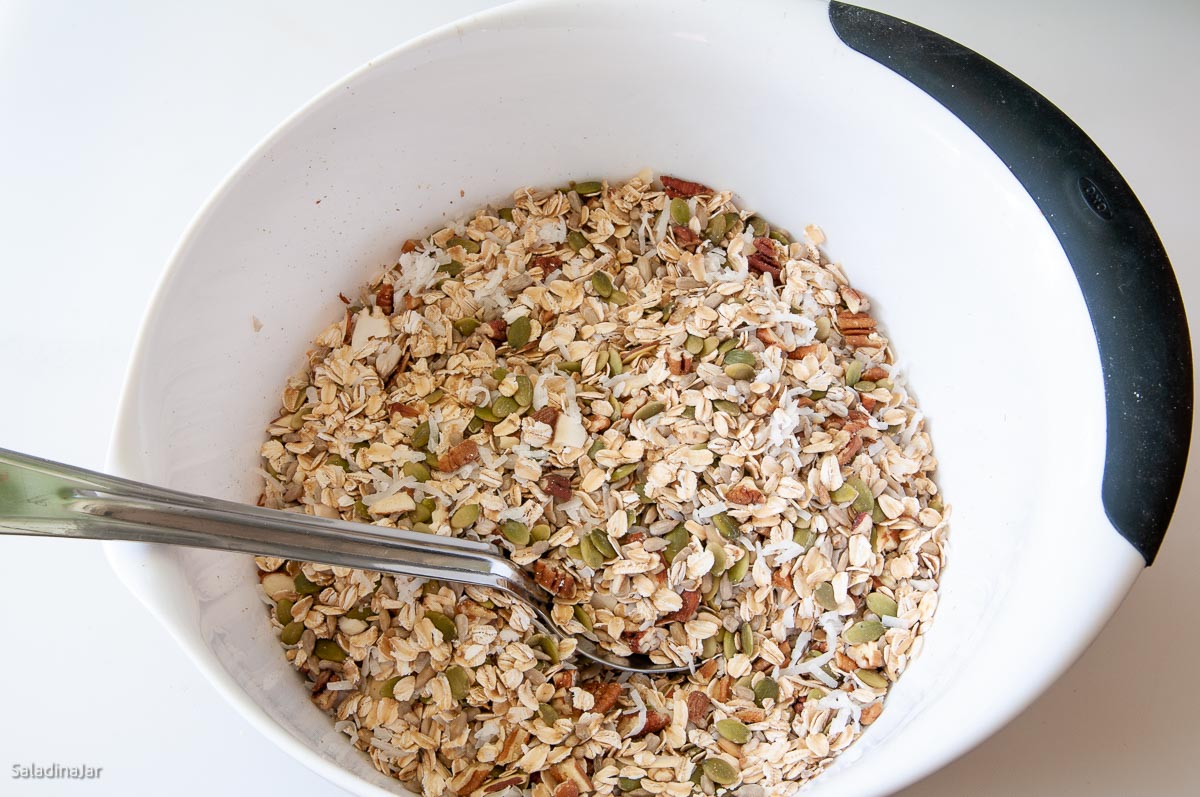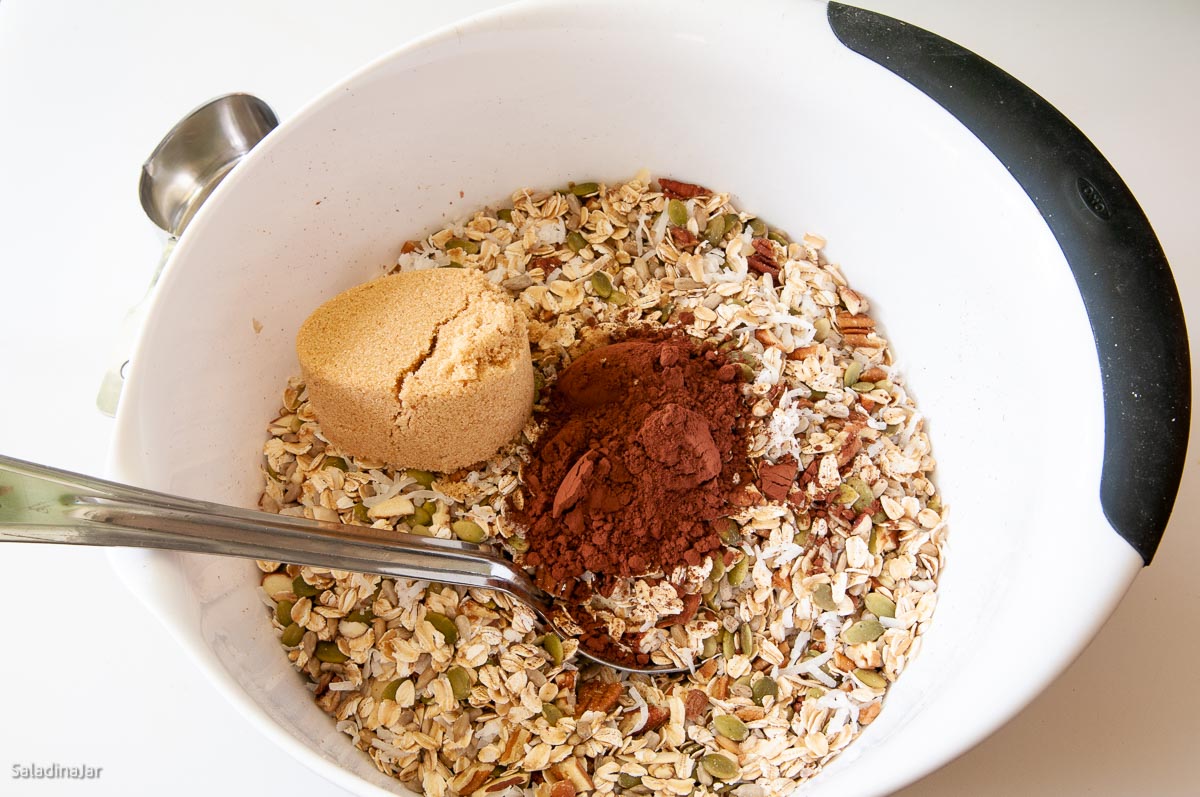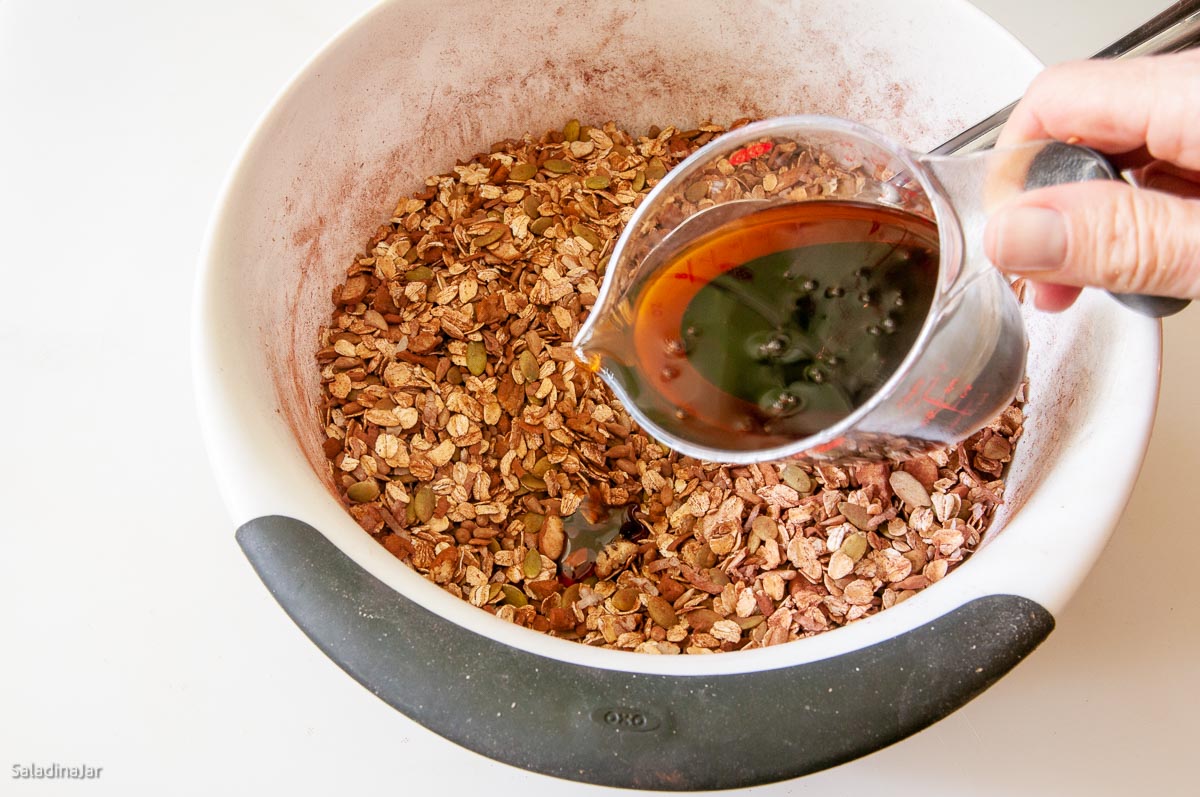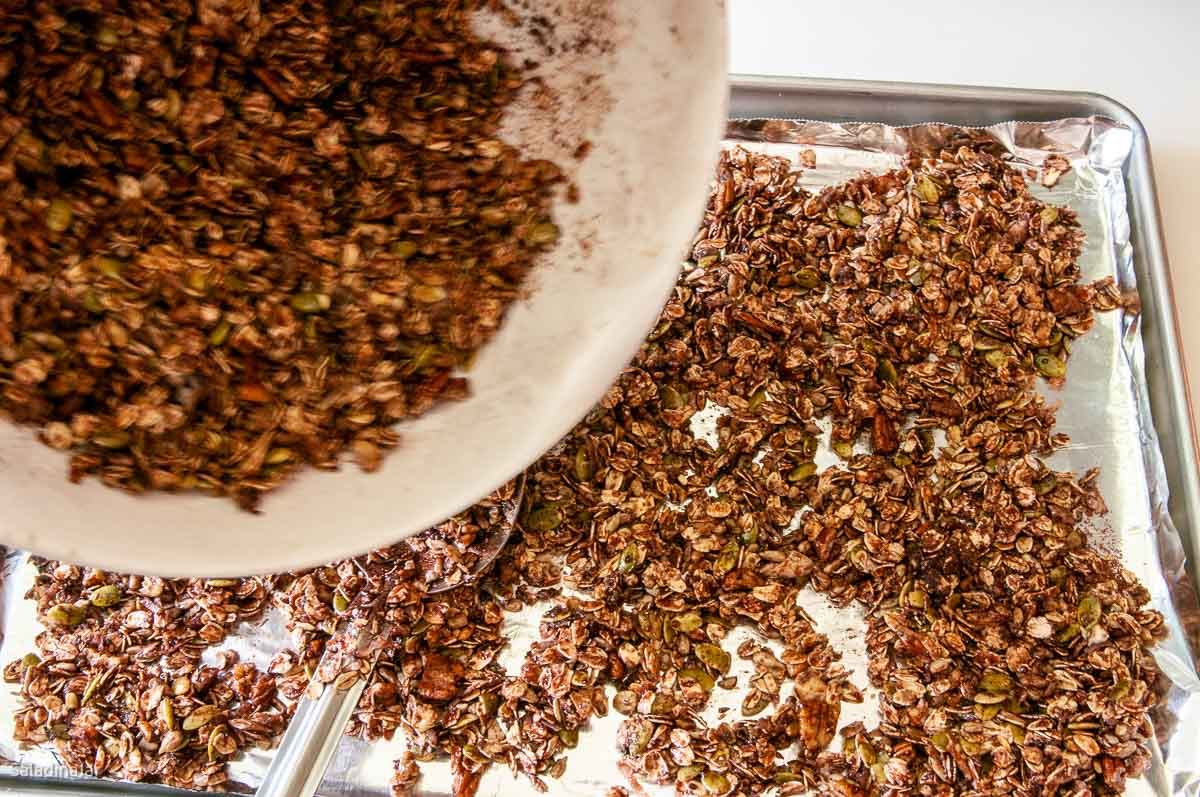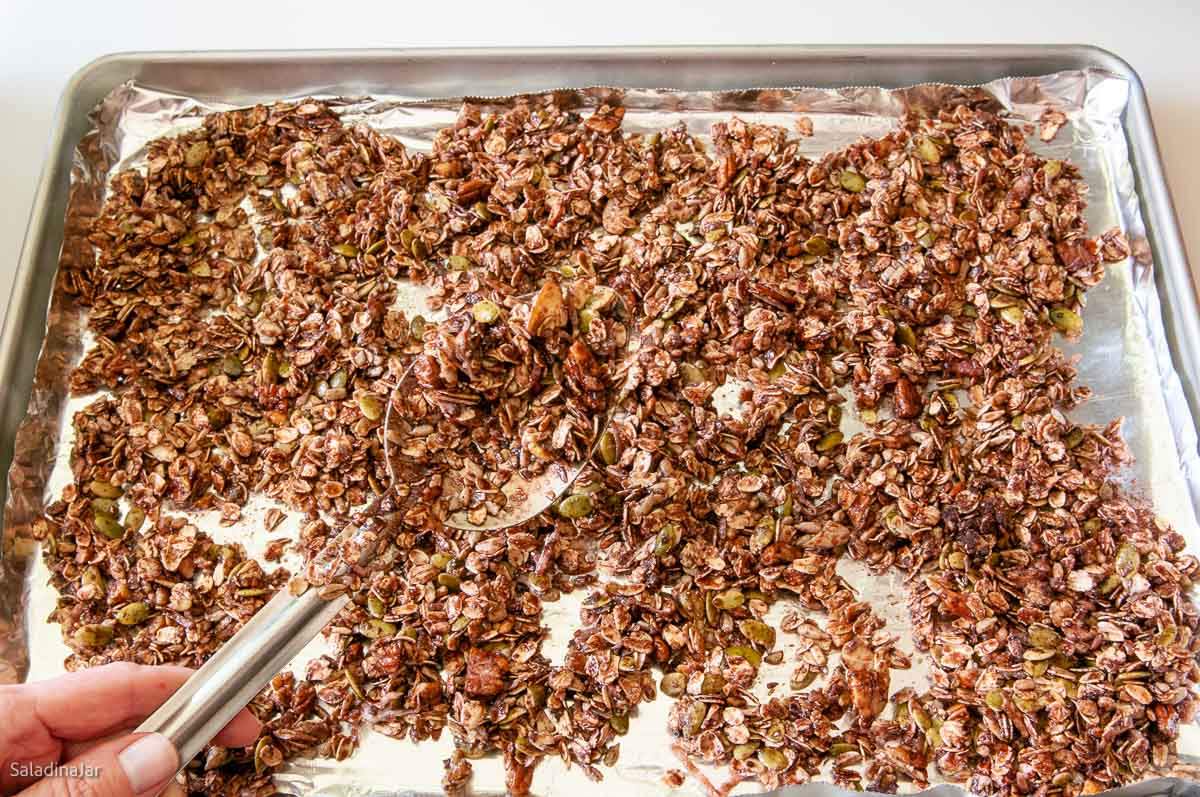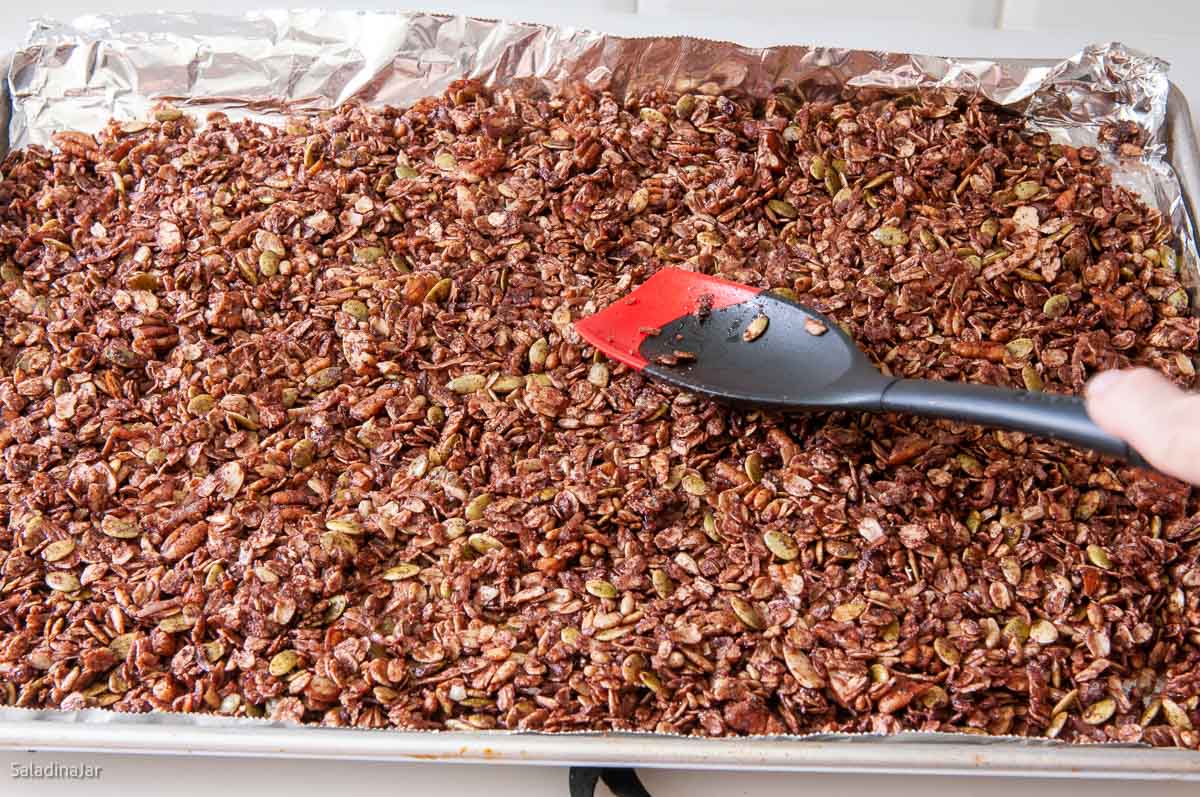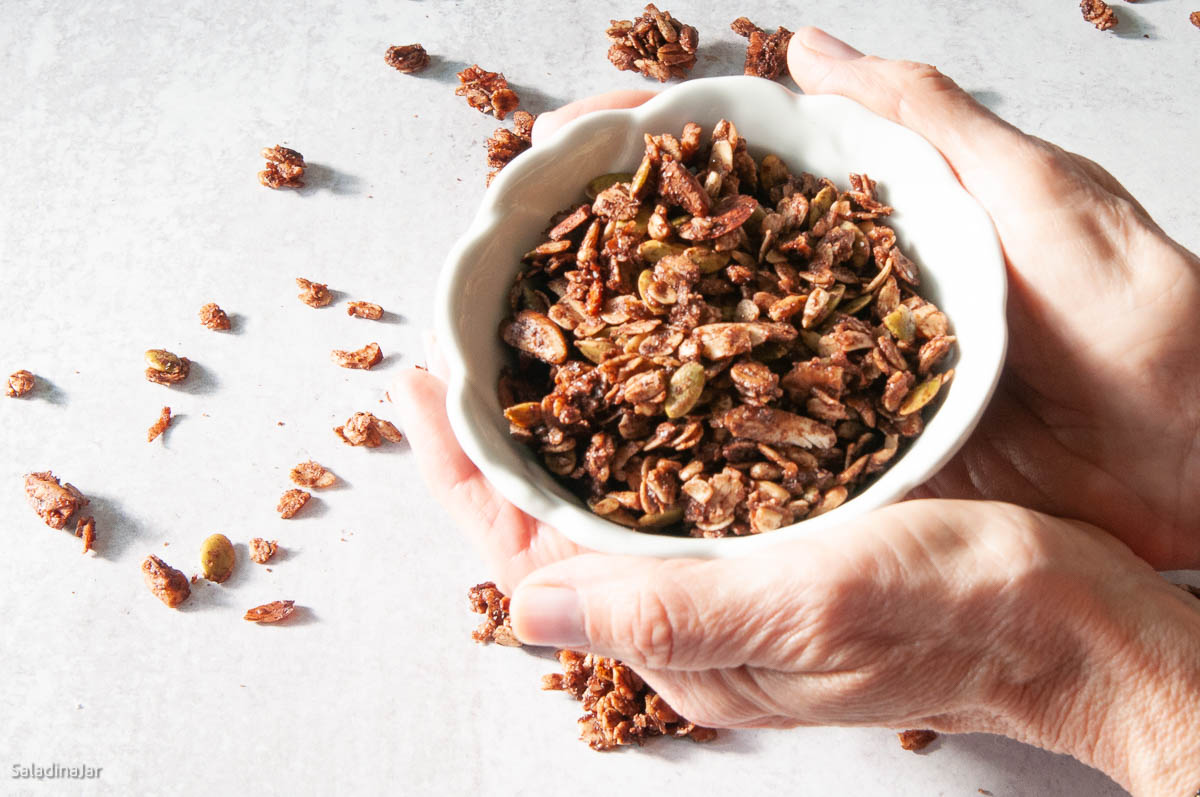 ---
FAQ about making homemade granola:
Does granola need to be refrigerated?
No. Refrigeration will cause granola to lose its crispiness eventually. If your granola loses its crispiness, put it in the oven for a few minutes until it turns crunchy again.
Can I freeze chocolate granola?
Yes, Wrap granola securely in a freezer-weight zippered plastic bag.
How do you get granola to clump?
Only stir it once while baking. When done, press the granola onto the tray with a spatula or your hand. Let it cool completely before you break it up.
Can I add dried fruit to the granola?
Yes. Try dried cranberries, raisins, dried cherries, dried blueberries, dried apricots, mangoes, etc.

Wait until after the granola is baked before you add any dried fruit. Otherwise, it can turn hard when it cools, as in hard enough to break a tooth.
Can I make plain olive oil and maple syrup granola with this recipe?
Yes. Simply leave out the cocoa.
Parting thoughts: I have a two-part riddle for you: 1) How is granola like an oatmeal cookie?
The answer? Both are delicious and taste similar. Both contain heart-healthy oatmeal, some sugar, and fat, and should be eaten in small quantities. (Speaking for myself here.) Want to test this for yourself? Try these chocolate oatmeal cookies.
2) How is granola different from oatmeal cookies?
The answer? Oatmeal cookies usually contain flour and eggs. Granola does not. That means it is gluten-free. (This recipe happens to be dairy-free, too.)
I hope you enjoy one of my favorite vices.
---
Help at Your Fingertips: For questions or suggestions, email Paula at saladinajar.com. If you need help, I'm happy to troubleshoot via email (faster than leaving a comment). Attach pictures and as many details as possible for the best advice.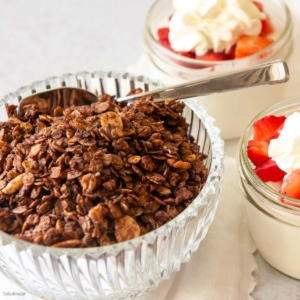 The Best Chocolate Granola Recipe I've Ever Tasted
Try this Chocolate Granola recipe sweetened with brown sugar and maple syrup. Adding olive oil imparts a delightful crispiness and a delicate, fruity undertone. It's perfect for a satisfying breakfast or pair it with yogurt for more protein.
Share recipe love here. ⬇
Ingredients
4

cups

(

356

g

)

old-fashioned oats

1

cup

(

140

g

)

raw sunflower seeds

1

cup

(

119

g

)

raw pumpkin seeds

1

cup

(

85

g

)

shredded or flaked coconut

1

cup

(

114

g

)

pecans

3

tablespoons

(

16

g

)

dark Dutch-processed cocoa

½

cup

(

110

g

)

brown sugar (packed)

1

teaspoon

salt

¾

cup

(

234

g

)

maple syrup

½

cup

(

100

g

)

olive oil
Instructions
Preheat oven to 300˚F (150˚C).

Combine the first eight ingredients:

4 cups

(

356

g

) old-fashioned oats ,

1 cup

(

140

g

) raw sunflower seeds ,

1 cup

(

119

g

) raw pumpkin seeds,

1 cup

(

85

g

) shredded or flaked coconut ,

1 cup

(

114

g

) pecans ,

3 tablespoons

(

16

g

) dark Dutch-processed cocoa,

1/2 cup

(

110

g

) brown sugar (packed), and

1 teaspoon

salt in a large mixing bowl with a large spoon or your hands.

Pour

3/4 cup

(

234

g

) maple syrup and

1/2 cup

(

100

g

) olive oil over the oatmeal mixture and continue mixing.

Spread in a thin layer on a greased full-sheet cookie tray. Or, cover your tray with parchment paper or a silicone baking sheet for easier clean-up.

Bake in the oven for 45 minutes, stirring every 15 minutes.

Add dried fruit as you take the granola out of the oven the last time. Allow to cool completely before storing in glass jars or plastic bags.

Makes 1/2 gallon plus one pint.
Notes
Variation:
Olive Oil and Maple Syrup –Leave out the cocoa. Everything else is the same.
Nutrition
Serving:
1
|
Calories:
285
kcal
|
Carbohydrates:
28
g
|
Protein:
5
g
|
Fat:
18
g
|
Saturated Fat:
4
g
|
Polyunsaturated Fat:
4
g
|
Monounsaturated Fat:
8
g
|
Trans Fat:
1
g
|
Sodium:
122
mg
|
Potassium:
206
mg
|
Fiber:
4
g
|
Sugar:
13
g
|
Vitamin A:
7
IU
|
Vitamin C:
1
mg
|
Calcium:
38
mg
|
Iron:
2
mg
HELP OTHERS find this recipe. Leave a 5 🌟🌟🌟🌟🌟 rating at the top of the recipe card if you enjoyed it. No comment is required.