Low Calorie Granola: The Best Yogurt Topping in Town
Sneak Preview: This Low Calorie Granola makes a surprisingly good breakfast or a tasty snack, especially when paired with yogurt. Use sugar-free maple syrup to reduce the calories, but not the flavor. No unusual ingredients.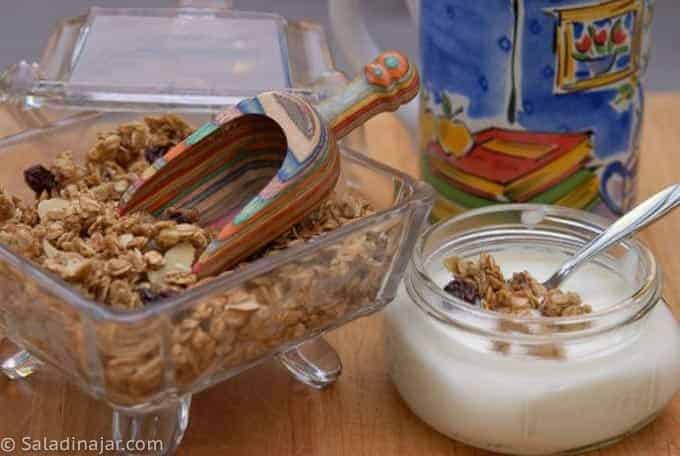 As an Amazon Associate, I earn from qualifying purchases.
Do you love granola? Me, too. But it's dangerous. Regular granola is loaded with sugar and is just an excuse to eat an oatmeal cookie. This recipe for low-fat granola is my best answer.
While this whole grain and gluten-free granola is lower in calories than average, watch the portion size. Leave out the coconut if you're having a "fat day."
Ingredients and common substitutions:
Oatmeal: My first choice is old-fashioned oats. You may substitute quick oats, but it will make your granola more crumbly.
Wheat Germ: Some people call wheat germ a "superfood." Wheat germ is part of the wheat kernel that is removed when wheat is ground into flour. This qualifies it as a whole grain. If you are not used to buying this, be aware that it should be refrigerated once you open the jar.
Sugar-Free Maple Syrup: If this syrup doesn't agree with you, there are many alternatives on the market. Experimentation may be in order.
Vegetable Oil: I like avocado oil, but a light vegetable oil such as canola is ideal.
Coconut: Look for unsweetened coconut sold in small plastic bags in the baking section of your grocery store. I have also seen it in the freezer section.
Almonds: Sliced almonds, pecans, or walnuts will all add protein and flavor to your granola.
If you don't care about the calories, check out this recipe for Chocolate Granola with Maple Syrup and Olive Oil.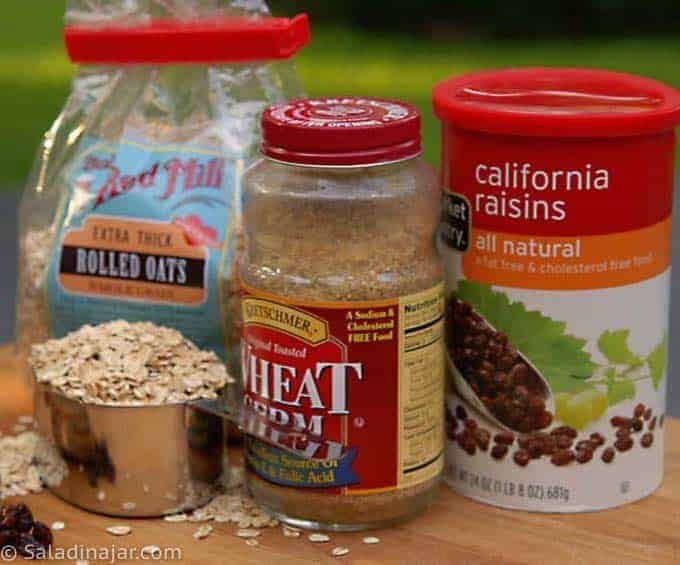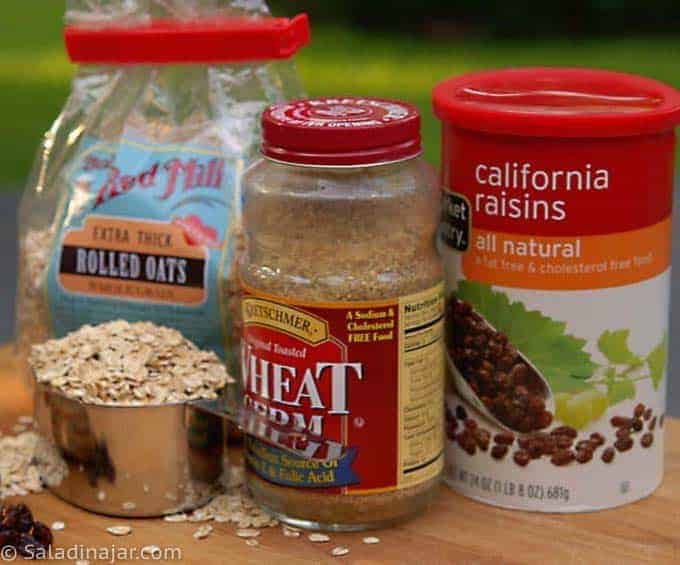 My favorite way to enjoy this special treat is one tablespoon at a time in my daily jar of homemade yogurt.
📌Kitchen Secret📌:
If granola likes to call your name, vacuum-sealing it inside a Mason jar will make it a little more trouble to nibble on as you walk by the pantry. If you have a vacuum sealer (portable or countertop), vacuum-seal your granola (like I vacuum-seal cut lettuce) to keep it fresh for several weeks.
---
Frequently Asked Questions:
How should I store granola?
Store granola in an air-tight container such as a Mason jar or a zippered plastic bag. I keep mine in the pantry.
How do I make more clumps in my granola?
After you mix the granola and pour it onto a prepared baking sheet, use your hands to squeeze the granola mixture into clumps. Stir the fruit and nuts into your granola after 30 minutes with a light hand, so you don't break up the clumps.

More oatmeal recipes

:
---
If you have questions or suggestions, email me privately for a quick answer: Paula at saladinajar.com. Hope to see you again soon!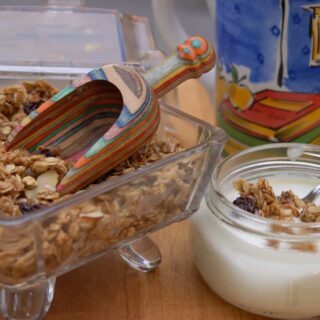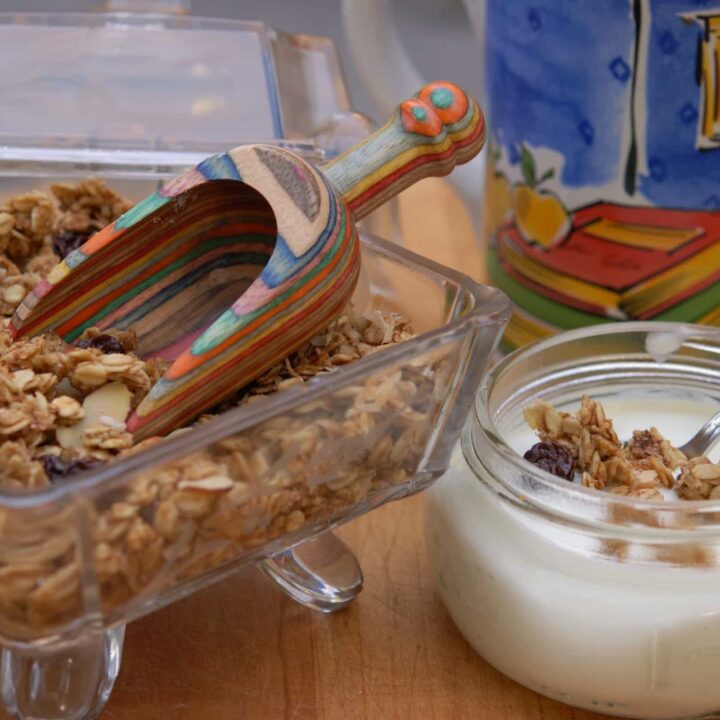 Low-Calorie Homemade Granola
Homemade granola with reduced calories
Ingredients
2

cups

old-fashioned oats

½

cup

wheat germ

¼

teaspoon

salt

¼

cup

sugar free maple syrup

-

I like Cary's

3

tablespoons

vegetable oil

3

tablespoons

warm water

1

teaspoon

cinnamon

¼

cup

coconut

¼

cup

almonds or pecans
Instructions
Preheat the oven to 275˚F. Spray a 13-by-9-inch baking sheet with cooking spray. Alternatively, cover the baking sheet with a silicone mat or parchment paper.

Spray a 13-by-9-inch baking sheet with cooking spray. Alternatively, cover the baking sheet with a silicone mat or parchment paper.

Mix oats, wheat germ, cinnamon, and salt in a large bowl. Whisk together the syrup, oil, and water in a microwave-safe bowl. Microwave until this mixture starts to simmer. Drizzle over the oat mixture and stir to combine.

Pour the granola mixture into a prepared pan. Working a handful at a time, squeeze cereal to form small clumps.

Bake for 30 minutes. Stir in raisins, coconut, and almonds or pecans. Continue to bake until golden brown, 20 to 25 minutes longer.

Let cool and store in an air-tight container. Vacuum-packing in a quart jar is even better.
Nutrition
Serving:
1
half-cup
|
Calories:
183
kcal
|
Carbohydrates:
19
g
|
Protein:
5
g
|
Fat:
10
g
|
Saturated Fat:
2
g
|
Polyunsaturated Fat:
4
g
|
Monounsaturated Fat:
3
g
|
Trans Fat:
1
g
|
Sodium:
76
mg
|
Potassium:
179
mg
|
Fiber:
4
g
|
Sugar:
1
g
|
Vitamin A:
1
IU
|
Vitamin C:
1
mg
|
Calcium:
28
mg
|
Iron:
2
mg