Wheat Berry Bread: A Terrific Way to Eat More Whole Grains
Sneak Peek: This Wheat Berry Bread is a bread machine recipe for crunchy and earthy-tasting white bread with cracked whole wheat berries that add healthy fiber.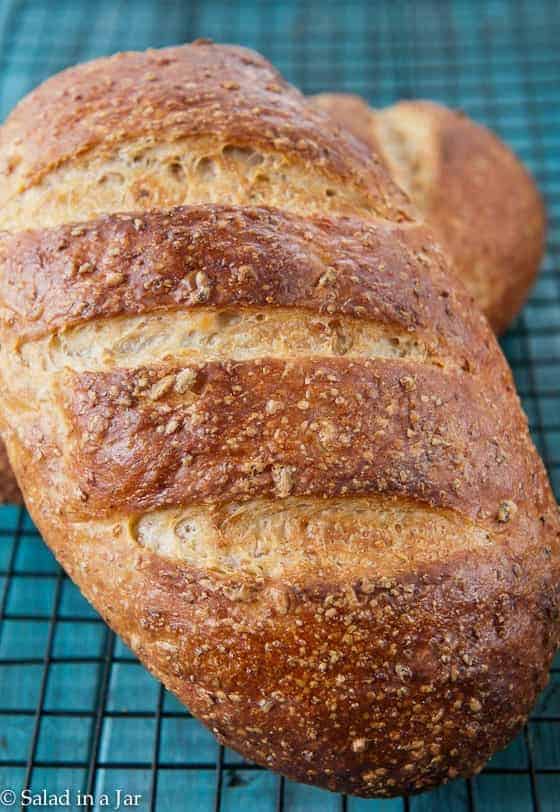 As an Amazon Associate, I earn from qualifying purchases.
On the subject of wheat berries: I can picture my dad (an Indiana farmer) reaching his grubby hand behind him into the bin of the combine during a wheat harvest. He would pop a handful of freshly-harvested wheat berries into his mouth and chew them like they were a fresh stick of Wrigley's Juicy Fruit.
Mind you, that wheat might have a few weed seeds and little bugs in it. But it was FRESH! Of all the times my dad and grandad tried to get me to follow their example, I just couldn't do it.
Take those same wheat berries and bake them up in this bread. Now I'm spitting out my Wrigley's and chowing down.
Cracked Wheat Berry Bread is a nubby, crunchy, and earthy-tasting white bread starring cracked whole wheat berries. Make it with a bread maker.
The addition of whole grains significantly increases the fiber and protein content. It also contributes to the taste and texture.
Wheat berries are inexpensive and well worth the trouble. They contribute extraordinary texture, flavor, and nutrition. You'll enjoy eating this loaf out of hand with butter or slice and toast it for sandwiches.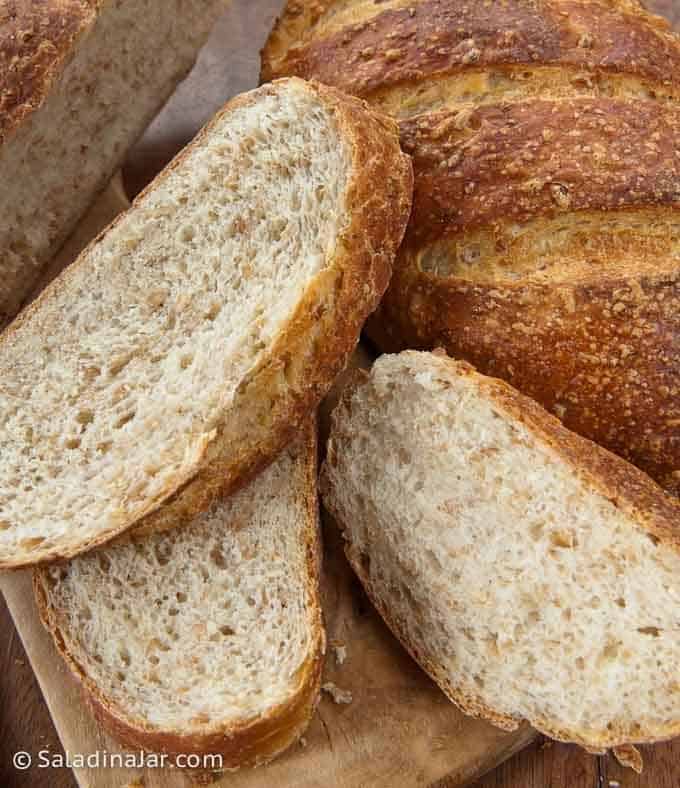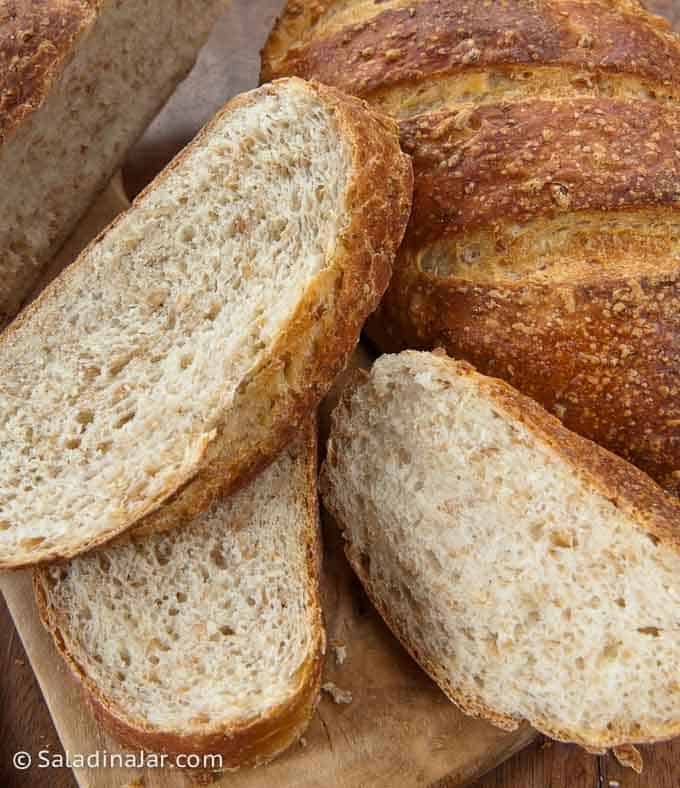 Related Post: Honey Whole Wheat Bread
The low-down on cracked wheat:
1. What is cracked wheat?
Cracked wheat describes an unprocessed wheat berry that has been chopped to make smaller pieces.
2. What is a wheat berry?
A wheat berry is the original unprocessed whole grain form of wheat. A single wheat berry includes the bran, the germ, and the endosperm.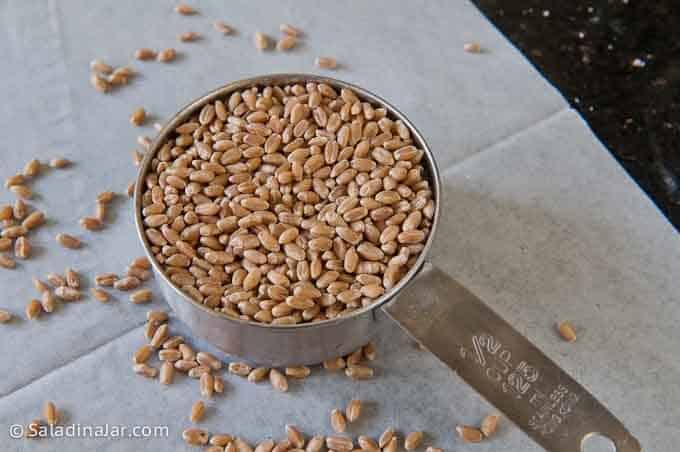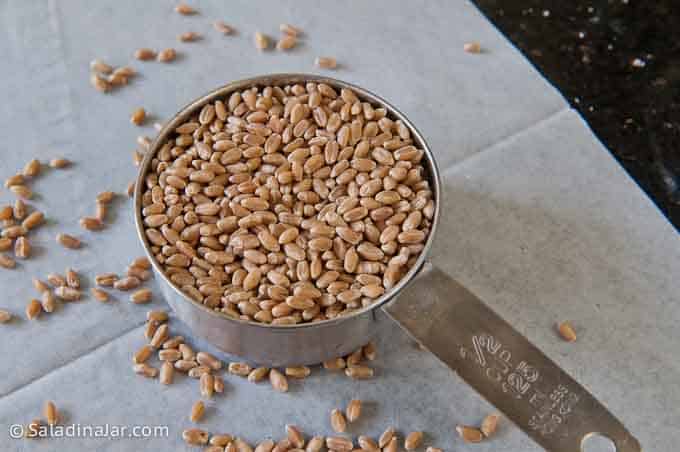 3. Are cracked wheat and bulgur interchangeable?
Cracked wheat is technically uncooked. According to the NY Times, bulgur is steamed and cooked before packaging. It requires less cooking time. This recipe specifies raw wheat berries.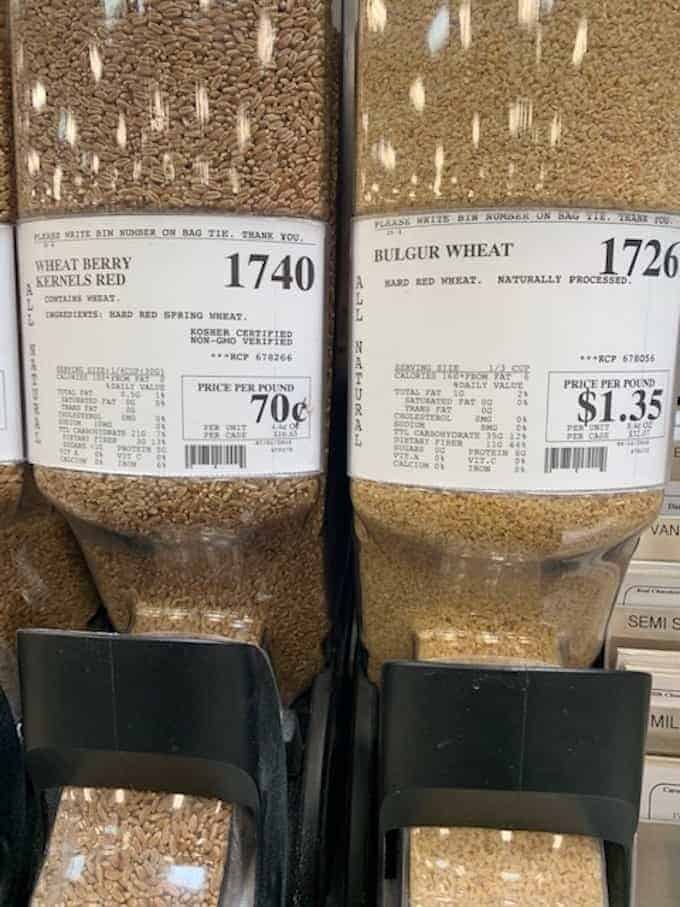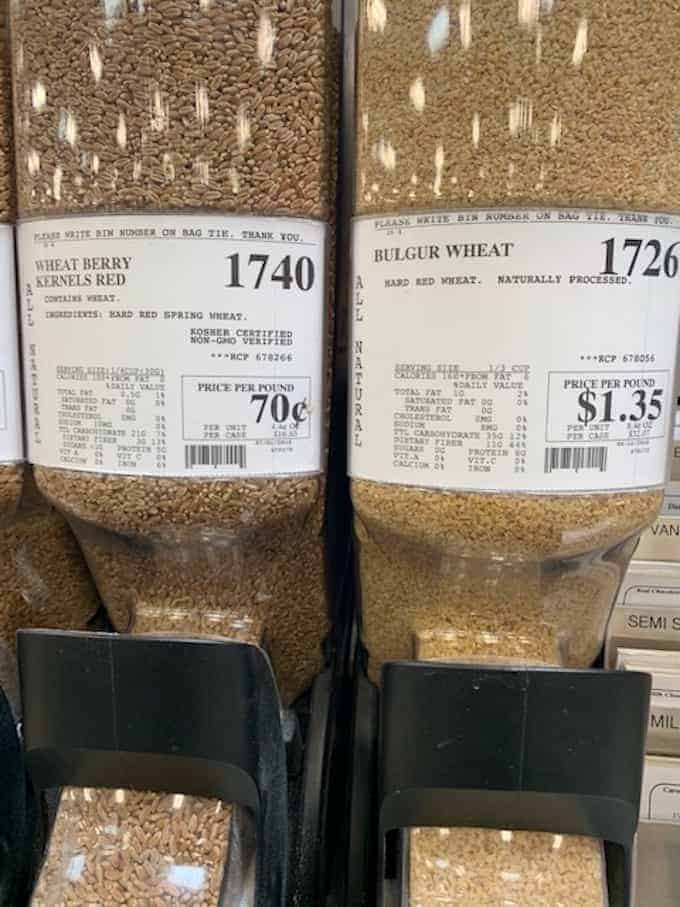 4. How do I store wheat berries?
Wheat berries can be stored in a cool and dry pantry for up to 6 months. Bob's Red Mill claims you can keep wheat berries for up to 2 years if you refrigerate or keep them frozen.
5. Are wheat berries good for you?
Whole wheat grains provide not only fiber, but more B vitamins, antioxidants, and protein than refined grains.
6. Where can I obtain wheat berries?
Look for a supermarket with a bulk bin aisle. I get mine at our local Sprouts for .89/lb. Maybe try the organic food aisle or Amazon? Finally, if you know a wheat farmer, ask him for a bag. Of course, you will need to clean the berries. You may have to pick out a bug or a few husks, but that's a small price to pay for fresh wheat.
Purchase the hard red wheat berries as opposed to the soft wheat berries. They are better for making bread.
---

---
Frequently asked questions:
1. Is this recipe considered whole grain bread?
Yes, it is a whole grain bread because it contains some whole grains. However, it is not 100% whole grain. The flour specified in the recipe is white bread flour. The result is a loaf with a softer but firm texture with less bitter-tasting undertones than whole wheat flour.
When it comes to bread, I'm generally a white-bread-lovin' baby boomer. I know. We're supposed to be eating whole grains. Consequently, this bread is the perfect compromise in my book.
2. Why use a bread machine?
If you are new to my website, I've written a lot about my non-traditional bread-machine technique. In a nutshell, using a bread machine to mix and knead the dough is the way for me to get the best quality bread every single time.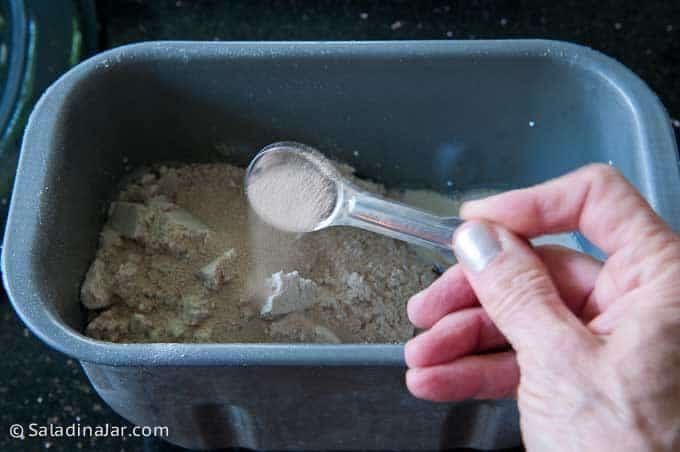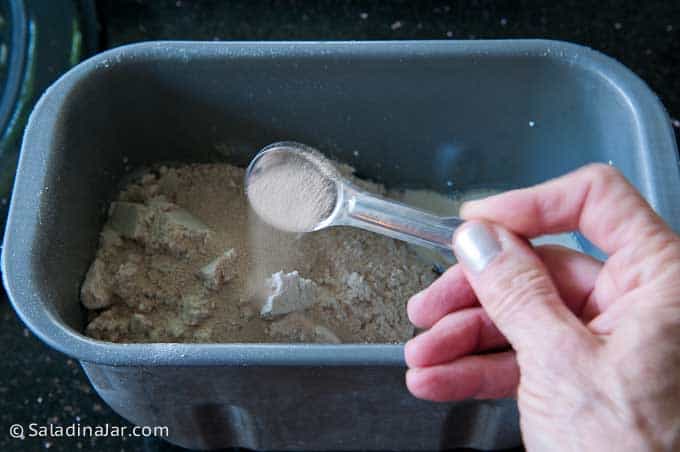 Related Post: 6 Bread Machine Secrets You Need To Know
3. Do I have to use a bread machine?
No. You can make Cracked Wheat Berry Bread using a stand mixer or make it by hand. See the recipe notes for specific instructions.
4. How do I soften wheat berries to use in this bread machine recipe?
You have several choices, but I favor the last one because it's the fastest.
Soak wheat berries overnight to soften them.
Cook wheat berries on top of the stove for 20 minutes using a 2 to 1 ratio of water to grain.
Cook wheat berries in the microwave on HIGH for 10 minutes using the same ratio of 2 to 1 for water to grain.
The goal is to soften the berries not cook them to the consistency of your breakfast dish of oatmeal. You want them to have some chew (and tooth-friendly crunch in the crust.)
5. How do I crack wheat berries?
After softening the berries, add flour to the berries and use a food processor or blender to crack them. Berries are not easy to eat in baked bread if they have not first been softened and cracked.
6. What does this bread taste like?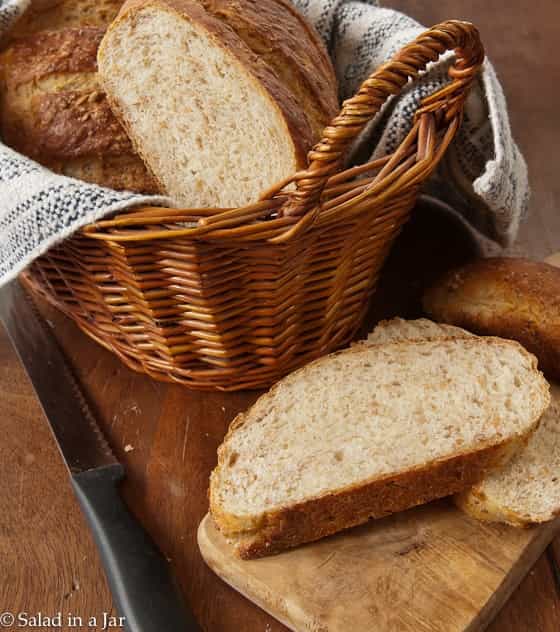 The taste is heartier and more interesting than white bread but still mild without the bitter undertones of a 100% whole wheat loaf. The wheat berries inside this loaf are soft and slightly chewy. However, the exterior is somewhat crunchy due to the cracked wheat berries that bake up crispy in the crust.
Related Post: Outstanding Bread Machine Whole Wheat Bread with No White Flour
How to make the dough using a bread machine: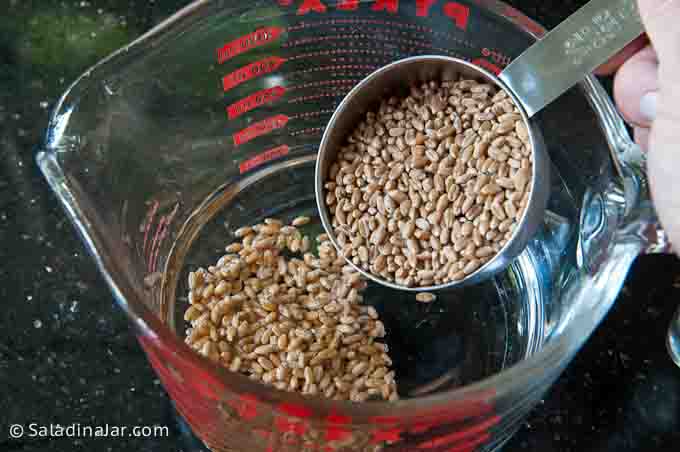 Combine 1/2 cup of wheat berries with 1 cup of water. Cook in a microwave on HIGH for 10 minutes.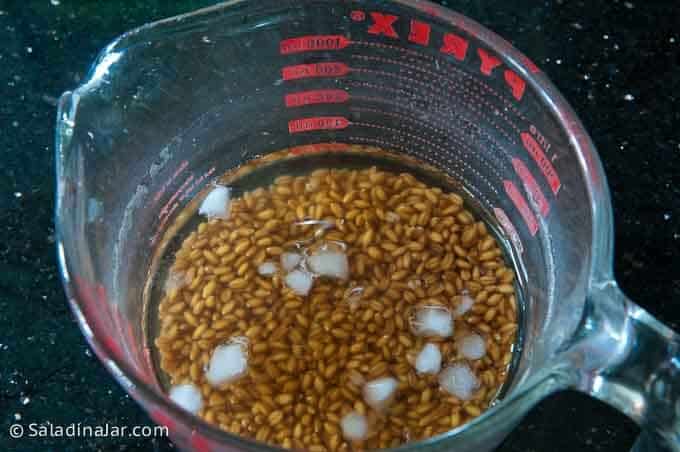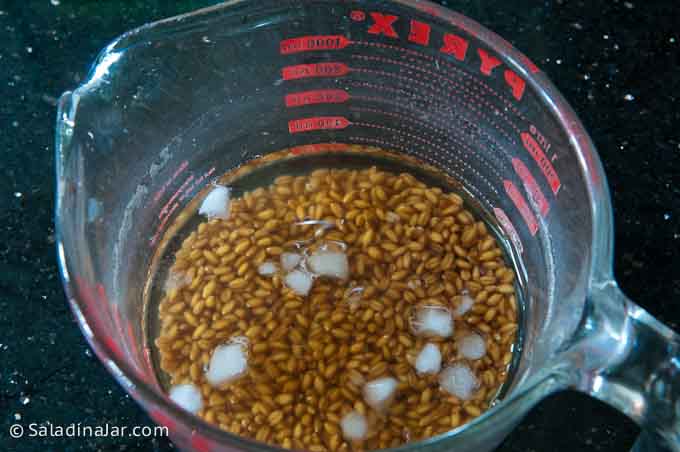 Allow wheat to cool. Add ice cubes if you want to expedite the process. Drain off water.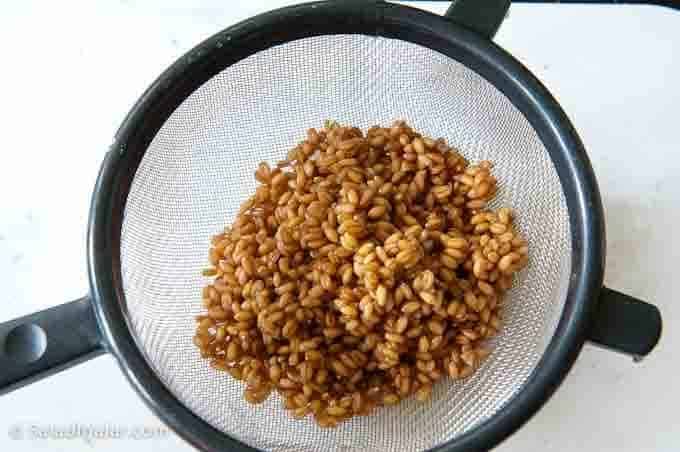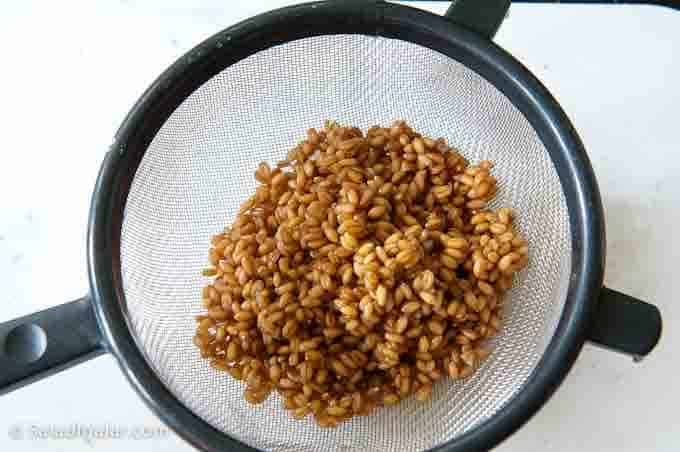 Drain berries well and add to a food processor along with 1 cup of bread flour.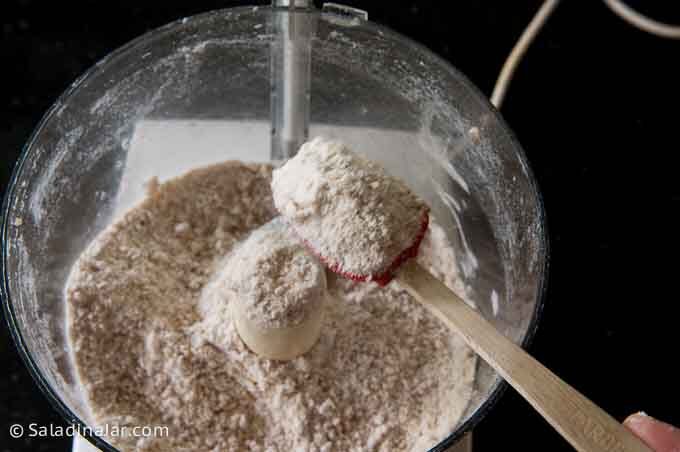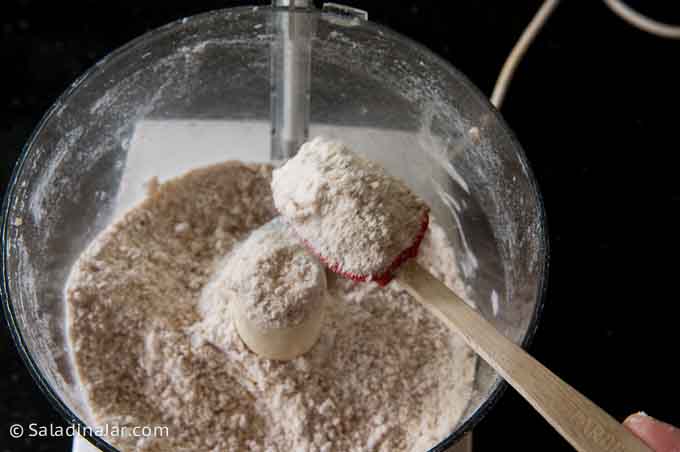 Pulse flour and seeds to "crack" them into small pieces. This can also be done in a blender, but it's a lot more trouble, and you have to keep scraping the sides.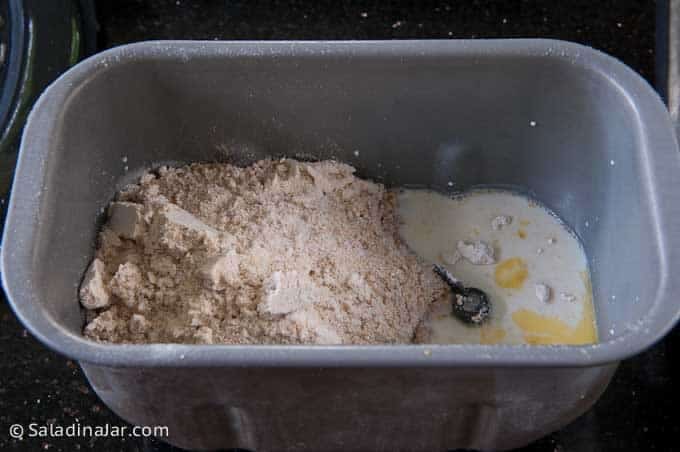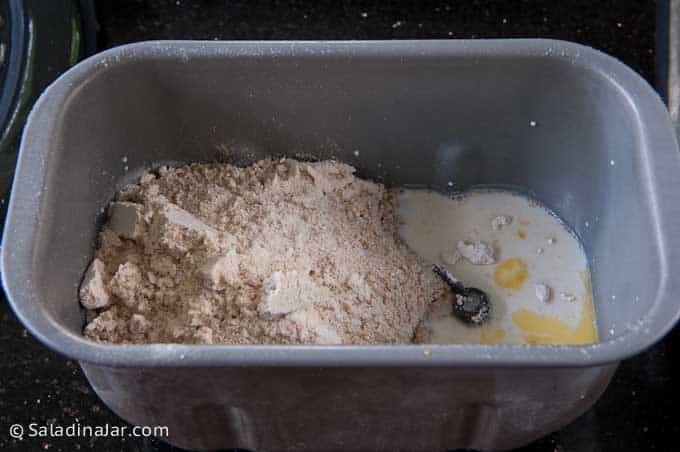 Add all ingredients to the bread machine pan in the order listed.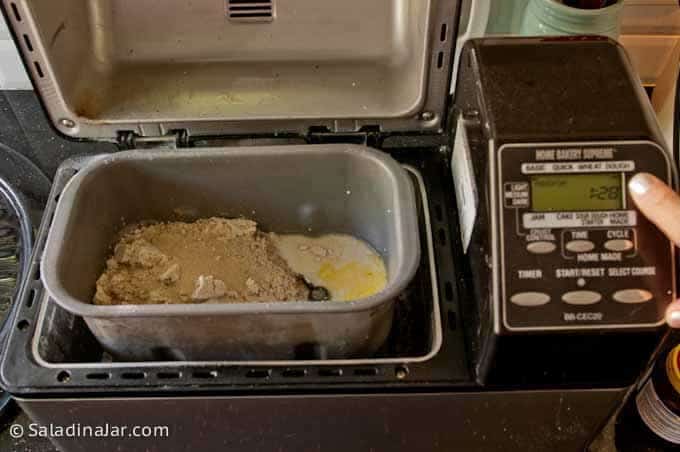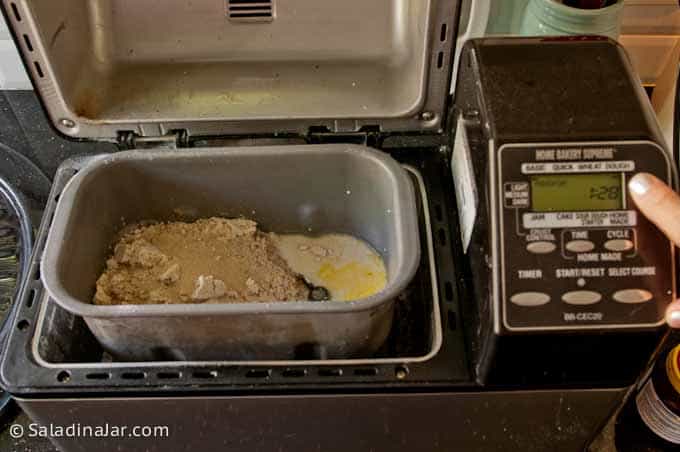 Select the dough cycle and press start.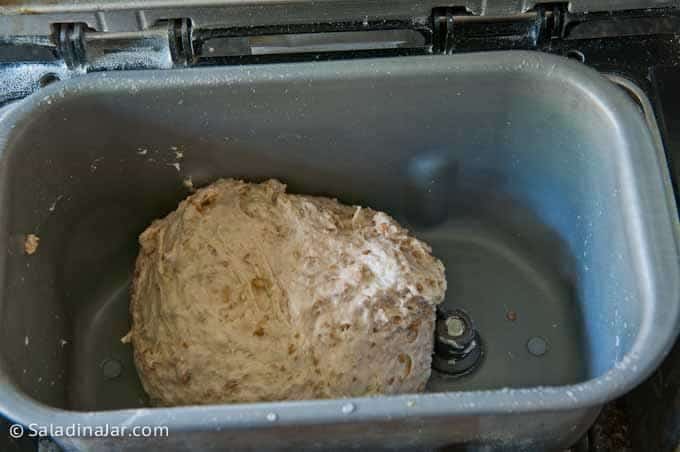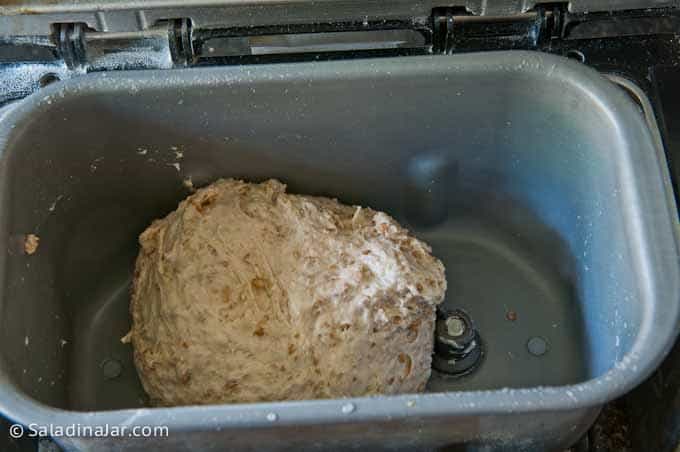 The dough should look like this as the kneading progresses. It should stick to the side of the pan, then pull away cleanly. The dough will get smoother and shinier as the gluten develops.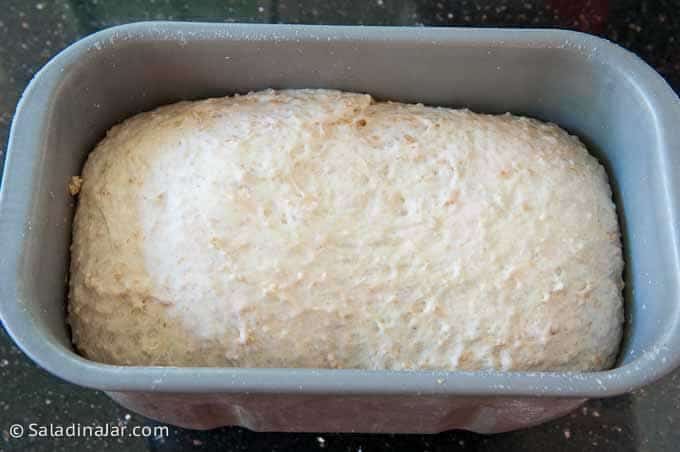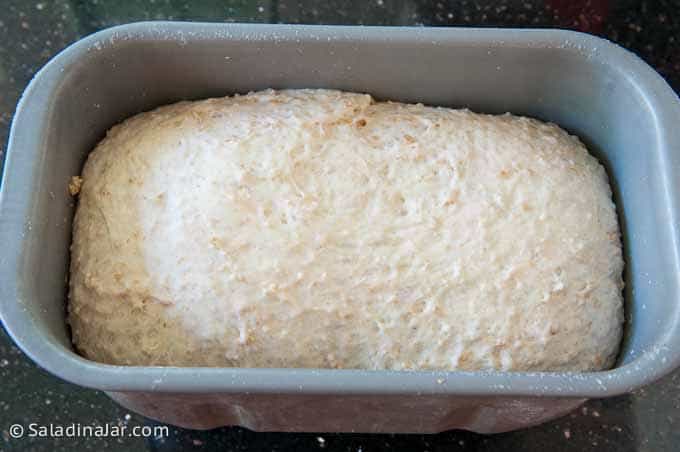 At the end of the dough cycle, the dough should be doubled in size. If not, allow the dough to continue rising in the pan until it is double the original size.
---
Related Post: Homemade Whole Wheat Rolls
How to shape and bake Wheat Berry Bread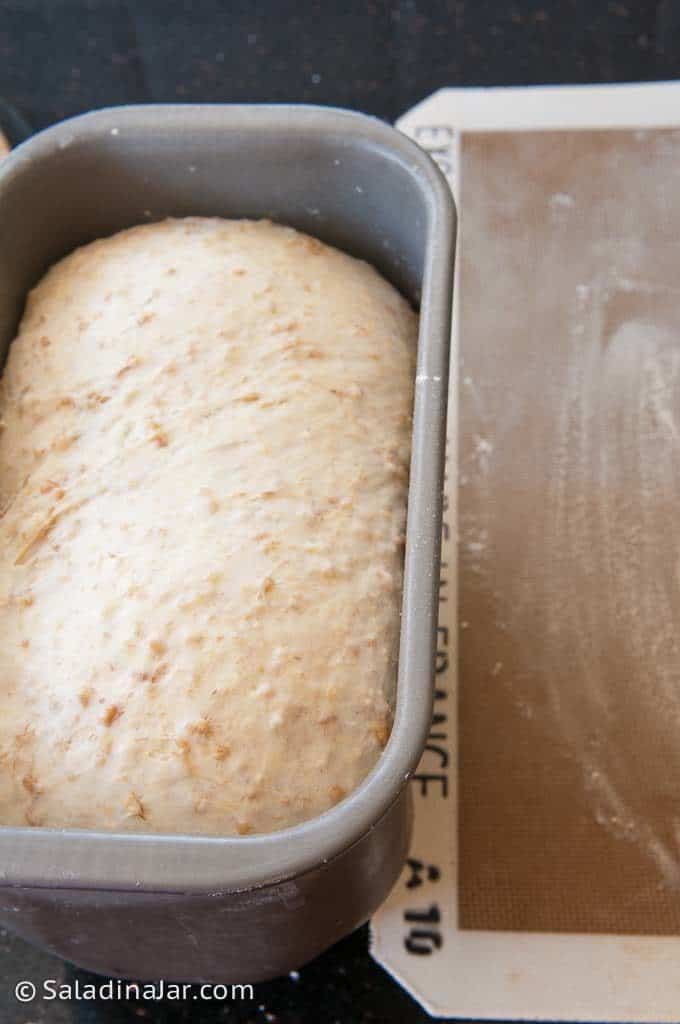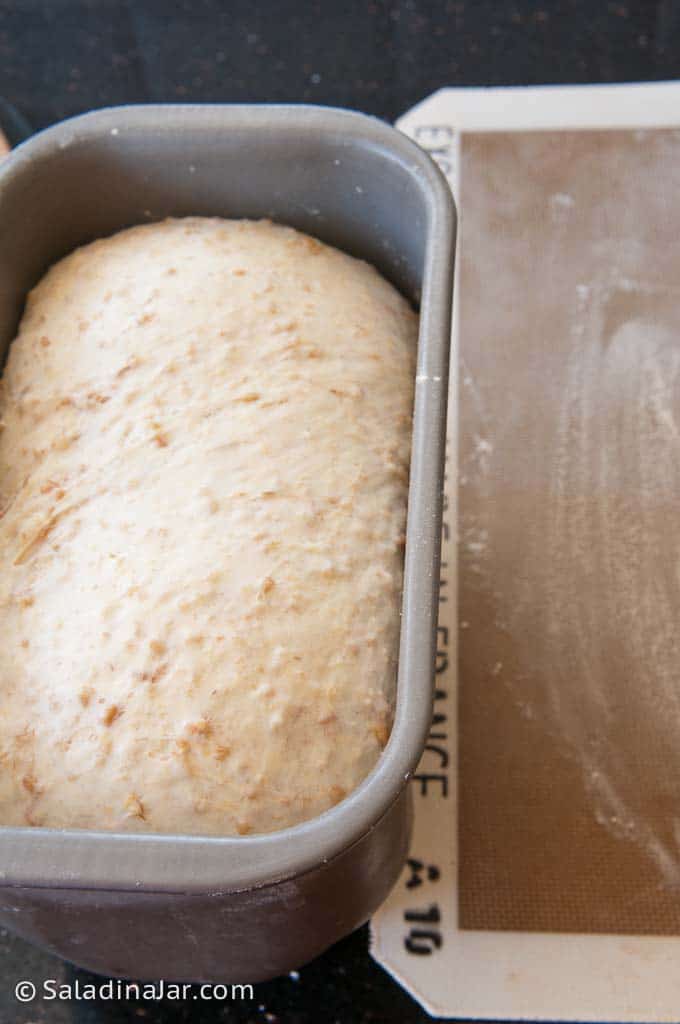 After the dough cycle on your bread machine completes, prepare a floured surface. I like to use a silicone baking sheet (paid link) because you can run it through the dishwasher.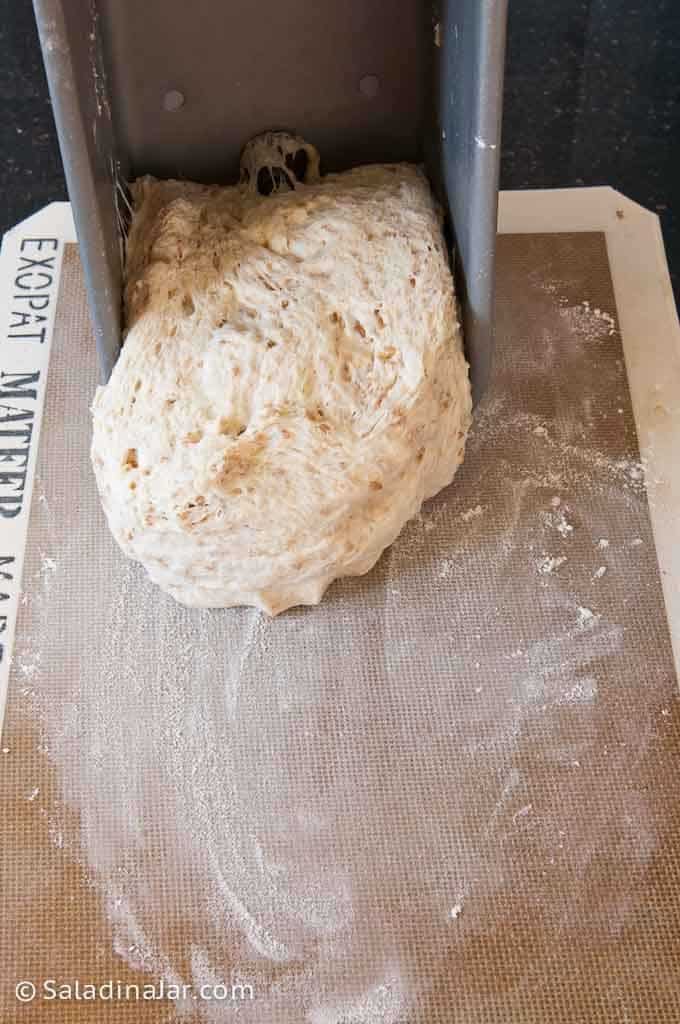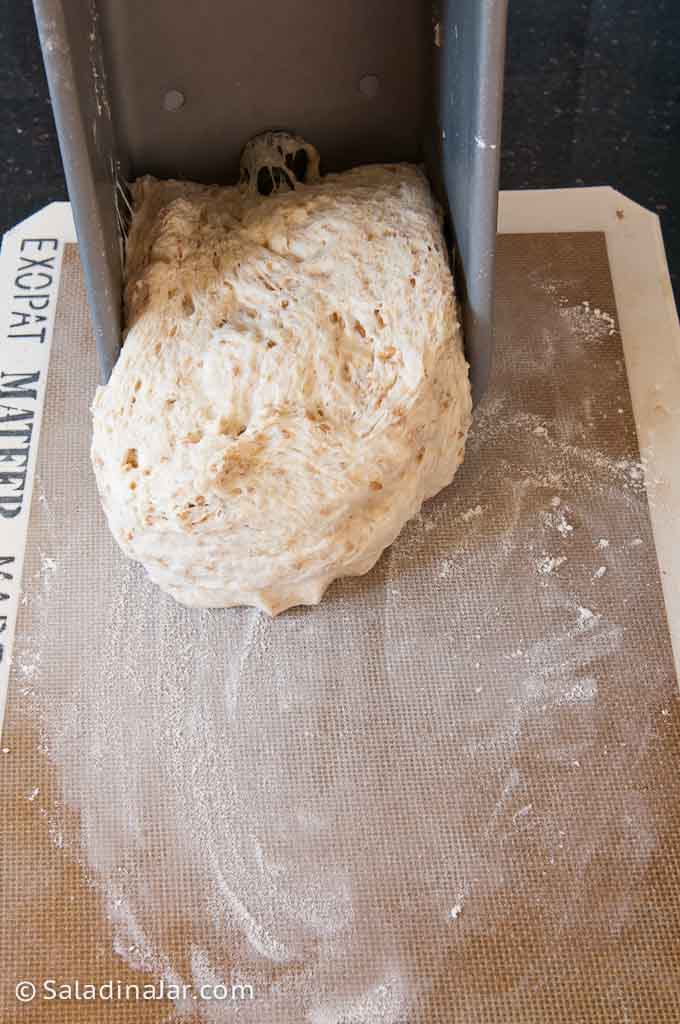 Dump the dough out of the pan.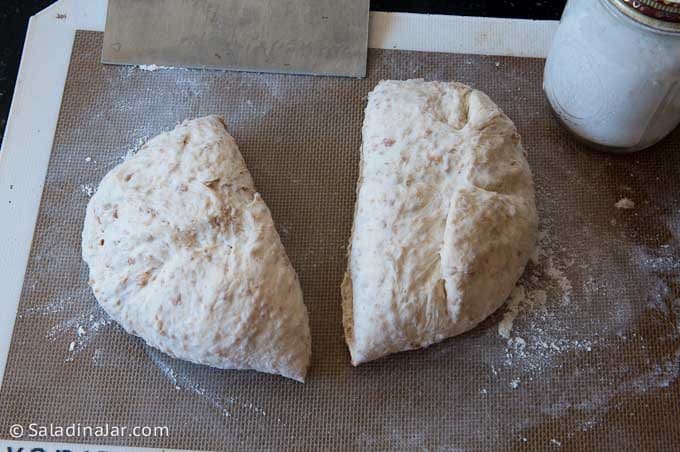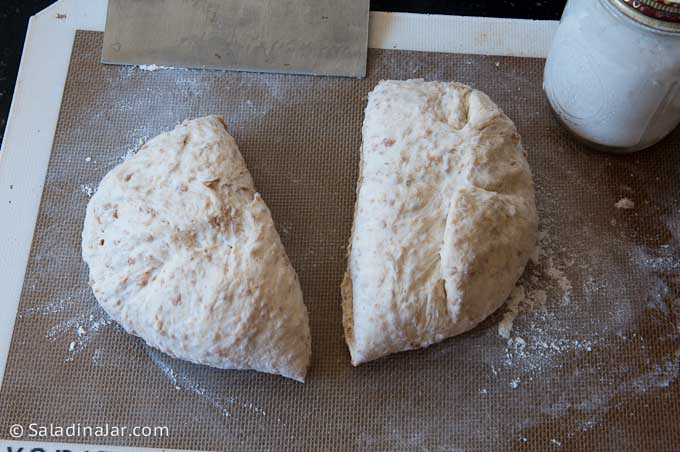 Divide the dough into two equal portions.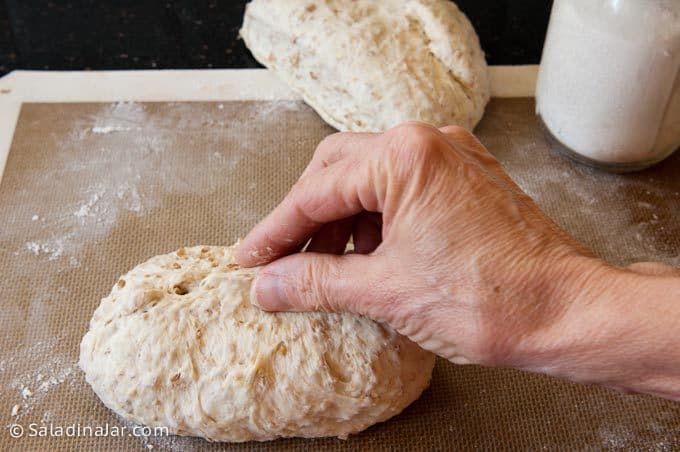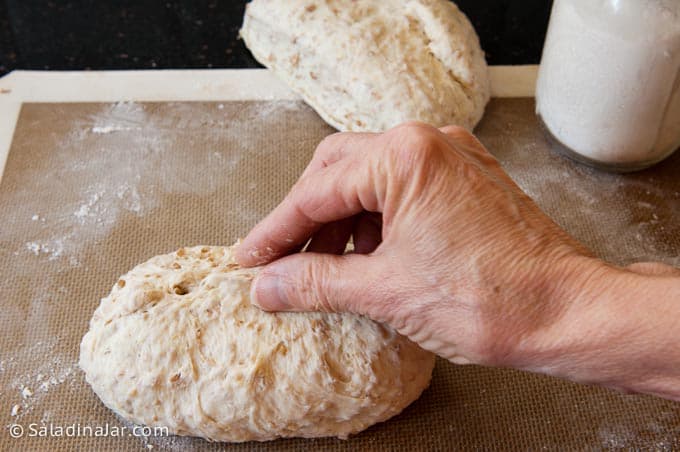 Pull the edges together and pinch. (This will make the underside smooth.) Turn over and shape to make an oblong loaf.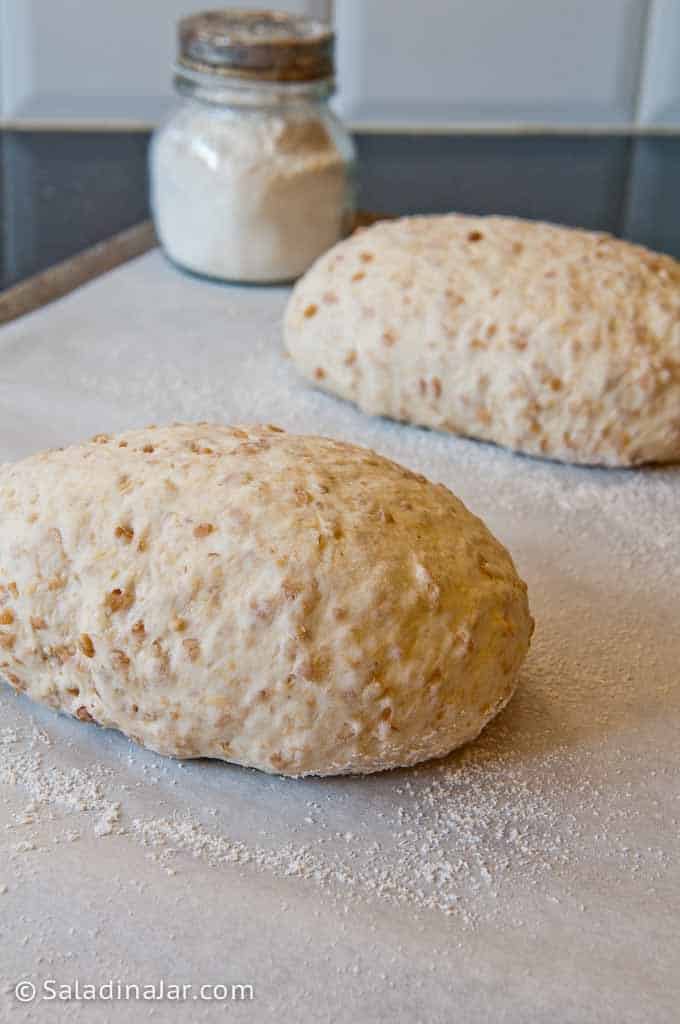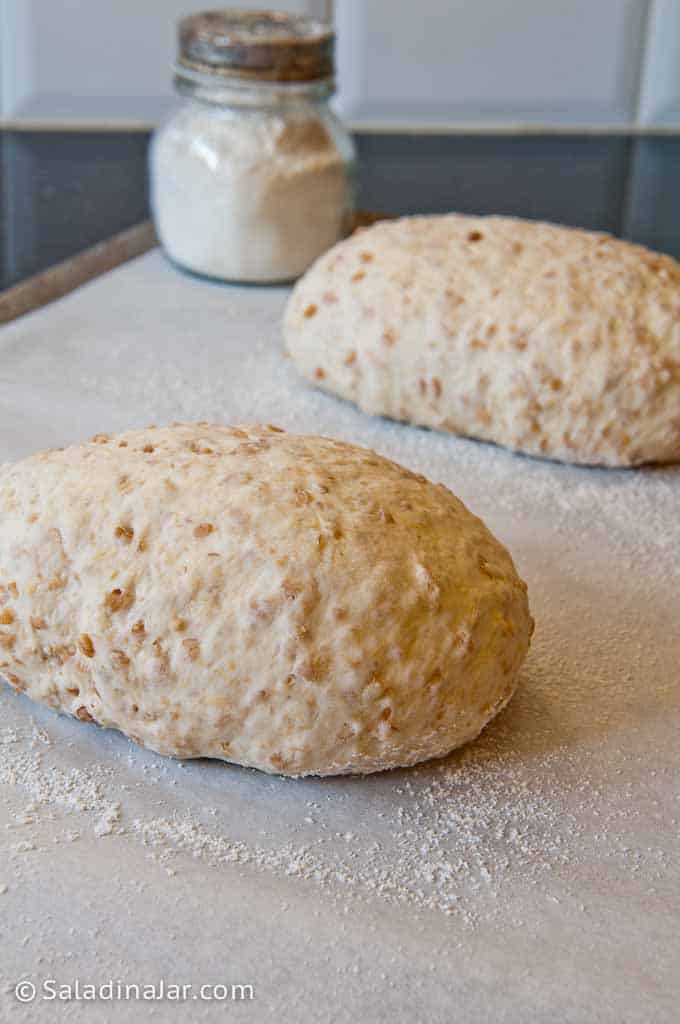 Place small loaves on a cookie sheet covered with parchment paper or a silicone mat sprinkled with flour or fine cornmeal. Cover loosely with plastic wrap or a tea towel. Allow the dough to rise until almost doubled in size.


Preheat your conventional oven to 425 degrees F.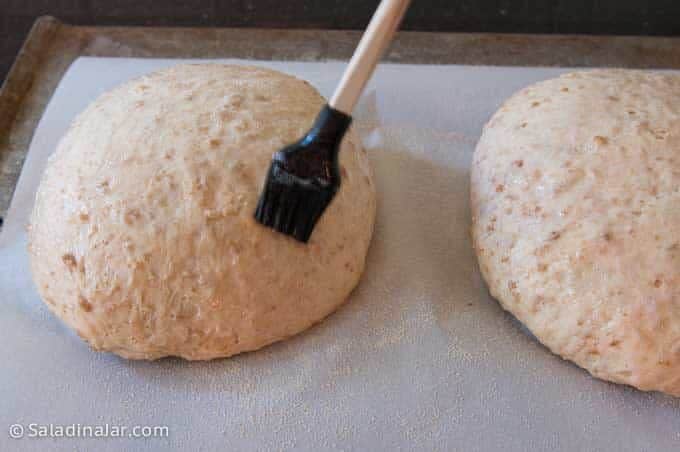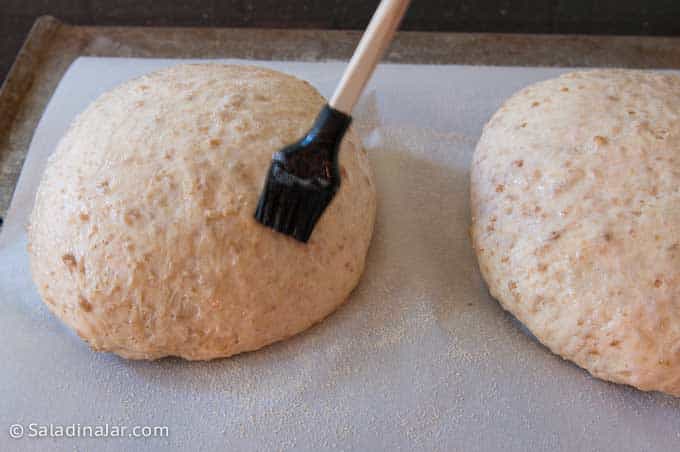 Brush loaves with egg-white glaze if you like a shiny crust.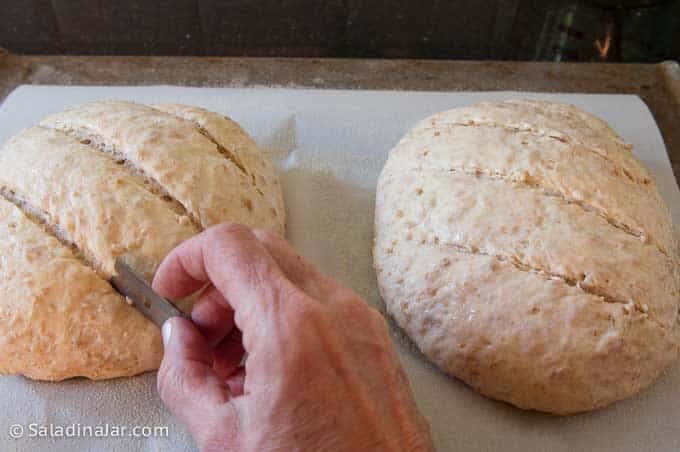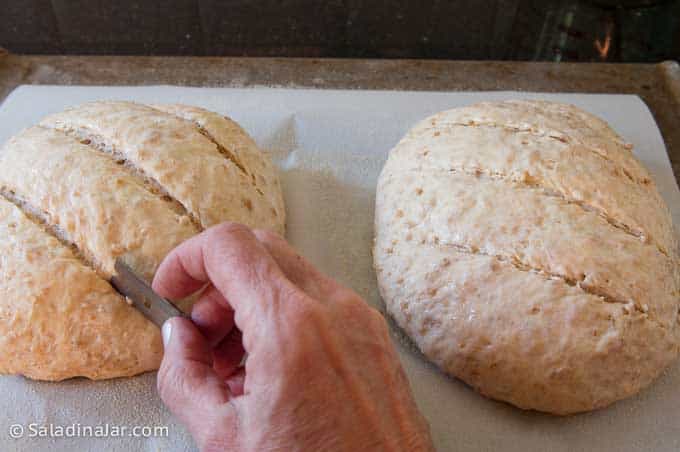 Use a new single edge razor blade or a serrated knife to cut slits across the top of the loaves. Be careful not to deflate the loaf. Place in a preheated oven.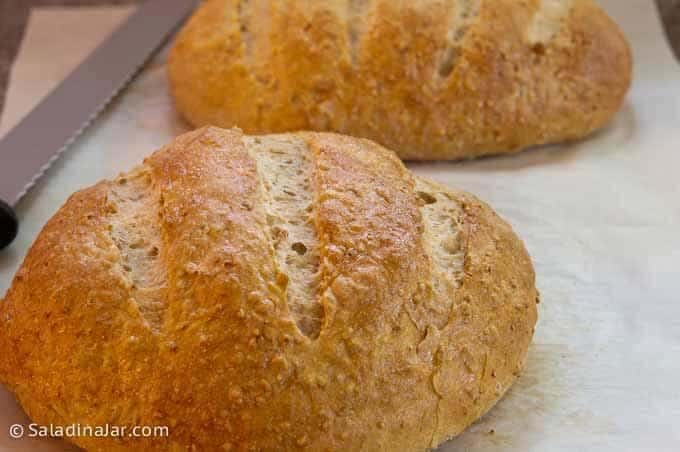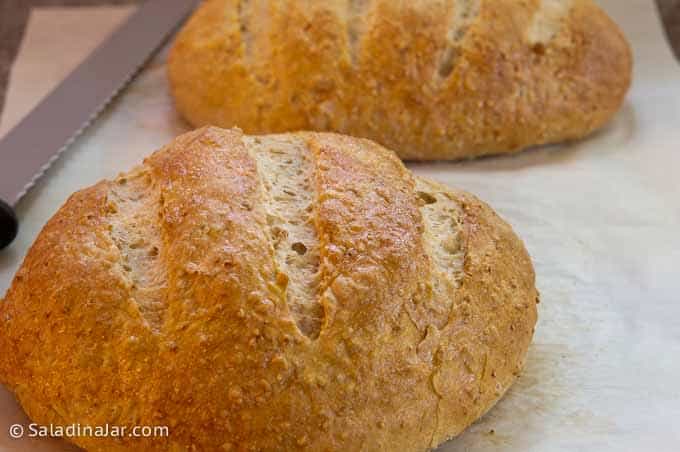 Pull loaves out of the oven when evenly browned and cooked through. If necessary, use a quick-read thermometer to check. The interior temperature should be 190˚F.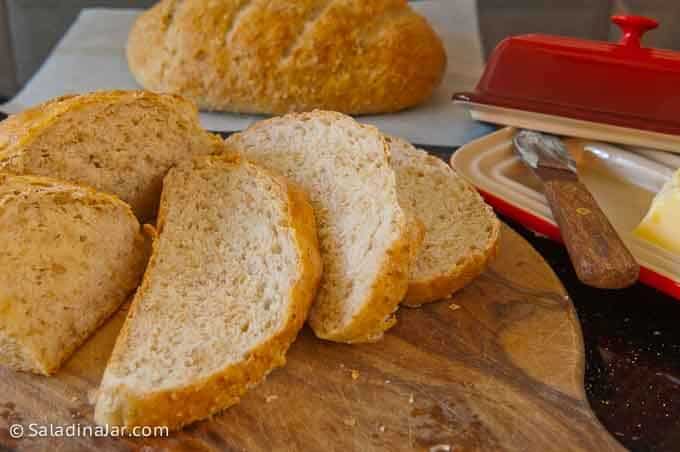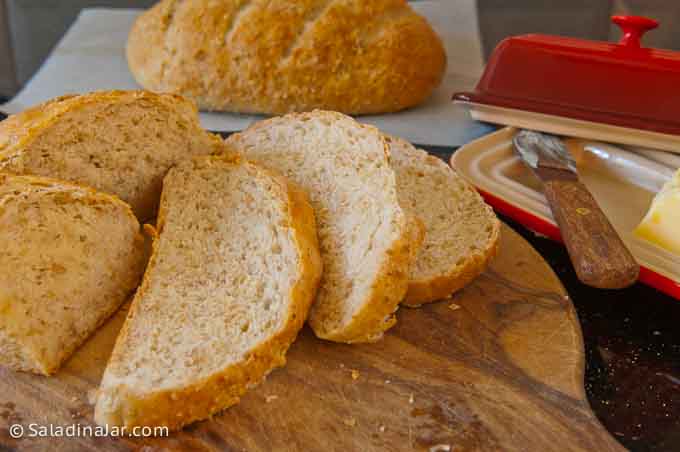 Cracked Wheat Berry Bread is well worth the calories and effort, although calling any bread made in the bread machine an "effort" is arguable.
If you have questions or suggestions, email me privately to Paula at saladinajar.com. Hope to see you again soon! Paula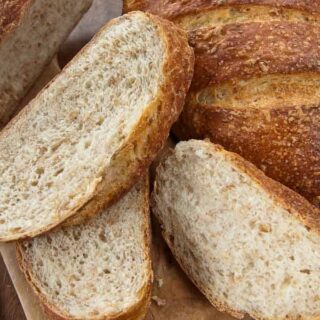 Wheat Berry Bread Recipe
A nubby, crunchy loaf starring cracked wheat berries that you can easily make in your bread machine
Ingredients
½

cup

whole-grain wheat berries

-

92 gr

2-1/2

cups

bread flour

-

(divided) 300 grams

1

cup

warm milk (or whey drained from yogurt)

-

227 gr

1-1/2

teaspoon

table or sea salt

-

6 gr

1

teaspoon

granulated sugar

-

4 gr

2

tablespoons

unsalted butter

-

(softened) 28 gr

2

teaspoons

bread machine or instant yeast

-

6gr
Instructions
Boil wheat berries in 1 cup of water for 20 minutes. Allow to cool (quicker if you add ice cubes) and drain. Alternatively, soak wheat berries in water for 12 hours or overnight. (Softened and drained wheat berries will keep in the fridge up to a week.)

Add prepared wheat berries to a blender or food processor along with 1 cup of bread flour (120 grams). Process until wheat berries are finely chopped. You will likely need to stop several times to push the flour and wheat berries from the sides of the chopping container back to the middle.

Combine milk or whey, salt, sugar, butter, remaining flour (180 grams), the ground-wheat-berries-and-flour mixture, and the yeast.

Check the dough at least twice by lifting the lid to take a peek. The first time, look immediately after the machine starts mixing to ensure the paddles are engaged correctly.

Look again 15 minutes into the DOUGH cycle to assess the consistency of the dough. For most recipes, The dough should stick to the side, then pull away cleanly.

If your dough is too wet, add flour one tablespoon at a time.

Conversely, if the dough is too dry, add one tablespoon of liquid at a time until the dough looks just right. Read more about this surprising secret to success with a bread machine here.

When dough cycle completes, check to make sure the dough has doubled in size. If not, leave in pan until it does.

When doubled, remove dough from the pan to a floured surface and divide into two equal portions. Shape each portion into an oblong shape by pulling dough from the top to the bottom until dough is smooth; then pinch closed. Place seam side down on a cookie sheet covered with parchment paper or a silicone mat that has been sprinkled with a bit of cornmeal.

Cover with a tea towel and allow to rise until almost doubled. Preheat oven to 425˚ about 20 minutes before you expect the loaf to be ready to bake.

Brush risen loaves with glaze of 1 egg white whipped together with 1 tablespoon water. (This is optional.)

Make 2-3 diagonal slashes in each loaf with very sharp serrated knife or razor blade, being careful not to deflate dough.

Bake in preheated oven for 20-25 minutes, or until interior temperature reaches 190 degrees F, or until bottom is brown and sounds hollow.

Allow loaves to cool on rack for an hour before slicing.
Notes
Directions for making bread with a stand mixer or by hand:
To make this recipe in a heavy-duty stand mixer: Add ingredients to the bowl in the same order. Turn on LOW to mix until all ingredients are moistened. Then, using a dough hook, turn the speed to 2 or 3. Continue beating/kneading until dough becomes smooth and elastic (about 5-10 minutes). Cover and allow to rise in a warm place. Deflate dough gently and shape as indicated in the recipe.
If making by hand: Combine all ingredients into a shaggy ball in a large bowl. Turn dough out onto a floured surface. Knead with your hands until the dough becomes smooth and elastic. Kneading will likely take 10-20 minutes, depending on your experience. Place the dough ball into a greased bowl. Cover and allow to rise until double. Deflate the dough gently and shape as indicated in the recipe.
Please note: If you only have active dry yeast, use 1/4 teaspoon more than called for in the recipe.

It no longer needs to be dissolved first

, but you can if you prefer.
Originally, this recipe called for 1 cup water and 1/4 cup dry milk solids. I have changed it to reflect my current recipe since I don't buy dry milk. I can detect no discernible difference in the final product.
Nutrition
Nutrition Facts
Wheat Berry Bread Recipe
Amount per Serving
% Daily Value*
* Percent Daily Values are based on a 2000 calorie diet.
Like this recipe? Thanks for leaving a 5-star rating inside the recipe at the top! 🤩