Preview: This Honey Wheat Bread Machine Recipe is an exceptionally light and soft sandwich bread with whole wheat flour and white bread flour. You'll be making this recipe on repeat! If you prefer, make this recipe with a stand mixer or by hand. See details in the recipe notes.
If you are trying to wean your family (or yourself) off of white bread, this recipe for Bread Machine Honey Wheat Bread is the "next step."
The texture is light, moist, soft, and oh-so-tasty. The crust will be tender–not tough when you follow my method for using a bread machine.
This recipe for Honey Whole Wheat Bread is back by popular request. It was one of the first bread recipes published on this blog back in 2009.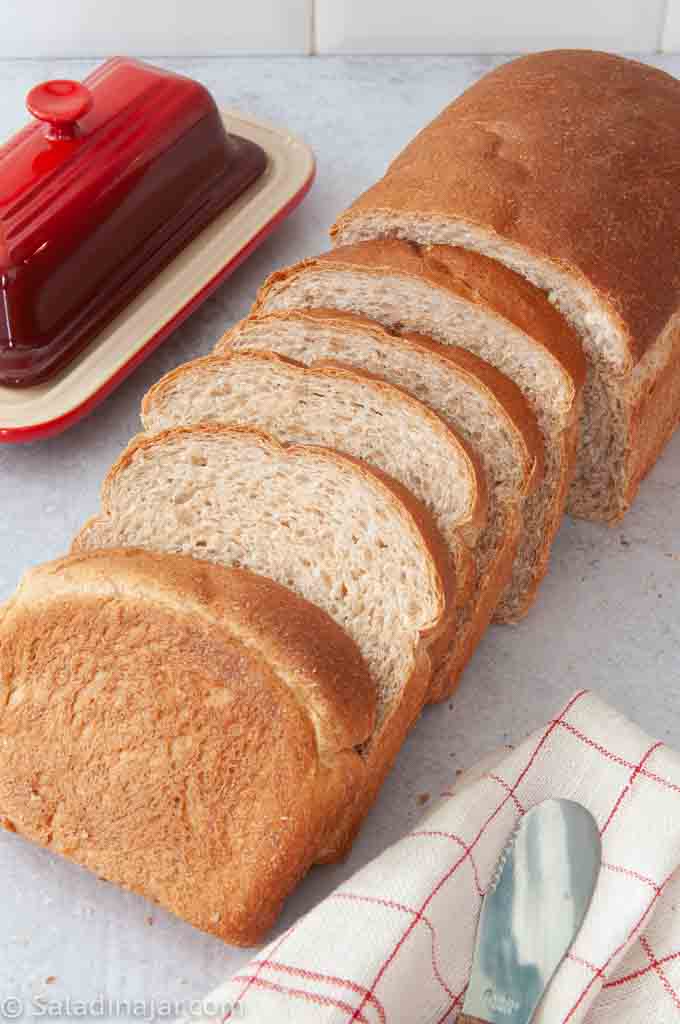 I have added new pictures along with answers to some of your questions. I hope you have a chance to try this delightful and healthy bread.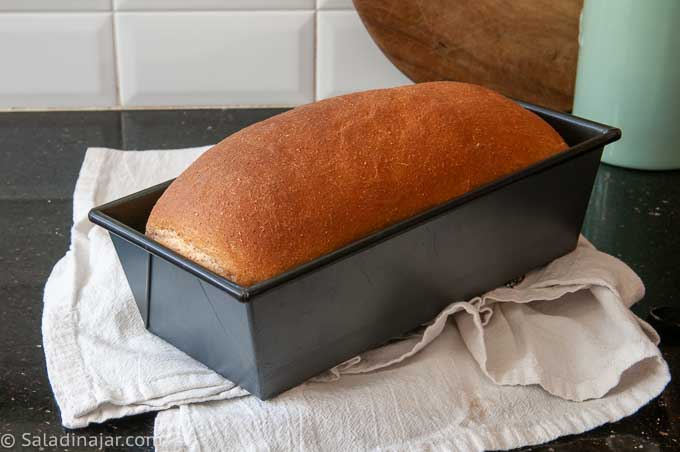 ---
Why use a bread machine to make this wheat bread?
Use the DOUGH cycle on a bread machine because it does the best job of mixing and kneading. However, take the dough out of the bread maker pan at the end of the dough cycle.
After shaping by hand, allow the dough to rise again, then bake your loaf in a conventional oven. Taking control of the baking process will result in a far superior texture and crust.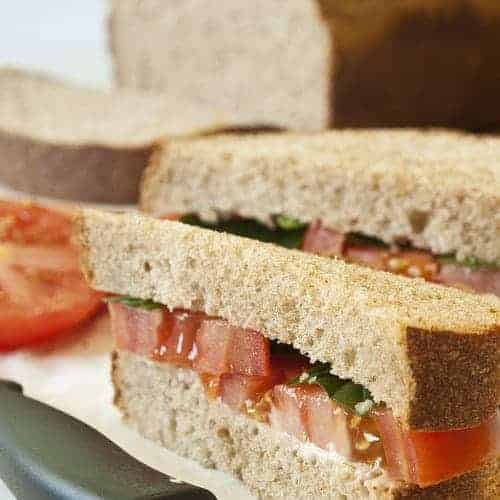 ---
Do bread recipes with whole-wheat flour take longer to rise?
Yes, they often take longer.
"You may have to give your whole wheat dough more time to rise than you would white dough, thanks to the heavy germ and bran particulates."
—Smithsonian.com
What if the wheat dough has not doubled in size by the end of the "dough" cycle?
Slow proofing frequently happens with whole wheat recipes in a bread machine. It is a common cause of dense bread when you use your bread machine to mix, knead AND bake your bread.
But we are only using the bread machine to mix and knead the dough. It's easy to leave the dough in the bread machine pan a bit longer at the end of the dough cycle. Set your timer to remind yourself to check back in a few minutes.
When the dough doubles in size, remove it from the bread maker pan and shape it.
What about using Vital Wheat Gluten? Many recipes using whole wheat flour call for Vital Wheat Gluten to boost the rising ability of the dough. Since this recipe calls for half whole wheat flour and half bread flour, there is enough protein in the bread flour to provide an energetic rise without the additional gluten.
---
Frequently Asked Questions about making bread machine wheat bread:
Can I use all whole wheat flour and leave out the white flour?
No, not in this recipe. Some people call this a "light" whole-wheat loaf since it is not 100% whole wheat.
Suppose you want bread with 100% whole-wheat flour. You are going to need more moisture, which makes working with the dough more difficult. Better to look for a good recipe where the amounts have been worked out and tested accordingly.
Why does my whole wheat flour smell funny?
A sour, musty smell is the most apparent sign of spoilage. The higher oil content contributes to rapid aging.
What is the best way to store whole wheat flour?
I store mine in a plastic bag in our second refrigerator. According to OurEverydayLife.com…"The best way to slow this process is to keep your whole wheat flour in the freezer. It can last for up to six months when frozen in an airtight container and up to four months in an airtight container in the refrigerator."
–Brynne Chandler
How long can I store whole wheat flour?
According to the Whole Grains Council.org
"In general, whole grain flours spoil more quickly than intact grains because their protective bran layer has been broken up, and oxygen can reach all parts of the grain. If stored properly in airtight containers, most whole-grain flours and meals can be kept for 1 to 3 months on a cool, dry pantry shelf or 2 to 6 months in the freezer. "
Does it matter what kind of honey I use?
I use whatever honey I have on hand.
Judith Fertig, in her book The Artison Bread Machine, says,
"Medium-flavored honey, such as clover or wildflower, is best for artisan bread machine doughs."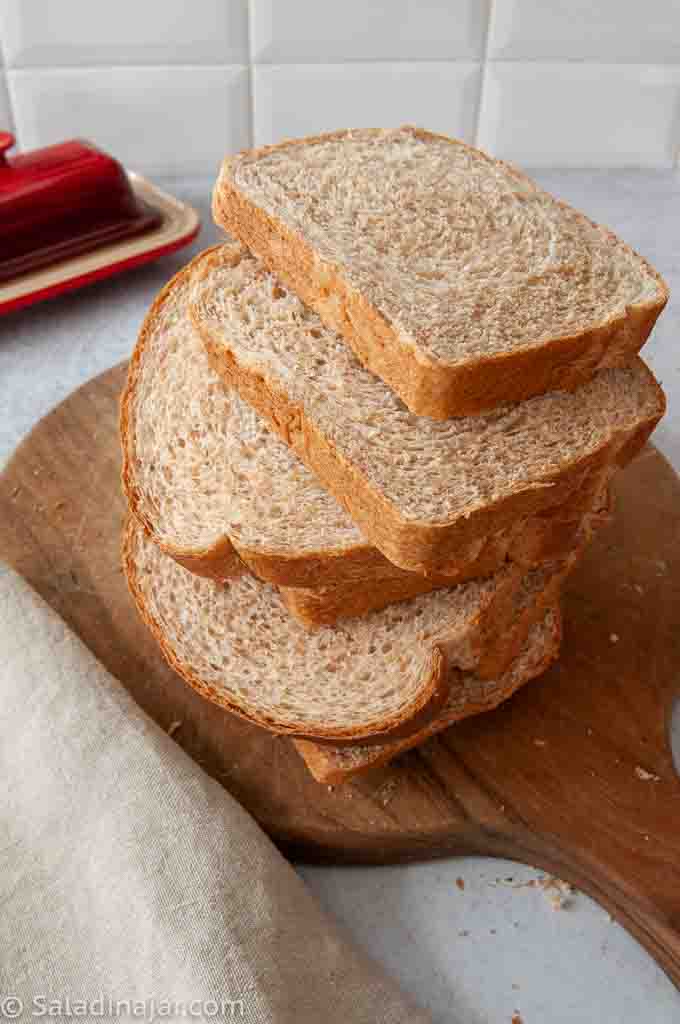 Can I use regular dry yeast instead of instant?
Yes. You can substitute active dry yeast, but your dough may be a little slower to rise. Add an additional 1/4 teaspoon.
How do I know which size bread pan to use?
For this recipe, the ideal bread pan will hold 1 quart of water. (Measure it out, if necessary.) I hesitate to recommend a pan by size. The degree of the slope can make a difference. This applies to any bread recipe. The following secret might help you.
"It (the shaped dough) should be no higher than 1/2 inch from the top of the pan. If there is too little dough for the pan, use a smaller pan. If there is too much dough, remove some and bake it as a roll, or save it to add to your next batch of dough."
—The Bread Bible by Rose Levy Beranbaum
If you don't have the "perfect" pan, err on the side of slightly too big for the amount of dough. A pan that's too small may cause the dough to rise too high and fall or wrinkle as it cools, although a few minor wrinkles are normal.
Another option is a Pullman pan– the 9x4x4-inch size. The taller sides and a top make it excellent for making sandwich bread.
---
Ingredients and substitutions:
WATER: I prefer to use spring water in all my bread. If you don't have it, tap water is fine.

MILK: Whole milk, 2%, or fat-free dairy milk…any of them will work. However, using milk with a higher fat content will make a loaf of more delicious and tender bread.

HONEY: Honey brings more to the table than just sweetness. It also has hygroscopic properties that help to keep your bread moist. Maple syrup could be substituted, but it is not as sweet and may be more watery.

Brown sugar is another option. If using substitutions, be sure to check the consistency as the bread mixes and make adjustments as described in this post.

BUTTER: Vegetable oil can be substituted for butter if necessary.

SALT: I use table salt or sea salt. If you use Kosher salt, add from 1/4 to 1/2 teaspoon more.

WHOLE WHEAT FLOUR: White whole wheat flour is a good substitute for whole wheat flour, especially if you are baking for someone who prefers white bread.

Another option is to use 1/4 cup wheat germ and 3/4 cup all-purpose flour per cup whole wheat flour.

BREAD FLOUR: You may substitute all-purpose flour, but your bread won't have the same amount of protein. This means the bread may turn out somewhat denser and a bit heavier.

On a side note: please measure your flour carefully. Use a digital scale for accuracy.

BREAD MACHINE YEAST: Bread machine and instant yeast are the same thing. They don't need to be dissolved. It's all I use. If you only have active dry yeast, use 1/4 teaspoon more than called for in the recipe. It no longer needs to be dissolved first, but you can if you prefer.
---
How to mix this Honey Wheat Bread Machine recipe in a bread maker: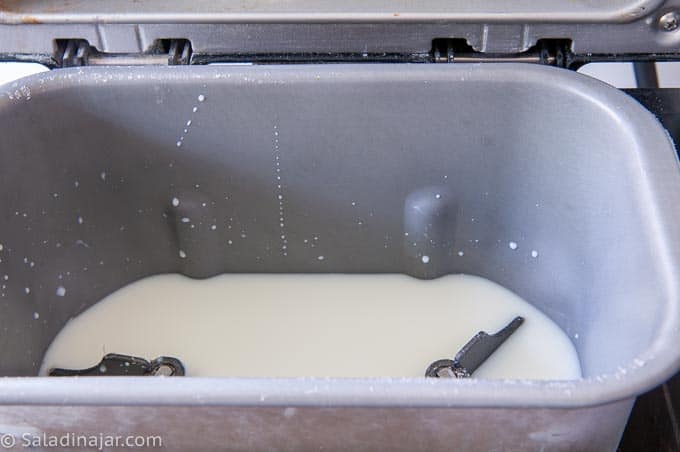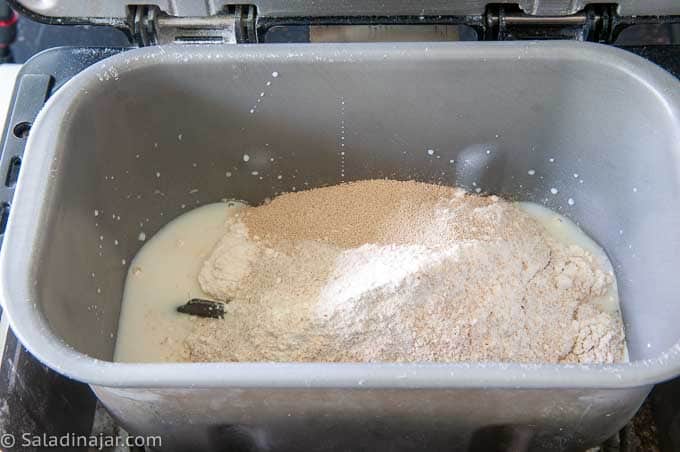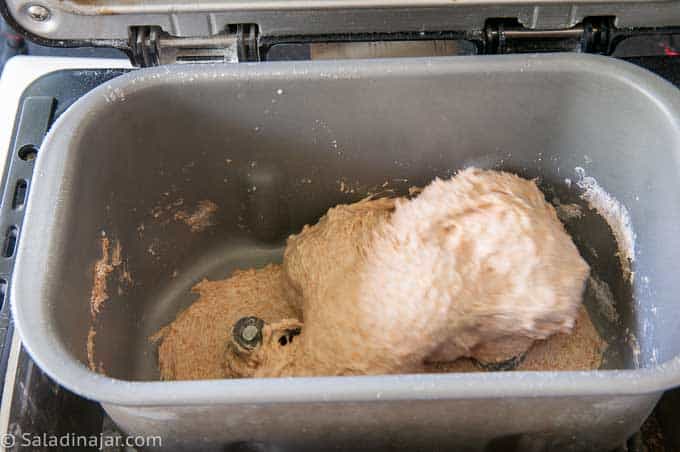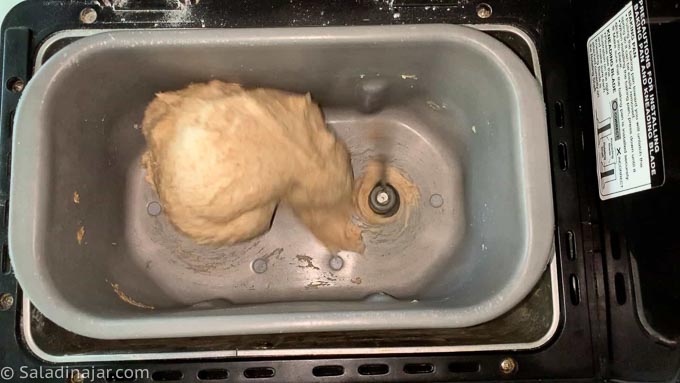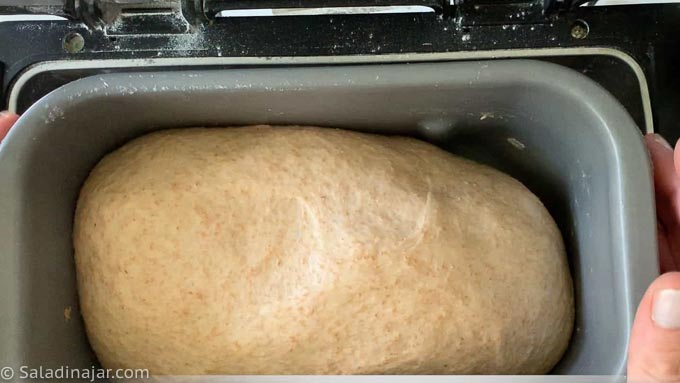 ---
How to shape the honey wheat dough into a loaf: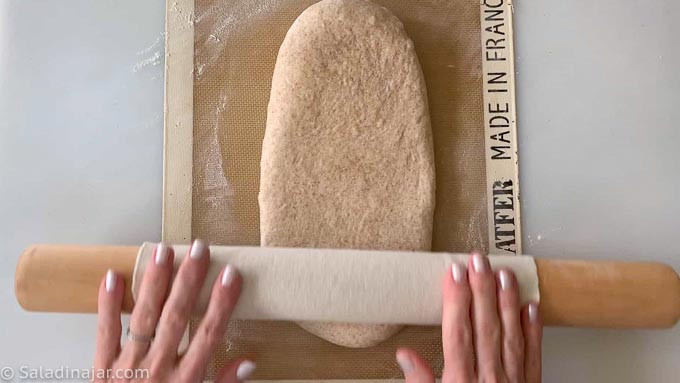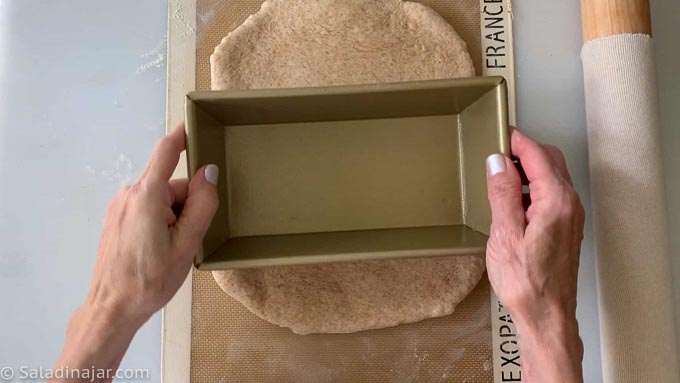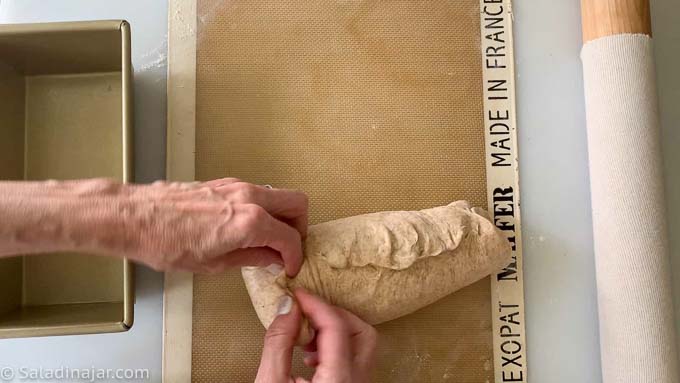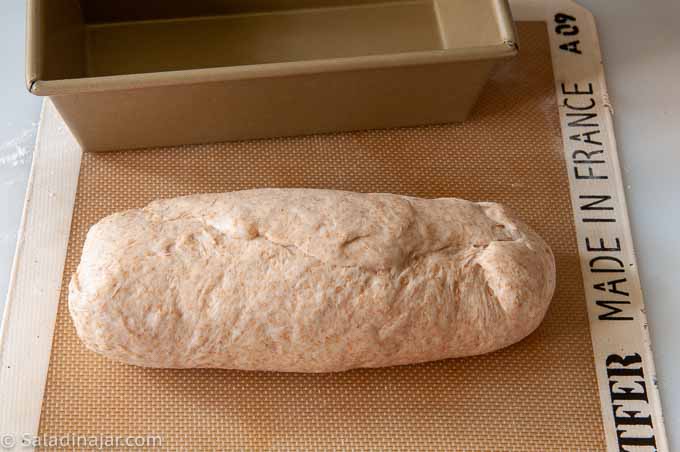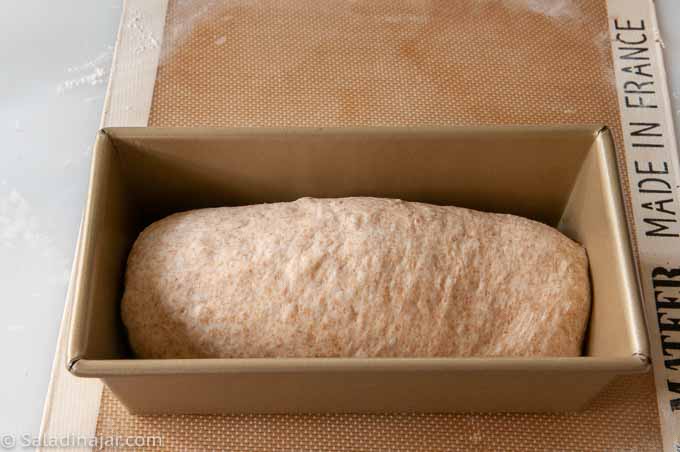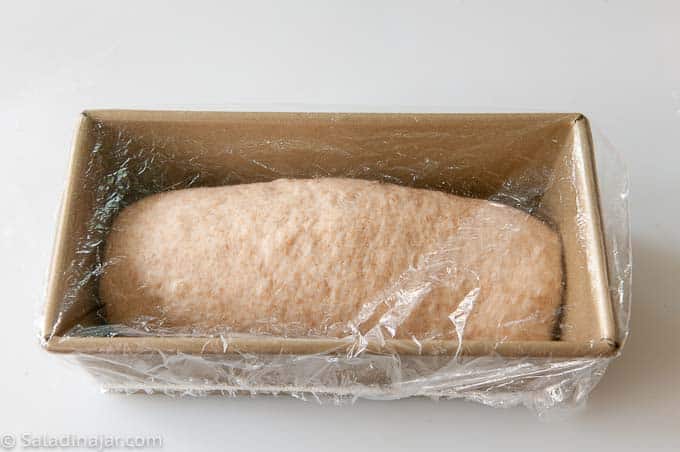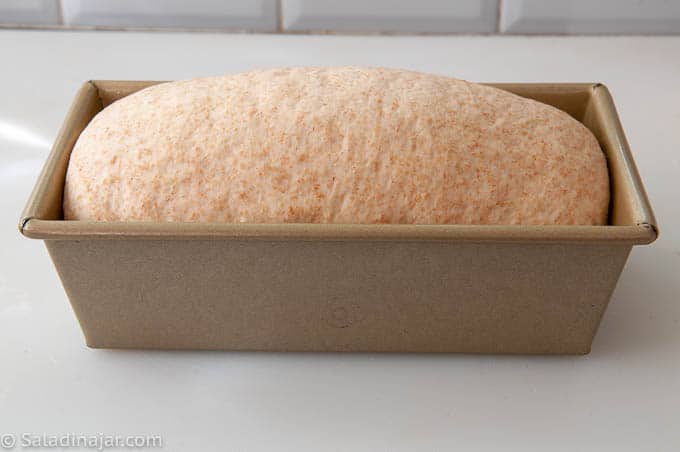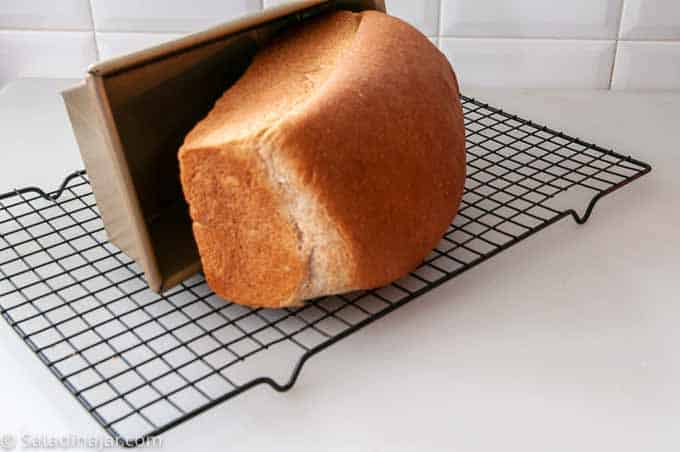 ---
Other savory bread recipes you can make with a bread maker:
If you enjoyed this recipe, it would help others and me if you left a five-star rating inside the recipe card below. 🤩 No comment required. Thank you.

Hope to see you again soon!
Paula
p.s. Questions or suggestions? Please email me: Paula at saladinajar.com.