Simple Smashed Oven-Roasted Okra You Can't Stop Eating
Preview: This Simple Smashed Oven-Roasted Okra recipe will be right up your alley if you prefer most of your vegetables roasted as I do. These delectable morsels may not be overly photogenic, but I bet you can't stop eating them! Skip the sliminess and enjoy the crunch.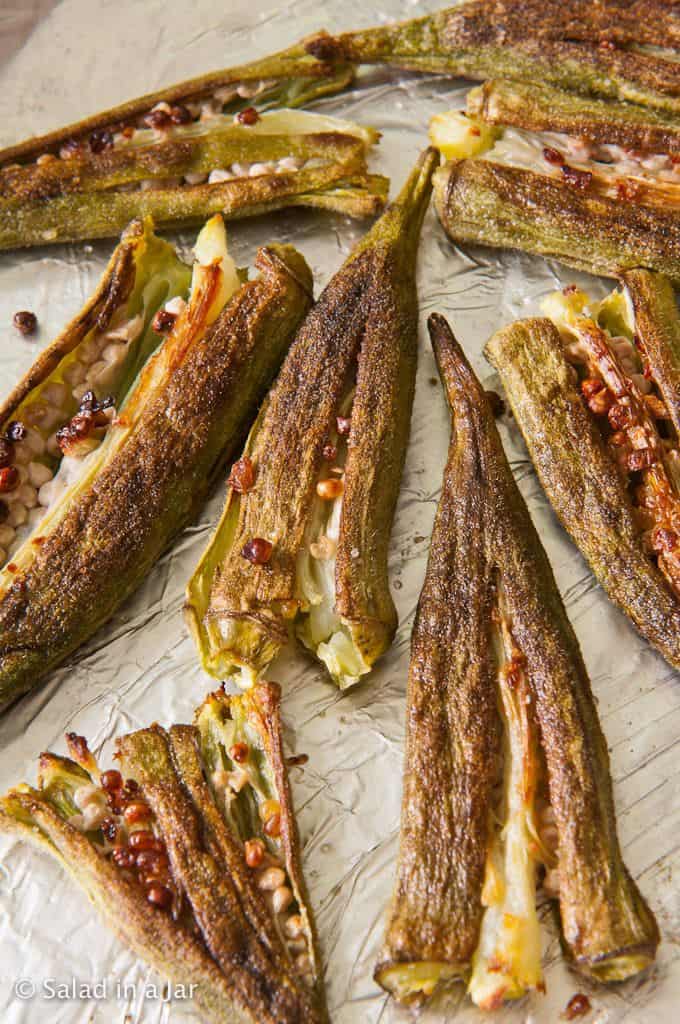 As an Amazon Associate, I earn from qualifying purchases.
Do you have plans for the Fourth of July? I don't have a menu yet, but I'm pretty sure this simple oven-baked okra will be on it.
At my house, we eat okra in gumbo and occasionally, a fresh vegetable stir-fry. Of course, fried okra at a restaurant is a terrific treat, but who wants to break out the deep fryer at home unless it's a very special occasion?
Now that we're smashing and baking okra, I've been eating it every week (or want to). Ugly green/brown roasted okra tastes fantastic and is positively addicting.
A recipe in The Southern Vegetable Book for Smashed Fried Okra inspired me to try smashing the okra before roasting. Alternatively, you could slice them in half (too time-consuming), or use only the smallest and most tender okra pods in the bin (sometimes there are none).
Please note: This recipe is low-carb and gluten-free.
---
Why smash the okra?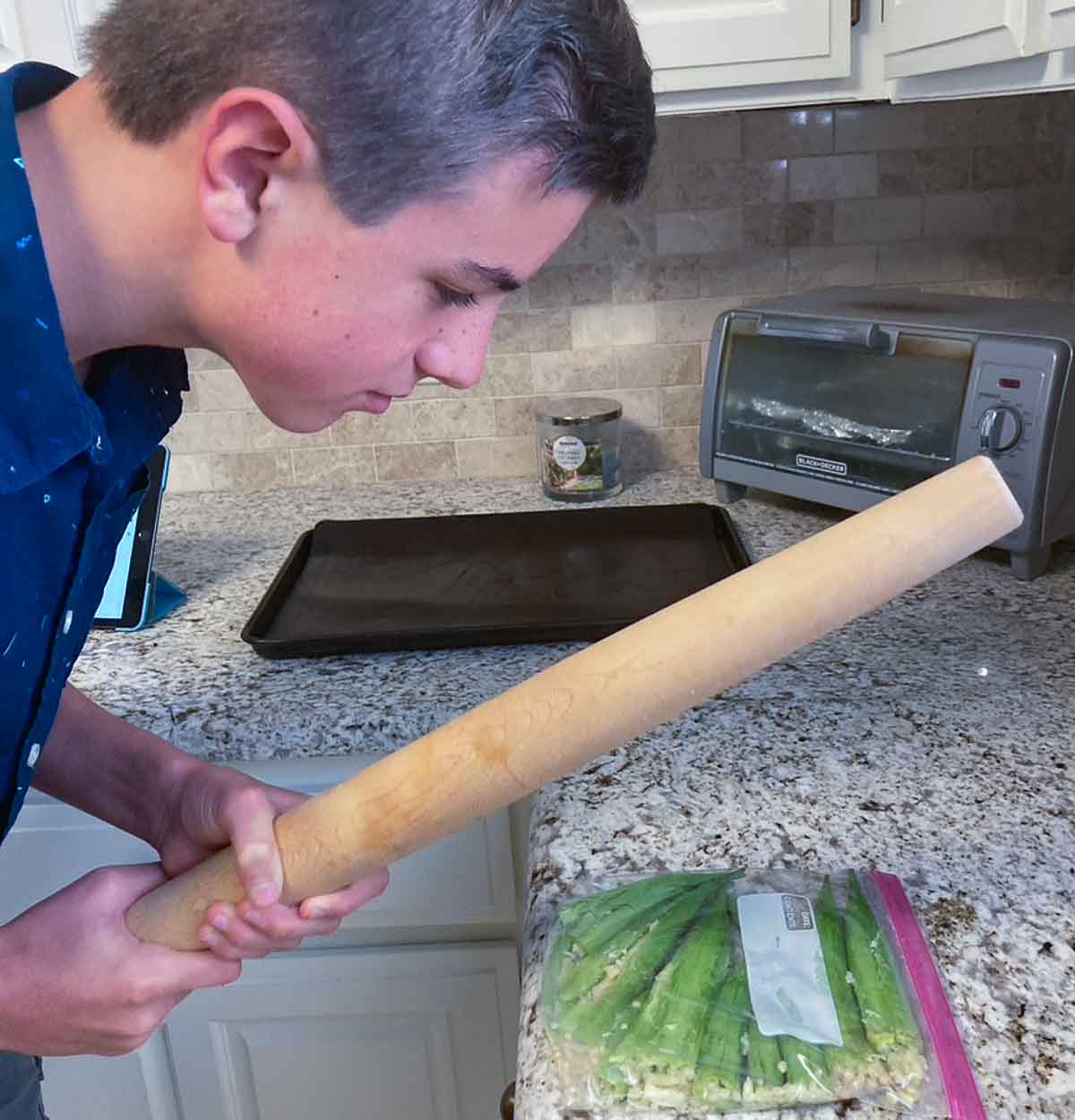 Pound fresh okra with a meat mallet or the back of a spoon (more challenging), starting from the stem end and moving toward the pointy end. Smashing will shorten the baking time. Splitting the pods open creates more surface area and crispiness.
How to avoid a mess when smashing okra: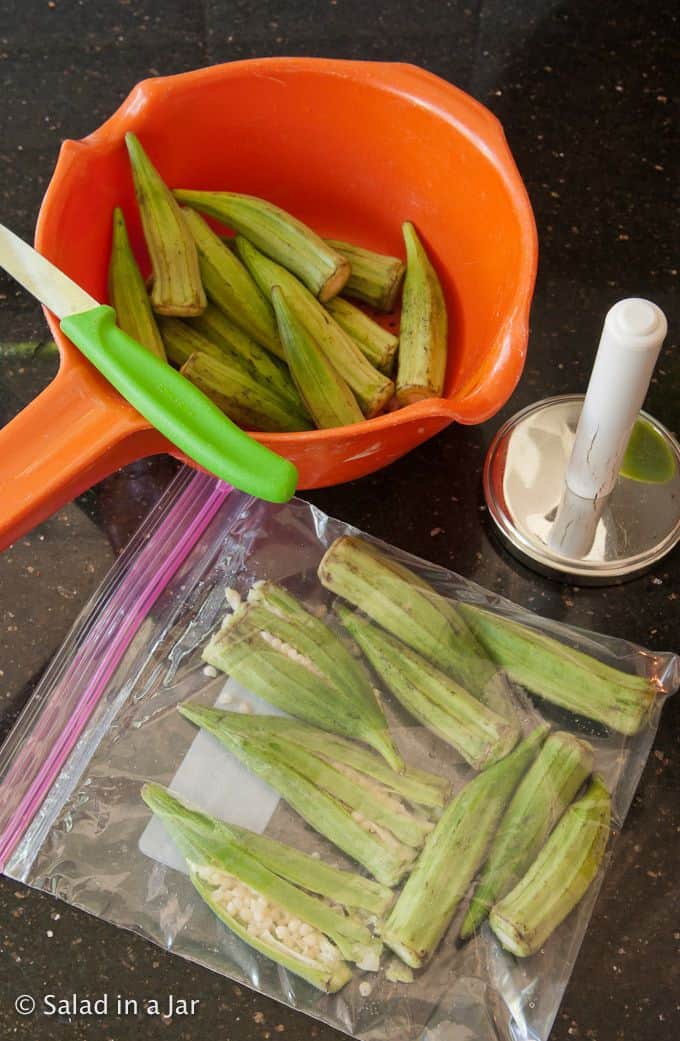 Put whole okra inside a closed zippered bag and pound away. The bag keeps the okra from slipping away and contains wayward seeds.
Condiments to serve with easy oven-roasted okra:
We enjoy dipping our baked okra in Ranch dressing or Mayochup, and I bet you will, too. The wasabi mayonnaise from Epicurious is also fabulous.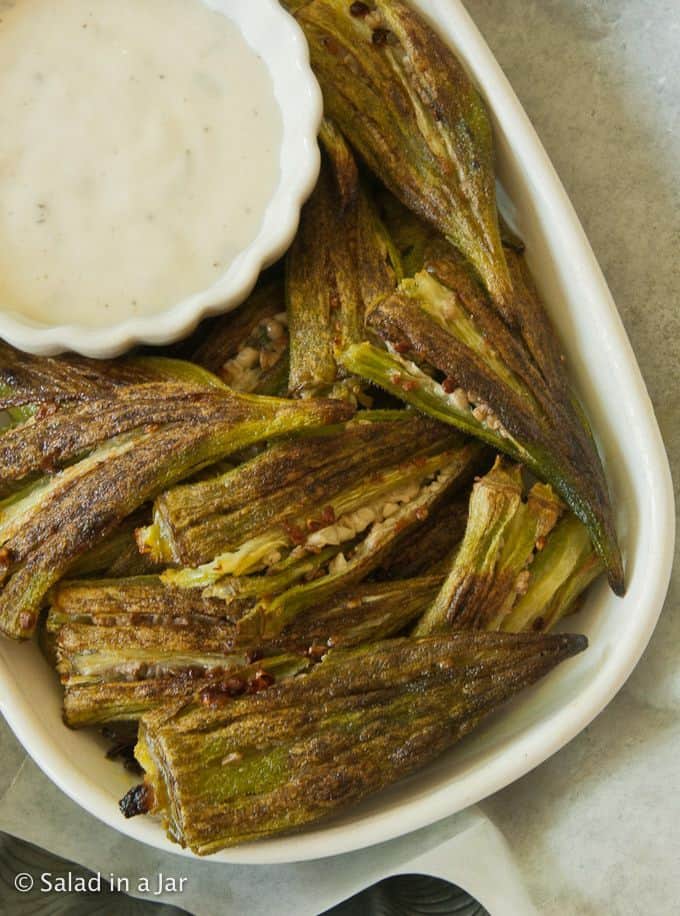 What if I don't want to turn on the oven?
Grill them instead. They will be just as good and you won't heat up the kitchen.
Furthermore, the grill is faster than the oven but keep an eye on them. Even though they may look a little burned in the picture below, they are just perfect. The darkest places have the best flavor!
Another option is to use your air fryer. The time can vary depending on the size of your okra.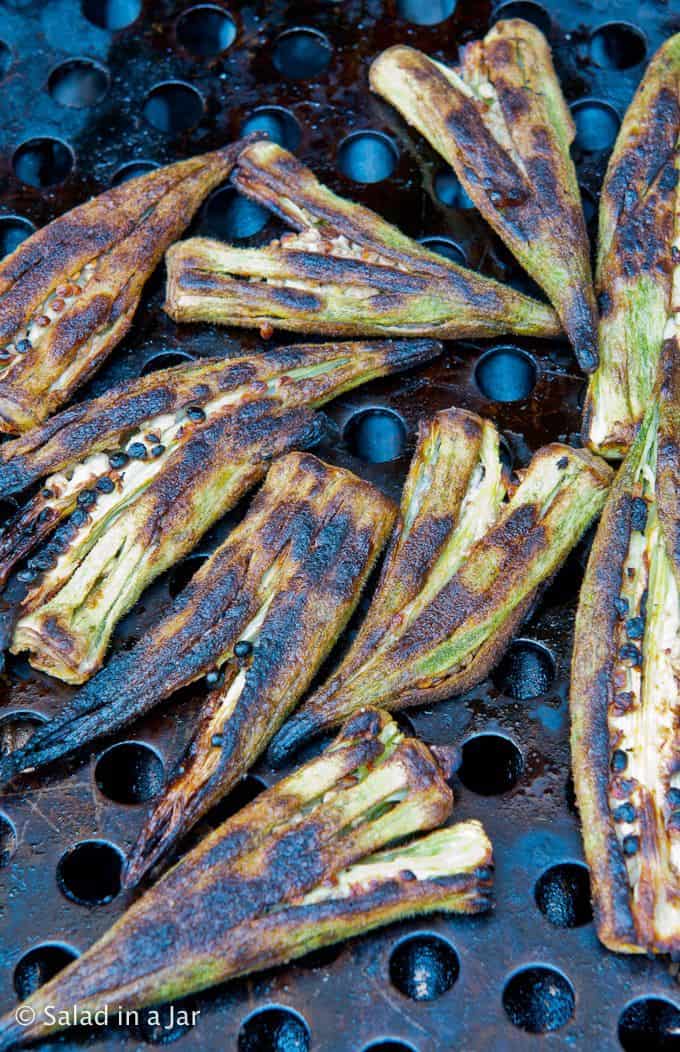 📌Kitchen secrets📌:
Be ready to eat these crispy sticks of okra as soon as they come out of the oven or off the grill. The "crispy" doesn't last long. Consider serving them as an appetizer.
When selecting okra, try to avoid the pods longer than three inches. They can be tough and stringy. I prefer to buy them out of a bin, not pre-packaged, where overly mature okra is easy to hide.
Position okra on a foil-covered baking sheet in a single layer for maximum crispiness.
Sprinkle with garlic powder, onion powder, or cayenne pepper for additional flavor.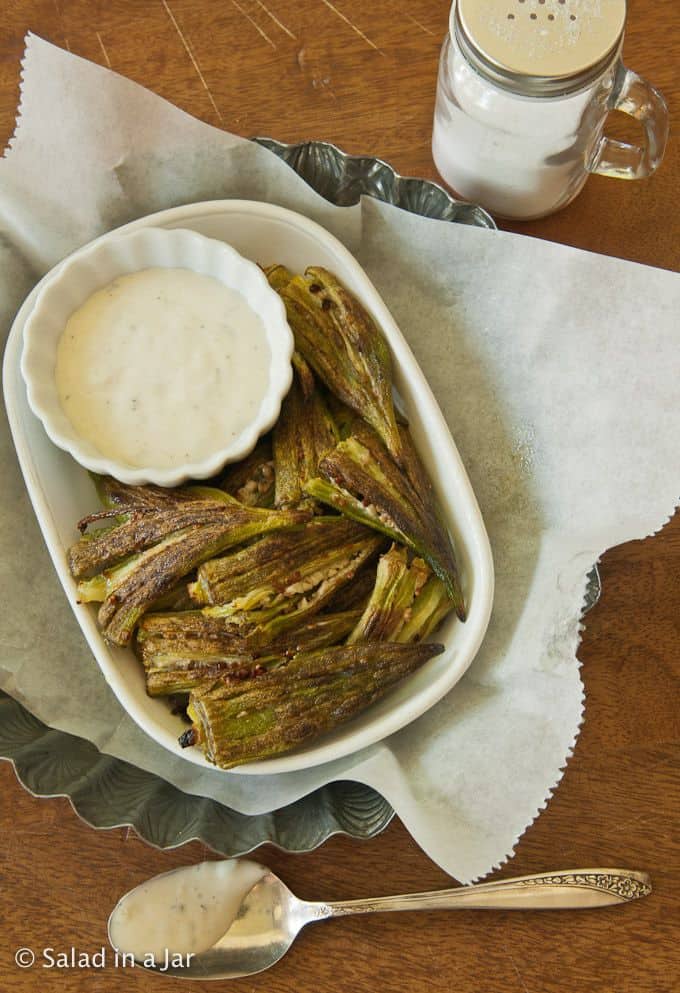 FAQ about Oven-Roasted Okra
How do you get the slime out of okra in the oven?
Smash the okra first so the liquid inside is dried up during the roasting process. Roast at a high temperature in the oven or on a grill.
Is oven-roasted okra healthier than fried okra?
It is lower-fat because you aren't dunking the battered okra into a pot of grease. If lower fat and lower carbs fit your definition of "healthier food," then oven-roasted okra is for you.
---
If you have questions or suggestions, email me privately to Paula at saladinajar.com. Hope to see you again soon! Paula
---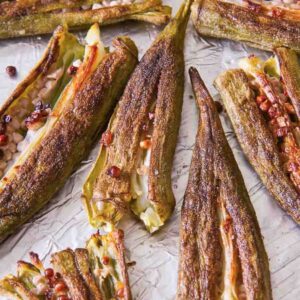 Smashed Oven-Roasted Okra Recipe
Try this fresh okra that is roasted in the oven or over a grill until crispy. Makes a delicious appetizer or side dish.
Ingredients
1

pound

fresh okra

3

tablespoons

olive oil

salt and black pepper
Instructions 
Preheat your oven to 450˚ F.

After washing okra, trim the stem end, leaving only a small sliver.

Pound okra with a meat mallet, starting with the stem end and heading for the pointy end until okra is flat and splayed.

Cover half-sheet pan (cookie sheet) with foil. Pour at least 2-3 tablespoons of oil onto pan and distribute evenly. Arrange smashed okra on cookie sheet and stir around so that okra is covered with a thin coating of oil. Sprinkle with salt.

Bake for 25-30 minutes or until okra is brown and crispy. Turn okra about half-way through the cooking time.

Eat immediately. The crispiness doesn't last long.
Notes
If you prefer to grill, place the smashed okra into a medium bowl along with the oil. Toss to cover okra with a thin coating of oil, then salt and pepper. Carefully place the okra directly onto a hot grill or use a grill pan, turning each piece of okra when the first side is toasty brown. Okra gets brown much quicker on the grill than when roasting in an oven.
Nutrition
Nutrition Facts
Smashed Oven-Roasted Okra Recipe
Amount per Serving
% Daily Value*
* Percent Daily Values are based on a 2000 calorie diet.
Like this recipe? Thanks for leaving a 5-star rating inside the recipe at the top! 🤩