Preview: Pan-Fried Breaded Chicken Tenders with fresh rosemary and parmesan are so flavorful and crispy, you won't miss the gravy or the Colonel. Pan-frying yields maximum flavor without heating the kitchen.
Do you have some raw chicken breasts or tenders staring you in the face? Are they daring you to come up with something that tastes exciting and fresh without making you go to the grocery store…again?
You can't miss when you add fresh rosemary and parmesan cheese to the breading.
In case you need one more reason to try this breaded chicken tenders recipe, you don't have to turn on the oven. Use a pan on top of the stove. Easy cooking, easy clean-up!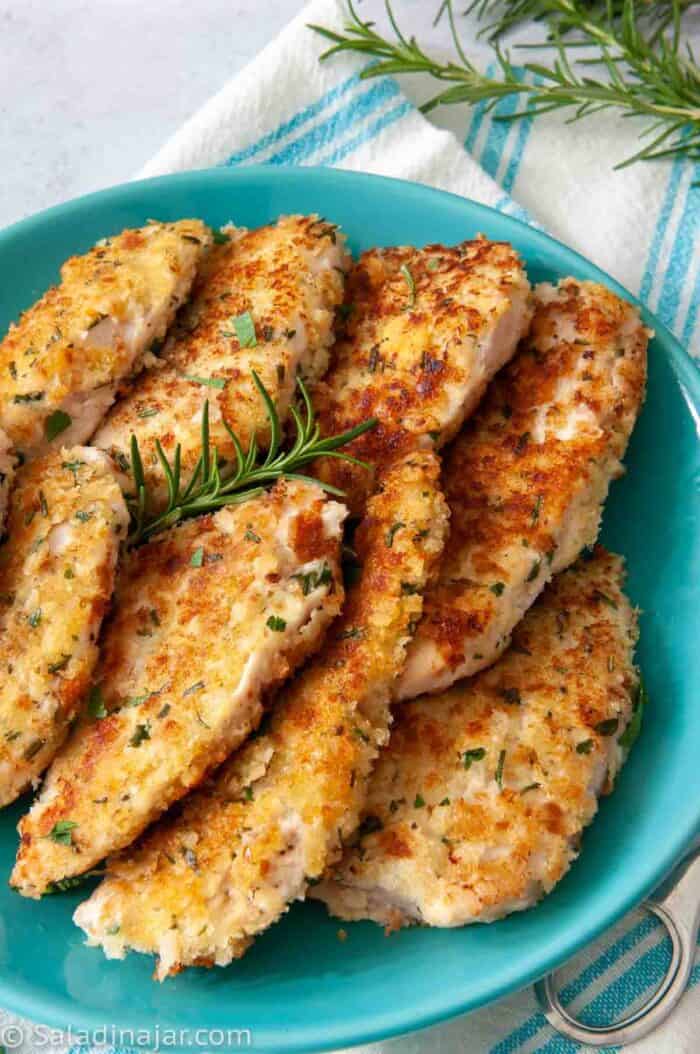 Recipe highlights:
Who doesn't love a tender chicken filet breaded with flavorful crumbs? Fresh rosemary and grated Parmesan cheese set these tenders apart from the norm. Serve with Hominy and Cilantro Rice and these Oven-Roasted Baby Carrots.
These Breaded Chicken Tenders are best cooked at the last minute. But if you prepare your crumb mixture ahead of time, it won't take much longer than 10-12 minutes from start to finish. You can always put the chicken in a warm oven to hold it for a few minutes before serving.
---
Are chicken cutlets and chicken tenders the same thing?
According to EATER, "Chicken cutlets are boneless, skinless chicken breasts that have been sliced in half horizontally, creating a thinner piece of meat. These cutlets are then often pounded even thinner before cooking." That would describe what I am showing you in the pictures for this recipe.
On the other hand, chicken tenders are technically limited to "the pectoralis minor, a small muscle that runs directly under the chicken breast."
In real life, I think most people use these terms interchangeably. These days, more people use the term "chicken tenders" than "chicken cutlet" when referring to any flat and relatively thin cut and boneless chicken breast meat. So, that's what I'm going with here.
---
Ingredients and substitutions:
CHICKEN: Use chicken tenders or chicken breasts cut into smaller pieces. Pound until they are at least 1/2-inch thick or less. You could substitute fish. See more below.

BREAD CRUMBS: The recipe specifies fresh bread crumbs. That means you will need to use a food processor or blender to make crumbs out of slices of bread. If you use dried bread crumbs, you will have to use a lot more oil. The end product won't be quite the same.

ROSEMARY: The original recipe warned NOT to make any substitutions for the fresh rosemary. I concur. It seems like a great excuse to plant your own rosemary bush if you haven't already.

PARMESAN: Freshly grated Parmesan will give the best flavor. I don't recommend the powdery kind that comes in a can.

OLIVE OIL: If you don't have olive oil, go with a mildly-flavored oil like avocado oil.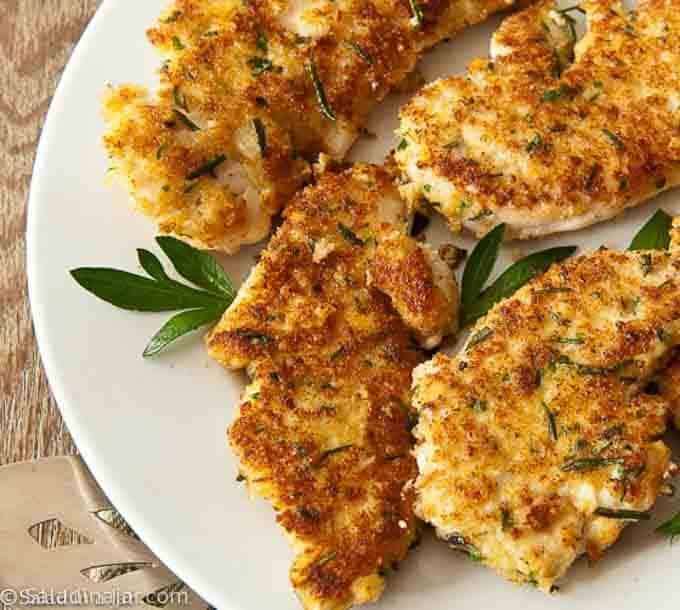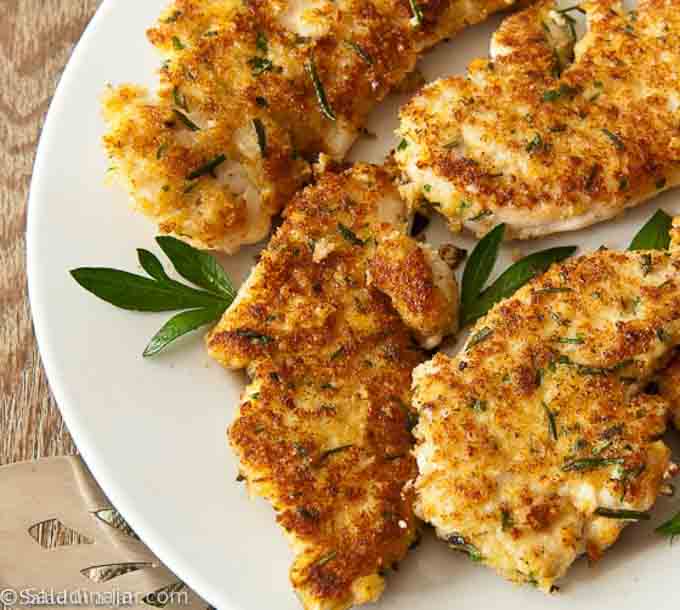 ---
Variations:
Swap tilapia for chicken
Try this with tilapia. My sister discovered this variation. My family loves it, too. As a result of the fish being relatively thin already, there's no need to pound it first like the chicken. But in every other way, follow the directions as written.
---
How to make Pan-Fried Breaded Chicken Tenders with Rosemary and Parmesan: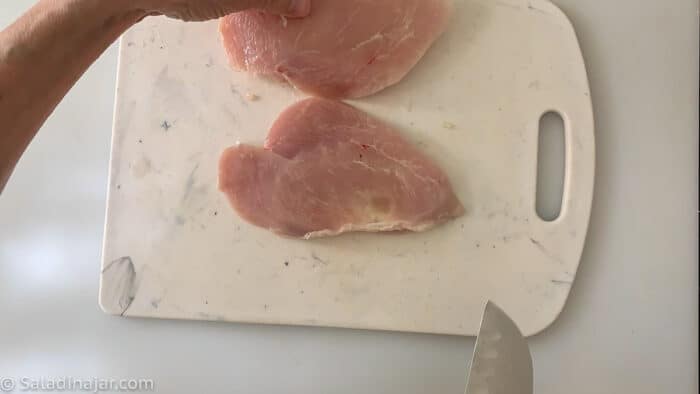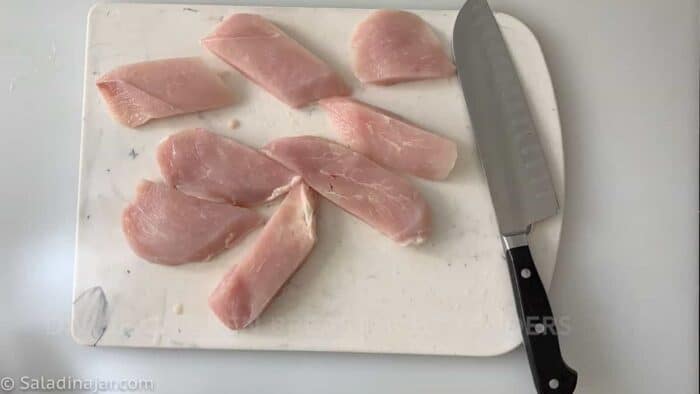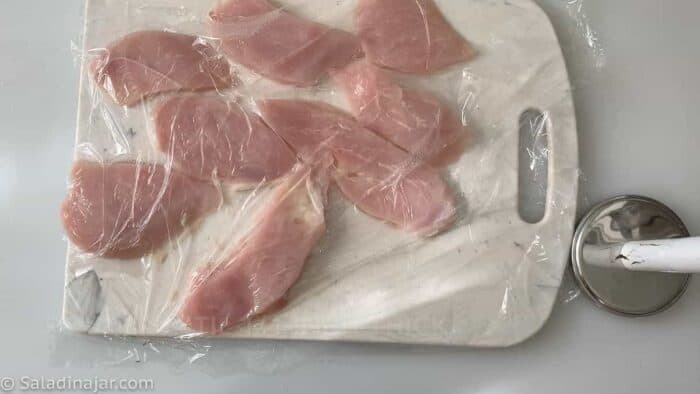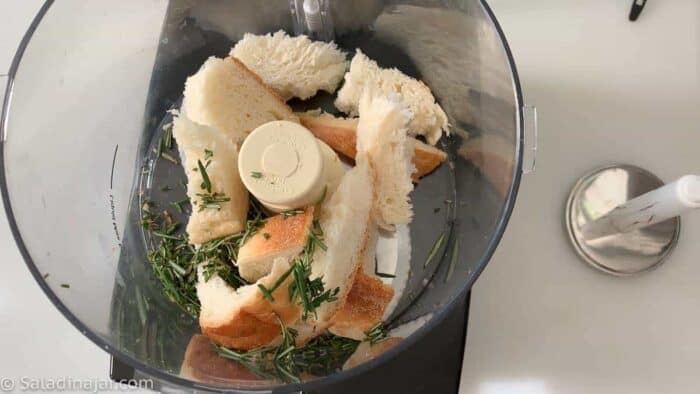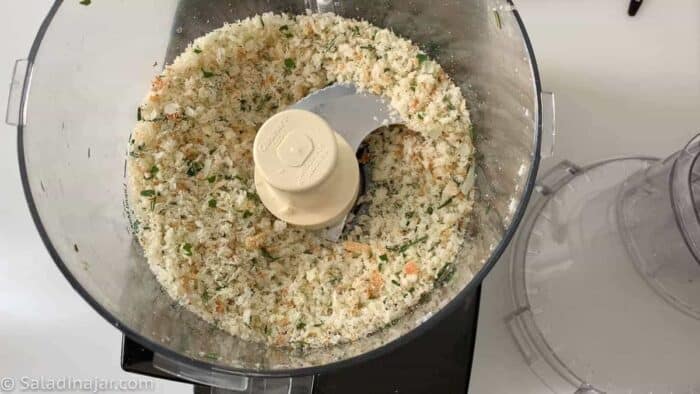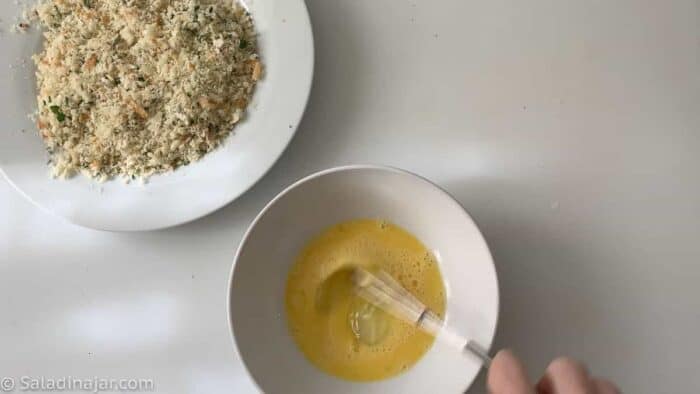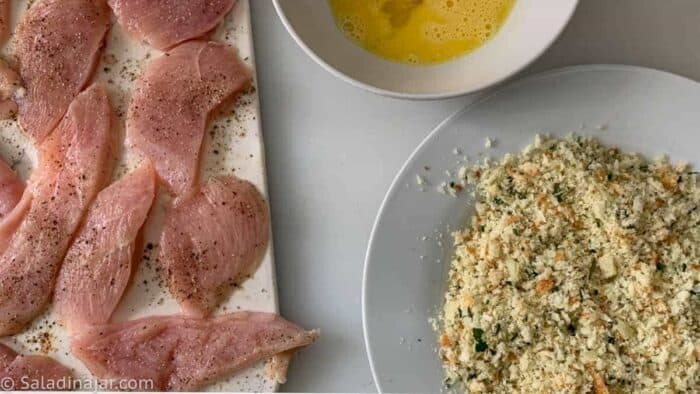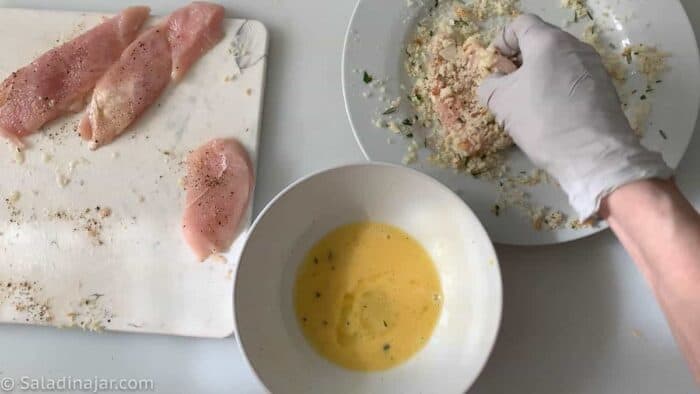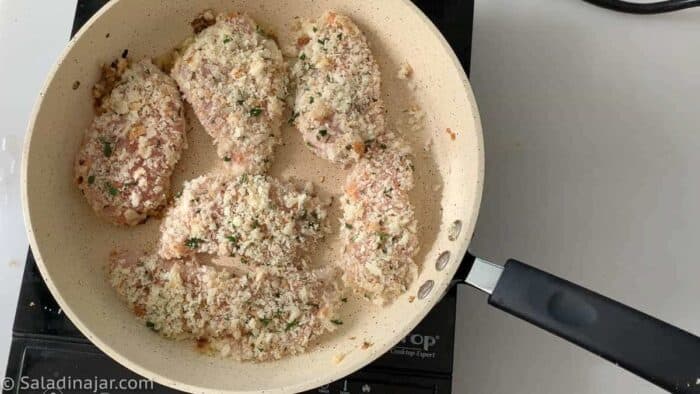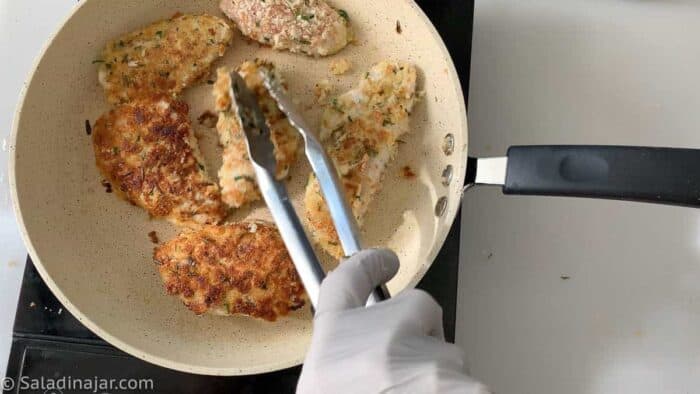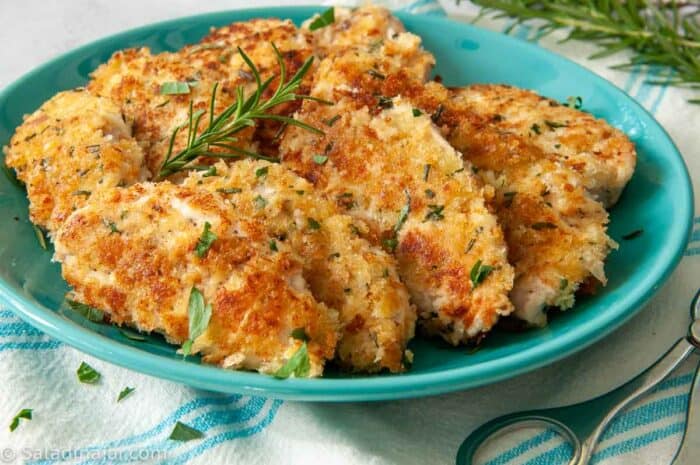 ---
Are you a chicken lover?
If you enjoyed this recipe, it would help others and me if you gave it a five-star rating inside the recipe card below. 🤩 No comment required. Thank you.

Hope to see you again soon!
Paula
p.s. Questions or suggestions? Please email me: Paula at saladinajar.com.
---