Preview: Peppernut Cookies (AKA Pfefernusse) are bite-sized cookies with a European heritage. Perfect for gift-giving or holiday parties.
These cookies won the Star-Telegram Christmas cookie contest a while back. Or maybe it was second place. I'm not sure. Anyway, I printed the details and stuck them in my someday-I-want-to-try-this file.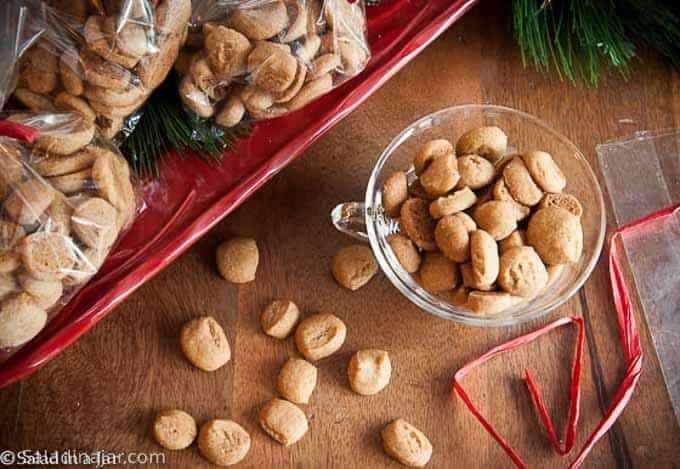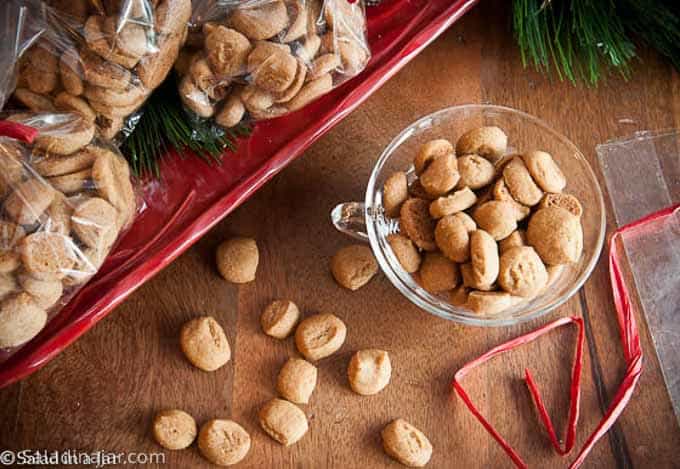 When I heard our church needed cookies for the Christmas baskets we give to the older and less mobile members, I dug out this recipe. It was the perfect opportunity to experiment because I would have something to do with them besides stuff my face. They are tempting–sorta like, "I dare you to eat just one."
---
Why these cookies make excellent gifts:
They don't crumble.
They stay fresh and delicious for up to 3 weeks or can be frozen.
No decorating required.
---
Are peppernuts and pfeffernusse the same thing?
Yes. Peppernuts are the English translation of pfeffernusse. You can read about it on Wikipedia.
These miniature sweets are some trouble, officially qualifying them as Christmas cookies. However, I've figured out if you want to be labeled a Christmas cookie, you must be either red, green, or labor-intensive. Do you agree?
Now I'm not saying these cookies are difficult to make. On the contrary, they couldn't be easier. It just takes a chunk of time to cut all those little pieces of dough. Don't worry. The last tray only took about a third of the time of the first tray.
---
Ingredients and substitutions:
BUTTER: Butter gives these cookies an irresistible crispy, crunchy texture and a buttery taste. Since this recipe is probably a once-a-year treat, I would splurge and use nothing else.

SUGAR: Granulated sugar is best.

EGG: The recipe specifies a large egg.

DARK SYRUP: You have several possibilities: dark corn syrup, molasses, or date syrup.

FLOUR: My first choice would be unbleached all-purpose flour. Bleached all-purpose flour is a close second.

SPICES: The spices are important in this recipe. Even more important–make sure your spices are FRESH.

ANISE FLAVORING: The anise is optional, but characteristic of this cookie. I hope you can find it and use it.
---
How to make Peppernut Cookies:
Whip room-temperature butter until light and fluffy. If your butter is frozen or refrigerator firm, try grating it to warm it up quick. Resist the urge to put the butter in the microwave. Melted butter will not become "light and fluffy."

Add the sugar and room-temperature egg. Continue to beat.

Add the flour and spices in the order specified in the recipe.

Preheat oven.

Cut off a section of the dough and roll it into a pencil or rope shape. Use a knife or bench scraper to cut the rope into small pieces.

Bake at 350˚ for 7-9 minutes.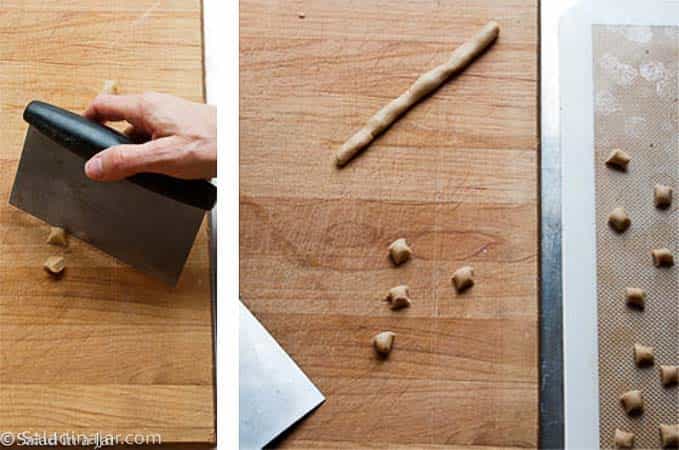 Initially, I thought I would roll each little ball by hand. HA! There must be about a thousand per batch. People eat them by the handfuls, so trying to make them look perfect is wasted energy.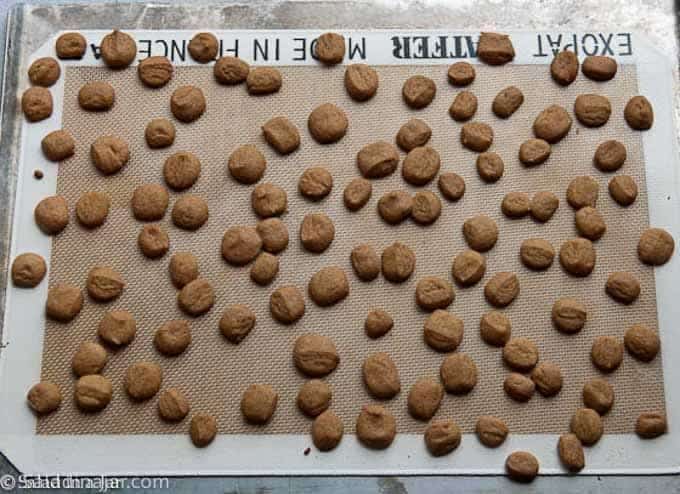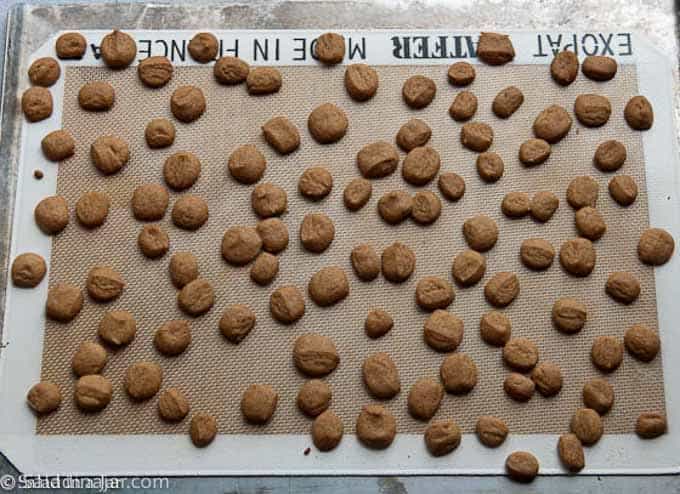 To package them, I put about 3/4 cup in each cellophane bag (available at craft stores) and tied each package with red raffia. A cute Christmas label would have been excellent. (Sigh) Maybe next year.
---
FAQ about Peppernut Cookies:
Did you mean to leave out "rolling the cookies in powdered sugar?"
Powdered sugar is traditional in Germany, and maybe other places, too. If you want to do that, drop your warm cookies in a plastic bag containing a cup of powdered sugar. Gently shake it to distribute the sugar and pour the cookies out onto a towel to dry. If your want the cookies to be thickly covered, repeat the process after the first coat of powdered sugar dries.
Can I make these cookies ahead of time?
Yes. Some people intentionally make them a month ahead of time, hoping the flavor will get better as they age a bit.
Can I freeze the baked cookies?
Yes, Double-wrap to prevent freezer burn.
---
Would you like to see more cookie recipes?
Did you enjoy this recipe? If so, you can help others and me by leaving a 5-star 🤩 rating in the recipe below. No comment is required.
p.s. If you have any questions or suggestions, you can email me privately: Paula at saladinajar.com.
Hope to see you again soon!
Paula
---